Less than a week before Easter and mere hours before his arrest, Controversial Republican Marjorie Taylor Greene compared former president Donald Trump to Jesus and Nelson Mandela. 
During an interview with Right Side Broadcasting in New York, she said, "Trump is joining some of the most incredible people in history being arrested today. Nelson Mandela was arrested, served time in prison. Jesus — Jesus was arrested and murdered by the Roman government."
Trump persecuted by 'radical, corrupt governments'
She went on to say that Trump joins the ranks of people throughout history who have been arrested and persecuted by "radical, corrupt governments. And it's beginning today in New York City, and I just can't believe it's happening, but I'll always support him. He's done nothing wrong."
Her comments at a "Rally for Trump" earlier that day were muffled by anti-Trump protesters. Greene took aim at the Biden administration, claiming that "President Trump will be found innocent," adding, "This witch hunt will end. We will not tolerate it. We will not tolerate the hate of the left."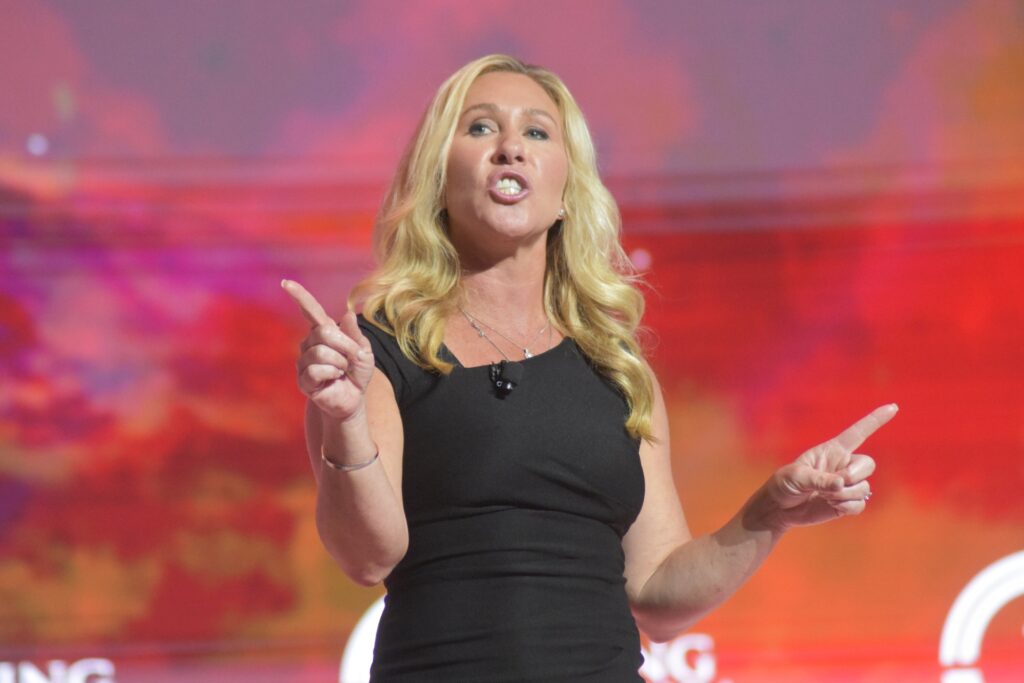 "God bless America, God bless President Trump, God bless MAGA," she said.
New York mayor accuses MTG of spreading misinformation
Before the rally, New York Mayor Eric Adams had a message for Greene, "People like Marjorie Taylor Greene, who is known to spread misinformation and hate speech, while you're in town, be on your best behavior," he said at a Monday press conference, adding that City officials "will not allow violence of any kind" in the city.
During the rally the following day, Greene responded to him, "As you can see, I'm standing here peacefully protesting, but you called me out by name while you allow crime in your streets," she said.
Related: These Celebrities All Proudly Support Trump – Some on This List May Come as a Surprise!
Trump seen pumping his fist to supporters
Trump was seen pumping his fist as he exited Trump Tower on Tuesday and was placed under arrest upon his arrival at the courthouse. He was seen wearing a dark suit with a red tie. He waved to supporters as helicopters circled above him.
Later in the day, Trump was seen entering a courtroom to hear the charges brought against him. He pleaded not guilty to all 34 counts of business fraud, concealing information, and various unlawful activities before the 2016 presidential election.
Upon leaving the courthouse, Trump did not address reporters. However, one of his lawyers, Todd Blanche, said, "He's frustrated, he's upset," at a news conference shortly after the proceedings.
Trump is the first former US president to formally face criminal charges. During a prolonged arraignment, the judge warned the former president against using rhetoric that could cause further civil unrest. 
Greene has long been a vocal supporter of Trump but has faced controversy of her own for past comments and actions. In February, the House of Representatives voted to remove her from committee assignments over her endorsement of several different 'conspiracy theories.'
Greene remains a staunch supporter of Trump and his policies.