Bitcoin (and cryptocurrency in general) has exploded in the investment scene in the last few years. But will its massive growth last? Most importantly, where is Bitcoin headed next year? We spoke with some experts to find out just that.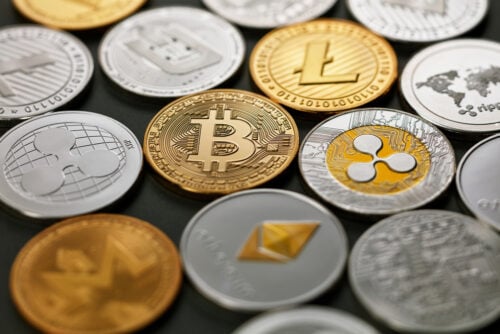 Some Think It is Still Worth Holding on To
Christian Zelder from MagicienMaartre.com says: 
"Bitcoin next year will fall into the range of 35k-45k we've fallen so hard since the previous all-time high of 68k. Since the big crash back in 2017 I've learned to hold on tight!
We are in a prime buying season right now. It's at a beautiful price point to welcome new investors and for current investors to continue investing a dollar-cost averaging. Bitcoin will continue to succeed, as charts have shown, since its first day of existence. I believe if we hit a price point of 18k this year, it can be the turnaround many investors have been waiting for.
I know many investors including myself who speculate the price hitting 18k and discus throwing 45k -100k buying that beautiful price point of a dip!"
And Some Are Mixed on Where it Could Go
Caleb Reed, founder of TheDollarBudget says:
"While Bitcoin has dropped to nearly $29,000 for the first time since December, I believe it will have an impressive year in 2023. I strongly believe it will surpass $70,000, reaching an all-time high. However, It's certainly possible that it will go even higher. Reaching an all-time high of $70,000 in 2022 is a very conservative prediction.
On the other hand, I don't think we'll see its price any lower than $50,000 for the entire year. This is also a conservative prediction. We may not even see it drop to a minimum low of $60,000."
Others See Bitcoin Dropping in Price Next Year
Jenny Ta, Co-Founder of HODL Assets explains: 
"Based on the consistency of how Bitcoin has been performing since the first two halving's, the last bear, in 2018-2019, lasted 365 days, and Bitcoin dropped 84% from an all-time high of $19,800 down to an all-time low of $3,180. So for the next bear, in 2022-2023, Bitcoin should drop further, from an all-time high of $68,990.90 to an expected all-time low of $10,348.63 – an 85% drop.
This percentage is the average of the last two halving; the first halving didn't have enough 'liquidity' or HODLers to make it meaningful. That said, I believe this time it may not drop 85%.
Institutional wallets are approaching 10% of the total supply, an all-time high. Also, in 2021, Wall Street upped its crypto investments, trading $1.4 trillion worth of cryptocurrency on the exchange Coinbase Global — a massive increase from $120 billion in 2020. Cathie Wood of ARKK ETF, expects bitcoin to be $1.36 million by 2030.
Traditional financial institutions are also expanding top talents to embrace crypto. With such additional ownerships, I project that Bitcoin could drop a maximum of 60-70% next year, into a range of $20,697-$27,596. Then, after the next halving on May 25, 2024 at 09:20:59 PM UTC, Bitcoin will rise steadily once again, and by the end of 2024 it could exceed 240%.
Why? The leap from the all-time high of the last halving ($19,800) to the current all-time high ($68,990) is 240%. If we multiply that percentage by $68,990, we see that the currency could easily reach $170,000 per coin."
Growth May be Slow, According to Others
Iryna, Financial Manager at simple.app tells us: 
"By the end of the May holidays, Bitcoin updated the local minimum, falling below $30 thousand. Cryptocurrencies are increasingly correlated with U.S. stock indices, experts say.
Trade volumes are also affected by restrictions for Russians. But the real sanctions in this area may still be ahead. However, value forecasts do not look optimistic yet, but it will not be difficult to bypass restrictions if desired.
For Bitcoin, the most likely scenario is a long proctoring in the range of $20-30 thousand, which may last for many months, said Chen Limin.
According to the expert, all top cryptocurrencies may well lose at least half of their value, thus returning to the values of the summer of 2021, or, if they are already near them, head in the direction of the levels of the beginning of the previous year.
In the second half of 2022, bitcoin may rise to $45,000, but it is unlikely to make new highs or show a powerful "bull" cycle, said Mr. Nekrasov. At the same time, the scenario of reaching $100,000 for BTC is not unrealistic."
Kyle Asman from Asman Consulting believes:
"Bitcoin is going to finish the year around $35,000. It is still being viewed by the market as a risk asset, and closely correlated to the NASDAQ's performance."
Inflation Has a Huge Effect on Bitcoin
Frank Barber, Business Development & Finance Expert at Oxford Gold Group says: 
"What most people don't understand is that cryptocurrencies aren't entirely independent of the real economy. Macroeconomic factors such as interest rate and inflation also affect cryptocurrency. The recent drop in Bitcoin and other cryptos hasn't been brought about by the inherent technology behind them or their adoption but due to the worsening economic conditions. 
Cryptocurrencies, such as Bitcoin, are highly volatile assets, and it is quite challenging to predict their behavior even in the short run. Regardless, we can at least say that it is impossible for Bitcoin to recover if inflation and interest rates don't return to their original position. The Federal Reserve has a plan to curb inflation by regulating interest rates. However, it may take another six to twelve months for Bitcoin to recover its losses."
Many Remain Optimistic, Despite the Crash
Igor Zakharov, CEO of DBX Digital Ecosystem explains: 
"For the most part, the fall has been due to the hiking of interest rates by central banks, the tensions in Russia and Ukraine, inflations, etc. Bitcoin and other cryptocurrencies have also been facing some hostility from some big countries like China and India.
These and other factors have led to decreased trading activity in the crypto market, which in turn has led to a decrease in crypto prices.
Will things continue on into 2023? We have to wait and see, but one thing we know about cryptocurrencies is that their volatility and speculative nature remains the most consistent thing about them.
So, where is Bitcoin headed next year? There's no telling. However, what bitcoin is experiencing is similar to what happens in other trading areas as well, so one can be optimistic that Bitcoin and crypto, in general, will eventually bounce back."
Anup Kayastha, owner of CryptoProfitCalculator, tells us: 
"Although Bitcoin has witnessed a wild couple of years in terms of value swings and turmoil over its environmentally-unfriendly usage, I think the crypto will bounce back in a big way next year. 
First of all, OpenNode – the Bitcoin payment processor – is gaining popularity, and by next year, most retailers will be using it to accept Bitcoin payments. Moreover, many engineers are actively working to improve Bitcoin at the moment – last year, Bitcoin got its first upgrade in four years, called Taproot. This resulted in greater transaction privacy and efficiency and the potential to unlock smart contracts on the Bitcoin blockchain.
The fact remains that the currency is volatile, and investors should only invest as much as they can afford to lose. However, I stand firm in my beliefs that Bitcoin will improve in 2023."
And Finally, One Expert Believes in Bitcoin's Resilience
Ben Caselin, Head of Research & Strategy at AAX tells us:
"Over the coming weeks we can expect a significant shift in focus back to Bitcoin and Ethereum – arguably, the only two proven blue-chip crypto assets in the market.
Bitcoin already shows a resilience that outshines all other crypto assets, tech stocks, and traditional markets.
Compared to 2020, however, markets are no longer driven by quantitative easing. As such we can expect much of the frivolity in the crypto markets to subside, which will find expression in a rising bitcoin dominance ratio.
Plenty of milestones have been reached over the past two years for bitcoin that may have been unimaginable before. It has been declared legal tender, a spot ETF is imminent – most likely from Grayscale – and regulatory clarity is likely to be fleshed out significantly this year.
We are now in an important accumulation phase. Next year, we should expect bitcoin to change hands north of $100,000 USD."
Final Words: Where is Bitcoin Headed in the Next Year?
Sentiments for where Bitcoin is headed in the next year are mixed among the experts we spoke to. While some see the price dropping further, others have held onto optimism that the coin will bounce back, making it worth holding on to for now.