Inflation has hit its lowest point in over two years, and the unemployment rate remains below 4%, its longest stretch since the 1960s. Furthermore, the U.S. economy has defied expectations of an impending recession. Despite these positive indicators, numerous polls and surveys reveal that most Americans hold a bleak outlook on the economy.
This discrepancy has left many people puzzled and frustrated, prompting discussions on social media and in opinion columns. The government recently reported that consumer prices did not rise at all from September to October, indicating a steady decline in inflation since last year's peak. Similarly, a separate report showed that although Americans decreased their retail purchases in October compared to the previous month, their spending is still substantial enough to drive economic growth.
However, a poll conducted last month by The Associated Press-NORC Center for Public Affairs Research found that approximately 75% of respondents described the economy as poor, with two-thirds stating that their expenses have increased and only a quarter reporting an increase in income.
Read More: Biden Walks Off Set During MSNBC Interview, Prompting Criticism and Online Reactions
This disconnect presents a political challenge for President Joe Biden as he prepares for his re-election campaign, as polls consistently indicate that most Americans disapprove of his handling of the economy. Economists attribute this disparity to several factors, with one prominent one being the lasting financial and psychological effects of the most significant inflationary period in four decades.
Despite the gradual decline in inflation over the past year, many goods and services are still considerably more expensive than they were just a few years ago. While inflation rates have slowed, prices remain high and continue to rise. Lisa Cook, a member of the Federal Reserve's Board of Governors, highlighted this reality in remarks at Duke University, stating that most Americans are not merely seeking a decrease in price inflation but a return to pre-pandemic price levels.
Read More: Bombshell Unleashed! Hunter Biden Caught in a Whirlwind of Drugs, Nudity, and Family in Shocking Laptop Photo Leak!
This sentiment particularly applies to the goods and services that Americans frequently purchase, such as groceries, rent, utilities, and other everyday items that constantly remind consumers of rising costs. Deflation, a widespread drop in prices, is not ideal as it tends to discourage spending. Instead, economists argue that wages should increase at a faster pace than prices to ensure that consumers still benefit from economic growth.
Determining how inflation-adjusted incomes have fared since the pandemic is complex due to the nuances of capturing the experiences of approximately 160 million Americans with a single metric. Adjusted for inflation, median weekly earnings have only risen by a mere 0.2% annual rate from late 2019 to the second quarter of this year, according to calculations by Wendy Edelberg, a senior fellow at the Brookings Institution. This modest increase has left many Americans feeling financially stagnant.
For individuals like Katherine Charles, a 40-year-old single mother in Tampa, Florida, the slowdown in inflation has not alleviated the struggles of making ends meet. Charles saw her rent increase by 15% in May, and she had to conserve energy during the summer—enduring Tampa's scorching heat—just to control her electricity bill.
Despite her 16-year-old son and 10-year-old daughter's voracious appetites, Charles has had to cut back on groceries because they can no longer afford certain items of food. These personal experiences resonate with many Americans who share a sentiment that the economy is not improving for them.
As a customer service representative with a company that handles Medicare and Affordable Care Act health plans, Charles participated in a one-day strike against her employer, Maximus, to demand higher wages and more affordable health insurance. She revealed that her two children are on Medicaid due to the excessive cost of Maximus' health insurance.
Eileen Cassidy Rivera, a spokesperson for Maximus, claimed that a recent survey of the company's 40,000 employees indicated that three-quarters of respondents would recommend Maximus as a great workplace. Rivera asserted that over the past five years, Maximus has increased compensation, reduced out-of-pocket health care expenses, and improved the work environment.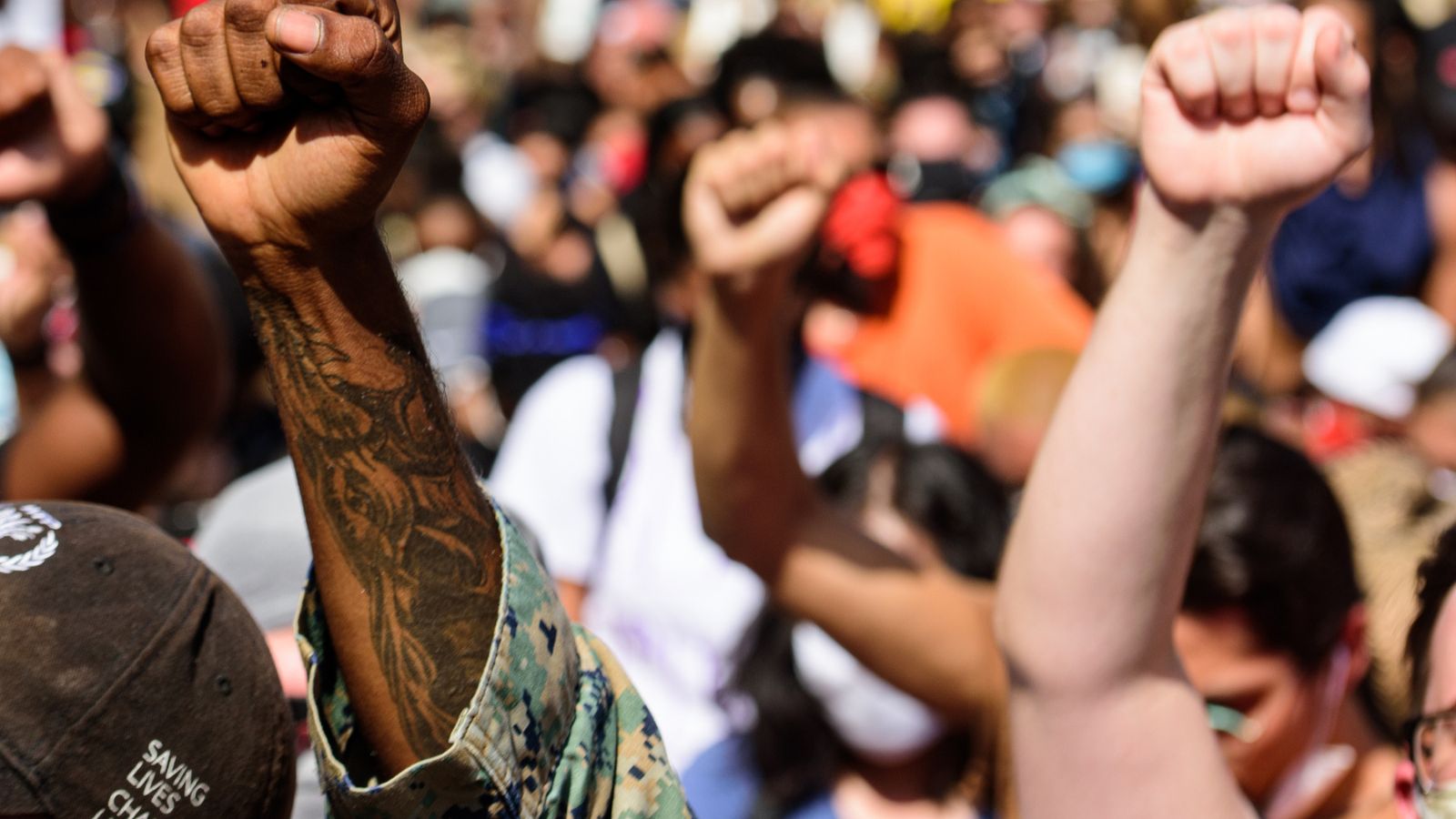 Rising prices have triggered a wave of strikes and labor activism this year, with unions representing various sectors securing significant pay increases for autoworkers, Teamsters, and airline pilots. Other contributing factors to the general dissatisfaction with the economy include political partisanship, with Republicans more likely than Democrats to view the economy as poor, according to the University of Michigan's monthly survey of consumer sentiment.
Karen Dynan, a Harvard economist with experience in both the George W. Bush and Obama administrations, highlighted the distinct shifts in economic sentiment that occur when a new president takes office. Opposing party voters tend to adopt a more negative view of the economy. Dynan suggests that the increased polarization in the country further amplifies this partisan divide.
Nonetheless, despite the positive economic indicators, many Americans, like Katherine Charles, continue to feel the impact of inflation. The national average price of a gallon of milk reached $3.93 in October, a 23% increase since February 2020, just before the pandemic hit. The price of ground beef per pound is now 33% higher at $5.35. Though gas prices have declined steeply since last year, the average price remains 53% higher at $3.78 a gallon.
These price increases have outpaced the overall rise in prices, which have increased by nearly 19% over the same period. Wendy Edelberg suggests that the spike in prices for commonly purchased items contributes to people's discontent about the economy, even though Americans continue to spend at a healthy pace, indicating overall confidence.
However, national data fails to encompass the experiences of everyday Americans, many of whom have not experienced wage increases that align with rising prices. Brad Hershbein, a senior economist at the Upjohn Institute, believes that, generally, most people are in a similar financial position to pre-pandemic levels. Nevertheless, there are exceptions.
Lower-income Americans, in particular, have received higher percentage wage increases since the pandemic. Competition for frontline workers in the restaurant, hotel, retail, and entertainment industries has forced companies to offer significant pay raises. However, individuals with lower incomes typically face higher inflation rates due to a larger proportion of their income being allocated to volatile expenses like food, gas, and rent – all of which have experienced substantial price increases.
Furthermore, Census Bureau surveys by Aparna Jayashankar and Anthony Murphy of the Federal Reserve Bank of Dallas reveal that nearly half of Americans report feeling "very stressed" by inflation, a sentiment that remains largely unchanged from the previous year, even as inflation rates have decreased.
Even for individuals whose incomes have kept pace with rising prices, studies have consistently shown that people dislike inflation more than its economic impact would suggest. Most individuals do not anticipate their wages to match rising prices in real-time, and if increases do occur, there may be a time lag. Therefore, people often fixate on the elevated prices of everyday essentials such as gas, food, groceries, and rent, which seem particularly noticeable, even if the rate of increase has slowed.
Brad Hershbein succinctly captures this sentiment, stating, "If everyone had lost a job, we'd be focused on that."
Read More: Bud Light Drama Hits a New Low: Factories Begin to Close as Sales Continue to Nose Dive