It is no secret that Donald Trump's company, Trump Media & Technology Group (TMTG), has faced hurdles in its bid to go public via a merger with Digital World Acquisition Group (DWAC). Now that a new player (enter Elon Musk) has thrown a wrench in the social media game plan, will Trump dump Truth Social?
Trump has faced a few setbacks with his new social media platform, Truth Social, the main proponent of the TMTG and DWAC merger.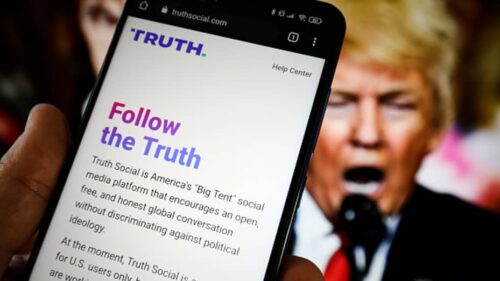 The new deal has, however, been plagued with merger extensions, technological delays, and inquiries from the Securities and Exchange Commission (SEC) and Financial Industry Regulatory Authority (FIRA).
Most significantly, investors in DWAC, the blank check company that backed the merger, were allowed to back out due to delays solidifying a deal with TMTG.
But why would Trump be interested in Musk anyway? Well, let's take a look at some of Trump's recent comments.
On his Truth Social platform, he posted, "I am very happy that Twitter is now in sane hands, and will no longer be run by Radical Left Lunatics and Maniacs that truly hate our country."
While the two may have a rocky past to say the least, it seems that Trump is on Musk's side in this sudden decision to take Twitter private.
But Musk tweeted shortly after the acquisition made headlines that "Twitter will be forming a content moderation council with widely diverse viewpoints," adding, "No major content decisions or account reinstatements will happen before that council convenes."
Related: The 8 Best SPACs To Buy Now + What Is A SPAC?
DWAC in Trouble?
Shares of DWAC fell sharply the last week of October, making Trump's comments raise an eyebrow or two.
And though DWAC rose marginally at closing on November 10 after investors reacted reacted negatively to US mid-term election results, the stock price is still not where many estimated it would be just over a year ago, when Trump announced plans for the merger.
Now that Trump is seeing a significant backlash from investors and guarantors alike, could this praise towards Musk be a sign that he wants a piece of the Twitter pie?
Related:
Trump SPAC Deal At Risk Of Falling Through
Trouble For Trump? Trump Appeals Court Order To Oversee Company Finances
Trump's Checkered History
This is not Trump's first kerfuffle with the stock market. Back in 1995, Trump took his company Trump Hotels and Casino Resorts (DJT), public.
However, he failed to meet shareholder demands due to excessive personal loans taken out against the company. Eventually, the company was officially delisted in 2004, and many investors were left blindsided.
It does not seem as though Trump wants to return to Twitter, though, as he previously stated he would not rejoin the platform.
That, nonetheless, has not kept him from commenting further on how he thinks it should be run.
Recently Trump posted to Truth Social, "Twitter must now work hard to rid itself of all of the bots and fake accounts that have hurt it so badly. It will be much smaller, but better."
What would Trump gain from abandoning the possible merger with DWAC in favor of either directly or indirectly supporting Twitter?
He is well known for getting out of the hot seat right before the water starts boiling. Some refer to that as bankruptcy, but we won't go too deep into specifics here.
Trump has had a few business deals that did not end favorably for some of his investors. With that said, he knew how to play his cards so that he did not get burned in the end.
Trump Mortgage, Trump Shuttle, and his casinos in Atlantic City are just a few of his failed ventures. Those failures did not seem to bother him, though.
In the past, Trump has spoken about his attraction to using bankruptcy and other controversial tactics.
At a Presidential debate, he proclaimed, "I've used [bankruptcy] to my advantage as a businessman—for my family, for myself. Hundreds of companies I've opened—I've used it three times, maybe four times. Came out great, but I guess I'm supposed to come out great."
To some, Trump is a great businessman, yet to others, not so much. But when it comes to the social media battle that very well may ensue, especially when we are dealing with billionaires and politicians, it's anybody's guess as to how this may all unfold in the end.
Related:
The 8 Best Mortgage REITs To Buy Right Now!
The 8 Best TaaS Stocks To Buy For 2022!
Final Words
Musk might be taking note of his fairweather friend in this instance and possibly waiting to see if he has anything to bring to the table.
Let's be realistic though. If we look at Musk's track record, it is unlikely that he will welcome Trump on board with open arms. He's one for the long game, and this could well be an example.
Is Elon hoping Trump will bite by dangling the thread above Truth Social's head? And if he does, will Truth Social become just another Trump company that bites the dust?


You might also like:
These SPAC ETF's Lets You Play The Red Hot SPAC Craze
The 8 Best Real Estate Penny Stocks
The 5 Best Hotel REITs To Buy Now
The 8 Best Hotel Stocks To Buy Right Now!
The 8 Best Industrial Stocks To Buy Right Now!