Tim Melvin has built a name for spotting solid income investing plays. But do his latest insights live up to his reputation? Tune into my The 20% Letter review for the full scoop.
What Is The 20% Letter?
The 20% Letter is an investment research service helmed by Tim Melvin and published by Investors Alley.
Members receive dividend-centric stock picks, market commentary, bonus reports, and much more.
As the name suggests, the team targets the opportunity for 20% gains with every investment idea. This includes share price appreciation and dividends.
The potential for twenty percent growth might not sound particularly flashy, but it's not meant to be. The team focuses on grounded dividend plays that could outpace inflation and steadily grow portfolios over time.
As mentioned, this research package offers even more features, including income strategies carefully curated by the team.
I'll dig into the details as we go, but let's start with a look at the mind behind the service.
>> Sound like a good fit? Sign up for 75% off HERE <<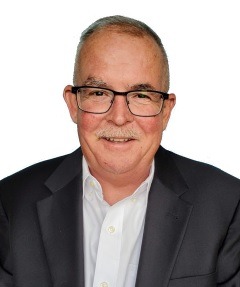 Who Is Tim Melvin?
Tim Melvin is a great analyst who specializes in income investing.
He got off to a humble start, raised in a poorer area of Baltimore by a single mother. Unable to afford college, he began his career as a door-to-door vacuum salesman.
Tim knew the real money was in the stock market and used his hard-earned cash to become involved in the investment scene.
He became a vice president at Ferris Baker Watts, where he began to understand the power of deep value investing.
A shift to the private sector led him to new opportunities as a portfolio manager, advisor, and stockbroker.
With his time as a salesman a distant memory, he now has over 30 years logged managing money for wealthy individuals around the globe.
>> Discover the team's latest recommendations <<

What Is Investor's Alley?
Debuting in 1998, Investors Alley publishes independent investment newsletters from six of the best minds in finance.
Its free newsletter, The Market Cap, reaches more than 300,000 readers who rely on its research to make informed decisions in the stock market.
In addition to the free newsletter, Investors Alley has ten premium publications dedicated to specific market niches.
The 20% Letter: The Perfect Dividend Bank Stock
The investing world is changing. Typical methods from the not-so-distant past no longer have the oomph to create stable finances for retirement.
Many stocks are struggling in this year's turbulent market, but some under-the-radar winners are showing tremendous promise.
The 20% Letter has uncovered 174 bank stocks that could be excellent performers in the coming months and years.
These banks don't care about portfolio size or what's happening in the world.
>> Find out the name of the "perfect" dividend stock<<
"Buy and Hold Is Dead"
Once considered a solid investment strategy, the old buy-and-hold method is at the end of its rope.
In the past, many casual investors turned to companies like Vanguard to manage portfolios and bring in growth. However, these companies only seek to maintain 3-5% growth rates yearly.
The problem lies with inflation trends, projected to stay at astronomical highs. If inflation rates remain above 5% (like they are right now), you could be losing money each year.
People are watching their retirement savings melt away through these traditional investment methods.
Americans are living longer than ever, meaning those funds have to stretch further. New tactics are required to build a comfortable nest egg and generate enough income annually to not only pay bills but enjoy your golden years.
Tim believes that the solution lies in strong dividends. Not just any dividend stock will do, however.
Why Buy Bank Stocks?
No matter how the economy is shaping up, banks have been designed to endure a market hit.
The Federal Reserve went so far as to perform stress tests earlier in 2022 and felt "all banks" passed with flying colors.
In the aftermath of the Covid pandemic, these same banks have seen restrictions lifted that were hindering buybacks, repossessions, and other income-inducing opportunities.
These same events happened in 2008, and banks saw monumental increases in the amount of capital they control. This gives institutions the foundation they need to survive a downturn.
On top of that, banks are crucial for society to function. Many of them are dramatically undervalued, putting stock prices in places much lower than they should be.
The potential is there to outperform the S&P 500 down the line.
Banks aren't sitting idly by, either. Many are consolidating; grabbing up smaller banks to expand reach and profitability.
They're also buying back shares, boosting the value of any that remain.
Interest rates increasing could also spell massive profits for the banking world. All these signs point to a perfect storm for investing.
Tim Melvin's #1 "Perfect Dividend Bank Stock"
Tim's current pick for the "perfect" dividend bank stock already looks to eclipse past winners by an impressive margin.
It's not even a large institution, owning only 39 branches across Ohio and Florida.
This particular bank pays out an 8.2% dividend yield but trades for less than $16.
All the details, including the ticker, are available with the latest research deal.
>> Get the latest report TODAY<<
What Comes with the Service?
Tim Melvin's The 20% Letter provides an array of investment research to help folks navigate the income-investing landscape.
Read on to find out everything on offer.
One-Year Subscription to The 20% Letter
Members can tap into monthly market analysis and a new trade idea curated by The 20% Letter team.
The newsletter also explores other topics, such as the Federal Reserve's latest moves and booming sectors to keep an eye on.
This is a great place to get a sense of where the markets are heading, as well as strategies to tackle emerging events on the stock market.
As mentioned, the goal is to find opportunities with the potential for 20% returns.
While this number may seem modest, it could double the value of portfolios if the investment thesis holds up for three years.
Model Portfolio
The model portfolio keeps members in the loop about the team's open positions.
If you're new to the service, you might want to make this your first stop for picks.
Members have unlimited access to the portfolio, so you can revisit this resource as much as you want during your subscription.
Trade Alerts
The best trade opportunities don't wait until The 20% Letter monthly issue drops. Fortunately, the team keeps subscribers up to date with to-the-minute trade alerts.
You'll get clued in when stocks appear to be reaching the bottom and when to sell for an opportunity to maximize profit.
Weekly Video Updates
Each week, the service releases a video update that covers current stock positions and market trends.
You'll get to hear and see Tim's reactions to market shake-ups and any big news happenings.
Where each monthly issue of The 20% Letter is a deep dive into income investments, these video updates are the highlight reel.
>> Access these features and more<<
Bank Stock Bonuses
This limited-time deal also provides new members with additional trade ideas and educational materials.
Let's take a look at the bonuses on offer.

The Perfect Dividend Stock
Written by Tim Melvin himself, this report details the one dividend stock above all others to use as the cornerstone of a portfolio.
He reveals the name and ticker of the company and all the details you'll need to understand why it's such a "perfect" pick.
The report also shares how to find similar dividend stocks for a chance to bolster income investments.
Educational Library on Bank Stocks
Members also receive instant access to the team's research library on bank stocks.
This educational research offers members a bird's-eye view of their strategy for finding the right banks to invest in, as well as which ones to avoid.
Tim aims to update the library once a month so this resource will continue to grow over time.
Bonus Portfolio: Tim Melvin's Top-10 REITs
Real estate investment trusts (REITs) are well-known dividend yielders, and the richest investors have a significant stake in physical real estate.
Tim is in the process of building a portfolio of the ten best REITs representing physical real estate to help diversify income streams.
The housing market is never going away, and REITs could provide a solid opportunity to invest in the space. In many cases, these REITs pay out dividends as high as 7% or 8% in a stock that you can buy and leave alone.
The 20% Letter members have access to Tim's list of REITs and any additions or omissions that happen along the way.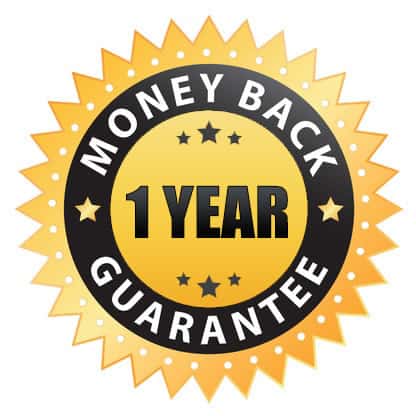 12-Month Money-Back Guarantee
Under the latest deal, The 20% Letter is offering a 12-month money-back guarantee on the subscription cost.
For reference, the industry standard is about one month for similar newsletter services.
So the current refund policy provides 12 times more coverage.
This is a good sign that the team stands by their work.
And unlike most newsletters, this refund window could provide more than enough time to see a position to its conclusion.
>> Sign up under Tim's guarantee <<
Is Tim Melvin Legit?
Tim Melvin is a legit income investing analyst. He's made some excellent predictions in the last 15 years, calling the top in 2007 and the bottom in 2009.
He was also one of the first to recommend buying real estate in 2019 and to dump tech stocks in 2021. In June 2022, he called a short-term bottom on the exact day it took place.
Today, Tim targets income stocks in his popular publications Underground Income and, more recently, The 20% Letter.
Pros and Cons of The 20% Letter
The 20% Letter has a lot to offer, but it isn't perfect. Check out the pros and cons of this service.
Pros
Great price with 50% discount

Incredible 12-month money-back guarantee

Weekly video updates

Time-sensitive trade alerts delivered to your inbox
Cons
A narrow focus on dividends

No chat room or discussion forum
How Much Does The 20% Letter Cost?
An annual subscription to The 20% Letter typically costs $149. However, the team is offering a limited-time deal that dramatically cuts down the sticker price.
Right now, members can sign up for just $79. This shakes out to a 50% discount (not too shabby).
Considering that the bonus features are worth $500 on their own, this is an excellent deal.
One solid stock pick could offset the price of the subscription.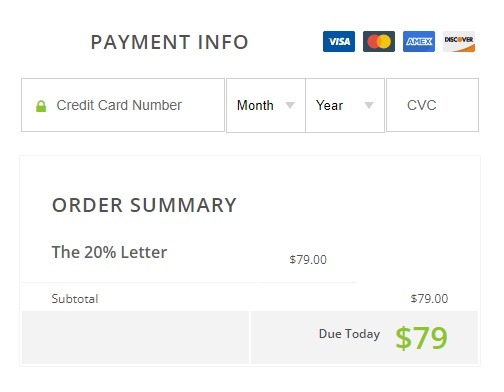 Is The 20% Letter Worth It?
The 20% Letter is a great newsletter that is well worth the price.
The $79 price tag stacks up to about 21 cents a day, which is a small price to pay for expert analysis. And the latest deal offers even more bang for your buck.
There's a lot to like about the package.
Tim reveals a new dividend-centered trade idea every month, and new members also receive additional research through complimentary reports.
All in all, if you're looking for quality dividend plays with solid upside potential, Tim and the team have you covered.
>> That's it for my review. Sign up for 50% off HERE <<