The Stock Dork is reader supported. We may earn a commission, at no additional cost to you if you buy products or signup for services through links on our site.
Jeff Clark Trader is an options-focused trading system that provides a proven framework for successful options trading and in this Jeff Clark Trader Review we will see if the service lives up to the hype.
The program includes a litany of tools and resources that can immediately improve your trading strategy, including a library of training videos, educational reports, and more.
But, is Jeff Clark Trader a scam? Stay tuned to our Jeff Clark Trader review to find out.

Enjoy your 75% discount and pay just $49 for a One-Year Subscription of
Jeff Clark Trader
.
Jeff Clark Trader Review: Overview
As you may have guessed, world-famous options trader Jeff Clark is the founder and mastermind behind this subscription-based advisory service.
The service primarily focuses on investors with limited knowledge of options trading, so it explains the subject matter in simple terms that investors can easily understand.
The Jeff Clark Trader system is designed to get you ready for live trading in just a few weeks. According to Clark, many of his students begin trading profitable in as few as 4 weeks.
It might seem impossible, but Clark has a reputation for being an excellent teacher, and his course has a great reputation among the trading community.
Clark's method is more conservative than many other options programs because it focuses on short and mid-term trades. These strategies are specially designed to mitigate risk and maximize gains.
>> Join Jeff Clark Trader now to learn these game-changing trading techniques <<
Jeff Clark Review
Jeffery Clark serves as the chief editor for several investment advisory services, including Jeff Clark Trader, Jeff Clark's Delta Report, and more.
Clark used to run an independent brokerage house and money management firm out of San Francisco. He did so well that he was able to retire at 42.
Shortly after his early retirement, he began writing newsletters to share his knowledge with everyday folks. His research reports utilize the same trading strategies for his wealthy California clients.
He went on to have a 15-year run as a newsletter editor with Stansberry Research. These days, he's more focused on his own members. These days, Legacy Research Group publishes his research.
Clark is also passionate about financial education. He's developed curricula for international Masters of Business Administration (MBA) programs, founded investor education firms, and more.
Jeff Clark Net Worth
One of the first questions people ask is, "How much is Jeff Clark Worth?"
Income tax records aren't published, so we don't have an exact figure. However, we can get an idea by looking at his public holdings.
According to WallMine, Jeffrey W Clark is worth at least $41 million.
Jeff owns several stocks, but Dell Technologies is one of his biggest holdings. As of earlier this year, Clark owned almost 114,000 shares of Dell stock. That holding alone is worth upwards of $31 million.
That's a nice chunk of change. If he's sitting on all that, he obviously doesn't need the money that comes from running his service.
That's a good sign because it shows he is passionate about his work. He wants to help people. Otherwise, why would he waste his time?
What is Jeff Clark's Strategy?
According to Jeff's website, he utilizes a balanced approach to stocks that integrates both conservative and speculative trading strategies.
However, Clark is adaptable. He admits that he will modify his approach if it will allow him to capitalize on major investment opportunities.
He designs his trades to take advantage of short to intermediate-term market moves. That makes Jeff Clark a swing trader from a traditionalist perspective.
Generally, Jeff says his goal is to "limit downside and maximize upside." This way of thinking falls right in line with the old Wall Street adage, "buy low, sell high."
Jeff Clark Review
Our Jeff Clark review gives this guru high marks. He's been involved with the markets for decades, and he's got the bank balance to prove it.
Since Jeff is a multimillionaire, he's clearly not running this service for the money. He wants to help average people tap into life-altering investment opportunities.
It's also good to see that Jeff utilizes a balanced trading strategy. For most people, this is the best approach to trading stocks.
All things considered, Jeff Clark is a solid guru. He has an impressive financial resume, and he's very transparent about his trading techniques.
Jeff Clark Trader Review: What's Included?
A subscription to Jeff Clark Trader includes:
Let's cover these features in more detail.

Jeff Clark Trader (Jeffclarktrader)
Jeff Clark Trader (at the website Jeffclarktrader) is the research service featuring Clark's alerts. On the third Thursday of every month, subscribers receive late-breaking trade alerts and market analysis.
Clark uses proven strategies to pick these stocks, so you can trust his trade recommendations are the real deal.
You'll also receive real-time notifications, so you know exactly when to pull the trigger on each trade.
Of course, Jeff also keeps you supplied with a steady stream of stocks to watch. He makes new trade recommendations in every newsletter issue.

Trade Updates
Subscribers also receive real-time notifications that tell you when the time is right to pull the trigger on each potential trade. This is an excellent feature because it allows users to effectively time their entry and exit points.
In today's fast-paced market, timing is a pivotal component of any successful trading repertoire. Clark's alerts reduce the guesswork and minimize the margin of error so you can time your trades more accurately.   

Money Multiplier Masterclass Video Series
You also get instant, unlimited access to a vast video training series when you subscribe to Jeff Clark Trader. You'll find tons of resources that can jump-start your options trading.
Each video is specially tailored for beginners, so you can follow along regardless of your experience level. The videos cover various trading strategies and fundamental concepts in precise detail.
This video series could easily go for thousands of dollars, but it comes free when you sign up for Jeff Clark Trader on Jeffclarktrader.com.
These videos teach everything you need to start trading options the right way, so it's an excellent addition to the offer for new traders.

How to Turn a "Boring" Stock Into a Million-Dollar Retirement
Jeff Clark has developed a unique strategy that could be a game-changer for your portfolio.
This guide provides a step-by-step blueprint for applying these techniques to your nest egg. If you can master it, you could have a very comfortable retirement.
And all you have to do is buy one stock.
By the time you finish this report, you'll have all the tools you need to supercharge your retirement portfolio by owning just one stock.
It's a radical technique, but it's actually very compelling when you hear him lay it all out.
You won't need to trade dozens of stocks to put this system to work. It's a great approach for busy people who don't have the time to micro-manage their investments.
>> Click here to access all of these resources now with Jeff Clark Trader <<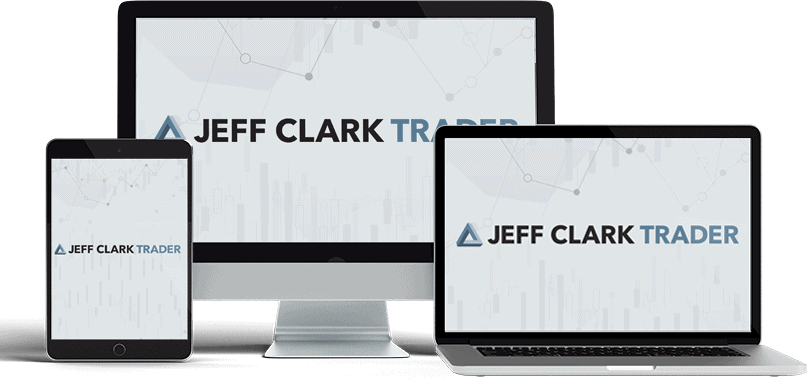 Jeff Clark Trader Reviews: Cost and Value
A one-year subscription usually costs $199 a month. However, you can get a significant discount if you sign up via the links on this page.
Under the promotion listed on this page, you can signup for one year for only $49. 
At that price, you'll get access to the entire Jeff Clark Trader system for the incredibly low rate of about $4 per month.
It's an incredible bargain, and it would be hard to find a better value anywhere else.
Money-Back Guarantee Review
Best of all, the program has a 60-day, 100% money-back guarantee. This is an excellent feature because it tells you that the company stands by their product.
Most research services only offer a 30 day grace period, but Jeff Clark Trader's guarantee lasts for twice that! In other words, there's practically no risk in trying the service.
If you don't like the system, you can get a full refund within sixty days. This guarantee ensures that you will walk away from your purchase satisfied and, at just $49 for a year's subscription, you simply can't beat this value.
Jeff Clark Trader: Reviews By Members
If you take a look at the official site, Jeffclarktrader.com, and promotional materials, Jeff Clark Trader has extraordinarily positive reviews. One user claims he made $310,000 in 9 months.
It's hard to imagine those results are typical, but it gives you an idea of this program's ultimate potential.
The testimonials on the site were great, but we wanted to dig a little deeper. We looked online to find some objective testimonials, and we discovered Clark's track record is overwhelmingly positive.
That's a tremendous accomplishment considering the risky nature of options trading.
>> Click here to join these satisfied users and sign up for Jeff Clark Trader today <<
Pros
Excellent layout and progression. The reports explain each recommendation in full detail, and alerts ensure you can time your trades with expert precision.
 The video lessons provide an engaging educational experience that is amazingly easy to follow.
The Million-Dollar Retirement bonus report offers a proven blueprint for growing your nest egg with an incredibly simple trading regimen.
Clark has a sterling reputation, and online testimonials prove he is the real deal.
 The program comes with a 60-day, 100% money-back guarantee so you can purchase with confidence. This guarantee shows that Clark truly stands by his product.
You can sign up for one year of Jeff Clark Trader for only $49. That's more than 90% off the regular sticker price of $199 per year.
Options trading is perfect for people with smaller accounts and higher appetites for risk. You can earn significant returns in a short amount of time trading options, although they tend to be riskier than more traditional assets.
Jeff Clark Trader Reviews: Conclusions
So, is it worth it? In this Jeff Clark Trader review we found out that the answer is an astounding YES!
This service is ideal for people who are interested in making fast money on short-term trades because it primarily focuses on options.
Options trading is perfect for people with smaller accounts and higher appetites for risk because of the volatility.
However, they tend to be riskier than more traditional assets, so make sure you're willing to take chances if you want to dance around in the options game.
If you're interested in options trading, you should definitely check out this program if you're interested in adding options to your trading repertoire.
Best of all, the money-back guarantee ensures you'll walk away satisfied. Otherwise, you can get a full refund, so you're sure to be happy with your purchase.
$49 for is a small price to pay for all the goodies you get with this package, so sign up now before this deal is gone.
That's it for our Jeff Clark Trader review. Click here to take advantage of this epic deal and sign up for your one-year subscription for only $49.
>> Ready to get started with Jeff Clark Trader? Click here to join today! <<