Jeff Clark's options recommendations have been stirring up a bit of buzz online, so I picked up a subscription to see if it lives up to the hype. Check out my Jeff Clark review for the full story.
What Is Jeff Clark Trader?
Jeff Clark Trader is an investment newsletter that specializes in options trading. Members gain exclusive access to trade ideas, bonus reports, an options education program, and much more.
Jeffery Clark leads the service. He's a well-established options expert with decades of experience.
The appeal of his options strategy is the flexibility to target opportunities in up or down markets. This is a big departure from many stock-picking services that rely on a hot market to capture gains.
Another major perk is its exhaustive options trading course: The One Stock Retirement Masterclass.
Members can learn the same investing secrets previously shared with only a select few of California's wealthiest and Jeff's investor education firm.
Before I dig into the details, let's turn our attention to the mind behind the newsletter.
>> Already sold? Sign up for 90% off <<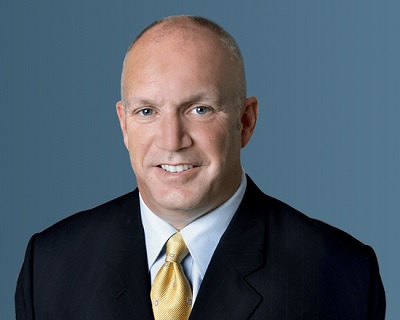 Who Is Jeff Clark?
Jeff Clark is an excellent options trader with a long track record in the financial world. He has been delivering solid stock recommendations and analysis for about 15 years.
Some popular newsletters include:
Delta Report

Jeff Clark Alliance

Earnings Trader
His most well-known trading strategies are the Money Multiplier and Single Stock Retirement Plan (more on that later).
According to his bio, Jeff ran an independent brokerage house and private money management firm out of San Francisco. Then, he began writing newsletters to share his knowledge with everyday folks.
He even worked as head editor for two successful trading letters at Stansberry Research, The Short Report and Pro Trader. Since then, he's branched out on his own and now leads a range of investment subscriptions.
Jeff is also the creator of the popular free newsletter, Market Minute. It's chock-full of solid insights about fundamentals, technical patterns, and volatility.
Now that you know more about the service's lead editor, let's take a look at Jeff Clark Trader's presentation.
>> Get Jeff's latest recommendation<<
What Is The One-Stock Retirement Blueprint?
The one-stock retirement plan is built around one stock in particular.
The team was generous enough to reveal the ticker in the latest presentation. The stock is VanEck Gold Miners ETF, ticker symbol GDX. Jeff claims it's the most predictable stock he's ever seen.
This exchange-traded fund holds a basket of gold stocks with a market cap of about $13.2 billion. Its movements are also closely linked to the price of gold and investor sentiment toward the market.
Jeff uses an arsenal of simple but highly effective options trading strategies to capitalize on movements in GDX, regardless of which direction the stock is trending.
His trade recommendations follow three options:
Buy Call Options

are designed to profit as a stock climbs higher

Buy Put Options

are designed to profit as a stock moves lower

Sell Uncovered Put Options

are designed to profit as a stock moves sideways or higher
In short, with GDX and Jeff Clark Trader's options trades, you could build a comfortable retirement with just one stock.
Profits in Any Market Environment?
Typically, folks are betting that the price of a stock is about to spike when they buy.
Stocks don't tend to climb in a straight line, however, and people feel tempted to move into other positions when growth starts to slow down.
Unfortunately, this understandable impulse causes many to start chasing gains in the latest hype stocks, and they could end up losing out on more consistent gains.
On the other hand, Jeff claims his One-Stock Retirement Blueprint could help folks earn massive trading profits whether prices are moving up, down, or sideways.
His approach isn't just a theory, either. It's proven itself in real-world situations. During the '08-'09 crisis, Jeff's recommendations produced big gains while the market tanked.
It's difficult to argue with his results. And this strategy has the potential to be extremely effective (more on this later).
The #1 Financial Myth of All Time?
Jeff's strategy might sound crazy to some. After all, most of us have been indoctrinated with the idea that a diversified portfolio is the most reliable way to grow wealth.
However, he calls that widely held belief, "the #1 financial myth of all time," and following this strategy has screwed over millions of Americans over the years.
According to Jeff, "the game has changed," and this once well-intentioned concept is simply no longer viable in today's fast-moving, growth-fueled market.
I'm not hating on … any other billionaire investors who preach long-term investing. But the simple truth is they have all the time in the world… a team of PhDs behind them… virtually unlimited capital… and a slew of other resources. Most people don't have any of that.

— Jeff Clark, One-Stock Retirement Blueprint Presentation
In short, he believes diversified portfolios grow too slowly and generate returns that are too underwhelming to make a substantial difference for everyday folks.
His strategy takes a different approach. Jeff prioritizes immediate paths to profits and aims for holding periods as short as just eight days.
That's a much quicker return arc than some diversified portfolios, which can take decades to mature into significant profits.
>> Access the One Stock Blueprint <<
Jeff Clark Trader Features
This research service is packed with stand-out features — especially with the One Stock retirement deal.
Keep reading my review for a breakdown of each one.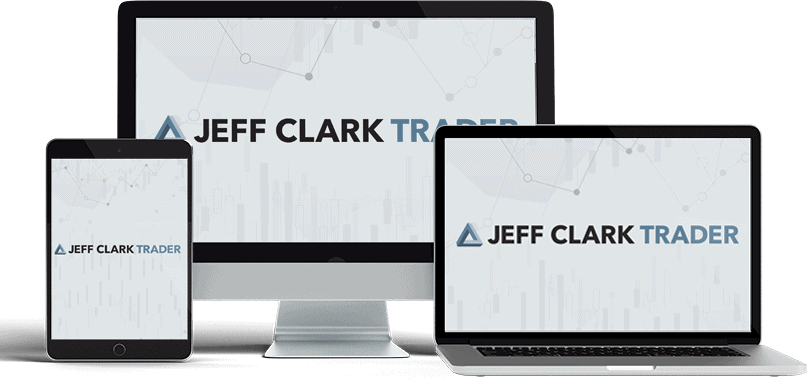 Annual Subscription to the Jeff Clark Trader Newsletter
The newsletter is the centerpiece of this stock market and options research service.
On the third Thursday of every month, subscribers will get a new issue loaded with research, analysis, and stock market recommendations.
You also get real-time notifications that tell you when the time is right to pull the trigger on each potential trade, as well as sell alerts.
In today's fast-paced market, timing is everything. A few minutes can sometimes make the difference between losses or double-digit gains.
If you want even quicker alerts, there's a Jeff Clark Trader app available for download on the Google Play and Apple stores.
Model Portfolio
You can access all the active recommendations in the model portfolio and get a bird's-eye view of all the service's latest stock picks.
The model portfolio includes each stock's name, ticker symbol, and other pertinent information.
This is a snapshot of what the portfolio looks like: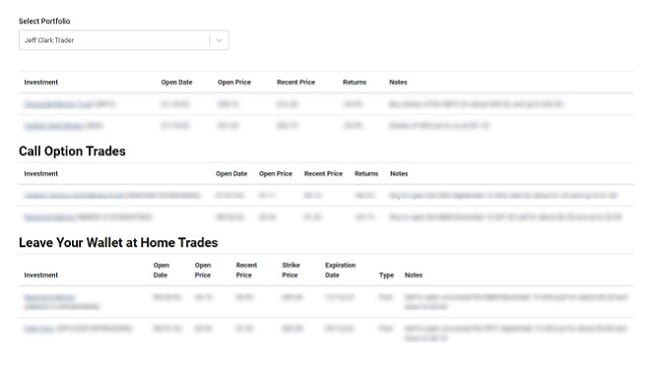 To access it, simply use your Jeff Clark Trader login and click on the portfolio tab.
The site will present you with a detailed layout of all recommended holdings.
Jeff Clark's One-Stock Retirement Blueprint
This featured report provides a step-by-step guide for getting started.
You'll learn several proven strategies for capitalizing on moves in GDX, including trades that can benefit from up, down, and sideways movements.
If you want to put the One-Stock Retirement Blueprint to work in your portfolio, this report has everything you need to hit the ground running.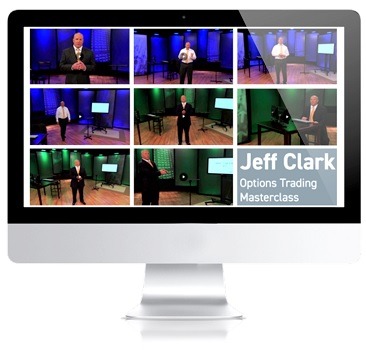 One Stock Retirement Video Masterclass
When you sign up for the One-Stock Retirement Blueprint bundle, you also get access to an in-depth video masterclass catalog.
This valuable resource includes several informative videos outlining options trading, as well as how to put the trading system into practice.
There are eight lessons in total, and each one ranges from about 25 to 40 minutes.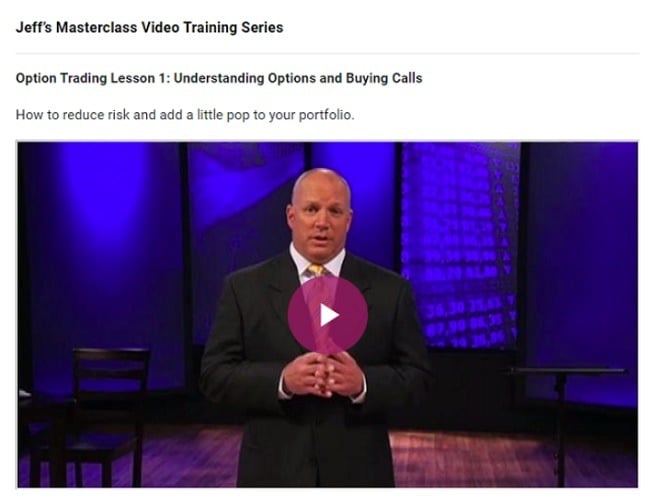 I'm a big fan of the course. It provides one of the clearest and most succinct descriptions of trading options I've seen.
It's possible to find some of the info provided by the Masterclass online through other sources, but it likely won't be as organized and comprehensive.
One small gripe I have with the course is that it doesn't have an option to speed up videos.
That said, it's probably not wise to try to learn complex options strategies at 2X speed, anyway.
The Bubble Investing Blueprint
Jeff Clark Trader members also get an additional bonus report under the One Stock Retirement Deal.
With prices rising across the board, many experts see red flags on the horizon. We could be in the midst of another economic bubble, and the market could experience sudden, dramatic losses when it finally pops.
However, the shock could be an opportunity for folks who can think on their feet.
This report teaches how to spot warning signs, tips for reacting accordingly, and much more.
Jeff Clark's Market Minute
Market Minute is a free newsletter that informs subscribers of the latest market-making news.
This resource is completely free, and you don't need a membership to access its insights.
Something I like about Market Minute is that it features analysis from other big names in the investing world. This is a handy resource for someone looking for input from a broad range of experts.
Some of the more recent contributors include Nomi Prins, Imre Gams, and Larry Benedict.
>> Dive into the Market Minute <<
Digital Library of Research Reports
Jeff Clark Trader members can access a vast library containing the entire collection of research reports.
Also, all reports can be viewed in PDF format.
Some notable entries include:
How to Trade Bitcoin for Huge Gains Over and Over Again

The Ultimate Guide to Generating INCOME with Options

How to Open an Options Account

Guide to Technical Analysis

And much more…
It's a valuable addition to the One-Stock Retirement lineup, and you're sure to find some excellent options trading ideas.
The information in these reports is clear, concise, and organized.
Here's a quick snapshot of one of the PDFs:
The quality is more akin to an ebook rather than a typical bog-standard blog post.
Something I appreciate about the research library is that many of the reports still have value because they provide teaching tools for options and more.
Competing services offer research archives, but many of these focus on stocks that have moved past the original investment thesis.
On the other hand, many of Jeff Clark Trader's reports are geared toward strategies that work in a variety of market conditions.
A helpful research report to check out is the Options Bible. Its insights pair well with the One Stock Retirement Masterclass course.
Customer Service Team
Jeff Clark Trader has an excellent US-based customer service team that's eager to assist members. If you ever run into an issue, they're standing by to address your concerns via email or phone.
Hopefully, you'll never need them. However, it's always comforting to know there's a qualified team of customer support professionals at your disposal if there's ever a problem with your subscription.
It's a nice touch for anyone who wants to communicate with real people instead of long email chains.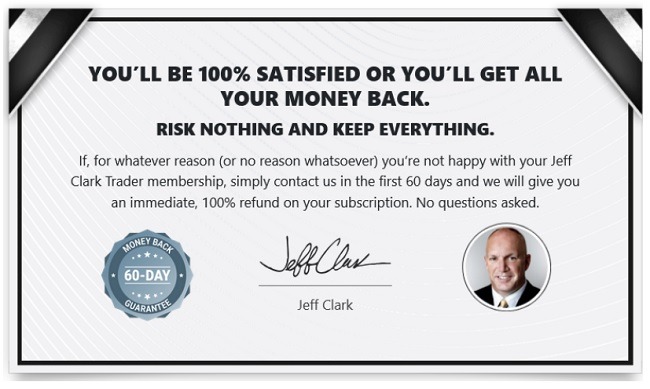 Money-Back Guarantee
The Jeff Clark Trader program has a 60-day, 100% money-back guarantee. Most research services only offer a 30-day grace period, but this guarantee lasts for twice that!
In other words, there's practically no risk in trying the service. If you don't like the research, you can get a full refund within sixty days.
The team clearly stands by their research and recommendations.
>> Make the most out of Jeff's guarantee <<
Jeff Clark's Track Record
Jeff Clark's track record has been quite impressive over the years, with one of his picks providing the opportunity to land a 390% return.
The One-Stock Retirement Blueprint, in particular, has delivered a range of solid stock recommendations.
Some top opportunities include:
390% in 27 days

315% in 15 days

373% in 8 days

353% in 37 days
This chart gives a better look at how some recommendations performed:
Numbers like that speak for themselves.
It's important to note, however, that past performance is not an indicator of future results.
Is Jeff Clark Trader Legit?
Jeff Clark Trader is legit.
While everything on offer is fantastic, one of the most impressive features of this trading service is the options education.
There are plenty of solid newsletters out there. But many have the same flaw: readers are too dependent on the investment analyst.
I appreciate that this one provides extensive educational materials to support members.
It piles on real trading insights and video courses that could teach you how to spot and execute options trades on your own. Gestures like this give the impression that the team has a genuine interest in your success.
>> See why so many trust Jeff <<
Pros and Cons of Jeff Clark Trader
There is plenty to like about the Jeff Clark Trader service, but it does have a few cons to consider.
Pros
Jeff Clark is a legit options trader

Excellent price with 90% discount

Unlimited archive access

Educational resources
Cons
No chat room or other social components

Only deals in options
Jeff Clark Trader Pricing
A one-year subscription to the Jeff Clark Trader service usually costs $199, but members can sign up for just $19 with a limited-time discount.
This shakes out to a whopping 90% off the sticker price.
Best of all, you still get full access to newsletter and bonus materials, including The One Stock Retirement Blueprint, archives, and 60-day guarantee.
A membership is an excellent value at $199, but it's a downright bargain at less than 20 bucks.
Is Jeff Clark Trader Review: Final Verdict
Jeff Clark Trader is a great newsletter. The options education it provides is fantastic, and I'm also a fan of the price and 90% discount.
For just $19, you get trade ideas and a complete guide to Jeff's One Stock Retirement Blueprint, as well as an in-depth options trading course.
With new recommendations every month, you'll never run short of opportunities. His research gives you plenty of stock picks to get started, and the monthly updates will help keep you on track.
The service covers all the bases with educational components, bonus research, regular updates, and monthly reports.
And best of all, an established and respected guru leading the charge.
>> That's it for my review. Sign up now for just $19 <<