Jeff Clark's options recommendations have been stirring up a bit of buzz online, but does it live up to the hype?
In this review, we'll explore the ins and outs of the Jeff Clark Trader newsletter, which offers valuable insights and resources for those interested in options trading.
Options trading is a dynamic and versatile financial strategy that offers opportunities to take profits from price movements in various assets, such as stocks, commodities, or indices. Unlike traditional stock trading, options enable traders to speculate on both rising and falling markets through calls and puts.
Options can generate significant returns, but you'll need a solid understanding of market dynamics and sophisticated strategies to navigate the market successfully. 
We'll dive into the expertise of Jeffrey Clark and take a closer look at the unique features that come with the service, such as the One Stock Retirement Masterclass. 
By the end of this review, you'll have a clear understanding of whether Jeff Clark Trader is worth your time and investment.
Check out my Jeff Clark Trader review for the full story.
What Is Jeff Clark Trader?
Jeff Clark Trader is an investment newsletter that specializes in options trading. Members gain exclusive access to trade ideas, bonus reports, an options education program, and much more.
Jeffrey Clark leads the service. He's a well-established options expert with decades of experience.
The appeal of his options strategy is the flexibility to target opportunities in up or down markets. This is a big departure from many stock-picking services that rely on a hot market to capture gains.
Another major perk is its exhaustive options trading course: The One Stock Retirement Masterclass.
Members can learn the same investing secrets previously shared with only a select few of California's wealthiest and Jeff's investor education firms.
Before I dig into the details, let's turn our attention to the mind behind the newsletter.
>> Already sold? Sign up for 90% off <<
Who Is Jeff Clark?
Jeff Clark is an experienced trader with a long track record for trading options. Jeff began writing newsletters many years ago, and he's been delivering valuable stock recommendations and analysis for about 15 years.
Some popular newsletters include:
Delta Report

Jeff Clark Alliance

Earnings Trader
His most well-known trading strategies are the Money Multiplier and Single Stock Retirement Plan (more on that later).
According to his bio, Jeff ran an independent brokerage house and private money management firm out of San Francisco. Then, he began writing newsletters to share his knowledge with everyday folks.
He even worked as head editor for two successful trading letters at Stansberry Research, The Short Report and Pro Trader. Since then, he's branched out on his own and now leads a range of investment subscriptions.
Jeff Clark is also the creator of the popular free newsletter, Market Minute. It's chock-full of solid insights about fundamentals, technical patterns, and volatility.
Now that you know more about the service's lead editor, let's take a look at Jeff Clark Trader's latest presentation, where he performs a "financial intervention" on his very own son!
>> Get Jeff's latest recommendation<<
Jeff Clark and Son: "Financial Intervention"
In his latest promo, Jeff sits down with his son, Grant, to confront him about his recent row of financial mistakes.
When he first started trading, Grant Clark followed many of his father's recommendations, and he quickly doubled his trading account.
However, Grant confesses that he later got sucked into "the crypto hype," and his account ultimately suffered a 60% decline, largely as a result of his crypto moves.
Jeff says he wanted to highlight his son's story because it could help thousands of everyday people get their accounts back on track after a terrible year in the market.
America currently has its lowest savings rate in decades, and the down market has crushed thousands of portfolios.
Fortunately, Jeff says the chaotic market is also creating one of the best trading environments he's ever seen, and his legendary One Stock Retirement plan could be the key to taking advantage of this epic opportunity.
In his presentation, Jeff demonstrates how the One Stock system can help his son and many more Americans get their trading accounts back on track.
Best of all, Jeff's approach has the potential to work in ANY kind of market environment, so it could be an ideal strategy for conquering today's uncertain market.
It all centers around one stock, so it's extremely easy to keep up with. Best of all, it has the potential to consistently outperform the market if wielded correctly.
Jeff Clark Trader: What Comes with the Service?
This research service is packed with stand-out features — especially with the One Stock retirement deal.
Keep reading my review for a breakdown of each one.
Annual Subscription to the Jeff Clark Trader Newsletter
The newsletter is the centerpiece of this stock market and options research service. 
On the third Thursday of every month, subscribers will get a new issue loaded with research, analysis, and stock market recommendations.
You also get real-time notifications that tell you when the time is right to pull the trigger on each potential trade, as well as sell alerts.
In today's fast-paced market, timing is everything. A few minutes can sometimes make the difference between losses or double-digit gains.
If you want even quicker alerts, there's a Jeff Clark Trader app available for download on the Google Play and Apple stores.
To provide a more comprehensive service, the newsletter aims to cater to various skill levels. 
By including both basic and advanced strategies, subscribers with different levels of experience can benefit from the provided information. This approach helps individuals build their confidence in the market.
Subscribers will have the opportunity to learn about diverse strategies and techniques used in the stock market and options trading. 
Jeff Clark Trader newsletter highlights a range of methods and tools that can be employed to make well-informed decisions in the ever-changing market landscape.
Model Portfolio
You can access all the active recommendations in the model portfolio and get a bird's-eye view of all the service's latest stock picks.
The model portfolio includes each stock's name, ticker symbol, and other pertinent information.
This is a snapshot of what the portfolio looks like:
To access it, simply click on the portfolio tab.
The site will present you with a detailed layout of all recommended holdings.
This layout is designed for user-friendly navigation, allowing subscribers to efficiently browse the selections. The organized presentation enables quick decision-making based on the provided data.
The service keeps the model portfolio updated to ensure that subscribers always have access to relevant information. Regular updates help users stay current with market trends and adapt their strategies accordingly.
The model portfolio can serve as a foundation for subscribers to build upon, allowing them to tailor their strategies to their unique objectives. This resource offers a starting point for developing a personalized approach to stock market decisions.
Jeff Clark's One-Stock Retirement Blueprint
This featured report provides a step-by-step guide for getting started.
You'll learn several proven strategies for capitalizing on moves in GDX, including trades that could benefit from up, down, and sideways movements.
If you want to put the One-Stock Retirement Blueprint to work in your portfolio, this report has everything you need to hit the ground running.
GDX, an exchange-traded fund (ETF), tracks the performance of gold mining companies. This unique investment vehicle offers the opportunity to diversify your portfolio, focusing on the lucrative gold mining industry.
The report delves into the world of GDX, exploring its intricacies and potential benefits. It demystifies the complexities of this ETF, making it more accessible to individuals with varying levels of experience.
Jeff Clark provides a thorough analysis of GDX's historical performance, highlighting potential future trends. By understanding the past, you'll be better equipped to make informed decisions moving forward.
This Jeff Clark Trader's service offers detailed guidance on managing risk, ensuring that you can effectively balance potential gains and losses. This approach is essential for long-term success when dealing with GDX.
The guide presents several GDX strategies, catering to different market scenarios. These tactics empower you to capitalize on opportunities, regardless of market conditions.
The report's step-by-step approach ensures that you'll have the necessary tools to navigate the complexities of GDX with confidence.
The Next 12: An Urgent Prediction for The Next 12 Months as America Enters a New Financial & Social Era
Jeff has a new bonus report that he's including with his latest One-Stock Retirement deal, and it includes a detailed walkthrough of his predictions for the next 12 months in the market.
In the report, Jeff makes a compelling case for why we're nowhere near the bottom of the stock market. In fact, he says that chasing tech stocks or blue chips on the dip could ultimately be "an awful financial decision.
He believes a massive "stock shock" is coming that could wipe out millions of unsuspecting Americans' life savings, and he sums up his expectations with this chart:
Jeff claims we're currently sitting in the middle of one of history's most epic "bull traps," and it could spell disaster for anyone whose beginning to become more optimistic about the market.
He put this bonus report together to help his members prepare for the coming shock, but he warns that you'll need to prepare your portfolio BEFORE Oct. 1st, 2023, to protect yourself.
The Next 12 report includes a detailed look at Jeff's expectations for the months ahead, as well as a step-by-step game plan for fortifying your portfolio against the coming downtrend.
This report could save you from taking massive losses in the months ahead, so it's an incredibly valuable addition to this bundle.
One Stock Retirement Video Masterclass
When you sign up for the One-Stock Retirement Blueprint bundle, you also get access to an in-depth video masterclass catalog.
This valuable resource includes several informative videos outlining options trading, as well as how to put the trading system into practice.
There are eight lessons in total, and each one ranges from about 25 to 40 minutes.
I'm a big fan of the course. It provides one of the clearest and most succinct descriptions of trading options I've seen.
It's possible to find some of the info provided by the Masterclass online through other sources, but it likely won't be as organized and comprehensive.
One small gripe I have with the course is that it doesn't have the option to speed up videos.
That said, it's probably not wise to try to learn complex options strategies at 2X speed, anyway.
One Stock Retirement Video Masterclass also doesn't skimp on quality. The lessons are presented in an engaging manner, with clear explanations and visuals. This attention to detail helps make the information more accessible and easier to comprehend, even for complex topics.
As you progress through the eight lessons, you'll develop a deeper understanding of options trading and learn to identify potential opportunities. The knowledge gained from the masterclass will help you make informed decisions and develop strategies that suit your specific needs.
Overall, this Video Masterclass is an excellent addition to the One-Stock Retirement Blueprint bundle. The comprehensive lessons, practical insights, and high-quality content make it a valuable resource for anyone looking to expand their options trading expertise.
Digital Library of Research Reports
Members can access a vast library containing the entire collection of research reports.
Also, all reports can be viewed in PDF format.
Some notable entries include:
How to Trade Bitcoin for Huge Gains Over and Over Again

The Ultimate Guide to Generating INCOME with Options

How to Open an Options Account

Guide to Technical Analysis

And much more…
It's a valuable addition to the One-Stock Retirement lineup, and you're sure to find some excellent options trading ideas.
The information in these reports is clear, concise, and organized.
Here's a quick snapshot of some of the PDFs available in the member's only area:
Something I appreciate about the research library is that many of the reports still have value because they provide teaching tools for options and more.
Competing services offer research archives, but many of these focus on stocks that have moved past the original investment thesis.
On the other hand, many of Jeff Clark Trader's reports are geared toward strategies that could work in a variety of market conditions.
A helpful research report to check out is the Options Bible. Its insights pair well with the One Stock Retirement Masterclass course.
Diving into the Options Bible, you'll discover essential concepts, practical examples, and a wealth of information on options trading.
This comprehensive guide is designed to help you master the art of options trading, regardless of your current skill level.
Another interesting report in the library is "How to Trade Bitcoin for Huge Gains Over and Over Again."
This report focuses on the ever-evolving world of cryptocurrencies and provides an in-depth look at the opportunities and challenges that come with trading digital assets.
It's a must-read for anyone interested in exploring this rapidly growing market.
For those looking to learn more about the technical side of things, the "Guide to Technical Analysis" is a valuable resource.
It covers various techniques for analyzing market trends, such as chart patterns, moving averages, and trend lines. Understanding these principles will help you better navigate the market's ups and downs.
The research library is updated regularly, ensuring that you always have access to the latest information and strategies. This continuous flow of knowledge enables you to stay ahead of the curve and adapt your trading approach as needed.
Customer Service Team
When it comes to investing, it's important to have a support system in place. That's where Jeff Clark Trader's customer service team comes in. 
They're based in the US, which means you can expect prompt, reliable assistance when you need it most. Whether you prefer to communicate via email or phone, their team of dedicated professionals is standing by to help you resolve any issues that may arise with your subscription.
One of the benefits of having a human support team is that you can get personalized assistance that's tailored to your unique needs. Email chains can be frustrating and time-consuming, but with Jeff Clark Trader's customer service team, you can communicate with real people who are invested in your success.
In an industry that's often focused on automation and technology, it's refreshing to have a service that values human interaction and support.
>> Join now and enjoy U.S.-based customer support <<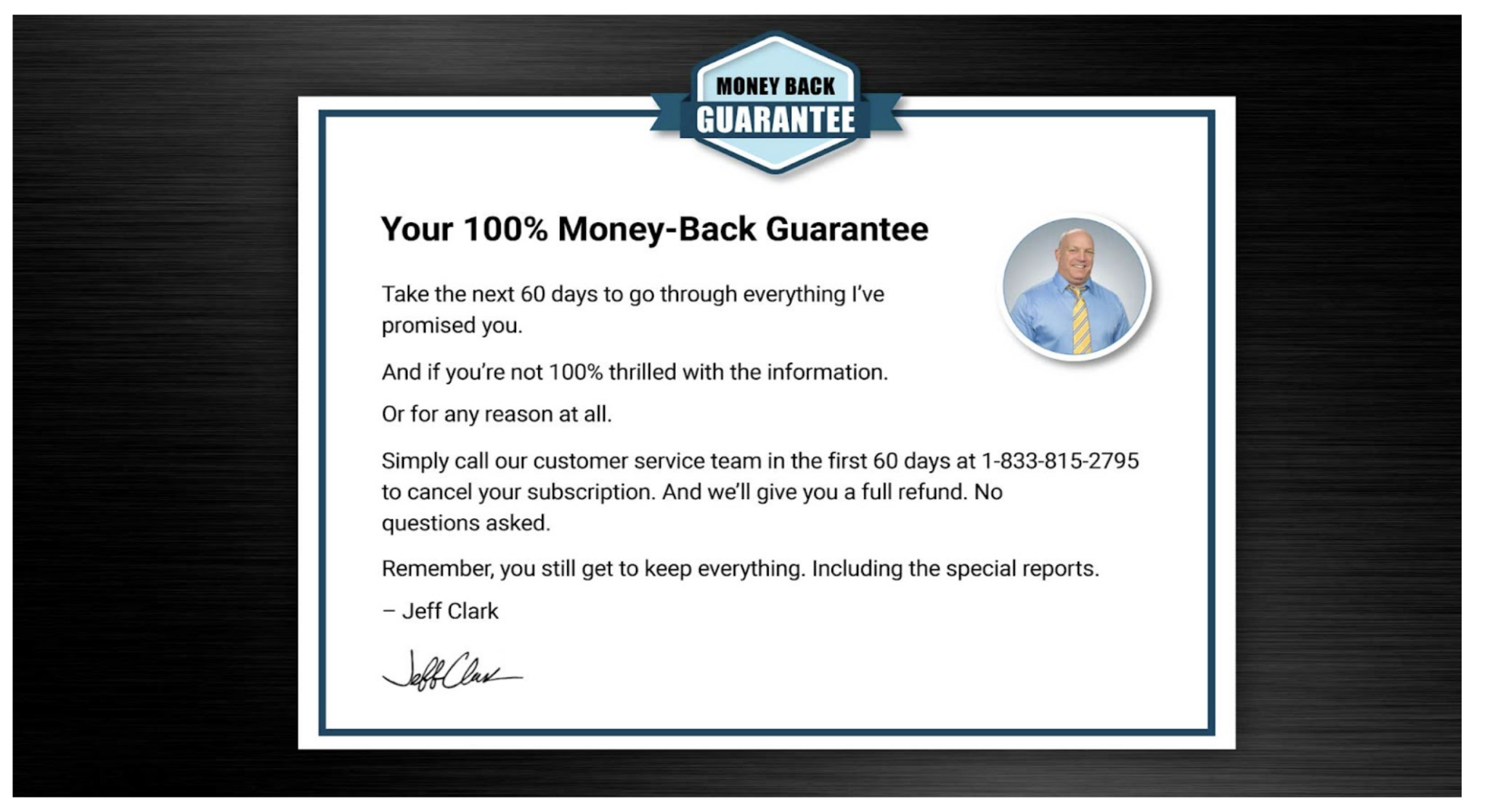 Money-Back Guarantee
New memberships come with a 60-day, 100% money-back guarantee. Most research services only offer a 30-day grace period, but this guarantee lasts for twice that!
In other words, there's practically no risk in trying the service. If you don't like the research, you can get a full refund within sixty days.
The team clearly stands by its research and recommendations.
>> Join under Jeff's guarantee <<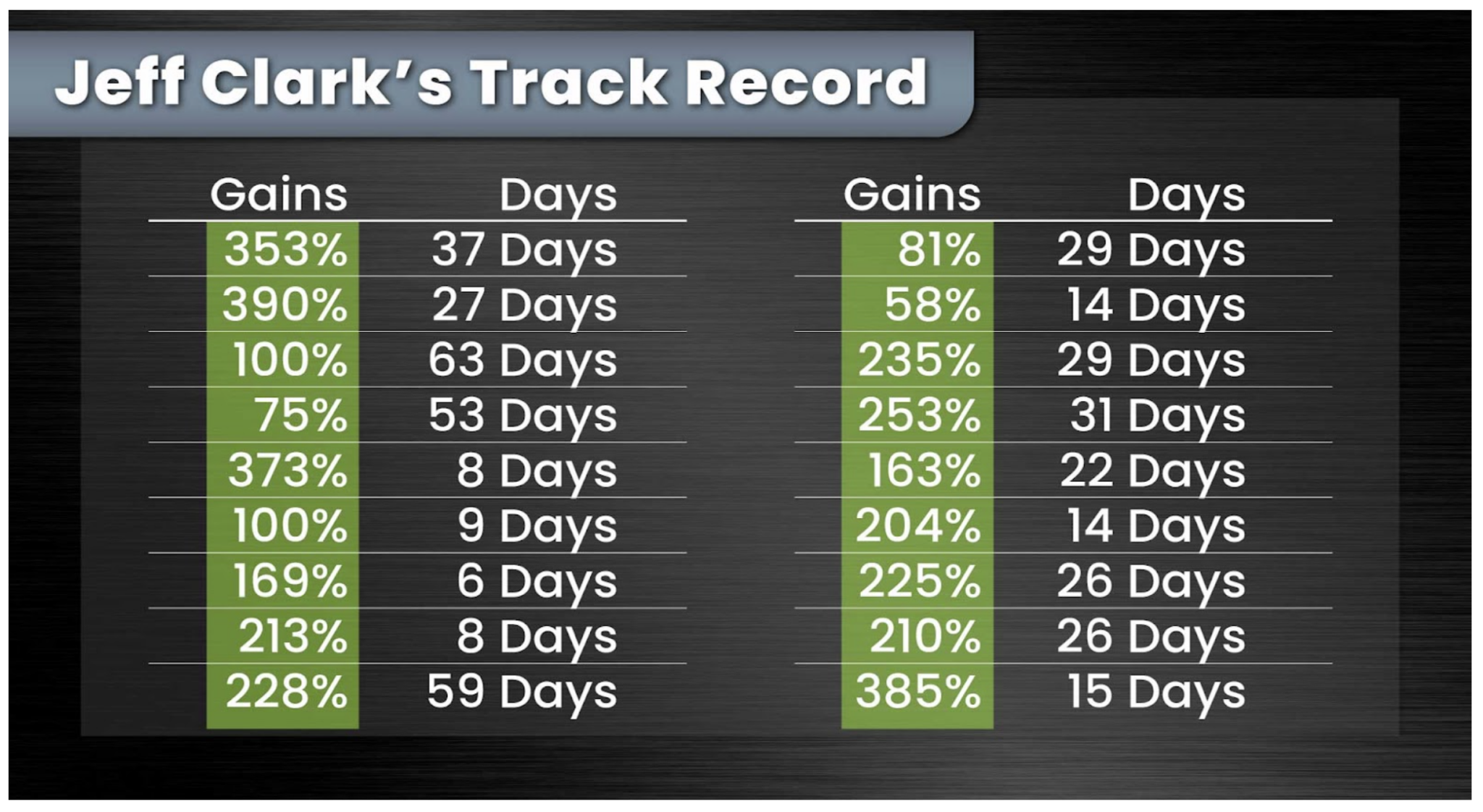 Track Record
Jeff Clark's track record has been quite impressive over the years, with one of his picks providing the opportunity to land a 390% return.
The One-Stock Retirement Blueprint, in particular, has delivered a range of solid stock recommendations.
Some top opportunities include:
390% in 27 days

315% in 15 days

373% in 8 days

353% in 37 days
This chart gives a better look at how some recommendations performed: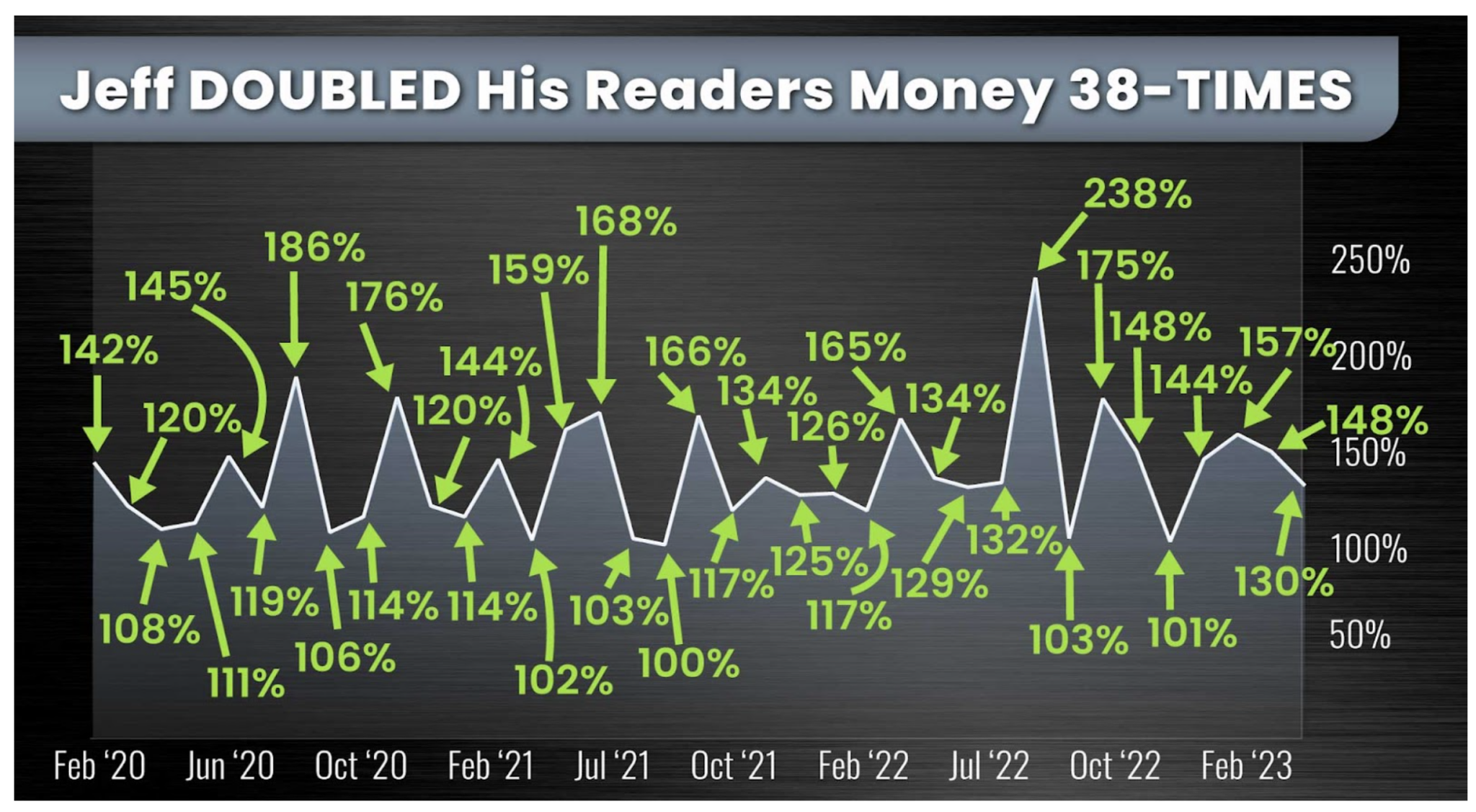 Such impressive results are undoubtedly noteworthy and make a strong case for considering Jeff Clark's investment advice. However, it is crucial to remember that past performance is not a guarantee of future results. 
While the One-Stock Retirement Blueprint's track record is impressive, it does not guarantee that all recommendations will be equally successful. 
As with any investment strategy, there are always risks involved, and it is essential to conduct thorough research and due diligence before making any investment decisions.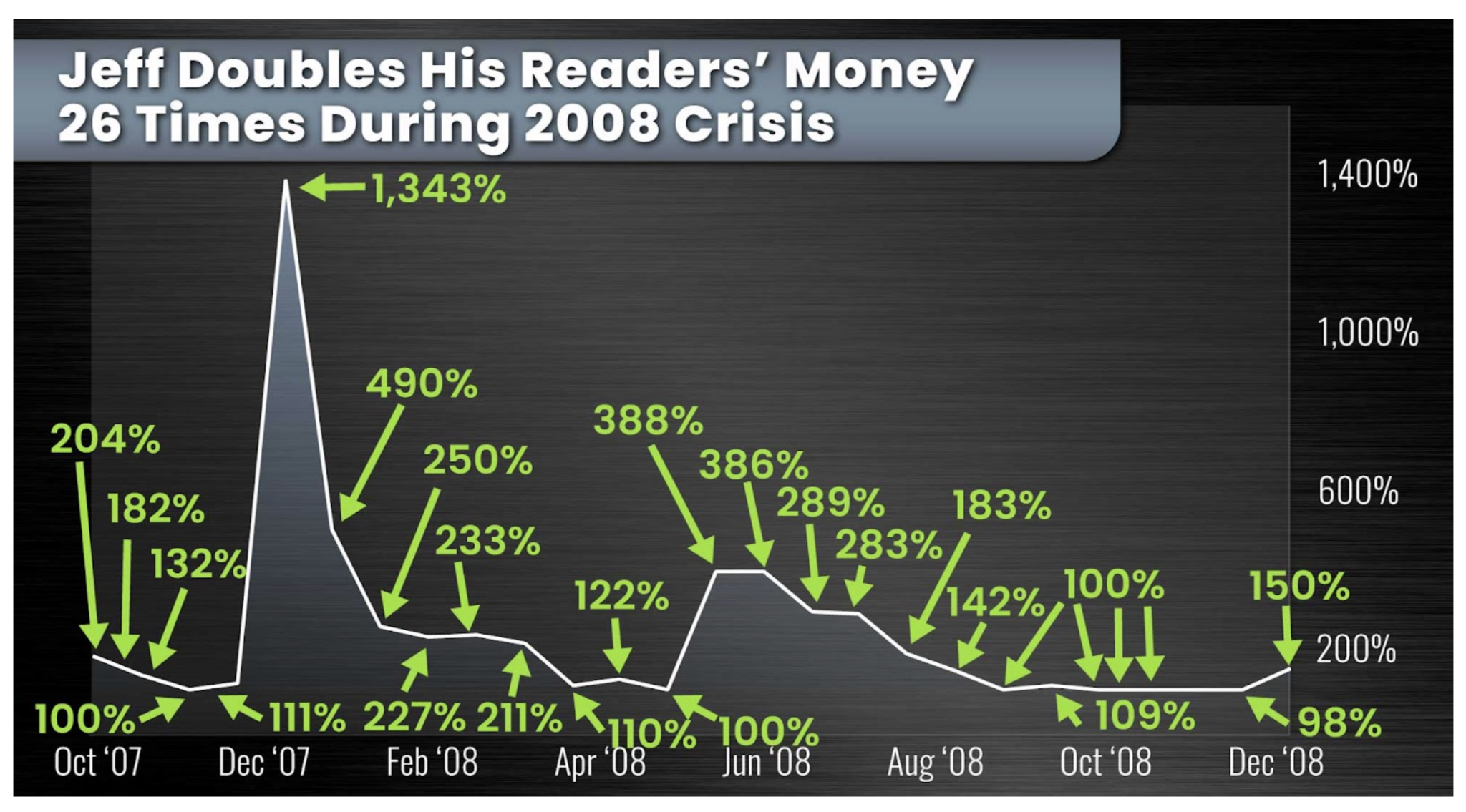 However, Jeff's insights don't end with growth opportunities. He's also proven to be a prescient predictor of sudden market drops as well.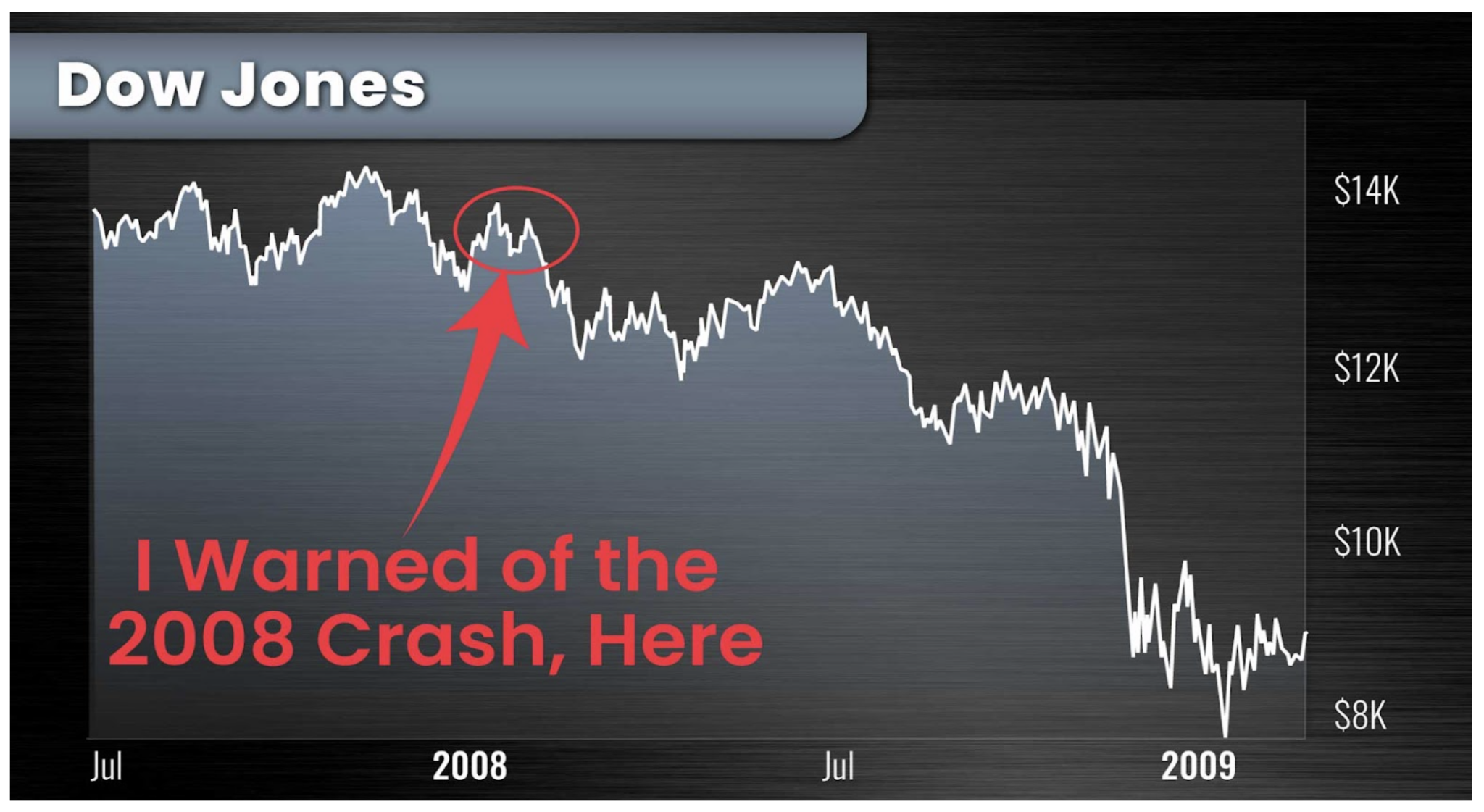 In 2008, he warned his readers that the Dow Jones was headed for collapse. A few months later, the Financial Crisis was in full swing, and the Dow was down substantially.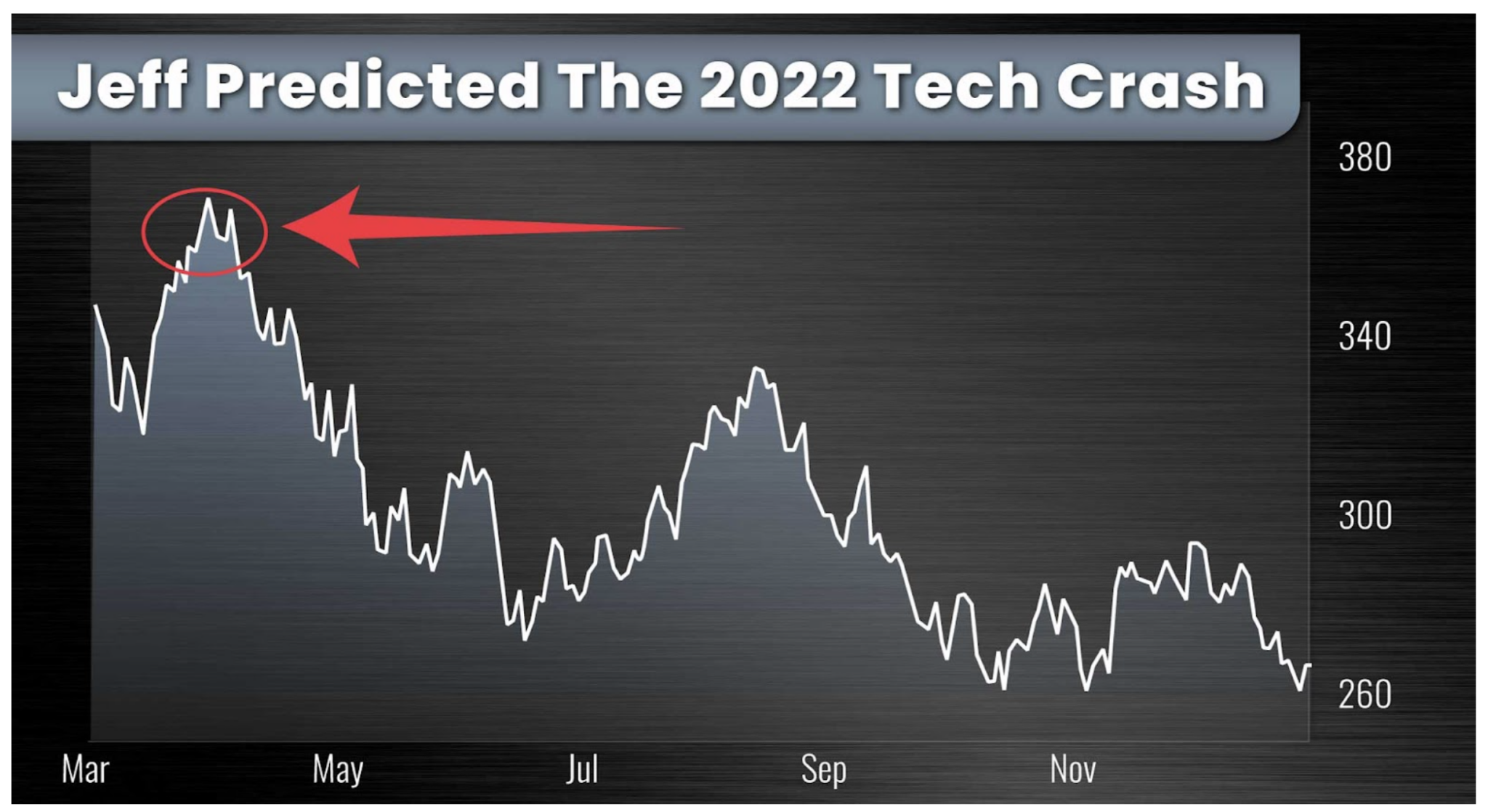 Fast forward to recent times, and Jeff still has an eye for trouble. He called the top of the tech boom with almost perfect timing, and the sector struggled for months following his alert.
As you can see, Jeff Clark's expertise and track record are impressive. His insights and recommendations have been a huge asset to his followers over the years.
Is Jeff Clark Trader Legit?
Jeff Clark Trader is legit.
While everything on offer is fantastic, one of the most impressive features of this trading service is the options trading education.
There are plenty of solid newsletters out there. But many have the same flaw: readers are too dependent on the investment analyst.
I appreciate that this one provides extensive educational materials to support members.
It piles on real trading insights and video courses that could teach you how to spot and execute options trades on your own. Gestures like this give the impression that the team has a genuine interest in your success.
>> See why so many trust Jeff <<
Jeff Clark Trader Reviews
All the users have only high praise for the services Jeff Clark provides. Here is a quick overview of reviews they had for Jeff Clark Trader. 
As you can see from these Jeff Clark Trader reviews, this service has the potential to lead you to some huge wins. Remember, these results aren't typical, but they still give you some idea of what you can do with Jeff's research.
Pros and Cons
There is plenty to like about the Jeff Clark Trader service, but it does have a few cons to consider.
Pros
Excellent price with a 90% discount

Unlimited archive access

Bonus masterclass and two special reports

Educational resources

60-day money-back guarantee

Extensive options education:

Impressive track record
Cons
No chat room or other social components

Only deals in options

Options trading can be complex and may not be suitable for all investors.
Jeff Clark Trader: How Much Does the Service Cost?
A one-year subscription to the Jeff Clark Trader service usually costs $199, but members can sign up for just $19 with a limited-time discount.
This shakes out to a whopping 90% off the sticker price.
Best of all, you still get full access to newsletter and bonus materials, including The One Stock Retirement Blueprint, archives, and 60-day guarantee.
Membership is an excellent value at $199, but it's a downright bargain at less than 20 bucks.
Final Verdict
Jeff Clark Trader is a great newsletter. The options education it provides is fantastic, and I'm also a fan of the price and 90% discount. 
For just $19, you get trade ideas and a complete guide to Jeff's One Stock Retirement Blueprint, as well as an in-depth options trading course.
With new recommendations every month, you'll never run short of opportunities. His research gives you plenty of stock picks to get started, and the monthly updates will help keep you on track.
The service covers all the bases with educational components, bonus research, regular updates, and monthly reports.
And best of all, an established and respected guru leading the charge.