Dan Ferris claims that portfolios could be swept away after the "Everything Bubble" bursts. But is his analysis spot on, or is he off the mark? Check out this The Ferris Report review from a real member to find out.
What Is The Ferris Report?
The Ferris Report is an investment newsletter helmed by Dan Ferris and published by Stansberry Research.
Members receive a monthly recommendation, bonus reports, market commentary, and other perks. The recommendations focus on stocks and exchange traded funds.
In terms of strategy, Dan's core focus is helping prepare portfolios in the event that the "Everything Bubble" bursts. He also provides research on navigating what he refers to as a "Dead-Zone": an extended period of stagnating economic growth.
His recommendations dial in on durable companies that could capitalize on macro and micro trends.
Typical holding periods for positions might be anywhere from years to even decades.
The Ferris Report team could also occasionally recommend inverse ETFs, as well. However, it might be a good idea to consider it a nice bonus and not a fixture of the investment strategy.
Sound like a good fit? Sign up and SAVE 75%
Who Is Dan Ferris?
Dan Ferris is an investment analyst who does a great job of cueing members into under-the-radar stock market moves.
And as a value investor, he aims to find "some of the safest and yet most profitable stocks in the market: great businesses trading at steep discounts."
Over the decades, his cautious approach to finding undervalued stocks with solid upside potential has earned him a loyal following.
He has also made some impressive calls, which have provided his readers the opportunity to capture double and triple-digit winners.
Some of his most notable past picks include:
Intel (133%)

Prestige Brands Holdings (406%)

Latin American Export Bank (133%)

International Royalty (248%)
While these previous picks are impressive, it's important to note that these results are not typical, and past performance is not an indicator of future results.
Dan's The Ferris Report is a new addition to the Stansberry Research lineup, but he's been a core member of the team since 2000.
His other newsletter, Extreme Value, has had a strong run since it was launched in 2022.
In fact, Extreme Value has locked in a rock-solid 4.1 rating on Stock Gumshoe.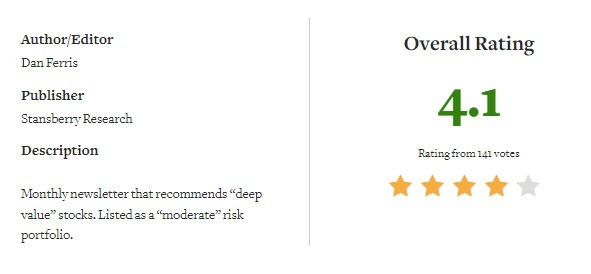 Keep in mind that this is a third-party site, so I cannot verify the veracity of these ratings. Still, it's a good sign that Dan has received such high praise.
There are no reviews for Ferris Report at the moment, but the service is new, so this makes sense.
In addition to his widely popular newsletters, Dan also leads the Stansberry Investor Hour podcast.
What Comes with the Service?
This investment newsletter is packed with valuable research and insights.
Read on for the full scoop.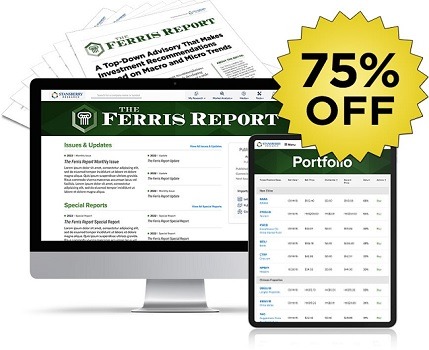 Annual Subscription to The Ferris Report
Each month, the newsletter provides members with one recommendation that's heavily vetted by the team.
Typically, it's a stock or ETF. But inverse ETFs could occasionally be recommended as well.
Something I appreciate is that there's no deliberate rotation between stock and ETF picks. The team isn't putting an investment idea on ice to fill out a quota.
The Ferris Report also provides much more than the ticker.
It offers supporting research market commentary, warnings, and more. The analysis also includes a look into the latest micro and macro trends.
The Ferris Report Model Portfolio
All the service's open positions are logged into the model portfolio.
This handy resource lets members check out the performance of the team's investing insights at a glance.
It covers:
The ticker, ref data and ref price

Dividends

Recent and buy-up-to price

Returns and more
Model portfolios are fairly standard in the industry, but The Ferris Report offers some unique features.
By clicking on the ticker, members are welcomed with a stock chart. This screen also offers two options to check the Stansberry Company Score or initial recommendation.
Stansberry Investor Hour
Each Monday, a new episode of Stansberry Investor Hour airs.
Dan delivers top-tier insights and interviews some of the brightest minds in business, investing, and politics.
Some past guests include:
Jim Rogers

T. Boone Pickens

Dr. Ron Paul

Glenn Beck
The weekly podcast is a great way to get the scoop on the latest market news and rumblings in the investing world.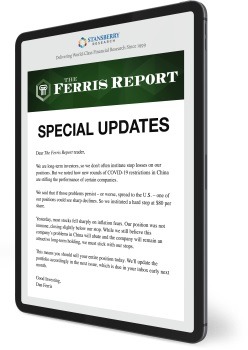 Special Alerts and Updates
Special alerts are issued whenever the team believes it's time to lock-in gains or close out an open position.
Members also receive updates if Dan spots a marking moving event around the corner.
Alerts are sent directly to your inbox, which makes checking in on them a breeze.
You can go about your day with confidence knowing that The Ferris Report team is keeping a vigilant eye on the market.
Archives of Special Reports
Members can dig into Dan's entire archives of special reports.
This includes every report he writes over the next year, as well as future reports published within the next twelve months.
Because the service is new, the catalog might not be as extensive as other archives.
That said, as the archives grow, so does the value offered.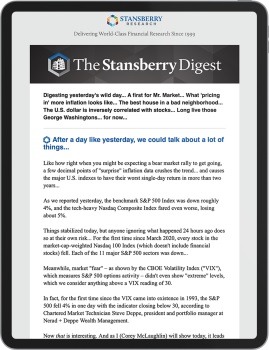 The Stansberry Digest
This daily newsletter is delivered to members at about 6pm each market day.
In addition to Dan's contributions, this e-letter also offers insights from some of Stansberry Research's other analysts.
This makes it a good read for someone interested in daily market commentary with diverse angles.
Also, The Ferris Report is a monthly newsletter, so The Stansberry Digest could be a solid resource to keep you up to speed with the financial world between issues.
This newsletter does not offer trade ideas, however.
Access these features and more for 75% OFF
Special Reports
Under the latest deal, new members receive bonus analysis that could help grow and protect portfolios during a "Dead Zone."
Follow along for a breakdown of each resource.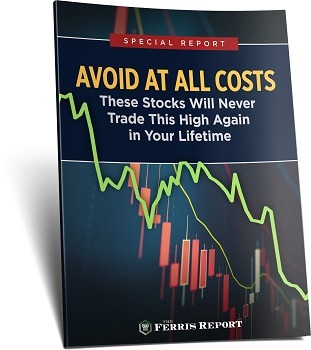 Avoid at All Costs: These Stocks Will Never Trade This High Again in Your Lifetime
Research reports usually offer additional stock picks or trading education.
But this one is breaking away from the beaten path.
The team has identified 11 stocks that they say could spell bad news for portfolios down the road.
They go as far as calling them "dangerous companies."
In addition to the warnings about these stocks, the team also delves into some sectors and investment classes that might also be in trouble.
Even if you are starting a portfolio from scratch, this resource could provide valuable info about investments that have the potential to drag portfolios down.
The Best of the Best: The ONLY Stocks That Can Safely 8X Your Money During America's "Dead-Zone"
Dan drops the details on some of his top stocks for what he refers to as America's "Dead Zone."
He also says that they could provide up to 8X potential down the road.
Although these types of stocks have already rocketed up more than 500% in the last few years, Dan believes they could have plenty of more gas in the tank.
The report reveals everything you need to know about this opportunity, including supporting research, stock symbols, and the buy up to price.
Trade Your Dollars for Potential 1,000% Gains Thanks to Gold and Silver
During times of inflation, many seek precious metals, like gold and silver, as a refuge to protect portfolios.
However, in this case, the team has a rather unconventional play under their sleeves.
This report outlines how to gain exposure to precious metals without heading down to your local bullion dealer and buying in bulk.
It's a more speculative position than what the team typically recommends. But they believe the upside potential could be immense.
The Recession Haven That Could 7X Your Money in 10 Years
Dan says that this sector might be one of the most financially stable havens to invest in on the stock market.
In his presentation, he shares some data points about why he's looking into this class of stocks as a potential safe haven.
For one, they have provided the opportunity for double-digit gains this year while the market dropped 20%.
Also, these types of stocks have outperformed the S&P 500 since 2001 by about 60%.
The World's Two Most Valuable Assets in a Time of Crisis
Dan and the team have pinpointed two assets that they believe could survive and thrive during a downturn.
Given that this is premium research, they can only provide a few hints as to why they are bullish on these opportunities.
Their first asset has been up 1,700% in the long term and has not had a single down year for decades.
The second on their list has delivered the opportunity for 12% to 14% income for about 30 years.
Considering that Dan anticipates that America's stock market "Dead Zone" could last for decades, it makes sense that these assets made the cut.
30-Day Money-Back Guarantee
New memberships to The Ferris Report come with a 30-day money-back guarantee.
This means you can take the service for a test spin for about a month. If you decide it's not a good match, you can request your money back for the price of the subscription.
Thirty days is the industry standard, so the service lines up with many of its competitors.
Recommendations typically lean into the long term, so this might not be enough time to see a position to its conclusion.
However, it does offer more than enough time to check out the quality of Dan's analysis (which I find to be pretty exceptional).
You could also pick up some valuable insights in the process.
Is Dan Ferris Legit?
Dan Ferris is a legit investment analyst.
As mentioned, he has a solid track record in finding value stocks with plenty of upside potential.
His ability to spot market trends is also another admirable aspect of his analysis.
He accurately warned about the 2008 financial crisis and the small-cap mining collapse in 2011.
Given his penchant for predicting seismic stock market events, many high-profile media figures have sought his insights.
Some include Money with Melissa Francis, The Willis Report on Fox Business News, and The Street with Paul Bagnell on Business News Network.
Pros and Con
The Ferris Report is a solid newsletter, but there are a few downsides to the service.
Pros
Great price with 75% discount

30-day money-back window

Stock and ETF recommendations

One of Stansberry's top minds behind the wheel
Cons
No investment community

Does not cover shorts or options
Is the Service Right for Me?
The Ferris Report could be a good fit for folks searching for research on stocks and ETFs for the long haul.
The moderate safety rating aims to provide a happy middle ground between risk and reward, so it could synergize well with a range of investing strategies.
Another big draw is the breadth of analysis on offer. Each issue gives a comprehensive look at the recommendation and includes macro stock market analysis. In my experience, this level of detail is quite rare in the industry.
The pricing puts the service in reach of many budgets. Though, mileage might vary.
There's also a good amount of variety in the picks. Recommendations are meant to encompass a broad range of companies. The team does not recommend shorts. However, they could occasionally add an inverse ETF into the mix.
While this newsletter could appeal to a wide audience, one stock or ETF pick a month is not ideal for day trading.
How Much Does It Cost?
Under the latest deal, The Ferris Report costs just $49 for the first year.
This is a 75% markdown of its usual rate of $199 — not too shabby.
The icing on the cake is that there's no trade-off for opting for the discount. New members receive everything mentioned, including the special reports and 30-day money-back window.
It's important to note that the $49 rate is an introductory offer. When the subscription renews, it costs the original $199.
While I'd prefer the introductory rate to lock in for the next renewal, the 75% discount on the first year is still an excellent deal, especially considering that the newsletter packs in five research reports.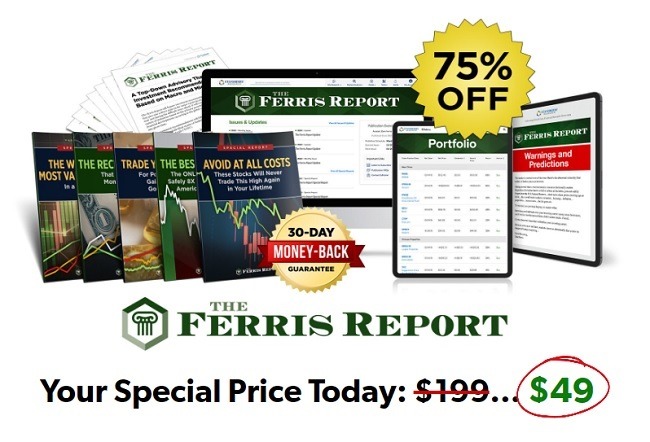 Is The Ferris Report Worth It?
The Ferris Report is a great service that's well worth the price of admission.
For a little over $4 a month, you can tap into analysis from one of Stansberry Research's brightest minds.
The package is stacked with valuable resources, including five special reports tailored to help weather current market conditions and a potential downturn.
It also comes with a daily newsletter to tide you over until the monthly issue drops.
Plus, it's all backed by a 30-day money-back window.
All in all, The Ferris Report is a top-notch service that lives up to Dan's reputation.
I recommend checking it out if you're in the market for long-term recommendations from a proven analyst.