The Power Gauge Report is raking in rave reviews online for its sophisticated investment analysis and stock ratings system. But are Marc Chaikin's recommendations and software really worth your time and money? Get the full story with my Power Gauge Report review.
What Is the Power Gauge Report?
The Power Gauge Report is an investment newsletter and powerful software suite packed with trade ideas, bonus reports, stock ratings, and much more.
Wall Street vet Marc Chaikin is the lead editor, and it's published by his company, Chaikin Analytics.
The newsletter's name comes from the world-famous Power Gauge system: a unique rating tool that uses cutting-edge analytics to identify stocks with considerable profit potential.
This software examines thousands of publicly traded companies on the stock market and predicts their midterm outlook with stunning accuracy.
The subscription also offers a wealth of additional bonus materials for even more value. This includes direct access to Marc's "Power Pulse system."
I'm going to dig into the entire package, but let's start with a close look at the ratings system, as it's the star of the show.
>> Sound like a good fit? Get started here to save 75%! <<
What Is the Chaikin Power Gauge?
The Chaikin Power Gauge is software that analyzes 4,000 companies through 20 indicators that could signal strong market performance in the future.
Its predictive models are the cornerstone of many of the team's recommendations.
Here's an example of a rating for a stock I was checking out in banking: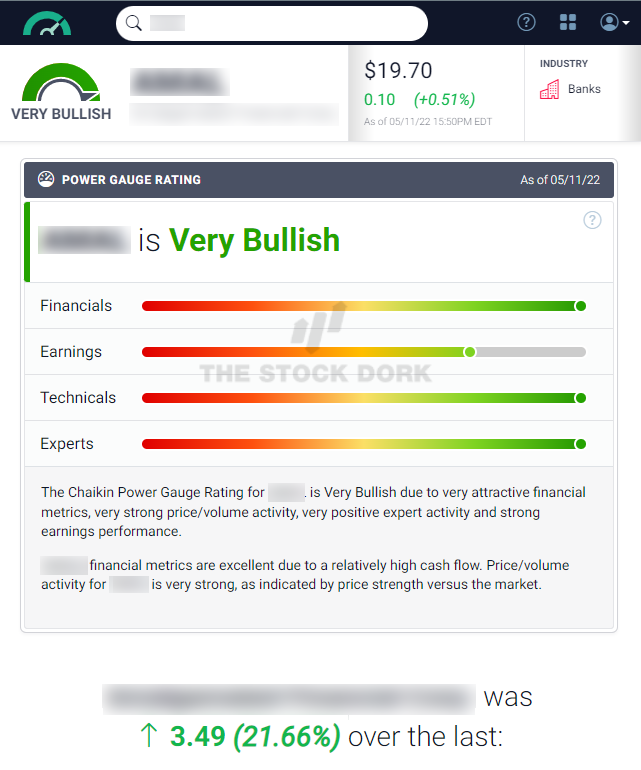 The entire package is great, but I think the ratings take it to a whole new level.
Something to keep in mind is that my example pointed to a company that the system views favorably.
However, it can also warn you about stocks you might want to dodge.
How Do You Use the Power Gauge?
Each Power Gauge chart provides an easy-to-understand rating based on the system's findings.
The software rates every stock as Very Bullish, Bullish, Very Bearish, Bearish, or Neutral depending on its outlook.
It analyzes 20 factors and breaks them down into four easy-to-digest categories.
Financials – Includes LT Debt to Equity, Price to Book, Return on Equity, Price to Sales, and Free Cash Flow.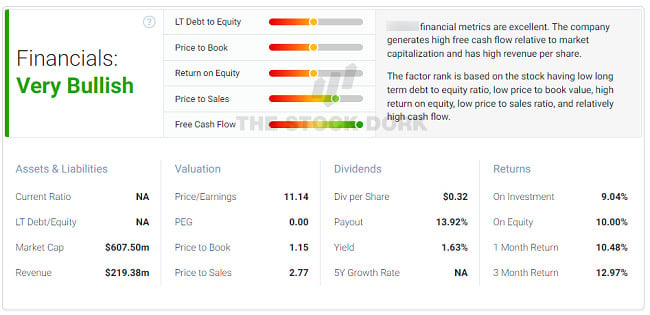 Earnings – Includes Earnings Growth, Earnings Surprise, Earnings Trend, Projected P/E, and Earnings Consistency.

Technicals – Includes Relative Strength vs Market, Chaikin Money Flow, Price Strength, Price Trend ROC, and Volume Trend.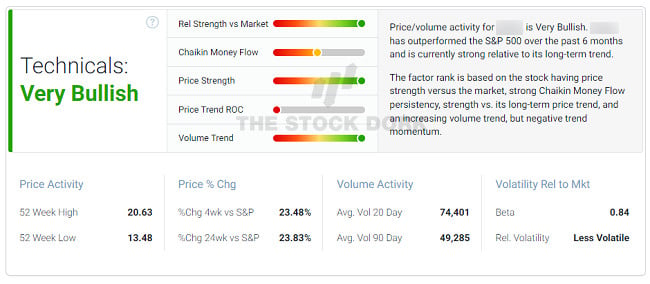 Experts – Includes Estimate Trend, Short Interest, Insider Activity, Analyst Rating Trend, and Industrial Relative Strength.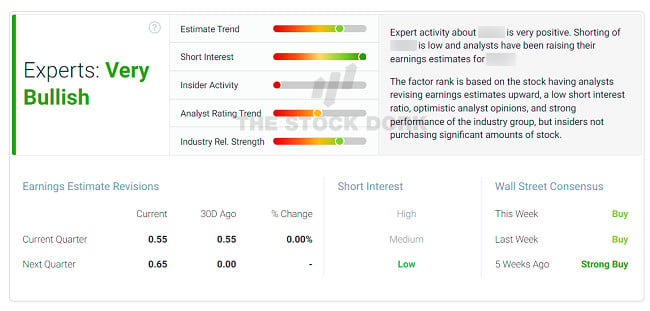 The financials and earnings factors alone are a great way to get a snapshot of how a company is performing, but the technicals and expert factors are the icing on the cake.
One look at the overall rating can give you a good grasp of how a company stands.
Now that you know more about this software, let's take a look at Marc's credentials.
>> Access the Power Pulse today<<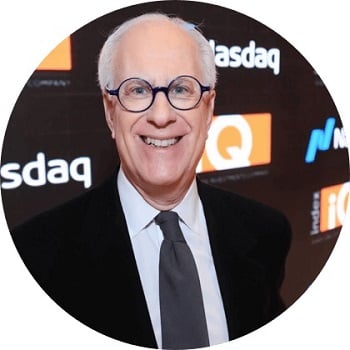 Who Is Marc Chaikin?
Marc Chaikin is a stock analyst and the founder of Chaikin Analytics, LLC.
He's best known for his analytical tools, like the Chaikin Money Flow indicator and the Power Gauge.
I hold his insights in high regard and appreciate his dedication to using technical indicators.
Three of Marc's most popular research services include Power Gauge Report, Power Gauge Investor, and the Chaikin Analytics system.
There are countless schools of thought for stock picking, but technical analysis is one of the preferred methods for some of the most successful investors — including Marc.
In fact, he is one of the world's foremost experts in technical analysis. He sees it as a pathway to building real, sustainable wealth.
Jim Cramer, the host of CNBC's Mad Money, once raved about Marc's stock-picking prowess:
"I learned a long time ago not to be on the other side of a Chaikin trade… I want to explain why I love Marc's stuff. It's simple, it's understandable, it's rational, it's not emotional, and I use it constantly and I almost never want to go against it."

— Jim Cramer, host of CNBC's Mad Money
Marc even collaborated with Nasdaq and IndexIQ to provide ETFs based on his groundbreaking stock-rating approach.
To celebrate the occasion, he rang the Nasdaq opening bell, and that's a rare honor typically reserved for only the most respected investment publishers and gurus.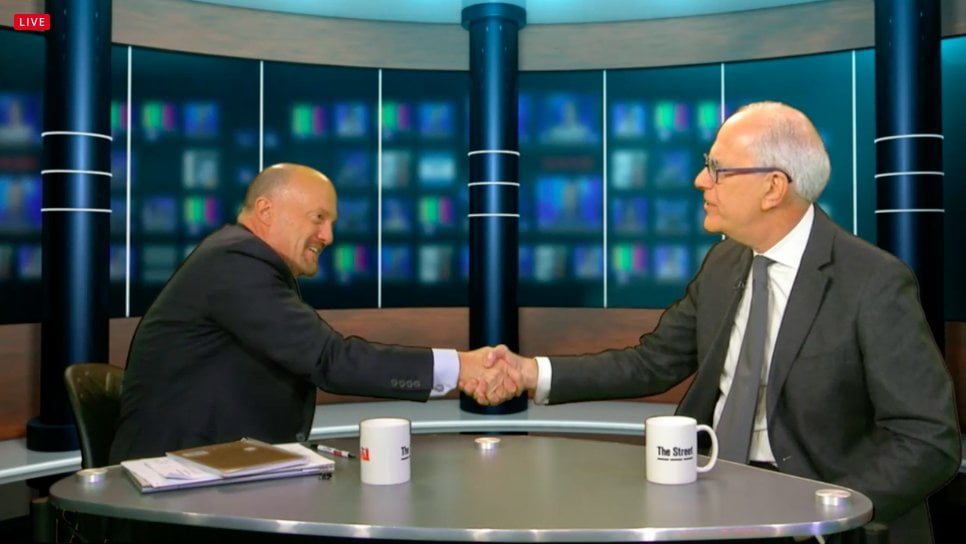 All in all, Marc Chaikin is a great stock picker and a living legend on Wall Street. He's easily one of the most impressive analysts I've reviewed.
He's also one of the few stock pickers I've seen that has developed real technical indicators with widespread use across financial markets. There are even two Chaikin ETFs.
Now that you know more about the mind behind the Power Gauge Report, let's take a look at its publisher.
>> See Marc's latest recommendation <<

What Is Chaikin Analytics?
Chaikin Analytics is an excellent research publisher that develops advanced ratings systems.
It has earned a strong reputation for its stock and ETF screeners, ratings, and top-tier investment insights.
The company is well known for its ability to develop predictive models with stunning accuracy.
Each product offers different styles of research to accommodate users with varying investing interests. However, all of them tap into the Power Gauge's key indicators.
There's also a free app, which can give you additional insights into stocks.
All in all, the company's proprietary indicators could be a great way to help improve your trading performance.
No one can provide a stock market crystal ball, but it's clear that Chaikin Analytics is set on developing strong predictive models.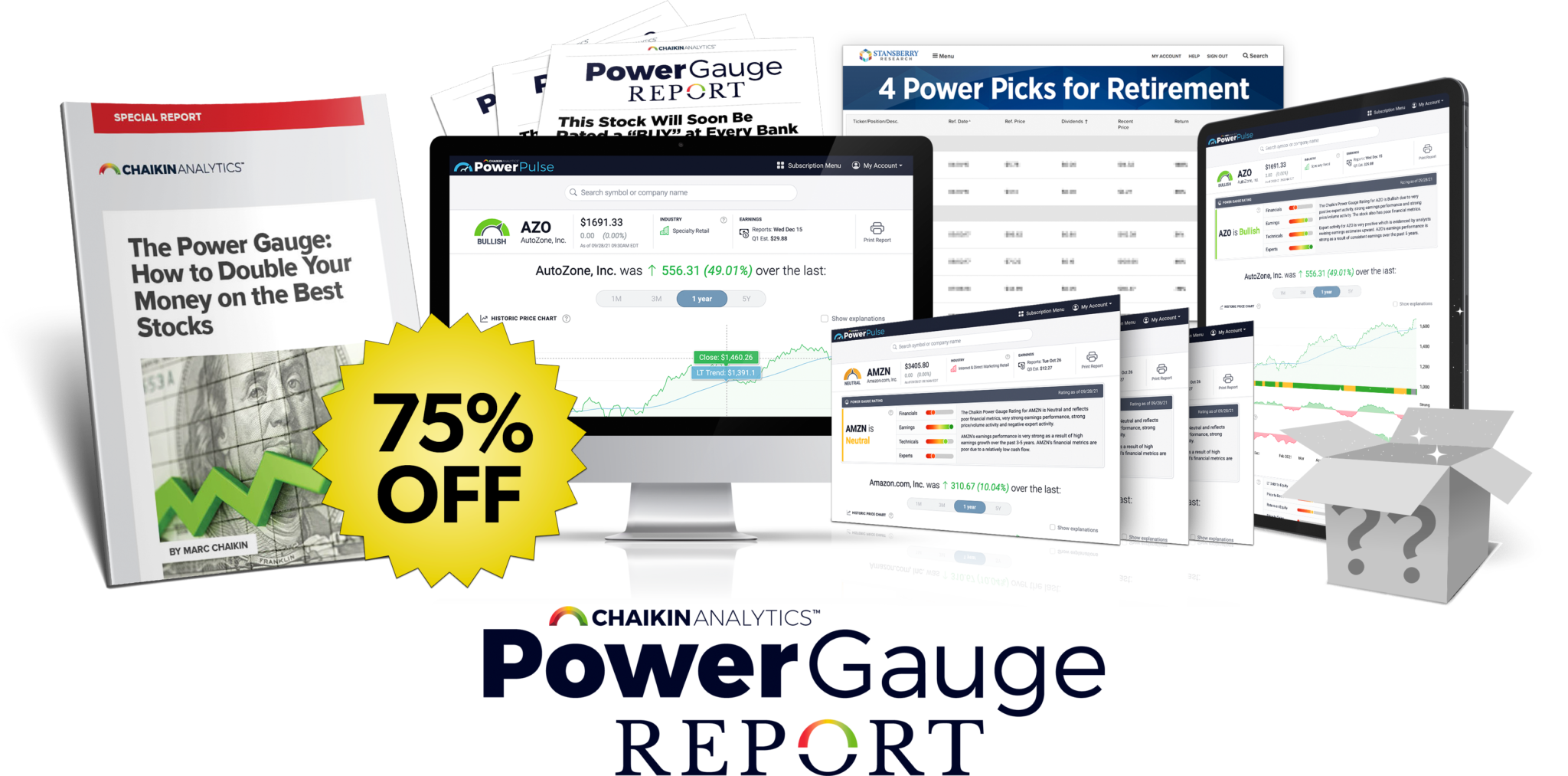 Power Gauge Report Membership Features
This research suite offers an extensive catalog of analysis and trading tools.
Keep reading for a breakdown of each feature.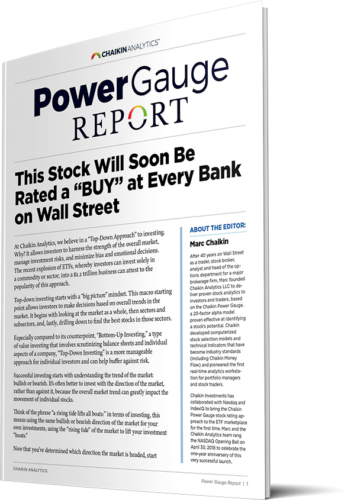 Power Gauge Report Newsletter
The newsletter is the primary vehicle for your monthly research updates. Each issue includes a new mid or large-cap stock recommendation, market analysis, and tons of other insights.
It's one of the best places to get the scoop on Marc Chaikin's biggest predictions, warnings, and analysis.
While many investment newsletters churn out a stack of stock picks, this team follows a quality-over-quantity approach.
These stock recommendations come from the best picks that the system has to offer… along with detailed analysis from the team.
After roughly five decades on Wall Street and beyond, hearing Marc's latest take on the market is always worth your time.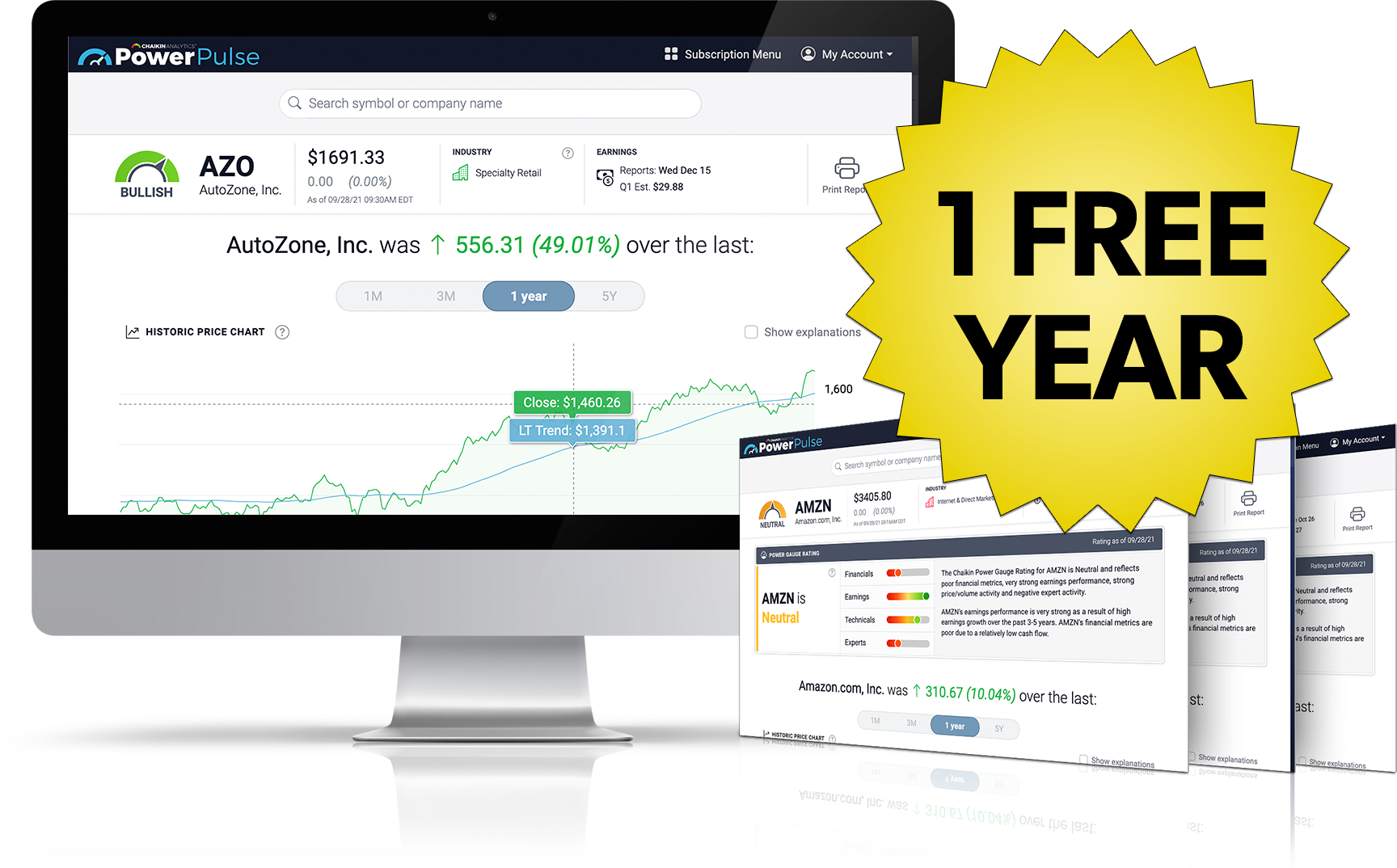 Power Pulse System
The Power Pulse system (AKA the Power Gauge) is a remarkable piece of software you get immediate access to when you sign up.
What I like most about the software is that it cuts through the bias you typically find in the investing world.
Using these factors can help you make judgments based on data instead of wild hunches.
In fact, Marc Chaikin has stated that these ratings sometimes surprise him, as they uncover opportunities flying way under his radar.
As mentioned, the system includes ratings for 4,000 companies and other valuable information.
Its automated technical analysis is a powerful tool to add to your trading arsenal.
Model Portfolio
Your subscription also includes full access to the model portfolio. You can check out the lineup as soon as you join.
When the product launched, it had five top-rated stock picks right off the bat.
But as time goes on, the team is constantly adding to it with their monthly stock recommendations.
They expect to hold 10 to 15 positions in the model portfolio. That's just a guideline, though: it could be higher or lower based on market conditions at any given time.
>> Sign up and save 75% today <<
New Member Bonuses
Signing up under the current deal offers members much more than the monthly newsletter.
Read on to find out everything you get.
Marc Chaikin's Four "Power Picks" for Retirement
This special report introduces four exceptional stocks that Marc Chaikin has been watching closely.
He believes these are the type of stocks you could buy and hold forever.
These picks could be the foundation of a retirement portfolio that grows for decades to come.
The Power Gauge: How to Double Your Money on the Best Stocks
Marc's second bonus research report zeroes in on the methodology behind the Power Gauge system.
It includes a step-by-step blueprint for finding and successfully trading high-potential stocks.
You'll learn how to predict where a stock could be going next, how to time the perfect entry or exit point, and more.
The report also includes a general outline of the top items that "smart money" stock traders look for in a potential multimillion-dollar investment.

Special Mystery Gift
The latest deal also includes a special mystery gift, and you will get this free gift as soon as you sign up.
I can't reveal the mystery gift in this review, but I can offer a few insights…
Marc says he'll send the gift in the confirmation email as soon as you join.
If he's sending it via email, it could be a digital product, like an additional research report or other similar content.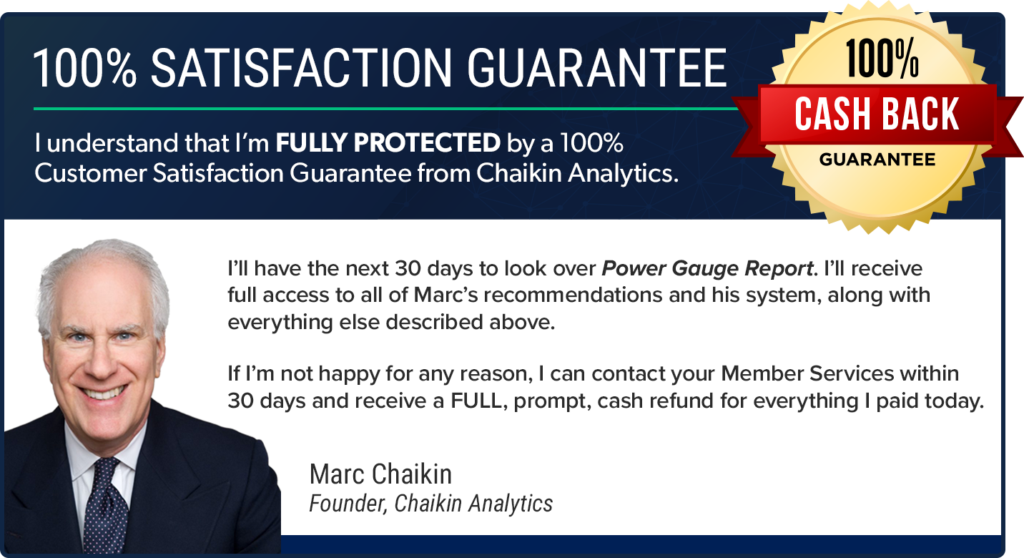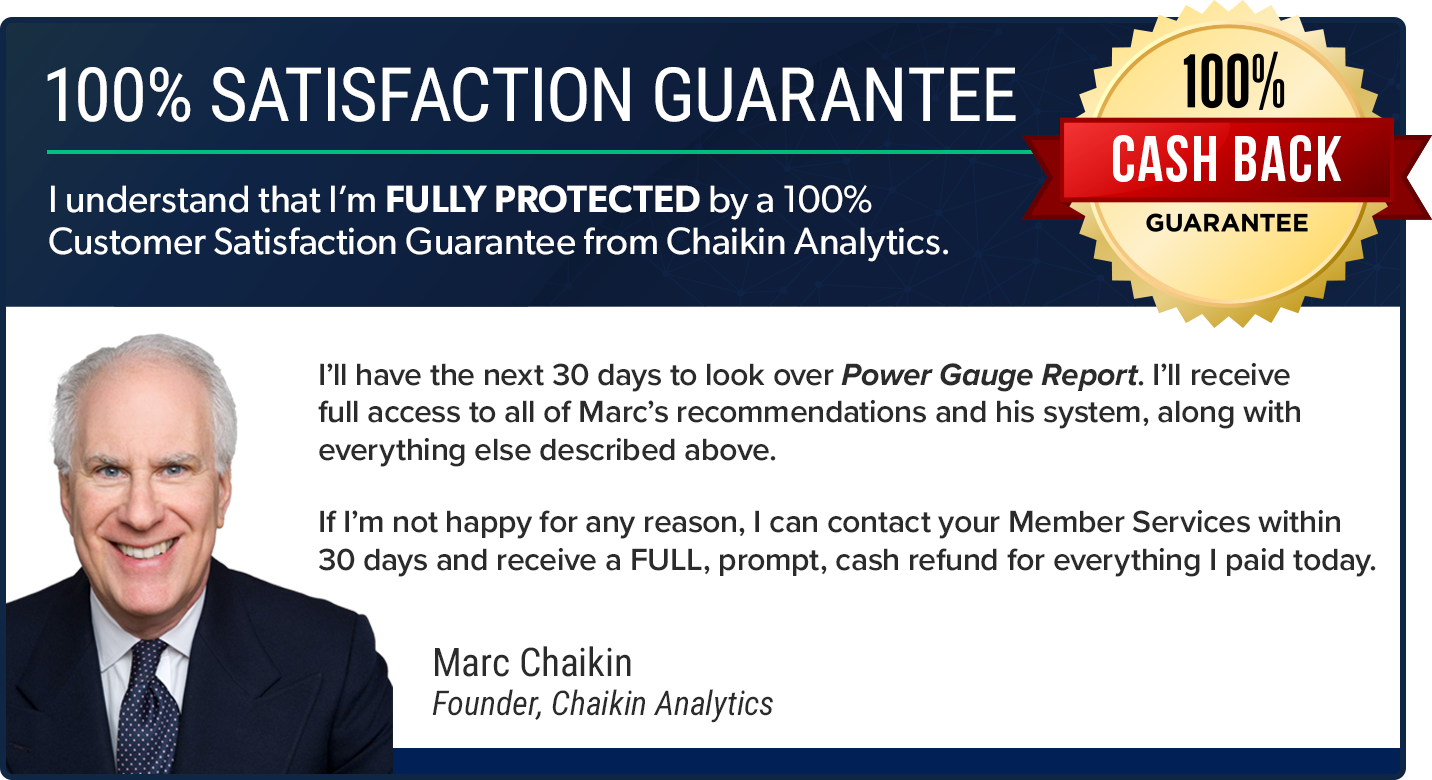 30-Day Money-Back Guarantee
Marc Chaikin offers a 100% money-back guarantee on every Power Gauge Report subscription.
You have 30 days to test drive the service with full access to every feature. If you decide you're not satisfied, you can cancel within the first 30 days to receive a full, cash-back refund.
This company stands by its products, and its refund policy is a testament to its commitment to quality service.
>> Make the most out of Marc's guarantee <<
Pros and Cons of Power Gauge Report
Chaikin's Power Gauge Report is an excellent newsletter, but it does have some drawbacks.
Pros
Marc Chaikin and

Power Gauge Report

offer legit insights

Great price with a 75% discount

Comes with a solid stock rating tool

Airtight 30-day, 100% money-back guarantee

Respected publisher
Cons
No options or short trades

No community chat room or forum
How Much Does Power Gauge Report Cost?
An annual subscription to the Power Gauge Report subscription typically costs $199 per year. However, we've secured a special deal for our readers that can help you save substantially.
For a limited time, you can join for $49. That discount saves 75% off the full sticker price.
So if you want to join, now could be the best time.
Power Gauge Report Review: Final Verdict
Power Gauge Report is an excellent service, and it's a bargain at just $49 (13 cents a day). Plenty of newsletters are priced much higher and don't offer a fraction of the value.
The Power Gauge alone is worth the sticker price, but Marc and Chaikin Analytics offer even more.
Between the newsletter and special reports, you're covered with regular research updates and new stock picks every month for an entire year.
Plus, you get tons of upfront value with a wide selection of bonus research.
You'll also get the team's four picks for retirement, a trading strategy guide, model portfolio access, and a steady stream of stock picks for as long as you're a member.
In addition, you can access ratings for more than 4,000 stocks through the Power Pulse system. These ratings will provide long-lasting value throughout your subscription.
Finally, your purchase is covered with Chaikin's rock-solid money-back guarantee.
If you want to take your trades to the next level, don't pass up this deal.
>> Claim Your 75% Discount Here <<