Chaikin's newsletter and Power Pulse software are building up a bit of buzz online. But are they really worth your time and money?
In this review, I'll be exploring the ins and outs of Marc Chaikin's Power Gauge system, examining its track record, and discussing the valuable insights it provides to subscribers.
Furthermore, I'll be delving into Marc Chaikin's predictions for the 2023 "rolling crash" and how his tools aim to help investors navigate these potentially tumultuous times.
Stay with me as I dive deep into this comprehensive analysis and help you make an informed decision.
Check out my Power Gauge Report review for the full scoop.
Power Gauge Report Review: What Is It?
The Power Gauge Report is an investment newsletter packed with stock recommendations, bonus reports, a stock rating tool, and much more.
Wall Street vet Marc Chaikin is the lead editor. And it's published by his company, Chaikin Analytics, LLC.
The newsletter's name comes from the Power Gauge system: a unique rating tool that uses cutting-edge analytics to identify stocks and exchange traded funds (ETFs) with considerable profit potential.
The subscription to Chaikin's Power Gauge Report also offers a wealth of additional bonus materials for even more value. This includes direct access to Marc's "Power Pulse system."
I'm going to dig into the entire package, but let's start with a close look at the ratings software, as it's the star of the show.
>> Sound like a good fit? Sign up now and SAVE 75% <<
What Is the Chaikin Power Gauge?
The Chaikin Power Gauge is a proprietary stock rating system that leverages 20 fundamental and technical factors to gauge the future outlook of more than 4,000 stocks.
Essentially, it measures factors that the team believes could impact price movement down the road.
The system's ratings are the cornerstone of the newsletter's recommendations. Though, they consider additional factors (more on this later).
Here's an example of a Chaikin Power Gauge rating for a stock I was checking out in banking: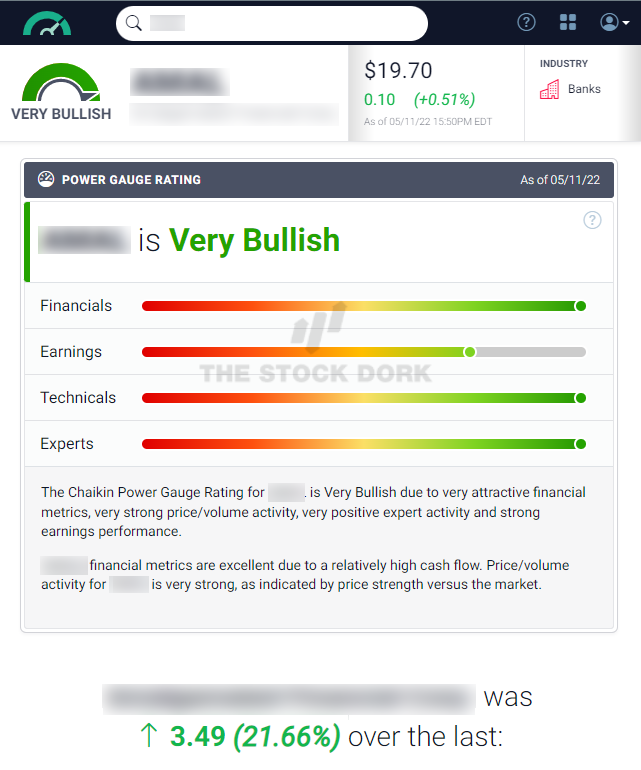 Something to keep in mind is that my example pointed to a company that the system views favorably.
However, it could also warn about stocks and ETFs you might want to dodge.
How Does It Work?
Using the Power Gauge is surprisingly simple.
Enter a ticker or company name in the search box, and the software displays a rating based on its findings.
Depending on the stock or ETFs outlook, the system provides a Very Bullish, Bullish, Very Bearish, Bearish, or Neutral rating.
To calculate these ratings, it analyzes a combination of 20 technical and fundamental factors, which are broken down into four easy-to-digest categories: Financials, Earnings, Technicals, and Experts.
Here's a look at the categories up close.
First is Financials:
LT Debt to Equity

Price to Book

Return on Equity

Price to Sales

Free Cash Flow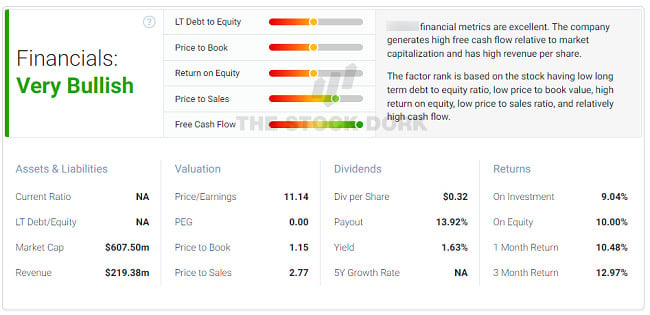 >> Already sold? Get the Power Gauge Report here <<
Second up is Earnings:
Earnings Growth

Earnings Surprise

Earnings Trend

Projected P/E

Earnings Consistency

Third on the list is Technicals:
Relative Strength vs Market

Chaikin Money Flow

Price Strength

Price Trend ROC

Volume Trend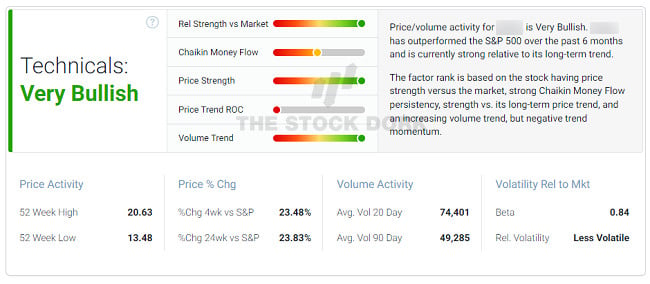 Last but not least is Experts:
Estimate Trend

Short Interest

Insider Activity

Analyst Rating Trend

Industrial Relative Strength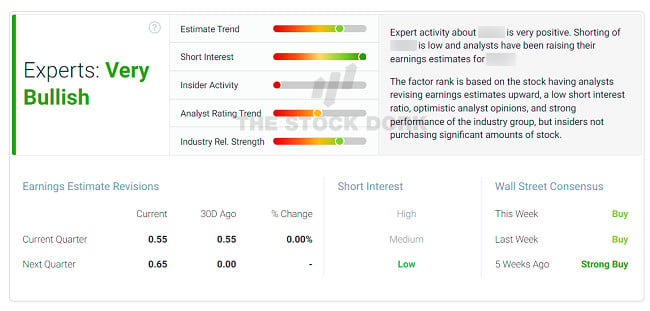 The Financials and Earnings factors alone are a great way to get a snapshot of how a company is performing, but the Technicals and Expert factors are the icing on the cake.
One look at the overall rating could give you a good grasp of how a company stands.
>> Calculate ratings for your investments <<
If you want to know more about each indicator and why they're included in Chaikin Power Gauge ratings, I recommend checking out the service's research report, The Power Gauge: How to Double Your Money on the Best Stocks.
Now that you know more about his software, let's take a look at Marc's credentials.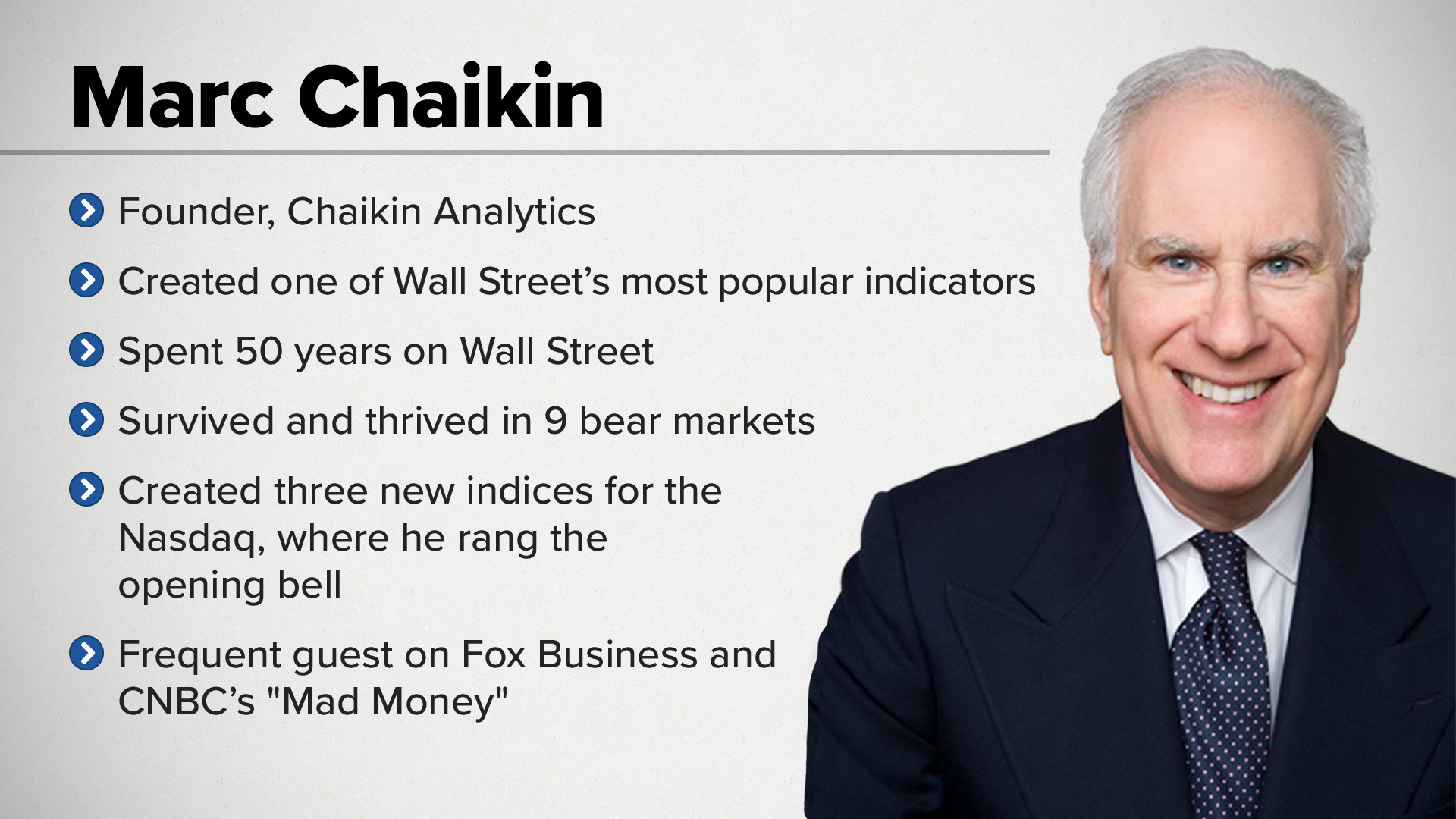 Marc Chaikin Review: Who Is He?
Marc Chaikin is an excellent researcher who's dedicated to technical analysis.
In fact, he's considered one of the world's foremost experts in applying technical indicators.
From his perspective, this strategy provides a potential pathway to building real, sustainable wealth.
Three of his most popular research services include Power Gauge Report, Power Gauge Investor, and the Chaikin Analytics system.
Marc also created the Chaikin Money Flow indicator and the Power Gauge.
He even collaborated with Nasdaq and IndexIQ to provide ETFs based on his groundbreaking stock-rating approach.
To celebrate the anniversary of the launch of the Chaikin ETFs, he rang the Nasdaq opening bell.
That's a rare honor typically reserved for only the most respected investment publishers and gurus.
All in all, Marc Chaikin is a solid stock picker and a living legend on Wall Street.
He's also one of the few I've seen who has developed real technical indicators with widespread use across financial markets.
>> Discover Marc's LATEST recommendation <<
Marc Chaikin's Success Story
Marc spent 40 years on Wall Street before retiring, but he came back in 2008 after his wife lost a significant amount of money due to a poor financial manager. Marc Chaikin noticed that many Americans were not receiving proper guidance, leading to a negative impact on their financial independence.
Rather than catering to significant financial players as he did before, Chaikin decided to focus on providing the average person with the resources to make potentially better investment decisions.
He recognized that everyday people need access to the same tools and data that large financial firms have to help them invest wisely.
That's how Chaikin Analytics came to be. It provides users with easy-to-use tools that use market data to help them make informed investment decisions.
Chaikin's vision was to give ordinary people the chance to achieve financial success on their own terms, without having to rely on a financial advisor or investment firm.
His mission to provide accessible financial data and tools through Chaikin Analytics has helped countless people take control of their financial futures.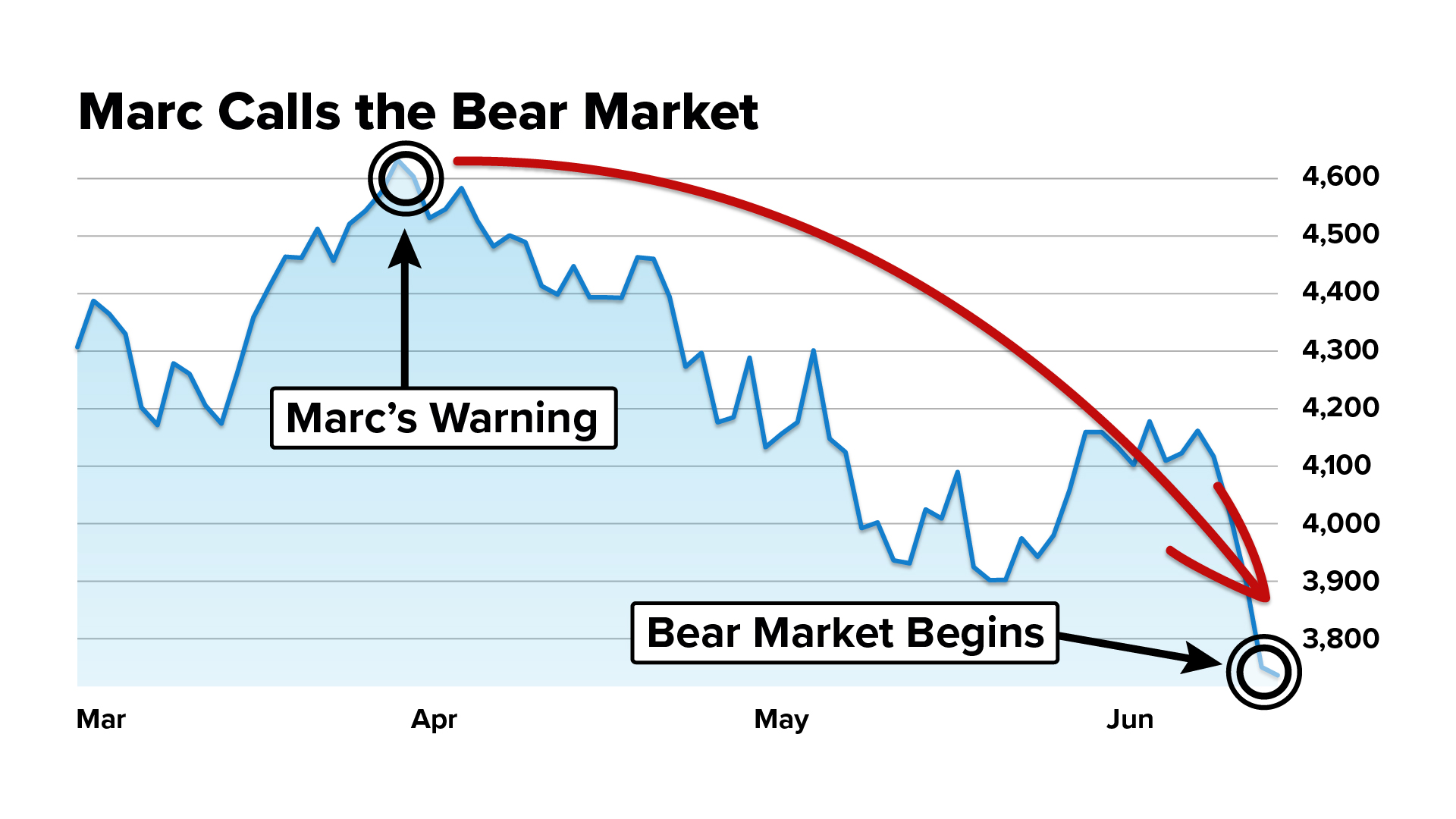 Track Record
Over the years, Marc and his Power Gauge have spotted several stocks with potential, as well as market-moving events.
Here are some of the opportunities and warnings his program has dialed into.
In 2021, his team's work identified four separate stocks with the potential to double an investment: Occidental Petroleum, NexTier Oilfield Solutions, CONSOL Energy, and Alcoa Corporation.
>> Explore Marc's strategies here <<
While this is impressive, it's important to note that the system also warns about stocks that could be in a position to plummet.
Back in April 2022, Marc Chaikin warned that he identified signs of an upcoming bear market just before the S&P 500 fell by 20%.
He and his team's research also pointed to the 2020 stock market crash before Covid-19 was widely talked about by the press. This also included a warning around 21 different stocks that later fell by up to 81% in the aftermath.
Some include Beyond Meat, Draft King, Fiverr International, and RingCentral.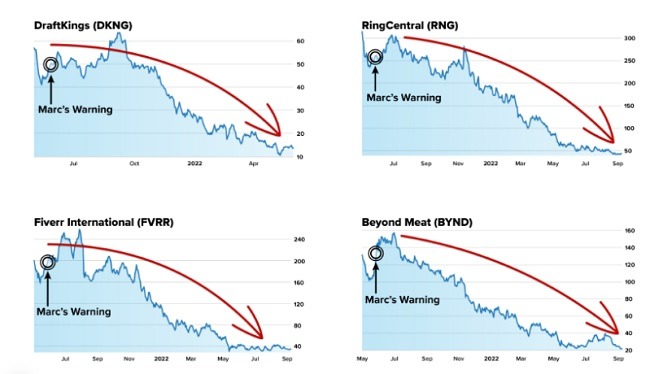 Readings like this clearly demonstrate the potential of the Power Gauge and Marc's keen eye.
It's important to keep in mind that these results are not typical, and past performance is not an indicator of future results.
Still, these examples give an idea of what is potentially at stake with a talented researcher and powerful software in the mix.
What Is Chaikin Analytics?
Chaikin Analytics is a great research publisher that develops advanced rating systems.
Marc and his wife, Sandy Chaikin, originally founded the company under the banner Chaikin Power Tools back in 2011.
Since its inception, the company has earned a strong reputation for its stock and ETF screeners, ratings, and top-tier investment insights.
Chaikin Analytics' services offer different styles of research to accommodate users with varying investing interests. However, all of them tap into the Power Gauge's key indicators.
There's also a free app, which provides additional insights into stocks.
The company's proprietary indicators could be a great way to help improve trading performance.
No one can provide a stock market crystal ball, but it's clear that Chaikin Analytics is set on developing strong tools.
>> Access Chaikin Analytics tools <<
The Power Gauge is most commonly known as a platform that can help everyday people identify stocks with breakout potential well before share prices start to climb higher.
As we covered in the previous sections, the Power Gauge uses numerous data points to calculate the potential trajectory for each covered stock.
However, the Power Gauge can also predict which stocks are likely to crash in the near future with stunning accuracy.
In 2022, Marc Chaikin issued formal warnings for the stocks he believed would underperform in the weeks ahead based on Power Gauge data, and many of his predictions proved correct.
As you can see, this list includes some of 2022's hottest hype stocks. Many analysts were extremely bullish on these high-growth companies, but the Power Gauge wasn't fooled.
The Power Gauge uses sophisticated data analytics to identify potential winners & losers, so it can't be fooled by hype, gimmicks, personal bias, or miscellaneous market noise.
Instead, it solely looks at the facts and determines the most likely trajectory for the stock moving forward.
Chaikin Power Gauge: Recent Track Record
Thanks to objective data analysis, the Power Gauge successfully predicted the downfall of Zoom, Fiverr, Zillow, and many other popular tech stocks in March 2021.
If you had a large position in any of these stocks at the time, the Power Gauge could've saved you from taking tens of thousands of dollars' worth of losses.
>> Protect your investments with Marc's detailed report <<
In 2023, the gauge has predicted the outcome of the "rolling crash" with similar accuracy. So far, roughly 20 industries have crashed into bear market territory at the time of writing.
Incredibly, the Power Gauge successfully predicted all 20 of these sell-offs.
With such an incredible track record for accurate forecasting, Marc Chaikin's Power Gauge has earned a reputation as one of the most powerful analytical tools available to the public.
Chaikin believes his Power Gauge could be a literal lifesaver for the millions of Americans who are unwittingly walking into what could be the most catastrophic crash of recent memory.
Fortunately, Chaikin is taking drastic steps to help the public protect themselves against this looming threat.

Marc Chaikin says "Buy This AI Stock NOW"
Marc Chaikin is excited about AI as the next guy, but he's coming into the space very cautiously. In fact, he's relying on his proprietary Power Gauge that's proven successful so many times to show him where to invest.
He believes he's found a big winner to make a stake in today's AI craze, and he's sharing it free of charge.
Ready for the name and ticker of the stock? Pure Storage Inc (NYSE: PSTG).
Chaikin's banking on Pure Storage to be one of the top-performing stocks of the next two years.
It's looking bullish thanks to very strong earnings performance and very positive expert activity.
Pure Storage is just the tip of the iceberg for what could be a long list of solid AI picks. In fact, it's just the beginning of what Chaikin discussed in his latest promo. You'll need to get your hands on his Power Gauge Report to find out more.
As much as Chaikin likes AI at the moment, he's issuing a dire warning at the same time. Let's look at what he's so concerned about.
>> Learn more about this AI stock pick <<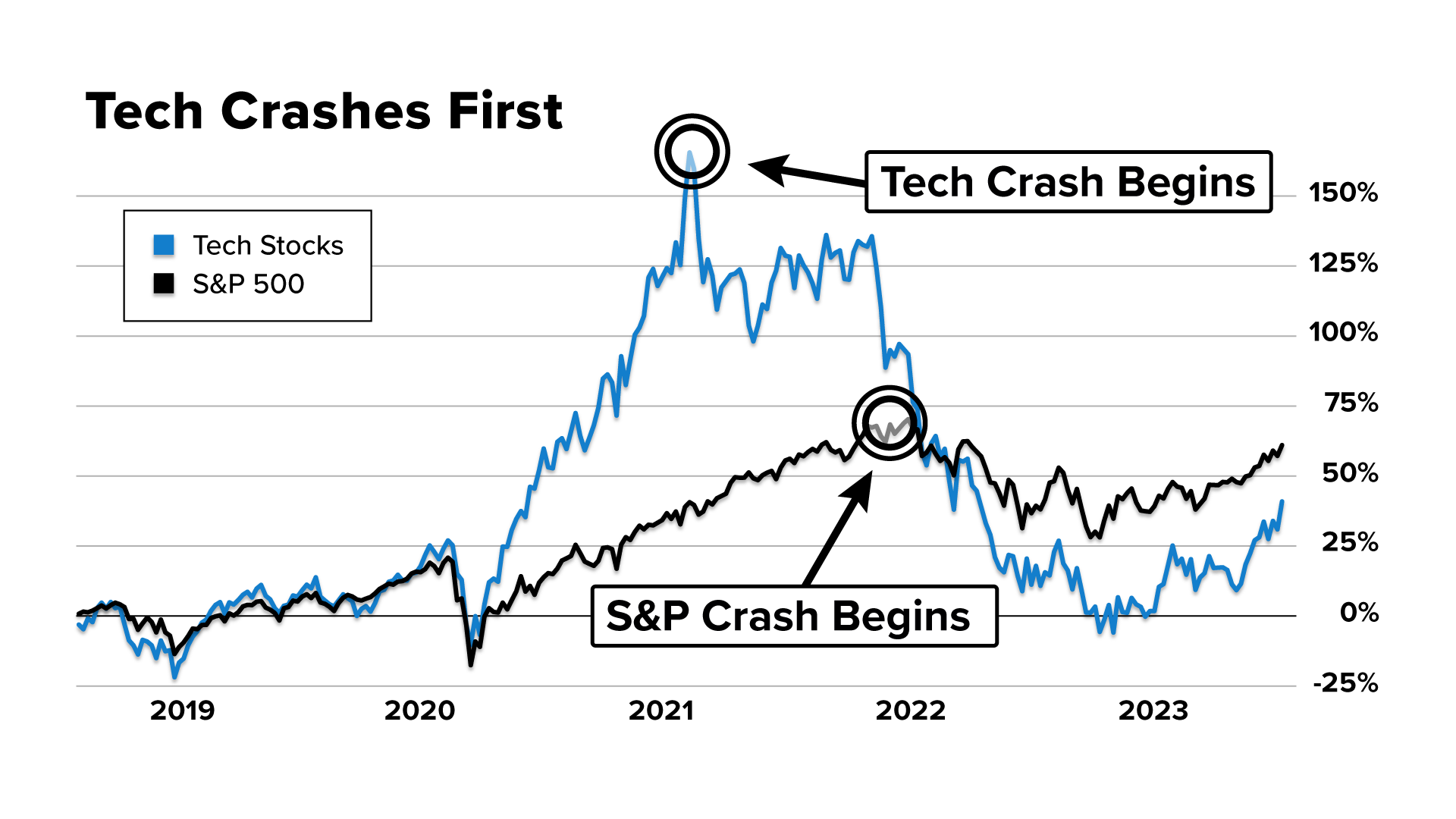 AI's Secret Dark Side
As great as AI appears, there's a secret dark side just under the surface. Tons of money is flowing into the sector, but that's not all good news.
You see, many of these AI startups trying to capitalize on the new trend are destined for failure. Chaikin says the number could be as high as 85%.
The last thing we want is to be caught with our pants down the moment the AI bubble bursts. If you don't believe me, think back to the dot-com bubble of the late '90s or what happened with stay-at-home tech stocks just a few years back.
Even energy stocks crashed back to Earth earlier this year. Many people lost a lot of money.
You need to know more than which AI stocks to buy right now. You also have to know when and what to sell so the same thing doesn't happen to you.
Too many folks held onto stocks for too long, thinking they'd keep growing. Chaikin warns that it never works out that way.
Luckily, he's got an exit strategy for AI so you can earn your money and keep it too.
Marc's AI Exit Strategy
AI is a huge opportunity right now. The growth in this market alone could easily surpass what we saw with other big innovations like the internet or the smartphone.
All that growth could lead to crazy profits for folks in the right place at the right time. Chaikin's Power Gauge System has historically done a great job of announcing bullish stocks.
However, no stock is immune when a bubble bursts. I don't care how good the company's sales are or how it looks on paper.
You've got to be ready to jump ship before the burst happens. The problem is that most of us don't have a clue when to do that.
Chaikin's Power Gauge System is just as good at predicting bearing trends as bullish ones. With his program, folks were able to get into and out of the stay-at-home trend before stocks tanked.
As an adjunct to his recent "AI stocks" presentation, he's put together a bargain bundle deal to help raise awareness about his Power Gauge Report service.
The deal includes full access to Marc Chaikin's Power Gauge, and much more. I'll cover each part of the bundle deal in detail below, so stay tuned to my Power Gauge Report review.
>> Plan your AI exit strategy <<
Power Gauge Report: What Comes with the Service?
The Power Gauge Report service comes stocked with many excellent features.
Let's take a look at each one, starting with the monthly newsletter.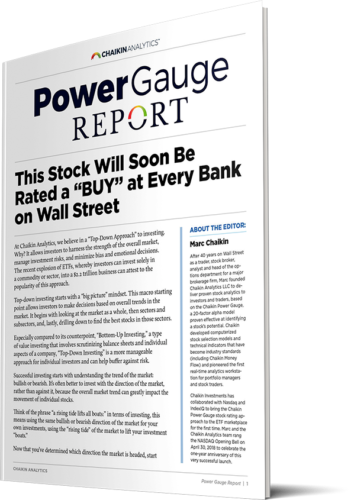 Annual Subscription to Power Gauge Report Newsletter
The newsletter is the primary vehicle for monthly research updates.
Each issue includes a new mid or large-cap stock recommendation, market analysis, and tons of other insights.
It's also one of the best places to get the scoop on Marc Chaikin's biggest predictions, warnings, and analysis.
After roughly five decades on Wall Street and beyond, hearing Marc's latest take on the market is always worth your time.
The strategy also incorporates a 30% trailing stop for each pick. This is just a recommendation, however.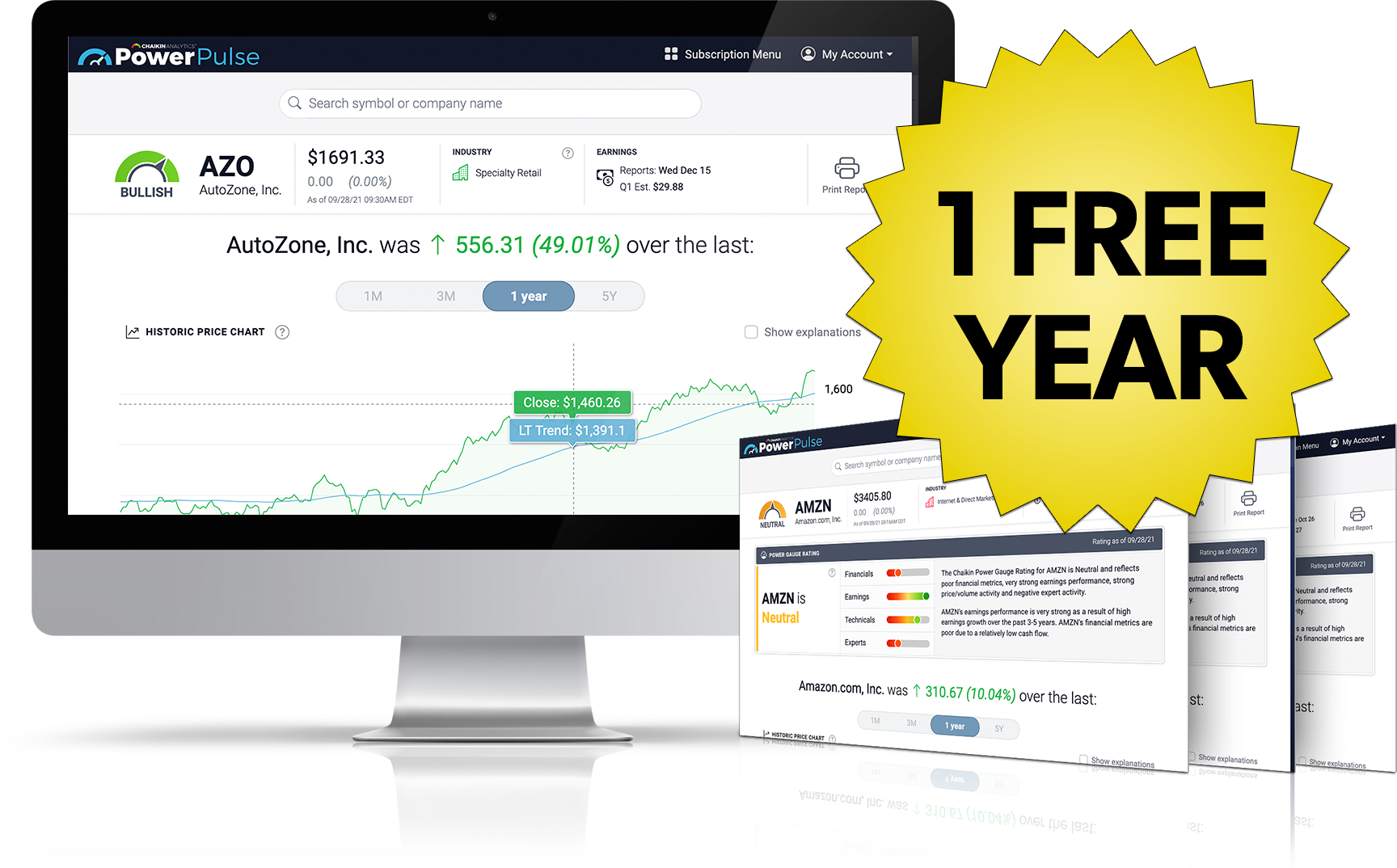 Power Pulse System
The Power Pulse system (AKA the Power Gauge) is a remarkable piece of software you get immediate access to when you sign up.
What I like most about the software is that it cuts through the bias you might typically find in the investing world.
Using its factors could help you make judgments based on data instead of wild hunches.
In fact, Marc Chaikin has stated that these ratings sometimes surprise him, as they have uncovered opportunities flying way under his radar.
As mentioned, the system offers ratings for 4,000 companies and other valuable information.
Model Portfolio
A subscription includes ongoing access to the model portfolio.
This handy resource tracks the team's open positions and is updated every Wednesday.
It covers the ticker, ref. date, ref. price, dividend yield, and more.
By clicking on the company name, members are directed to the initial buy recommendation.
Model portfolios are a fairly standard feature in the industry. However, this service offers a unique twist.
By clicking on the ticker symbol, the page redirects you to the complete Power Gauge Rating.
It's a small touch that makes checking in on the current ratings a breeze.
>> Access these features and more TODAY <<
New Member Bonuses
A membership also comes with these additional resources.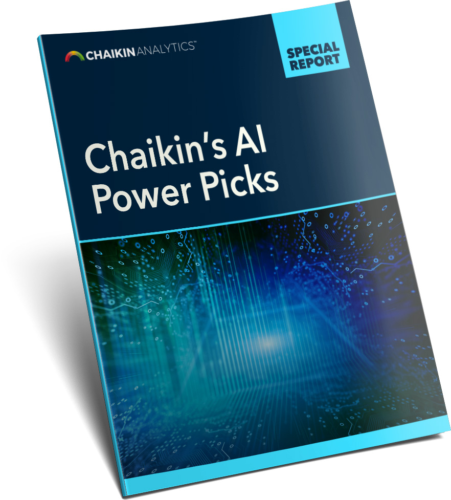 Chaikin's AI Power Picks
Pure Storage Inc (NYSE: PSTG) is just one of a handful of AI picks Chaikin is singing praises about.
As always, he threw every AI stock in the known universe into his Power Gauge and recorded the results. He pulled the ones with the highest profit potential and lowest risk and stuffed them into this handy guide.
You'll get the inside scoop on each pick – company names, tickers, and all Chaikin's personal buying instructions.
Any one of these picks could double or triple your money in the next 12 months. Thanks to the Power Gauge, you'll also know when it's time to sell and potentially keep all those gains.
The report also makes it clear which AI stocks could fail and cost you everything.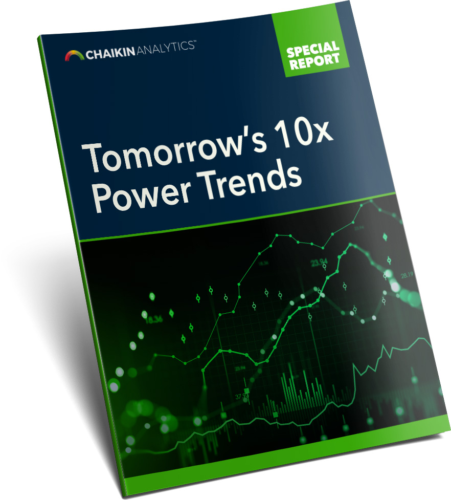 Tomorrow's 10x Power Trends
Tomorrow's 10x Power Trends takes a look at factors set to dominate the financial news cycle in the next 6 to 12 months.
These aren't overt trends. No one's even talking about them yet.
If they move like Chaikin says they will, that means we're approaching the perfect time to invest. Getting in before the masses is often where you'll find the highest potential gains.
That makes this report incredibly valuable. The AI craze will come and go, and we're already in the midst of that revolution.
There will always be a new trend down the road with incredible profit potential if your timing is right. You've got ten of them right here that could be that next big thing.
Chaikin's Power Gauge has already been finding them for over a decade, across all sectors and in every nook and cranny.
Nothing comes with a guarantee, but I can't imagine the system's going to stop working now.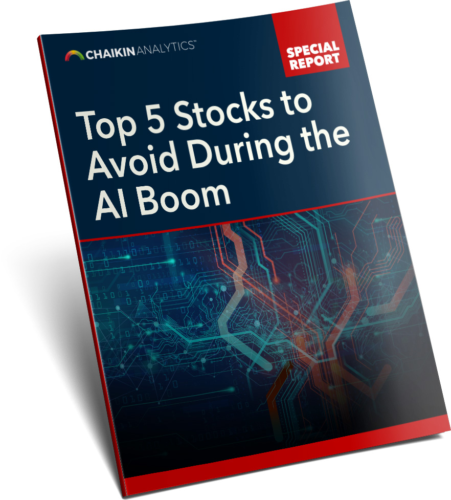 Top 5 Stocks to Avoid During the AI Boom
Playing the market is as much a game of investing in the right stocks as avoiding the wrong ones. It doesn't matter how much you make if you're losing more on total duds.
Let's face it – bad stocks are not going to pan out even in a bull market.
Luckily, Chaikin comes to the rescue yet again. This special report features the names of five tickers he anticipates will be among the biggest losers of the AI boom.
It's no different than what we saw happen just a few years ago during the stay-at-home stock bust. Back then, folks could have lost up to 75% investing in the big losers Marc warned about then.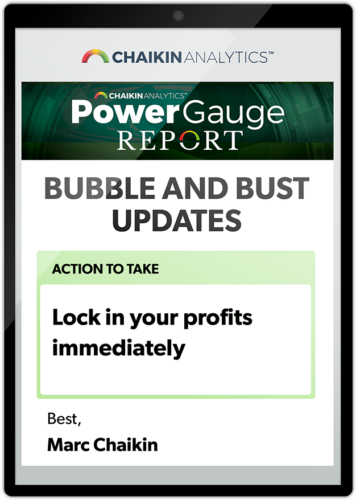 Bubble and Bust Updates
It's not all doom and gloom in 2023. Bubble and bust cycles are par for the course in 2023, but they could also deliver huge gains for early movers.
Fortunately, Chaikin has his finger on the market's pulse like few others, and he lets his readers know when a significant shift is coming.
Your Power Gauge Report membership also includes updates on developing "bubble" and "bust" from around the market, so you can position yourself accordingly.
Chaikin's alerts will help you avoid "bust" stocks – and capitalize on "bubble" stocks – for as long as you're a member.
This is yet another valuable addition to the Power Gauge Report service, and it could be the final piece of the puzzle you need to dominate the market in 2023.
>> Get access to these bonus reports here <<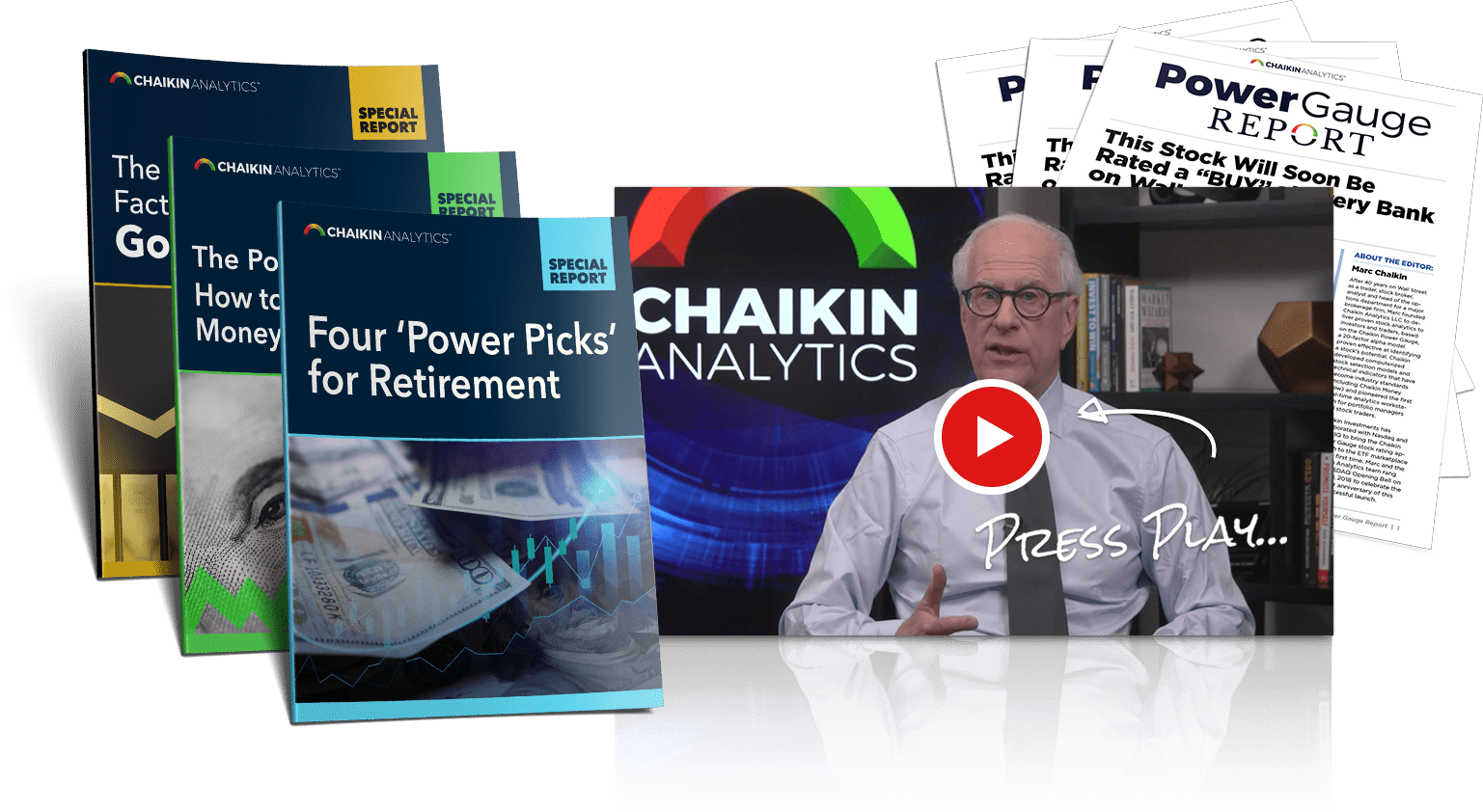 Marc Chaikin Research Archives
Power Gauge Report members will also get access to an extensive library of Marc Chaikin's research reports, monthly issues, daily insights, and much more.
You'll find countless pieces of valuable research in this vast archives of work. Chaikin is a prolific research writer, so there's no shortage of things to explore.
These resources will show you the market through the eyes of a proven expert, so you can sharpen your trading IQ and learn to navigate the market's ups and downs more effectively.
Although some of these works are dated, the library is a valuable resource nonetheless, and it makes the "rolling crash" deal even sweeter.

Special Mystery Gift
The latest deal also includes a special mystery gift, and you'll get this free gift as soon as you sign up.
I can't reveal the mystery gift in this review, but I can offer a few insights…
Marc says he'll send the gift in the confirmation email as soon as you join.
If he's sending it via email, it could be a digital product, like an additional research report or other similar content.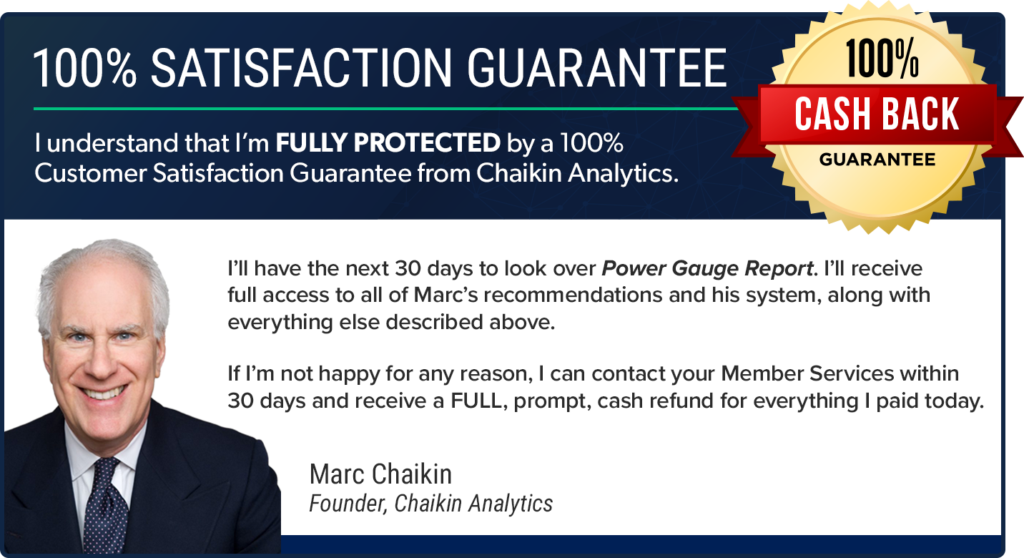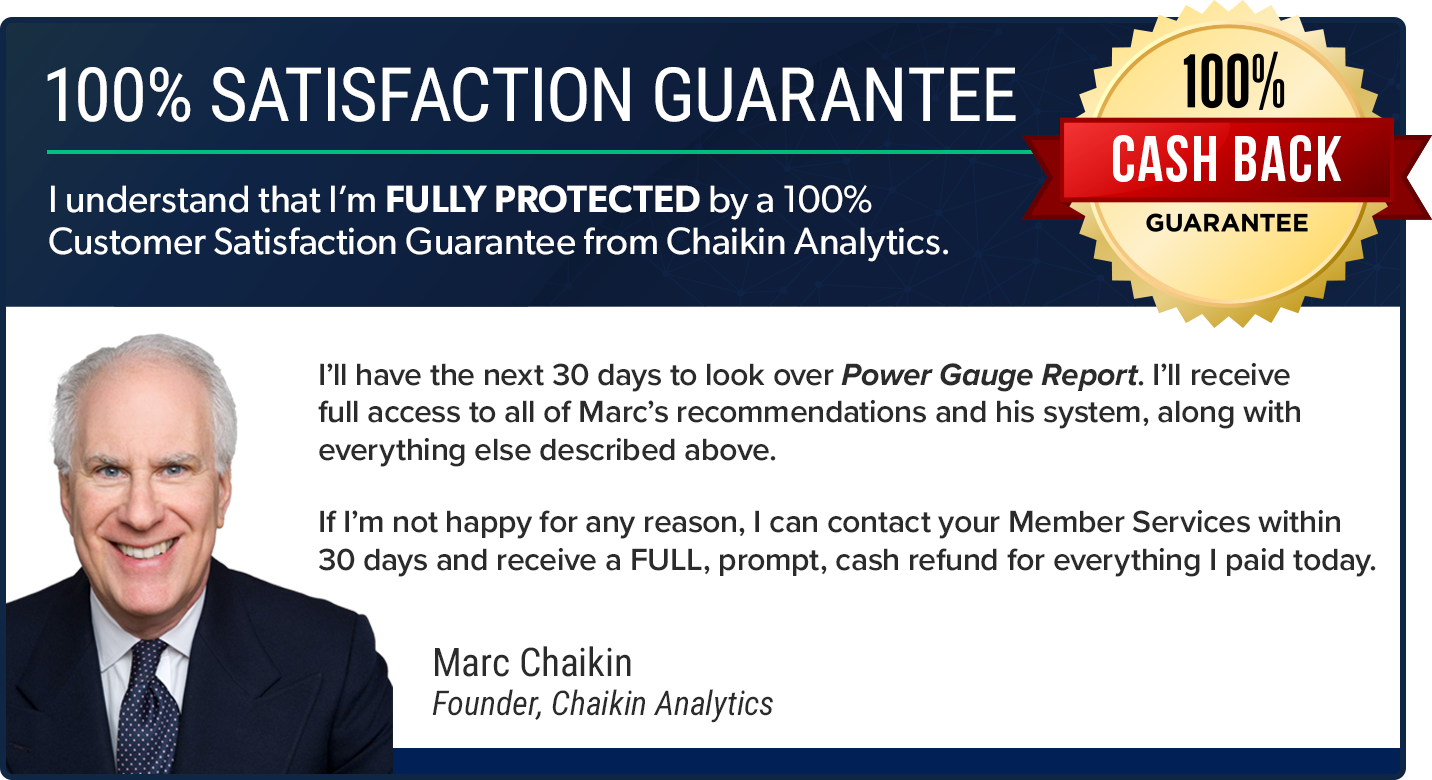 30-Day Money-Back Guarantee
New Power Gauge Report members receive a 30-day money-back guarantee.
So you have about a month to test drive the service with full access to every feature — this includes the Chaikin Power Gauge.
If you decide it's not a match, simply cancel within the first 30 days to receive a full refund on the subscription cost.
This company stands by its products, and its refund policy is a testament to its commitment to quality service.
>> Sign up under Marc's guarantee <<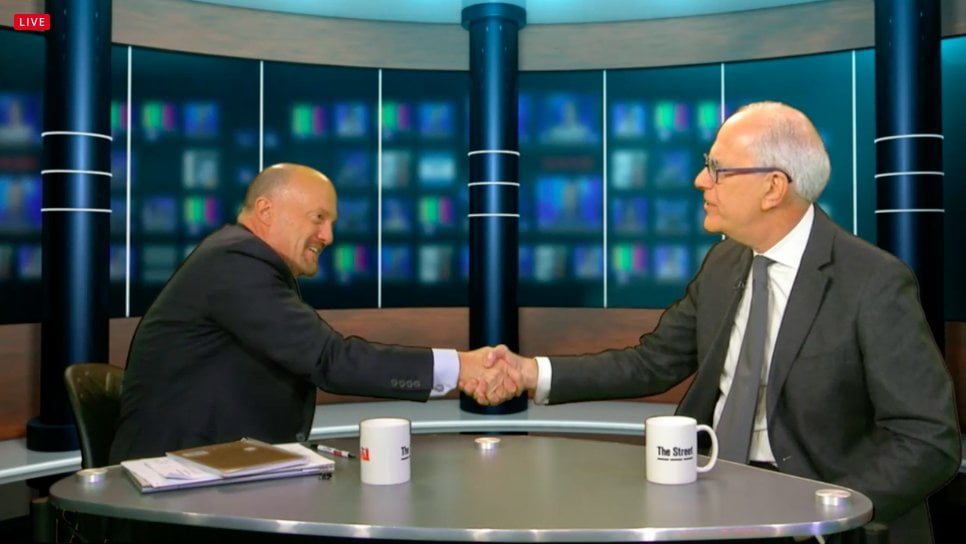 Is Marc Chaikin Legit?
Marc Chaikin is legit.
He's been dishing out top-tier insights for decades, with no sign of slowing down.
Jim Cramer, the host of CNBC's Mad Money, once raved about Marc's stock-picking prowess:
"I learned a long time ago not to be on the other side of a Chaikin trade… I want to explain why I love Marc's stuff. It's simple, it's understandable, it's rational, it's not emotional, and I use it constantly and I almost never want to go against it."

— Jim Cramer, host of CNBC's Mad Money
I've reviewed plenty of noteworthy figures in the research space. However, Marc is easily one of the most impressive of the bunch.
Here are just some of his exploits:
He developed computerized stock selection models and technical indicators that have become industry standards

His Power Gauge Ratings are the basis for two Nasdaq ETFs

He created comprehensive stock research tools
Few folks in the industry check one of these boxes — let alone all three.
Power Gauge Report Reviews by Members
Stock market veterans are no strangers to Marc Chaikin and his Power Gauge. Chaikin has become one of the most respected names on Wall Street.
Since launching the Power Gauge, countless Chaikin followers have used the tool to tremendous success in the stock market.
Here are some of the most notable Chaikin Power Gauge reviews from actual users.

Trading guru John Carter is most famous for making $1 million in two days by trading Tesla, but he's also an avid fan of the Power Gauge.

Power Gauge user Annie G. jokingly admits becoming "addicted" to Chaikin's system once she saw what it can do.

Cheryl D. said Chaikin's Power Gauge gives her the info she needs to trade effectively and saves her from wasting countless hours on scouring the market for promising stocks.

Finally, Bob Lang, a veteran equities trader and a regular on CNBC's Mad Money, said Chaikin's system "stands out, head and shoulders, above the rest."
Clearly, these users were impressed by the value that Marc Chaikin's Power Gauge Report delivers.
They've used the Power Gauge to achieve tremendous success in the market, and there's no reason to think you can't do the same.
>> Save 75% with limited time offer! <<
Pros and Cons
Chaikin's Power Gauge Report is an excellent newsletter, but it does have some drawbacks.
Pros
Great price with a 75% discount

Comes with a solid stock rating tool

Airtight 30-day, 100% money-back guarantee

Respected publisher
Cons
No options or short trades

No community chat room or forum
Power Gauge Report: How Much Does It Cost?
An annual Power Gauge Report subscription typically costs $199. However, we've secured a special deal for our readers that can help you save substantially.
For a limited time, you can join for $49. That discount saves 75% off the full sticker price.
So if you want to join, now could be the best time.
Is the Service Right For Me?
Power Gauge Report is a surprisingly accessible service that could appeal to a wide audience.
First, the stock picks feature mid-cap to large-cap stocks. This means there's a good blend of companies that could experience less volatility and others that might have more room to grow.
Secondly, the Power Pulse system could help members gauge the potential of stocks and ETFs outside the recommendations. This is an added bonus if you're a fan of the rating system and want to analyze other opportunities on your radar.
The Power Pulse also covers some small caps, so folks interested in applying it to smaller companies aren't left in the cold.
Keep in mind that the system does not provide ratings for every stock or ETF under the sun. Still, 4,000-plus stocks is a pretty impressive number.
While the service does have broad appeal, one monthly recommendation is not ideal for day trading.
Is Power Gauge Report Worth It?
Power Gauge Report is an excellent service, and it's a bargain at just $49 (13 cents a day). Plenty of newsletters are priced much higher and don't offer a fraction of the value.
The Power Gauge alone is worth the sticker price, but Marc and Chaikin Analytics offer even more.
Between the newsletter and special reports, there's quite a bit of investing insights to pore over.
This includes the team's four "Power Picks" for retirement, a trading strategy primer, and ongoing model portfolio access.
In addition, you can tap into ratings for more than 4,000 stocks through the Power Pulse software.
Finally, your purchase is covered with Chaikin's rock-solid money-back guarantee.
All in all, this is a solid service. I recommend checking it out if you're looking for quality analysis and a powerful stock rating tool.