The Stock Dork is reader supported. We may earn a commission, at no additional cost to you if you buy products or signup for services through links on our site.
The Power Gauge Report is raking in rave reviews online for its sophisticated investment analysis and stock ratings system. But are Marc Chaikin's recommendations and software really worth your time and money? Get the full story with my Power Gauge Report review.
What Is the Power Gauge Report?
The Power Gauge Report is an investment newsletter and powerful software suite packed with Marc Chaikin's stock picks, bonus reports, Power Gauge ratings, and much more.
Wall Street vet Marc Chaikin is the lead editor of the newsletter, and it's published by his company, Chaikin Analytics.
The research service's name comes from the world-famous Marc Chaikin Power Gauge system, a unique rating tool that uses cutting-edge analytics to identify stocks with considerable profit potential.
Chaikin's software examines thousands of publicly traded companies on the stock market and predicts their midterm outlook with stunning accuracy.
Every month, Power Gauge Report members receive a new stock recommendation via email that's based on Chaikin's market analysis and ratings from the Power Gauge.
Even better, you get direct access to his software in the form of the "Power Pulse system."
The current Power Gauge Report subscription also includes a wealth of additional bonus materials for even more value. It's one of the best services around to get the scoop on Marc Chaikin's biggest predictions, warnings, and analysis.
>> Already sold? Get started here to save 75%! <<
What Is the Chaikin Power Gauge?
The Chaikin Power Gauge is excellent software that analyzes 4,000 companies through 20 indicators that could signal strong market performance in the future. Its powerful predictive models are the cornerstone of many of Chaikin's recommendations.
Here's an example of a Power Gauge Rating for a stock I was checking out in banking: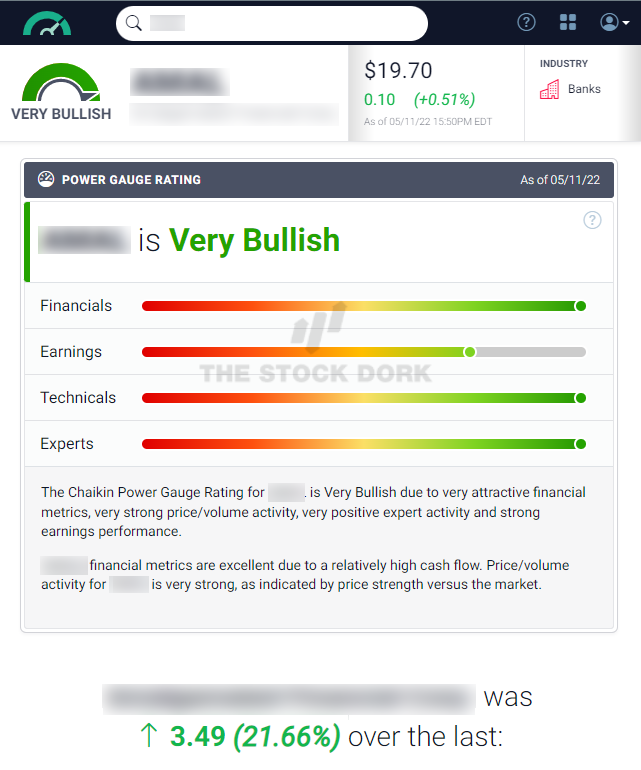 The entire package of the Power Gauge Report is fantastic, but I think Chaikin's Power Gauge ratings take it to a whole new level.
Something to keep in mind is that my Power Gauge Rating pointed to a company that Chaikin Analytics views favorably. However, they can also warn you about stocks you might want to dodge.
I'm going to review the Chaikin Power Gauge more in depth as I go, so stick around for the full details.
But first… who is Marc Chaikin, and can you really trust him?
>> Access the Chaikin Power Gauge today <<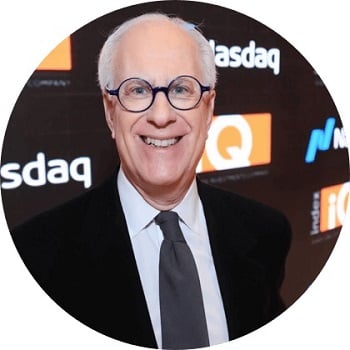 Marc Chaikin Review
Marc Chaikin is a stock analyst and the founder of Chaikin Analytics, LLC. He's best known for his analytical tools, like the Chaikin Money Flow indicator and the Chaikin Power Gauge.
I hold Marc's insights in high regard and appreciate his dedication to using technical indicators.
Three of Marc's most popular research services include Power Gauge Report, Power Gauge Investor, and the Chaikin Analytics system.
There are countless schools of thought for stock picking, but technical analysis is one of the preferred methods for some of the most successful investors — including Marc Chaikin. In fact, Chaikin is one of the world's foremost experts in technical analysis, and he sees it as a pathway to building real, sustainable wealth.
Chaikin is a respected voice in the investment research industry with a career spanning more than five decades. When there is a Marc Chaikin prediction or warning, many listen.
Jim Cramer, the host of CNBC's Mad Money, once raved about Chaikin's stock-picking prowess:
"I learned a long time ago not to be on the other side of a Chaikin trade… I want to explain why I love Marc's stuff. It's simple, it's understandable, it's rational, it's not emotional, and I use it constantly and I almost never want to go against it."

— Jim Cramer, host of CNBC's Mad Money
Chaikin even collaborated with Nasdaq and IndexIQ to bring ETFs based on his groundbreaking stock-rating approach.
To celebrate the occasion, the Chaikin Analytics team rang the Nasdaq opening bell, and that's a rare honor typically reserved for only the most respected investment publishers and gurus.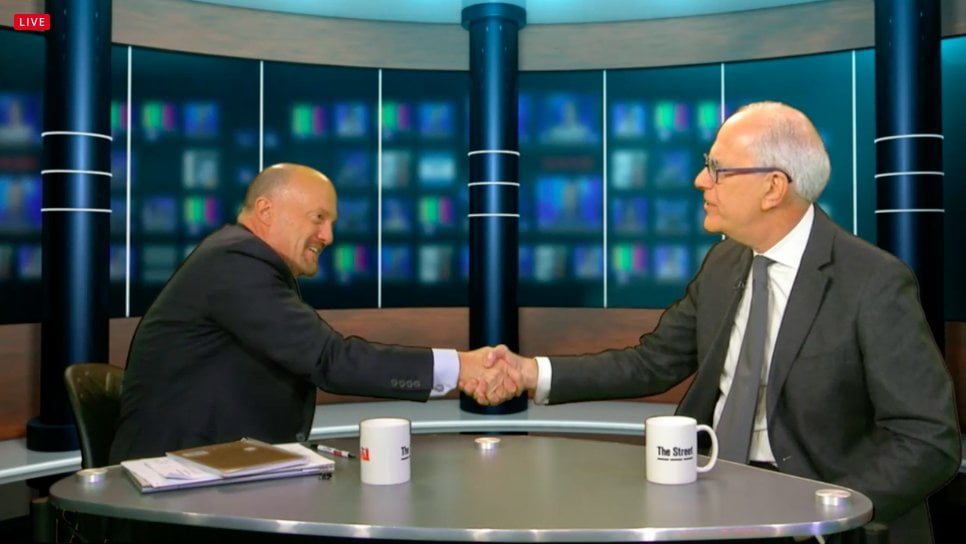 What Is Marc Chaikin's Net Worth?
Marc Chaikin's net worth is estimated as high as $50 million. Given Marc's successful investments, income streams, and run on Wall Street, he could have amassed a fair amount of wealth.
That said, these are just estimates, and I can't know for sure what Marc Chaikin is worth unless he publicly discloses that information.
So you may want to take any figures you see with a grain of salt, unless they come straight from Chaikin.
What Do I Think About Marc Chaikin?
Marc Chaikin is a great stock picker and a living legend on Wall Street. Chaikin is easily one of the most impressive analysts I've reviewed.
He's one of the few stock pickers I've seen that has developed real technical indicators with widespread use across the financial markets. There are also two Chaikin ETFs.
Marc Chaikin is a legit stock analyst that provides genuine insights into the world of investing. His credentials are backed by his long-standing history as a top-rated stock market analyst.
Now that you know more about the mind behind the Power Gauge Report, let's take a look at its publisher, Chaikin Analytics.
>> Sign up now to access exclusive research from Marc Chaikin <<

Chaikin Analytics Review
Chaikin Analytics is a great platform and one of my favorite names in the business. This is a legit company that provides real stock ideas and research tools
Best of all, one of the brightest minds on Wall Street, Marc Chaikin, helms the company.
Chaikin Analytics has earned a strong reputation for its powerful stock and ETF screeners, ratings, and top-tier investment insights.
The company is well known for the Chaikin Power Gauge and its ability to develop predictive models with stunning accuracy. Some of Chaikin Analytics' predictions have led to some excellent investment opportunities.
Chaikin Analytics primarily centers around Chaikin's cutting-edge stock research tools like the Chaikin Power Gauge Rating and Chaikin Money Flow.
The Chaikin Money Flow indicator is one of the most popular metrics the company uses to evaluate stocks. It's a powerful formula that identifies institutional spending and insider trading.
The Power Pulse system, included in the Power Gauge Report, leverages the Chaikin Money Flow for its stock ratings. Other indicators include price-to-book ratios, free cash flow, and more. I'll drill down into the details a little later.
Some of Chaikin Analytics' offerings include:
Power Gauge Report

Power Gauge Investor

Chaikin PowerFeed

The Chaikin Analytics System

Power Pulse Premium
Each product offers different styles of research to accommodate users with varying investing interests. However, all of them tap into the Power Gauge's key indicators.
There's also a free Chaikin Analytics app, which can give you additional insights into stocks. But there isn't a Power Gauge Report app yet, though.
All in all, the company's proprietary indicators, like the Power Gauge, could be a great way to help improve your trading performance.
No one can provide a stock market crystal ball, but it's clear that Chaikin Analytics is set on developing strong predictive models.
What Stock Does Chaikin Analytics Recommend?
Chaikin Analytics typically recommends US stocks that rate highly within its proprietary investment tools.
The Chaikin Analytics Power Gauge system reviews thousands of US stocks based on key indicators, and stock picks are curated from its findings.
The Power Gauge Report recommends mid- to large-cap stocks.
Who Owns Chaikin Analytics?
As the name suggests, Marc Chaikin and his wife, Sandy Chaikin, own Chaikin Analytics, LLC. Marc and Sandy co-founded the company together back in 2009.
They've helmed the company for over a decade, and that doesn't appear to be changing anytime soon.
This is good news because the Chaikins have been the driving force behind Chaikin Analytics' innovations since its inception.
>> Join now for instant access to Power Gauge Report insights <<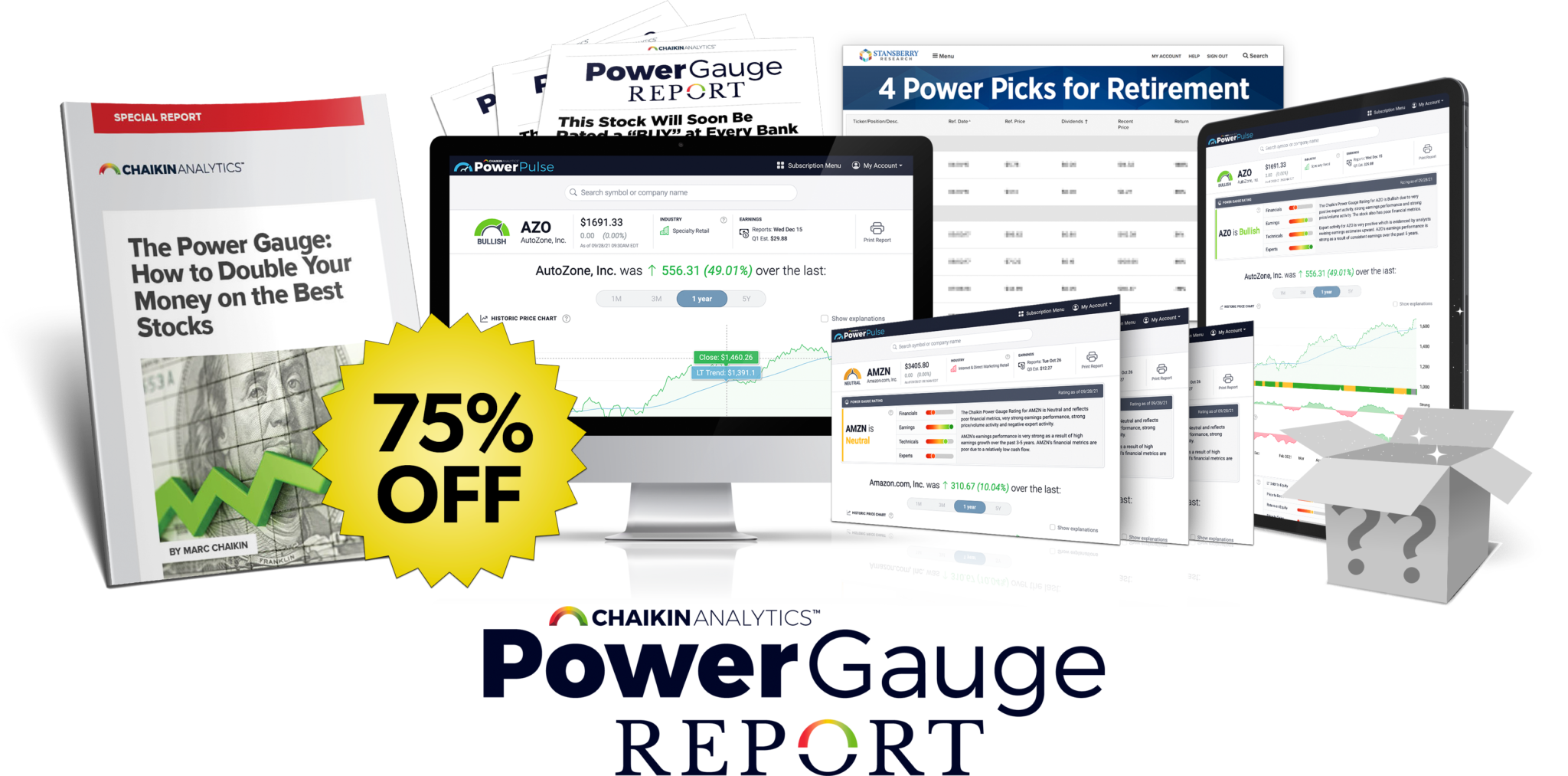 What's Included with a Power Gauge Report Membership?
One year of the

Power Gauge Report

newsletter

Access to the "Power Pulse" software

Unlimited model portfolio access

Marc Chaikin's

Four "Power Picks" for Retirement

The Power Gauge: How to Double Your Money on the Best Stocks

Special mystery gift

100% money-back guarantee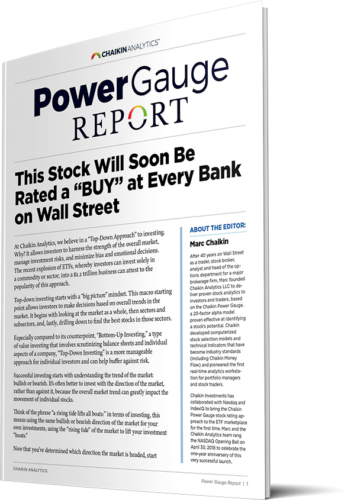 Power Gauge Report Newsletter
The Power Gauge Report newsletter is the primary vehicle for your monthly research updates from Marc Chaikin. Each issue includes a new mid- or large-cap stock recommendations, market analysis, and tons of other insights.
While many investment newsletters churn out a stack of stock picks, Power Gauge Report, instead, follows the quality over quantity approach. So you can be confident that every Marc Chaikin stock pick is carefully selected and well researched.
Each of Power Gauge Report's recommendations uses the Power Gauge system — named the "Power Pulse" in this iteration — to identify stocks with the potential to generate three to five times your money.
These stock recommendations come from the best picks that the system has to offer… along with detailed analysis from Marc Chaikin and his team.
You get a new issue of the newsletter every month, and your subscription includes 12 issues. The newsletter also includes Marc Chaikin's insights into the latest market moves.
After roughly five decades on Wall Street and beyond, hearing Chaikin's latest take on the market is always worth your time.
>> Sign up now to access the Power Gauge Report newsletter <<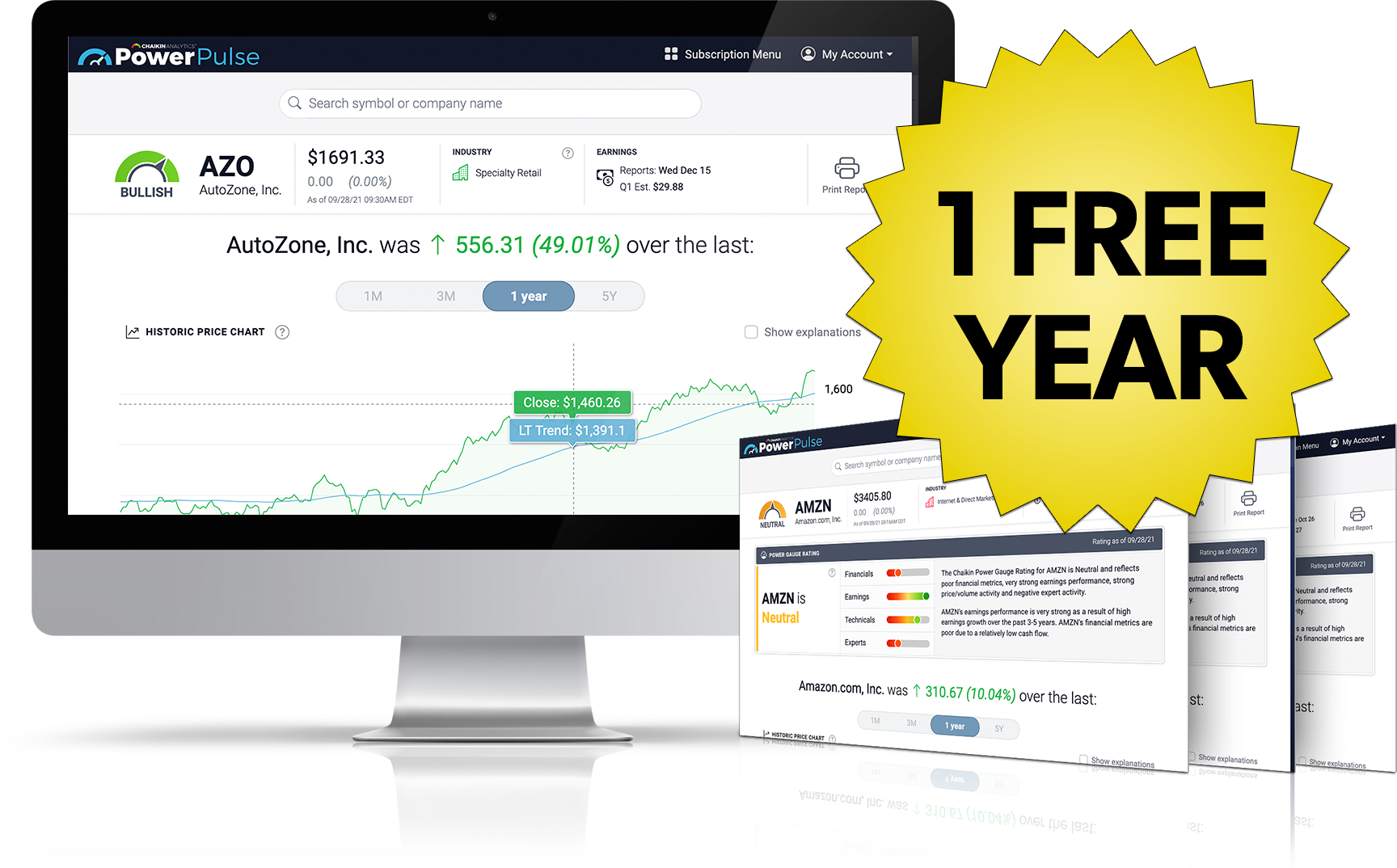 Power Pulse (Power Gauge Rating)
Chaikin's Power Pulse system (AKA the Power Gauge) is a remarkable piece of software you get immediate access to when you sign up for a Power Gauge Report membership.
What I like most about the Chaikin Power Gauge is that it cuts through the bias you typically find in the investing world. Using these factors can help you make judgments based on data instead of wild hunches.
In fact, Marc Chaikin himself has stated that these ratings sometimes surprise him, as they uncover opportunities flying way under his radar.
The Power Pulse system includes ratings for 4,000 companies and other valuable information.
Its automated technical analysis is a powerful tool to add to your trading arsenal.
How Do You Use the Power Gauge?
Each Power Gauge chart provides an easy-to-understand rating based on the system's findings.
The Power Pulse software rates every stock as Very Bullish, Bullish, Very Bearish, Bearish, or Neutral depending on its outlook.
The Power Gauge analyzes 20 factors and breaks them down into four easy-to-digest categories.
Financials – Includes LT Debt to Equity, Price to Book, Return on Equity, Price to Sales, and Free Cash Flow.
Earnings – Includes Earnings Growth, Earnings Surprise, Earnings Trend, Projected P/E, and Earnings Consistency.
Technicals – Includes Relative Strength vs Market, Chaikin Money Flow, Price Strength, Price Trend ROC, and Volume Trend.
Experts – Includes Estimate Trend, Short Interest, Insider Activity, Analyst Rating Trend, and Industrial Relative Strength.
Here's what each Power Gauge chart will look like: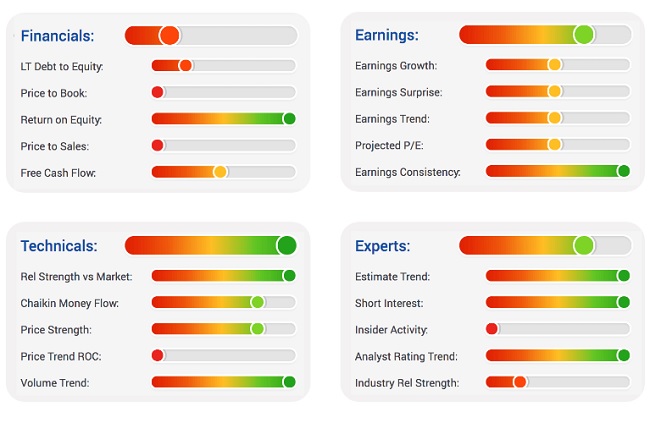 The financials and earnings factors alone are a great way to get a snapshot of how a company is performing, but the technicals and expert factors are the icing on the cake.
One look at the overall Power Gauge rating can give you a good grasp of how a company stands.
Power Pulse is an invaluable resource for Power Gauge Report members.
>> Access the Power Gauge system today <<
Model Portfolio
Your Power Gauge Report subscription also includes full access to the model portfolio. You can check out the lineup as soon as you join. When the product launched, it had five top-rated stock picks right off the bat.
But as time goes on, Marc Chaikin and his team are constantly adding to it with their monthly stock recommendations.
They expect to hold 10 to 15 positions in the model portfolio. That's just a guideline, though: it could be higher or lower based on market conditions at any given time.
If you're eager to dig into this research, the model portfolio is a great start. You'll have at least five stocks to explore as soon as you join so you can hit the ground running.
Marc Chaikin's Four "Power Picks" for Retirement
This special report introduces you to four exceptional stocks that Marc Chaikin has been watching closely. These four companies are the top-four retirement stocks, according to Chaikin and the Power Gauge.
Chaikin believes these are the type of stocks you could buy and hold forever. As a result, they could be excellent options for any retirement-focused portfolio.
The more stock recommendations, the better.
These power picks could be the foundation of a retirement portfolio that grows for decades to come.
The Power Gauge: How to Double Your Money on the Best Stocks
Chaikin's second bonus research report zeroes in on the methodology behind the Power Gauge system. It includes a step-by-step blueprint for finding and successfully trading high-potential stocks. The report covers every aspect of a typical trade in meticulous detail.
You'll learn the one attribute that can show you where a stock is going next, how to time the perfect entry or exit point, and more. So this is a must-have if you want to see Marc Chaikin's predictions for 2022 and beyond.
The report also includes a general outline of the top items that "smart money" stock traders look for in a potential multimillion-dollar investment.
Many of the world's best investors use a similar guide to measure whether a stock is worth a significant position. This report takes a deeper dive into some of the insights that help Chaikin Analytics identify top stocks.
In addition, it provides a thorough introduction to the Power Gauge system so you can get the most out of your Power Gauge Report subscription.

Special Mystery Gift
The latest Chaikin deal also includes a special mystery gift, and you will get this free gift as soon as you sign up for Power Gauge Report.
I can't reveal the mystery gift in this review, but I can offer a few insights… Chaikin says he'll send the gift in your confirmation email as soon as you join.
If he's sending it via email, it could be a digital product, like an additional research report or other similar content.
>> Join now to get your Mystery Gift! <<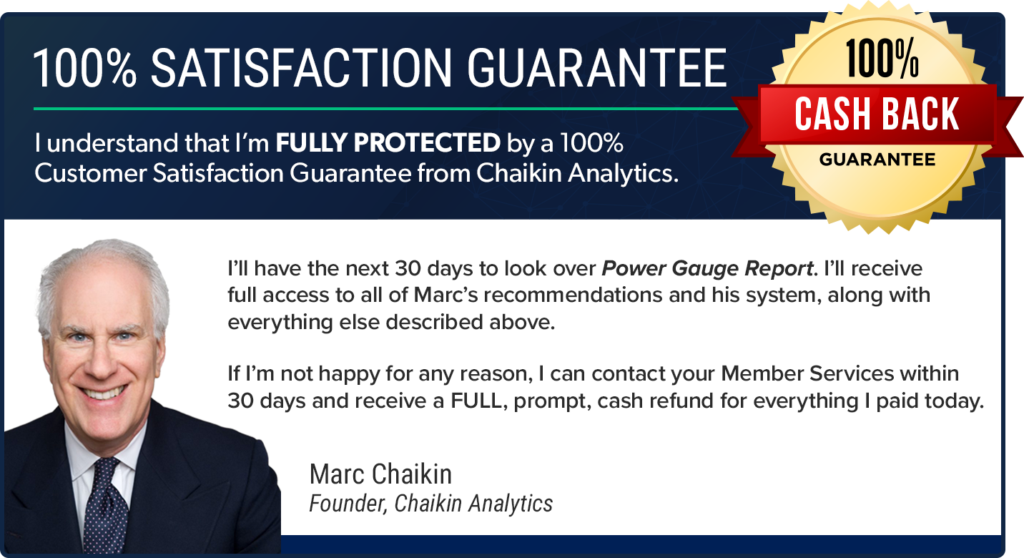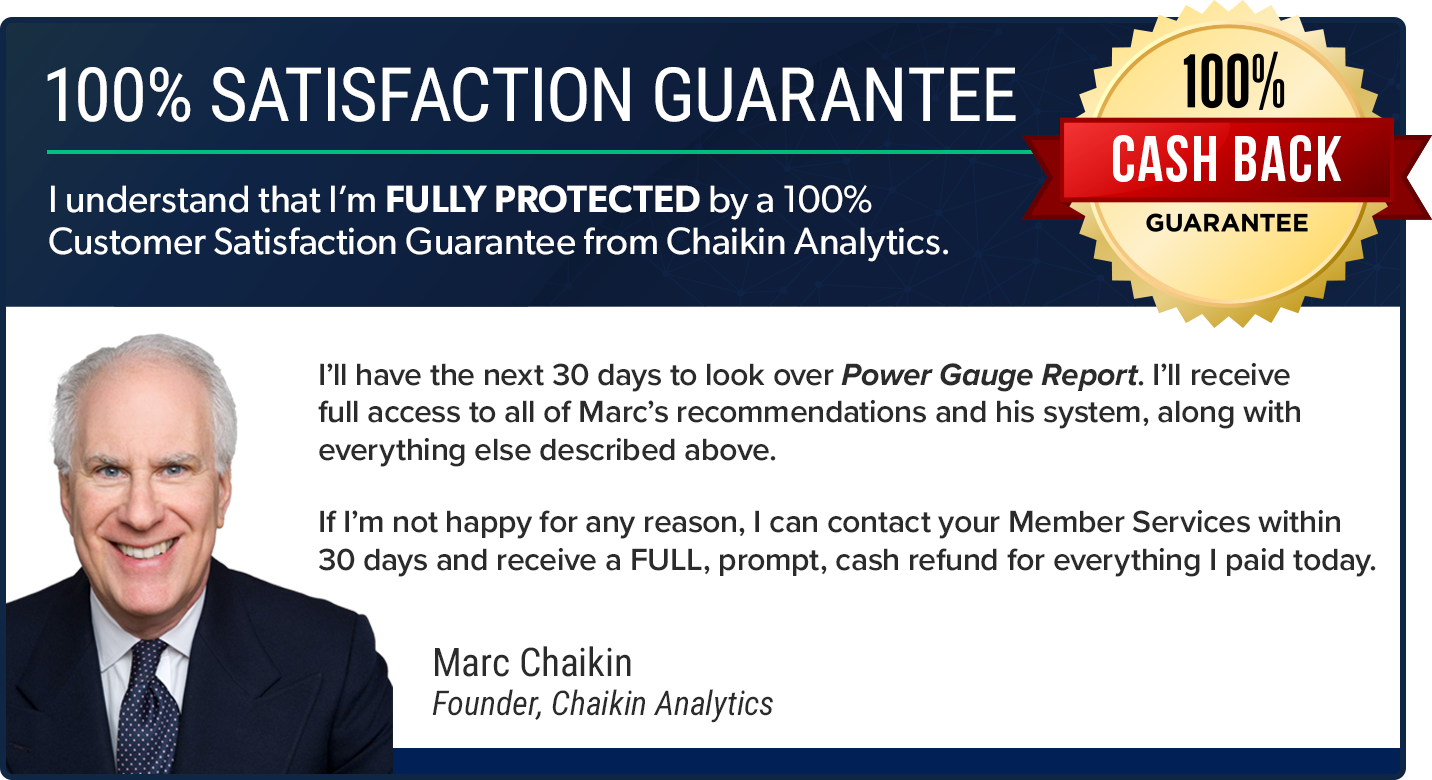 Money-Back Guarantee
Marc Chaikin offers a 100% money-back guarantee on every Power Gauge Report subscription.
You have 30 days to "test drive" the service with full access to every feature. If you decide you're not satisfied with the service, you can cancel within the first 30 days to receive a full, cash-back refund.
This company stands by its products, and its refund policy is a testament to its commitment to quality service.
Pros and Cons of Power Gauge Report
Chaikin's Power Gauge Report has a lot going for it, but nobody's perfect.
Let's see how the ups and downs stack up.
Pros
12 monthly issues of the

Power Gauge Report

Constantly updated model portfolio

Experienced guru with 50+ years in finance

The Power Gauge system has a track record for market-beating performance

Marc Chaikin's

Top 4 "Power Picks" for Retirement

included free

The Power Gauge

bonus report teaches you about Marc Chaikin's trading strategies

Power Pulse ratings tell you if a ticker is bullish, bearish, or neutral

Airtight 30-day, 100% money-back guarantee

Respected publisher in Chaikin Analytics
Cons
No options or short trades

No community chat room or forum
>> Access all these benefits and more when you join now <<
Power Gauge Report Reviews from Real Members
Many Chaikin Analytics members speak highly of the company and its Power Gauge stock-rating system.
Reviews of the Power Gauge Report from the Chaikin Analytics website give a largely positive impression.
This testimonial is from William L.:
And here's another one from Jose B.:
Marc Chaikin's insights have also won him praise from some notable investors. Here's a review from trading expert John Carter, who says he made $1 million in two days trading Tesla:
Chairman of Mauldin Economics John Mauldin has this to say about Chaikin Analytics:
How Much Does Power Gauge Report Cost?
A one-year Power Gauge Report subscription typically costs $199 per year. However, we've secured a special deal for our readers that can help you save substantially.
For a limited time, you can join Chaikin Analytics' Power Gauge Report for $49 per year. That discount saves you more than 75% off the full sticker price.
So if you want to buy Power Gauge Report, now could be the best time.
Is Power Gauge Report Worth It?
Power Gauge Report is an exceptional newsletter package that comes at a great price of just $49 (13 cents a day). The stock analysis is top-notch, but the star of the show is Marc Chakin's Power Gauge software. The ratings alone make the service well worth the cost of admission.
On paper, the Power Gauge Report has everything you'd want out of a research service, including a qualified guru, affordable price, regular research updates, a treasure trove of bonuses, an excellent guarantee, and more.
This service is an attractive offer even at its regular sticker price. However, it's a significant value with Chaikin's massive 75% discount.
Power Gauge Report Review: Final Verdict
After an exhaustive Power Gauge Report review, I can confidently say I'm impressed with everything on offer.
You get access to exclusive Chaikin Analytics research at a fantastic price with a Power Gauge Report membership.
Between the newsletter and Chaikin's special reports, you're covered with regular research updates and new stock picks every month for an entire year. Plus, you get tons of upfront value with a wide selection of bonus research.
You'll also get Chaikin's four "power picks" for retirement, a trading strategy guide, model portfolio access, and a steady stream of stock picks for as long as you're a member.
In addition, you can access Chaikin Power Gauge ratings for more than 4,000 stocks through the Powerpulse system. Power Gauge's ratings are an invaluable research tool that will provide long-lasting value throughout your subscription.
Finally, your purchase is covered with Chaikin's rock-solid money-back guarantee, so there's virtually zero chance you walk away from your purchase unsatisfied.
The Power Gauge Report is an outright bargain at $49 per year, and it's definitely worth every penny.
If you want to take your trades to the next level, don't pass up this deal.
>> Claim Your 75% Discount to Power Gauge Report Here <<