Marc Chaikin is best known for his cutting-edge rating system for stocks, but this rock star analyst's research service might be the real star of the show. We're putting Chaikin's service to the test in our Power Gauge Report review. So, Stay tuned to find out if this breakout stock advisory is worth your time.
Power Gauge Report Review: Overview
The Power Gauge Report is a premium monthly research newsletter from Chaikin Analytics that uses groundbreaking analysis and tools to pinpoint under-the-radar breakout stocks for its members.
Its name comes from the world-famous "Chaikin Power Gauge," a unique rating system that uses cutting-edge analytics to pinpoint stocks with excellent profit potential.
The Power Gauge covers thousands of publicly traded stocks and predicts their mid-term outlook with stunning accuracy. Its ultimate purpose is to indicate where a stock is headed over the next three to six months… And it has been remarkably successful at doing so in the past.
Chaikin Analytics built the Power Gauge Report around this powerful tool. However, the Power Gauge Report provides extensive research and analysis to go along with the tool's findings.
When you sign up for the Power Gauge Report, you get an entire year's worth of monthly newsletters, access to Chaikin Analytics' research tools, and much more. The current deal also includes a wealth of additional bonus materials for even more value.
The Power Gauge Report fits the bill to a tee if you're looking for a technical analysis-based research service, but it also offers a lot more. Every month, you get a new mid- or large-cap stock recommendation and much more.
We're going to break down the entire package in detail so you can see if it's a good fit for your needs. But first, who is Marc Chaikin, and why should you value his research?
>> Already sold? Get started here to save 75%! <<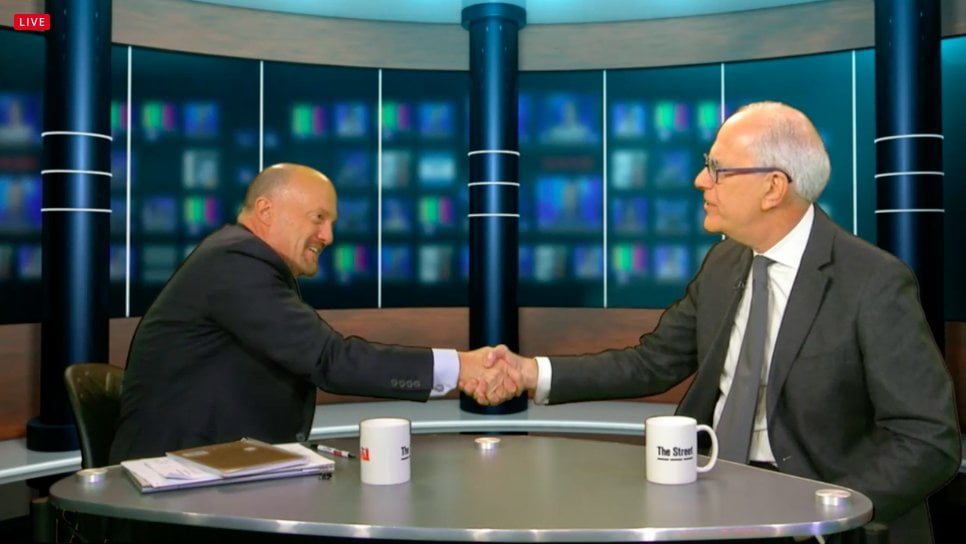 Marc Chaikin Review
Many schools of thought exist when it comes to successful stock-picking, but technical analysis has become one of the preferred tools for many of the world's most successful investors – including Marc Chaikin.
Chaikin is one of the world's foremost experts in technical analysis. He's best known for his work in developing cutting-edge analytics tools for investors like the "Chaikin Money Flow" indicator and the Power Gauge itself.
With a career spanning more than five decades, Marc Chaikin is a respected voice in the investment research industry. Jim Cramer, the host of CNBC's Mad Money, once raved about Chaikin's stock-picking prowess:
"I learned a long time ago not to be on the other side of a Chaikin trade… I want to explain why I love Marc's stuff. It's simple, it's understandable, it's rational, it's not emotional, and I use it constantly and I almost never want to go against it."

— Jim Cramer, host of CNBC's Mad Money
Chaikin even collaborated with Nasdaq and IndexIQ to bring ETFs based on his a groundbreaking stock-rating approach.
In short, you can rest easy knowing you're in good hands with Marc Chaikin. He's one of the most talented analytical minds in the industry, and his performance is equally admirable.
>> Sign up now to access exclusive research from Marc Chaikin <<

Chaikin Analytics Review
Chaikin eventually brought his insights to the private sector and launched the company that would ultimately become Chaikin Analytics in March 2011. Originally called Chaikin Power Tools, the company has grown into a research powerhouse with a loyal following.
Here's how Marc Chaikin himself describes Chaikin Analytics:
"Chaikin Analytics helps people who manage money make money. We distill a massive amount of data into actionable ideas based on an alpha-generating quantitative model which helps investors make better investment decisions." – Marc Chaikin, April 2014 Nasdaq.com News interview
The company primarily centers around Chaikin's cutting-edge stock research tools like the Chaikin Power Gauge Rating and Chaikin Money Flow. It also offers several research newsletters based on these robust financial metrics and their findings.
Chaikin Analytics' offerings include the Power Gauge Report, Power Gauge Investor, and the Chaikin PowerFeed newsletter. Each product offers different styles of research to accommodate users with varying investing interests.
Chaikin Analytics is best known for its stock ratings and investment tools, but the Power Gauge Report and its other curated research offerings can offer even more actionable investing insights.
Chaikin Power Gauge Review
The Chaikin Power Gauge is one of Chaikin Analytics' signature analysis products. The tool uses a 20-factor alpha model that has proven remarkably effective at predicting a stock's growth potential.
The Power Gauge system is specifically designed to predict a stock's outlook for the next three to six months. This time frame puts it right in line with swing trading techniques that typically aim to hold positions for no more than a year.
>> Join now for instant access to Power Gauge Report insights <<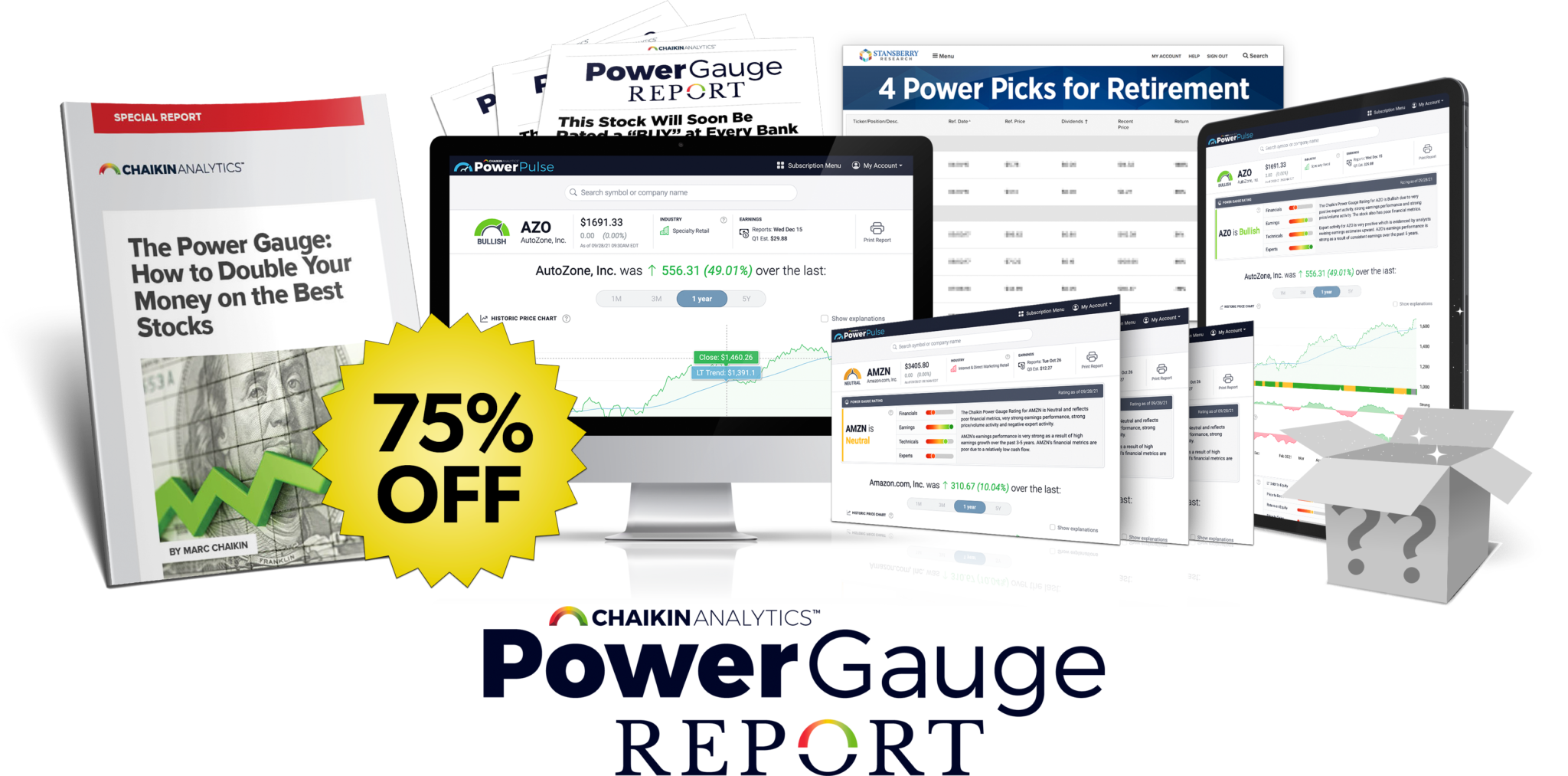 Power Gauge Report: Best Features
One year of the Power Gauge Report newsletter
Unlimited model portfolio access
Special updates and briefings
Access to the "Power Pulse" system
"Marc Chaikin's Four 'Power Picks' for Retirement" special report
"The Power Gauge: How to Double Your Money on the Best Stocks" special report
Special mystery gift
100% money-back guarantee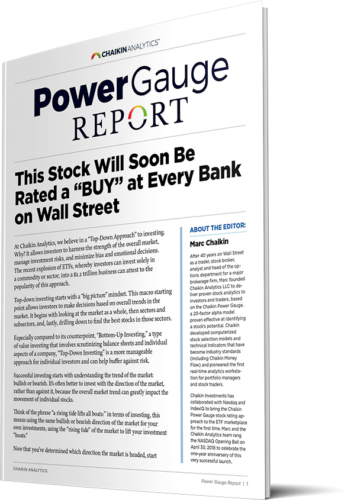 Power Gauge Report Newsletter

The Power Gauge Report newsletter is the primary vehicle for your monthly research updates from Marc Chaikin. Each issue includes new mid- or large-cap stock pick, market analysis, and much more.
Each of Power Gauge Report's recommendations uses the Power Gauge system – named the "Power Pulse" in this iteration – to identify stocks with the potential to generate three to five times your money. These stock recommendations come from the best picks that the system has to offer… along with detailed analysis from Marc Chaikin and his team.
You get a new issue of the newsletter every month, and your subscription includes 12 issues. That means you'll get 12 additional stock recommendations over the first year.
The newsletter also includes Marc Chaikin's insights into the latest market moves. After roughly five decades on Wall Street and beyond, hearing Chaikin's latest take on the market is always worth your time.
>> Sign up now to access the Power Gauge Report newsletter <<
Model Portfolio
Your Power Gauge Report subscription also includes full access to the model portfolio.
You get immediate access to the lineup as soon as you join. When the product launched, it had five top-rated stock picks right off the bat… But as time goes on, Marc Chaikin and his team are constantly adding to it with their monthly stock recommendations.
At any given time, they expect to hold 10 to 15 positions in the model portfolio. That's just a guideline, though… It could be higher or lower, based on market conditions at any given time.
If you're eager to dig into this research, the model portfolio is a great start. You'll have at least five stocks to explore as soon as you join… so you can hit the ground running.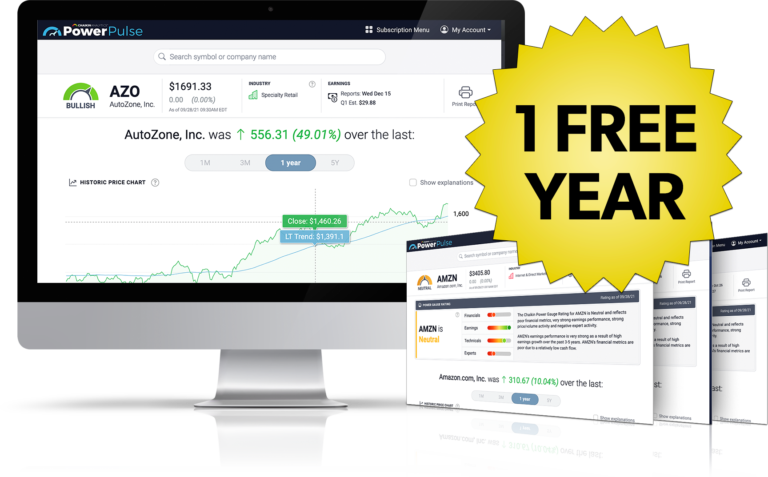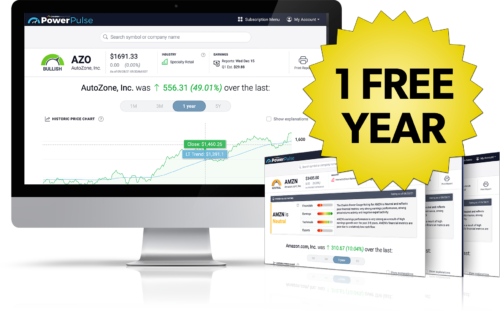 Power Pulse Review
You also get access to Chaikin's Power Pulse system when you sign up for the Power Gauge Report. The system includes Power Gauge ratings for 4,000 companies and other valuable information.
It provides each stock with an easy-to-understand rating based on the system's findings. Power Pulse rates each stock as "bullish," "bearish," or "neutral" depending on its outlook.
You get access to the Power Pulse system for as long as you're a member of the service. Then, simply punch in a stock ticker to instantly pull up its Power Gauge rating.
Power Pulse is an invaluable resource that will serve you well over the length of your subscription. The monthly newsletters bring you top stock recommendations from Marc Chaikin, but Power Pulse can help you further your research efforts.
Marc Chaikin's Four 'Power Picks' for Retirement

This special report introduces you to four exceptional stocks that Marc Chaikin has been watching closely. These four companies are the top-four retirement stocks, according to Chaikin and the Power Gauge.
Chaikin believes these are the type of stocks you could buy and hold forever. As a result, they could be excellent options for any retirement-focused portfolio.
The more stock recommendations, the better. These "power picks" could be the foundation of a retirement portfolio that grows for decades to come.
>> Join now to access the full report <<
The Power Gauge: How to Double Your Money on the Best Stocks

Chaikin's second bonus research report zeroes in on the methodology behind the Power Gauge system. It includes a step-by-step blueprint for finding and successfully trading high-potential stocks.
It covers every aspect of a typical trade in meticulous detail. You'll learn the one attribute that can show you where a stock is going next, how to time the perfect entry or exit point, and more.
The report also includes a general outline of the top items that "smart money" stock traders look for in a potential multimillion-dollar investment. Many of the world's best investors use a similar guide to measure whether a stock is worth a significant position.
This report takes a deeper dive into some of the insights that help Chaikin Analytics identify top stocks. In addition, it provides a thorough introduction to the Power Gauge system so you can get the most out of your Power Gauge Report subscription.
Special Mystery Gift

The latest Chaikin deal also includes a special mystery gift, and you will get this free gift as soon as you sign up for Power Gauge Report.
We can't reveal the mystery gift in this review, but we can offer a few insights… Chaikin says he'll send the gift in your confirmation e-mail as soon as you join. If he's sending it via e-mail, it's likely a digital product like an additional research report or other similar content.
However, we're just speculating. We don't know what the mystery gift is, but there's a good chance you'll appreciate whatever Chaikin sends your way.
>> Join now to get your Mystery Gift! <<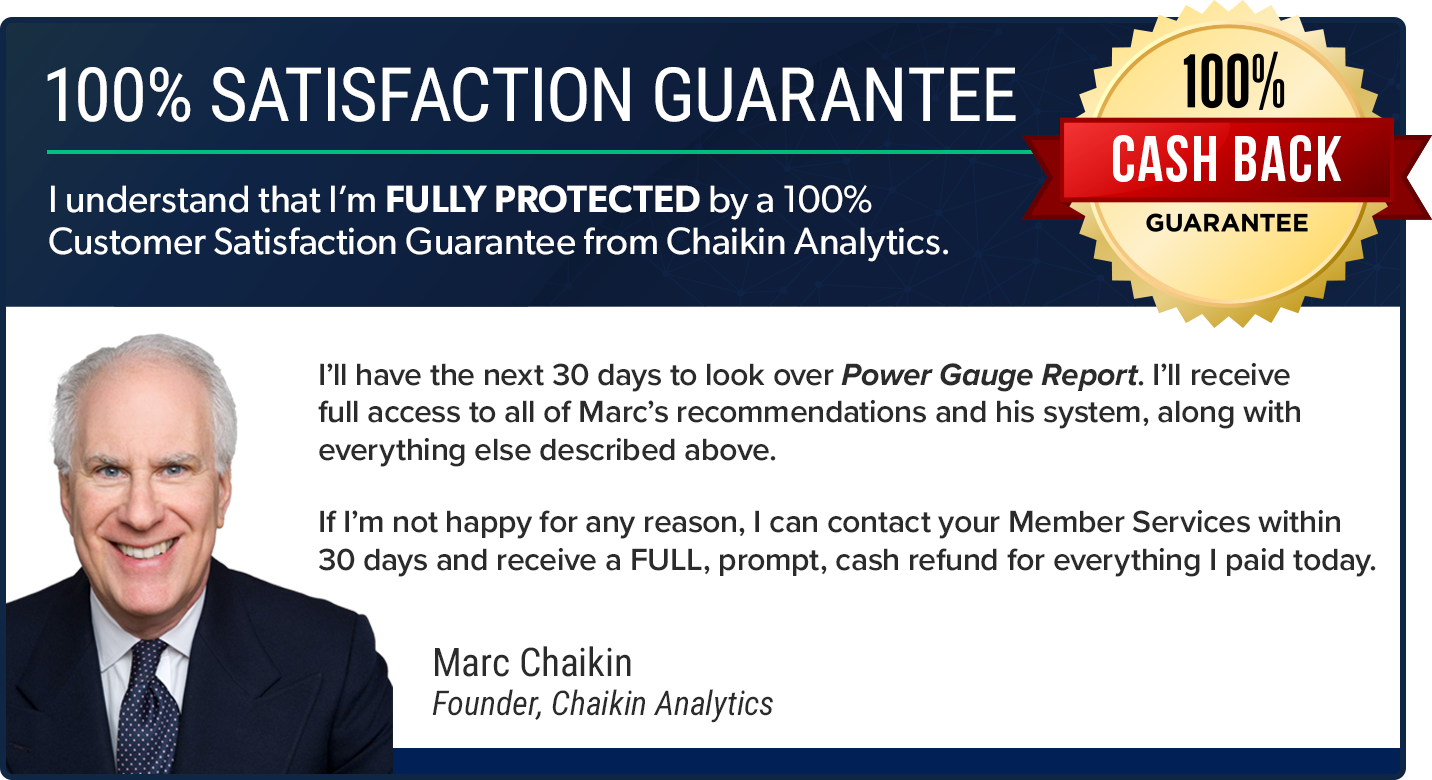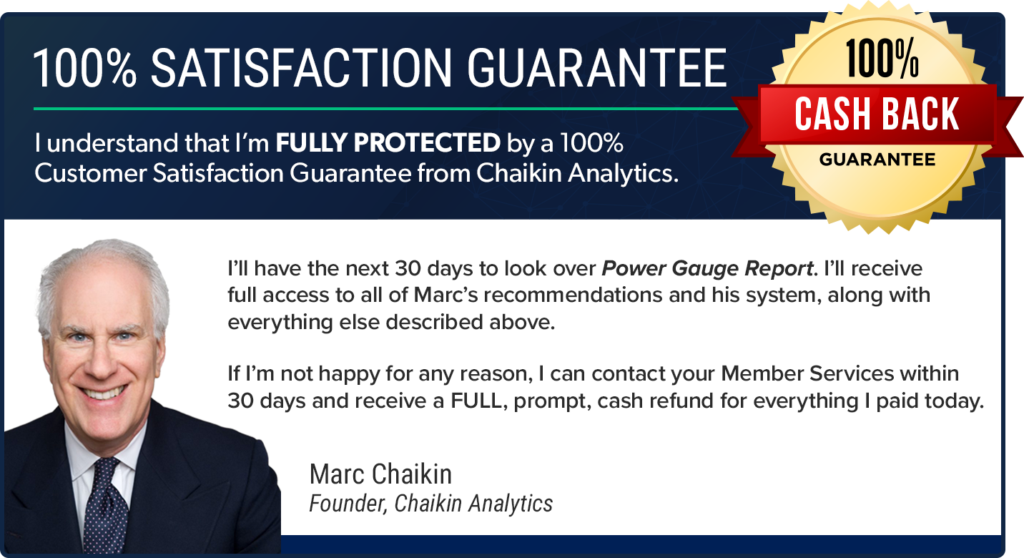 Money-Back Guarantee

Marc Chaikin offers a 100% money-back guarantee on every Power Gauge Report subscription. You have 30 days to "test drive" the service with full access to every feature.
If you decide you're not satisfied with the service, you can cancel within the first 30 days to receive a full, cash-back refund.
The money-back guarantee should dispel any remaining doubts about Chaikin Analytics and Power Gauge Report. This company stands by its products, and its refund policy is a testament to its commitment to quality service.
You can see Chaikin's word-for-word guarantee in the image above. With an airtight policy like that, there's no reason to hesitate if you want to give Power Gauge Report a shot.
Power Gauge Report Review: Pros and Cons
Chaikin's Power Gauge Report has a lot going for it, but nobody's perfect. Let's see how the ups and downs stack up:
Pros
12 monthly issues of the Power Gauge Report
Constantly updated model portfolio
Experienced guru with 50+ years in finance
The Power Gauge system has a track record for market-beating performance
Marc Chaikin's Top 4 "power picks" for retirement included free
The Power Gauge bonus report teaches you about Marc Chaikin's trading strategies
Power Pulse ratings tell you if a ticker is bullish, bearish, or neutral
Air-tight 30-day, 100% money-back guarantee
Free mystery gift to your e-mail as soon as you join
Respected publisher in Chaikin Analytics
Cons
No options or short trades
No community chatroom or forum
>> Access all these benefits and more when you join now <<
Is Power Gauge Report Right for Me?
Power Gauge Report has a lot to offer, and it's a perfect fit if you're interested in the following subjects.
Swing Trading
The Chaikin Power Gauge system aims for stocks with a trading timeline of three to six months. That time range fits in the wheelhouse for many swing trading disciplines, so the service is a natural fit for anyone who wants to learn more about effective swing trading techniques.
Technical Analysis
Chaikin's Power Gauge system combines 20 attributes into one cutting-edge investment indicator. If technical analysis tickles your fancy, you'll appreciate this sophisticated stock-rating metric.
High-Frequency Trading
You'll always have a steady stream of new stocks to explore with Chaikin's Power Gauge Report. The existing model portfolio and bonus report about "power picks" for retirement give you several upfront stock picks. Then, you'll get a new recommendation every month. Plus, you can use the Power Pulse system to turbocharge your research and find other opportunities.
Experienced Leadership
Marc Chaikin is one of the most respected technical investing experts in the world. Chaikin spent a healthy portion of his decades-long investing career on Wall Street, and he knows the market's ins and outs like few others. So if you value experience and expertise above all else, you're in good hands with Chaikin Analytics.
>> Sound like a good fit? Click here to join now and save 75% <<
Power Gauge Report Reviews
Many Chaikin Analytics members speak highly of the company and its rating system. Here are a few testimonials from the Chaikin Analytics website.
This one is from George W.:
And here's another one from John D.:
Marc Chaikin's insights have also won him praise from some notable investors. Here's a review from trading expert John Carter, who made $1 million in two days trading Tesla:
Bob Lang, a noteworthy equities trader who frequently appears on CNBC, also rates Chaikin highly:
>> Click here to get started now and join other satisfied members <<
How Much Does Power Gauge Report Cost?
A one-year subscription to the Power Gauge Report typically costs $199 per year. However, we've secured a special deal for our readers that can help you save substantially.
For a limited time, you can join Power Gauge Report for just $49 per year. That discount saves you more than 75% off the full sticker price.
You still get access to all the bonuses and other features described in this Power Gauge Report review, so you're not losing anything. It's the complete package at a fraction of the price.
Is Power Gauge Report Worth It?
Power Gauge Report is an attractive offer even at its regular sticker price. However, it's a genuinely excellent value at a reduced price of $49 for the first year.
You get a ton of access to exclusive Chaikin Analytics research at an excellent price with this deal. Between the newsletter and Chaikin's special reports, you're covered with regular research updates for an entire year.
Plus, you get tons of upfront value with a wide selection of bonus research. You'll get Chaikin's four "power picks" for retirement, a trading strategy guide, and unlimited access to the model portfolio for as long as you're a member.
In addition, you can access the Chaikin Power Gauge ratings for more than 4,000 stocks and quickly determine if the outlook is bullish, bearish, or neutral based on the system's evaluation. It's an invaluable research tool that will provide long-lasting value throughout your subscription.
Finally, your purchase is covered with Chaikin's rock-solid money-back guarantee, so there's virtually zero chance you walk away from your purchase unsatisfied.
With all these features in mind, the Power Gauge Report looks like a fantastic value. Power Gauge Report is an outright bargain at $49 per year, and it's definitely worth the cost of admission.
Power Gauge Report Review: Final Verdict
Our Power Gauge Report review found that Chaikin's proprietary analytics are the real deal. They've proven successful on countless occasions in the past, and Marc Chaikin remains a highly esteemed expert to this day.
On paper, the Power Gauge Report has everything you'd want out of a research service, including a qualified guru, affordable price, regular research updates, a treasure trove of bonuses, an excellent guarantee, and more.
With more than five decades in and around markets, you would be hard-pressed to find a more qualified guru than Marc Chaikin. It's not every day that you see a research guru with such impressive credentials.
Chaikin's Power Gauge Report cuts through the noise and brings you the best opportunities. It combines the analytical power of the Power Gauge system with Chaikin Analytics' industry-leading investment insights. Together, it's an all-in-one formula for top-of-the-line investing guidance.
At just $49 a month, Chaikin's Power Gauge Report is an excellent value. The Power Gauge Report could be your ticket to the next huge winner, and you can get started now at a fraction of the regular price.
>> That's It for Our Power Gauge Report Review. Claim Your 75% Discount Here. <<