Many breakthroughs in modern medicine are made available through developments in biotech, which is why investors want to add this sector to their portfolios. What are the best biotech penny stocks to help you tap into this volatile market? Read on to find out.
Top Biotech Penny Stocks
Entera Bio Ltd. (NASDAQ: ENTX)
Entera Bio specializes in the oral delivery of large molecules, whereas previous means were only intravenous. Most large molecules cannot be absorbed through the gastrointestinal tract and are ultimately dissolved by stomach enzymes before adding any benefit.
The company introduces solutions to these two big problems with oral medication through technology. It currently has two medications in the pipeline, with one recently entering into phase III status.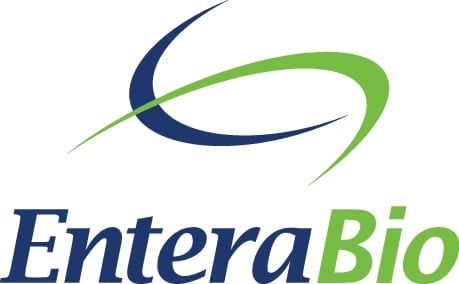 Entera is an exciting prospect because it does what no other company has been able to do before. Shares have ticked up slightly of late as its osteoporosis drug passed phase II testing, but the company still has a way to go before products reach the market.
However, Entera is working hard to fast-track these drugs into production. The U.S. FDA has approved Entera's EB613 based on Entera's request for a Type C Meeting.
Entera structured the pivotal phase for EB613 as an 18-month double-blind, placebo-controlled study, followed by a 6-month open-label switch to alendronate for all patients, after its End of Phase 2 Meeting with the FDA.
Mustang Bio, Inc. (NASDAQ: MBIO)
Mustang Bio, Inc. is a clinical-stage biopharmaceutical firm looking to develop treatments for hematologic cancers, glioblastomas, and rare genetic diseases. The company hopes to do so by creating genetically produced therapies from medical breakthroughs.
Based in Massachusetts, Mustang Bio is placing its treatments under clinical-stage trials. It uses a unique model of in-licensing potential therapies from different institutions to ensure it produces treatments with the best chances of success.
Because Mustang Bio, Inc. places its efforts on ensuring minimized risks for its therapies through in-licensing, the company's products have the potential to be valuable once it goes past clinical trials.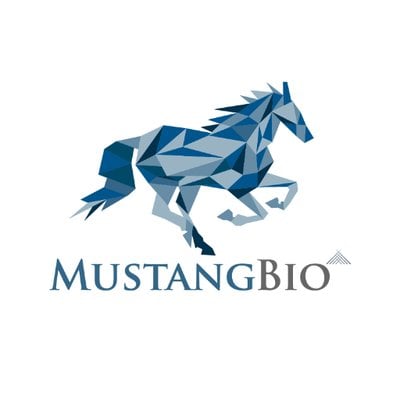 With several data announcements and significant clinical milestones reached throughout its extensive portfolio of CAR T cell and gene medicines, Mustang got off to a solid start in 2022.
Looking at its financials, Mustang had $123.2 million in cash and cash equivalents as of March 31, 2022, up from $110.6 million as of December 31, 2021, a $12.6 million rise year-to-date.
As with most fledgling biotech enterprises, Mustang's shares are down as investors wait for clinical results. With a 34% higher cash burn rate in the previous year, the firm is increasing investment in the business over time.
Hoth Therapeutics Inc. (NASDAQ: HOTH)
Hoth Therapeutics looks to change the way diseases are managed and treated. The company firmly believes that no medication should ever make you sicker than the disease. Hoth has no less than ten drugs currently in its pipeline to rattle the sector.
Most promising medications look to treat eczema, Alzheimer's, asthma, acne, lupus, and even Covid-19. A $16.3 million market cap is helping make all this possible. Share prices are currently under $1 per share, making this a low-priced place to get involved with biotech.

Should Hoth make waves with even one of these products, share prices could take off overnight. In fact, when it revealed proof-of-concept results derived from cognitive and behavioral tests in an Alzheimer's disease mice model, shares recently increased by 28%.
Acasti Pharma (NASDAQ: ACST)
Acasti Pharma identifies rare and orphan diseases before searching out ways to cure them. These diseases are either poorly-served or have no currently approved treatments.
The company has three medications in its pipeline, with drugs to treat Subarachnoid Hemorrhage and Ataxia-telangiectasia heading into phase III of clinical testing. A third treatment for Postherpetic Neuralgia is set to enter phase II shortly.
Acasti Pharma looks to surge ahead with a recent acquisition of Grace Therapeutics to put even more resources at its command. Like most penny stock biotech firms, Acasti Pharma doesn't yet have any revenue coming in.

According to the company's most current report, recent pharmacokinetic research produced highly encouraging findings, showing no statistically significant differences between its GTX-104 and oral nimodipine in maximal and cumulative exposure over three days.
It also stated that it intended to carry out its Phase III investigation on people who had suffered a subarachnoid hemorrhage.
Also, share prices soared when it announced that a PK study has started that will enable the business to compare the blood levels of its oral spray with the injectable type of betamethasone that is offered in the U.S.
Later this year, such results are anticipated. It expects to be able to launch its Phase III program right away if the outcomes are favorable next year.
Finally, according to the company's reports, as of the end of March, it had $44 million in cash and, based on its current estimates, expects that cash to last until next year. Clearly, the company has a clear path to see gains once one of its products hits the market.
Catalyst Biosciences, Inc. (NASDAQ: CBIO)
Based in San Francisco, Catalyst Biosciences, Inc. is a clinical-stage biotechnology company that develops protease candidates for hemostasis and complement regulation applications.
Specifically, Catalyst Biosciences produces medical products that aim to reorganize disorders in the complement and coagulation systems.
This means better coagulation and complement disorders treatments and better growth potential as these protease platforms become commercially available.

Last year, the U.S. FDA granted fast-track designation to the biopharmaceutical company's treatment for episodic bleeding in factor VII deficiency. This solitary event caused Catalyst Biosciences Inc.'s shares to increase for a portion of the fall.
Another share price surge was seen last month when it surprisingly doubled after it agreed to sell its portfolio to Vertex Pharmaceuticals, worth $60 million.
This transaction is a part of the company's continuing strategic process to look at options and increase value for shareholders, which was disclosed in February.
It continues to engage with its consultants to assess new strategic options for Catalyst while drastically reducing its cash burn.
Eton Pharmaceuticals Inc. (NASDAQ: ETON)
Eton Pharmaceuticals searches the world over for meaningful products to introduce to patients with rare and often untreated diseases. The company has a strong source of revenue through five products already on the market.
As a result, Eton Pharmaceuticals is one of the few biotech penny stocks actively making money. Five more medications are brewing in the pipeline, with some already nearing product approval status.
Without a specific medical focus, Eton has a seemingly unlimited number of areas it can look to. Share prices are starting to climb again after Eton saw huge financial gains recently.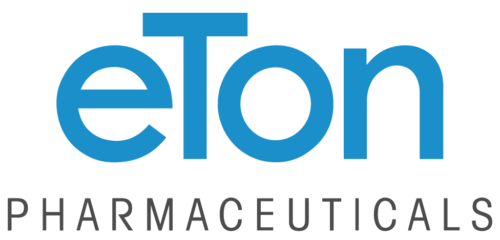 Stocks increased 16.5% in pre-market trading after the firm said that Zonisade, a seizure medication for adults and teenagers with epilepsy older than 16 years old, had received approval from the Food and Drug Administration.
According to an agreement made with Azurity Pharmaceuticals Inc. last year, Eton would get $5 million for the drug's launch, royalties on net sales, and up to $15 million in commercial milestone payments for Zonisade and two additional medicines included in the agreement.
Best Biotech Penny Stocks Under $1
Cellectar Biosciences, Inc. (NASDAQ: CLRB)
Cellectar Biosciences is a New Jersey-based venture that pursues potential next-generation cancer treatments. The company is currently trying to accomplish this through its proprietary phospholipid drug conjugate (PDC) platform.
As Cellectar Biosciences, Inc. continues to develop its PDC platform, the subsequent-generation cancer therapy will be a welcome addition to the market. PDC could also boost the firm's growth in the sector.
Cellectar Biosciences Inc. can be a solid investment option if you're searching for stocks with high yields. According to calculations, the stock price prediction for 2026 is $56 per share.

Its cash outflow has increased significantly over the last year as the company pushes toward approval.
In terms of financials, the company had $30.6 million in cash and cash equivalents as of March 31, 2022, down from $35.7 million as of December 31, 2021. Approximately $5.0 million in net cash was utilized in operational activities for the three months ending March 31, 2022.
According to Cellectar its cash on hand will last for at least a year after the release of the first quarter of 2022 financial results to cover the company's basic planned operations.
Brickell Biotech, Inc. (NASDAQ: BBI)
Brickell Biotech looks to create innovative prescription medications to treat autoimmune and inflammatory diseases. The company already has one medication approved for use in Japan, targeting Primary Axillary Hyperhidrosis.
Brickwell expects to submit this medication for approval in the United States in the first half of this year. A revenue stream from Japan helps Brickwell invest in other technologies, and the company has three other medications in pre-clinical trials.

Share prices are low now, but approving a drug in the U.S. soon should be a boon across the board.
According to the company, it successfully sold sofpironium bromide to Botanix Pharmaceuticals for up to $9 million upfront, $168 million in possible future regulatory and sales milestone payments, and tiered earnout payments on net sales.
Sale underscores Brickell's new business strategy and dedication to building its pipeline of cutting-edge, potentially ground-breaking immunology and inflammatory therapies.
Ibio Inc. (NYSEAMERICAN: IBIO)
Ibio Inc. owns the FastPharming manufacturing system to enable biopharmaceuticals' speedy, scalable, and safe development. This tech allows for faster protein production in plants, ultimately leading to quicker drug trials.
The company uses FastPharming in its endeavor to approve new treatments for fibrotic and infectious diseases alongside immuno-oncology. Although medications are still in the pipeline, Ibio has generated revenue through sales of its manufacturing process.
With a market cap of over $110 million, Ibio is dealing with big figures to get its products approved as early as possible. Share prices are just 50 cents at present but have plenty of room to grow from both technology and medications in the future.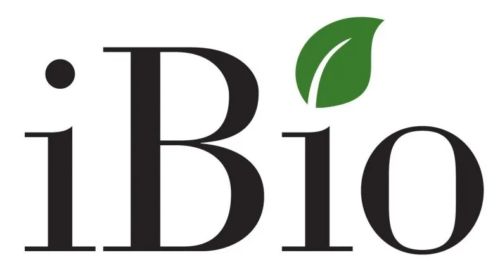 On its earnings, revenues for the fiscal third quarter ended March 31, 2021, were $0.8 million, and for the third quarter ended March 31, 2022, they were nearly $1.9 million, an increase of about $1.1 million, or 154%.
The Company faces considerable quarter-to-quarter revenue fluctuation, which is typical for early-stage Pharma Services businesses and is influenced by variables such as the quantity and amount of client contracts as well as the timing of revenue recognition.
What You Should Know About Penny Stocks
Penny stocks are more volatile and less liquid than mid-cap or large-cap stocks, which means more price movement within the same period. Also, biotech stocks can be even more volatile compared to other penny stocks with a similar market cap and trade volume.
Remember, though, while penny stocks can increase in price quickly, this also means that they can also lose value quickly. Like any investment, make sure to perform proper due diligence before trading penny stocks.
Also, if you're new to trading penny stocks, we recommend being extra cautious.
What You Should Know About Biotech
Biotechnology is a field of study that develops treatments and products by leveraging cellular and biomolecular processes. Biotech encompasses a wide range of applications that extend beyond traditional pharmaceuticals, such as antibiotics and vaccines.
Other applications include plant-based biofuels, cosmetics, food processing technologies, and even microorganisms used for cleaning up oil spills.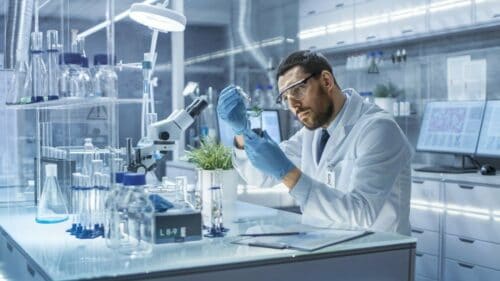 Should You Buy Biotech Stocks?
There will always be a need for breakthrough treatments for untreatable diseases. Even though penny stocks are characteristically volatile, the industry itself is relatively stable.
While the biotech penny stocks we've listed have shown potential and tested histories, no single investment provides guaranteed returns.
Where to Buy Biotech Stocks Under $1?
Most of the biotech penny stocks listed above are available on major exchanges like the NASDAQ or the NYSE. If you're looking for an online broker, our go-to platform is Public.com.
Other online brokers include Webull and Robinhood — you can even buy some biotech stocks through Cash App. However, not all penny stocks are available on those platforms, so you may need to trade on an over-the-counter market to get your hands on them.
If you can find the right biotech penny stock, it might be worth the extra effort.
Biotech Penny Stocks: Final Words
Biotech stocks can be a lucrative investment if you know what to look for.
However, the volatility of penny stocks means you should do serious research before picking up any shares.
This is especially true for biotech stocks, as they are highly speculative, making them exceptionally volatile — even buy penny stock standards.
Biotech Penny Stocks FAQ
1. What are biotech stocks?
Biotech stocks are stocks of companies that are engaged in the business of biotechnology. Most of these companies are engaged in the research and development of new drugs and treatments. These companies also make vaccines, diagnostics, and medical devices.
2. What are the benefits of investing in biotech stocks?
The benefits of investing in biotech stocks are that these companies tend to have high growth potential. Imagine a company that is developing a new drug that can cure cancer. That company is likely to see its stock price soar.
3. What are some risks associated with investing in biotech stocks?
The risks associated with investing in biotech stocks are that these companies are often high risk and their stock prices can be volatile. Many of these companies are still in the early stages of development and they may not have any products on the market.
4. How do I invest in biotech stocks?
To invest in biotech stocks, you will need to open a brokerage account and buy shares of these companies. Also, trading platforms such as Webull and Robinhood offer commission-free trading of biotech stocks.
5. What are some of the most popular biotech stocks?
Some of the most popular biotech penny stocks include Brickel and Cellectar. These companies have a high risk but also offer high potential rewards. Both are already in clinical trials for their respective drugs.