The Marc Chaikin Prediction (2022) Presentation from Chaikin Analytics lays out optimistic and foreboding market forecasts. If he's right, it could mean huge returns for some folks and big losses for others. But is Chaikin really onto something? Check out our Marc Chaikin Prediction review to find out the truth.
Marc Chaikin Prediction 2022 Review
Marc Chaikin's latest presentation is a bold prediction that could be an absolute game-changer for his followers.
Better yet, he's assembled an impressive bundle of resources to equip you with everything you need to get the most out of this epic growth opportunity.
The bundle includes a vast collection of in-depth research reports (including Power Gauge Report), access to professional-grade analytics, a money-back guarantee, and much more.
You'll also enjoy access to Marc Chaikin's research and future stock ratings system for an entire year, including new stock recommendations every month.
Best of all, it comes at a price that will fit into even the smallest budgets, so you don't have to break the bank to get on board.
What Is Marc Chaikin's Prediction for the Stock Market in 2022?
Marc Chaikin believes the pandemic irreversibly changed the global economy, and he predicts that a new class of stocks could rise to lead the next phase of the country's economic expansion.
The pandemic forced businesses everywhere online and accelerated the shift towards digital sales channels. Companies that adapted excelled, while those that failed to adjust fell behind.
While the pandemic is fading, the economic trends it set into motion are continuing full speed ahead.
To be clear, Chaikin isn't referring to the typical work-from-home stocks that surged in 2020.
That's yesterday's news.
Instead, this former Wall Street analyst believes the next generation of winners will look very different from the pandemic performers, and many believe this could be Chaikin's biggest prediction yet.
Marc Chaikin Warning
During his prediction presentation, Chaikin gave listeners a few free insights.
One was a stock he was bullish on, Live Nation [LYV].
He also revealed that one of his most bearish stock picks was Zillow [Z]. Chaikin is warning that this stock could get crushed as a result of the shifting economic sands.
If you sign up through the prediction deal, you'll get many more insights about which stocks he recommends and which ones he thinks you should sell immediately.
Marc Chaikin's prediction deal seems particularly promising, but why should you listen to him?
We'll explain why Chaikin is so respected on Wall Street in the next section.
Who Is Marc Chaikin?
If you follow the stock market closely, there's a good chance you've heard of Marc Chaikin and Chaikin Analytics.
Some of his most popular services include Power Gauge Report and Power Gauge Investor.
You may have even seen Chaikin on Fox Business News and CNBC's Mad Money show with Jim Cramer. Simply put, Chaikin is an analysis pro with over half a century of experience under his belt.
He made his Wall Street debut back in 1965 as a stockbroker, and he's been working closely with the stock market ever since. Chaikin quickly earned a reputation among stock traders, hedge funds, and portfolio managers for finding quality stocks that many institutional investors overlooked.
Chaikin really made a name for himself in the 80s when he began developing proprietary technical indicators to find institutional-grade investment opportunities.
This work eventually earned Chaikin a reputation as a technical analysis genius, but he really hit his stride at the advent of the PC era.
Chaikin began utilizing computer algorithms to advance his technical analysis work, and his efforts ultimately led him to the biggest breakthroughs of his career.
You can find his indicators on almost every major brokerage site.
Some examples of Chaikin's most prominent proprietary indicators include:
Accumulation/Distribution Line

Chaikin Volume Accumulator

Chaikin Oscillator

Chaikin Power Gauge (more on this later)
They have a variety of applications, including tracking smart money movements, hedge fund activity, institutional money flow, and much more.
Since their inception, the Nasdaq Chaikin Indexes based on Chaikin's Power Gauge system have consistently outperformed their benchmarks, according to the Chaikin Analytics website.
Marc Chaikin Net Worth
Marc Chaikin's net worth is not publicly available.
There are estimates online that range all the way from $5 million up to $50 million, but we can't verify that. This is a massive variance, so you might want to take both of these numbers with a grain of salt.
Now that you know more about Chaikin, let's take a look at his research firm, Chaikin Analytics.
Chaikin Analytics Review
Marc Chaikin launched Chaikin Analytics LLC in 2009 with a mission to bring indicators and future stock ratings systems to everyday people.
Along with his wife Sandy Chaikin, Marc Chaikin founded the firm around the same time he had a major epiphany.
In 2009, his wife lost 50% of her 401(k) thanks to a bad money manager, and the experience led Marc to a life-altering realization.
Afterward, Chaikin made a commitment to share his knowledge with the public so regular people could take charge of their finances and avoid the kind of devastating losses his wife suffered in '09.
The firm's services include:
The

Power Gauge Report

Chaikin Analytics System

Power Pulse Premium

Chaikin Power Feed
Chaikin Analytics' proprietary indicators have spawned several research services based on their future stock ratings, and they've performed admirably over the years.
For example, Chaikin recommended NVIDIA in 2014, and the call gave his readers the chance at gains as high as 3,200%.
Later, in 2020, Chaikin recommended Chinese EV-maker NIO, and the stock soared by 884% in about 8 months.
These are just a few samples from Marc Chaikin's long list of winning calls. Although these results aren't typical, they're nonetheless impressive.
As you can see, Marc Chaikin and his namesake Power Gauge can be very accurate, and members have had the opportunity to see huge gains as a result.
>> Sign up now to access exclusive research from Marc Chaikin <<
What's Included With Chaikin's Prediction Deal?
Access to the Power Gauge system

Power Gauge Report

Newsletter

Bonus Report: The

Power Gauge: How to Double Your Money on the Best Stocks Special Report

Bonus Report:

Chaikin's

4

"Power Picks" for Retirement
Bonus Report: Top 5 Stocks to Avoid Right Now
One year of Marc Chaikin's Predictions and Warnings

Extra bonuses

100% money-back guarantee
Power Pulse Access for One-Year (Power Gauge)
The Power Pulse system (AKA the Power Gauge) is a user-friendly platform that lets everyday folks access detailed information and future stock ratings on more than 4,000 companies.
Marc has identified dozens of promising stocks based on Power Gauge ratings, but you can also use the gauge to identify promising stock market opportunities of your own.
Unlike other research tools, Power Pulse doesn't limit its findings to major large-cap stocks. You can also use it to research stocks with small- and mid-sized capitalizations as well.
How Does the Chaikin Power Gauge Work?
The Power Gauge analyzes a total of 20 factors spread across four distinct categories: Financials, Earnings, Technicals, and Experts.
We're going to put the Power Gauge system to the test and show you a demonstration of a stock with a high rating. The info is member's-only, so we can't tell you what the stock is.
However, if you sign up for Power Gauge Report, you can search for stocks just like this.
Let's get into it.
First, you'll need to hop into your Power Gauge Report login to access the Power Pulse software. Once you're in, you simply type in a ticker or company in the search bar, and you'll get an instant overview.
Here's what it looks like: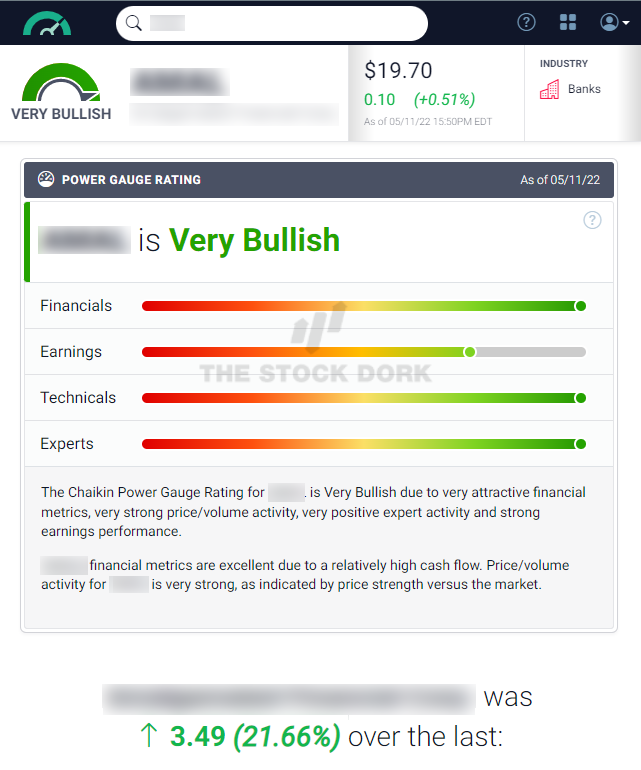 This is the snapshot of a stock that gives you the overall Power Gauge rating. If you're researching a list of stocks you can dogear a company and move on to others before you're ready to commit to deeper analysis.
However, if you keep scrolling down, you'll find even more data and a handy historical chart that will show you how the stock has performed over a one-month to five-year period. It also has a chart tracking Chaikin Money Flow.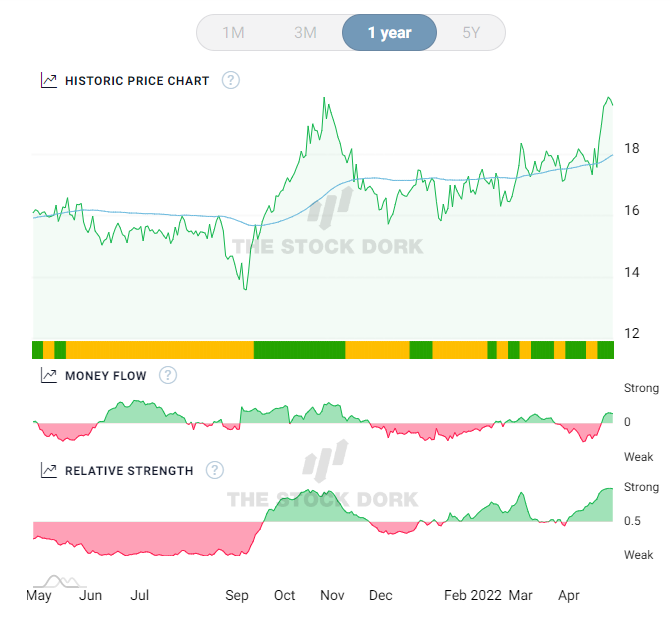 As you can see, one of the underrated features of the Power Pulse system is its slick UI and intuitive design. Chaikin says he's a visual learner, which is why he carefully crafted this tool with user experience in mind. You'll see what we mean as we go.
Underneath the price chart and Chaikin Power Gauge rating, you'll find each category that we mentioned earlier (Financials, Earnings, Technicals, and Experts).
First, on the list is Financials:
Financials – LT Debt to Equity ratio, Price to Book Value Ratio, Return on Equity, Price to Sales Ratio, and Free Cash Flow Analysis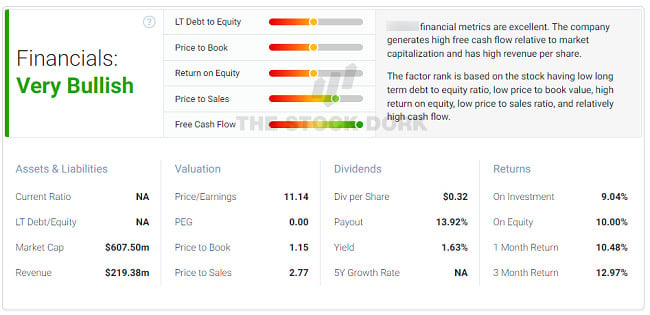 This stock scores high marks in the Financials department, and the Power Gauge is giving it a Very Bullish rating based on its performance on these five key indicators.
If you want even more insights, you can read the box in the upper-right corner to help you make sense of the data you're looking at.
After Financials is Earnings.
Earnings – Earnings Growth, Earnings Surprise, Earnings Trend, Projected Price/Earnings Ratio, and Earnings Consistency

Our mystery stock is performing well in Earnings, locking in a solid Bullish rating.
There are also some accompanying charts with this category that will show you Annual EPS, Quarterly EPS, Earnings Announcement, and Annual Revenue.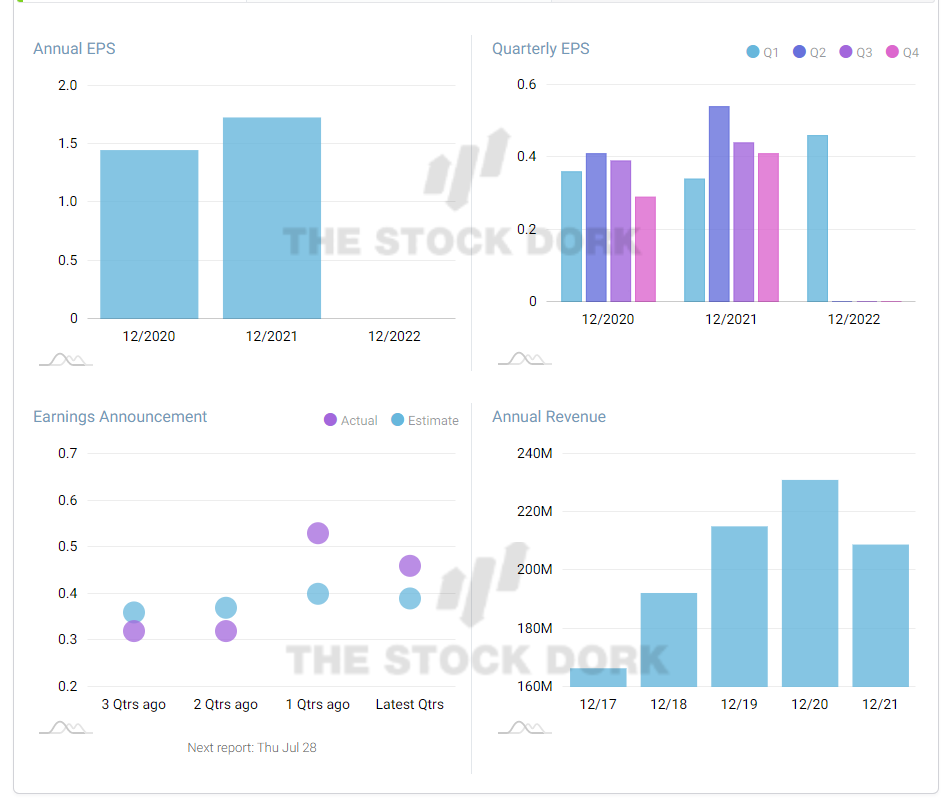 This is our favorite feature of the Power Gauge, as this data can be a pain to collect by hand. Especially if you're trying to check in on the financials of a small-cap.
Time to switch gears and take a look at Technicals.
Technicals – Strength of an Individual Stock vs the S&P 500, Chaikin Money Flow, Chaikin Trend, Price Trend Rate of Change, and Volume Trend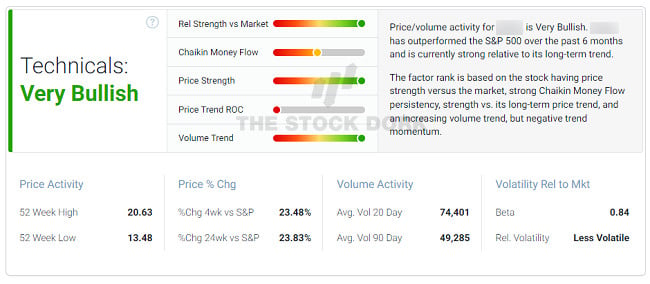 A lot of the data here is something you'd find in a standard price chart, but the real draw is that top right box we mentioned earlier.
These ratings typically update every 24-hours, so you get a quick summation of these indicators. If you're new to these concepts, it's fantastic to have a breakdown in plain English that will tell you everything you need to know.
Finally, there's the Experts category.
Experts – Earnings Estimate Revision, Short Interest, Insider Activity, Analyst Opinions, and Strength of Industry Group vs the Market
The gauge analyzes these factors for a given stock ticker and returns stock ratings starting at Very Bearish and going up to Bearish, Neutral, Bullish, and Very Bullish.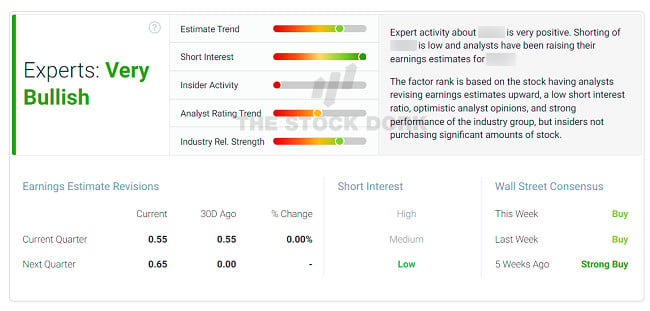 If you're big on following buy ratings, this will probably be your favorite indicator. It's always helpful to know what analysts are saying about a stock so you can get a feel for market sentiment.
All in all, the Power Gauge is a rock-solid tool that's as simple to use as it is informative.
This is a legitimate analysis metric widely used on Wall Street, and you get full access to it under Marc's prediction deal.
>> Sign up to access the Power Pulse software <<

Power Gauge Report Newsletter
Every month, Chaikin publishes a new stock recommendation based on the latest Power Gauge readings and releases them in his monthly newsletter service, Power Gauge Report.
In addition to new stock picks every month, the report includes Chaikin's analysis of the latest stock market moves, updates on model portfolio holdings, predictions and warnings, a special gift, and much more.
If you find the idea of picking your own stocks intimidating, the Power Gauge Report is a great resource that could give you more confidence in your decisions.
The Power Gauge: How to Double Your Money on the Best Stocks
The first bonus report is like the instructions guide for the Power Gauge.
It introduces you to some of the most effective strategies for getting the most out of this powerful, professional-grade research tool.
You'll learn how to use the power gauge to find promising stocks from across the market, including some of the best small-cap stocks around.
It also teaches you how you can use the Power Gauge to formulate advanced trading techniques and build model portfolios of your own.
4 "Power Picks" for Retirement
Chaikin's 4 "Power Picks" for Retirement is one of the most noteworthy bonuses in this bundle.
This report includes details on four stocks that could see enormous long-term gains. These power picks could provide an excellent foundation for any retirement portfolio.
If Chaikin is right, they could produce steady gains for decades to come.
People who get in on the ground floor could see their money grow in leaps and bounds, and you get access to all four picks when you join.
Top 5 Stocks to Avoid Right Now
As the name suggests, this bonus report warns Power Gauge Report members about five stocks to stay away from — the polar opposite 4 power picks.
We were a little taken aback when we first read this report — especially the first and second companies listed. But when the team details why these stocks might sour soon, it's hard to argue.
These are some pretty popular companies, so if you sign up, you're definitely going to want to check if they're floating around in your portfolio.
You can run them through the Power Gauge if you want even more insights (we did).
>> Gain exclusive insights through Chaikin's research reports <<
One year of Marc Chaikin's Predictions and Warnings
The monthly newsletter isn't just for stock picks, Chaikin will also let you know where he thinks the market is heading — for better or for worse.
We appreciate the warnings in advance, as trading isn't just about making smart choices: it's also about avoiding bad ones.
The analysis and commentary provided by Chaikin are easy-to-follow and informative. You won't need to be a financial expert to keep up with his forecasts.
Marc Chaikin has successfully predicted some of the most momentous financial events of the past 40 years, and you'll have first-hand access to his insights for a full year with this deal.
Couple this with the Chaikin Power Gauge Rating system, and you could have everything you need to stay ahead of the markets and Wall Street insiders.
Bonuses
Marc Chaikin's prediction also includes a model portfolio containing five stocks that could have the best chance of producing huge returns as the post-pandemic digital revolution unfolds.
These "buy right now" stocks could be in excellent positions to capitalize on America's next phase of economic expansion, and they're all yours when you sign up for this deal.
Chaikin sends out special briefings and updates whenever something big is unfolding in the market, so you'll never miss a beat, no matter how busy you are with day-to-day life.
New members will also receive an unspecified mystery gift when they join.
There's no telling what it could be, but the Chaikin team estimates its value at $1,000.
That's one heck of a welcome gift, and it makes this already attractive deal even sweeter.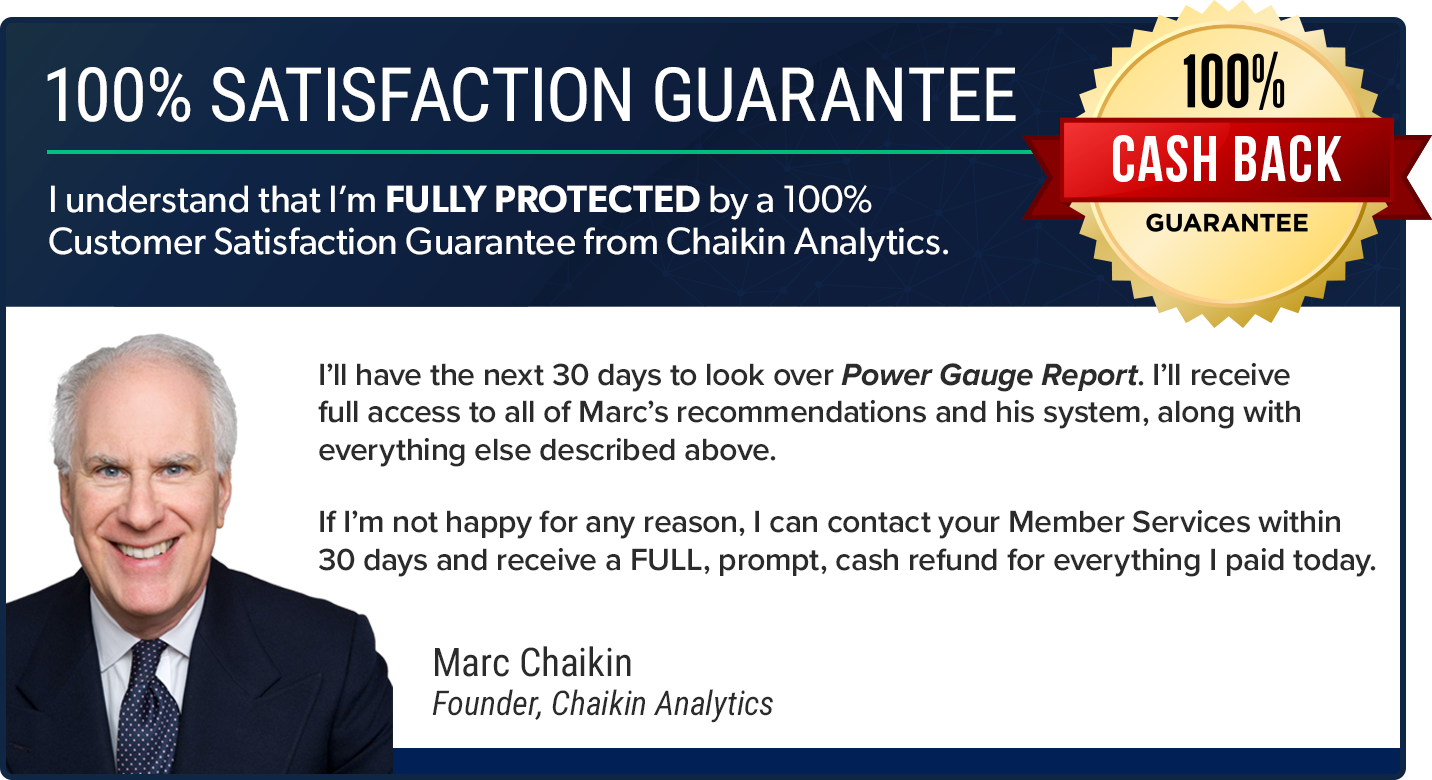 Power Gauge Report Refund Policy: 100% Money-Back Guarantee
Chaikin offers a 100% satisfaction guarantee on his prediction bundle that covers your purchase for a full 30 days after you join.
Under the guarantee, you can get a cash refund for your subscription cost if you're unsatisfied with the product for any reason within the first 30 days.
Many companies would never dream of offering cash refunds on a valuable tool like the Power Gauge.
However, Chaikin proves once again that he stands by his research with this promising guarantee.
>> Access all these benefits and more when you join now <<
Is Marc Chaikin's Prediction 2022 Legit?
Marc Chaikin's 2022 Prediction Presentation offers legitimate insights into investment opportunities.
Couple Marc Chaikin stock picks with access to Power Pulse (Power Gauge ratings), and you have a rock-solid foundation to build trading strategies around.
While no one can predict the future, including Chaikin, he makes a solid case about why his stock recommendations and warnings should be on your radar.
Marc Chaikin Prediction Reviews
Marc Chaikin's 2022 Prediction Deal does not appear to have ratings on third-party sites.
We'll keep you posted if this changes in the future.
For now, we can say that we are impressed with what we saw during our review of this bundle.
It's packed to the brim with features, and the Power Gauge system is a fantastic addition.
Pros and Cons of Marc Chaikin Prediction 2022
This bundle looks like a great deal, but it does have a few drawbacks.
Here are the pros and cons of Marc Chaikin's Prediction bundle:
Pros
Model portfolio featuring Chaikin's 5 best stocks for the digital revolution

Access to Power Pulse stock-rating system for a full year

4 "Power Picks" for Retirement stock recommendations included free

Power Gauge is great for researching large-, mid-, and small-cap stocks

Affordably priced with an airtight guarantee

How to Double Your Money on the Best Stocks

New stock picks every month

Mystery gift valued at $1,000

Includes a one-year subscription to the

Power Gauge Report

Legitimate US-based company with a stellar reputation
Cons
No community chat or forum

Power Pulse doesn't cover options, commodities, crypto, etc.
How Much Is Marc Chaikin's 2022 Prediction Bundle?
For a limited time, you can sign up under the Marc Chaikin Prediction deal for the bargain-basement price of just $49.
The bundle also includes a one-year subscription to The Power Gauge Report and all the other bonuses covered in this review.
That's more than a fair price for the opportunity to take a page from the Marc Chaikin book of analysis.
Typically, this collection costs $199, and the price could be even higher if you value each resource individually.
>> Sound like a good fit? Click here to join now and save 75% <<
Is Marc Chaikin's Prediction Worth It?
Marc Chaikin's Prediction deal is an excellent value.
For just $49, you get full access to a wide swath of valuable, professional-grade investment resources.
The deal also includes a one-year subscription to Power Gauge Report, which features new research, analysis, and stock picks from Chaikin every month.
You'll also get instant access to more than nine stock picks as soon as you join through the model portfolio and other resources, plus 12 more recommendations over the course of your subscription.
Best of all, you get unlimited access to Power Pulse ratings for an entire year, so there's virtually no limit on the number of promising stocks you could discover with this deal.
At just $49, it's hard to beat the Marc Chaikin Prediction bundle, but it won't last forever.
Sign up for direct access to Marc Chaikin Stock picks today, before the offer is gone.
>> Get the Marc Chaikin Prediction bundle for just $49 TODAY <<