Tim Plaehn claims his 36-Month Accelerated Income Plan could lay out a strong foundation for an income investing portfolio. But is it the real deal?
The intrigue and uncertainty around such a claim are enough to pique the interest of even the most skeptical among us.
In an effort to bring clarity, I've dissected this claim, analyzing it from every possible angle, leaving no stone unturned.
Does it stand up to scrutiny? Will it fulfill its proposed objective? If you're looking for answers to these questions, you're in the right place.
Check out my Dividend Hunter review for the full breakdown.
Accelerated Income Plan
Tim Plaehn's 36-Month Accelerated Income Plan is the centerpiece of Tim Plaehn's Dividend Hunter package. It's a unique strategy that has the potential to help people generate a steady income from the stock market.
As discussed earlier, his mathematical training helped him develop this remarkable strategy.
He uses these strategies in his own investments on a regular basis. The plan helped him build a reliable income stream from dividend payments.
Forming a strategy around dividend stocks could be a more effective approach than relying on growth.
>> Already sold? Sign up today! <<
If you're planning for retirement, a sudden stock market sell-off could easily derail your dreams if you're solely relying on growth.
Even robust savings might not last very long if you're not generating income from it.
Take a look at this example from Tim's presentation: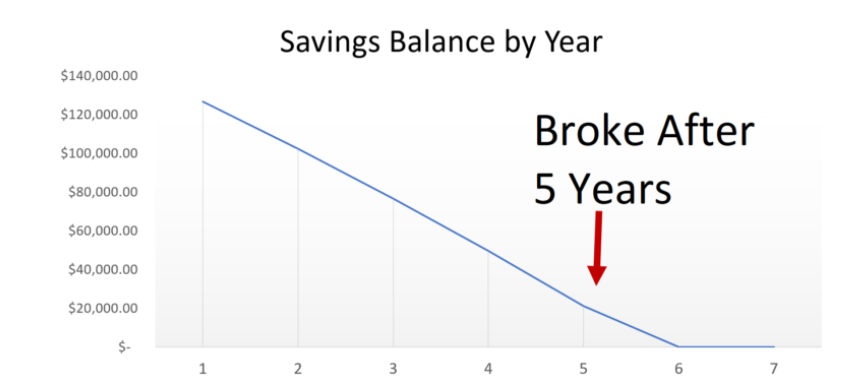 Five years doesn't seem like a very long time.
However, it could be enough to deplete an entire $150,000 portfolio if you're only getting a 5% return on your assets.
Even a slight slowdown could have disastrous effects.
This is why the Accelerated Income Plan aims to generate reliable income regardless of where the market goes.
Speculating on stock prices can be a dangerous game for people who are relying on their investments to fund their retirements.
Without steady paychecks, you need a way to draw sustainable income from your retirement accounts, and dividends could be the solution.
The Accelerated Income Plan doesn't rely on growth and capital gains to provide income.
Instead, it focuses on high-yield stocks with strong dividend growth that have the potential to keep generating dividends for as long as you hold them.
The plan also makes it easy to manage your income in retirement.
It shows you exactly how much income you could generate in a given month. This helps you can plan accordingly and scale positions as needed.
Also, Tim's approach doesn't prioritize price action at all.
His real focus is finding high-quality dividend stocks trading at a bargain price. And as mentioned earlier, the quality of the company's business is much more important than its day-to-day price movement.
>> Tap into the Accelerated Income Plan TODAY! <<

Who is Tim Plaehn?
Tim Plaehn is really skilled at picking the right stocks and writing solid research about them.
Investors Alley chose him to be their main research analyst for a good reason. His special mix of being great with numbers and knowing a lot about investing for income sets him apart.
Back when he was in the US Air Force, he learned a bunch about math, and that knowledge came in handy when he became a financial advisor later on.
Once his time in the military was done, Tim started a career in finance, even working as a financial advisor for a while.
He took what he learned about math and used it in his investment plans, and it worked amazingly well. Tim saw that he had found something really important and decided he wanted to share it with everyone.
On top of his main newsletter, he also offers other popular services like Monthly Dividend Multiplier and Weekly Income Accelerator.
>> Get Tim's latest stock picks and recommendations <<
What Comes with the Service?
The service offers much more than a monthly newsletter.
Follow along for a breakdown of each feature.
Annual Subscription to The Dividend Hunter Newsletter
This newsletter is Tim's main offering and forms the core of this package.
Every month, you'll receive a fresh edition of The Dividend Hunter containing updates on recent market activities, a trade suggestion, and more.
The stock selections are accompanied by thorough supporting research and the team's rationale for buying.
This involves delving into the company's background and explaining why it could be a valuable addition to an income-focused investment portfolio.
Overall, the team's writing is concise and straightforward.
One aspect I appreciate about this newsletter is that Tim occasionally adds in general tips about income investing that can be useful beyond his specific recommendations.
This aspect makes it a valuable resource for individuals with limited experience who want to expand their knowledge.
The Dividend Hunter newsletter supplies insights into the stock market's prospects. For instance, the November 2022 edition previewed attractive ex-dividend prospects for the upcoming month.
While each issue centers on distinct opportunities, the fundamental theme remains consistent. Within any given release, you can typically expect Tim Plaehn's present market perspective, one or two promising suggestions, and a comprehensive analysis of dividend trends.
>> Subscribe to The Dividend Hunter newsletter now! <<
Weekly Updates
A single month can feel like a lengthy stretch in the market, and this service ensures you're not left in the dark between issues.
Every Tuesday, Tim issues a fresh alert that highlights the top picks within The Dividend Hunter portfolio. These alerts are accompanied by explanatory research for each recommendation.
The weekly reports provide regular opportunities for followers to consider expanding their holdings if a particularly appealing chance arises.
Tim's updates also bridge the gap between each monthly release, ensuring readers stay in the loop about the latest developments related to the model portfolio.
Let's be honest, we're all grown-ups leading busy lives. Not many of us can dedicate the time or energy to constantly monitor the stock market while it's open.
Thankfully, Tim's updates simplify the task of staying current with the latest Dividend Hunter suggestions. As long as you regularly read these updates, you won't need to worry about missing out on opportunities.
Moreover, when it's time to make a significant trade, you'll promptly receive an alert. This means you'll never overlook another potential trading window.
Between The Dividend Hunter newsletter and the weekly updates, readers receive all the assistance required to confidently navigate the stock market.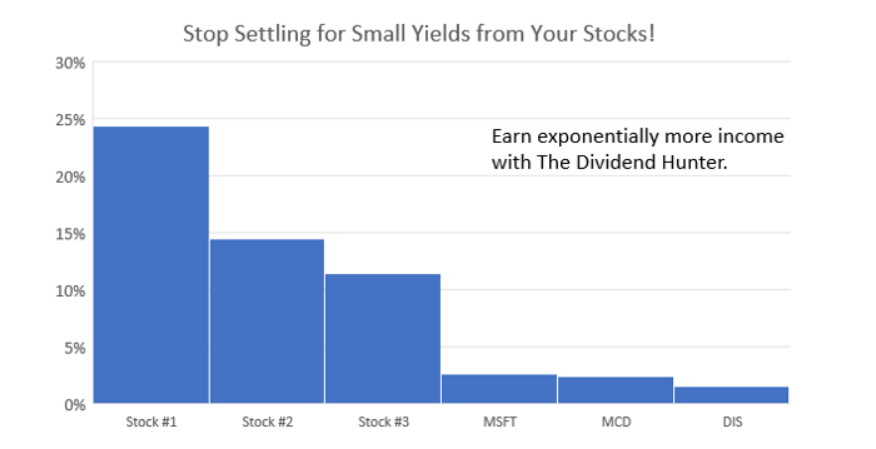 >> Get weekly alerts for Tim's top stock picks <<
Training and Education
The service also offers bonus training and education sessions to help improve your chances in trading.
Stock picks are always nice, but education is a lifelong gift that keeps on giving.
The live sessions give you the opportunity to learn from a proven expert, and you could draw valuable investing insights from his instruction.
You'll never truly master the market until you have a firm grasp on how it works. Even the best stock picks imaginable can't replace a solid education.
The training and education sessions add another wrinkle of value to this sprawling deal.
The educational resources allow you to learn at your own pace, so you can expand your investing knowledge and get the most out of your membership.
Each lesson includes a detailed look at the topic, as well as an easy-to-follow explanation of even the most sophisticated trading techniques.
Dividend Hunter's educational lessons will equip you to navigate the market's ebbs and flows like a pro, so you can go about the trading day with total confidence.
New Member Bonuses
The latest deal is loaded with exceptional bonuses.
Read on for a look at each one.
Your subscription also includes a complimentary 60-day subscription to Investors Alley's Divcaster software.
Divcaster uses sophisticated algorithms to track and forecast potential dividend plays so subscribers can plan their investing strategies more effectively.
This fully loaded research platform allows you to model out your portfolio for the future and shows you the total dividends your holdings will pay out, how much you'll receive every month, and more.
Divcaster is an excellent retirement planning tool that can help you set realistic expectations.
Depending on the results, you might find that you need to step up your savings, adjust your positions, or make other moves in response to Divcaster's findings.
You can plan your retirement income down to the smallest detail with Divcaster's cutting-edge forecasting tools.
Better yet, Divcaster's insights aren't limited to dividends. It also provides insights into the overall health of the companies in your portfolio.
The ratings will help you determine whether a company is likely to sustain their dividends in the long run, so you can avoid getting sucked into overvalued "yield traps" that don't deliver on their promises.
>> Access Divcaster's forecasting tools now for easy retirement planning<<
The Monthly Dividend Paycheck Calendar
Tim Plaehn's Monthly Dividend Paycheck Calculator breaks down important dates for all the dividend stocks in the service's model portfolio. This includes key details like dividend payment dates and ex-dividend dates.
Additionally, it reveals the exact amount each dividend will pay, allowing you to anticipate your earnings months ahead of time.
The calendar is designed in a simple, easy-to-follow format, providing a clear outline of significant dates. This makes it effortless to see which stocks are paying out, the amounts they're paying, and more.
A quick glance at this calendar will give you a precise idea of the expected dividend income for any given month.
Contained within this report are highly-rated dividend stock selections that present promising buying opportunities. Each stock offers a strong yield and adheres to the service's strict stock-selection criteria.
These stocks distribute dividends on a monthly basis, ensuring regular payouts for owners.
While Tim doesn't reveal the specific identities of these stocks, it's reasonable to assume they hold substantial growth potential.
Considering these are Tim's top recommendations for the current moment, they likely represent some of the most promising prospects available in the market.
The Monthly Dividend Paycheck Calendar delivers substantial value. It's a comprehensive resource packed with specific insights into prospective dividend stocks.
This practical tool provides transparent information, enabling you to swiftly review numerous dividend payout possibilities in just minutes.
If you're consistently on the lookout for significant dividend payments, this potent resource is bound to become an indispensable asset in your trading toolkit.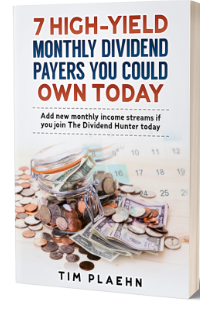 7 High-Yield Monthly Dividend Payers to Own Today
This report is jam-packed with top-rated dividend stock picks that could be excellent buying opportunities.
Each stock pays an excellent yield and meets the service's strict stock-picking criteria.
These stocks pay monthly dividends, so you could see regular payments if you own them.
Tim Plaehn doesn't give away much information about these stocks' identities, but it's safe to assume they're high-potential plays.
After all, these are his top "right now" buys, and they could be some of the best opportunities currently on the market.
You're sure to get tons of value out of The Monthly Dividend Paycheck Calendar. It's an excellent resource that's jam-packed with specific details on promising dividend stocks. .
This practical tool provides clear information, so you can easily scan through dozens of dividend payout opportunities in a matter of minutes.
If you're always on the hunt for the next big dividend payment, this powerful resource is sure to become a crucial part of your trading tool box.
3 MUST-OWN Dividend Hunter Stocks to Buy Today
This report features in-depth research on three of the team's top picks.
If you're serious about putting the 36-Month Accelerated Income Plan to work, you might want to check out these three stocks first.
The first stock is a buy-and-hold rock star that pays 14 dividends a year, more than once a month, and it has a track record for dividend growth.
Next, there's a rock-solid company that pays a 6% yield monthly. This conservative-risk stock could be a fantastic addition to any dividend portfolio.
Finally, the team calls the third stock a "true high-yield juggernaut." Though, they're tight-lipped about the details.
Tim Plaehn's 3 dividend stocks could form the foundation of a dividend portfolio that's built to last for the duration of your retirement.
And they're the first steps towards putting the 36-Month Plan into action.
>> Access all features and bonus reports when you sign up now <<
Bonus Reports
365-Day Money-Back Guarantee
In the latest arrangement, new members who sign up will be protected by the team's 365-day money-back guarantee.
This means you have a full year to assess the service. If it doesn't meet your expectations, you have the option to receive a refund for the subscription cost.
Many investment newsletters typically only offer a one-month refund period, so this is certainly a notable improvement.
An important advantage here is that it gives you ample time to observe the performance of a position.
Usually, one month is sufficient to judge the quality of a stock picker's analysis, but it rarely provides a long enough timeframe to truly assess how a position fares.
Hence, I'm giving The Dividend Hunter extra credit for this aspect.
>> Sign up under Tim's guarantee <<
Is Tim Plaehn Legit?
Tim Plaehn is the real deal.
Rather than getting caught up in the excitement and chasing after trendy stocks, he focuses on dependable dividend stocks that have the potential to provide consistent income.
If you've taken a look at the Investors Alley website, you've likely come across the multitude of reviews left by subscribers of his research services.
I managed to capture a small screenshot, but this only represents a portion of the positive feedback that Plaehn has garnered.
Here's what Investors Alley subscribers are saying about him:
(testimonials from the Investors Alley site)
I searched for reviews of Tim Plaehn on Stock Gumshoe, but I could only find reviews of The Dividend Hunter.
Nevertheless, the feedback I came across seems to be mostly favorable, which might help alleviate concerns for some individuals. I'll get into this topic more extensively later on.
Pros and Cons
The service has many pros, but there are some cons to consider.
Pros
Excellent price

365-day money-back guarantee

Impressive assortment of features

Targets the chance of monthly payouts
Cons
No community forums or chat

Only strict focus dividends/income investing
Is This Service Right for Me?
The Dividend Hunter presents a specialized investment approach tailored for income-focused investors, offering high-yield dividend stocks that align with a purpose-driven strategy.
This service is particularly beneficial for retirement planners, providing resources such as the Monthly Paycheck Calendar for predictable income expectations. Unlike chasing fleeting trends, Tim prioritizes stocks with strong business fundamentals and dividend growth potential, emphasizing long-term success over short-term gains. For those seeking consistent retirement income, the service's focus on stocks with monthly payouts offers enhanced income flexibility.
>> Sound like a match? Sign up TODAY! <<
The Dividend Hunter Reviews
The Dividend Hunter has locked in a rock-solid 4/5 rating on Stock Gumshoe. This is out of over 500+ votes, which is a pretty impressive number.
Oftentimes, investment newsletters have about 100 votes or so.
Let's take a look at the rating: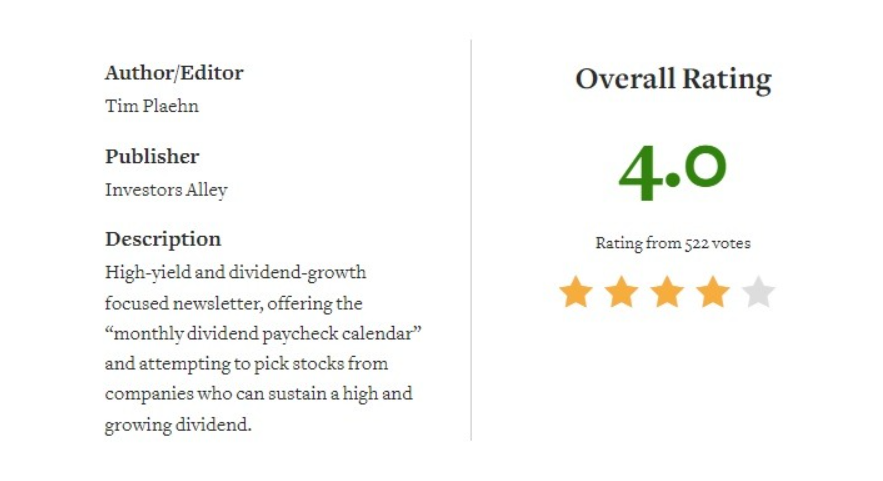 While the rating is solid, there's one caveat.
Stock Gumshoe is a third-party rating site, so we can't verify which votes are from real members, good or bad.
However, I think it's a good sign that the service has earned a positive reception online.
Given the quality of the team's analysis, I'm not surprised.
How Much Does It Cost?
In the most recent offer, you have the opportunity to join The Dividend Hunter with an annual subscription priced at only $79.
Considering the team values the reports at $149, this presents an exceptional deal.
Additionally, your purchase comes with an impressive 12-month guarantee, ensuring your satisfaction with the service throughout the first year.
At this rate, the total cost averages slightly over $8 per month for your The Dividend Hunter subscription. This discount offers substantial value at an affordable upfront price.
>> Sign up now to get 61% off <<
Is The 36-Month Accelerated Income Plan Worth It?
The Dividend Hunter is an excellent newsletter and a great deal at just $79.
Tim Plaehn offers a unique approach to dividend investing that could set a portfolio up with passive income. Plus, the 365-day money-back guarantee is hard to pass up.
The 36-Month Accelerated Income Plan is a handy all-in-one resource for cutting-edge dividend investing strategies. And the newsletter keeps you updated with the latest research for an entire year.
You also get a ton of additional bonuses, including a free trial to the Divcaster tracking and forecasting software.
There's a lot of value packed into this service, but the free trial is something that I really appreciated.
Since income investing typically appeals toward retirement planning, the more tools to map out the future, the better.
In addition, you get the Paycheck Calendar, plus two bonus reports, Weekly Best Buys, and a whole lot more.
At just $79, it's hard to beat a deal like that.
>> That's it for our review. Claim your 61% discount here <<