A new presentation by Alexander Green and Oxford Club is hot off the press, and I want to see if it lives up to the hype. Keep reading for a full breakdown of Alex's stock teaser and Oxford Communiqué's New King of LNG research suite.
What Is Alexander Green's LNG Stock?
Alexander Green's LNG stock is an under-the-radar company that transports liquefied natural gas (LNG). He calls it the "New King of LNG."
Alex is tight-lipped about the stock ticker, but he does offer some insights into why he's bullish on the opportunity in his latest presentation.
The focal point of the presentation is that Vladimir Putin is in the midst of a major mistake. By Alex's calculations, Putin has overplayed his hand by shutting down crucial infrastructure connected to Germany:
"Vladimir Putin decided, after foolishly deciding to invade Ukraine to begin with, to stop delivering oil, gas, coal and heating oil to Europe…"
While this could spell disaster for the European Union's energy security in the short term, the team believes it could spark a transformation in the LNG industry as a whole.
One company is pioneering a new mode of fuel transport that could help Europe meet its demand without the help of Putin.
The company in question is the highlight of Oxford Communiqué's latest research package.
I'm going to do a deep dive into the presentation, Alex Green, and his newsletter, so stay tuned.
Let's start by looking at what Alex Green believes was Putin's biggest mistake.
>> Find out the name of Alex's NLG stock <<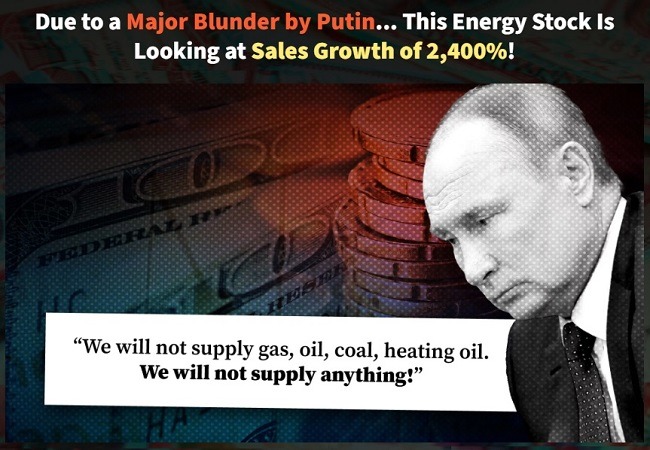 Putin's Major Mistake
I alluded to this earlier, but the biggest mistake that Alex refers to is Putin shutting down the Nordic Stream 1 pipeline to Germany.
Here's what he has to say:
"In September, Putin shut down the Nord Stream 1 pipeline to Germany…

Which is a huge deal, because Russia is the primary supplier of gas for all of Europe.

In 2021, Europe imported 155 billion cubic meters of natural gas from Russia… almost half of Europe's entire gas supply."
When looking at the 155 billion figure, it's no wonder folks refer to Russia as "Europe's gas station."
It's also no surprise that cutting off so much natural gas had such a major impact on Europe's energy security.
But how did Europe end up in this bind in the first place?

Alex Green: Europe's Energy Crisis
If you've kept up with the news over the last year, you might be aware that Europe is in the midst of an energy crisis.
A major cause is the EU's green initiatives.
Right now, the country is racing to reduce its reliance on fossil fuels and non-renewables.
There's just one problem. Europe is betting big on tech that's still in its infancy while neglecting stable energy sources, like oil and gas.
This goal to reduce greenhouse gas emissions has undermined the EU's energy security along the way.
Since 2020, the cost per megawatt-hour has risen by 70X.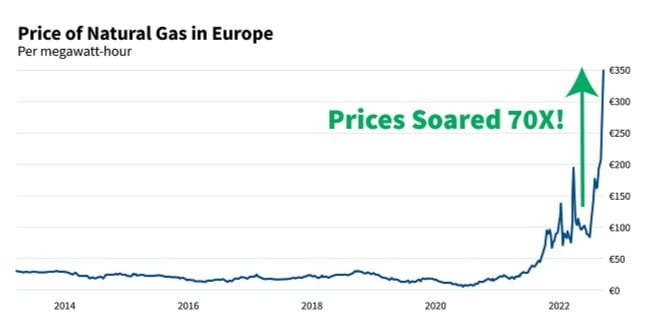 Alex continues on to list a range of issues the EU is currently facing as a result of the energy crisis.
Some of these include:
Denmark mandated showers are limited to five minutes

AC restrictions in Spain

France cutting off hot water

Retail stores cutting lighting by 30%

Legendary monuments like the Eiffel Tower also face lighting restrictions
Another concern that Alex spotlights is that the lack of fuel, more specifically natural gas, disrupts the EU's ability to produce glass.
This is especially important because glass supports several critical industries, such as automotives, construction, tech, and more.
At this point in the presentation, Alex is offering a fairly uncontroversial analysis of Europe's current predicament.
Where the presentation really gets interesting, is where Alex believes the solution to Europe's energy crisis will come from.
The Fix: Liquefied Natural Gas Technology
The only foreseeable path Alex Green sees ahead for fixing Europe's dwindling energy security is natural gas.
There's a twist, though, as he does not believe that the EU has the capacity to dig itself out of this hole.
Alex anticipates that the US will play a crucial role in procuring natural gas. This is because natural gas prices are substantially lower in the US, as it's a world leader in efficiently harvesting this resource.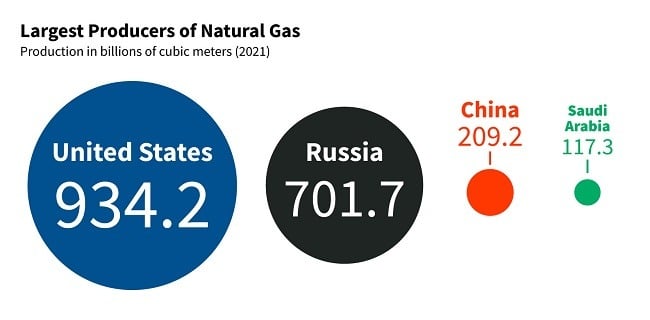 There is one speed bump, however.
Natural gas has been incredibly difficult (and expensive) to transport across the pond.
Until now.
>> Dig into the team's latest research <<
Alex Green's The New King of LNG
Alexander Green's the King of LNG is a company that he believes could be the key to effectively transporting liquefied natural gas.
What sets it apart from the pack is its ability to cost-effectively transport natural gas across the ocean.
Some cargo ships already transport natural gas. However, the resources and logistical challenges substantially cut into their profit potential.
In Alex's own words:
"The old cargo ships turned a profit of only about $15,000 per day… a tiny sum for international shipping.

But a new set of ships designed specifically for transporting LNG has come along… and multiplied the profitability many times over."
The way that Alex's under-the-radar company transports LNG is completely different.
First, it stores the liquid gas in specialized dome containers that can maintain its cold temp without relying on refrigeration.

Another issue that these new ships solve is product loss.
During conventional transport, some of the liquefied natural gas eventually boils away and becomes gas again during transport. Typically, the gas is gone for good.
This is a serious problem that translates to a lot of wasted product and profit.
On the other hand, Alex's LNG King equips its ships to capture runoff and harness it as energy for transport.
These innovations ratchet the profits up from a modest $15,000 to an outstanding $200,000 per day.
Even better, the company has fixed long-term contracts on twelve out of 13 of its vessels. This means that the prices will remain the same even if the gas market cools down.
To cap it all off, this LNG stock is paying out a 10% dividend yield.
Everything you need to know about Alexander Green's LNG King is available in the latest Oxford Communiqué research bundle.
Before I dig into the package, let's check out Alex's credentials.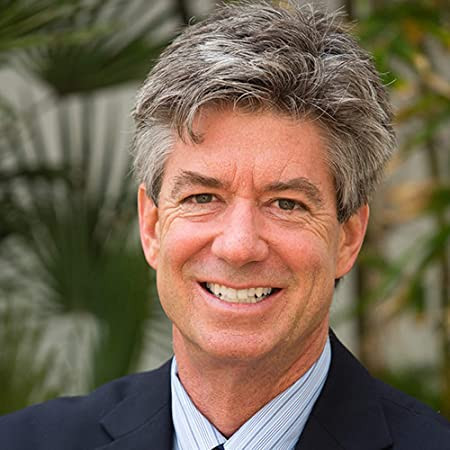 Who Is Alexander Green?
Alexander Green is a talented stock picker and The Oxford Club's chief investment strategist.
Some of his most popular newsletters include Oxford Communique, Insider Alert, and Microcap Trader.
Before joining The Oxford Club, Alex worked on Wall Street as an investment advisor, research analyst, and portfolio manager.
He eventually built a big enough nest egg to retire at 43. And now, Alex shares his insights with readers so they can learn the same tips and tricks that he used to secure his own financial dependence.
>> See Alex's latest recommendation <<

What Is Oxford Communiqué?
Oxford Communiqué is an investment newsletter helmed by Alex Green and published by The Oxford Club.
The latest research suite stacks on perks like monthly trade ideas, bonus reports, model portfolios, and other bonuses.
A subscription also includes invites to exclusive member events and meetups.
Another big bonus is that the team provides weekly updates, as well as additional analysis.
I'll give a full breakdown in the next sections.
What's Included with Oxford Communiqué
The new Oxford Communiqué research bundle is packed with fantastic features.
Let's take a look at everything on offer.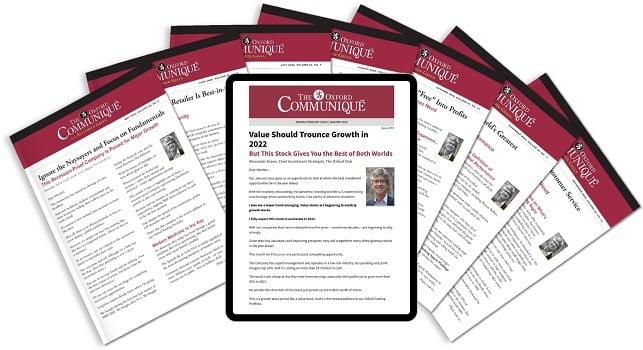 12 Months of Oxford Communiqué Newsletter
Oxford Communiqué is Oxford Club's flagship newsletter. And as mentioned, Alexander Green is the lead editor.
The team targets both mid-cap and large-cap stocks in a range of sectors.
On the third week of each month, members receive one highly vetted trade idea along with supporting research.
There's also a model portfolio that tracks open positions as well as weekly portfolio updates.
Oxford Insight emails with behind-the-scenes intelligence from the Oxford Club team, as well as The Oxford Club's global network of associates.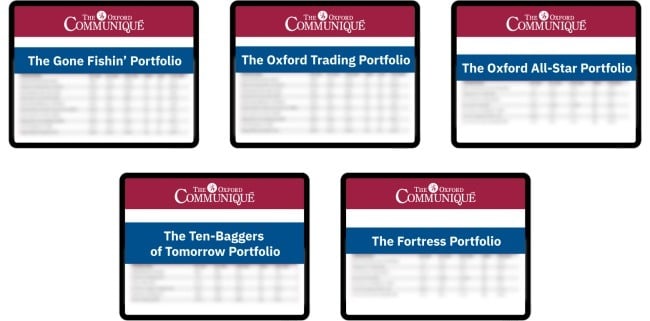 Five Model Portfolios
As mentioned, the new package offers five portfolios that target a unique angle on the stock market.
These include:
The Oxford Trading Portfolio

dials in on Alex's favorite companies at the forefront of innovative tech.

The Gone Fishin' Portfolio

is tailored to help build and sustain retirement-themed investments.

The Oxford All-Star Portfolio

follows the investment wisdom of some of the brightest minds in the investing world.

The Ten-Baggers of Tomorrow Portfolio

focuses on cheap stocks that the team believes could 10X in a single year.

The Fortress Portfolio

zeros in on market sectors that see steady growth, even during downturns.
This variety makes the service a good fit for a wide audience.
Also, Alex Green isn't going for quantity over quality. Each portfolio was carefully crafted by the team.
The Fortress Portfolio, for instance, was a rather recent addition to the lineup.
>> Access these benefits and more <<
New King of LNG Bonus Reports
The new deal offers members even more value, including additional trade ideas.
Read on to find out more.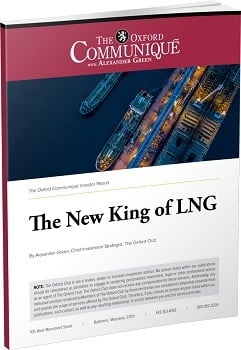 The New King of LNG
This bonus report is the centerpiece of the New King of LNG package.
It gives the full rundown on the opportunity, as well as Alex and the team's take on why the company could be poised to dominate the liquid natural gas industry.
New members signing up specifically for the name of Alex's secret ticker may want to start with this report.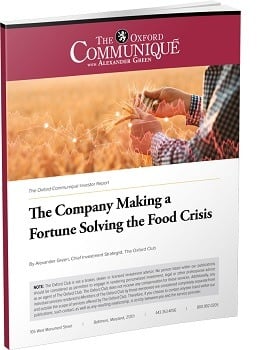 The Company Making a Fortune Solving the Food Crisis
Similar to the New King of LNG, this company has its sights set on solving another crisis: food inflation.
As grocery prices continue to rise, Alex's secret ticker is working on new technology to rapidly increase food production.
And the team reports that the "[t]he company is making big money" in the process."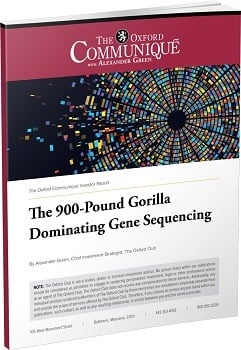 The 900-Pound Gorilla Dominating Gene Sequencing
Gene sequencing is revolutionizing the medical industry, and Alex has spotted one company that's rising in the ranks.
So far, the company has shipped over 20,000 sequencing systems across the globe to around 8,000 clients.
Its revenue has steadily grown by double digits since 2020, and some Wall Street analysts are anticipating that it could rise another 15% this year.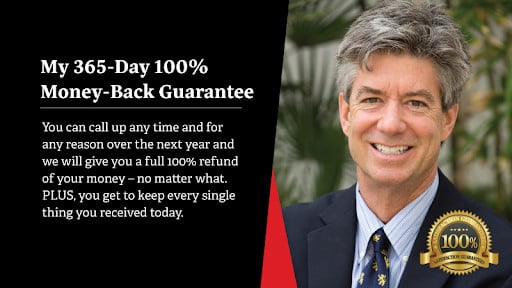 365-Day Money-Back Guarantee
Under the latest deal, new members of Oxford Communiqué have 365 days to test drive the service. If at any point, you decide that it's not a good fit, you can receive a full refund on the subscription cost.
The industry standard for similar newsletters is somewhere in the ballpark of 30 days. So the team's current guarantee is going above and beyond here.
Also, this guarantee could be long enough to see a position to its conclusion, which is a big departure from most services on the market.
>> Make the most of Alex's guarantee <<
Oxford Communiqué Pros and Cons
The Oxford Club has a lot to offer with its flagship service, but there are some places it could improve on.
Pros
Alexander Green is legit

Substantial 80% discount

Five distinct model portfolios

Industry-leading 365-day refund policy
Cons
Deals mostly in stocks — no options or crypto

No community forums
How Much Does Oxford Communiqué Cost?
A one-year subscription to Oxford Communiqué typically costs $249. However, Alex Green and Oxford Club are offering new members the opportunity to sign up for an annual subscription for just $49.
The discount drops the price by a whopping 80%, or about 13 cents a day.
Considering everything on offer, it's a great deal. There are competing newsletters in a similar price range, but few provide so much upfront value.
This is especially true when considering that Alex is throwing in five model portfolios that target distinct investing strategies.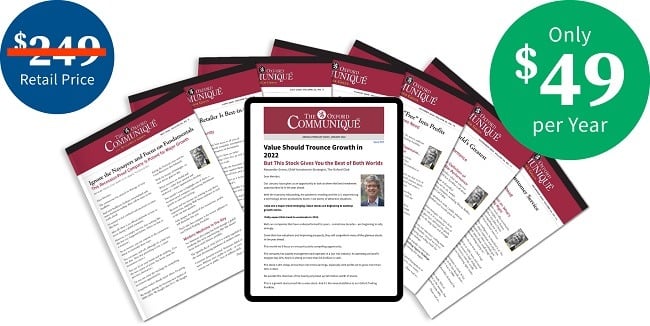 The King of LNG: Final Thoughts
We'll have to wait and see if Alex Green's King of LNG thesis plays out as he anticipates. That said, I think he builds a rock-solid case.
Something I appreciate is that the opportunity is anchored to a real company that provides an already-tested solution.
His thesis doesn't bank on some experimental tech. It's based on grounded analysis and leans into one of the most stable fuel sources on the market, natural gas.
For more information on Alex and Oxford Club's LNG King, you can check out the latest research package.
The newsletter also comes with monthly trade ideas, bonus reports, and updates — not to mention five model portfolios.
Plus, the 80% discount puts it into a much more accessible price range.
All in all, Oxford Communiqué offers a lot of value and is worth a closer look.
>> Click HERE to claim your 80% discount today <<