Check out our Born to Sell review for a deep dive on everything you need to know about this covered call tool.
Covered calls are great for traders looking to be a bit more conservative about their investment while still having the opportunity to make a decent rate of return.
There are a few software platforms out there that focus on covered calls, but they are not all the same.
Born to sell is recognized as one of the top tools to help boost a covered call strategy.
But does it live up to its reputation?
Keep reading our Born To Sell review to get a comprehensive rundown of what the service offers.
What Is Born to Sell?
Born To Sell is an online software service designed by Mike Scanlin in 2009 to help investors generate profits through covered calls.
What sets the service apart from other platforms is that it only focuses on covered call strategies to earn income.
Since over 75% of options held until the expiration date expire without value, Born To Sell encourages you to start selling calls to make money while stock still has its value.
The experts behind Born To Sell believe that buying and selling options is a great way to be profitable, and their software makes these processes straightforward.
The covered call trade strategy involves finding options and selling calls to capture the premium.
Born To Sell has already proven itself by winning the TraderPlanet award three times in the Trading Software: Options Category.
>> Ready To Get Started With Born to Sell? Click Here Now <<
What's Included with the Service?
Born To Sell's features are ideal for anyone looking for a covered call tool to make buying and selling options effortless.
These features include:
Covered Call Search Tools

Portfolio Management

Email Alerts

Covered Call Options Trading Tutorial
Follow along with our Born to Sell review to learn more about everything this platform has to offer as well as user reviews.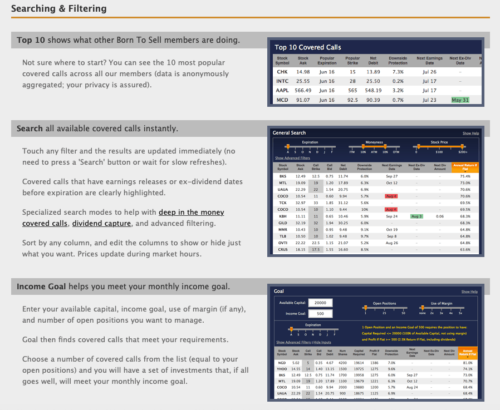 Covered Call Search Tools
Born To Sell's massive database lets traders scan for investment opportunities with potential covered calls.
Its search tools are great for tracking down potential investments and discovering ways to generate profits.
So, here are a few tools Born To Sell's traders have access to through its specialized search modes.
Top 10 Covered Calls
This search software allows traders to see the ten most popular covered calls across all of the users on the site, updated throughout the day.
These insights let a trader see where the most significant stock action is happening in real time.
Search
Search makes it easy to look through all of the available covered calls on the site at a moment's notice, including stock price.
With the covered call screener, simply click any filter, and based on your input, the site will update immediately with the latest report that matches your criteria.
So any covered call with an ex-dividend date before the expiration date is highlighted.
The search function allows you to sort or hide information so you can scan for potential covered call trades that you're most interested in.
Stock price information in the search feature updates during regular market hours.
Income Goal
The income goal section allows you to input things like income goals, available capital, and the number of positions you want to manage.
From there, the software will find covered calls that meet your requirements.
You can add as many options as you want to your open positions to build an investment portfolio.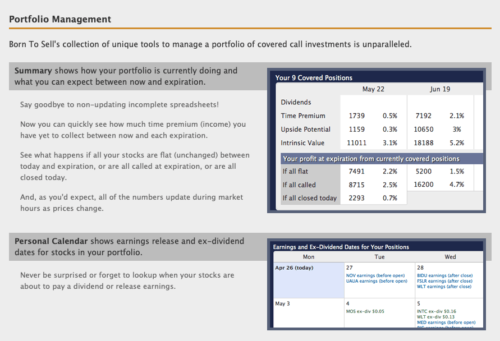 Portfolio Management
Born to Sell's portfolio management software makes analysis easy by showing all your stocks in one place.
So it's here that you can find information like net debit, premium, ex-dividend dates, expiration dates, and strike price.
The platform boasts an intuitive interface that makes finding the stock you are searching for a breeze.
You can also use the covered call portfolio management tools to look at hypothetical scenarios with your stocks and assessments to help you decide what to do next.

Email Alerts
Born To Sell offers a few different email alerts that you can subscribe to.
Watchlist Alert:

Provide the rate of return you're looking for and the symbols you like, and the software will let you know if they find something you might be interested in.

Dividend Alert:

Be notified any time you receive dividends on one of your stocks.

Seller's Paradise:

Newsletter for options trading.
Covered Call Options Trading Tutorial
If covered calls are a bit of a mystery to you, or you feel you need a refresher, the Covered Call Options Trading Tutorial is the place to start.
The tutorial provides a trader with the basic knowledge and tools needed to understand covered call investments.
Videos on Covered Calls
Born To Sell has demo videos on YouTube of each of their features in action.
So traders can discover how to use each tool the platform has to offer to develop a good trading strategy without having to read a ton of investment information.
Born To Sell Free Trial Review
Born To Sell has a solid two-week free trial offer that allows you to explore the entirety of their software at no cost.
However, the downside is that you are required to supply your credit card information.
You will also need to specify the subscription plan or the software will revert to once the trial ends.
You can cancel the service at any time during the trial, and you won't be charged.
While this seems like an unnecessary hassle, you do get two weeks to look for potential covered calls with huge upsides at no cost.
>> Sign up now for instant access to Born to Sell Free Trial <<
Born To Sell Cancellation Policy
Born To Sell will automatically charge your credit card when your current subscription ends unless you choose to cancel your service before that time.
However, there are no refunds for canceling your service before the end date of your subscription.
Instead, you'll be able to continue to use the software until the subscription ends, at which point you will no longer be able to access your account.
How Much Does Born To Sell Cost?
Born To Sell has no plan tiers but instead offers you its complete package for a price dependent on how many months you sign up for at a time.
The Monthly Plan comes in at $59.95 per month, which they advertise as less than the profit you'll make off a single trade.
The Quarterly Plan price sits at $149.95 for three months ($50 per month), which is a savings of just about 17% off the monthly plan.
Finally, Born To Sell has an Annual Plan offering that will set you back $499.95 for the entire year.
So, the roughly $42 a month price tag that this comes out to is approximately 31% off the monthly plan.
While the price tag may seem high, if the service can boost your covered call strategy, it could pay for itself in the long run.
Born To Sell Review: Pros and Cons
Born To Sell makes a solid case for being an excellent platform to use with all it has to offer.
Still, there are a few areas that we feel could be improved on.
So here's a look at the best and worst aspects of this service:
Pros
Top 10 covered call list for finding hot stock trades

Covered call portfolio tracks the history of returns and income, net debit, premium, ex-dividend date, expiration date, and strike price

A basic portfolio analysis tool that compares your portfolio with the S&P 500

Effortlessly keep track of net debit, premium, ex-dividend dates, expiration dates, and strike price

Tools are easy to use, even for beginner investors

Broad search application to accommodate investors with different trading strategies

Basic and advanced settings make customization easy

Price alerts on stocks through search features

An excellent education system with tutorials and videos

A good learning tool to develop covered call strategies
Cons
The search tool is split over several areas

Focused on only boosting your covered calls strategy

The browser-based platform can appear antiquated

Investing can be quite capital intensive
>> Sold on Born to Sell's benefits? Click here now to sign up <<
Is Born To Sell Right for Me?
Born To Sell could be a great service for beginner traders, as a covered call is a more conservative trading strategy.
It has the tools to help you know when to buy or sell covered calls.
The platform also works well for swing traders who wish to hold onto stocks for only a short time and exchange a stock often.
In addition, those who are already trading covered calls may appreciate a better way to track what they earn.
Born To Sell Reviews by Subscribers
This service has earned excellent reviews from its subscribers.
Here are just a few of the great reviews that traders have posted:
"My first two weekly trades netted me over $8,000 which I never would have discovered without your site. I think I have enough money to cover the subscription fee :)." – Michael M.

"OMG what a time saver… tell folks if they click on an individual equity symbol it opens up a new chain tab with the equity pre-loaded. Killer feature. I was hoping to use this program to pay for the monthly subscription. Hell, I just paid my monthly mortgage." – Jim W.

"I have known about covered calls for years but just recently became a customer of yours. I would also like to add that this is the best software I have ever seen. Well Done!" – Tom W.
Is Born To Sell Worth It?
Yes, Born To Sell is worth the investment for anyone interested in trading with covered calls.
Even though covered calls are not 100% safe, they are much lower risk than other ways to trade.
The subscription price may not be the lowest, but the call screener alone is a great way to find a stock that fits what you're looking for.
It's fair to say that based on the reviews, the platform could pay for itself in as little as one successful trade.
Born To Sell's software features different strategies so you can find one that fits your style.
Also, with a two-week free trial, the platform is definitely worth considering.
Born To Sell backs up its claims by winning awards in the trading options space.
In addition, the service's education system is full of tools for any trader (new or experienced) to quickly learn the platform and get trading.
>> Ready to get started with Born to Sell? Click here to join today! <<