Brad Thomas claims he's discovered a long-term approach to generating ever-increasing income from stocks. Is he on the mark or way out in left field? This article tells you everything you need to know about his SWAN stock presentation.
>> Want to Learn More? Check Out Brad's Deal Here. <<
What Is a SWAN Stock?
SWAN stocks are the only kind of stock Brad Thomas wants to own. Short for "sleep well at night", these securities are set to fare well today, tomorrow, and well into the future.
When the market's topsy-turvy, having faith that certain stocks will go the distance is a huge sigh of relief. Most folks are scrambling to play these ups and downs, more often failing than pulling ahead.
CNBC claims 77% of Americans are worried about their current financial situation. Brad believes there's a small group of stocks we can buy today and forget about tomorrow that will see steady growth from one year to the next.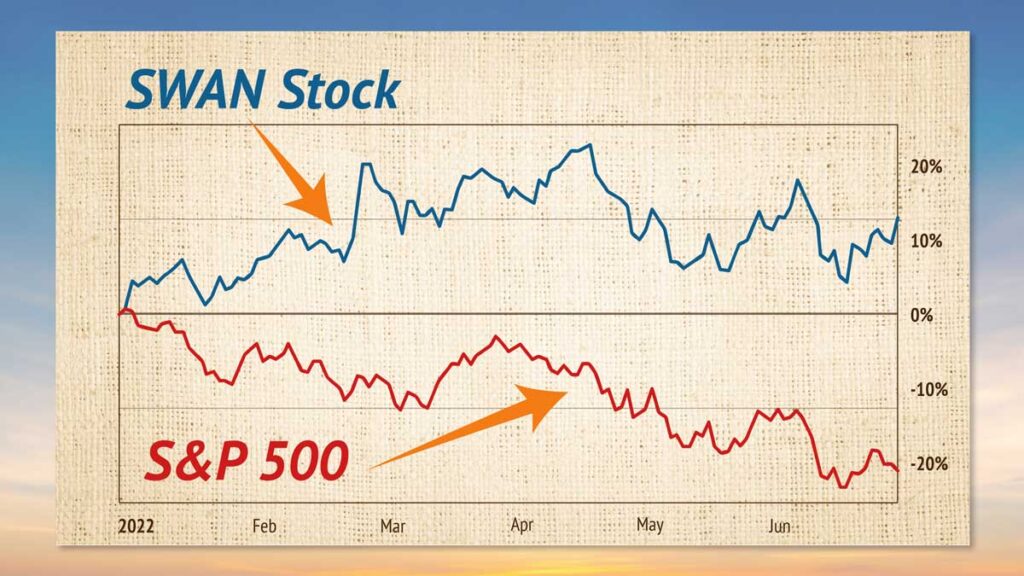 According to Brad, these SWAN stocks remain off the radar for one very big reason. Brokers want the commissions that come with buying and selling. TV stations enjoy the ratings from volatility coming from the stocks they broadcast.
Brad calls his SWAN stocks "anti-fragile". They come from companies with solid contracts in place that keep income and profits coming in the door. Other SWAN stocks represent companies so essential to our way of life that we can't live without them.
When markets buckle and bend, these companies don't. In an almost boring fashion, they move relentlessly on. Brad's favorite pick for the first half of 2022 grew 10% to 20% while the S&P 500 fell.
If that wasn't enough, SWAN stocks also have a reputation for passive income. The companies they represent pay out millions or billions to shareholders, and some don't have a choice in the matter.
With SWAN stocks, Brad states these payouts often grow. One such company on Brad's radar saw an 800% increase in payouts over time.
Perhaps most importantly, Brad explains how people investing in SWAN stocks can take advantage of trying market times. Historically, these tickers keep paying out dividends you can use to buy short-term stocks while they're down.
Thomas perfectly executed this at the beginning of the COVID-19 pandemic in 2020. He threw out buy alerts on the very day the market bottomed, thanks to income from his top SWAN contributors.
SWAN Stock Identifiers
Brad Thomas has become a go-to name when it comes to SWAN (Sleep Well At Night) stocks. With the Brad Thomas Swan Stocks method, the following characteristics are integral:
Dividend Consistency

: Companies showing a history of steady dividend growth are often reliable for future payments.

Wise Dividend Allocation

: Organizations that maintain a smaller proportion of earnings for dividends generally have better potential for future growth and sustained dividend distribution.

Minimal Financial Liabilities

: Focusing on firms with lower debt helps ensure resilience and adaptability during financial downturns.

Reliable Revenue Streams

: Opt for businesses that exhibit steady cash flows, as they tend to result in uniform dividend payouts.

Dominant Market Position

: Look for companies possessing distinctive competitive edges, such as a well-recognized brand or a novel product line; these aspects contribute to upholding their marketplace standing.
The Brad Thomas stock picks approach demystifies the process of recognizing these stocks and offers readers a practical path toward making savvy choices in the market.
But who is the man behind this game-changing method?
>> Join Now for Instant Access To Brad Thomas' Stock Picks <<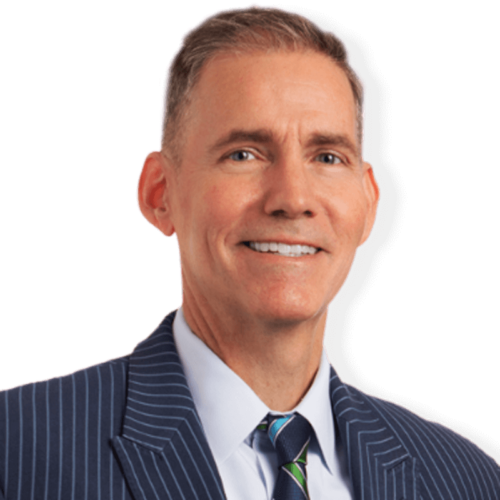 Who Is Brad Thomas?
Brad Thomas is a former real-estate investor who made millions building and selling commercial properties around the nation. His simple system helped him put in place financing for $1 billion in transactions.
He repeated this process a number of times, fancying himself as indestructible. That all ended during the 2008 crash, when he lost nearly everything he had.
Back at ground zero, Brad took a new approach to building himself back up. This time, he looked to the stock market.
Instead of short-term purchases and sales that ultimately got him nowhere, Brad switched his entire line of thinking. His focus shifted to long-term gains he could count on through thick and thin.
Over the years, Thomas has developed a system for locating SWAN stocks from all the noise on the stock market. Through consistent income, he's returned his wealth to the multimillion-dollar range.
With over 30 years of investing experience, Brad's now out sharing his wisdom with the rest of the world. He's written three real-estate investing books and has made appearances at universities and on television programs.
He founded Wide Moat Research as one more way to get the word out to the masses about SWAN stocks.
>> Get Brad's Latest Research Here <<

What Comes With the Service?
Intelligent Income Investor isn't a standalone service. The moment you sign up, you get immediate access to the following:
Intelligent Income Investor Newsletter
When you sign up for the Intelligent Income Investor package, you (surprise) get a full year of the Intelligent Income Investor newsletter.
Inside this publication, Brad and his crew scour the market for their SWAN stocks. They throw out over 99% of the stocks they find over the countless hours it takes to find even a single one to recommend.
When a stock meets the stringent criteria of a SWAN stock, it goes right into the newsletter. You also get a complete analysis of the pick and why it made the shortlist.
These securities are the exact types that Brad has used over the last decade to amass his wealth. Best of all, they fit right into today's market.
Expect a new issue of Intelligent Income Investor right around the first Monday of every month.
>> Join now to get Brad's latest recommendations <<
Brad's Open Recommendations
Members new and old receive full access to all of Brad's current open recommendations. Each pick comes with a full stock analysis and buy-up-to price.
Updates and Alerts
The package also includes alerts and updates from Brad whenever something's brewing with one of his stock picks. You'll receive an email or text depending on your setup.
Updates may signify new, urgent trade recommendations or changes in a current pick that you'll want to keep an eye on. Watch for alerts indicating it's time to sell a stock or unexpected price drops.
>> Sign up for Intelligent Income Investor now and save BIG <<
New Member Bonuses
New members get bonus materials as part of the monthly subscription. Here are the additional perks you'll receive for joining the Intelligent Income Investor: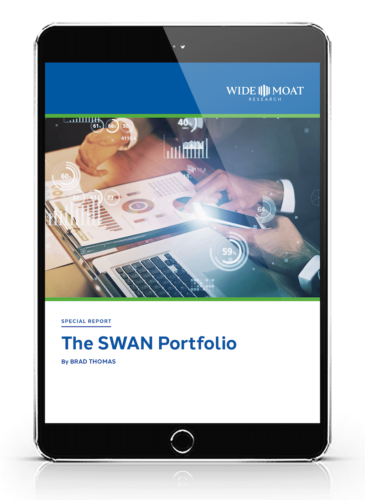 The SWAN Portfolio
The SWAN Portfolio is a brand-new report exclusive to new members. The report reveals exactly how to get started with SWAN stocks and how Brad suggests building a comfortable retirement egg.
Inside, he shares ten of his favorite SWAN stocks and the very reason each one made the list. Brad also talks about why he feels each pick is a good forever stock and how their Payment Increase Programs work.
The report doesn't stop there. You'll also read about how to get plugged in with just a few hundred dollars and why you should never risk more money than you can afford to lose.
At present, this is the only place you can learn about these secret SWAN stocks and their potential in your portfolio.
>> Get the SWAN Portfolio FREE when you sign up now! <<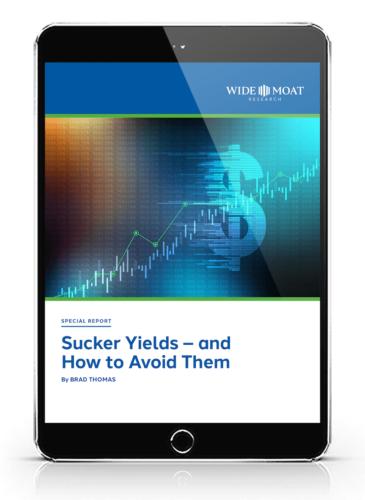 Sucker Yields – and How to Avoid Them
In Sucker Yields, Brad does battle with high-yield stocks. While some are great investments, others are actually hidden landmines just waiting to blow.
Sucker yields come from low-quality companies unable to keep up with their dividends. They end up having to cut those dividends down, sometimes several times.
Folks jump at the chance to get a piece of high yields without looking underneath the hood. They end up losing out big time as the stock falls apart.
This report points out several of the biggest sucker yield plays currently on the market and why each one is a no-go. Brad and his team vet each security using a risk management system they've developed over the years.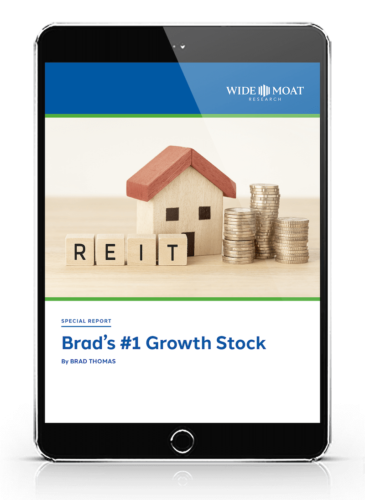 Brad's #1 Growth Stock
Brad's #1 Growth Stock captures what he feels is the perfect option for leading off an awesome portfolio.
Not only is Brad confident it's a low-risk, he believes this lucrative stock has some serious upside potential. It's still trading at the same level it was before the pandemic but has seen huge boosts to revenue, earnings, and gross profit since then.
This report lists the name of this stock, the data behind the selection, and why it's shaping up to be an easy double or more.
>> Get Brad's #1 growth stock here! <<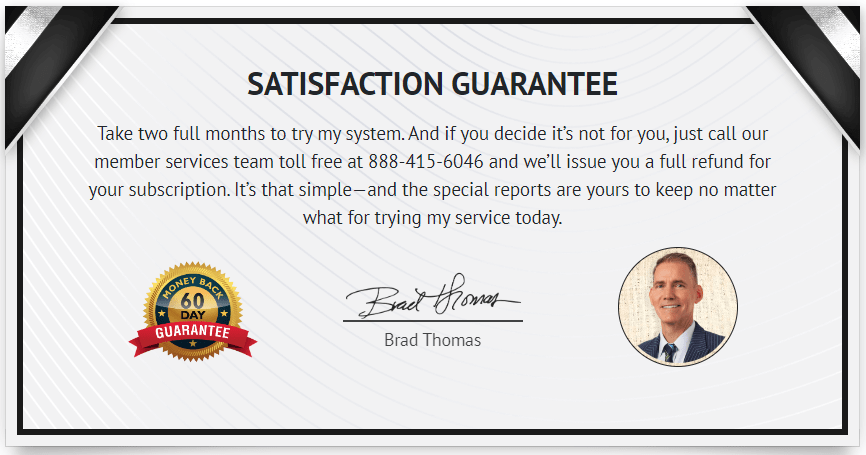 Satisfaction Guarantee
As part of this current deal, Brad's giving new members two whole months to try out the system. If at any time during that window you feel the package isn't for you, call the member services team for a complete refund of your subscription.
No matter what, you get to keep all the materials you've received up until that point. This includes everything that comes standard and all the new member bonuses.
Is Brad Thomas Legit?
Brad Thomas is a legit investor and analyst with over three decades of experience. In fact, he's risen from rags to riches through his unique trading style.
Although he doesn't mention tickers by name, Brad mentions several of his SWAN stocks have seen nothing but payout increases since he picked them up. Many of these are investments he still holds onto today.
People seek out what Brad has to say. He's listed as the most popular expert on Seeking Alpha and has a public TipRanks account where you can follow some of his picks.
Brad also an adjunct professor at NYU, and he's appeared on prominent business outlets like Fox Business, MSNBC, CNN, and more.
These major TV networks wouldn't have Brad Thomas on the air unless he was a legitimate expert, so I'd bet my bottom dollar the guy is the real deal.
Here are some Intelligent Income Investor reviews by members who say Brad Thomas is the real deal: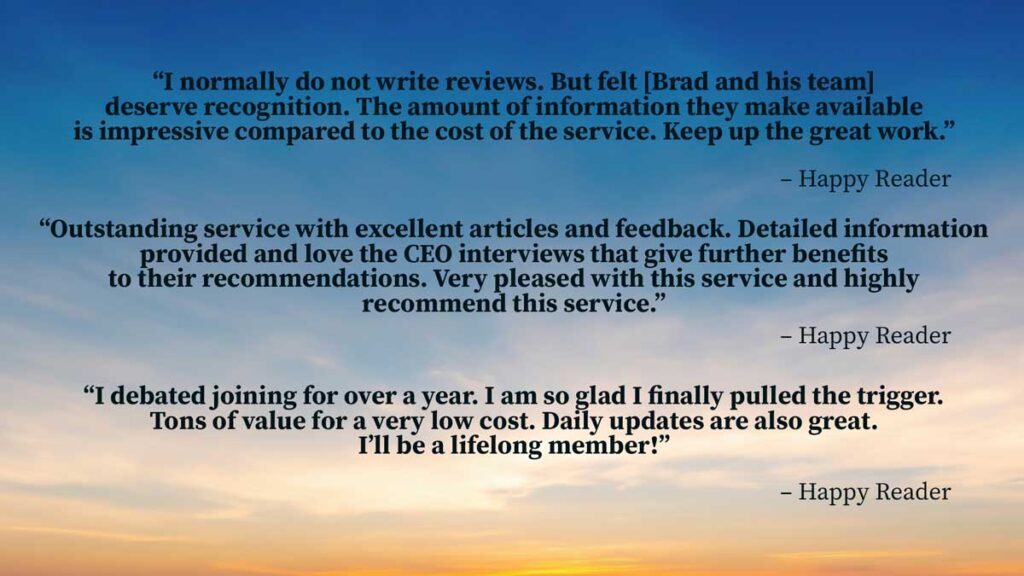 As you can see from these reviews, Brad Thomas is legit. He's an experienced investors who has helped countless readers navigate the market more effectively.
With an impressive resume and decades of experience under his belt, Brad Thomas is one of the best gurus in the game today. You're in good hands with him in your corner.
>> Sign up now & join these satisfied readers <<
Pros and Cons
Intelligent Income Investor has a lot going for it, but it's not perfect. Take a look at the pros and cons of the service.
Pros
Stock picks from a top guru in his field
Focuses on "buy it and leave it" stocks
Great introductory price
60-day satisfaction guarantee
Cons
No community forum
Lacks short-term investment opportunities

How Much Does It Cost?
With this special offer, you can grab a year's worth of Intelligent Income Investor for just $49. That's a whopping 75% off the cover price.
What's more, Brad includes all the bonus materials listed above for free if you join right now. These extra resources carry a value of over $500 all on their own.
This is a limited time deal, and there's no guarantee the price will remain the same tomorrow. If you're not happy, you can cancel your subscription any time within the first 60 days for a full refund.
>> Claim your discount and sign up now! <<
Is the Service Right for Me?
Intelligent Income Investor is set up for anyone thinking long-term about their financial situation.
This strategy works perfectly for a retirement portfolio. Even if you don't have much experience in the stock market, Brad's SWAN stocks cam work for you.
Monthly updates and bonus materials show you the most promising stocks with a clear explanation of each recommendation. Brad and team also track each of their picks and provide regular updates to their members, so you'll never miss another trade opportunity.
Brad takes the time to explain how you can get started with SWAN stocks for as little as a few hundred dollars. There's no large upfront investment or the need to come up with a large sum of money down the road.
Signing up only costs $49 for an entire year, thanks to the current promotion. That's a small amount to spend for the potential locked away in these documents.
And, don't forget, you're covered by a 60-day satisfaction guarantee, so you have something to fall back on if the service ends up not being for you.
The included bonus materials include several additional stock picks, so you can hit the ground running with SWAN stocks as soon as you join.
Brad Thomas is a proven guru with a revolutionary approach to income investing. Considering all you get with this deal, you'd have a hard time finding a better value for just $49.
SWAN stocks is the real deal, and I highly recommend you check it out. Sign up for Brad Thomas' Intelligent Income Investor to get started with this game-changing strategy now.