Bulls on Wall Street is a highly revered trading education hub with a reputation for helping folks develop winning strategies on the stock market. But does the service live up to the hype? Check out our Bulls on Wall Street review to find out.
But first, what is Bulls on Wall Street?
Bulls on Wall Street Review: Overview
Bulls on Wall Street (BOWS) is a day trading education and alerts service founded 13 years ago, back in 2008.
One of the service's main draws is its active trading community, which allows you to pick the brain of expert traders and BOWS' mentors.
Couple that with live trading demonstrations, and you have a lot of hands-on learning opportunities.
The service has evolved during its run and continues to develop and expand its catalog of educational courses.
The Bulls on Wall Street team consists of:
Kundal Desai

Sayed Zaman

Josh Mudryk

Nick Patterson

Zuhab Zafar

Tim Allen

Kevin Sword
What really stands out with BOWS is the team's willingness to roll up their sleeves and give hands-on guidance to folks who need help navigating the financial markets.
Unlike other trading courses, Bulls on Wall Street doesn't just drop a stack of dusty books on your lap or outdated DVDs and leave you to your own devices.
You get real-time insights directly from your instructors.
How Does Bulls on Wall Street Work?
Bulls on Wall Street provides a range of courses, educational materials, market analysis, and mentoring that teach the fundamentals and advanced methods of:
Swing trading

Crypto trading

Day trading

Momentum trading

Risk management

And more
Each subscription is packed to the brim with extra features that can help traders of all experience levels improve their trading performance.
Is Bulls on Wall Street Legit?
Bulls on Wall Street offers an authentic learning program designed to lift up new and struggling traders and helps experts who need to polish the rough edges of their trading strategies.
So if you're looking for a stock trading education service with a personalized approach and mentors who know the markets in and out, keep reading.
Before we really dig into the service, however, we're going to check out the founder of Bulls on Wall Street.
Who is Kunal Desai, and can you trust him?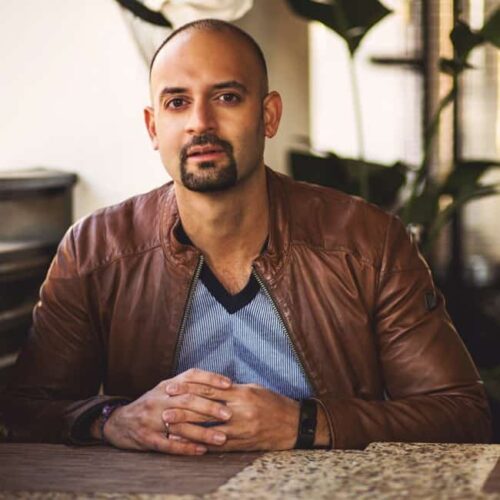 Kunal Desai Review
Kunal Desai is an American stock trader and Bulls on Wall Street's founder, and he creates and delivers most of the educational information on the platform.
Kunal got his start back in 1999 by trading during the dot com boom.
He's surfed the wave over the last 20 years of ups and downs and has placed all that knowledge into the training courses he now offers on BOWS.
Calling himself a day trader by day and an industry-leading instructor by night, Desai has taught all over the world and has been featured in many prominent trading publications.
Is Kunal Desai Legit?
Kunal Desai is a legit trading instructor with a decorated history of making market moves well before they ping on The Street's radar.
Few people on the investment education circuit can teach you market fundamentals as well as Kundal.
Kunal Desai Net Worth
Kunal Desai's net worth is estimated to be in the ballpark of $9 million, but we can't know for sure.
We'll keep you updated if it's ever verified.
Regardless, Kunal checks all the boxes for someone that you'd want as a trading mentor.
Now that you know Desai, let's take a deep dive into Bulls on Wall Street's suite of services.
>> Already sold on Bulls on Wall Street? Click here to become a member TODAY! <<
What's Included with Bulls on Wall Street?
BOWS has a variety of courses to choose from that can appeal to almost any experience level or trading style.
Free Trading Kit

Live 60-Day Trading Boot Camp

Day Trading

Swing Trading

Events and Workshops

Pro Trader Bundle
Free Bulls Trading Kit
Bulls on Wall Street's Free Trading kit is a complementary suite of courses that you can try risk-free before signing up.
If you want to test the waters, you might want to start here.
It's mostly geared toward newcomers, but experienced traders can use it as a refresher and introduction into one of Bulls on Wall Street's best features: its chat room.
The Free Trading Kit comes with:
Day Trading Guide – A 26-page trading guy that gives you a rundown on how trading works on Bulls on Wall Street — setups, risk management, technical analysis, etc.
Video Trading Course – A 4-part video course that teaches you market basics and goes over support and resistance trading, risk management, and charting.
Next Live Chat Room Day – You can access one chat room day, where you'll learn how the system works and get a sense of what this feature offers. The chats are provided through the Bulls on Wall Street Discord server.
The Free Trading Kit is a great place to learn how the service works and see the education in action.
You can also check out the Bulls on Wall Street YouTube channel and blog for more free insights.
There is also a 50-page coursebook PDF available for download.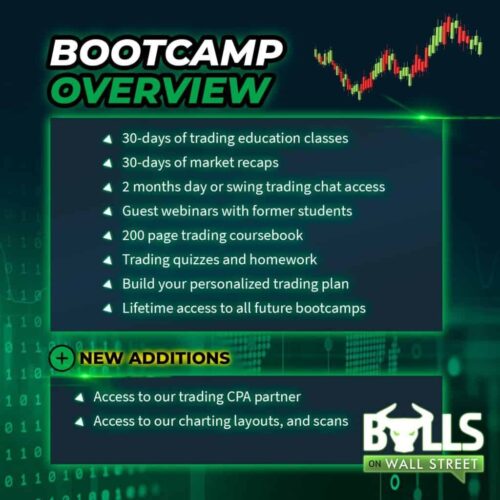 Live 60-Day Trading Boot Camp
The 60-Day Trading Bootcamp is a literal 60-day university-style course put together and taught by Kunal Desai himself.
The Bootcamp is the Bulls of Wall Street's flagship trading education course and is packed full of information for anyone who wants to improve their trading.
The Bootcamp includes 28 different live trading classes shown through their website via a webinar setting.
Classes are even recorded so you can play them back at any time.
Here are some of the skills that you can pick up:
Technical Analysis

Charting trends

Trading styles and Psychology

Risk analysis and mitigation

And more
The trading course includes question and answer sessions, quizzes, and homework to ensure that you understand the lessons.
Classes also have daily market recaps and offer access to a trading simulator to put that knowledge to the test.
Mentors work with each trader individually to help walk you through the trading process from start to finish.
>> Ready to sign up for the 60-Day Trading Boot Camp? Click here to get started today! <<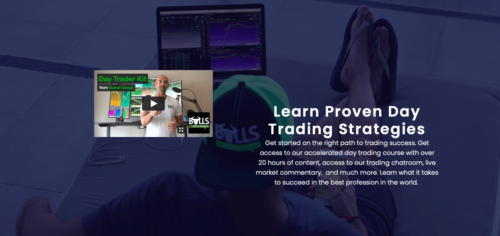 Day Trading Course
The Day Trading Course effectively condenses the 60-Day Boot Camp with 18 different classes and over 20 hours' worth of content.
Kunal Desai leads and teaches this comprehensive educational course and gives his best tips on how to make money on the market.
In addition to the 18 classes, Kunal Desai meets with traders virtually three nights per week to discuss what's happening in the market and explain how it relates to the material covered in class.
Kunal also discusses his trading style for the week and his thoughts going into the next day of trading.
Sundays are set aside for a time to go over market and sector conditions as a group.
The team scans the market for exciting stocks that may be big movers for the week.
This course also provides access to the Bulls Vision chat room.
The chat room is a place to review trade ideas with the community and catch the latest day trading chat.
Kunal Desai also frequents the chat room, where he calls out his trades and provides technical analysis.
The chat room also posts trade alerts with time stamps right in the room so users can see updates in real-time.
If that wasn't enough, Kunal Desai and the team send out a nightly trading watch list with each stock they have on their radar.
>> Ready to start the Bulls on Wall Street Day Trading course? Click here to learn about day trading NOW! <<
Swing Trading Course
The Swing Trading Course is a similar service to the other trading courses but is led by Paul Singh.
Paul is an experienced swing trader with an 18-year background in investing.
The Swing Trade program features 16 different on-demand classes with over 20 hours of educational material and much more.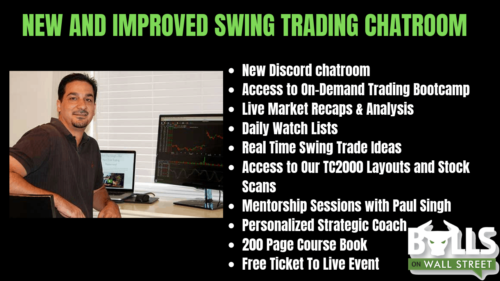 This accelerated training course is full of information on trades and tips for making money.
Quizzes and a trading simulator will test students to see how they are grasping the material.
In addition to the course, Paul Singh takes his group through his strategy of focusing on momentum stocks with catalysts on a part-time basis.
Paul also teaches strict risk and trade management principles through bi-weekly group mentorship sessions.
The Swing Trade Alerts Service provides alerts in real-time to cue traders into hot stocks.
Each member will also receive daily swing trade watch lists to plan out their future trades under Paul's watchful eye.
As an added bonus, you'll get access to a chat room for swing trading.
With all the educational materials, tips, and insights from Paul Singh, it's perfect for part-time traders.
>> Ready to start the Bulls on Wall Street Swing Trading program? Click here to sign up today! <<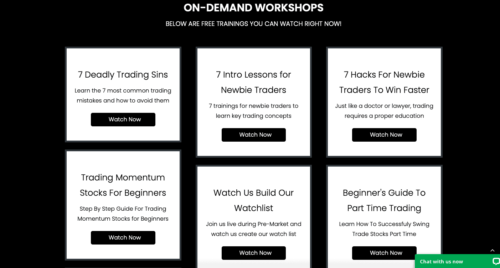 Events and Workshops
BOWS has workshops and live events throughout the year.
The Bulls website also has free on-demand workshops that anyone can access at their leisure.
These workshops cover topics like "7 Deadly Training Sins" and "Trading Momentum Stocks for Beginners".
The platform also has multi-day in-person workshops where you can receive a complete trading education and get the chance to network with beginner and experienced traders.
Kunal Desai hosts these events and shares his strategies.
Anyone looking to learn more about the stock market, trades, and risk management might benefit from attending an in-person multi-day session.
Pro Trader Bundle
The Pro Trader Bundle is a one-stop shop for everything that Bulls on Wall Street has to offer.
So if you're torn on which course to take, you could always buy them all at a hefty discount.
Signing up for the Pro Trader Bundle gives you access to:
Accelerated Day Trading Course

Accelerated Swing Trading Course

Annual Day Trading Subscription

Annual Swing Trading Subscription

Access to All 6 On-Demand Trading Courses

Lifetime Access to Live 60-Day Trading Boot Camp

Access To Boot Camp Trading Community

Trading Homework, Trading Setup Textbook, Quizzes, and Weekly Assignments

Graded Trades and Trading Plan Templates
This package appeals to anyone who wants to learn the ins and outs of multiple trading styles.
However, it could be a lot to take in for beginners, so it might be better suited for someone with some trading experience.
>> Like what Bulls on Wall Street has to offer? Click here to sign up for 15% off today! <<
Pros and Cons of Bulls on Wall Street
The BOWS platform has several excellent features for traders to sink their teeth into, but it could stand to improve on some areas.
Here are the pros and cons of the service.
Pros:
Good for new and experienced traders to learn how to trade stocks and crypto more effectively

Courses are packed with content and extra materials, including stock watch lists, daily trade reports, and more

BOWS' Discord chat room is great for finding new trade ideas

Lots of technical analysis from experts

Free online workshops

Clear trade alerts in real-time
Cons:
Some courses are on the pricey side compared to other trading services

No trial period or refunds
>> Do the pros in this Bulls on Wall Street review outweigh the cons? Click here to become a Bulls on Wall Street member today! <<
Bulls on Wall Street Reviews by Members
Bulls on Wall Street has locked in an impressive 4.8 rating on Trustpilot.
Check out some of these reviews of Bulls on Wall Street:
How Much Does Bulls on Wall Street Cost?
Bulls on Wall Street's pricing is broken down into four main tiers.
However, you'll get the most bang for your buck by signing up for a year, with discounts averaging at 40%.
Live 60-Day Trading Boot Camp cost

– $2,850

Day Trading cost

– $199 monthly ($1499 – 40% off the monthly price)

Swing Trading cost

– $199 monthly ($1499 – 40% off the monthly price)

Pro Trading Bundle cost

– $4,497

Events and Workshops cost

– ~$3,000 (pricing can vary)
Bulls on Wall Street Discount
In addition to the 40% discount that you get for picking up an annual subscription, you can knock off an extra 15% on the sticker price by entering the promo code stockdork.
Bulls on Wall Street Free Trial
Bulls on Wall Street does not offer a free trial.
You can opt for a monthly subscription if you want to test drive the service without putting up the cash for the annual option.
Cancellation and Refund Policy
You can cancel your Bulls on Wall Street subscriptions at any time, but the company does not offer refunds.
Bulls on Wall Street gives you instant access to a lot of course materials out of the gate, so this makes sense.
Is Bulls on Wall Street Right for Me?
Bulls on Wall Street has a range of offerings that could appeal to newcomers, but it also has education geared towards folks with experience in day trading or swing trading.
If you're new to investing, it might not be a bad idea to start with the 60-Day Trading Boot Camp, as it gives you a quick and comprehensive crash course on the ins and outs of trading.
It's often overlooked by beginners, but learning investing fundamentals and proper trade psychology can go a long way toward fast-tracking your trading development.
If you have experience trading, you might get more value out of learning to take on a new market angle or fine-tuning your day or swing trading methodologies.
If you're looking to make long-term trades, you might want to stick with the Bootcamp, as most of Bulls on Wall Street's insights are geared toward holding shorter positions.
Is Bulls on Wall Street Worth It?
Given all the materials at your fingertips, lively trading community, and mentorship, Bulls on Wall Street is an excellent value.
It's a highly rated trading education service that has cultivated a loyal fan base over the years, and it has the reviews to back this up.
If you're on the fence about springing for the Pro Trader Bundle or the 60-Day Trading Boot Camp, you can pick up the Day Trading or Swing Trading course for about half the price.
With so much variety and in-depth educational materials, you'll definitely want to put this trading education service on your shortlist.
>> Like what you read in the Bulls on Wall Street Review? Click here to become a member NOW! <<