Jeff Bishop's Bullseye Trades has been generating buzz in the trading community, attracting both beginners and seasoned investors looking for profitable stock, ETF, and options picks.
But does this service live up to the hype?
In this Bullseye Trades review, we'll delve into the features and benefits of the program, from the weekly trade alerts to the valuable education resources provided by Wall Street veteran Jeff Bishop himself.
We'll also explore the Raging Bull platform, created by Bishop and Jason Bond, and assess its overall value.
Let's dive into the world of Bullseye Trades and find out if it's right for you.
Bullseye Trades Review: What Is Bullseye Trades?
Bullseye Trades is a trade alert and trading education program centered on stocks, exchange-trading funds (ETFs), and options.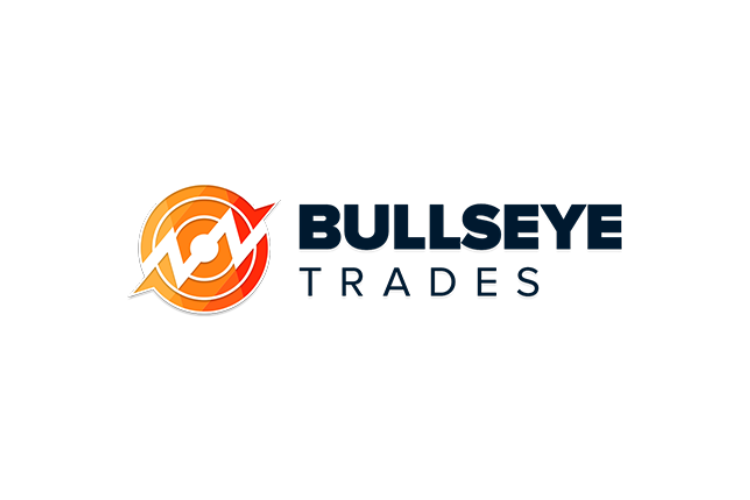 This service is a part of the Raging Bull platform. It was created by Jeff Bishop and Jason Bond — experts on the stock market and bullseye trades.
Bullseye Trades provides you with Jeff's highest conviction trade idea for each week, all before the market even opens.
This also comes with a market summary and charts detailing Bishop's stock pick.
Furthermore, the trading service offers live videos and insights to help traders of all levels understand how stock markets work.
This is just the tip of the iceberg, as the service provides a ton of value and even more features. And we're going to do a deep dive into them. But first, let's look at the mind behind Bullseye Trades, Jeff Bishop.
Can you really trust his analysis?
>> Ready to give Bullseye Trades a try? Join now<<
Jeff Bishop Review
Jeff Bishop is a Wall Street veteran with over 20 years of experience trading stocks and ETFs, and he's the Head of Options Trading at Raging Bull. He created Bullseye Trades as an extension of his Raging Bull service.
Bishop leveraged his finance and economics background from the University of Texas, as well as his experience trading stocks and options, to help countless traders successfully navigate the stock market. He has been featured in various mainstream publications and talk shows.
There's a lot to like about Jeff Bishop, but his focus on clear and concise explanations of his trading strategy is at the top of our list.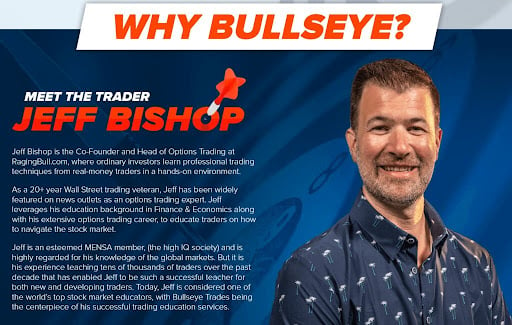 For example, options trading is a notoriously difficult strategy to nail down, so Bishop and the team really go out of their way to explain everything in plain speak. Bishop's insights don't just stop at trading options, though. He can teach you the ins and outs of trading stocks and ETFs, risk management, technical analysis and much more.
Bishop built Raging Bull from the ground up. A stock trading juggernaut that has helped over 200,000 subscribers to learn more about exclusive trading strategies, unique setups and of course some top-level trading ideas.
Looking back a little more on Jeff's history, he initially came up with the concept of RagingBull after achieving remarkable results in options trading.
This success inspired him to switch careers and become a full-time trader, driven by a desire to share his knowledge and trade secrets with professionals eager to learn about trading and the stock market.
During this phase, he crossed paths with Jason Bond, who became his protégé. Identifying Bond's talent for trading and teaching, they joined forces to establish Raging Bull Trading in 2010.
Since its founding, Bishop has educated over 10,000 students on his winning strategies. In 2020, he launched the High Octane Options program within RagingBull, allowing enrolled students to learn firsthand from him.
In 2019, RagingBull.com was acknowledged as one of the fastest-growing privately-held companies in America by Inc.'s 5,000 List.
Jeff Bishop earned his Bachelor of Arts in Economics and Finance from the University of Texas at Austin. Additionally, he is a member of MENSA, the world's largest and most prestigious high-IQ society, with a mere 2% of the population qualifying for membership.
Now that you know Bullseye Trades' lead, let's look closely at everything on offer.
>> Like what Jeff Bishop is all about? Get started now. <<
Bullseye Trades Review: What's Included with a Membership?
Weekly Bullseye Trade

Mid-Week Update

Launchpad Training Video Series

Live Weekly Bullseye Update

Customer service
Weekly Bullseye Trade
The Weekly Bullseye Trade, also known as the Bullseye Pick of the Week, is the core of the Bullseye Trades platform.
Jeff Bishop kicks off each week with his Monday morning trade pick. He also provides additional trade updates throughout the week, but we'll talk about that more later.
Here's the gist of what you get:
Bishop's stock or ETF he's looking to trade
​Technical and fundamental analysis​
Exact options contract(s) Bishop is personally interested in​
​His desired entry price​, price target, and stop-loss for the trade​
I really appreciated that this service's weekly format is jam-packed with value. Many stock-picking services release one or two picks for the month and leave you to your own devices, but Bullseye Trades keeps you informed and engaged with a regular flow of new research and analysis.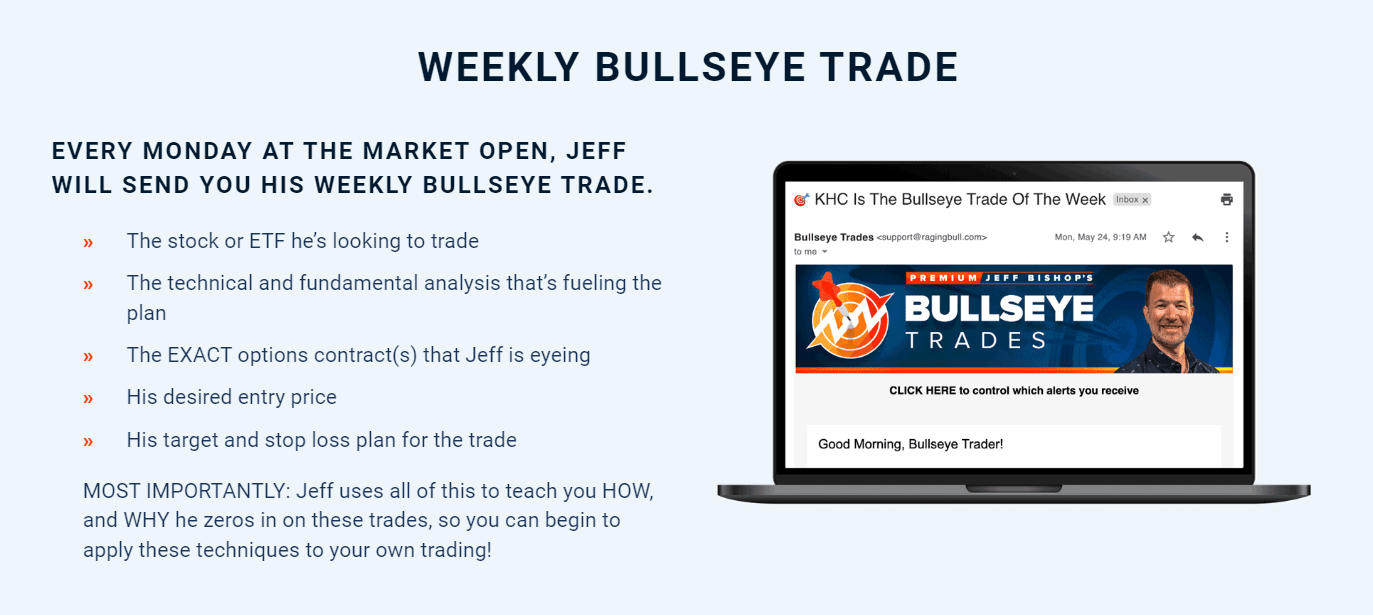 With at least four well-researched trade ideas every month, Bullseye Trades is sure to keep you busy.
Both beginners and veterans will appreciate the abundance of trade ideas and analysis they get with this service.
Example Alerts
Raging Bull has opened up some of their recent trade alerts to the public, and I am happy to share them with you so you can check them out for yourself.
Click here to preview Bullseye Trades' Bullseye Pick of the Week for January and February 2023.
As you can see, Jeff Bishop provides extensive details for each trade recommendation, including a thorough explanation of the reasoning behind the move.
He also provides clear price targets for buys, sells, stop-losses, take-profits, and more, so you know exactly what to expect for each trade.
From what I can tell, Bullseye Trades seems to be very transparent and straightforward in their trade alerts and recommendations.
Unlike other services, they set to provide clear and concise information for each trade, so you know exactly what to expect before you get in the water.
>> Join now to see Jeff's latest stock picks <<
Mid-Week Update
Jeff Bishop stays in contact with subscribers throughout each week by providing his Mid-Week Update.
The mid-week update provides a more detailed breakdown of how his trade ideas progressed and how the market has been affecting the trade.
Furthermore, the update includes the stock or the ETF's price action since Monday, plus how the sector that the stock belongs to and the market as a whole affect trade progress.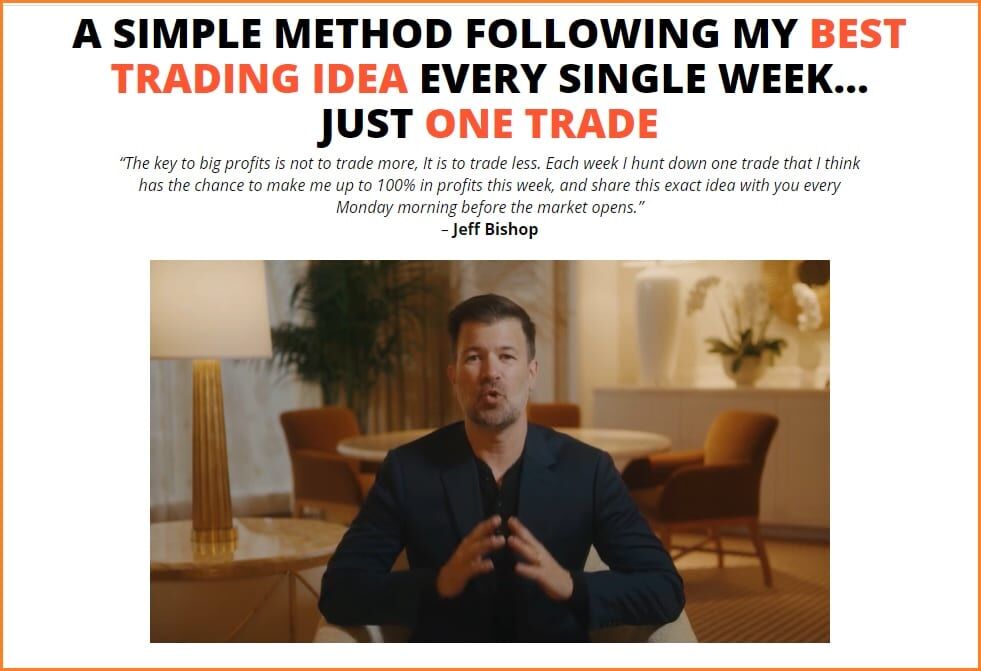 You'll also learn how the price action works with/against the trade plan and receive any updates on the plan depending on technical analysis or any pertinent news items regarding the trade.
All in all, this is a great feature for newbies looking for extra help following their positions or busy folks who are short on time. The team gives you everything you need to understand what's going on in the markets, and you won't have to keep your face glued to the screen to keep up.
Like we said before, many stock picking services drop a trade on your lap and go radio-silent until the next trade idea. This is just another area where Bullseye Trades stands out among its competitors.
>> Get the #1 Jeff Bishop prediction when you join now <<
Launchpad Training Video Series
Jeff's Launchpad video series covers various topics used to analyze the viability of each trading idea and concept, as well as the fundamentals of options trading.
If you're new to trading or a seasoned vet who wants to check strategies against a proven pro, you might want to check out this feature first.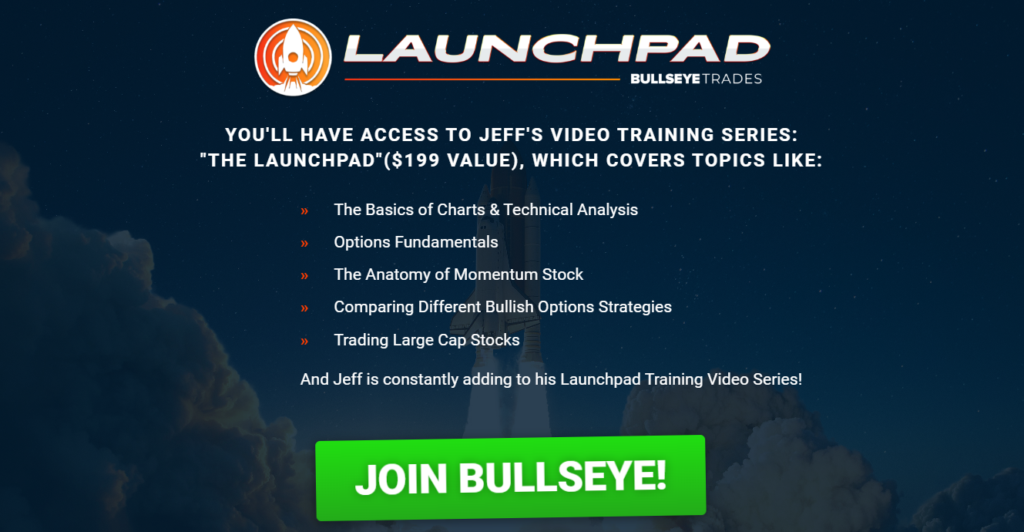 The video series also outlines the basics of technical analysis and charting, including a look at how to match trade strategies with charts. Also, you learn about the anatomy of momentum stocks and large-cap trading stocks.
Furthermore, you get to compare different bullish options strategies with Jeff's videos and see how TTM squeeze setups operate. Essentially, the video series offers preparation and training before you seek your next bullseye trade. New videos are constantly added to the series.
Again, this feature mainly appeals to up-and-comers in the trading world, but it's still useful for someone with more experience.
>> Get instant access to this training video series when you join now. <<
Live Weekly Bullseye Update
This platform feature allows you to meet with Jeff Bishop one-on-one for live interaction, so you can see him do his work and ask any questions you have about a trading concept or idea.
The live session is done at least once a week within an exclusive, member's only trading room. The room is open from Mondays to Fridays and is an exclusive educational chat room.
In this session, Jeff shows you how to walk through the week's bullseye trade idea.
Whether Jeff is in a trade, awaiting an entry, logged a winner, or stopped out for a loss, he offers you concise yet detailed trade takeaways to help you optimize your trade strategy.
Both Jeff Bishop and Jason Bond lead the live update videos. However, when they're not available, there are other seasoned trading instructors to lead the sessions.
Phone numbers and live chats are uncommon with many of the trading services we review, so Bullseye Trade gets high marks here. It gives a strong indication that the team really wants to support its members at every opportunity.
>> Get Jeff's latest LIVE updates here <<
Bonus Ebook: How To Become an Alpha Trader
Jeff just released his newest Ebook, How To Become an Alpha Trader. Inside, he shows off the tricks he's learned over the years to step up your trading game.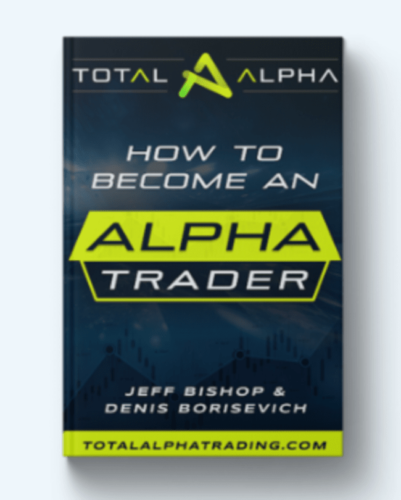 These lessons help you think about trading in a new way. Jeff hopes to remove the doubt and second-guessing most folks deal with on their journey to making expert-level trades.
The Ebook equips you with a number of setups and trading tools while building the confidence you need to better navigate the markets.
It's yours for free if you sign up for Bullseye Trader today.
Customer Service
The Bullseye Trade program goes above and beyond with its customer support. If you have any questions at all, you can reach out to its customer service team through phone, email, or live chat.
Phone numbers and live chats are uncommon with many of the trading services we review, so Bullseye Trades gets high marks here. It gives a strong indication that the team really wants to support its members at every opportunity.
Hands On with Bullseye Trades
I got access to Raging Bull's Bullseye Trades, so I could take a closer look at some of their recent trades and alerts, and I was impressed with what I saw.
Let's take a look at some of their recent trades to see how they performed:
Recent Trades: Reviewed
I got access to Raging Bull's Bullseye Trades, so I could take a closer look at some of their recent trades and alerts, and I was impressed with what I saw.
Let's take a look at some of their recent trades to see how they performed.
>> Sold on Bullseye Trades? Get a steep discount here. <<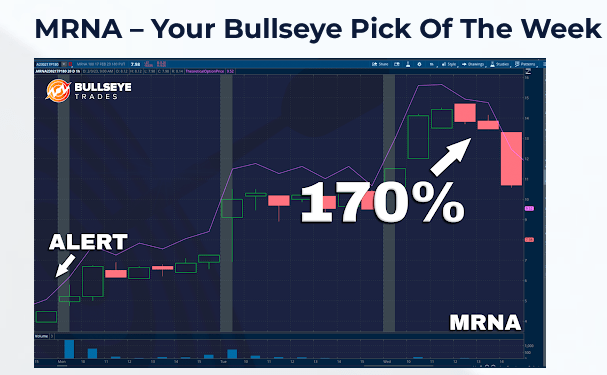 Moderna [MRNA]
On January 30th, 2023, Jeff saw a developing opportunity in shares of Moderna [MRNA]. He predicted the pandemic powerhouse was on the verge of a pullback, and he was right.
Jeff bought $180 puts expiring Feb. 17th for around $5, citing concerns about Moderna's reliance on waning vaccine sales and other issues that could affect share prices.
He sold his puts a few weeks later for a whopping 170% profit, and Bullseye Trades members have an opportunity to reap similar returns thanks to Jeff's alert.
Caterpillar [CAT]
The Bullseye Pick of the Week for Jan. 9th, 2023, was Caterpillar. Jeff was bullish on the stock, so he bought $250 calls expiring Jan. 27th for around $5.20 apiece.
As usual, Jeff clearly described the reasoning for the move in the alert:
"There is a lot to like on the price chart for CAT right now. It is a strong earnings winner, and it continues to grind higher after a one-month+ consolidation."
Jeff also said he was looking to cash out of the trade at around $260, and his prediction turned out to be very accurate.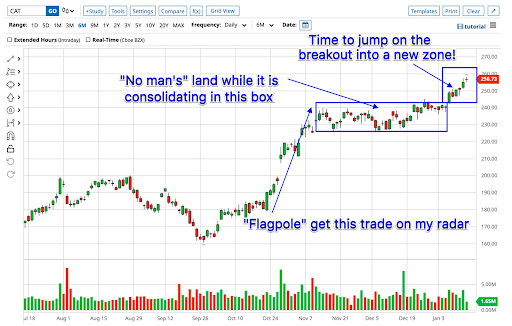 By Jan. 27th, share prices had gone up significantly and were very close to his $260 price target. The trade ultimately generated a 200% gain, another potential win for Bullseye Trades members.
These are just a few examples of the recent Bullseye Trades alerts, but the results speak for themselves.
Jeff has delivered a lot of value for his members as of late, and his alerts have presented members with numerous opportunities in recent weeks.
Is Bullseye Trades Legit?
Bullseye Trades is legit and offers great trade ideas and learning tools. It's helmed by pro trader Jeff Bishop, who has 20+ years of experience trading.
Bishop knows his way around the markets, and it shows in the quality of his work. He has well-rounded expertise in multiple trading styles and eye for picking promising stocks.
Bullseye Trades equips you with all the knowledge and tools you need to navigate the market like a pro. Jeff Bishop has proven himself as a trader and a teacher, and you can count on him to bring you valuable investing knowledge and insightful analysis.
>> Sign up now for the latest stock picks <<
Bullseye Trades Review: Pros and Cons
The Bullseye Trades service has a lot going for it, but there are a few areas that it could improve on.
Keep reading to see the pros and cons we found when reviewing the program.
Pros
Teaches trading fundamentals and technical analysis
One of the more affordable trading education platforms on the market
The service is led by an experienced stock expert
Works for traders of all levels of expertise
You get one trade alert each Monday morning to examine
Simple and easy to use
Cons
Not an automatic trading service and no bots
Options can be intimidating for beginners
Bullseye Trades Reviews by Members
Bullseye Trades is receiving great reviews online and has landed an exceptional 4.7 rating on Trustpilot. There are 100 ratings as of the time of writing this review, which is a pretty solid sample size.
Here's what some are saying about the service: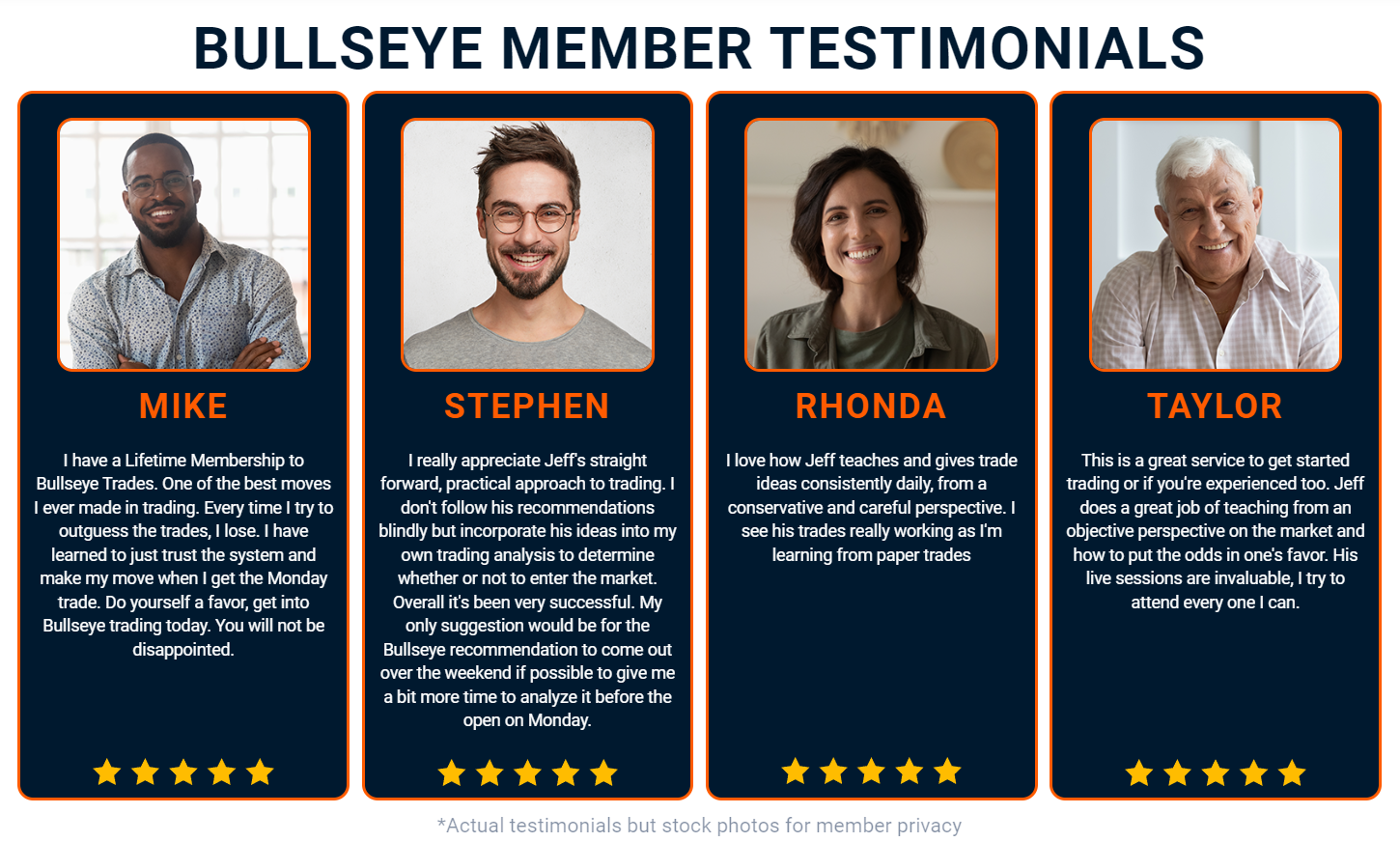 "Worth every penny!!"
I couldn't be happier with my bullseye service. Jeff Bishop, the staff and moderators go above & beyond to ensure you understand every trade. As a fairly new options trader, I've learned so much in a short time with the RB team"
"I have been using BullsEye for almost a year and can't be more satisfied"
I have been using BullsEye for almost a year now & have been very satisfied with the experience and the performance.
The best part of the service is the honesty & transparency. Sure, a few trades will go against you – that's part of the game & inevitable.
The service pays for itself & more!."
"For beginners to veterans"
This is a great service to get started trading or if you're experienced too. Jeff does a great job of teaching from an objective perspective on the market and how to put the odds in one's favor. His live sessions are invaluable, I try to attend every one I can".
As you can see, these members were very satisfied with their experience, so it seems like Bullseye Trades is legit.
How Much Does It Cost?
The regular Bullseye Trades program is priced at $399, however, new members can get a special, discounted rate.
If you sign up now, you'll pay just $147 annually and $47 quarterly to get started. You'll get the best deal with the annual rate, but the quarterly option provides additional flexibility.

Subscribers get weekly Bullseye trades for all 52 weeks of the year, plus mid-week trade updates, alerts through the Raging Bull mobile app, and dashboard access.
Also, considering the platform was created by a vastly experienced stock expert, the price point is extremely favorable compared to similar services.
>> Join Bullseye Trades for just $47 <<
Refund Policy
Ranging Bull offers a 30-day money-back guarantee on Bullseye Trades subscriptions, so you can try it virtually risk-free.
It's also worth noting that subscription cancellations must be done at least two days before auto-renewal kicks in.
The 30-day guarantee gives you more than enough time to decide whether the service is right for you, so it's an excellent addition to the Bullseye Trades service.
Is Bullseye Trades Right for Me?
The Bullseye Trades program could mesh with a range of people, but there are some folks who could get more out of it than others.
Beginners
The service will likely appeal to anyone with beginner to intermediate experience in trading. Bishop delivers excellent insights and educational materials about the stock market. Also, it doesn't hurt to have a team of pros at your back providing high-quality trade ideas.
For newcomers, Bullseye Trades offers a comprehensive learning experience that breaks down complex concepts into manageable lessons. The support network available through the platform can boost confidence and help beginners navigate the often-daunting world of trading.
Busy Bees
Not everyone has hours to spend every day scouring the markets. Bullseye's trade ideas are essentially market research on autopilot. The team keeps an eye on their recommended positions, so you can stay up-to-date on your trades and the stock markets.
Bullseye Trades caters to those with demanding lifestyles, such as stay-at-home parents, part-time traders, and professionals with limited time for market analysis. The service streamlines the trading process, delivering concise, well-researched trade ideas that allow subscribers to make the most of their valuable time while staying informed and engaged with the market.
Trading Vets
As mentioned, the trade ideas cost less than two dollars a pop. So if you only want the stock, ETFs, and options picks, the value is still on par with many other stock picking services out there.
Experienced traders can find value in Bullseye Trades, as it provides a wealth of information and ideas that can complement their existing strategies. The service may reveal new perspectives on market trends or hidden opportunities, helping trading veterans refine their decision-making process.
Who isn't this right for?
Bullseye Trades is specifically designed for swing traders, not day traders. The program focuses on providing one carefully selected trade recommendation each week. This approach suits those who want to balance trading with their daily lives.
The program doesn't fit day traders' fast-paced needs, as it encourages a more careful approach to trading opportunities. Offering only one trade idea per week helps traders avoid stress and impulsive choices, which are common in high-frequency trading.
>> Don't delay; get instant access TODAY! Just click here! <<
Is Bullseye Trades Worth It?
Bullseye Trades is an excellent program at a great price. It was already a fantastic deal at $399, but the introductory 63% discount makes this trading alert service an absolute steal.
Jeff Bishop and the team deliver excellent analysis, and they provide a wealth of information to help you put your best foot forward when trading stocks, ETFs, and options.
While not every recommendation is going to end up in the green, you can count on Bullseye Trades to deliver highly vetted trade ideas backed by extensive research.
Whether you have a busy schedule or you're just learning about trading, Bullseye Trades should be on your radar.
>> That's it for our Bullseye Trades Review. Sign up TODAY! <<