Bullseye Trades reviews are lauding Jeff Bishop's trade ideas and extensive trading education. We wanted to know if the service really delivers, so we're putting it to the test in our Bullseye Trades review.
Bullseye Trades Review: What Is Bullseye Trades?
Bullseye Trades is a trade alert and trading education program centered on stocks, exchange-trading funds (ETFs), and options.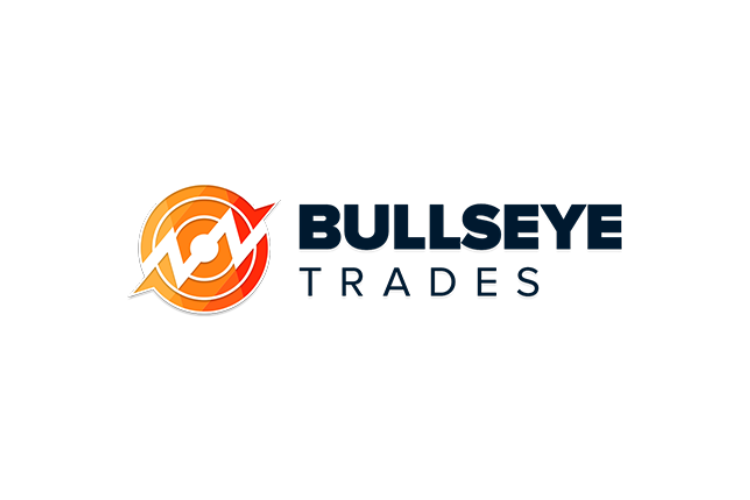 This service is a part of the Raging Bull platform. It was created by Jeff Bishop and Jason Bond — experts on the stock market and bullseye trades.
Bullseye Trades provides you with one trade idea for each week. This also comes with a market summary and charts detailing Bishop's stock pick.
Furthermore, the trading service offers live videos and insights to help traders of all levels understand how stock markets work.
This is just the tip of the iceberg, as the service provides a ton of value and even more features. And we're going to do a deep dive into them. But first, let's look at the mind behind Bullseye Trades, Jeff Bishop.
Can you really trust his analysis?
>> Ready to give Bullseye Trades a try? Just click here! <<
Who Is Jeff Bishop?
Jeff Bishop is a Wall Street veteran with over 20 years of experience trading stocks and ETFs, and he's the Head of Options Trading at Raging Bull. He created Bullseye Trades as an extension of his Raging Bull service.
Bishop leveraged his finance and economics background from the University of Texas, as well as his experience trading stocks and options, to help countless traders successfully navigate the stock market. He has been featured in various mainstream publications and talk shows.
There's a lot to like about Bishop, but his focus on clear and concise explanations of his trading strategy is at the top of our list.
For example, options trading is a notoriously difficult strategy to nail down, so Bishop and the team really go out of their way to explain everything in plain speak. Bishop's insights don't just stop at trading options, though. He can teach you the ins and outs of trading stocks and ETFs, risk management, technical analysis and much more.
Bishop also sells alternative trading prediction systems, like the Weekly Money Multiplier service, to help with trade executions and setups.
Now that you know Bullseye Trades' lead, let's look closely at everything on offer.
>> Like what Jeff Bishop is all about? Give this offer a try! <<
What's Included with Bullseye Trades?
Weekly Bullseye Trade

Mid-Week Update

Launchpad Training Video Series

Live Weekly Bullseye Update

Customer service
Weekly Bullseye Trade
The Weekly Bullseye Trade is at the core of the Bullseye Trades platform. The Bullseye Trade team kicks off weekly with their Monday morning trade pick. There's also additional research throughout the week (more on that later).
Here's the gist of what you get:
Bishop's stock or ETF he's looking to trade

​Technical and fundamental analysis​

Options contract(s) Bishop is personally interested in​

​ His desired entry price​, price target, and stop-loss for the trade​
Right off the bat, we really appreciate the weekly format. Plenty of stock-picking services release one or two picks for the month and leave you to your own devices.
Getting four well-researched trade ideas adds a lot of value to the service. If you're looking to learn from a pro trader, the more examples and insights, the better. On the other side of the coin, seasoned traders who just want new trade ideas, get four picks a month (52 a year).
Pros could still learn a lot from Bullseye's educational materials. But if you are signing up for a constant flow of trade ideas, the service doesn't disappoint.
>> Get access now! Click HERE to get started! <<
Mid-Week Update
Jeff Bishop stays in contact with subscribers throughout each week by providing his Mid-Week Update.
The mid-week update provides a more detailed breakdown of how his trade ideas progressed and how the market has been affecting the trade.
Furthermore, the update includes the stock or the ETF's price action since Monday, plus how the sector that the stock belongs to and the market as a whole affect trade progress.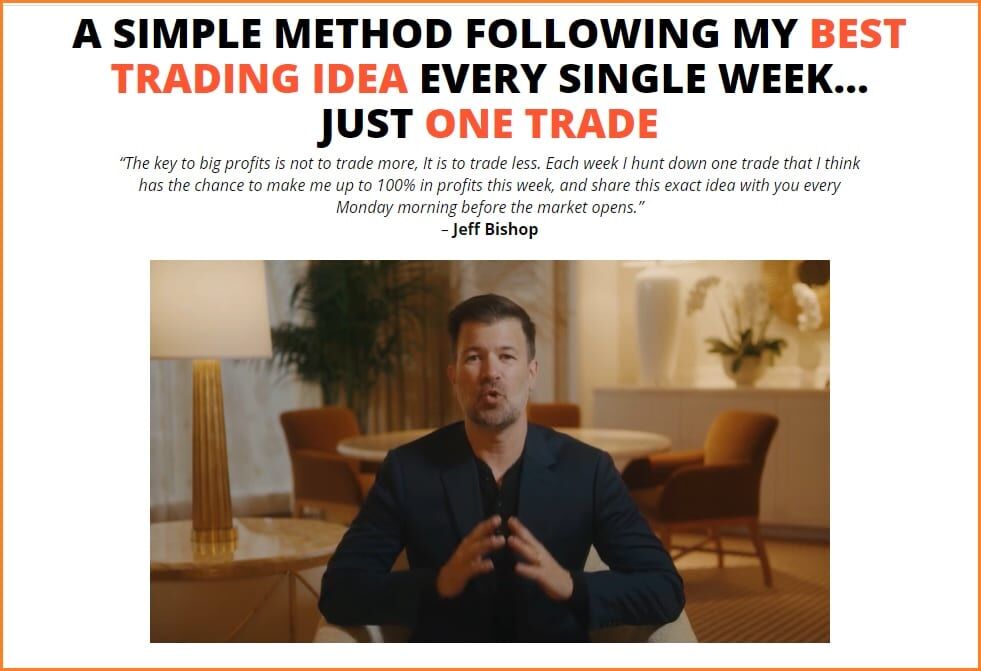 You'll also learn how the price action works with/against the trade plan and receive any updates on the plan depending on technical analysis or any pertinent news items regarding the trade.
All in all, this is a great feature for newbies looking for extra help following their positions or busy folks who are short on time. The team gives you everything you need to understand what's going on in the markets, and you won't have to keep your face glued to the screen to keep up.
Like we said before, many stock picking services drop a trade on your lap and go radio-silent until the next trade idea. This is just another area where Bullseye Trades stands out among its competitors.
>> Don't miss out on hot picks mid-week ever again! Join NOW! <<
Launchpad Training Video Series
Jeff's Launchpad video series covers various topics used to analyze the viability of each trading idea and concept, as well as the fundamentals of options trading.
If you're new to trading or a seasoned vet who wants to check strategies against a proven pro, you might want to check out this feature first.
The video series also outlines the basics of technical analysis and charting, including a look at how to match trade strategies with charts. Also, you learn about the anatomy of momentum stocks and large-cap trading stocks.
Furthermore, you get to compare different bullish options strategies with Jeff's videos and see how TTM squeeze setups operate. Essentially, the video series offers preparation and training before you seek your next bullseye trade. New videos are constantly added to the series.
Again, this feature mainly appeals to up-and-comers in the trading world, but it's still useful for someone with more experience.
>> Get your training video series now! <<
Live Weekly Bullseye Update
This platform feature allows you to meet with Jeff Bishop one-on-one for live interaction, so you can see him do his work and ask any questions you have about a trading concept or idea.
The live session is done at least once a week within the Master's Club, the live trading room for the Raging Bull Elite program. The room is open from Mondays to Fridays and is an exclusive educational chat room.
In this session, Jeff shows you how to walk through the week's bullseye trade idea.
Whether Jeff is in a trade, awaiting an entry, logged a winner, or stopped out for a loss, he offers you concise yet detailed trade takeaways to help you optimize your trade strategy.
Both Jeff Bishop and Jason Bond lead the live update videos. However, when they're not available, there are other seasoned trading instructors to lead the sessions.
>> Sign up NOW for these LIVE updates! <<
Customer Service
The Bullseye Trade program goes above and beyond with its customer support. If you have any questions at all, you can reach out to its customer service team through phone, email, or live chat.
Phone numbers and live chats are uncommon with many of the trading services we review, so Bullseye Trade gets high marks here. It gives a strong indication that the team really wants to support its members at every opportunity.
Is Bullseye Trades Legit?
Bullseye Trades is legit and offers great trade ideas and learning tools. It's helmed by pro trader Jeff Bishop, who has 20+ years of experience trading.
Bishop and team really know their way around the markets, and it shows in the quality of analysis on offer. Even better, they have well-rounded expertise in multiple trading styles and strategies.
All in all, it's a great place to learn the ins and outs of stocks, ETFs, and options trading.
>> Sold on Bullseye Trades? Good! Just click here! <<
Bullseye Trades Pros and Cons
The Bullseye Trades service has a lot going for it, but there are a few areas that it could improve on.
Keep reading to see the pros and cons we found when reviewing the program.
Pros
Teaches trading fundamentals and technical analysis

One of the more affordable trading education platforms on the market

The service is led by an experienced stock expert

Works for traders of all levels of expertise

You get one trade alert each Monday morning to examine

Simple and easy to use
Cons
Not an automatic trading service and no bots

One weekly stock pick may limit your trading capacity
Bullseye Trades Reviews
Bullseye Trades is receiving great reviews online and has landed an exceptional 4.7 rating on Trustpilot. There are 100 ratings as of the time of writing this review, which is a pretty solid sample size.
Here's what some are saying about the service:
>> Ready to join these satisfied customers? Join NOW! <<
How Much Does Bullseye Trades Cost?
The regular Bullseye Trades program is priced at $399 annually. However, the trading education platform offers a discount where you get the first year of the service for just $97.
When you pay the annual fee, you get weekly Bullseye trades for all 52 weeks of the year, mid-week trade updates (which are sent to your inbox), trade alerts through the Raging Bull mobile app, and dashboard access.
This is a fantastic value, no matter how you stack it up. If you're just in it for the trades, you're paying less than two bucks for each thoroughly researched trade idea.
If you want to access extensive course material, the price of the service is even more appealing.
Also, considering the platform was created by a vastly experienced stock expert, the price point is reasonable and favorable compared to similar services.
Free Trial for Bullseye Trades
Currently, Bullseye Trades is running a special promotion where new members can sign up for a one-week free trial.
Many services that offer tons of upfront value, like Bullseye Trades, typically don't have a free trial, so we're going to give the service extra points here.
One week is not enough time to see a recommended position to its completion. However, you can definitely get a feel for the quality of analysis as well as the educational materials.
>> Get started today for FREE! Just click here! <<
Bullseye Trades Refund Policy
Unlike Raging Bull, where there is a refund policy in place for subscribers, there are no refunds when using Bullseye Trades. Also, subscription cancellations must be done at least two days before auto-renewal kicks in.
As mentioned, Bullseye Trades does come with a one-week free trial, which lets you test drive the service before making a commitment. This makes the no refund policy much fairer.
Is Bullseye Trades Right for Me?
The Bullseye Trades program could mesh with a range of people, but there are some folks who could get more out of it than others.
Beginners – The service will likely appeal to anyone with beginner to intermediate experience in trading. Bishop delivers excellent insights and educational materials about the stock market. Also, it doesn't hurt to have a team of pros at your back providing high-quality trade ideas.
Busy Bees – Not everyone has hours to spend every day scouring the markets. Bullseye's trade ideas are essentially market research on autopilot. The team keeps an eye on their recommended positions so you can stay up-to-date on your trades and the stock markets.
Trading Vets – As mentioned, the trade ideas cost less than two dollars a pop. So if you only want the stock, ETFs, and options picks, the value is still on par with many other stock picking services out there.
While Bullseye Trades is great, it might not be suited to active day traders, as one stock pick per week may not be enough to keep up the momentum. That said, it might be nice to have a vetted weekly trade idea to balance out your research.
>> Don't delay; get instant access TODAY! Just click here! <<
Bullseye Trades Review: Is Bullseye Trades Worth It?
Bullseye Trades is an excellent program, and it comes at a great price. It was already a fantastic deal at $399, but the 75% discount makes this trading alert service difficult to pass up.
Bishop and the team deliver excellent analysis, and they provide a wealth of information to help you put your best foot forward when trading stocks, ETFs, and options.
While not every recommendation is going to end up in the green, you can count on Bullseye Trades to deliver highly vetted trade ideas backed by extensive research.
Whether you have a busy schedule or you're just learning about trading, Bullseye Trades should be on your radar.
>> That's it for our Bullseye Trades Review. Sign up TODAY! <<