Cadre aims to achieve outsized risk-adjusted returns while providing a streamlined platform to make real estate investing easy. But does it deliver? Check out our Cadre review for the full details.
What Is Cadre?
Cadre is a real estate investment platform for accredited investors looking for crowdfunded opportunities.
Based in New York, the company was officially established in 2014 by CEO and co-founder Ryan Williams — a real estate specialist who left his job at Blackstone Group to create the platform.
Ryan Williams started Cadre with the company's other co-founders, Jared and Joshua Kushner, to support wealthy investors looking for high-quality commercial properties to invest in.
Here's a quick breakdown of Cadre's goals in William's own words:
"We want to usher in a new era of institutional real estate investing for individuals, where they can invest alongside an experienced team such as ours, and alongside institutional investors, in a way they've never been able to do before."

— Ryan Williams

Allen Smith, the former president and CEO of Four Seasons, is the current president of Cadre. More information on each core team member is available on the Cadre website.
Goldman Sachs is partnered with Cadre, and venture capital stalwarts, like Khosla Ventures, have been investing in the platform.
The company has an experienced team of technology experts working with notable tech innovators like Square. Cadre's total owned transaction value has topped the $3 billion mark.
What Is Cadre Worth?
According to Forbes, Cadre's most recent evaluation places the company's worth somewhere in the ballpark of $800 million. This was back in 2019, and there doesn't appear to be a more recent valuation, so you might want to take this figure with a grain of salt.
Is Cadre a REIT?
Cadre is not a real estate investment trust (REIT), nor does it offer REITs. It's a crowdfunding platform that provides accredited investors with a wide assortment of top-tier real estate investments.
Is Cadre Publicly Traded?
Cadre is not publicly traded, and it's not an exchange. Instead, it provides a secondary market for accredited investors to tap into new institutional-grade opportunities in real estate.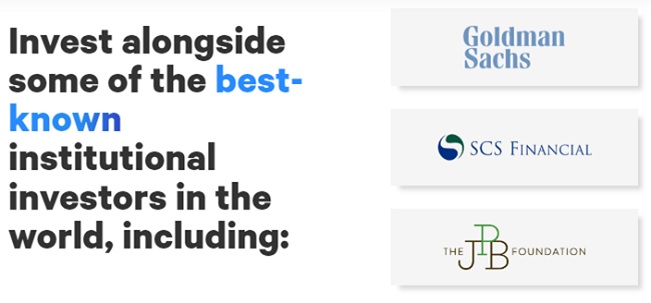 Is Cadre Legit?
Cadre is a legit investing platform that pairs accredited inventors with promising real estate properties. It's regarded as one of the more reputable commercial real estate crowdfunding platforms of its kind.
The company has a rock-solid track record of identifying and acquiring great sponsors and properties.
Due to its extensive due diligence processes, incentive structure, and the personal stakes held by its employees in every deal, Cadre touts a highly reputable platform.
How Does Cadre Work?
Cadre provides accredited investors with an all-in-one solution for investing in commercial real estate.
Here's how Cadre helps you invest:
Consistent Involvement – Cadre executives and employees involve themselves in every deal, using a deep vetting process to ensure every real estate investment opportunity on the platform is potentially beneficial for users.
Long-Term Value-Add – All financial incentives offered by the real estate crowdfunding entity are tied to the long-term performance of a deal rather than high transaction volume.
Technological Edge – Cadre uses artificial intelligence to identify high-value investment opportunities for interested parties.
Due Diligence – Cadre's due diligence is arguably as good as it gets within the real estate crowdfunding industry, as it has a solid investment committee vetting its commercial real estate deals.

Cadre Investment Properties
Cadre offers a broader variety of properties than many of its competitors.
While some focus on a very specific real estate investment angle, Cadre's portfolio can include:
Office buildings

Industrial buildings

Multifamily buildings

Warehouses

And more
The reason why many Cadre competitors focus on a specific type of property is that each real estate investment requires a unique level of due diligence.
And many aren't equipped to analyze so many property types.
So how does Cadre pull it off?
In addition to Cadre's team of commercial real estate experts, the company leverages sophisticated software that provides a comprehensive analysis of investment opportunities.
You get the best of both worlds: a highly attentive team of seasoned real estate vets and proprietary tech to handle all the heavy lifting.
Even better, investment opportunities are not restricted to one state. Cadre looks for institutional quality investments across the US.
>> Already sold on Cadre? Click here to sign up NOW! <<
Direct-Access vs Deal-by-Deal Fund
By using the direct access fund, you can automatically diversify your portfolio by looking into 15 potential growth markets across the United States.
These markets, according to Cadre, have emerged from post-pandemic dislocations. Your alternative investing method with Cadre is the deal-by-deal option.
With deal-by-deal, investors seeking individual assets can search for available investing opportunities once they become members. A new asset is launched once a month; meanwhile, secondary buyer windows are launched once every quarter.
Equity is served on a first-come, first-serve basis in both scenarios.
Who Can Use Cadre?
Only accredited investors can use Cadre. There are no options for non-accredited investors to access its real estate deals.
Stringent requirements are enforced during the vetting process to ensure investors and investments alike are up to scratch.
You must provide tax documents, such as their federal tax returns and W-2, financial statements, or a verification letter, to prove your credentials to start investing.
If you're trying to invest through your LLC, partnership, or trust, it must have accredited investor status to receive approval. Accredited investors must fully own the entity, or its total assets should be at least $5 million.
How to Qualify for Cadre
To use Cadre, you must qualify as an accredited investor.
You become accredited by meeting one of these criteria:
Your net worth, or joint net worth with your partner, must exceed $1 million. Any net equity in your primary residence can't be included to make up the million-dollar amount.

Must have an annual income of more than $200,000 in each of the last two years or a joint income of $300,000 with your spouse in the same period.
You must also maintain the same income level in the current year.
Liquidity Through the Cadre Secondary Market
Cadre offers a secondary market to its investors, which provides potential liquidity for buyers and sellers.

As a result, users investing through the real estate crowdfunding platform can exit any eligible assets during their secondary buyer windows.
This is in contrast to other crowdfunding platforms that will lock up your capital for years.
Another major draw to the secondary market is that you can also buy into deals that you missed out on previously.
So if there's an investment opportunity you might have missed out on, you might want to check out the secondary market for a shot at getting in.
There are few places online that can offer such an alluring blend of institutional quality investments and flexibility.
How Do You Sell Cadre Investments?
Cadre's deals are typically completed through its secondary market, with the buyer and seller each being charged 1.5% of the transaction's net asset value. Currently, all purchases must be properties facilitated by Cadre.
However, management has stated that their long-term goal is to create a secondary marketplace involving real estate investment opportunities from other crowdfunding platforms.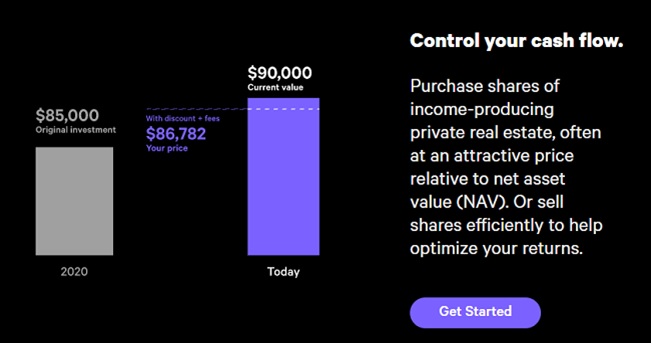 Another important note is that the secondary market is only open during select times of the year. This means you might need to be patient if you want to exit your position early to recoup your investment.
Still, Cadre does not guarantee liquidity, so you'll need to be ready to hold your position until the property is sold.
Selling also does not guarantee that you will recoup your entire investment: it is entirely dependent on the market at the time. While it would be great to sell your stake whenever you want, many commercial real estate investing platforms don't have a secondary market to begin with.
So we still give the service high marks in this area.
How Does Cadre Make Money?
Cadre has a fairly straightforward fee structure that it uses to generate a return.
The real estate investing platform makes money through both an annual asset management fee and transaction fee.
We'll dig deeper into this as we go, so stay tuned for the full breakdown when we review the costs of using Cadre.
>> Ready to start investing with Cadre? Click HERE to sign up! <<
What Do You Get with Cadre?
Deal-By-Deal Investments

Direct Access Fund

Cadre Cash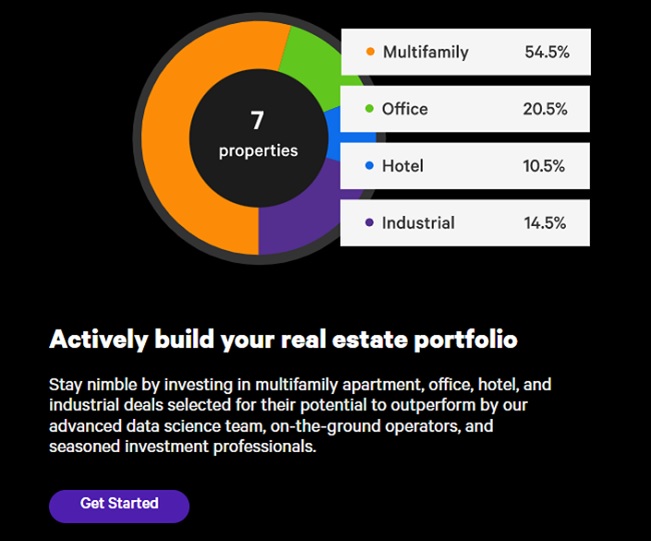 Cadre Deal-By-Deal Investments
There are three types of deal-by-deal investments and a direct access fund that are accessible for high net worth individuals.
Cadre Fund Co-Investments – As new assets become available, most equity will go towards the access fund. The leftover money is set for individual investors who meet the $25,000 minimum investment threshold. All allocations are first-come, first-served until a deal is fully funded.
Opportunity Zone Investments – Cadre also provides opportunity zone investments, offering investors the chance to receive tax benefits. Opportunity zones help investors defer their taxes on their realized capital gains from elsewhere, as long as their gains were invested within a 180-day window.
These zones also allow for the potential reduction of deferred taxes on deferred gains by as much as 10%. And investors can receive tax-free gains from a Quality Opportunity Fund investment if the investment is held for at least ten years.
Secondary Market – Cadre's secondary market is available for anyone who has owned an investment for at least six months. Once each quarter, a two-week buyer window is opened so investors can purchase positions from sellers on the platform. Investors can also sell their total assets during the window.
However, the minimum partial sale is $50,000, with larger amounts increasing by increments of $5,000. If you choose to retain a portion of the asset, the investment that's left must have a minimum value of $10,000.
Cadre Direct Access Fund
Value add returns are the focus of this fund, which targets established properties that range from $50-200 million.
It's designed to generate consistent quarterly cash flows for investors, seeking out stable in-place tenants that are already bringing in cash flow.
Once Cadre selects an investment, the platform actively manages it through operational improvements and any real estate project that involves renovation, boosting value in the process.
Experienced Team
One of the major draws here is that this portfolio of real estate properties is vetted and selected by a team with extensive real estate experience.
This is a much better option for folks who want hands-off investing, as it requires zero work on your end.
Diversification
The team develops its portfolio with diversification at the forefront. By investing across multiple market types, you can hedge your risks and improve overall portfolio performance.

Cadre Cash
Cadre Cash is a savings account provided by Cadre that offers an annualized return of 3%.
Cadre Cash accounts are offered through Evolve Bank & Trust. This Cadre account is said to be insurable by the Federation Deposit Insurance Corporation (FDIC) by its partners.
This provides insurance for up to $750,000.
Cadre Performance
The gross distributions to investors using the real estate crowdfunding platform tops the $168 million mark. Additionally, Cadre reports an 18.6% historical rate of return each year.
Though this doesn't guarantee that future returns will be strong, it assures real estate investors that they can potentially make good profits with every investment they make.
Cadre also boasted a rental collection rate of 95% throughout its investment portfolio in 2020.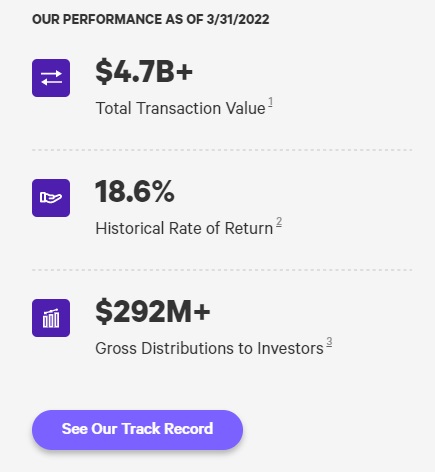 This highlights the company's investment quality despite the crippling economic effects of the global pandemic.
Many investment vehicles experienced major volatility, but it appears that Cadre held strong regardless. And it's this level of stability that draws so many toward commercial real estate investing platforms.
Also, according to Cadre, the company holds zero debt, and it backstops every deal offered, meaning you won't miss out on other investments if the one you're involved in falls through.
The company bridges any funding gap to ensure deals successfully close within the marketplace.
>> Like all that Cadre has to offer? Click here to sign up NOW! <<
Cadre Reviews
If you search the web, there's plenty of praise for Cadre's service.
That being said, Cadre does not appear to have any ratings on third-party sites such as Trustpilot. There is a "Cadre" on Trustpilot with a 4.9 rating, but it's not for this platform.
We'll make sure to keep you in the loop if there are any updates. For now, we can say that we believe Cadre provides a quality service.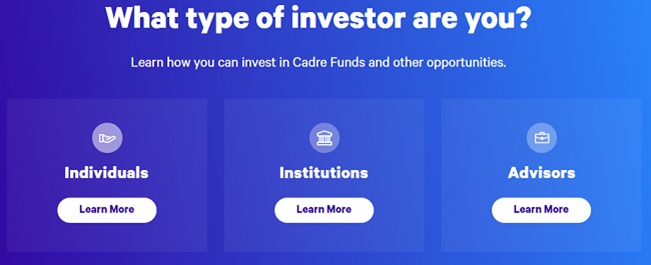 Pros and Cons of Cadre
Cadre boasts a range of excellent features, but there are some cons to using the service.
Check out the pros and cons we found during our Cadre review.
Pros
Cadre real estate investing is simple and straightforward

Great historical performance (not indicative of future results)

Secondary market to liquidate positions

Range of commercial real estate properties to build a diversified portfolio

Handles the due diligence for you
Cons
Steep minimum investment

Only open to non-accredited investors
What Is the Minimum Investment for Cadre?
Cadre has two tiers of minimum investments. The typical minimum investment is $25,000, but deal-by-deal investing can be higher or lower.
These are pricier than other minimums for commercial real estate, but this platform does offer premium listings backed by mountains of research.
It's also important to remember that Cadre allows you to liquidate your position through the quarterly second market. So while the minimum investment might be higher, being able to exit your position early is rare in this business.
Most platforms lock you in until the property is sold.
Cadre Fees and Cost
Cadre does not have an upfront cost for joining the platform, but there are a few fees when you invest.
You pay 1% of your gross invested dollars upfront for every transaction, and you pay 1.5% of the net asset value recurring annual management fee.
Furthermore, Cadre negotiates a part of the sponsor promotion — a piece of any profits sponsors earn when a deal goes full circle after a few years before eventually selling.
Given that incentives are tied to the assurance that deals go full circle, this is considered a friendly structure for investors.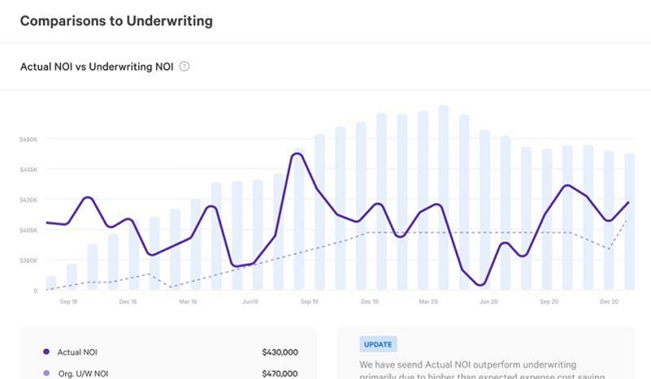 Is Cadre a Good Investment?
At the end of the day, whether Cadre is a good investment will depend on what you're looking for in a crowdfunding real estate platform.
If you are looking for quality investment opportunities that are carefully vetted, Cadre is a great choice.
While its portfolio might be limited compared to other crowdfunding sites, nothing is stopping you from using multiple platforms at the same time.
The insurance provided by the FDIC's Multi-Bank Program ($750,000) is three times higher than standard FDIC insurance you'd receive from a traditional bank.
Is Cadre Worth It?
Cadre's focus on ushering in a new era of institutional real estate opportunities has so far proven to be a worthwhile success.
Major players in the business back it, and the service has a solid track record.
Cadre's resources are comprehensive, and the platform does a lot of the legwork for you. Even better, Cadre offers the flexibility for investors to personally select their own investments on its platform.
And it's this blend of freedom and support that makes the service so appealing to many high-net-worth investors.
If you have the money and are willing to play the long game, Cadre could fit comfortably into your investment strategy.
>> Ready to invest in real estate with Cadre? Sign up for an account TODAY! <<