Marc Chaikin's company has made a name for itself as a sophisticated research publisher. But do its insights and stock research tools really live up to their reputation? Check out my Chaikin Analytics review for a look into this elite publisher and its entry-level newsletter, Power Gauge Report.
What Is Chaikin Analytics?
Chaikin Analytics is a research publishing powerhouse known for its proprietary software and technical indicators.
The publisher was founded back in March 2011 by Marc and his wife, Sandy, under the banner Chaikin Power Tools.
Some of its services include investment newsletters, stock and ETF screeners, and its free publication, PowerFeed.
The research suites offer a range of unique focuses. However, most of their investing insights incorporate the Chaikin Power Gauge system into their findings.
These ratings use a 20-factor alpha model to analyze the future outlook of stocks or ETFs within a three to six-month window.
There are no sure things on the stock market, but the power gauge rating system has predicted the potential of many companies with stunning accuracy.
One of the system's metrics includes Marc's own proprietary indicator, the Chaikin Money Flow (CMF). He developed this indicator way back in the 80s to better measure "the accumulation (buying pressure) vs. distribution (selling pressure) of a stock over time."
One of the publisher's most popular newsletters is the Power Gauge Report, which I'll dive into shortly.
>> Sign up for Power Gauge Report and save 75% <<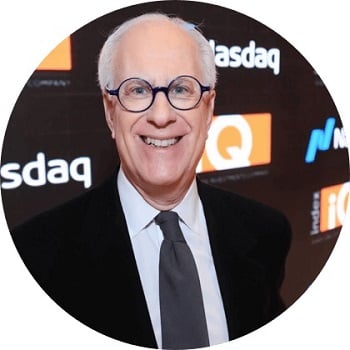 Who Is Marc Chaikin?
Marc Chaikin is an investment analyst who spent over 40 years on Wall Street.
During his decorated career, he worked as a trader, analyst, and head of the options department for a major firm.
He's developed several tools and indicators used by big wigs on The Street and everyday folks.
In fact, he even created the first real-time analytics workstation for portfolio managers and stock traders.
His success in the financial markets has drawn the attention of many media figures.
CNBC's Mad Money host, Jim Cramer, had this to say about Marc's stock-picking abilities:
"I learned a long time ago not to be on the other side of a Chaikin trade… I want to explain why I love Marc's stuff. It's simple, it's understandable, it's rational, it's not emotional, and I use it constantly and I almost never want to go against it."

— Jim Cramer, host of CNBC's Mad Money
Marc also collaborated with Nasdaq and IndexIQ to develop three ETFs based on his groundbreaking stock-rating approach.
As part of the celebration, he rang the Nasdaq opening bell, which is typically reserved for the most renowned investment experts.
>> Get the team's latest recommendation <<

What Is Power Gauge Report?
The Power Gauge Report is an investment newsletter led by Marc Chaikin and published by Chaikin Analytics.
Some perks include monthly trade ideas, access to the Power Pulse system, bonus reports, and more.
The Power Pulse is a stock and ETF rating tool that's accessible to members throughout their subscription.
What Comes with the Service?
Power Gauge Report subscriptions are packed with valuable resources and trading tools.
Read on for a breakdown of each one.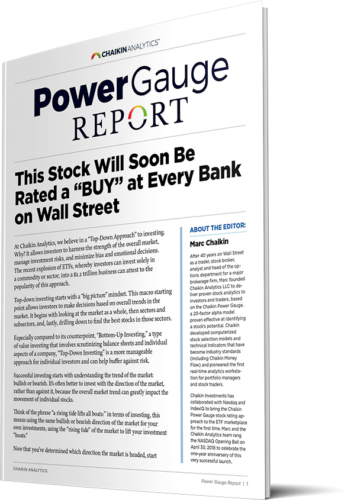 12-Month Subscription to Power Gauge Report Newsletter
Each month, the newsletter provides one carefully vetted trade idea along with supporting research and market commentary.
New issues are delivered on the third Thursday of every month.
The Chaikin Analytics team casts a wide net with its investment ideas. Though, they gravitate toward mid and large caps.
Some sectors they analyze include energy, technology, automotives, agriculture, and more.
Trade ideas come with commentary and the occasional warning. It's a good place to get the team's take on where the market could be moving next (good or bad).
Members also receive sell alerts.
Sell alerts occur when it's time to cash in on a stock or the original investment thesis changes.
Model Portfolio
The model portfolio contains all the team's active positions.
When a new pick is added to the lineup, it's immediately placed here.
There are all the basic bells and whistles you might expect, buy price, stop loss, stock tickers, and more.
Something I really appreciate is that you can click on the company name, and it will redirect you to the corresponding buy recommendation.
If you're someone who wants to thoroughly vet all your trade ideas, this feature makes the process much more streamlined.
>> Access these features and more <<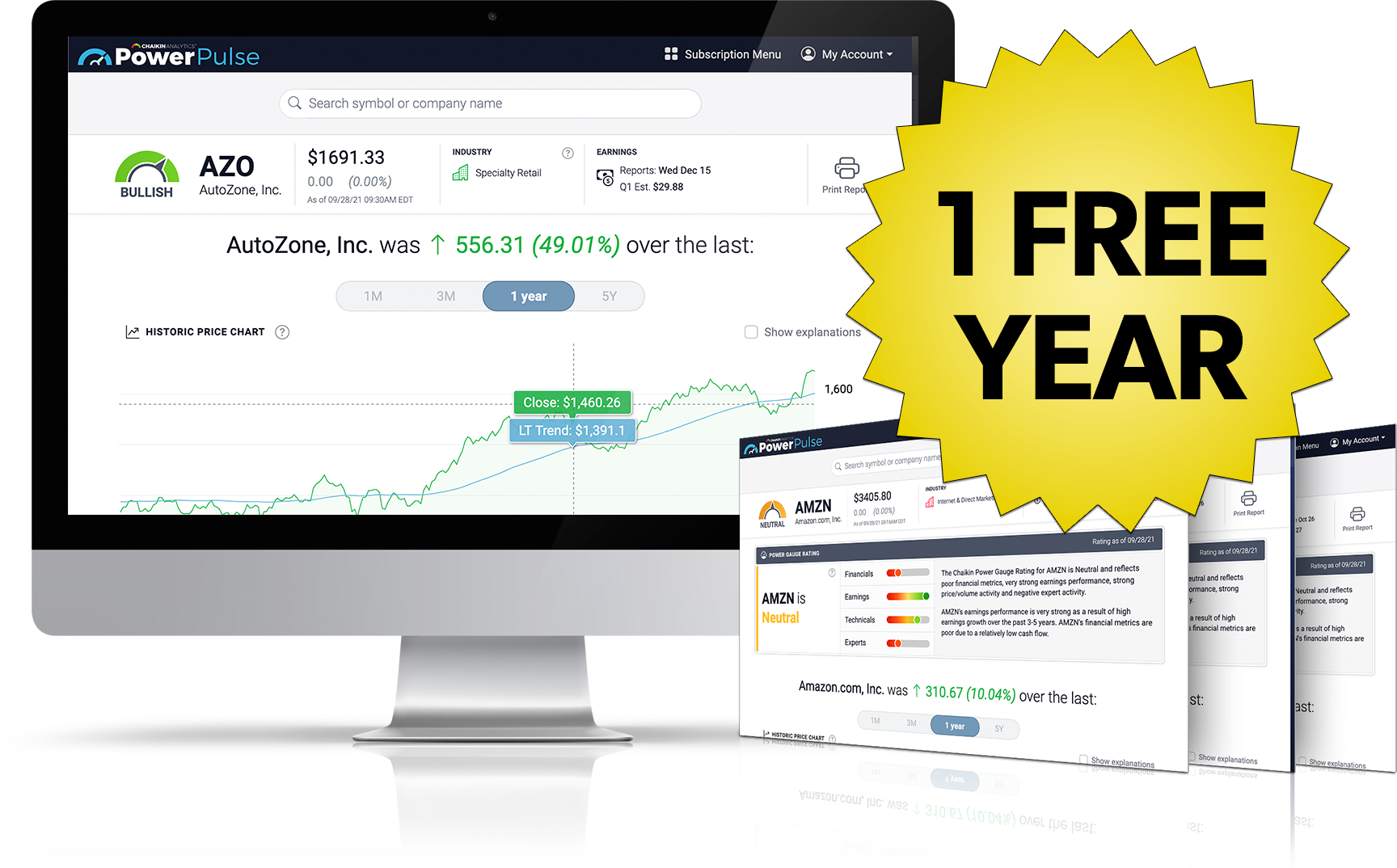 Power Pulse System
The rating system is easily my favorite part of the package.
If you prefer self-directed investing, this is a powerful tool for DIY research.
Members can access the Power Pulse System through the Chaikin Analytics website. Even better, it runs right through your browser.
There are a few big benefits of this.
For one, it doesn't need to be downloaded. Anyone using the power gauge ratings on multiple devices could really appreciate that.
Secondly, the computing is done on the other end, which makes it less resource intensive for devices.
Let's dig a little deeper into how the stock ratings actually work.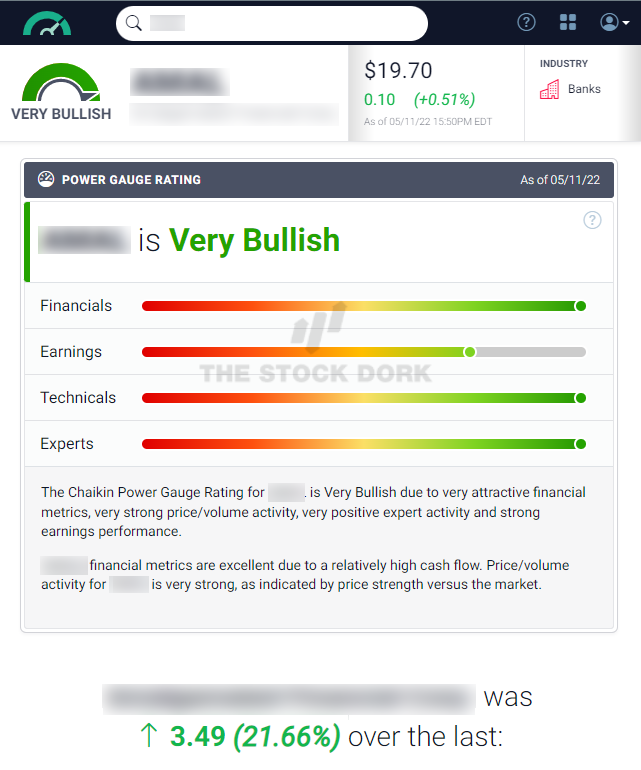 Power Gauge Ratings
As mentioned above, Chaikin Analytics' power gauge ratings analyze the potential of 4,000+ stocks based on 20 key indicators.
The indicators are broken down into four categories: Financials, Earnings, Technicals, and Experts.
Depending on how well a company performs, it will be given one of five ratings: Bullish, Very Bullish, Neutral, Bearish, or Very Bearish.
While that's helpful in its own right, the Power Pulse system also displays additional info, including blurbs that explain each rating, and charts.
There's also a handy price chart that shows what past outlooks have been: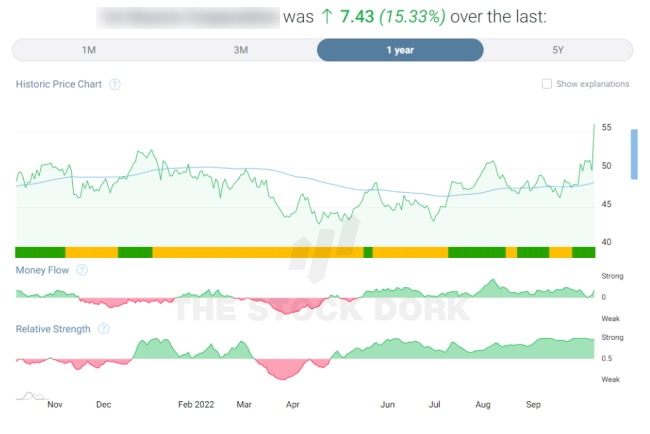 It's important to note, however, that past performance does not predict future outcomes.
Also, this is a vetting tool. Bullish, Bearish, or Neutral ratings are not buy or sell recommendations.
Back to the categories mentioned earlier. There are four categories with five separate indicators.
Let's kick it off with Financials:
Long-Term Debt to Equity

Price to Book

Return on Equity

Price to Sales

Free Cash Flow
This is what the rating looks like…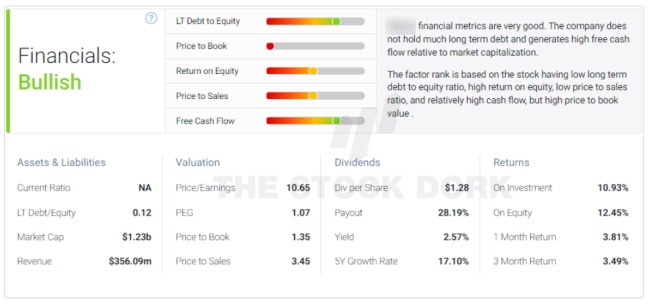 Next is Earnings factors:
Earnings Growth

Earnings Surprise

Earnings Trend

Projected P/E

Earnings Consistency
Here's the rating…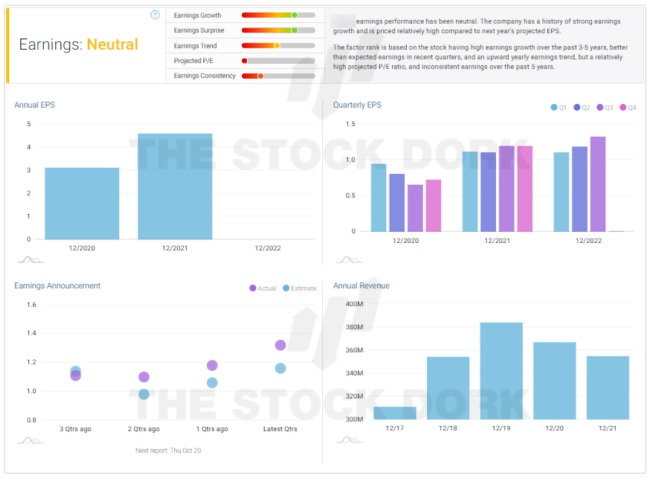 Time to head over to Technicals:
Relative Strength

Chaikin Money Flow Indicator

Price Strength

Price Trend ROC

Volume Trend
Here's a peek at the rating for my stock…

Last but not least is Experts:
Estimate Trend

Short Interest

Insider Activity

Analyst Rating Trend

Industrial Relative Strength
The Expert rating looks like this…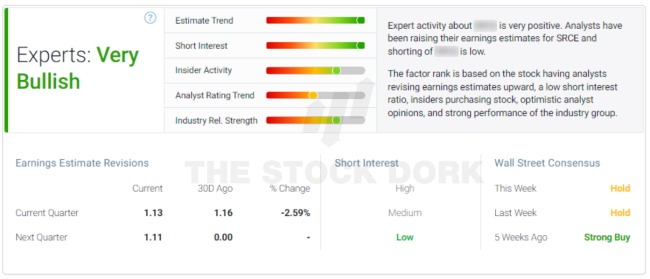 The rating for the company in my example fared well. But there are plenty of stocks that the system does not view as fondly.
That's another great feature of the ratings. They can also point you to stocks and ETFs you might want to avoid.
>> Tap into the power gauge today <<
New Member Bonuses
Subscriptions don't just stop at the newsletter and the advanced stock and ETF ratings system.
Check out all the bonuses below.
Four "Power Picks" for Retirement
The team has identified four stocks that they believe could provide a strong foundation for a retirement portfolio.
Unlike their standard stock picks, these recommendations have a much longer investment horizon.
They go so far as saying that these could be by and hold forever companies.
Anyone interested in stocks with strong growth potential for the long haul might want to hit this resource first.
The Power Gauge: How to Double Your Money on the Best Stocks
This report breaks down how to use the power gauge and analyze stocks like some of the brightest minds on Wall Street.
Some topics covered include timing an entry and exit, predicting where a stock could move next, and what smart money looks for in an investment.
The report also breaks down why Marc and Chaikin Analytics play favorites with technical analysis over other strategies.
It's a fantastic primer for fresh faces on the stock market and members looking to make the most of the power gauge.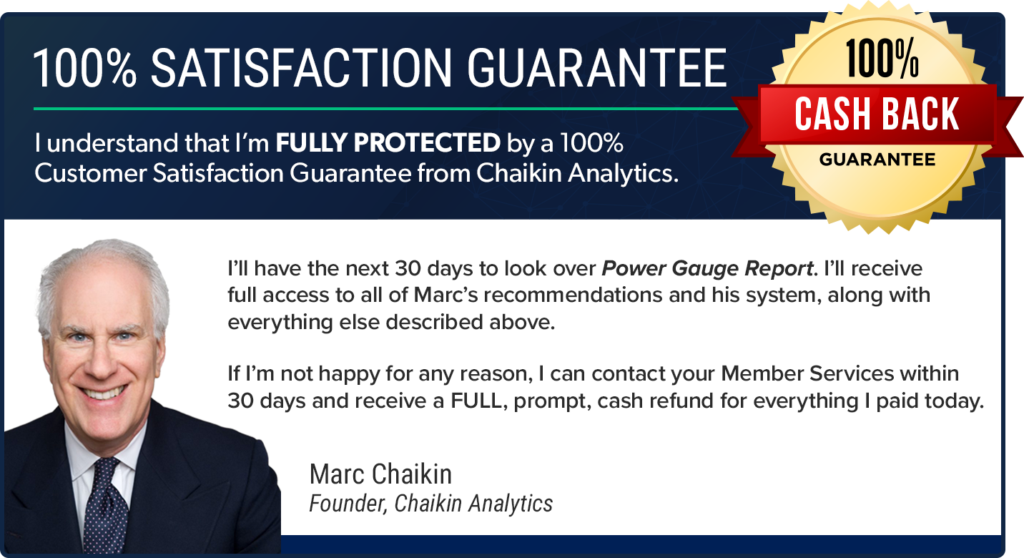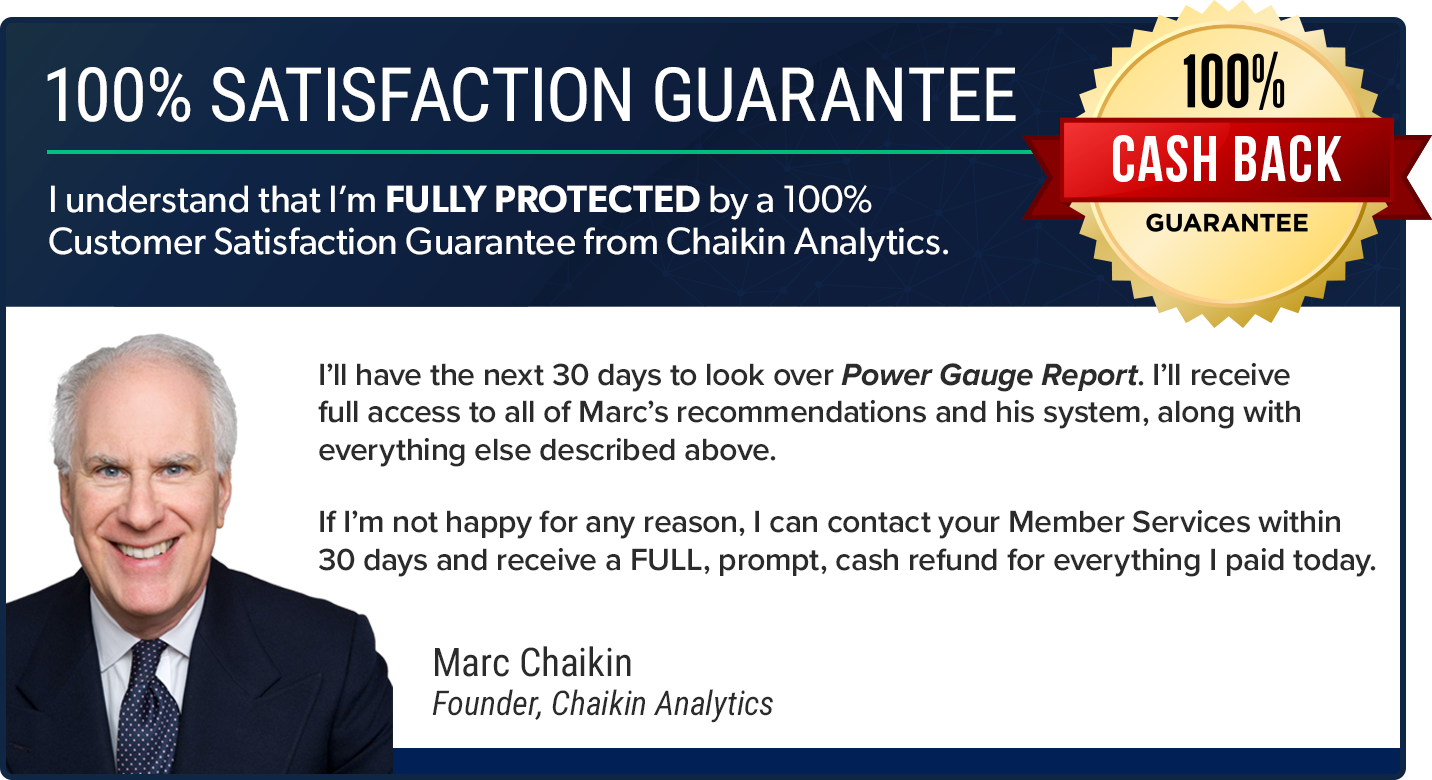 100% Satisfaction Guarantee
New Power Gauge Report members have 30 days on sign-up to take the service for a test spin.
If you decide that it's not a good fit, you can get a refund on the subscription cost.
This typically isn't a long enough window to see a position to its conclusion.
However, it does offer enough time to try out the advanced rating system and gauge the quality of insights.
A 30-day refund is on par with many newsletters of its kind, so I wouldn't typically give extra points for including one.
That said, a month of unlimited access to the Power Pulse system could uncover even more opportunities than many alternative services.

>> Make the most out of Marc's guarantee <<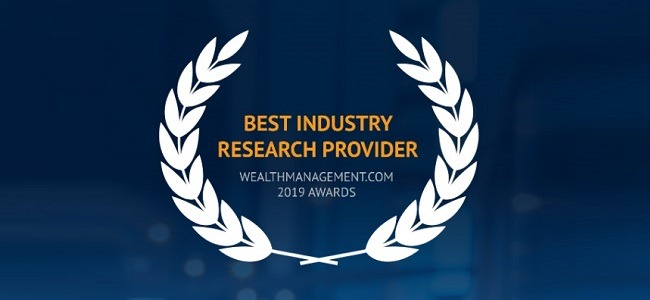 Is Chaikin Analytics Legit?
Chaikin Analytics is a legit publisher that's well known for its technical indicators.
Marc has been in the business for over 40 years and built a firm reputation as a trusted analyst.
Since its inception, this publisher has amassed an impressive catalog of services that could appeal to both novices and experts.
Few companies in the investment research space have their own software to help members find their own opportunities, so Chaikin Analytics has an edge here.
Power Gauge Report Pros and Cons
Chaikin Analytics and its entry-level newsletter are a powerful combination, but there are some drawbacks to consider.
Pros
Newsletter has a great price with 75% discount

Access to advanced ratings system for an entire year

Easy-to-use software

Focuses on a broad range of sectors

Trade ideas include mid to large-cap stocks
Cons
No community features

Doesn't include shorts or options
Power Gauge Report Pricing
An annual subscription to Power Gauge Report typically costs $199. However, Chaikin Analytics is currently running an introductory deal that drops the price tag by 75%.
This means that new members can join for just $49.
Even better, there are no trade-offs when opting to use the discount. Members receive everything mentioned in this review, including a full year of the newsletter and Power Pulse System.
All in all, this is a solid deal, especially when taking the 30-day refund period into account.
It's important to note, however, that this is an introductory deal.
The subscription will renew at $199 for the next year of service.
Is This Publisher Right for Me?
Chaikin Analytics' insights are best-suited for folks who prefer stock picks based on technical indicators.
The ratings system isn't the only metric the team uses to gauge the value of a stock. However, it's one of the first.
For the Power Gauge Report, recommendations target companies that could perform well within a six to twelve-month period.
So anyone searching for a combo of mid to long-term recommendations is in good company.
On the other side of the coin, this newsletter may not appeal to someone in the market for short-term plays.
Chaikin Analytics Review: Final Verdict
Chaikin Analytics is a great publisher, and its services are worth the price of admission.
The Power Gauge Report is one of the most accessible out of the lineup.
Given the introductory rate of $49 for the first year, stock picks, and access to its advanced ratings system, this suite could be a great place to test out the publisher's insights.
Plus, it's all backed by a 30-day refund window.
There's a little bit of a learning curve to understanding exactly how the Power Pulse system works. But the extra resources make it a lot easier to grasp.
All in all, Chaikin Analytics and Power Gauge Report provide quality analysis.
I recommend keeping an eye on both if you're in the market for solid insights and an easy-to-use stock-rating system.
>> That's it for my review. Sign up to Power Gauge Report TODAY <<