Stock investments are a great way to make some side income or pursue a full-time career. And having the right tools at your fingertips, like a stock screener, can help reach your financial goals. Keep reading our ChartMill review to find out if this stock screener has the power and features to take your trading to the next level.
Many companies on the web boast about having the best stock screeners, but the quality and number of features available vary dramatically.
So it's hard to jump right in and invest your time and money without little insight on which service is right for you.
Choosing is even more for day traders because these investors rely on accurate real-time data to guide their trades, which means they need the best stock screener to make smart stock decisions.
There are also free online stock screeners, but many of them aren't worth your time.
If you need to know which stock screener will help you succeed on the stock market, you're in luck.
Our ChartMill review covers the stock screener platform and gives you the rundown on everything the service has to offer, so you can decide if it fits your investment strategy and goals.
ChartMill Review: Overview
ChartMill.com is an online platform with powerful stock screeners, reports, and charting tools to help users get an edge on the market and maximize profits.
The trade research platform has an interesting system of using credits to access certain trading features and offers users a quick, efficient way to generate more trade ideas.
Each feature or tool has a specific credit value that must be paid in to perform a scan, view a chart, or even save a watch list.
The site awards 6000 free credits each month, which may be enough for new day traders to get their feet wet.
More experienced investors will want to pick up the premium subscription to access unlimited use of ChartMill's tools.
ChartMill Review: What Is ChartMill?
Predominantly a stock screening platform, ChartMill comes equipped with several tools that help point users in the direction of on and off-the-radar stocks that are set to take off.
It takes no more than a minute to create an account and get started.
The technical analysis website starts users off with 6,000 free credits each month and allows you to effortlessly filter stocks based on your own technical screening criteria.
There are tons of filtering options that cover areas such as volume, industry, and sector.
This makes it easy for traders to find the best stocks to trade through technical and fundamental analysis.
ChartMill even has its own rating system for more effective searches.
>> Already sold on ChartMill? Click HERE to sign up today! <<
ChartMill Review: What's Included with ChartMill?
ChartMill doesn't skimp when it comes to tools that can be used to discover the best investment opportunities.
The platform's services include:
Stock screener
Watchlists
Stock charts
Alerts
Analyzer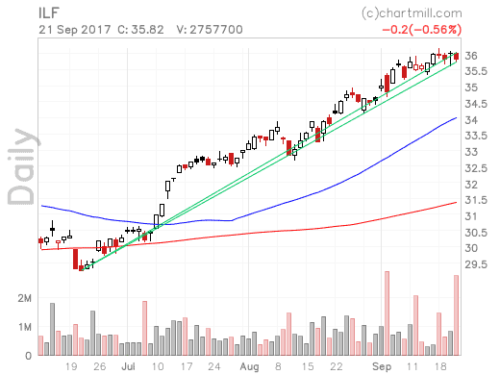 ChartMill Stock Screener Review
The ChartMill stock screener allows traders to search multiple markets, find stocks worth trading.
The stock screening tool gives users access to technical indicators and fundamental screens to dive as deep into the market as they desire.
These features are essential in locating those stocks that are ripe for growth.
A Good Stock Screener Uses Sophisticated Technical Indicators
ChartMill's technical analysis filters look at things like volume increase, volatility, candlesticks, and trending stock data.
Fundamental analysis filters track more qualitative data such as revenue growth, price, operating margin, and other filters specific to ChartMill.
Within the ChartMill stock screener, traders can even create custom filters based on any available stock property.
Also, ChartMill makes it easy to save screener configurations so users can access them quickly next time.
Without a premium subscription, these screens can rapidly eat through credits.
ChartMill Watchlists Review
The watchlist ties all of ChartMill's features together.
This software tool allows traders to earmark their favorite stocks and revisit them at any time.
Watchlists can be customized with alerts or indicators, so traders are immediately alerted to significant changes in value, which is especially useful for swing trading.
Thanks to these alerts, investors can keep a close eye on volatile stocks without having to stare at the website all day.
ChartMill even provides daily watchlists on stocks that are seeing strong breakouts or huge drops.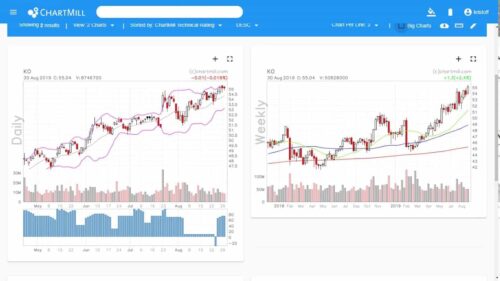 ChartMill Stock Charts Review
When day traders want to track the performance of a stock over a specific time interval, ChartMill charts is the place to go.
A trader can see how the price of a stock has changed over the course of a day, week, or even the past month.
There are several chart options, including line, bar, and candlesticks, to monitor stock value.
Investors are not limited to just one chart per screen.
Whether running basic or advanced charts, users can view multiple charts side by side for comparison.
More on ChartMill Stock Charts
It's simple to use technical indicators to filter chart screens, allowing users to focus on specific trade data.
There is a long list of technical indicators to choose from and no limit to the amount that can be added to a chart.
It's even possible to pull in watch lists for viewing pertinent stock trading data at a glance.
Here, as with the stock screener, traders can save a chart configuration for easy viewing in the future.
Viewing charts uses credits and can deplete a trader's supply quickly.
Fortunately, the premium subscription allows for unlimited charting.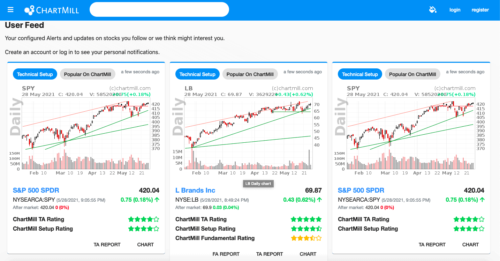 ChartMill Alerts Review
Traders can place alerts right into watch lists or on charts they've created.
Alerts can be put in place for price, condition, or by setup.
When an alert is triggered, traders can be notified through a pop-up, email notification, or even by audio alert.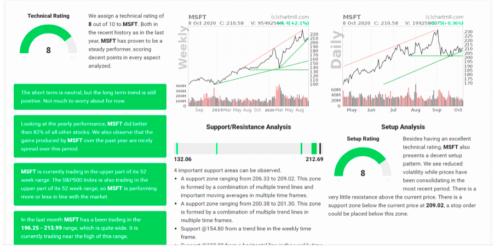 ChartMill Analyzer Review
One reason why ChartMill stands out as a great stock screener is because of its stock analyzer.
This is a beefy tool that traders can use to view a comprehensive amount of information on the stock of their choice.
The tool gives a detailed list of both fundamental and technical information through a series of reports and charts.
Why ChartMill Analyzer Makes It an Innovative Web Platform
This information is updated every day by the team at ChartMill, so this research can be used to develop a solid investment strategy.
At the top of the site, ChartMill shows a list of stocks that could potentially see huge gains.
Each one can be selected to bring up a full report for that particular stock.
ChartMill's Rating System Is a Step Beyond Most Stock Screeners
The ChartMill value indicator assigns each stock a technical rating value (out of 10) with a summary explaining why the rating was given.
For example, stocks that are higher risk will show lower numbers.
Traders will also find graphs that document support, resistance, and setup analysis.
Jumping over to a fundamental analysis reveals a fundamental score and an explanation summary of the rating.
The fundamental analysis then breaks down this score into components such as profitability and growth, so it offers an easy way to understand and compile market data.
Running a Report with ChartMill Costs Credits
Just one report takes a serious amount of credits, so users without a paid subscription account will want to think carefully before using this service.
>> Like all that ChartMill has to offer? Click here to sign up for an account NOW! <<
Is ChartMill Legit?
ChartMill is a legitimate platform and offers several free services for users to check out.
The platform is not a trading service, so your brokerage account and financial account information aren't at risk of being compromised.
Is ChartMill Reliable?
ChartMill's analyzer uses a software algorithm to search stocks and provide each user with trade ideas for investments.
The platform has even developed its own rating system with a detailed explanation of each score.
These ratings allow you to effortlessly locate stocks with significant profit potential and which ones to stay away from.
ChartMill offers detailed reasons for each score to further back up assessments.
ChartMill Cancellation Policy
ChartMill makes it easy to cancel at any time by terminating your recurring payments.
At the end of your billing cycle, the service will revert to the free model, where you will receive 6,000 credits to use each month.
The company does make it clear that there are no refunds for its services.
How Much Does ChartMill Cost?
ChartMill has a unique model where each action a user takes costs a certain amount of credits.
For example, creating a basic watch list costs ten credits.
The site gives day traders 6,000 free credits to use each month, but the only downside is that these credits do not last long.
The average trade report costs 500, so those credits add up fast, which is why you might want to upgrade from a free account.
While you can buy 10,000 extra credits for $10, there's limited value in doing so when you can opt for the premium service instead.
ChartMill Premium Service
Instead, ChartMill has a premium subscription that does away with the credit system altogether.
Within the premium service, investors receive unlimited access to all the site's tools.
This includes stock screeners, technical and fundamental stock reports, watchlists, saved settings, charting, and everything else ChartMill has to offer.
Premium users will also be able to use ChartMill's features without dealing with annoying advertisements.
ChartMill Pricing Options
There are two account options for the premium subscription.
A monthly membership costs $29.97 per month and is prepaid.
Alternatively, investors can enroll in a yearly subscription for $259.97 per year, or an average of $21.66 per month.
At the end of the day, this is the best value at 28% off the monthly rate.
>> Ready to sign up for a ChartMill account? Just click HERE to sign up NOW! <<
ChartMill Review: Pros and Cons
Several features make ChartMill stand out as a service and a top contender for the best stock screener on the market.
Here we look at what the company does well and some areas it can improve on.
ChartMill Pros
Detailed and powerful built-in stock screener
Several filter options for screeners and charts
The platform's sleek interface helps traders effortlessly track financial metrics, economic indicators, financial reports, custom metrics, chart patterns, technical criteria, historical data, and much more
Affordable premium subscription allows unlimited platform use and stock screening, including technical screens
Live trading room available to share trade ideas with other investors
Search through over 6,000 different stocks
6,000 free credits each month
All information saved online
Ability to save screens and charts
Multitudes of technical indicators for reporting
ChartMill value indicator helps find breakout stocks
Settings are kept online and accessible from anywhere
Covers U.S. and Euronext markets
Several customizable settings
ChartMill Cons
Free monthly credits can run out quickly
No mobile app
Quote data is delayed by 15 minutes
ChartMill Review: Is ChartMill Right for Me?
The service shines for day and swing traders looking to get a one-up on their investments.
A user who is just beginning to trade can use the credit system to start as slowly or quickly as they want to.
Most investors will want the premium version of the ChartMill that offers full platform functionality.
Unlimited access to the analyzer, stock screener, and charts for a more than reasonable monthly fee gives these traders all the flexibility they need to succeed.
ChartMill Reviews by Members
Here are a few recent reviews from members:
Interesting explanation of setups and ease of use, most screeners don't explain much whereas ChartMill I feel has the potential to be a great tool. – Mike, on Facebook
Another ChartMill stock screener review reads:
Great tool, with some really helpful applications and different criteria, that, in my opinion, could be a little more customizable. For example the market cap, it would be great if one could input a number, and it was filtered by this number, instead of the dropdown list – Henrik, on Trustpilot
Final Review: Is ChartMill Worth It?
At under $22 per month, you'll be hard-pressed to find a reason not to sign up.
ChartMill's tools, coupled with the site's easy accessibility, make it a game-changer in the stock scanner space.
The wide range of filters and customization options allow you to make the platform your own, which is why this stock screener is ideal for day trading.
The service also offers novice traders a good place to start looking for smart trades on the stock market.
Better yet, ChartMill takes a lot of the guesswork out of hunting for that ideal stock by providing top-tier stock screening at a reasonable price.
Also, the ChartMill value indicator is an exceptional tool for finding breakout stocks.
So if you are in the market for a solid stock screener, you can always start with the free plan and move forward from there.
>> Ready to sign up for this game-changing stock screener service? Just click HERE to get started with ChartMill! <<