Regarding financial investing, few of us have time to crunch data for hours on end, looking for upward trends and potential breakouts. We also don't have time to investigate each and every stock reporting site out there.
Fortunately, The Stock Dork steps in to review these services, so you don't have to.
This EquitySet review of the stock report site will tell you everything you need to know about the platform.

EquitySet Review: Overview
EquitySet is the brainchild of FinTech software and is based out of Chicago, Illinois. FinTech, focusing on the financial sector, has several well-received software programs to help businesses achieve their goals.
EquitySet was created to provide a completely unbiased and independent framework for detailed stock analysis. The team constantly works to adjust metrics and align data to share accurate stock information that is beneficial to their member base.
How Does the EquitySet Platform Work?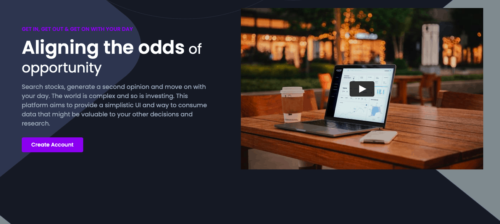 EquitySet aims to be a platform that aids its users in making intelligent stock choices that increase the value of their portfolios.
EquitySet's goal is to predict patterns of success in publicly traded companies with a focus on quantitative data. These patterns, combined with known risk factors in the investment world, are used to generate insights and recommendations that aim to provide high rewards with low risk.
Traders will get the most out of this platform by using it as a second opinion for potential investments. EquitySet is not meant to consume a trader's day with heavy analysis and an overwhelming amount of data. Instead, it's a place to confirm a hunch to give traders the push they need to make an informed investment.
>> Already sold on EquitySet? Click HERE to sign up for an account NOW! <<
Is EquitySet Legit?
While EquitySet is a relatively new platform for stock information, they have their sights set high at being a simple yet meaningful user interface. Parent company FinTech is well-grounded and has produced many successful financial software programs to date.
EquitySet does not have access to any of your brokerage or other financial information and is set up to serve as an additional source to use when studying market information. Since your investment account information doesn't go anywhere near EquitySet, you can rest assured there is no risk to any of your accounts.
Equityset Review: What You Get with EquitySet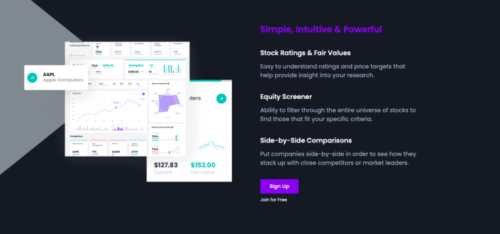 EquitySet has two tiers of service for traders to pick from. A large portion of the platform is available for no cost, while more comprehensive data and the newest features are available to premium subscribers.
EquitySet Free
Completely free to sign up for and use, the EquitySet Free Tier provides a solid introduction into all that EquitySet has to offer. The following features are available from the moment an account is created:
14-day Premium ratings and price targets free trial
3500+ stock reports
Side-by-side comparisons
Sector & market insights
Screener
Watchlist
14-day Premium Ratings and Price Targets Free Trial
By signing up for a free account, members are given access to ratings and price targets. No credit card is required for this free trial. Although these are premium features, other benefits of the premium tier remain unavailable until an account is upgraded.
At the end of the 14-day free access, the account remains active at the free tier, but users will lose the ability to use ratings and price targets.
3500+ Stock Reports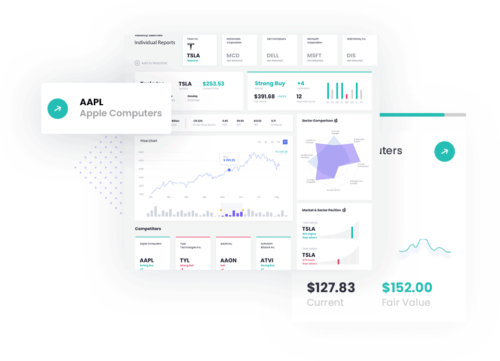 EquitySet's Free Tier provides reports on over 3500 stocks. Although there are many more stocks out there, this is quite generous, considering this is an entirely free plan to use.
Side-by-Side Comparisons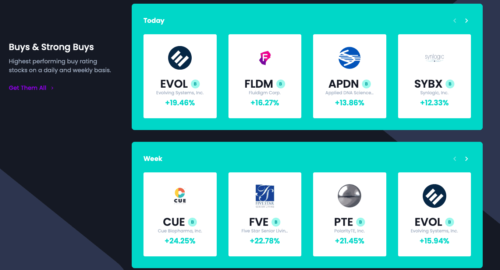 Once a user account is set up, it's easy to dive in and start perusing stock report data. With thousands of stocks to choose from, there's a huge benefit to comparing stocks side-by-side to see how they are faring over the same time frame.
Sector & Market Insights
In this section, members can choose from several categories like communications, healthcare, and transportation to see how stocks are performing at a glance in a specific sector.
When choosing a particular area of the market, EquitySet provides information on the biggest gainers and the biggest losers over the last 30 days.
This information can be expanded for each specific stock to help users make strategic investment decisions.
This is a great overview for free users. That being said, the best features within Sector and Market Insights are reserved for Premium users.
Screener
Another standout feature available to even free users is the Equity Scanner. While EquitySet's stock ratings and fair value information are only for those in the Premium Plan, the scanner lets users dig into individual stock data.
It's possible to view how a stock has performed for up to the last two years and how it fares in areas such as sustainable growth and financial strength.
Watchlist
EquitySet also allows users to create a watchlist of up to ten stocks and save them for future analysis. The watchlist provides stock insights and breakout information right on the main watchlist page.
>> Like everything EquitySet has to offer? Click here to sign up for an account TODAY! <<
EquitySet Premium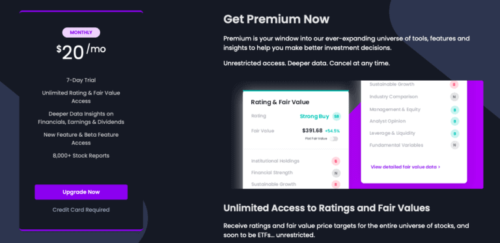 The EquitySet Premium Plan takes everything that the Free Tier offers and significantly adds to its feature set. It also substantially increases the number of stock reports available for members to review. Here's a list of what the Premium Tier adds to the mix:
8000+ stock reports
7-day free trial
Unlimited rating and fair value access
More data insights
Access to new features
8000+ Stock Reports
EquitySet's Premium Tier shines with well over 8000 different stock reports on the site for viewing and analysis. This is more than double what's available in the free tier.
7 Day Free Trial
Taking the plunge into the Premium Plan is seemingly safe, thanks to the site's 7-day free trial. Although subscribers do need to enter credit card data, the entire website is available to explore for a whole week at no cost.
Users can cancel at any time during the trial with no cost owing.
Unlimited Rating and Fair Value Access
With this Premium Plan, traders will receive complete and unlimited access to stock ratings and fair value price targets across the entire universe of stocks. In the very near future, EquitySet will be rolling out a similar feature with unrestricted access to ETFs.
More Data Insights
Users can check out historical data and individual insights on stocks across the board.
Among these data insights, investors are able to view precisely how dividends have fared over the last five years. This information, coupled with consistency metrics and tools, may help you decide if a particular dividend stock is the right investment or not.
Furthermore, this information contains a plethora of financial data in the form of balance sheets, income statements, and cash flow metrics and comparisons.
The Premium Tier lets traders run earnings comparisons for the last four years or the last four quarters, as well. These comparisons also provide stock price performance and assessments.
Access to New Features
As new features roll out on EquitySet, they always appear to Premium users first. In addition to using the features to aid any portfolio, users will also be able to test out the beta releases and provide feedback directly to EquitySet.
This feedback helps shape current and future products so that EquitySet can provide users with the tools and data they want the most.
>> Ready to get started with EquitySet Premium? Click HERE to get started NOW! <<
EquitySet Cancellation Policy
Should you decide to cancel your Premium membership with EquitySet, you can do so by logging into your account and heading to the "Billing" section.
Canceling the Premium Tier during the 7-day free trial will result in your account reverting to the Free Tier after the trial is over.
If you've been using the Premium Tier for longer than a week, you will remain at that tier for the remainder of your paid month then your account will switch to the Free Tier.
How Much Does EquitySet Cost?
It should come as no surprise that EquitySet's Free Tier is completely free to use. There's not even a credit card required to set up an account. EquitySet makes it clear they want people to try out their service and leaves their Free Tier available for everyone to do so.
Upgrading to EquitySet's Premium Tier unlocks all the features the site offers. This plan does have a recurring $20 monthly fee, paid via credit card.
Equity Set Review: Pros and Cons
EquitySet has built up a solid foundation in a short time that's available for free. Premium features expand on the free tier with numerous useful features. As they plan to keep adding new features, there are currently a few things the platform is lacking.
EquitySet Pros
Offers two tiers of service, one of which is completely free to use
Stock information is easily accessible
Access to over 8000 different stock reports
Equity screener
Can create watchlists
A multitude of data insights available
EquitySet Cons
Information is not as in-depth as other platforms
ETF information not yet implemented
Is EquitySet Right for Me?
EquitySet seems to be a solid pick for anyone who needs a source for stock information to make informed decisions on their next investment.
With a loaded free tier, even a brand new trader may be able to use the site to help confirm or deny suspicions on a stock that may be on the verge of breaking out. This holds true whether trading is a part-time or a full-time venture.
More advanced traders could also benefit from using the site as a second opinion on potential stock picks. The premium plan will allow knowledgeable traders to discover an even bigger wealth of reports and information.
Expert traders who have been in the business for a long time may not find enough here to immediately benefit from. However, EquitySet encourages feedback through their Premium Tier, so traders can provide content ideas that will ultimately shape the company moving forward.
EquitySet Reviews from Users
While no reviews exist yet for EquitySet, parent company FinTech receives praise for their other software tools. If this is any indication, EquitySet may just see itself with similar reviews in the near future.
Equityset Review: Is It Worth It?
In the investment world, many platforms are cumbersome and difficult for new or experienced traders to use. EquitySet seems to be a simple yet effective user interface designed to provide the information you need with a click or two.
It is not meant to be a stand-alone service but rather a compliment to whatever other tools you may be using to discover the latest stock picks. The service relies heavily on actual data to provide metrics and insights on stocks that are hot and those that are not.
The Free Tier alone makes it worthwhile to give EquitySet a try. The platform has purposely buffed up its free offerings so users can get a good taste for how the service could help them make beneficial financial investments.
The Premium Tier adds to the number of available features and provides traders an opportunity to shape the platform in a way that will benefit them the most.
>> Ready to make the most out of your trades with the help of EquitySet? Click HERE to sign up NOW! <<