Follow our FranShares review to learn everything you need about this fractional franchise investment platform.
FranShares is redefining franchise investing by allowing everyday folks to buy into fractional shares of franchises.
This fresh approach offers the opportunity to make passive income while dodging the downsides of traditional franchise investment.
Even better, the platform is open to all investors, regardless of status.
But is FranShares a legit alternative to full franchise ownership?
We're going to review FranShares to find out.
FranShares is a Chicago-based startup that will be the first investing platform to offer fractional ownership of franchises to any investor.
This franchise investing platform was created to be a new asset class that allows investors to profit within a market worth around $750 billion.
Founded in 2020, the new franchise investment platform currently has a waitlist for interested investors, including accredited and non-accredited candidates.
Once the FranShares App formally launches in 2022, investors have the potential to generate passive income through its offerings.
The platform comes with one funding option, but it plans to add more down the road.
All available franchises are managed and operated by FranShares.
>> Already sold on Franshares? Click here to join the waitlist now! <<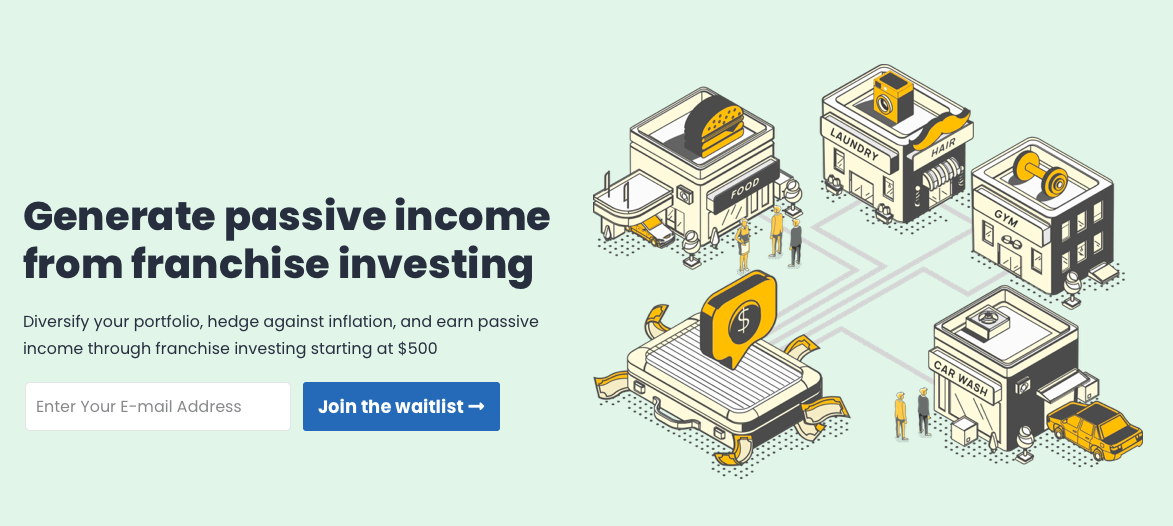 FranShares is owned by Kenny Rose, a former financial advisor at Merrill Lynch, who regularly advised high-net-worth individuals and has previous experience in the franchise world.
Previously, Rose worked with FranNet, which is regarded as the world's largest franchise brokerage.
He also acts as the CEO of his own franchise brokerage, Semfia, which he founded in 2017.
Rose founded FranShares after seeing first-hand how lucrative franchise ownership can be.
Since then, he has become a trusted franchise broker and educator within the franchise world.
He's even been featured on ABC, Business Insider, and Forbes.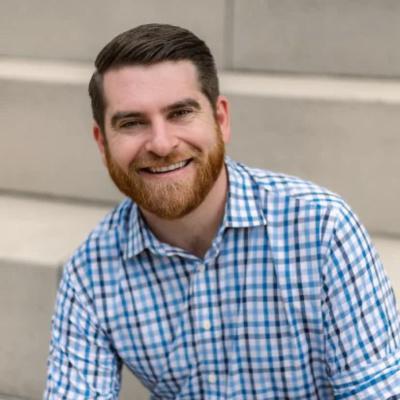 FranShares is a legitimate company that's affiliated with a registered broker-dealer, Templum Inc.
Its offerings are covered by the Securities and Exchange Commission (SEC) via SEC Regulation A+, Tier 1.
All A+ offerings are registered within the SEC and are subject to financial disclosure requirements.
FranShares fully manages all franchisees, and its franchises are regulated by the Federal Trade Commission (FTC), which requires standardized reporting for each offering.
Included in that reporting are full startup costs and the expected financial performance of the franchises involved.
>> Ready to join? Click here! <<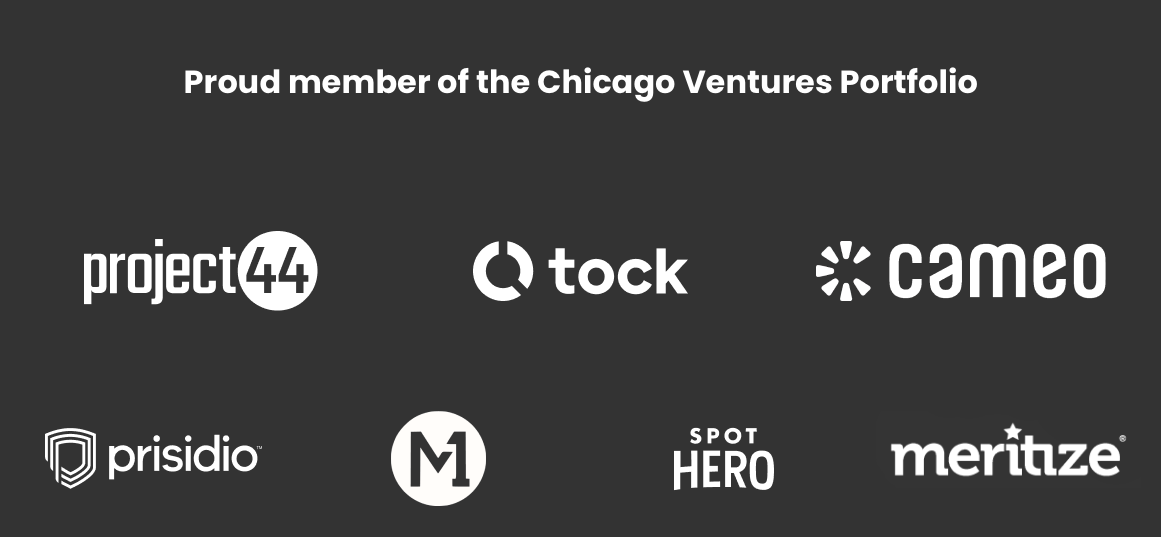 Franchising has several advantages, like inflation resistance, attractive yields, and improved brand recognition.
And FranShares lets investors tap into these benefits while removing many of the drawbacks of traditional franchise ownership.
For one, franchise investing has a lot of upfront costs, and owners are typically required to have more than one million dollars in additional liquid assets, as well as $100,000 for the cash outlay of the investment.
A cash outlay also includes licensing costs, real estate, fees, and materials.
This doesn't even take into consideration how much time is required to run a franchise successfully.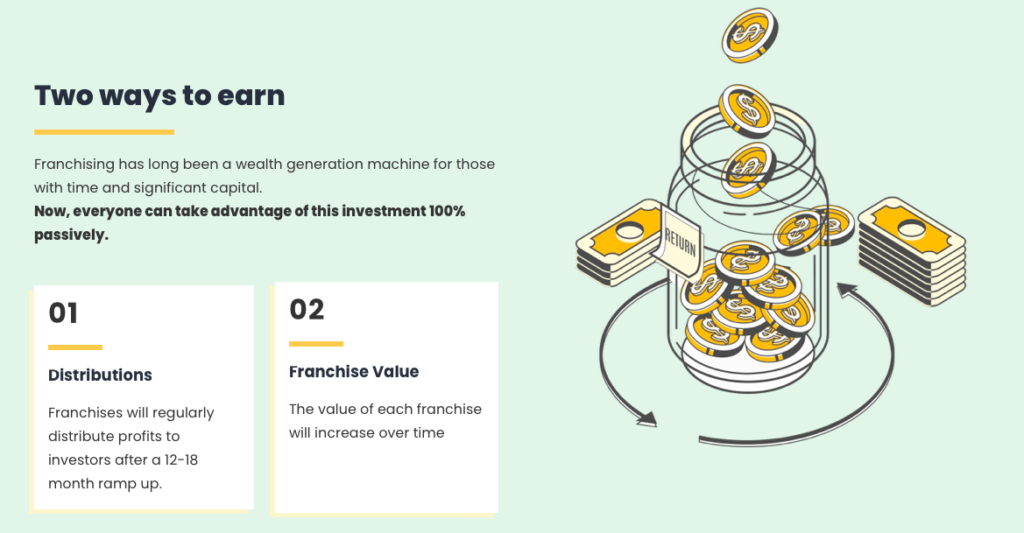 Fractional Franchise Ownership Made Easy
FranShares essentially partners with investors, taking on around 20% of the costs while holding 20% ownership and completely managing the selection of specific franchises and locations.
Retailer investors pool money together to create a fund that the investment platform manages entirely.
FranShares then directly or indirectly purchases the franchises before operating them.
Investors in and outside of the United States can purchase franchises on the platform, acquiring fractional ownership in a diversified franchise portfolio.
This will provide you with income via dividends, and these ongoing dividend payments are distributed every month or quarter.
FranShares investors also benefit from appreciation as the franchise's value rises.
Once franchises are sold, investors will receive their payments.
FranShares is not a crowdfunding platform that pairs investors with franchise owners needing funding.
Instead, it assumes complete control of franchise management and operations before selling at the appropriate time.
Essentially, FranShares operates like a private equity firm.
Liquidity
FranShares plans on offering a secondary market for investors, but it's unclear when this will roll out.
Until then, you should be prepared to hold a position for around five or more years.
>> Ready to get started with fractional franchise ownership? Just click HERE! <<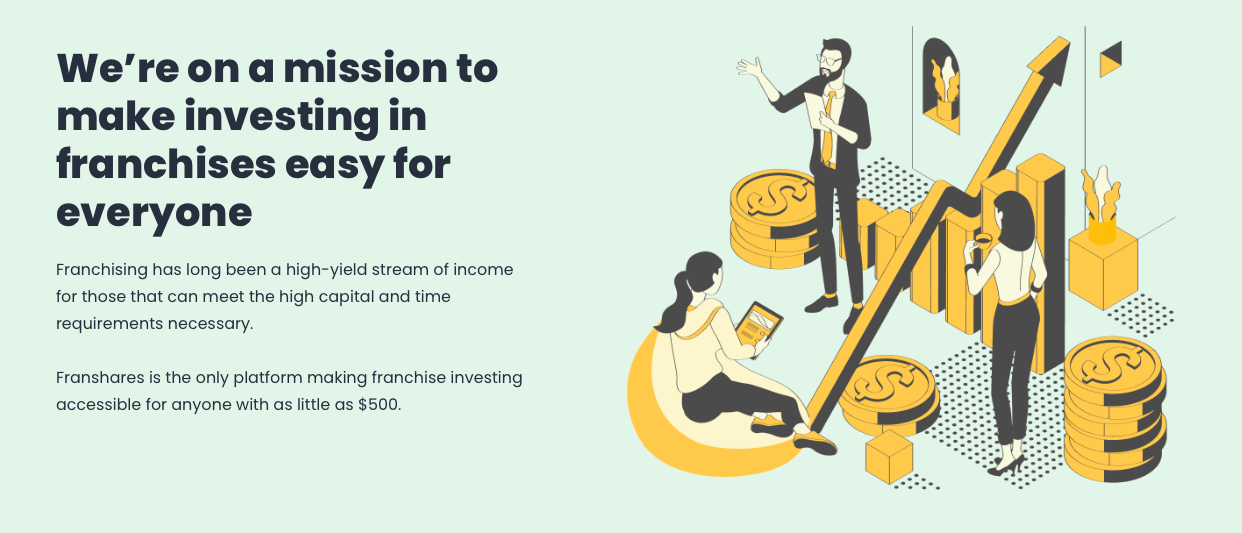 Minimum Investment
The minimum investment to begin acquiring fractional franchise shares is $500 for 500 shares.
All FranShares investors will receive Class B non-voting common stock within a corporation based in Delaware, with an initial offering price of $1.
The initial FranShares fund offering aims to reach a total of $20 million.
The $500 minimum investment figure is favorable for smaller investors who are typically priced out of the market.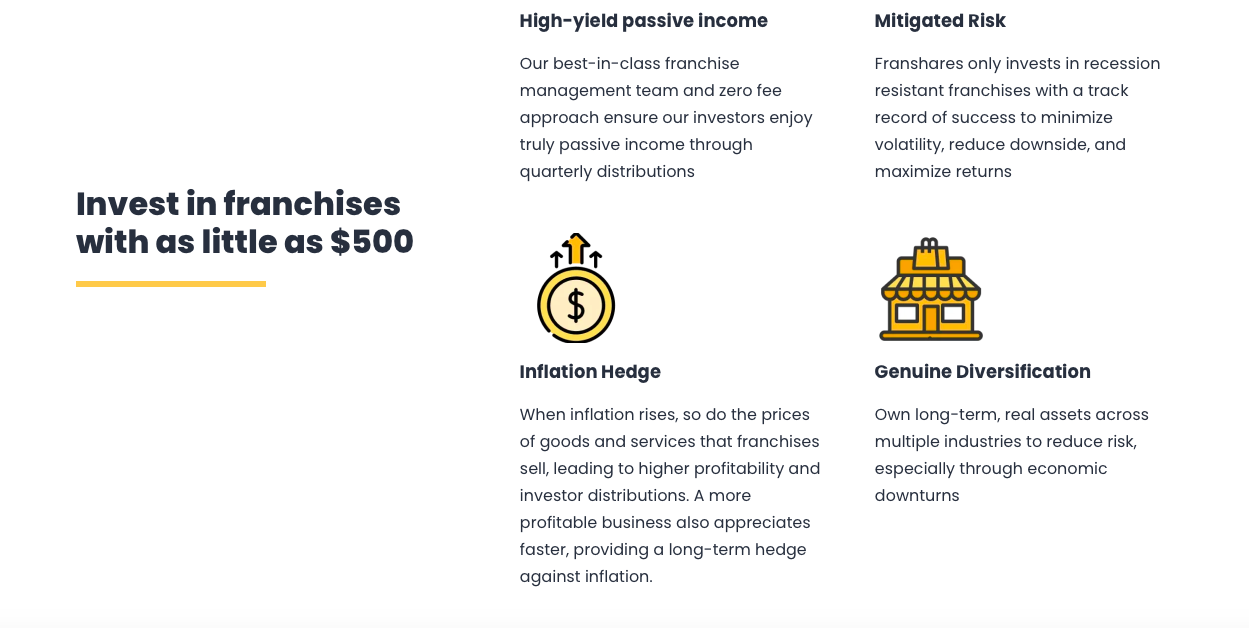 FranShares does not charge direct fees to its investors or charge any asset management fees during its initial funding.
Instead, FranShares partners with its investors, putting up 20% of total costs for 20% ownership.
It receives distributions at the same time that investors do.
Once the full $20 million in its initial offering is raised, FranShares will acquire 5,000 shares of Class A voting stock to make up 20% of total shares.
Then the investment platform receives proportionate shares of any future franchise sales, earning brokerage commissions from the franchisor during the sale.
This model ensures that FranShares is invested in your success, as it requires its listed franchises to turn a profit.
You won't need to be worried about the company fleecing you with a slow drip of fees while your money sits around and does nothing.
>> Sold on FranShares? Click here to join the waitlist now! <<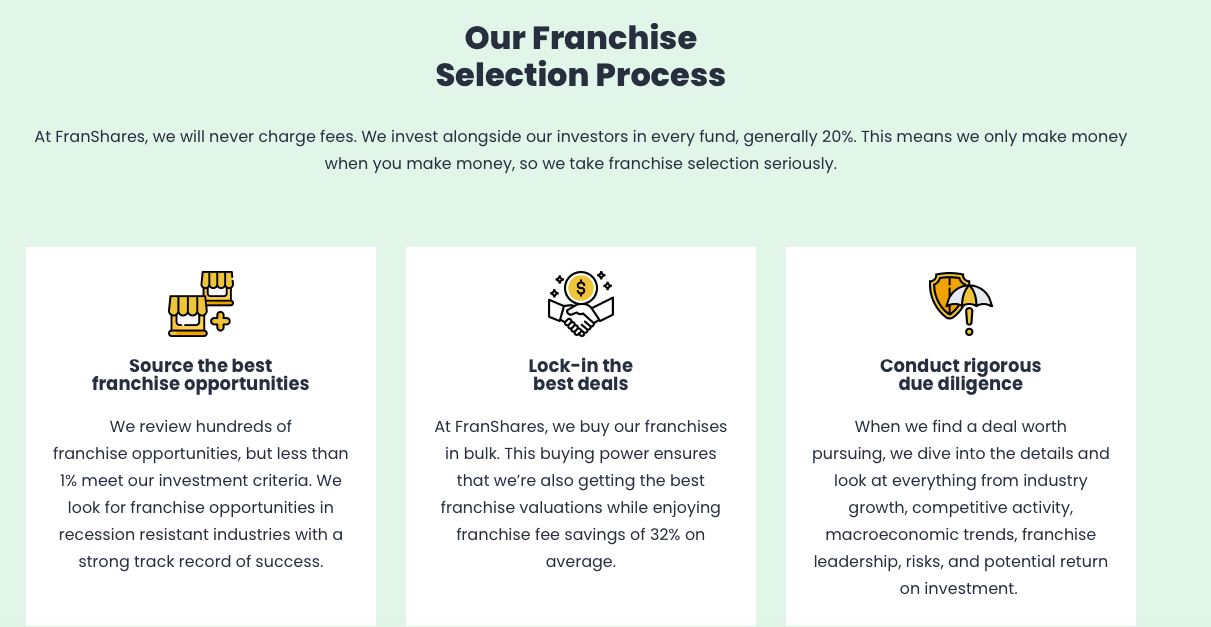 Flexible Capital Commitment

Professional Management

Fully Vetted Franchises

Transparency and Reporting

Zero Fees
Flexible Capital Commitment
FranShares creates multiple portfolios of franchise locations in different industries for portfolio diversification.
Once investors are ready, they get ownership in all of the franchises.
Accredited and non-accredited investors can capitalize on the low minimum investment.
Opportunities are available for investors outside of the US, without country restrictions.
With its approach to franchising, FranShares aims to attract regular investors and high net worth individuals.
Professional Management
As co-owners and stakeholders in FranShares' investment portfolios, the franchise investing entity assumes all management responsibilities for every franchise location they run.
Locations are operated by professional management teams who are experts at creating successful opportunities for each franchise brand they work with.
So FranShares investors can enjoy returns on their investments without having to assume the full responsibilities of owning a franchise.
It's this hands off-approach that's going to appeal to many investors.
Plus, investors have the opportunity to capitalize on alternative investments like franchise investments that perform better at higher scales.
More locations mean a higher purchasing power for investors, with management and employees shared across different locations.
>> Join the waitlist today and be on your way to easy fractional franchise investing! <<

Fully Vetted Franchises
FranShares performs thorough due diligence on all franchise opportunities, fully vetting each franchise in every portfolio and accepting franchises with strong brand recognition and a viable track record.
During the vetting process, FranShares uses various criteria to decide which franchises to acquire, including:
Return on Investment (ROI)

– FranShares avoids franchises with high buildout costs, employee headcount, and inventory to improve ROI potential.

Growth

– The investment platform examines annual location returns, looking at the number of franchises and growth per location store sales to confirm brand growth.

Availability

– FranShares seeks growing franchise brands with availability for different locations in promising markets.

Leadership

– All franchisors must disclose their executive leadership as the platform looks for experienced teams based on their success within the franchise world.

Sustainability

– FranShares works to find potential franchises that offer essential services with promising long-term outlooks.

Competitive Advantages

– FranShares doesn't focus on successfully building new industries but on consolidating and legitimizing existing ones, examining competitors in various sectors, and establishing their competitive advantages to boost market share.

Manageability

– FranShares focuses on semi-absentee franchise models run by managers but with smaller employee headcounts and easier operations. The platform also adds an extra management layer typically not included in semi-absentee franchise models.

Pandemic and Recession Resistance

– FranShares looks for franchises that display a strong past performance in handling harsh economic conditions. They prefer recessions-resistant franchises that have shown financial strength in previous COVID-19 lockdowns.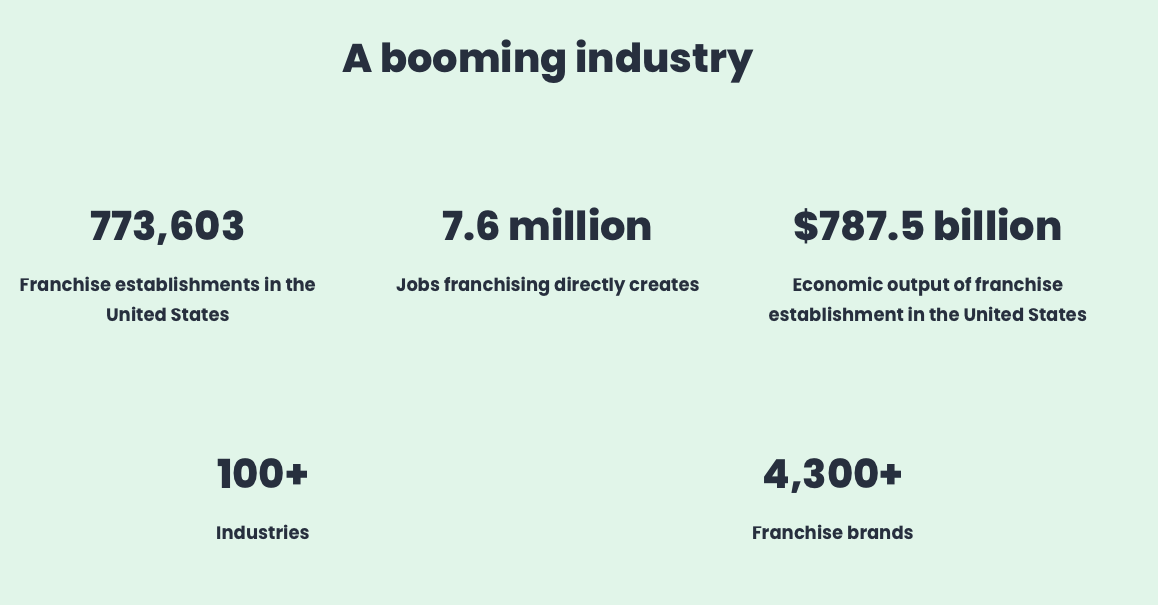 Transparency and Reporting
All franchising is regulated by the Financial Trade Commission to offer full transparency.
Thanks to FTC regulations, all franchises must disclose their full itemized startup costs.
And franchises have to disclose the Financial Performance Representation (FPR) of their locations.
The FPR includes gross revenue, net profit, or number of customers.
FranShares does not charge fees for using its services.
By buying a 20% stake in each Franchise, it can still make money without taking on extra fees.
This is a very fair structure, and a breath of fresh air compared to services that nickel and dime you with hidden fees.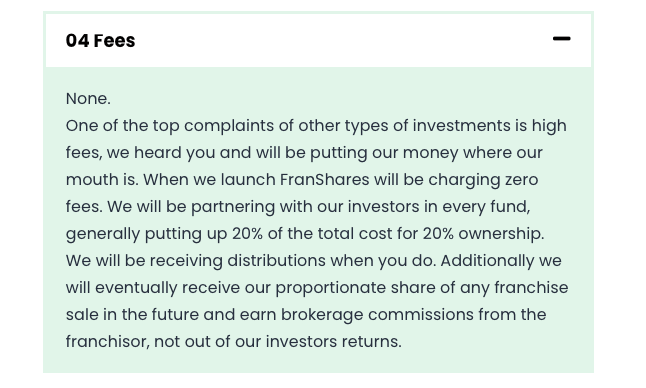 >> Like all that Franshares has to offer? Click here to join the waitlist now! <<
Because FranShares hasn't launched its services, there's no historical data to suggest what your possible ROI could be.
Even when we have more data, it's important to remember that past events do not promise future results.
Every investment comes with risk, and FranShares is no different.
That being said, its team targets franchises with high growth potential and lower operating costs to maximize passive income.
We found a lot to like with FranShares, but there are some places the service could improve on.
Take a look at the pros and cons.
Pros
Passive income stream

Low investment minimum of $500

Open to all investors

Investors on the platform can use a self-directed IRA or a 401(k)

The upcoming secondary marketplace provides members with the opportunity to cash in on the total cost of their shares early

Effortless route to tapping into alternative investments
Cons
New platform with a limited track record

Target returns are not clearly outlined
Because FranShares has launched its service, there are no reviews on third-party sites.
Once this changes, we'll make sure to keep you up to date.
We checked out FranShares' page on Crunchbase, and it looks like traffic and interest in the service are ratcheting up.

With this much interest, we won't be surprised if third-party reviews roll in soon after launch.
For now, we can say that we're impressed with everything the service is setting out to do.
FranShares is a great platform for franchise investing. It comes with a competitive minimum investment, making the service very accessible for accredited and non-accredited investors alike.
Plus, the FranShares team and app does all the due diligence work for you so you can focus exclusively on their other investments.
For now, FranShares is the first and only of its kind, so if you want to add franchises to your investment portfolio, you might want to give FranShares a shot.
Even if there were other competitors on the market, they'd be hard-pressed to offer a fairer pricing model.
>> Get started with fractional franchise investing TODAY! Join the waitlist NOW! <<