The FTMO proprietary trading firm is a leader in the prop trading space — and for good reason. It has a reputation for finding and creating some of the most talented prop traders. If you want to become a member, read our FTMO review for a full breakdown of everything this firm has to offer.
Known as one of the best proprietary trading firms, FTMO lets folks trade various instruments, like forex, stocks, cryptocurrency, bonds, and more.
A major draw to this firm is a very competitive profit split (up to 90/10), which has attracted top-tier investors and forex traders from all over.
But is being an FTMO trader worth it? Check out our FTMO trading review to find out.
Let's start by answering what is FTMO.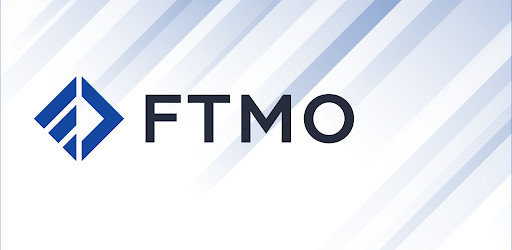 What Is FTMO?
Founded in 2014 by owner Otakar Suffner, FTMO is a prop trading firm based in the Czech Republic, specifically the Czech capital of Prague.
Its primary goal is to identify and support profitable traders through training and funded accounts.
Unlike many prop firms out there, FTMO gives investors the freedom to trade a variety of instruments on its list of approved trading platforms, including:
Forex

Indices

Commodities

Stocks

Crypto
So whether you are a forex trader or prefer the stock market, there's a place for you here. It's this freedom and the firm's rigorous entrance and mentor programs that have earned it such high accolades.
The FTMO company has grown exponentially since its international launch, winning several plaudits within the financial world, including the Deloitte Rising Star award in 2019 and 2020.
>> Already sold on FTMO? Click here to get started today! <<
FTMO Review: How Does It Work?
FTMO works as a proprietary trading firm that facilitates forex market investments and helps new traders and established ones optimize their trading strategies.
Users can trade forex, stocks, crypto, and more by using these platforms:
cTrader

Meta Trader 4 (MT4)

Meta Trader 5 (MT5)
cTrader can be downloaded using a mobile app via Google Store or Apple Play Store, while the MT4 and MT5 platforms are available to download using desktop computers.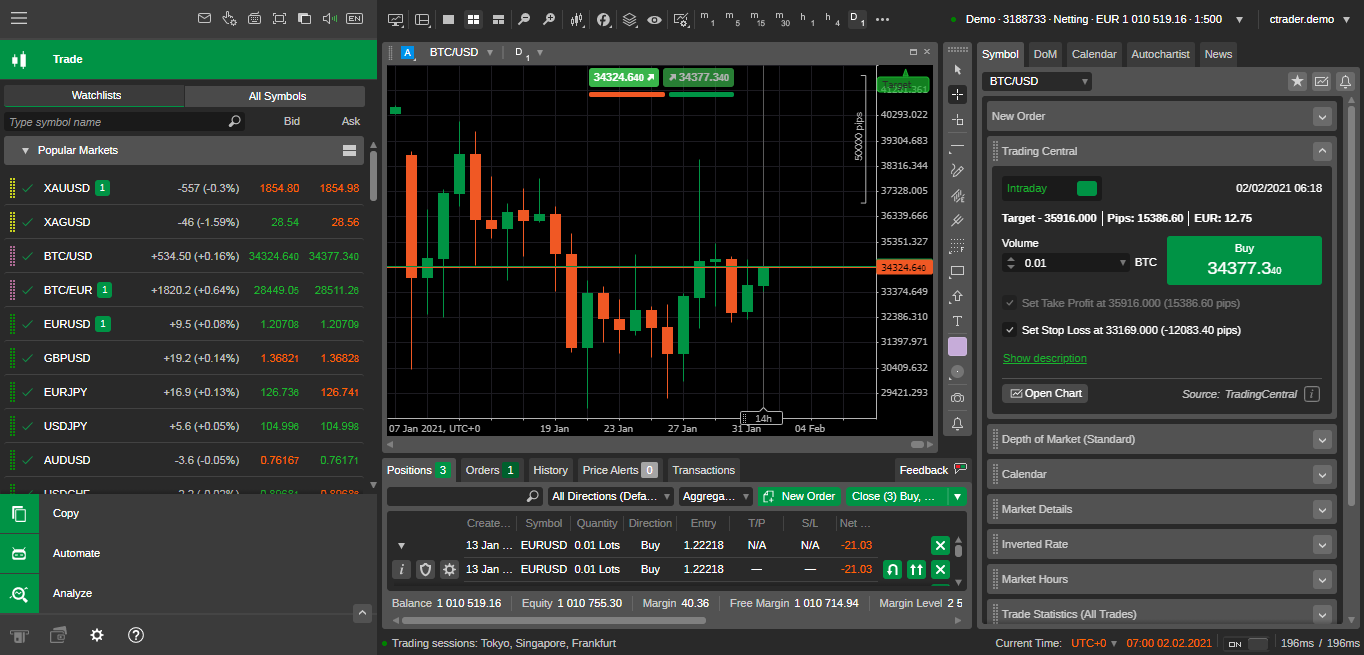 FTMO provides up to $2 million of trading capital to traders that can pass its FTMO Challenge and Verification.
The firm goes out of its way to find profitable traders. It supports them with a suite of trading tools and mentoring to help them improve their performance in the financial markets.
It has a two-step Evaluation Course that verifies the qualifications and skills of a prospective forex trader or investor. Successful traders can then invest professionally with FTMO's prop trading firm through trading accounts.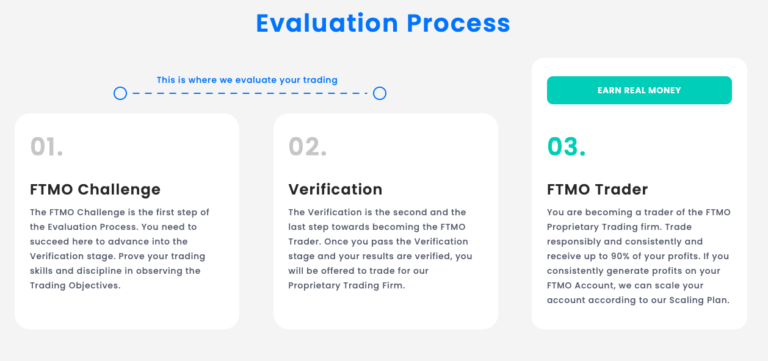 >> Ready to start trading with FTMO? Just click HERE! <<
FTMO Funded Accounts
After passing the two-step Evaluation Course, FTMO traders can remotely manage up to $2 million with a leverage of up to 1:100. But the most you can start with is $200,000.
Each FTMO account is connected to the prop trading firm's live trading account with real capital. Account types are broken down into two risk levels: Normal and Aggressive.
The Aggressive Risk accounts cost more than the Normal Risk accounts, but they also allow for more drawdown before losing your account.
Additionally, there are FTMO accounts for swing traders, where you are allowed to hold trades overnight and throughout the weekend without requiring permission.
The leverage drops to 1:30.
If you want to hold a position over the weekend on a standard FTMO account, you'll need to get clearance from the firm.
Can You Hedge on FTMO?
As FTMO states, "Your trading style is completely up to you. We have no reasons for limiting or restricting your trading strategy, whether it's discretionary trading, hedging, algorithmic trading, EAs, etc."
This means that hedging is on the table.
Many prop firms are very restrictive when it comes to what and how you can trade, so this is certainly a plus in FTMO's favor.
How Does FTMO Make Money?
FTMO generates the cash flow, and if you generate profits, the firm keeps 10% or 20% of the earnings.
The profit split depends on the account that you have with FTMO.
The fee you pay to take the Evaluation Course is refunded upon successful completion, so they only keep it if you do not pass. This is par for the course with most prop firms.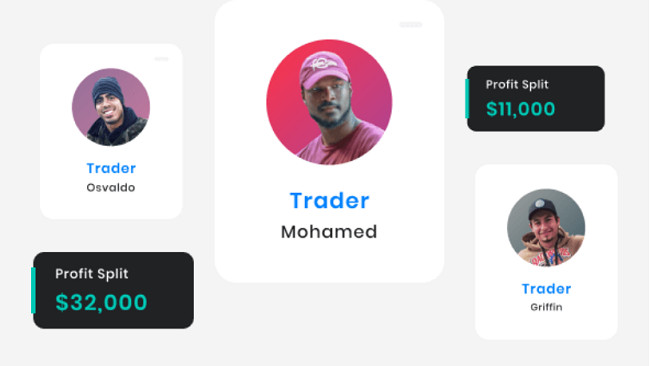 Who Can Join FTMO?
FTMO is open to traders who can pass its rigorous evaluation process and operate with the FTMO Challenge Rules.
There are no country restrictions, meaning anyone from anywhere can use the service.
The program is broken up into two steps, the FTMO Challenge and Verification. In total, the process can take up to 90 days (more if you qualify for an extension).
The FTMO Challenge has a 30-day trading period (10-day minimum), and Verification takes place over a 60-day trading period (also a 10-day minimum). So if you know your stuff, you might be able to knock out the Evaluation Course within a month.
If you want to make sure you are prepared, you can use the FTMO free trial that you get after signing up.
Free FTMO Trial
Upon signing up, you are provided with a free 14-day trial so you can familiarize yourself with FTMO. This is a great way to test yourself and see where you stand as a trader.
The free trial is optional. If you pass the FTMO free trial, you could have a better chance of passing the FTMO Challenge.
This doesn't help you get your foot in the door sooner — rather it is a testing ground for you to gauge your preparedness.
Beginner traders might want to take advantage of it, so they don't waste their time and money going in unprepared. It also could help you take one step closer to being a profitable trader.
>> Think FTMO is for you? Click here to get started today! <<
The FTMO Challenge
To start the FTMO Challenge, you need to pay a fee that depends on your chosen capital level and risk. It's a one-off fee that's reimbursed once you've scored your first profit.
The challenge is taken on the demo trading account, with the details emailed to each interested trader after purchasing a challenge.
Accounts are broken down into $10k, $25K, $50K, $100K, and $200K challenges.
The purpose of the challenge is to establish if you can make trades that reliably result in profits. And because you are taking the FTMO Challenge on a demo trading account, you and the firm aren't risking capital on your investments.
Trading Objectives
Each account type comes with its own set of rules, or Trading Objectives, which you must follow to receive a funded account.
These Trading Objectives must be met within the given trading period, maximum daily loss, profit target, etc.
The profit target ranges between 10% and 20%, depending on your account and risk level. If a trader reaches the profit target before the maximum trading period, then they can move on to the next step.
Here's a quick comparison for Normal Accounts — Aggressive Accounts have different rules.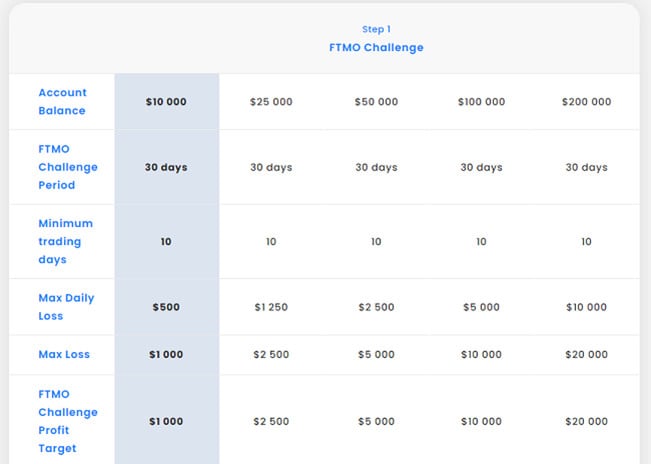 All in all, the FTMO Challenge is pretty straightforward. After you pass it, the next step is Verification and then you become a fully fledged FTMO trader.
Before we take a look at the Verification process, let's dive a bit deeper into the ins and outs of the FTMO Challenge. This will help you know exactly what you're getting into.
What If You Miss the Profit Target?
If traders miss the profit target but don't violate the Trading Objectives or break any rules, they can try the FTMO Challenge for a second time, free of charge.
It's a nice touch that newer traders will likely appreciate. It also can help take the edge off trading during this probationary period.
If you're still in range to get a second chance, you might not want to try to make a risky play just to pass the Challenge. Keep a cool head and adjust your trading strategies.
Some conditions also allow you to get a 14-day extension on the FTMO Challenge or Verification.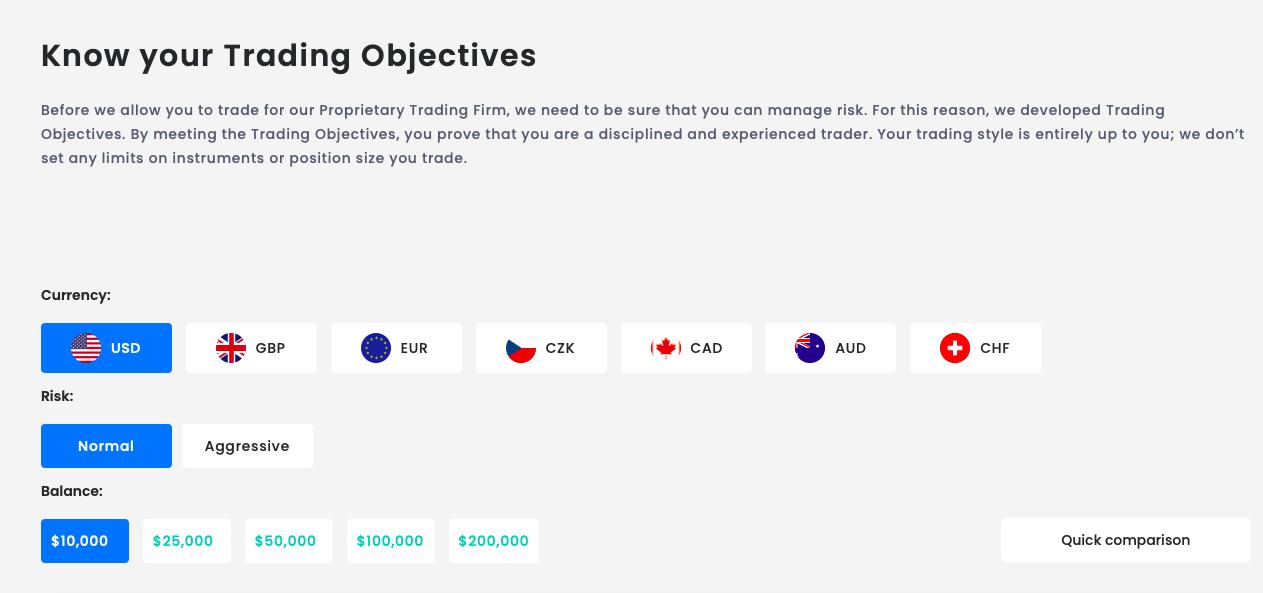 Loss Limit
The daily and maximum loss limits depend on the account. For instance, $5,000 is the daily loss limit for someone with $100,000 of capital, while the maximum loss limit is $10,000.
When you sign up for the FTMO Challenge, you'll want to take these limits into consideration.
What Happens After I Pass the FTMO Challenge?
After you clear all the FTMO Challenge's Trading Objectives, you'll receive a notification in your Account MetriX that verifies your success.
The next step is passing the Verification process.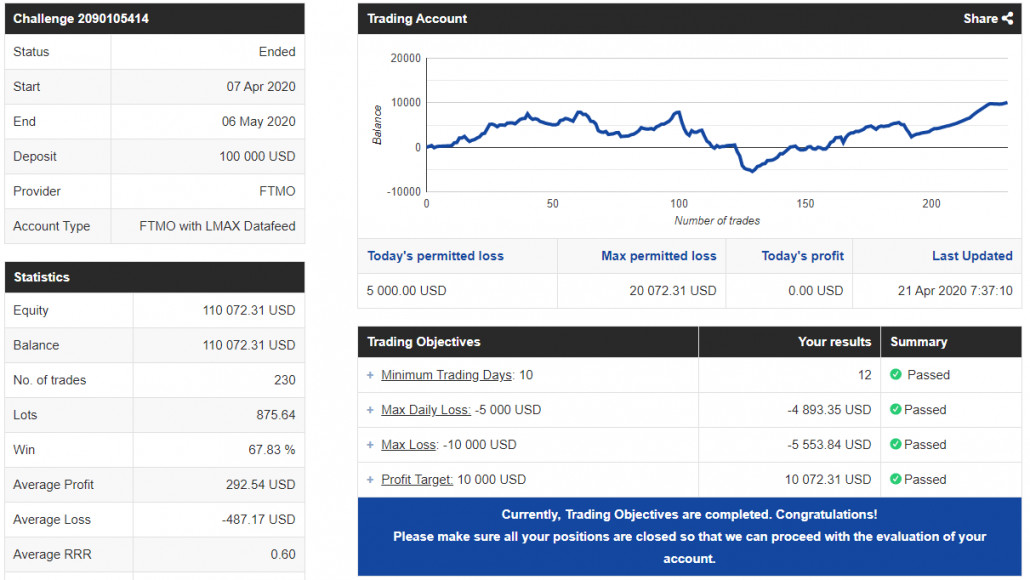 FTMO Verification
Verification is the second step of the FTMO Challenge that ensures passing the first step wasn't a fluke.
The maximum trading period is 60 days, while the profit target is halved.
Like the challenge, if you miss the target but don't break any rules, you can try to pass Verification again for free.
After you pass Verification, you can start trading with a funded account. To get paid from the profits you've made, you must conduct standard Know Your Customer (KYC) checks.
Once you become an FTMO trader, there are no maximum trading periods, profit targets, or minimum trading days.
FTMO offers a standard 80/20 profit split to its users. However, they now offer a 90% share of profits to traders through select accounts, one of the industry's best prop firm profit splits.
So traders have a chance to make real money using the platform.
>> Sold on FTMO? Click here to sign up NOW! <<
Is FTMO Legit?
Yes, FTMO is a legitimate prop firm with a strong reputation.
In fact, it's not a stretch to say that this is perhaps one of the highest-rated prop firms out there — by a wide margin.
Also, the firm goes well out of its way to verify investments, including alerting its users of potential scam attempts. FTMO doesn't accept deposits from its clients and warns of various fake accounts on social media.
There's a very real concern for traders that some proprietary trading firms only want your money and don't care if you ever get funded accounts. But FTMO appears to give every indication that it wants to discover trading talents.
The FTMO Challenge has a very fair second chance policy that allows traders to retry the evaluation process free of charge.
Is FTMO a Hedge Fund?
FTMO is not a hedge fund.
It operates solely as a proprietary trading firm.
Is FTMO Regulated?
FTMO is not a broker, and because of this, it's unregulated.
This is the norm for prop trading firms.
What Broker Does FTMO Use?
In 2021, FTMO removed all third-party brokers from the platform and began providing its own trading solution.
Before transitioning to its solution, some of FTMO's supported brokers were CMC Markets, Blueberry Markets, GBE Brokers, and more.
>> Click here to get started today! <<
FTMO Review: What's Included?
Scaling Plan

Account Metrix

Mentor App

Trading Journal

Statistical App

Account Analysis

Equity Simulator

Withdrawal

Customer Support
Scaling Plan
The scaling plan lets you tap into everything that FTMO has to offer, including the firm's 90/10 split.
Here's how it works.
With the scaling plan, you can increase your funded account's capital by 25% every four months. There are some qualifications, though.
You need to have at least 10% in profits for a normal account and 20% for an aggressive account within four consecutive month cycles.
You also must have processed two payouts during that four-month period.
This is an example of scaling an initial account balance of $400,000 to $2 million in a 16-month period.

Keep in mind, though, that the highest starting point is $200,000.
The best part is that you can scale any account to $2 million, so you don't have to take another Evaluation Course to keep moving up the food chain.
You cannot upgrade your funded account in the traditional sense. If you want to increase your funding, you will need to opt for the scaling plan — under the conditions that we outlined above.
Account MetriX
The Account MetriX is a unique web application that monitors your trading journey toward becoming an FTMO trader.
It gives you an overview of the Trading Objectives as well as a wide range of important trading statistics
Mentor App
The Mentor App is used to help traders develop greater discipline, ensuring you follow your rules and RSI limits, preventing greed and overtrading.
It is compatible with both the MT4 and MT5 platforms.
Trading Journal
Users can easily keep track of their trading results on the financial markets by using the trading journal.
All trades are automatically stored in the journal. Plus, you can record your thoughts about any position you took and make a retrospective analysis to reduce your chances of making mistakes in the future.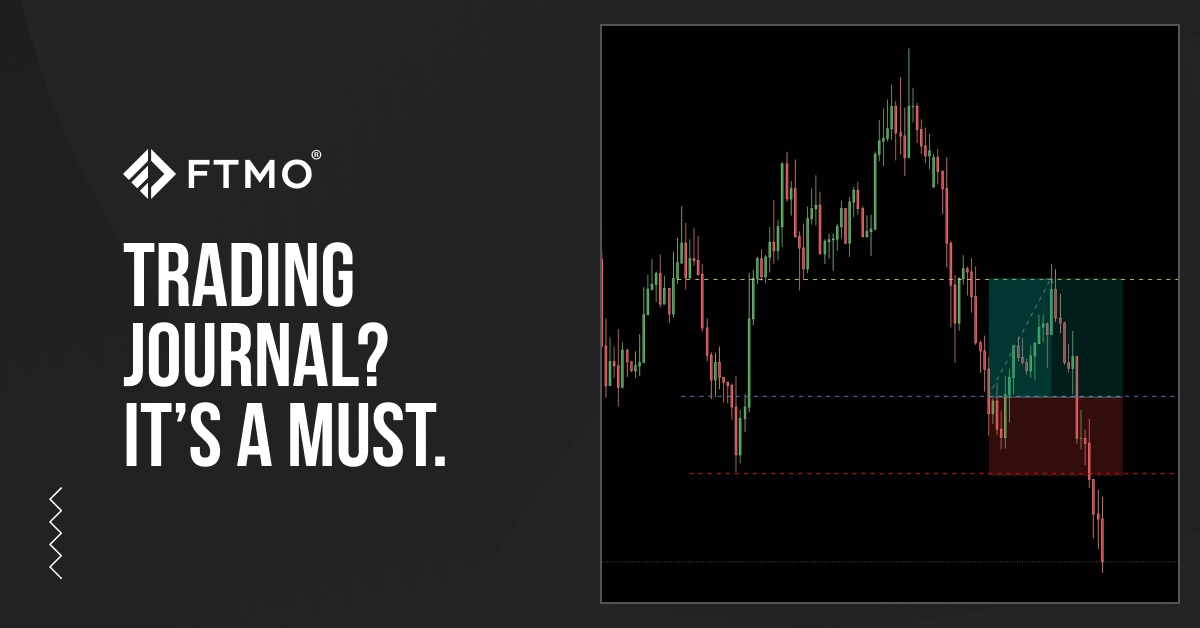 Statistical App
Traders can use the statistical app to analyze market behavior and make smarter decisions, which could improve their profitability.
All in all, it's a valuable tool to add to your trading arsenal.
Account Analysis
The account analysis trading app gives users an unbiased look at their trading activity, whether they're professional traders or those with limited experience.
Once your FTMO challenge ends, the prop firm takes your trading data, including previously unavailable data, and formulates various indicators that reveal opportunities to optimize your strategy.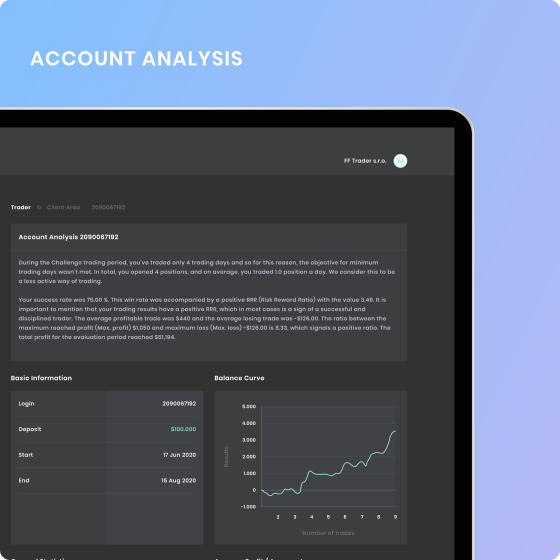 Equity Simulator
The simulator helps traders get a better handle on drawdowns and equity curves.
The goal of the simulator is not to calculate how much money you'll make going forward but to offer different potential outlooks.
FTMO Withdrawals: When Does FTMO Pay Out?
Like everything else the service offers, FTMO really goes out of its way to make withdrawals quick and painless.
Funded traders can request a payout on-demand.
You can set your account up for bi-weekly payouts, and you can even choose your own Profit Split Day. You can change your Profit Split Day up to three times.
Some payout methods include traditional wire transfer, crypto, and Skrill.
FTMO Customer Support
If you have an issue with a payment or want to cancel your account, FTMO has a customer support team available in 13 languages.
Customer support is available 24/7 and can be reached via email or phone.
>> Like all that FTMO has to offer? JOIN TODAY! <<
Can You Make a Lot of Money with FTMO?
How much you can make with FTMO depends on your profit split, profitability, and whether you can exercise proper risk management.
There are plenty of successful traders that use FTMO, but mileage will vary. The firm makes it very clear that there are no guarantees, and traders can have months with $0 profits.
If you want to see what's possible, FTMO runs a leaderboard that shows you the top earners of the month.

Who Is the Best FTMO Trader?
FTMO's leaderboard is updated daily, so this can (and typically does) change every 24 hours.
You need to be a member to see past the top three.
FTMO Review: Pros and Cons
While we found many pros in our review of FTMO, there are areas that the service could improve on.
Pros
Earning profits of anywhere from 80–90% is highly attractive; one of the best profit splits you'll find in the market.

Support operates 24/7 and has a live chat as well as phone and email services.

You invest with FTMO's money, not your own.

The scaling plan is an excellent way to boost profitability.
Cons
You can't hold any trades during the weekend without clearance by FTMO or a Swing Trading Account.

Like the name implies, the FTMO Trading Challenge is very challenging; it's recommended that you take the free trial challenge if you feel you need the practice.
>> Ready to join FTMO? Click here to get started today! <<
FTMO Reviews
FTMO earns rave reviews and is, without a doubt, one of the highest-rated prop firms out there.
It has an astounding 4.8/5 rating on Trustpilot, with 2,400+ reviews.
This isn't just encouraging: it's unprecedented for prop firms.
FTMO Reviews on Forex Peace Army
Forex Peace Army is a third-party reviewing site centered around reviewing prop firms and brokers, so its 4.4/5 overall rating says a lot.
If you've spent any time on the site, it's clear that they are a lot tougher on these firms than other reviewers.



FTMO Reviews on Trustpilot
As we said, a 4.8 review on Trustpilot is very rare.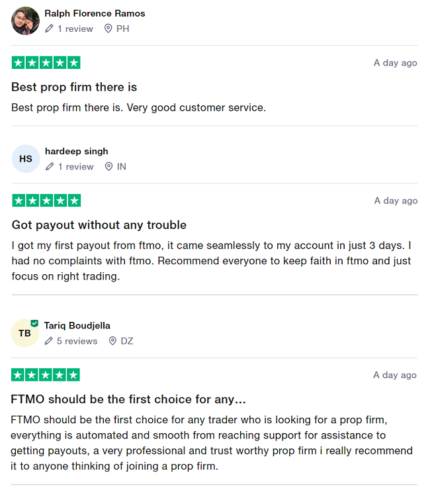 We think this is a great prop trading firm, but you don't need to take our word for it.
These reviews speak for themselves.
Who Should Join FTMO?
Because FTMO supports trading a wide range of financial instruments, it could appeal to most prop traders. So if you're looking to do more than forex trading, you might want to start your search with this firm.
Here are some of the folks who could get the most out of the service:
Beginner traders

Advanced traders

Robo traders

Swing traders

News traders

Forex traders
Another draw to the FTMO proprietary trading firm is its track record. Few competitors in the industry have garnered the same reputation. Any new prop trader in search of a reputable firm may take comfort in the fact that it's one of the most highly rated options out there.
There are other options with a 4.8 rating on Trustpilot, but they don't appear to have nearly as many reviews.
FTMO also allows you to leverage trading robots (Expert Advisors – EAs) in your strategy, which are banned from other prop trading companies.
In addition to all the points we mentioned, the 90/10 spread might be too tempting to pass up. The firm rewards successful trading with a larger lion's share of the potential profits.
FTMO Review: Pricing
The fee for the 30-Day Trading challenge varies based on risk level and account size.
There are no monthly or recurring fees after passing the Evaluation Course.
You can pay for your FTMO account through a variety of ways. Here's a snapshot of the payment methods courtesy of the FTMO website.
You can choose between:
Bank transfers

Nuvei

PayU

Skrill

Unlimint

Confirmo
You don't need to rely solely on slow transfers to their bank account if you opt for Nuvei PayU and Skrill.
FTMO Normal Account Pricing
$10,000 account – €155

$25,000 account – €250

$50,000 account – €345

$100,000 account – €540

$200,000 account – €1,080
FTMO Aggressive Account Pricing
$10,000 account – €250

$25,000 account – €345

$50,000 account – €540

$100,000 account – €1,080
FTMO Swing Account Pricing
$25,000 account – €250

$50,000 account – €345

$100,000 account – €540

$200,000 account – €1,080
FTMO Cancellation Policy
While you can cancel your account with FTMO, the fee for the FTMO Trading Challenge is non-refundable.
This makes sense, as it would be easy to game the system if someone thought that they were about to fail the Evaluation Course.
Is FTMO Worth It?
FTMO offers many analysis and educational tools for novice or experienced traders to develop strong investment strategies.
While its entrance program is rigorous, the firm goes to great lengths to support traders every step of the way.
Its 90/10 profit split alone is enough to keep FTMO on your radar.
If you want to get into prop trading, few places offer the chance to potentially make this kind of money.
>> That's it for our FTMO review! Click HERE to get started with FTMO NOW! <<