FTMO is a leader in the prop trading space — and for good reason. It has a reputation for finding and creating some of the most talented prop traders. If you want to become a member, read our FTMO review for a full breakdown of everything this firm has to offer.
FTMO is a proprietary trading (prop trading) firm that allows its investors to trade with a variety of financial instruments and assets, like forex, stocks, cryptocurrency, bonds, and more.
One of the major draws to this firm is a very competitive profit split (up to 90/10), which has attracted top-tier investors from all over.
But is being an FTMO trader really worth it?
Check out our FTMO review to find out.
FTMO Review: Overview
Founded in 2014 by owner Otakar Suffner, FTMO is a prop firm based in the Czech Republic, specifically the Czech capital of Prague.
Its primary goal is to identify and support profitable traders through training and funded accounts.
Unlike many prop firms out there, FTMO gives investors the freedom to trade a variety of instruments and assets on its list of approved trading platforms, including:
Forex

Indices

Commodities

Stocks

Crypto
It's this freedom and the firm's rigorous entrance and mentor programs that have earned it such high accolades.
The FTMO company has grown exponentially since its international launch, winning several plaudits within the financial world, including the Deloitte Rising Star award in 2019 and 2020.
>> Already sold on FTMO? Click here to get started today! <<
How Does FTMO Work?
FTMO works as a proprietary trading firm that facilitates forex market investments and helps new traders and established ones optimize their trading strategies.
Users can buy and sell forex assets using these platforms:
cTrader

Meta Trader 4 (MT4)

Meta Trader 5 (MT5)
cTrader can be downloaded using a mobile app via Google Store or Apple Play Store, while the MT4 and MT5 platforms are available to download using desktop computers.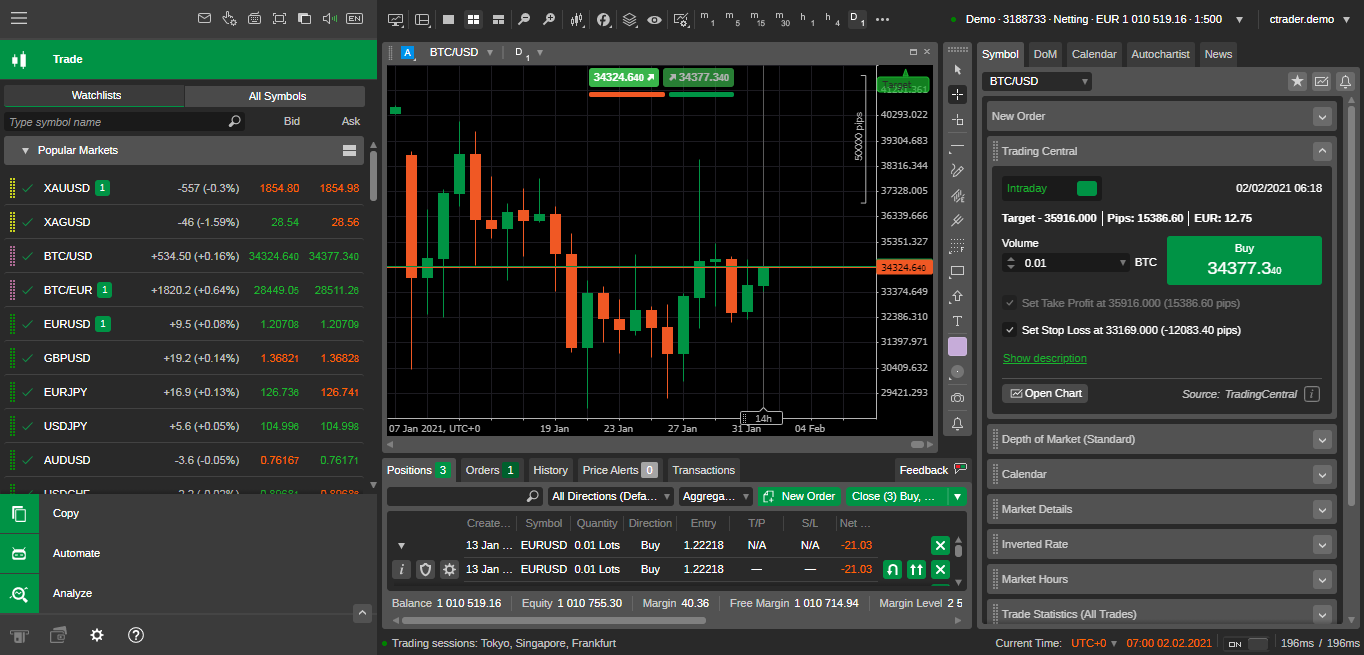 The prop firm alternatively offers a web trader available for desktops that users don't have to download.
FTMO provides up to $200,000 worth of trading capital to traders that can pass its FTMO Challenge.
How Does FTMO Support Traders?
FTMO goes out of its way to find profitable traders and supports them with a suite of trading tools and mentoring to help them improve their performance on the financial markets.
The FTMO Challenge is part of a two-step evaluation process done to analyze the qualification and skills of prospective traders.
The other part of the process is FTMO verification, which essentially varies if the trader can recreate their results.
Following the completion of the two-step process, users are offered a professional FTMO account.
After, traders successfully prove their profitability, will receive capital.
From that capital, up to 90% of it goes to traders, while FTMO keeps the other 10%.
Essentially, traders have the opportunity to trade someone else's money and retain a large portion of the profits with little to no risk to traders or their capital.
>> Ready to start trading with FTMO? Just click HERE! <<
FTMO Accounts
After the account is created, traders can remotely manage a maximum of $400,000 with a leverage of up to 1:100.
Traders can subsequently grow the account according to a scaling plan.
Technically, users trade on a demo account during each stage of the process, even as professional traders.
Each FTMO account is connected to the prop trading firm's live trading account with real capital.
Account types are usually broken down into various risk levels: aggressive or normal.
You then select the plan that best suits you, choose from multiple currencies like USD, GBP, Euros and CZK, sign up, and open the account.
There are no country limits when using FTMO, meaning anyone from anywhere can use the service.
Is FTMO a Hedge Fund?
FTMO is not a hedge fund.
FTMO operates as a proprietary trading firm and a limited account.
According to the FTMO site, the firm doesn't discourage users from hedging on trades.
In fact, it encourages any trading style that traders see fit to use, including discretionary trading, algorithmic trading, and other legal trading strategies.
Who Can Join FTMO?
FTMO is open to traders who can pass its rigorous qualification program, the FTMO Challenge.
>> Think FTMO is for you? Click here to get started today! <<
The FTMO Challenge
Before using FTMO and generating a profit, you have to complete the FTMO Challenge.
To start, you need to pay a fee that depends on your chosen capital level and risk.
The fee is a one-off fee that is reimbursed to you once you've scored your first profit.
The challenge is taken on the demo account, with the details emailed to each interested trader after purchasing a challenge.
Accounts are usually broken down into $10k, $25K, $50K, $100K, and $200K challenges.
The purpose of the challenge is to establish if you have the ability to make trades that reliably result in profits.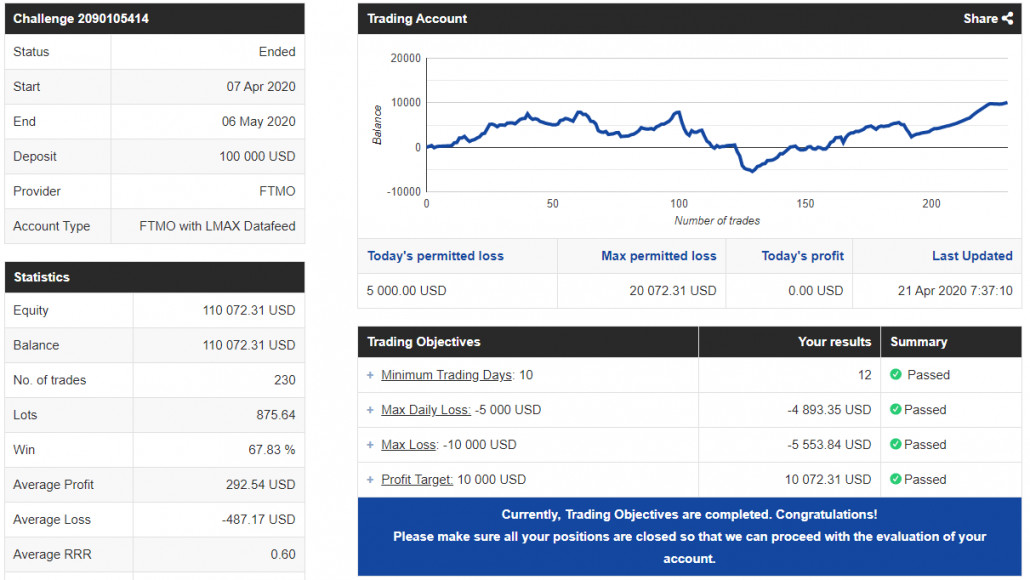 >> Ready for the FTMO Challenge? Click here to get started NOW! <<
Loss Limit and More
The maximum daily loss limit depends on what the account balance is.
The $20,000, for instance, is the daily loss limit for someone with an account balance of $400,000.
To capitalize on the FTMO challenge, you have to consider your funding size, which ranges from $10,000 to $200,000.
There is also a 14-day trial challenge if you want to familiarize yourself with FTMO before purchasing a challenge.
Additionally, there is an FTMO challenge for swing traders where you are allowed to hold trades overnight and throughout the weekend without requiring permission.
The leverage drops to 1:30, which is still a lot for swing traders.
Trading Objectives
Each account type comes with its own set of strict rules, which you must follow to continue to the next challenge stage.
These trading objectives come with a maximum trading period of 30 days, a minimum trading period of 10 days, a maximum daily loss, and a profit target.
The profit target ranges between 10 and 20%, depending on your risk level.
Should a trader reach the profit target before the maximum trading period, then they can move on to the next stage.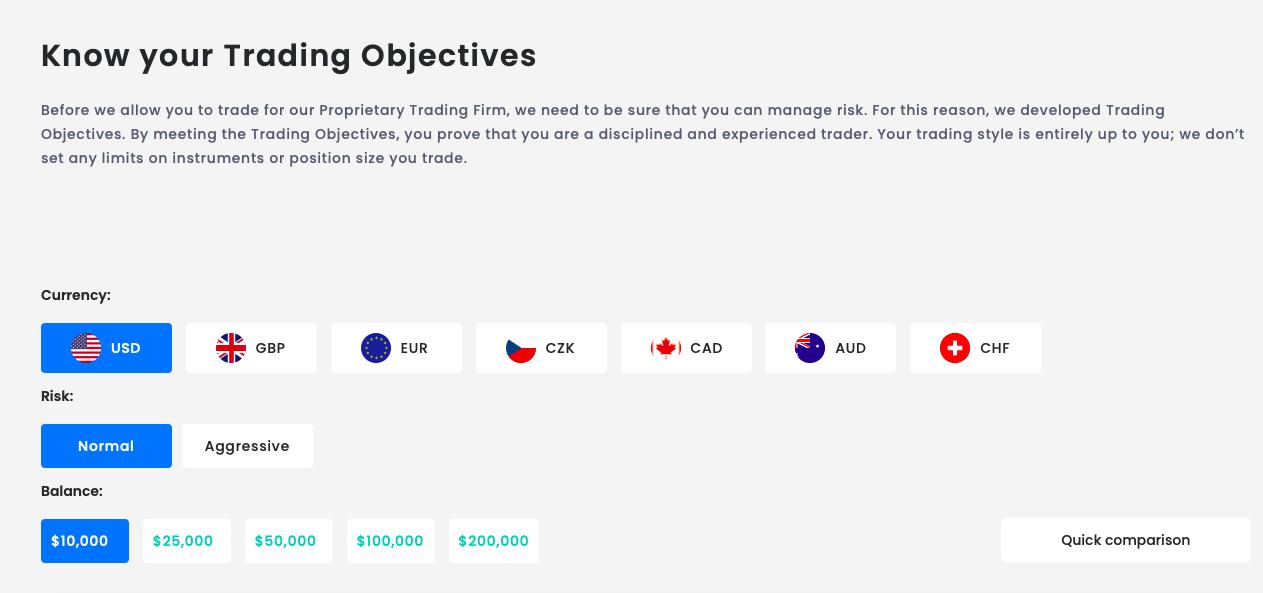 What If You Miss the Profit Target?
If traders miss the profit target but don't violate the maximum daily loss or break any rules, they can complete the challenge for a second time, free of charge.
Verification
The verification process allows traders to prove themselves for free, with verification login details sent two days after completing the challenge.
Verification rules are the same as challenge rules.
However, the maximum trading period doubles to 60% while the profit target is halved.
Like the challenge, if you miss the target but don't break any rules, you can try verification again for free.
>> Sold on FTMO? Click here to sign up NOW! <<
Become a Funded Professional Trader
After completing the evaluation process, successful traders can invest professionally with FTMO's prop trading firm through funded accounts.
To get paid from the profits you've made, you must conduct standard Know Your Customer (KYC) checks.
Once you become a professional trader, there is no maximum trading period, profit target, or minimum trading days.
FTMO offers a standard 80/20 profit split to its users.
However, they now offer a 90% share of profits to traders, the industry's best prop firm profit split.
So traders have a chance to make real money using the platform.
Is FTMO Trading Legit?
Yes, FTMO is a legitimate entity with a strong reputation within finance.
This is not a pyramid scheme, and it doesn't use questionable means to run its business.
Also, the firm will go well out of its way to verify investments, including alerting its users of potential scam attempts.
FTMO doesn't accept deposits from its clients and warns of various fake accounts on social media.
It's also important to note that FTMO is not a broker.
Because it's not a broker, it's unregulated.
That being said, the FTMO has earned a strong reputation as a solid prop firm so this isn't a deterrent for most traders.
>> Ready to become a professional trader with FTMO? Click here to get started today! <<
What Do You Get with FTMO?
FTMO supports traders with these tools:
Scaling Plan

Account Metrix

Mentor App

Trading Journal

Statistical App

Account Analysis

Equity Simulator
Keep reading our FTMO review for a full breakdown on each tool.
Scaling Plan
While earning profits with your trading, you can use the growth plan that FTMO offers to increase capital by 25% every four months.
To use the plan, you need to have at least 10% in profits in the last four months, with at least two of those four months ending profitably.
The scaling plan does not have a cap.

FTMO's website explains, "As you can see in the table above, in the best possible scenario, already after a year and a third, the trader will have at his/her FTMO Account twice the balance and twice the loss limits (this applies to any starting balance). We believe that this Scaling Plan will encourage traders to trade consistently while not taking unnecessary risks and treat the FTMO Account with longevity in mind. Please note high returns are not guaranteed and trading, in general, is a risky business."
Account Metrix
The Account Metrix is a unique web application that monitors your trading journey towards becoming an FTMO trader.
It gives you an overview of the trading objectives as well as a wide range of important trading statistics
Mentor App
The Mentor App is used to help traders develop greater discipline, ensuring you follow your rules and RSI limits, preventing greed and overtrading.
It is compatible with both the MT4 and MT5 platforms.
Trading Journal
Users can easily keep track of their trading results on the financial markets by using the trading journal.
All trades are automatically stored in the journal.
Plus, you can record your thoughts about any position you took and make a retrospective analysis to reduce your chances of making mistakes in the future.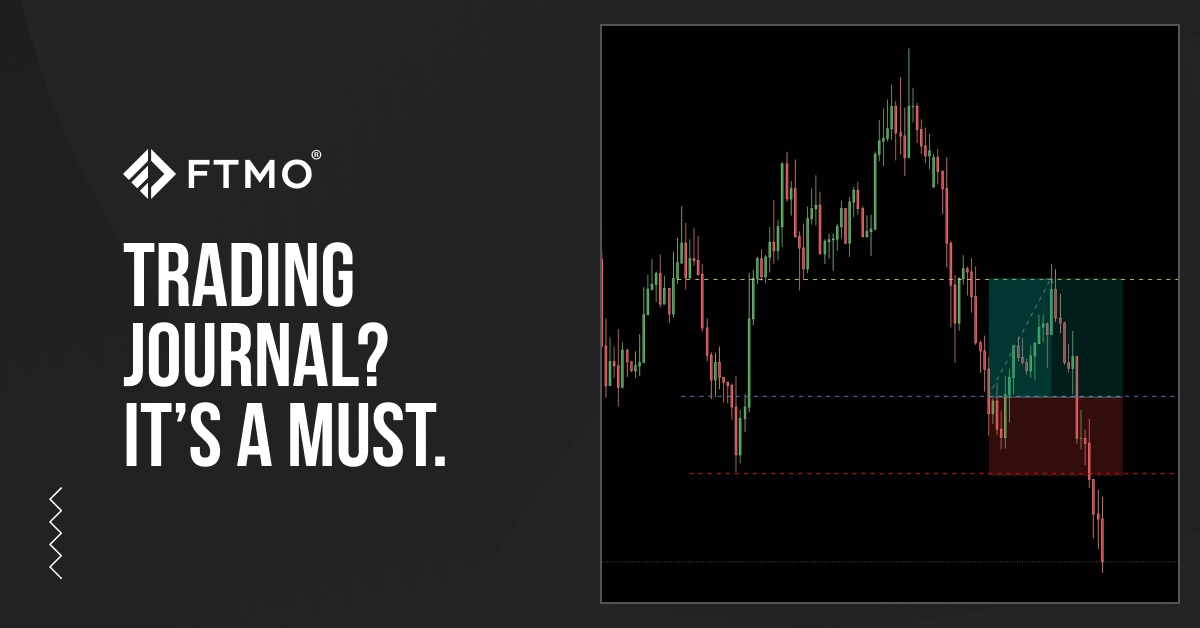 Statistical App
The statistical app showcases various number-based personalities or market behavior, helping traders to make smarter decisions and boost their profitability capabilities.
Account Analysis
The account analysis trading app gives users an unbiased look at their trading activity, whether or not they're professional traders or other traders with limited experience.
Once your FTMO challenge ends, the prop firm takes your trading data, including previously unavailable data, and formulates various indicators that reveal opportunities to optimize your strategy.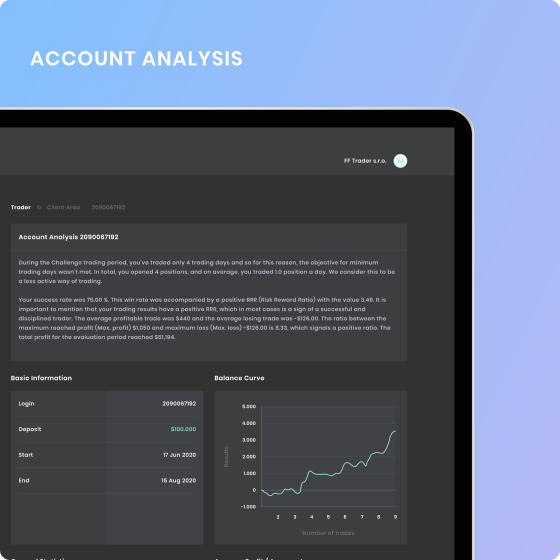 Equity Simulator
The simulator helps traders get a better handle on drawdowns and equity curves.
The goal of the simulator is not to calculate how much money you'll make going forward but to offer different potential outlooks.
>> Like all that FTMO has to offer? JOIN TODAY! <<
How Much Does FTMO Cost?
The fee for the 30-Day Trading challenge varies based on risk level.
Your capital level and risk determine a single fee for signing up to FTMO.
There are no monthly or recurring fees after you're reimbursed for the initial fee during your first payout.
FTMO accepts various payment options, including debit and credit cards, wire transfers, and Skrill.
FTMO Cancellation Policy
If you have an issue with a payment or want to cancel your account, FTMO has a customer support team available in 13 languages.
Customer support is available 24/7 and can be reached via email or phone.
FTMO Review: FTMO Pros and Cons
While we found many pros in our review of FTMO, there are areas that the service could improve on.
Pros
Profits – Earning profits of anywhere from 80–90% is highly attractive; one of the best profit splits you'll find in the market.
Customer Support – Support operates 24/7 and has a live chat as well as phone and email services.
Investment Strategy – You invest with FTMO's money, not your own
Evaluation Process – Its challenges and strict verification processes are top notch.
Ability to Increase Capital – The scaling plan is an excellent way to boost profitability
Cons
Earning Potential – You can only earn real money once you've attained professional trader status.
Holding Limitations: You can't hold any trades during the weekend.
>> Ready to join FTMO? Click here to get started today! <<
FTMO Trader Reviews
If you want to know what FTMO traders have to say about the firm, check out these FTMO reviews.



FTMO Final Review: Is FTMO Right for Me?
FTMO offers many analysis and education tools for new or experienced traders to develop strong investment strategies.
While its entrance program is rigorous, the firm goes to great lengths to support traders every step of the way.
Its 90/10 profit split alone is enough to keep FTMO on your radar.
If you want to get into prop trading, few places offer the chance to potentially make this kind of money.
>> That's it for our FTMO review! Click HERE to get started with FTMO NOW! <<