One of America's brightest tech investors, Adam O'Dell, has uncovered a promising green energy stock that could spell big gains for early holders. We'll dive deeply into Adam O'Dell's Infinite Energy presentation in this Green Zone Fortunes review.

What Is Green Zone Fortunes?
Green Zone Fortunes is a monthly newsletter and research service from lead analysts Adam O'Dell and Banyan Hill.
The service brings subscribers the hottest tech opportunities from across the market and many other valuable resources. O'Dell's ultimate goal is to provide members with opportunities to achieve true financial freedom.
Under the latest presentation (which can be found on the Money and Markets website), Green Zone Fortunes also includes a slew of additional bonuses under Adam O'Dell's Infinite Energy deal.
One of the biggest draws is the Green Zone Rating system, which analyzes 8,000 stocks. Every Wednesday, O'Dell delivers his top ten list of what he believes could be the best-performing stocks out of the bunch based on these results.
Stay tuned to find out if Green Zone Fortunes is worth your time and money.
First and foremost, just who is Adam O'Dell, and why is he worth listening to?
>> Save 75% on Green Zone Fortunes when you sign up here <<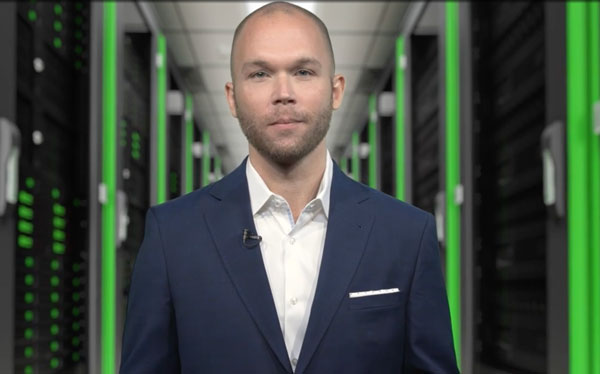 Who Is Adam O'Dell?
Adam O'Dell is a great analyst with an excellent eye for detail. O'Dell has made a name for himself as a leading tech analyst over a long financial career as a specialized hedge fund manager. He's also well-versed in trading stocks, options, bonds, gold, and more.
Today, O'Dell serves as the Chief Investment Strategist at Money & Markets, an independent research firm providing cutting-edge insights into the latest market trends.
He's the head of many popular services, including:
Green Zone Fortunes

10X Fortunes

Wednesday Windfalls

Home Run Profits
Over the last two years, O'Dell has picked several winning stocks that have produced big gains for his followers. The Money and Markets site states that some of Adam O'Dell's stock picks have outperformed Carl Icahn, George Soros, and even Warren Buffett.
There's not an analyst on Earth that hits with a 100% success rate, but O'Dell tends to knock it out of the park.
We'll take a deeper dive into Adam O'Dell's track record later in this review, but it's safe to say that his recent run of picks has been impressive.
Is Adam O'Dell Legit?
Adam O'Dell is a legit guru with a stellar resume and a track record for picking big winners.
His experience as a hedge fund manager is a valuable asset for his followers, and he's repeatedly demonstrated that he has what it takes to pick winners.
All things considered, Adam O'Dell looks like the real deal, and you can proceed confidently knowing he's leading Green Zone Fortunes.
>> Get access to Adam O'Dell's latest recommendations when you join now <<

Green Zone Fortunes Infinite Energy
O'Dell's latest presentation for Green Zone Fortunes details an enormous energy opportunity that could be the guru's most promising pick yet.
The company in question has developed a game-changing AI-powered technology that can crack open one of the largest untapped energy sources on the planet and scale it for global use.
If this technology lives up to its potential, it could produce one of the biggest energy booms of all time and drive massive windfalls for shareholders.
Governments around the world are pushing hard to develop green energy sources, so it sounds like O'Dell's Infinite Energy stock could be an amazing opportunity.
Adam O'Dell has conducted extensive research into this promising energy technology stock, and he wrote an in-depth research report detailing his findings.
You'll get this report and many other bonuses free when you sign up under the Green Zone Fortunes Infinite Energy deal.
Next, we'll break down the entire bundle, so you can see everything you get with this service.
>> Get instant access to Adam O'Dell's #1 green energy stock when you sign up now <<
What's Included with Green Zone Fortunes?
One-year membership to

Green Zone Fortunes

newsletter

Access to the

Green Zone Fortunes Weekly Hotlist

Unlimited access to proprietary

Green Zone Fortunes

rating system

FEATURED report:

The Tiny Company Dominating Tesla in the Trillion-Dollar Green Energy Race

The Top 2 Battery Innovators Set to Take the Green Tech Boom by Storm

bonus report

From $1 Billion to $100 Billion Riding the Holy Grail of Battery Tech

bonus report

Momentum Principle Millionaire

video series

Adam O'Dell's

365-Day Promise

satisfaction guarantee
Green Zone Fortunes Newsletter
The newsletter is the core of Green Zone Fortunes service.
Adam O'Dell's Green Zone Fortunes newsletter gives members access to the guru's latest research, analysis, and stock recommendations.
Each monthly newsletter issue includes O'Dell's insights into the latest market-moving trends and a new promising stock pick every month.
You'll get a total of 12 trade recommendations throughout your one-year Green Zone Fortunes subscription, plus countless insights from investing veteran Adam O'Dell.
Your newsletter membership also includes 24/7 access to the member's website, where you can check up on O'Dell's live model portfolio, past research reports, and much more.
You'll also receive trade alerts whenever it's time to make a move, so you can forget about getting caught flat-footed when the market takes a turn.

Weekly Hotlist
In addition to O'Dell's monthly newsletter, you'll also get a weekly email update on the hottest stocks on the Green Zone Fortunes radar every Wednesday.
Every week, O'Dell runs roughly 8,000 US stocks through his powerful Green Zone Ratings system. He then puts his most promising finds into this weekly report for members.
If you're somebody who likes to trade more often, you can use these untracked stock picks to potentially make even more money.
Altogether, you'll receive around 40 new trade ideas every month from this valuable resource. O'Dell also notes in his presentation that this list has "produced 52 triple-digit peak gains on our top-performing stocks over the last few years."
Of course, just like with their monthly stock picks, not every Hotlist pick is a winner.
But the Weekly Hotlist is one of the most valuable resources included with your Green Zone Fortunes subscription, and it's especially useful for anyone interested in active investing.
>> Get weekly hot stock alerts when you sign up for Green Zone Fortunes <<
Proprietary Rating System
Members also have access to O'Dell's proprietary Green Zone Ratings on roughly 8,000 stocks, so you can take advantage of the same ratings that O'Dell uses to make his picks.
The ratings system is the backbone of Adam's systematic investment approach, and it can help you find the best stocks the broader market has to offer.
You can use Green Zone Ratings to develop your own systematic investing strategy.
O'Dell's Green Zone Ratings make this service a true value. It's a powerful tool that even the most sophisticated investment analysts can put to good use.
Infinite Energy Bonus Reports
Infinite Energy also includes a treasure trove of bonus reports and resources that can help you get a leg up on the market. Here's what you get when you join.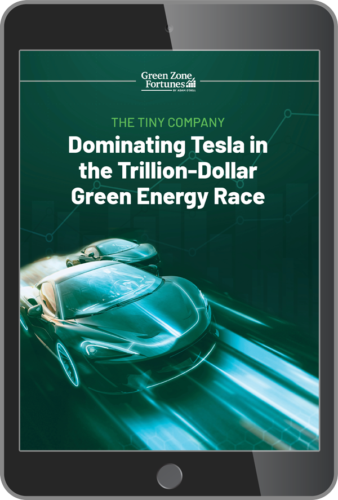 The Tiny Company Dominating Tesla
The featured report in this Green Zone Fortunes bundle is The Tiny Company Dominating Tesla, and it includes in-depth information on O'Dell's favorite trapped energy stock.
O'Dell discusses this company extensively in his presentation for Infinite Energy, and this report provides all the information you need to hop on board this opportunity.
If you decide to get involved, you'll be in good company. World-famous tech investor Peter Thiel is an early backer of this company, and he has a remarkable record for picking winners.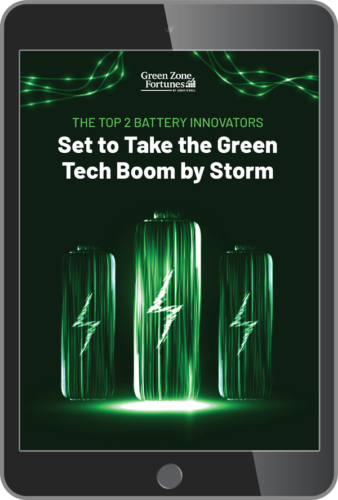 The Top 2 Battery Innovators
As the green energy revolution gains traction, batteries are going to become an even more important segment of the economy than they are now.
O'Dell says that the demand for battery storage is expected to grow 21X faster than the US economy over the next five years.
With that type of explosive growth potentially on the horizon, now could be an excellent time to build a position in the battery sector. And Adam O'Dell's two stocks could be a great place to start.
O'Dell thinks these two companies could be the top contenders to lead the battery boom in the years ahead, so the upside in these stocks could be huge.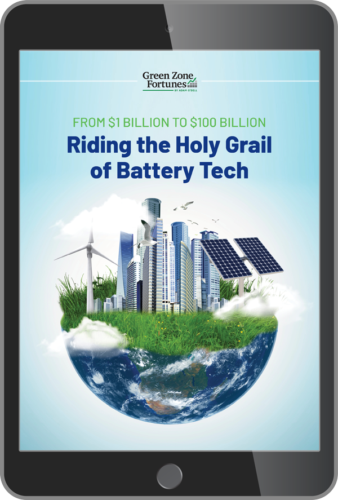 Riding the Holy Grail of Battery Tech
As we said in the previous section, the battery industry could be on the verge of an explosive growth phase. And the companies developing sophisticated batteries could be some of the segment's top performers.
This report examines one of the most promising battery technologies in development and explains how it could totally transform the energy industry in the years ahead.
O'Dell calls it "the holy grail of battery tech," and it could disrupt the global power sector with 10x higher power output, a usable lifespan of 50 years, and a charging time of just three seconds.
According to O'Dell's projections, this stock has the potential to grow from $1 billion to $100 billion over the next seven years.
>> Access O'Dell's top-rated battery stocks when you join now <<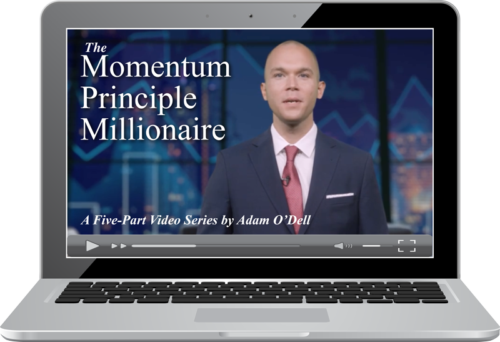 Momentum Principle Millionaire Video Series
Finally, the Infinite Energy bundle also includes an instructional video series where Adam O'Dell discusses his key strategies for investing success.
Adam O'Dell's masterclass videos reveal the secrets behind his groundbreaking investment strategy, Adaptive Investing ™.
O'Dell says that he's used this relatively simple approach to the market to achieve all of his stock market success.
According to O'Dell, his novel market-timing strategy involves doing the total opposite of what most mainstream investment experts recommend, but it's worked wonders for him over the years.
This course will teach you how to apply many of the same concepts Adam O'Dell uses for his investment research service. And this knowledge could become an asset in your quest to gain financial freedom.
O'Dell's video series is an excellent addition to this bundle because it brings an educational component to the deal. It shows you how to replicate many of the same concepts that made Adam O'Dell a successful investor.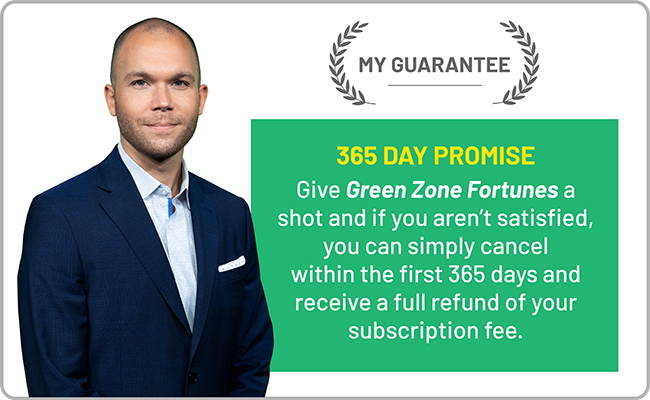 Refund Policy: 365-Day Money-Back Guarantee
Adam O'Dell backs Green Zone Fortunes subscriptions with an outstanding satisfaction guarantee. His 365-Day Promise is one of the most extensive satisfaction guarantees around.
You have an entire year to try Green Zone Fortunes. If you're not satisfied for any reason whatsoever, you can cancel within the first 365 days for a full refund of your subscription fee.
Green Zone Fortunes scores major points here, as the industry standard is 30 days. This guarantee goes well beyond almost anything we've seen from similar services.
>> Join now to take advantage of Adam O'Dell's satisfaction guarantee <<
Is Green Zone Fortunes Legit?
Green Zone Fortunes is a legit newsletter service that is helmed by an exceptional investment guru, Adam O'Dell. This deal is packed with excellent investing research and tools that could help you discover promising opportunities in the stock market.
As mentioned above, this service is backed by an industry-leading money-back guarantee that covers your purchase for an entire year.
O'Dell's research is thorough, and he builds a strong case for why his stock picks should be on your radar.
Green Zone Fortunes Pros and Cons
Green Zone Fortunes looks like a winner, but there are some drawbacks too. Here are the pros and cons of the Green Zone Fortunes service.
Pros
Monthly

Green Zone Fortunes

newsletter with new stock picks in every issue

Weekly Hotlist

featuring O'Dell's top-10 stocks every Wednesday

Unlimited access to

Green Zone Ratings

for thousands of stocks

Extensive research into

Infinite Energy

and other green energy plays

Industry-leading 365-day satisfaction guarantee

Affordably priced
Cons
No community chat or forums

Doesn't cover options or shorts
Green Zone Fortunes Track Record
Adam O'Dell's proven investment strategies have led to many winning picks as of late. As the leader of this service, it's worth taking a look at some of his recent successes.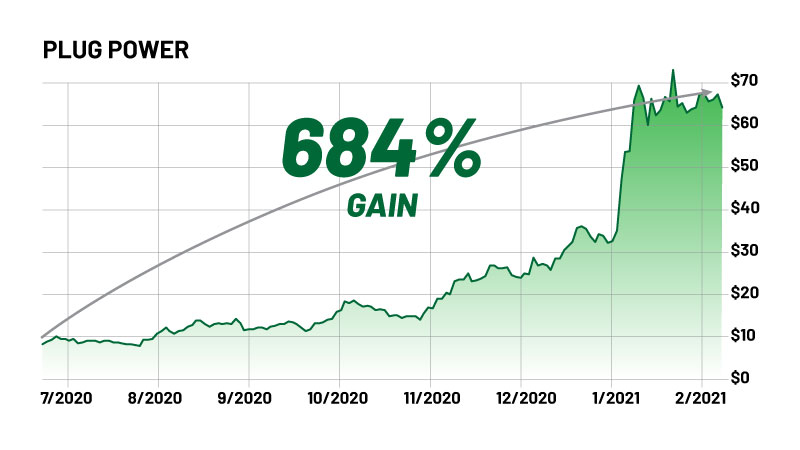 In July 2020, O'Dell recommended Plug Power, and the stock gained a whopping 684% over the next eight months.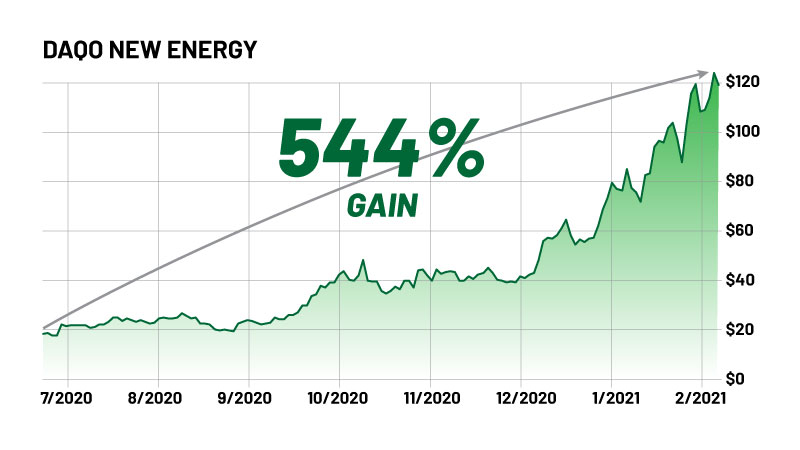 O'Dell also recommended Daqo New Energy in July 2020, and the stock produced a 544% gain in just seven months.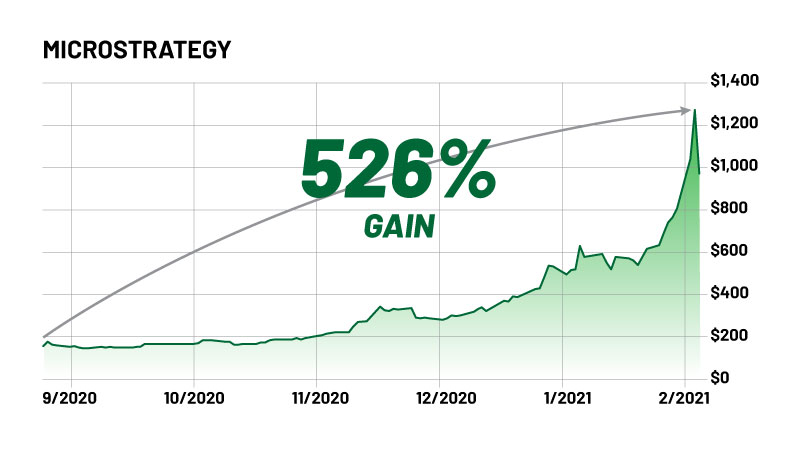 Microstrategy Inc, a blockchain firm, found its way onto O'Dell's radar in September 2020, and shares gained 526% in the five months following his call.
Around the same time, he made his Microstrategy call, O'Dell also recommended a cutting-edge biotech firm called Fulgent Genetics. It shot to a 496% gain in just five months.
These are some of his top-performing peak gains from his untracked picks in his Hotlist. The stocks in his official model portfolio haven't hit gains like this, but Adam believes there is a lot more to come.
O'Dell made all of these recommendations in 2020, so they are fairly recent examples. But it's difficult to argue with results like that. Clearly, O'Dell has a knack for picking winners.
Investing is inherently risky, and these results shouldn't be seen as typical. You should never invest more than you can stand to lose. However, these examples give you an idea of what's potentially at stake with a talented stock-picker like O'Dell leading the charge.
>> Join Green Zone Fortunes for more great stock picks like these <<
Green Zone Fortunes Reviews
We couldn't find any verified member reviews for Green Zone Fortunes. That said, the service seems to have earned solid praise online from individual reviewers.
We'll keep you in the loop once verified member reviews are posted.
For now, we can say we're very impressed with Green Zone Fortunes. Adam O'Dell's track record speaks for itself, and he provides exceptionally researched stock market insights.
How Much Does Green Zone Fortunes Cost?
A subscription to Green Zone Fortunes will typically run you about $199, and Adam O'Dell estimates that the Infinite Energy bundle includes $1,594 worth of valuable investing resources.
However, our readers can tap into a special deal on the Infinite Energy bundle. If you sign up now, you can access the complete package for just $47.
At that rate, you'll save roughly 75% off Green Zone Fortunes' full sticker price, plus you'll get all the bonus resources covered in this review. It all breaks down to an average monthly cost of just $3.90.
Best of all, you're still covered with O'Dell's 365-Day Promise, which gives you a full year to test drive the service with the reassurance of a full satisfaction guarantee in your corner.
Alternatives to Green Zone Fortunes
Green Zone Fortunes is an excellent newsletter. However, there are alternatives worth considering.
Some of these services tackle different niches, which could complement Green Zone Fortunes and add even more diversity to your portfolio.
If you're in the market for multiple research products, these alternative services might also be a good fit.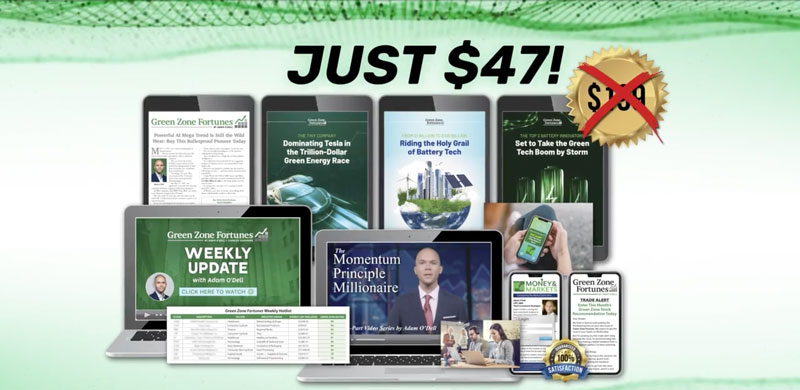 Is Green Zone Fortunes Worth It?
After a thorough review, we can say that Adam O'Dell's Green Zone Fortunes is an excellent service, and this bundle is a great deal.
For just $47, you get access to tons of valuable investing resources, including a masterclass video series that teaches you O'Dell's most successful strategies.
The bonus reports are also an enticing addition to the deal. These reports can lead you to several promising new energy stocks that could be set to soar in the years ahead.
With so much to offer at such a great price, you might think this deal is too good to be true, but O'Dell's ironclad 365-Day Promise should dispel any remaining doubts you have about this service.
Clearly, Adam O'Dell stands by his work, and he's crammed tons of value into the Green Zone Fortunes Infinite Energy bundle.
All things considered, Green Zone Fortunes is an excellent service that could provide the tools you need to take full advantage of the booming green energy sector. We highly recommend you give this up-and-coming research service some serious consideration.
>> That's all for our Green Zone Fortunes review. Get started now to save 75%! <<