Discord is a chat app that was designed primarily for gamers but has become popular with others.
In this post, we'll learn a little more about the company and how it makes money.
Who Owns Discord?
While the company has had several investors and gone through several rounds of venture capital pitches, it remains in the hands of its original founders.
Jason Citron is a co-founder and chief executive officer (CEO).
The other co-founder is Stanislav Vishnevskiy, who is also the company's chief technical officer (CTO).
Discord has 11 team members, six of whom are board members.
How Does Discord Make Money and Does it Make a Profit?
The co-founders of Discord have committed to making sure that the chat app is always free to use.
Additionally, they are opposed to including ads in the platform or selling their users' data.
That has often led to the question, "How does Discord make money?" To answer that question, you have to look closely at the other products or services the company offers.
These additional elements are a part of the company's monetization strategy.
The business strategy includes optional items, Discord merchandise, and Discord Nitro.
For its optional items, Discord offers its users accessories they can use to enhance their gameplay.
While they're not necessary, it's one way the company can make money.
These optional cosmetic items include skins, custom emojis, sticker packs, and sound packs.
Discord also sells branded merchandise such as t-shirts, hats, sweatshirts, and hoodies.
The company doesn't seem to make much money from this venture though it counts as an effective marketing strategy.
Since the app is free to use, some users support the company by buying its merchandise.
Discord Nitro is the paid version of the chat app.
Users can pay $4.99 monthly for premium features like animated avatars, high-resolution Screen Share, customized emojis, a Discord Nitro badge, and a higher upload limit.
In 2018, the company announced an optional upgrade for $9.99 per month, which would include access to a large library of curated games.
Users don't have to upgrade their Discord Nitro subscription.
Even with these packages, it's unclear how much of a profit the company might be pulling in.
They are, however, constantly growing and attracting investors.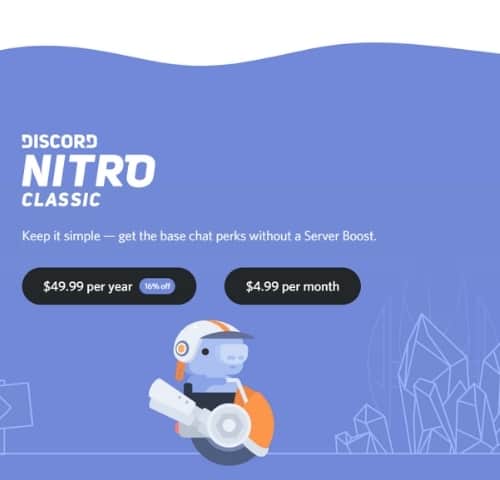 How Much is Discord Worth?
Since its inception and official launch, Discord has had 18 investors.
It has also raised $379.3 million dollars in funding over a period of 10 rounds.
The first round was to gain the seed money the company needed in 2012 and it raised $1.1 million.
In June 2020, Index Ventures invested $100 million in the company.
While making its sales pitch for potential investors, Discord noted its commitment to further expanding its services and earn more money.
This investment boosted Discord's valuation to $3.5 billion.
While many people other than gamers have been using the chat app for team communication and collaboration, Discord had not been actively promoting this use.
For the most part, its growth has been supported by 'word of mouth' marketing.
It's estimated that if the company develops a more focused marketing strategy, its user base, revenue, and hence valuation will increase.
How Much Money Does Discord Make Per Year?
Like many private companies, Discord does not disclose how much money it makes.
As such its annual revenues are mostly estimated. This breaks down as follows:
2016 – $5 million
2017 – $10 million
2018 – $30 million
2019 – $70 million
2020 – $120 million
How Much Money Can Discord Make in the Future?
Moving forward, Discord is exploring other avenues of making money.
One way is by incorporating the chat app into gaming platforms such as GameBridge.
By doing this, Discord would reach even more users and grow their subscriptions.
The company can also explore partnerships with other platforms.
For example, Discord's recent venture with Spotify allows users to connect both accounts.
Similar partnerships would grow Discord's user base. Finally, Discord launched its own game store in 2018.
The service was released to 50,000 Canadians initially but is now open to everyone.
Some games are only available on Discord, which boosts its appeal to gamers.
A Look at Discord's History
The company, Discord was founded in 2012. It became operational after raising seed capital from an investor.
This company's focus was on game development and the technology associated with them.
In 2014, Jason Citron was developing a free-to-play iPad game called 'Fates Forever' with his team.
While working on it, he was not satisfied with the communication and support from existing (voice over internet protocol) VoIP services.
These services often required users to have multiple IP addresses or weren't as secure as persons needed them to be.
Citron decided to develop his own chat service that would allow his internal team to communicate through talk and text messaging.
His aim was for the app to be multifunctional without being hard to use. He also wanted to ensure that users of the chat app would have privacy.
That's how Discord was born. It was designed to be a chat app for multiplayer mobile gamers.
Although Jason Citron and his team were not successful in monetizing 'Fates Forever', he decided to offer Discord as a service to the gaming community.
Discord was officially launched in 2015 as a way for gamers to talk to their team members while playing.
The free voice and text chat application uses a low band, high-quality VoIP audio for its uninterrupted channel.
Over time, Discord has broadened its scope to facilitate communication between different types of teams.
Since its launch, Discord has grown its number of registered users to over 250 million.
According to recent statistics, the chat app has an average of 19 million active users.
It's also estimated that users send 15 billion messages per month on the platform.
Discord's Notable Features
One of the reasons that Discord has steadily grown its number of active users is because of its features.
The chat app was designed to incorporate the user-friendly chat interface of apps like Slack with the voice capabilities of Skype or TeamSpeak.
Seamless multipurpose functions allow persons to communicate using Discord while doing other tasks.
At its inception, this made Discord valuable to gamers because they could organize efforts before, during, and after playing.
The app supports text, video calls, and voice chats, which are helpful when gaming.
It also gives players the option of searching for others and adding them to a group while they're still active in a game.
Another useful feature for gamers is that they can live stream the game they're playing.
As they're playing, they can send out invites to persons they'd like to watch the game.
When using Discord, persons can also listen to music from Spotify.
While Discord was originally created with gamers in mind, quite a few of its features have much broader applications.
These applications include creating unique groups for your teams.
Group administrators can then manage how members interact with each other and the group as a whole.
When working with team members, you can use helpful tools such as Screen Share to help everyone learn from the same resource.
Discord further offers the option of maintaining both private and public groups.
This feature is useful for people who wish to manage messages within their team but also post information that the public can access.
Where security features are concerned, Discord offers IP and DDoS (Distributed Denial-of-Service) protection for its users' servers.
The chat app also has smart push notifications, custom hot keys, and low latency.
Discord was designed to be easy to use on both mobile devices and computers.
Conclusion
Since Discord doesn't publish its revenue information and has received multiple investments, it's hard to say if they're making a profit.
It is clear, however, that the company is making money.
As the company's user base continues to grow, its options for earning more money will also grow.