DoorDash is a food delivery company that competes with the likes of GrubHub, Uber Eats, and Deliveroo. Its services are available in the United States, Canada, and Australia. In December 2020, the company held its initial public offering. DoorDash's ticker symbol is DASH which you can buy using Webull, a commission-free investment platform. With rapid expansion and a crowded market, how does DoorDash make money?
The company was launched in 2012 in Palo Alto, California by students from Stanford University.
Originally called PaloAltoDelivery.com, the company made its first delivery in January of 2013.
Since then, the company has undergone rapid expansion, like many food delivery startups.
DoorDash has now expanded beyond North America when it made its first Melbourne deliveries in 2019. But is DoorDash actually profitable?
How Does DoorDash Make Money?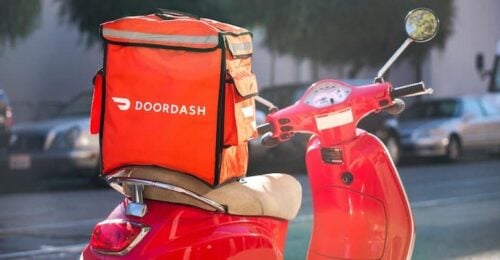 There are several ways DoorDash makes money from its service.
They make money from commissions, service fees, subscription fees, and logistics services.
The app holds one of the biggest market shares. They overtook Uber Eats in 2018 to hold the second position for U.S. food delivery.
Below, we outline exactly how DoorDash makes money.
Service Fees
DoorDash charges their customers a fee for every order placed on their app.
This includes both a service fee and a delivery fee.
The service fee is a charge for using the app and is a small percentage of the total order.
The delivery fee ranges in price depending on current demand and the distance of the trip.
They use this fee to pay the delivery driver for their time, but how much they get of the fee is not public knowledge.
Commissions
DoorDash also charges merchants for its service by taking a commission from restaurants.
When a customer places an order through DoorDash, the company will take a percentage of the sale.
How much they take varies between agreements with restaurants, so the information isn't publicly available.
It's thought that the average commission is around 20%.
Subscription Services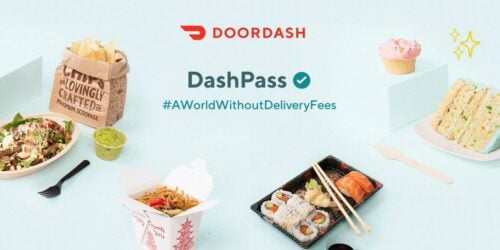 The company has a subscription service that customers can opt in to for a monthly fee of $9.99.
In exchange, the delivery fee will be waived on orders over a certain amount.
They also charge a reduced service fee per order.
It's called DashPass, and it can be purchased individually or through your place of work as part of the DoorDash for Work program.
Drive
DoorDash offers a logistic service to companies that have their own delivery service.
This service, called Drive, allows companies to access DoorDash's fleet of drivers to meet spikes in demand.
The service's pricing is on-request only and is likely a negotiated fee between the two companies.
How Much Money Does DoorDash Make?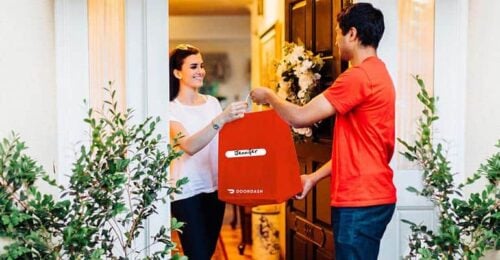 DoorDash has yet to become a profitable company. The company is still in its growth phase and has aggressively expanded.
They claim to connect over 390,000 merchants with 18 million customers. They also report having over 1 million drivers.
The company posted a loss of $667 million in 2019.
Despite the rise in home delivery due to the coronavirus, the company was not profitable for 2020.
After filing to go public in 2020, the company revealed its annual revenue for 2020 as $1.9 billion.
The company also experienced its first profitable quarter during April and June.
The following quarter saw the company running at a loss once again.
History of DoorDash
The company was founded by students of Stanford University.
Tony Xu, Stanley Tand, Andy Fang, and Evan Moore started PaloAltoDelivery.com in January 2013.
By March 2013, the men had raised $120,000 in seed funding from YCombinator.
In June the company was incorporated under its new name: DoorDash.
DoorDash has gone on to raise over $700 million in venture capital funding from prominent investors such as Charles River, Ventures, SV Angel, SoftBank, and more.
The company has grown rapidly since its inception. Since 2019, it has been the largest third-party food delivery service in the U.S.
Who Owns DoorDash?
3 of the 4 founders are still working at DoorDash and hold the largest stake in the company.
Evan Moore left the company to become a partner at Khosla Ventures and no longer owns any part of DoorDash.
The remaining founders are Tony Xu, who is now the CEO with the largest stake of 5.2%, while Stanley Tang and Andy Fang are directors of the company and hold a 4.7% stake each.
What Is DoorDash Worth?
The valuation of DoorDash at the time of its initial public offering in December 2020 was $39 billion.
This then almost doubled to $66 billion as the company experienced a boost after being listed.
The company has recorded that revenue between 2019 and 2020 was up almost 400%.
Despite this, the company is not yet profitable and now has shareholders to appease.
How Can DoorDash Make Money In The Future?
DoorDash can leverage its position in the market to get new customers and merchants.
The company can continue to expand internationally with name recognition.
In 2019, the company acquired Scotty Labs, which focuses on self-driving and remote control vehicle technology.
DoorDash may look to reduce outgoings by automating the delivery process.
This would remove the need for drivers and thus secure more profit for the company.
The company has also opened its own restaurants through the use of ghost kitchens.
These are kitchens that can be hired for the sole purpose of making takeaway food.
By November 2020, the company had opened a physical restaurant in the Bay Area.
How Does DoorDash Make Money?: Final Thoughts
Since its start in 2012, the company has gone on to have a 50% share of the food delivery market.
The company has expanded outside of the U.S into Canada and Australia.
The food delivery market boomed in 2020 thanks in part to the COVID-19 pandemic, and DoorDash has been able to grow even faster as a result.
With the company going public in 2020, DoorDash shows no signs of slowing down. This is a company that continues to grow and innovate.