One Ticker Trader has built up a bit of buzz online, and many want to know if the service's lead is really up to the task.
Larry Benedict has been around the block, but his latest project could be his most compelling yet.
The online stock market community is buzzing about.
Check out my full Larry Benedict review to get the scoop on his credentials and his latest investment newsletter.
Larry Benedict Review: Overview
Larry Benedict is the CEO of Opportunistic Trader and the mind behind One Ticker Trader.
His area of expertise is options trading, and many of his premium services lean into this strategy.
I'll dig into his services later, but let's start with a look at his background.
Larry kicked off his trading career back in 1984 at the Chicago Board Options Exchange. He started on the trading floor as a market maker in equity derivatives products.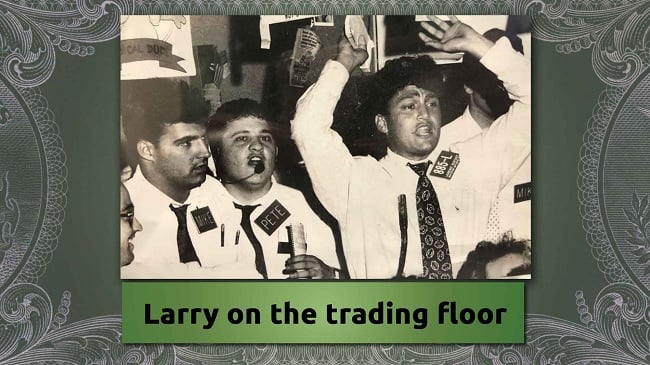 He eventually left CBOE and joined up with the American Stock Exchange.
Later on in 1989, Spear Leeds & Kellogg (SLK) tapped him on the shoulder to become its options specialist.
Goldman Sachs bought out SLK in 2000. And Larry took the opportunity to start his own firm, Banyan Equity Management.
His success with Banyan earned him a spot on Barron's list of the most successful hedge funds. He was also featured in Market Wizards.
These trading exploits are impressive. However, it wasn't always this way for Larry.
>> Sign up to Larry's One Ticker Trader TODAY<<
Off to a Rough Start
While Larry eventually saw success in the stock market, there were struggles along the way.
Normally, someone would brush this under the rug. But he is refreshingly honest about his early blunders.
In the One Ticker Trader Retirement Plan presentation, he shares some of the biggest mistakes made in his early years.
"You see, I've been a professional trader for more than 30 years. And I've had a great career.

But I got off to a horrible start.

In my first two years, I got fired more times than I can count."
Before Larry was a hedge fund manager, he was a trader without specialization.
And it took a while for him to hit his stride.
"I was trying to trade everything.

The latest "hot" stock…

The latest trading fad…"
His overly broad approach to investing held him back. However, once he settled into options, it clicked.
He continued to hone his skills and eventually developed the One Ticker Strategy.
Larry's journey is a testament to the power of perseverance and the importance of finding one's niche.
His initial struggles, far from deterring him, served as stepping stones to his eventual success.
Larry's One Ticker Strategy, born out of years of experience and learning, is a reflection of his expertise in options trading.
It is a strategy that has been honed over time, reflecting his deep understanding of the market and his ability to adapt to its ever-changing dynamics.
Larry Benedict Review: Strategy
Larry Benedict uses a range of options strategies.
However, he's probably best known for his One Ticker Strategy.
It's a simple approach that fixates on one stock at a time. And combined with trading options, it offers the opportunity to make money off a stock regardless of the direction it moves.
In essence, Larry becomes an expert on one stock or investment theme at a time. He then recommends options contracts (calls and puts) based on where he believes the stock could move next.
Larry Benedict claims his strategy has been particularly effective.
Once he believes the investment thesis has run its course, he moves over to the next stock or theme.
The draw is that, unlike buy and hold strategies, this approach provides the opportunity to profit in down markets without waiting for a reversal.
Several of Larry's services follow this approach, including One Ticker Trader and The S&P Trader.
In the latest presentation for One Ticker Trader the newsletter taps into an iteration of Larry Benedict's strategy called The One Ticker Retirement Plan.
The blueprint for his approach is in his latest One Ticker Trader research package.
>> Join and learn the One Ticker Strategy <<
Larry Benedict's Prediction for 2023?
In Larry Benedict's presentation, he shares his latest prediction that indexes could be flat or negative for quite some time. He says, "we have had 10 years of plenty … [and] now we're looking at five years of famine."
In short, Larry is not optimistic about the market's current direction.
This is one of the key reasons he believes his One Ticker Strategy could help folks rebuild their portfolio quicker than traditional approaches.
In this iteration, he calls it The One Ticker Retirement Plan. The goal is to find opportunities to grow portfolios using one ticker at a time.
For clarity, Larry does not recommend that someone puts all of their retirement savings in one stock.
Instead, he believes that trading options on a single ticker could perform better in the current market — and that even a small amount of capital might make a big difference.

What Is Opportunistic Trader?
Opportunistic Trader is a market research publisher led by Larry Benedict. Unlike many publishers, this one has a very strict focus: options.
I appreciate that Larry sticks to what he knows best instead of chasing the latest investment trends.
Many of his publisher's newsletters follow the One Ticker Strategy. Each one has its own twist on the formula.
The premium newsletters include:
One Ticker Trader

The Opportunistic Trader

The S&P Trader
One Ticker Trader is the publisher's entry-level offering. It's also the most economical.
So if you're on the fence about signing up for one of the premium newsletters, One Ticker Trader might be the way to go.
There is also a free newsletter called Trading with Larry Benedict.
This one offers a blend of market analysis. It also provides occasional insights from other trading industry professionals.
The free newsletter is a worthwhile read. However, it does not provide premium insights, like trade ideas.
The publisher only offers recs with premium subscriptions.
>> Tap into the team's strategy's HERE<<
What Is One Ticker Trader?
One Ticker Trader is an options-focused newsletter helmed by Larry Benedict and published by Opportunistic Trader.
Memberships come with a weekly newsletter, bonus reports, trading resources, and more.
As the name suggests, the trade ideas dial in on one ticker at a time.
The biggest draw is the steady stream of recommendations.
Many research services only offer one trade idea. However, the One Ticker team aims for three to five.
Larry can deliver this many trade ideas because they're tied to one stock or theme. He's not splitting his attention trying to cover multiple companies at once.
Also, people live busy lives. Not everyone can execute on every trade recommendation. It's helpful that members can wait until the next idea if they missed timing an entry.
This is just scratching the surface of everything on offer. I'll cover it in more detail in the next section.
What Comes with the Service?
One Ticker Trader is packed with standout features that let members tap into hedge-fund-level strategies.
Let's start by looking at the newsletter.
One Ticker Trader Newsletter
One Ticker Trader's weekly newsletter is where members receive the latest trade recommendations.
Each recommendation is backed by supporting analysis.
They also take extra care to be informative and succinct. There's no fluff or needless jargon.
Also, as mentioned, the number of trade ideas varies. The team only issues a rec when they believe there's an emerging opportunity.
This means that some weekly issues might not have a trade idea.
More doesn't always equal better, anyways.
Larry's Open Recommendations
This resource provides a convenient place where members can keep track of all open positions.
It includes the ticker, buy-up-to-prices, and supporting analysis.
You can quickly skim the portfolio to get up to speed with the team's most recent ideas.
Trade Alerts and Updates
The service makes sure members stay up to date with frequent alerts.
These alerts include sell recommendations, market forecasts, as well as bonus trade ideas.
Given that this is an options-focused newsletter, it's a critical feature to stay in the know about any market moves that could affect an investment.
The One Ticker Trader Retirement Plan
This special report is the centerpiece of this deal. Members learn how to master the One Ticker Trader Retirement Plan and integrate it into their trading.
The strategy doesn't rely on tracking different sectors, earning reports, etc. So it could be one of the more beginner-friendly options strategies out there.
Still, it's not a magic pill and could take some time to get a grasp of.
>> Join today and see the One Ticker Retirement Plan in action <<
Larry's Guide to Trading Options
If you're new to options, don't worry. This report has you covered.
Each member gets immediate access to a primer for trading options as soon as they sign up.
His guide teaches the fundamentals of trading options, including how to set up an account. It also details his process for spotting opportunities in the stock market.
This makes it much easier to follow along with his analysis.
While the guide is good for beginners, it's not required reading for folks with more experience. So you are free to dive right into the trade ideas if you have a strong grasp of options.
Refund Policy
New members signing up under the One Ticker Trader Retirement Plan package have access to a 60-day money-back guarantee.
This means you have 60 days to test out the service. If you don't feel like it's a good fit, you can opt for a full refund.
The industry average for refunds is about 30 days. So this doubles the typical window.
Even if you don't stick with the service, you can keep the bonus reports.
How Much Does the Service Cost?
One Ticker Trader typically retails for $199 a year. This is a solid price, but the team is sweetening the deal with the One Ticker Trader Retirement Plan bundle.
New members can sign up for the introductory rate of $29. This shakes out to an impressive 85% discount on the first year.
And there's also no trade-off.
New members can tap into all the exclusive trading resources I mentioned earlier. It's that simple.
Keep in mind, though, that this is an introductory offer. The next annual subscription will cost $129.
Even the renewal price is a solid deal considering that the service usually runs $199.
Larry Benedict Review: Is He Legit?
Larry Benedict is legit.
He's spent decades in the financial markets, and it shows in the quality of his research.
Also, his publishing company, Opportunistic Trader, has a solid catalog of options to choose from. It's a great place to pick up the tips and tricks Larry learned on the trading floor.
Larry Benedict Review: Final Verdict
Larry Benedict is a talented analyst with an excellent eye for options trades with potential.
His publisher, Opportunistic Trader, has a range of solid newsletters worth checking out.
Some of them are on the pricey side, but there are more affordable options.
The free newsletter could be a good place to start if you want to read his insights for free. He doesn't offer trade ideas through this newsletter, however.
The most economical premium service is One Ticker Trader — especially under the One Ticker Trader Retirement Plan deal.
Plus, it comes with a bunch of great add-ons.
Each subscription is also backed with a 60-day money-back guarantee.
I recommend keeping these services on your radar if you're looking for options recs from a seasoned pro.
>> That's it for my review. Sign up to One Ticker Trader for 85% off <<