We've seen a lot of positive press about Linqto online, and we wanted to know what all the hype is about. Check out our Linqto review to find out everything you need to know about this private investment platform and its pre-IPO deals.
What Is Linqto?
Linqto is a digital platform that provides private investment deals to accredited investors. Members can use the platform to find, research, and purchase shares of companies long before their initial public offering (IPO).
Linqto Inc. is based in San Jose, California. Fortunately, you don't need to be a resident to use its platform.
Similar to how public market traders made listed equities trading accessible to investors, this platform provides access to the private market.
Linqto also allows private shareholders to liquidate their positions early through direct sales of their stakes in a company. This is great for founders, employers, and early investors looking for a simple way to cash out early without the hassle or exorbitant fees.
Some of the companies that you can invest in through Linqto include Uphold, Kraken, Automation Anywhere, Zipline, and more. There are plenty more pre-IPO companies, but these are just some top names.
The team is on the search for even more opportunities to expand its private portfolio.
Each offer is carefully vetted, so Linqto's portfolio is not as extensive as some. The trade-off, though, is the company follows a quality over quantity approach.
Linqto has a team of over 30 people, a board of directors, and a set of advisors that aid its operations. It was officially incorporated in 2009, and it initially operated as a digital banking technology company that provided software-as-a-service (SaaS) to customers.
>> Already sold on Linqto? Click HERE to sign up! <<
Investing in pre-IPO stock typically comes with more risks than some traditional investment types. That's because many of these are unproven companies that may be at the tipping point of a breakthrough or product launch.
Stocks like this are highly speculative by nature, especially tech companies, so these shares might appeal more to someone with a higher risk tolerance. While the risks are high, the trade-off is that finding the right company could come with substantial rewards.
Linqto's FAQ actually has a very succinct explanation of the opportunities in the pre-IPO market.
Let's hear what they have to say:
"In today's market, modern companies are staying private for much longer than they used to. The median age for tech companies going public in 2000 was 4-5 years, compared with 12 years in 2018. The returns generated by these companies during their growth phase are only achievable by accessing the private share market."
Getting in early could position you for a big payday, but there's always the risk of buying into a dud, so exercise caution.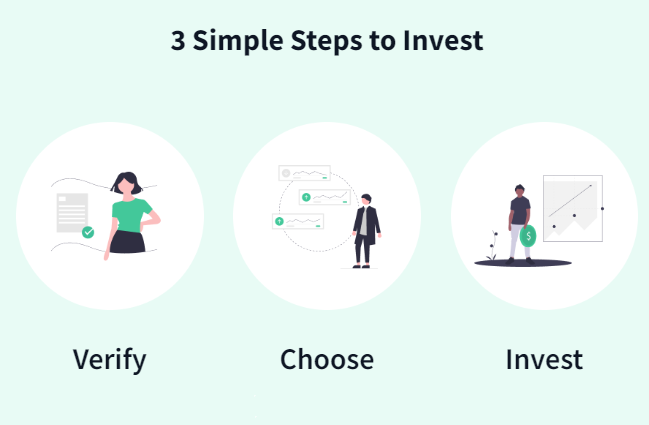 Linqto Review: How Does It Work?
The technology-enabled platform Linqto helps accredited investors (small or large) overcome the inaccessibility and costliness of secondary markets.
This means the service can't be used by non-accredited investors, but Linqto specifically states that this is due to US regulations.
Using the Linqto app, investors can make as many private market investments as they want.
The platform provides liquidity to both small and large institutional investors by allowing them to exit positions early, with caveats.
The company also uses a block of shares placed in an SPV listed on the issuer's cap table. Therefore, unit investments in the SPV reduce the time for acceptance. The platform also fully automates documentation by using autofilled forms and electronic signatures.
How Do I Become an Accredited Investor with Linqto?
To verify your accredited investor status, all you need to do is email Linqto at invest@linqto.com.
You can also verify your accredited status directly on the Linqto site.
To qualify as an accredited investor, you must:
Have an individual or combined net worth of $1,000,000, excluding your primary residence.

Or have an annual income over $200,000 in the most recent two years or $300,000 of joint income with your spouse.

Qualify as an accredited investor in your country if you're outside the US.
This is what the signup will look like…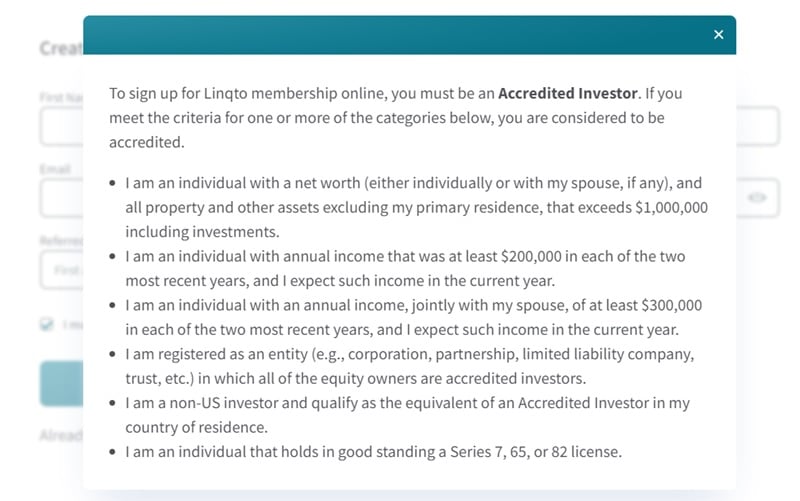 This is a refreshingly concise description, and we commend Linqto for not packing it with opaque jargon.
If you meet these qualifications and get approved, you can sign up and start browsing Linqto's selection of pre-IPO private investments.
It's that simple.
Also, founders of companies, VCs, and long-term employees are welcome to use Linqto. You can even invest on the platform through a 401k, IRA, trust, LLC, or another entity.
What Happens When My Company Exits?
When the underlying company exits and enters the public markets, Linqto will contact you to move the shares over to your brokerage account.
If you do not have an account, you will need to open one to transfer your now-public shares.
Once the shares are in your brokerage account, you can choose to sell or hold them.
Is Linqto Safe?
Linqto uses 256-bit encryption to offer comprehensive, industry-standard security. The company also assures users that personal information will not be shared during the verification process.
Linqto earned a 100/100 score on security posture and cyber resilience by SecurityScorecard.
That said, no company can promise to keep your data 100% safe, including Linqto.
Can I Buy Stock in Ripple on Linqto?
Accredited investors will be happy to know that it's possible to buy stock in Ripple through Linqto. There are plenty of other private companies listed on this zero-fee investment platform, so keep reading for more info.
Can I Invest in Linqto?
You can invest in Linqto through… Linqto. Its stock is not available on any major stock exchanges because it is not a publicly traded company, so you'll need to use the Linqto platform to invest.
The site says that pre-IPO shares of Linqto are one of its top sellers.
Here's a look:

Linqto is the first private deal company we've reviewed that actually has its own shares listed, so we'll give it extra credit for originality. You can also invest in Uphold, which is a multi-asset digital trading platform that is partnered with Linqto.
Linqto Review: Features
Access to Private Company Shares

Linqto Bucks

Global Investor Conference

Market Insights Daily

Transfer to Uphold Wallet

Selling Shares to Linqto

Linqto App
>> Ready to sign up for Linqto? Just click here! <<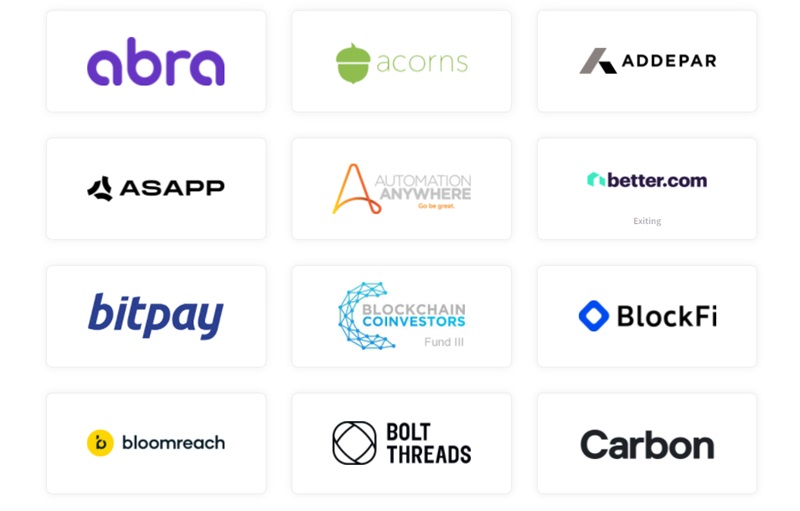 With Linqto, accredited investors can access pre-IPO stocks from private companies as soon as verification is confirmed.
Purchasing pre-IPO shares works similar to when you use a trading platform for buying stocks, mutual funds, bonds, exchange-traded funds, etc.
You can see global private securities markets and sift through some of the world's leading unicorns and acorns to determine which ones have the best potential for early returns.
The Linqto Liquidshares Portfolio boasts 4,260 member investments, 144 investments in over 28 companies, and $72 million invested.

The companies that Linqto provides access to are leading names across a variety of sectors including tech, personal and investment finance, retail, and consumer goods.
Some of Linqto's products include:
Coinbase

Acorns

Addepar

BloomReach

Impossible

Kraken

NerdWallet

Rubrik

Robinhood

Ripple

Security Scorecard

SoFi

Tradeshift

Thought Spot

Zipline
With access to so many big names in the private equity market, Linqto has proven itself to be a leading platform for accredited investors.
>> Ready to invest with Linqto? Click HERE to sign up! <<
Global Investor Conference
Linqto's Global Investor Conference is a live and virtual event held every quarter that connects clients and guests with expert panels and much more.
These panels and interviews allow you to get first-hand insights from speakers who are well versed in the world of finance and private investment. This quarterly conference usually spans an entire day, so you'll have more information than you might know what to do with.
The panels and interviews last for about 40 minutes, and you're invited to ask questions.
Best of all, it's completely free to join.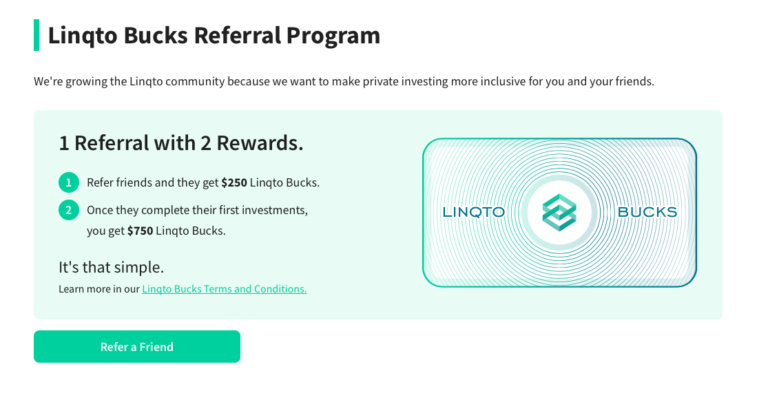 Linqto Bucks
Linqto Bucks is the referral program that the platform uses to reward you for inviting others to join.
When you refer people to the platform, they get $250 in Linqto Bucks.
Once your referrals complete their initial investments, you will get $750 in Linqto Bucks. There are no limitations on the number of Linqto Bucks you can earn, and you can use them for any investments on the platform.
Depending on how many investors are in your financial circle, these Linqto Bucks can stack up surprisingly fast.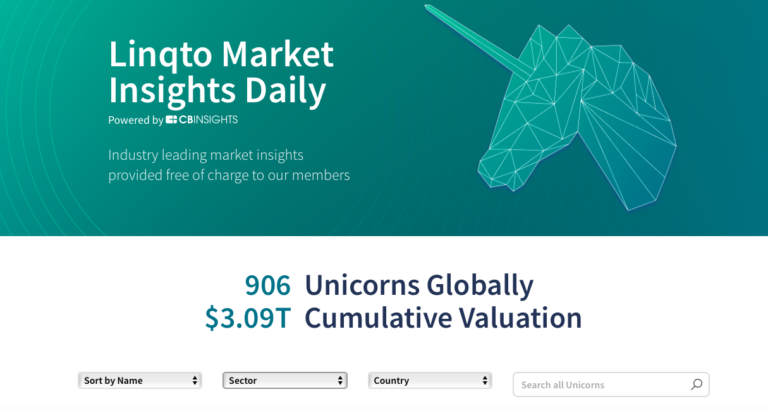 Market Insights Daily
As a Linqto member, you will have access to Linqto Market Insights Daily. This is powered by CB Insights and provides members with leading market insights at no additional cost.
You can easily use the toolbar on the Market Insights page to browse listings, sorting them by name, valuation, sector, or country.
The ease of use here is quite impressive. You can search for companies under your criteria with a few clicks.
>> Sold on Linqto? Join TODAY! <<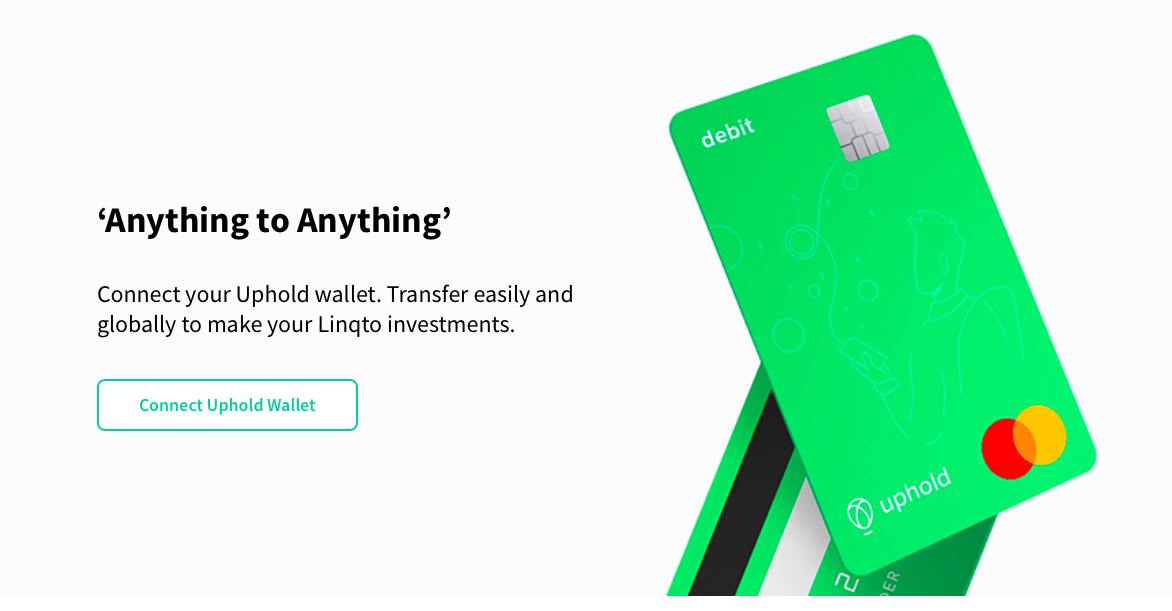 If you're worried about having to hold on to pre-IPO shares you don't want anymore, you're in luck. With Linqto, you can sell your shares to the company at any time, granted you are the original shareholder or optionee.
You cannot, however, sell back shares that you purchased through the Linqto platform back to Linqto, as outlined by the company's FAQ.
Here's the relevant snippet from the Linqto website for clarification…

Also, Linqto will only buy shares that it lists through its service. Regardless of the limitations, this feature is a serious plus, as you're usually stuck with no way out and no way to liquidate a position with pre-IPO shares.
Also, Linqto does have plans to eventually allow you to sell your shares to other parties through the platform, but it says that the regulations are extraordinarily complex and cumbersome.
For now, you'll need to wait for your Linqto investments to exit the private market if you want to invest.
Linqto App for Android and iOS
Accredited investors on the go will appreciate that Linqto has two mobile apps in addition to its web browser platform.
There's a version for both Android and iPhone, so you won't have to buy a backup to trade while you are out and about.
This is great for busy investors who don't want to boot up their PC or Mac every time they need to browse Linqto's selection.
Both have solid ratings in their respective app store.
Linqto Minimum Investment and Fees
Linqto has a $10,000 minimum investment, but this is reasonable considering the market you're given access to.
This is also substantially lower than the $50,000 to $100,000 minimums that have historically existed in the private markets.
Accredited investors who want to spread their cash evenly across multiple ventures will likely appreciate Linqto's investment minimum. This is only the minimum; however, you're welcome to put up more.
There are no hidden fees, brokerage fees, management fees, or carried interest included either. Considering that you don't pay a fee for signing up for the service, this is an excellent deal.
You only pay when you're ready to invest, which makes signing up more or less risk-free. If you're on the fence, you might want to consider signing up and checking out the private companies on offer.
Linqto Review: Pros and Cons
We found many positives in our Linqto review, but there are also some areas the service could improve on.
Let's take a look at the pros and cons of Linqto pre-IPO investing.
Pros
Invest in private companies

Simple way to add alternative investments to your portfolio

Setting up a Linqto account is easy

Zero management fees

Can quickly sell shares when the underlying company is listed on the stock market

Linqto Bucks allows users to make money off referrals

Linqto's minimum investment is $10,000, without added fees or hidden costs
Cons
The only contact method on Linqto's website is to fill out a contact form

Linqto investors cannot liquidate positions until a market exit

While Linqto offers a range of listings that aren't available anywhere else, more picks would be welcomed
>> Ready to get started with Linqto? Click HERE to sign up NOW! <<
Linqto Reviews
Linqto's service is scoring high marks across the web.
In fact, it has earned a respectable 4.2 out of 5 rating on the Google Play Store.
There are some negative reviews, but these seem almost exclusively about needing accredited status to invest. This is outside of Linqto's control and has more to do with how investments of these kinds are regulated.
Let's take a look at what some users have to say: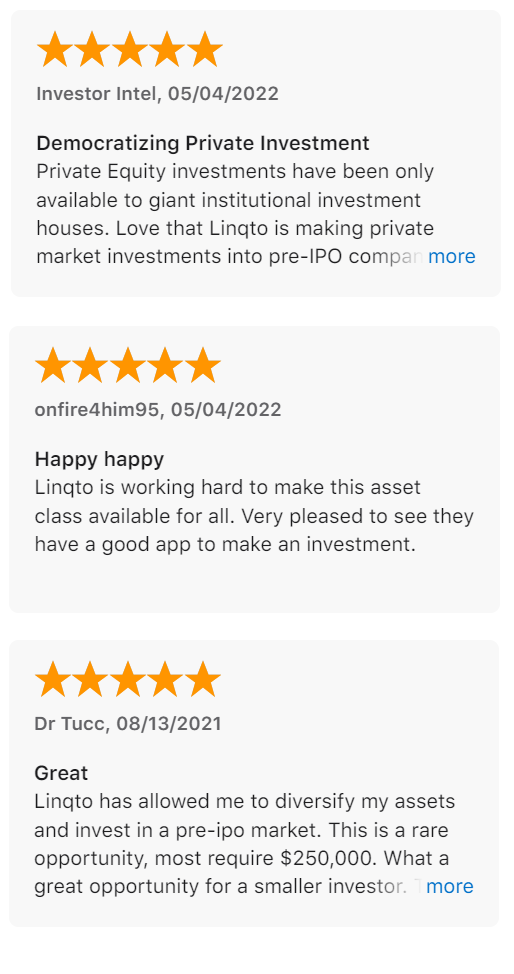 As you can see, plenty of folks appear to be happy with their pre-IPO companies.
The app runs like clockwork, and there's a strong catalog of private investments.
Is Linqto Right for Me?
Linqto offers a solid spread of pre-IPO stocks that could appeal to almost any accredited investor.
While it doesn't provide every opportunity under the sun, what it does offer is an effortless route toward finding and buying into unicorns.
Anyone in the market for a painless approach to private investing and low minimums could get a lot out of the platform. Given that these are highly speculative investments, it's likely best for folks with a high risk tolerance and good instincts.
Linqto doesn't provide any form of advice, so you'll need to be equipped to do your own due diligence before picking up any shares.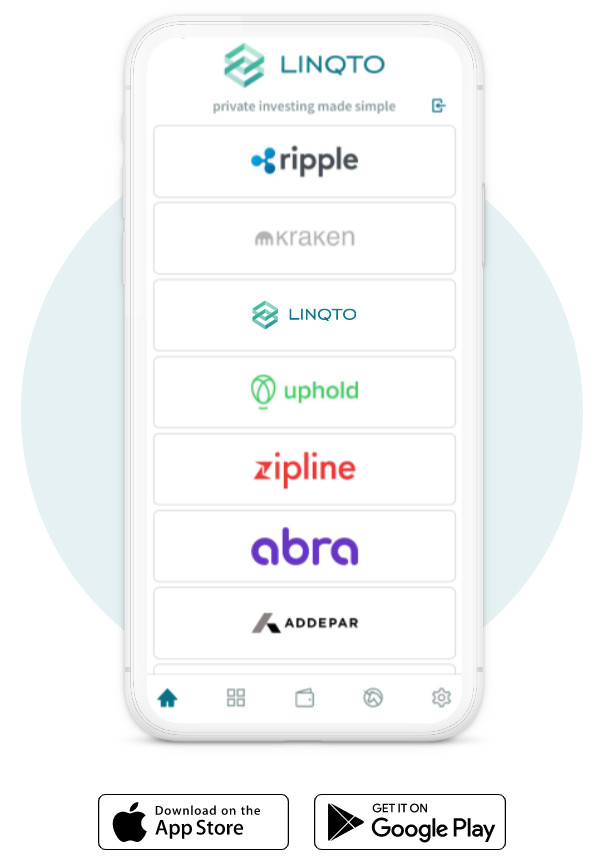 Linqto Review: Final Thoughts
Linqto is an excellent platform for investing in pre-IPO companies. It has a great portfolio of private investments and the team diligently vets the opportunities on offer.
If you're an accredited investor interested in private securities and unicorns, you might want to consider giving Linqto a shot. This is a relatively affordable platform (compared to others in the pre-IPO space) that allows you to realize early returns and take advantage of strong private market opportunities.
The fees are fair given how easy Linqto makes it to invest in the private marketplace. Also, features like Linqto bucks can stack up depending on how many like-minded folks you bring to the platform.
Linqto also has a couple of stellar features that it wants to add, like the ability to liquidate your position by selling your Linqto purchased shares back to the platform or other investors. If it can find a way to implement liquidations with the same ease of use that the platform is known for, this could be an absolute game-changer.
All in all, we're very impressed with the service and recommend that any accredited investors check it out.
>> Get access to top unicorn investments today! Sign up now! <<