Linqto is a private investment platform for a global network of accredited investors. Read our Linqto review to find out everything you need to know about this service and whether its listings are worth a closer look.
Linqto specializes in private market investments and provides liquidity to private securities markets.
The investment platform allows ordinary accredited investors to buy equity in private companies. It also allows founders of companies, venture capitalists, and employees to realize early returns without waiting for an IPO or trade sale.
Its tagline is "private investing made simple."
But does it deliver?
Tune into our Linqto review to find out.
Linqto Review: Company Overview
Based in San Francisco, Linqto helps accredited investors identify, evaluate, and invest in leading unicorns worldwide.
Similar to how public market traders made listed equities trading accessible to investors, this platform provides access to the private market.
Here are some of the listings available:
Ripple

Uphold

Kraken

Automation Anywhere

Eat Just

Carbon

Zipline
Linqto has a team of over 30 people, a board of directors, and a set of advisors that aid its operations.
Linqto was officially incorporated in 2009, and it initially operated as a digital banking technology company that provided software-as-a-service (SaaS) to customers.
In February 2020, the company announced the launch of a new investing platform, Equity in Unicorns, which was tailored to global private securities markets for accredited investors.
The company raised over $1.6 million in two funding rounds by 2020 and fully transformed into an investment platform through its Global Investor Platform.
>> Already sold on Linqto? Click HERE to sign up! <<
How Does Linqto Work?
The technology-enabled platform helps accredited investors (small or large) overcome the inaccessibility and costliness of secondary markets.
Using the Linqto app, investors can make as many private market investments as they want. You can use Linqto to purchase pre-IPO shares.
Additionally, transactions take less time, providing liquidity to both small and large institutional investors.
The company also uses a block of shares placed in an SPV listed on the issuer's cap table.
This ensures that unit investments in the SPV cut down the time on acceptance periods.
The platform also fully automates documentation by using auto-filled forms and electronic signatures.
Signing Up for Linqto
Investors can get verified on Linqto through an online process that takes less than 10 minutes to complete.
The verification process is free, and once verified, accredited investors are granted access to a dashboard to view their status and start investing.
>>Ready to sign up for Linqto? Just click here! <<
Who Can Use Linqto to Invest?
Any accredited investor, including small accredited investors, can use Linqto to access private markets.
Also, as mentioned, founders of companies, VCs, and long-term employees are welcome to use Linqto.
You can invest on the platform through a 401k, IRA, trust, LLC, or another entity.
Is Linqto Legit?
Linqto is a legitimate and secure company.
The company has been around for ten years — this is not a fly-by-night operation.
It offers a variety of reputable listings for accredited investors that aren't available anywhere else.
According to Linqto, it uses 256-bit encryption to offer comprehensive, industry-standard security.
The company also assures users that personal information will not be shared during the verification process.
What Do I Get with Linqto?
Linqto's platform offers some great features. Let's take a look at some of them now.
With Linqto, accredited investors can access private markets and pre-IPO stocks as soon as verification is confirmed
You can see global private securities markets and sift through the world's leading unicorns and acorns to determine which ones have the best potential for early returns.
The Linqto Liquidshares Portfolio boasts 4,260 member investments, 144 investments in over 28 companies, and $72 million invested.
The companies that Linqto provides access to are some of the leading names across a variety of sectors including tech, personal and investment finance, retail, and consumer goods.
Some of the companies that Linqto member have had access to include:
Coinbase
Acorns
Addepar
Bloom Reach
Impossible
Kraken
NerdWallet
Rubrik
Robinhood
Ripple
Security Scorecard
SoFi
Tradeshift
Thought Spot
Zipline
With access to so many big names in the private equity market, Linqto has proven itself to be a leader when it comes to accessing these types of investments.
>> Ready to invest with Linqto? Click HERE to sign up! <<
Linqto Bucks
When you refer people to the platform, they get $250 Linqto Bucks.
Once your referrals complete their initial investments, you will get $750 Linqto Bucks.
There are no limitations on the number of Linqto Bucks you can earn, and you can use them for all investments on the platform.
Market Insights Daily
As a Linqto member, you will have access to Linqto Market Insights Daily.
This is powered by CBInsights and provides members with leading market insights at no additional cost.
You can easily use the tool bar on the Market Insights page to browse insights, sorting them by name, valuation, sector or country.
These insights are a valuable tool used to invest more wisely in the private equity market using Linqto's platform.
>> Sold on Linqto? Join TODAY! <<
Transfer to Uphold Wallet
If you have an Uphold Wallet, you can easily connect your wallet to Linqto's platform.
This will allow you to easily transfer funds globally in order to make a Linqto investment.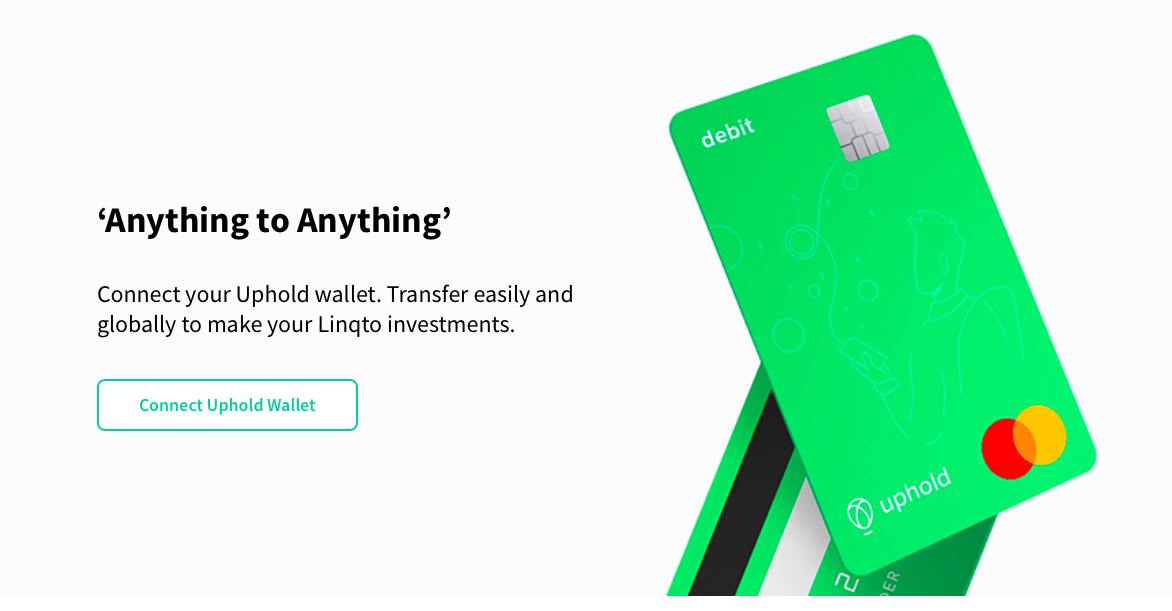 How Much Does Linqto Cost?
With zero fees, Linqto offers the lowest and simplest payment structure in the private market space.
There are no hidden fees, brokerage fees, or carried interest included either.
There is a $10,000 minimum investment, but this is reasonable considering the market your given access to.
This is also substantially lower than the $50,000-$100,000 minimums that have historically existed in the private markets.
Linqto Review: Pros and Cons
We found a lot of positives in our Linqto review, but there are also some areas the service could improve on. Let's take a look at the pros and cons of Linqto now.
Linqto Pros
Private Market Access – Their access to private market securities and unicorns is comprehensive and appealing to various levels of investors.
Fees – Zero fees.
Referrals – Linqto Bucks allows users to make money off referrals and use them on their accounts.
Affordability – A minimum order is $10,000, without added fees or hidden costs.
Linqto Cons
Customer Service – The only contact method on Linqto's website is to fill out a contact form.
Lack of Listings – While Linqto offers a range of listings that aren't available anywhere else, more picks would be an improvement.
>> Ready to get started with Linqto? Click HERE to sign up NOW! <<
Linqto Customer Reviews
Overall, Linqto has some excellent customer reviews. Let's take a look at a few of them from around the web.
Linqto Review: Final Thoughts
If you're an accredited investor interested in private securities and unicorns, you might want to consider giving Linqto a shot.
This is a relatively affordable platform that allows you to realize early returns and take advantage of strong private market opportunities.
If you really want private investing made simple, then this could be a great place to start looking.
With affordable minimum investments into pre-IPOs and private market securities, a comprehensive list of companies, and various unicorns available, Linqto offers a chance to make full use of the private market.
Keep this service on your radar if you're an accredited investor looking to jump into exclusive investment opportunities.
>> Ready to access the private market with Linqto? Sign up TODAY! <<