Luke Lango recently revealed an opportunity that could change the future of electric cars and disrupt the entire automotive industry. We're diving into the details to see if his prediction is legit. Check out our Luke Lango Project Titan Prospectus review for more details.
What Is Luke Lango's Project Titan Prospectus?
Luke Lango's Project Titan prospectus refers to a technology that could prove essential to Apple's next significant innovation: the Apple Car.
You read that right, the company founded by Steve Jobs back in 1976 could be breaking into the electric vehicle space. It's quite a departure from the smartphone market, but Apple isn't an ordinary tech company.
Code-named "Project Titan," Apple's EV project could push it to the forefront of the automotive industry.
Luke Lango has his own predictions about the Apple Car, but this innovation has been covered by prominent media outlets, including CNN, Fox Business, CNBC, and much more.
Though it might seem like many companies already manufacture electric vehicles, EVs only make up 4% of global car sales. This means there is a huge opportunity for Apple Car to capture a growing market share.
Luke Lango offers a range of insights in his Project Titan Prospectus presentation. However, his main focus is a company that could supply Apple with the tech it needs to bring its innovative product to life. 
Theoretically, folks could just buy Apple stock to get a piece of the action. However, Luke Lango believes one stock could experience even more explosive growth from this innovation.
But how does Lango's vital Apple Car supplier fit into the big picture?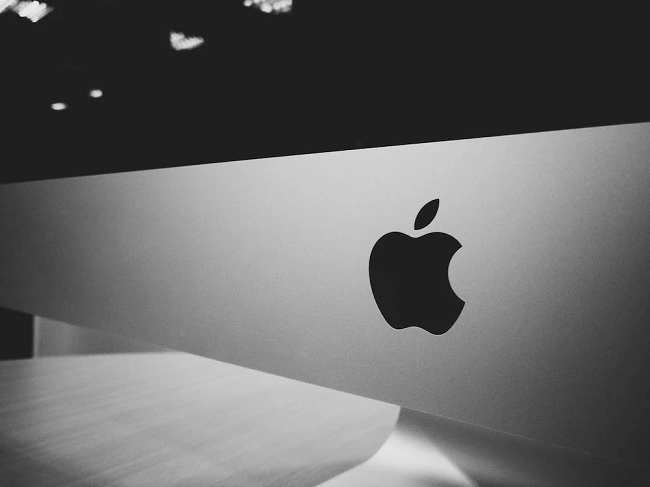 What We Know About the Apple Car So Far
While electric vehicles are hardly new technology, the Apple Car could be a game changer. According to Bloomberg's Mark Gunman, Apple is investing heavily in producing a fully autonomous vehicle.
Luke Lango refers to the Apple Car as "Apple's next potential trillion dollar product."
So far, Apple is speculated to have opened multiple research facilities worldwide, poached engineers from firms like BMW and Tesla, and filed hundreds of patents.
Apple is investing billions of dollars to combine two of the most innovative ideas in the world: electric vehicles and artificial intelligence. The result could be a fully autonomous Apple Car that forever changes Apple, the auto industry, and the world.
In his publication Innovation Investor, Luke Lango reveals that a tiny tech firm could ride the tailwinds of this megatrend. The company he's talking about has two former Apple engineers aboard, as well as 25 Apple alumni. There's even an ex-Apple senior executive in the mix.
Essentially, Luke Lango has spotted the opportunity to invest in a small Silicon Valley tech firm that could help reshape the global electric vehicle industry.
And while the big draw is Apple's involvement, folks could take advantage of the opportunity without investing in Apple stock directly.
Apple's Hidden Profit Pattern
Luke has discovered that suppliers who land deals with Apple often see enormous growth as a result.
We've seen several examples of this phenomenon in recent years, and Lango cites several examples in his presentation.
Now, Lango believes another a virtually unknown tech supplier has the potential to explode, thanks to Apple's Project Titan.
If this company lands a deal with Apple, it could be the beginning of a meteoric rise for this tiny stock. 
Fortunately, the market hasn't caught wind of the opportunity just yet, and shares are still trading at relatively low levels.
This tiny stock could generate huge returns as a result of Apple's "hidden profit pattern," and Lango's extensive research on the subject will help you get the most out of a potential move higher.
Lango's "profit pattern" findings really captured my imagination, so I took a deeper look into his Project Titan Apple stock. Here's what I found out:
Project Titan Prospectus Stock
Lango teases some details about his Project Titan Prospectus stock in the presentation, and it sounds like this company could have a lot of potential.
He says this $5 stock could be at the center of the Apple Car project, and it could deliver huge windfalls if he's right.
Luke saves his detailed research into his Project Titan stock for his Innovation Investor subscribers, but I picked up a few interesting tidbits by listening closely to his presentation.
Before we get into it, keep in mind this is pure speculation on my part. You'll have to read Lango's report to get the stock's true identity.
From what I can tell, this company works with technology that will be vital to the Apple Car project.
Some unsubstantiated online rumors say the company operates in the LiDAR industry, which would make sense if it's correct. Experts expect LiDAR to be a key component in the EV self-driving systems of the future.
Lango also notes that his Project Titan Apple stock pick costs less than $5, so we can assume that it's a smaller company.
Smaller-cap stocks often exhibit increased volatility, but they also tend to have greater upside growth potential.
You'll have to sign up for Innovation Investor to get the full story on Luke Lango's Project Titan stock, but, from what we know now, it certainly seems like a promising pick.
Now, let's take a look at Luke Lango's credentials.
>> Get the full scoop on Luke Lango's Apple Car Stock <<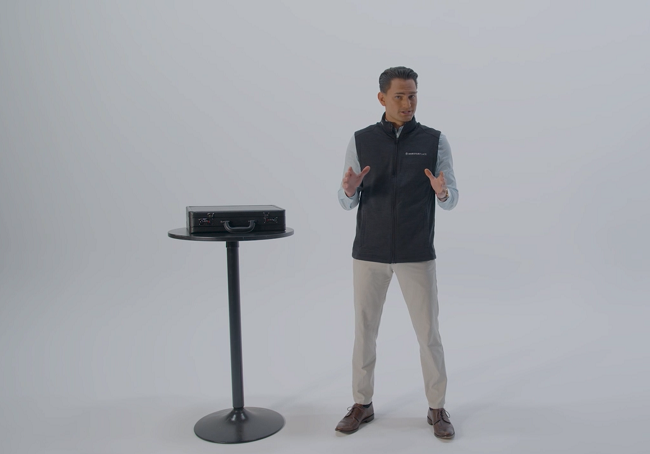 Who Is Luke Lango?
Luke Lango is an equities analyst and investor with a keen eye for stock-picking and an impressive track record to back up his claims.
Luke started his career in Silicon Valley as a venture capitalist, where he rubbed shoulders with some of the most innovative founders in America.
After building up his book of contacts, he decided to start his investment firm and continued his success in San Diego as the founding manager of L&F Capital Management.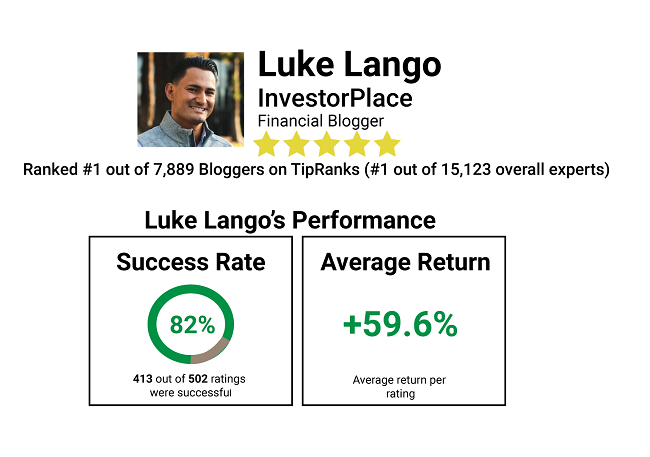 Luke has a sharp nose for investing. In 2020, he was rated as the "#1 Stock Picker" on TipRanks, a community of more than 15,000 investing experts.
Luke currently works with InvestorPlace to deliver his knowledge to the public. His former experiences serve him well as Luke continues to apply his investing acumen to identify high-growth potential companies to recommend.
Now that you know more about Luke Lango, let's turn our attention back to Innovation Investor.
>> Access Luke Lango's latest stock picks <<

What Is Innovation Investor?
Innovation Investor is a growth-focused investing newsletter that identifies companies with the potential for massive growth in the next few years. The newsletter is championed by Luke Lango in partnership with InvestorPlace.
Lango and his team work together to pinpoint industries that could see growth by capitalizing on megatrends. Then, Luke picks early-stage companies that could grow significantly if his investment theses play out.
Subscribers to Innovation Investor gain access to these ideas and can take advantage of the relative newness of these small companies.
This monthly research service is unique because the stocks recommended are relatively unknown companies.
Other focus areas for Innovation Investor are cryptocurrency, autonomous vehicles, and supercomputing.
Subscribers to Innovation Investor access Luke Lango's monthly stock picks, model portfolio, and bonus reports (like the Project Titan prospectus opportunity).
What's Included With Innovation Investor?
Innovation Investor is packed with excellent features. Here's what you get when signing up.
12 Months of the Innovation Investor Newsletter
Every month, Luke Lango's Innovation Investor provides new stock recommendations.
Many people struggle with identifying solid stocks, especially in the growth space. Fortunately, Luke cuts through the noise and delivers easy-to-follow research.
He also provides detailed investment analysis alongside his stock recommendations so you're never left in the dark about his reasoning.
This can be especially helpful considering many companies he identifies are relatively unknown and fly under mainstream media's radar.
Each monthly newsletter will also provide you with up-to-date market news.
>> Sign up for Innovation Investor today <<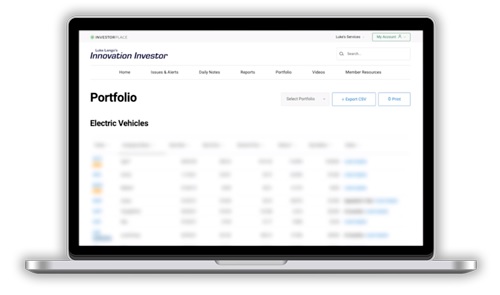 Model Portfolio
Luke Lango's model portfolio is where you can track the performance of his recommendations.
The model portfolio is designed as an investing dashboard similar to the ones offered by brokers and financial institutions. Within the portfolio is a list of stocks that Luke recommends along with his latest picks.
The model portfolio outlines the current price of Luke's stock picks as well as the lifetime gains and losses.
Subscribers can see exactly how the stock has performed and whether Luke's recommendations are successful or not.
While the model portfolio itself is nothing unique when it comes to investing newsletters, it certainly makes it easier for subscribers to follow along with Luke's investment ideas and stock picks.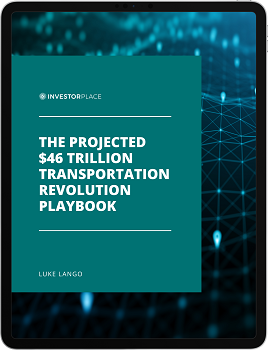 The Project Titan Prospectus: How to Cash In on Apple's Next Potential Trillion-Dollar Product
In The Project Titan Prospectus, Luke covers a stock that he believes could experience explosive growth off the back of the Apple Car innovation.
He offers some insights about the company in his presentation. Here's a little tidbit about the company he's referring to:
"TuSimple, an autonomous trucking company… Has already used this company's tech to build, on average, 35,000-pound semi-trucks that can drive down 65 mph highways without a single human driver behind the wheel.

— Luke Lango
This info is meant to serve as a teaser that demonstrates the potential of this opportunity. Lango can't reveal this potential Apple Car supplier. 
You'll need to read the report to get the full scoop on the company, its ticker, and supporting research outlining how its tech fits into the equation.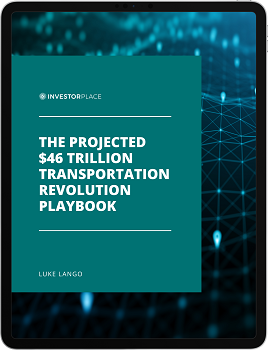 The Projected $46 Trillion Transportation Revolution Playbook
While the Apple Car is a big innovation, Luke recognizes that the automotive industry is larger than just one company. This is why he recommends seven more explosive stocks in The Projected $46 Trillion Transportation Revolution Playbook.
Bloomberg predicts that the electric vehicle industry could be a $46 billion market, and this report reveals stocks that could help you get in on the action.
The Quickening: 4 Tech Stocks That Could Change Society Forever
Before they were mainstream, investing in tech companies like Apple, Meta, Amazon, and Google would have yielded massive returns.
In The Quickening, Luke recommends 4 technology stocks that could grow even bigger than FAANG.
These stocks have the potential to achieve huge gains, and Luke wants you to take advantage of them.
>> Access Luke Lango's exclusive bonus reports <<
Past and Future Special Reports
On top of the three bonus reports, subscribers of Innovation Investor also gain access to all past and future special reports.
With this feature, you can see what Luke has recommended in the past to learn from how he thinks. Additionally, when Luke uncovers innovative ideas in the future, you'll be one of the first to hear about them.
12-Month Money-Back Guarantee
Innovation Investor is backed by a one-year money-back guarantee. Subscribers get access to the newsletter, model portfolio, and all bonus reports for 12 months without needing to commit.
If at any point you're unsatisfied with the service, you can contact Luke's team, and they will issue a 100% refund.
Many newsletter services offer a 30-day money-back guarantee, so we were especially impressed with Innovation Investor. Luke's offering of a one-year guarantee is proof that he's confident in the service he's providing for subscribers.
Pros and Cons of Innovation Investor
All in all, Innovation Investor is a solid service that provides unique insights into the growth investing space.
However, there are some downsides:
Pros
Growth stock recommendations backed by an investing professional

Exceptional refund policy that stands above many other newsletters

Bonus reports that you can keep even if you cancel your subscription

Competitive price and discount

Potential 40x growth on investments
Cons
No chat rooms or message boards

Only focuses on the growth investing space
>> Sound like a good deal? Sign here <<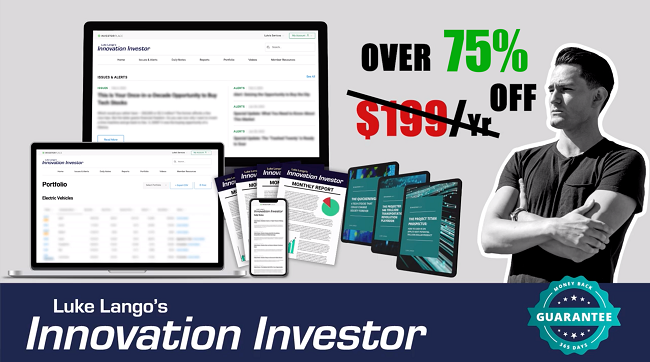 How Much Does Innovation Investor Cost?
A subscription to Luke Lango's research service normally costs $199/year. This works out to be around $17 a month, which is already a solid deal in its own right.
However, Luke is currently offering a special promotion for his Innovation Investor subscription and Project Titan deal. You can join Innovation Investor today for just $49/year, a 75% discount from its retail price.
At $49/year, you're paying about $4 a month to receive all the features mentioned above, including the one-year money-back guarantee.
Is Innovation Investor Worth It?
Innovation Investor is a top-notch newsletter led by an experienced investor and financial industry vet. Even better, it also offers a generous money-back guarantee.
Luke has a keen eye for investment opportunities, and he's already picked out a selection of stocks that he's ready to reveal to his subscribers within the bonus reports.
When it comes to price, it's tough to beat what Luke has to offer. At $199/year, Innovation Investor is a great deal already, but Luke's special 75% discount makes the subscription a steal.
If you're looking for extensively researched growth-based investments, Innovation Investor could be a great place to start your search.
>> Get started with Innovation Investor TODAY <<