With the advent of widespread online trading, stocks and options are more accessible than ever before. Our Market Chameleon review will tell you whether this research tool can pinpoint profitable insights and help you develop a more successful options trading strategy.
The stock market may seem like an endless portal of numbers and letters that are constantly in flux with no rhyme or reason.
How does anyone wrap their head around all of that information, especially during earnings season?
Research tools take all that data and distill it into something digestible.
But not all free or paid services are the same, so you may want to do some digging before committing your time and money to one.
This Market Chameleon review will dive deep into the details of this market research tool and break down all the platform has to offer.
Market Chameleon Review: Overview
Market Chameleon is a web-based trading research site designed to take some guesswork out of stock and analyze options.
Accessibility is always at the forefront, which is why it offers newsletters and simple screeners through a free starter tier.
The service is a premier provider of options insights and uses data and analytics to help users make informed investment decisions.
Here's just some of the great resources you can tap into to improve options strategies:
Stock screening
Price reactions
Watch lists
Earnings reports
Dividend reports
The platform's features and tools make it one of the best options strategy generation platforms in its class.
Market Chameleon Review: What Is Market Chameleon?
Market Chameleon tools make this a powerful options strategy generation platform packed to the brim with standout features.
The platform uncovers the latest stock and options opportunities that are making big moves in the market.
Some powerful tools include research, stock and option screeners, earnings, options volume, order flow, and much more.
Market Chameleon Review: What's Included with Market Chameleon?
Market Chameleon's features include:
Stock Research
Options Research
Earnings Research
Newsletters
Custom Stock Watchlists
Keep reading our review for a deep dive into each feature included on Market Chameleon's research platform.
Market Chameleon Review: Stock Research
This options research platform certainly has many features that traders can sink their teeth into.
Stock traders can see top gainers and big losers at a glance or stocks with unusually high or low trading volume.
Other stand-out features include dividend reports, watchlist creation, and the ability to download any and all information to your device.
There are also built-in stock screeners that you can use to quickly and effortlessly sift through mountains of stock market data.
Discover More Trade Ideas with a Solid Stock Screener
Screeners allow investors to identify trade opportunities across many different markets, and they can be used to screen pre-market or after-hours data.
You can filter stocks by market cap, price, volume, and even different levels of volatility.
Some of the more popular scans include:
Covered Call
Put Spread and At-The-Money
Naked Put
Call Spread
Even better, the platform's clean interface makes it easy to compile and analyze data through its comprehensive and customizable screeners.
This is a big plus, as many screeners are cumbersome and a pain to interpret.

Market Chameleon Review: Options Research
Not to be outdone by stock research, Market Chameleon has several tools to keep options traders on the pulse of the options market.
In fact, there are many helpful features for investors looking to improve upon their strategies or find new trading ideas.
Unusual Options Volume Screen and More
The unusual options volume screen lets traders keep tabs on stocks that have options trading at higher volumes than expected.
This is a great place to start looking for options trading opportunities.
Market Chameleon offers customizable options for stocks, focusing on criteria such as covered calls and naked puts.
The platform's filters make it incredibly easy for an options trader to find stocks and can help boost options strategies to maximize their profits.
Results of each search query appear in a sortable table with pertinent information like historical win rate and potential profit and loss.
It's powerful tools like this that options traders can use to limit downside risk and get more value out of each trade.
Market Chameleon Review: Earnings Research
There's a reason why many consider Market Chameleon to be one of the top options strategy generation platforms around.
The platform really pops with its earnings research, especially the earnings calendar.
This area of the Market Chameleon site reveals stocks that are either undervalued or overvalued around earnings activity.
The earnings calendar allows traders to see price volatility around the time of earnings release.
You can also use it to check price reactions to stocks you're zeroing in on.
This data is great for developing trade strategies based on the value of earnings.
The service also features earnings-based stock and option screeners, so a lot of money can be made heading into or out of earnings reports.
This also allows traders to utilize a broader range of strategies by better controlling data in hand.
How to Make Earnings Season Easy to Follow
During earnings season, the sheer amount of data collected can be overwhelming, as the flood of valuable information is challenging to wade through.
So earnings season activity is best viewed on the earnings calendar or through a screener.
Market Chameleon Review: Newsletters
Newsletters are one of the free tools that Market Chameleon offers to users at any account level.
These newsletters share information on earnings alerts and ideas for day trading.
They also provide analytics on pre-market stocks with big moves and flow data sent daily via email.
Market Chameleon Review: Custom Stock Watchlists
The Market Chameleon platform offers several watchlists as another complementary feature of the site.
Each watchlist is personalized to the trader and contains data and analysis based on the stocks and options they are most interested in.
>> Like all that Market Chameleon has to offer? Click here to sign up for an account today! <<
Market Chameleon Review: Market Chameleon Cancellation Policy
Market Chameleon offers a 7-day free trial that unlocks all the options tools on the website.
Better yet, there's no fee for canceling during those first seven days.
Using the Market Chameleon free trial is an excellent opportunity to see everything the platform has to offer and to test if it can improve your option strategies.
All of its subscriptions are set up for monthly renewal, which is common with services that offer a paid subscription
There are no refunds for canceling during the middle of a billing cycle, but you can continue to use the service until the end of that billing month.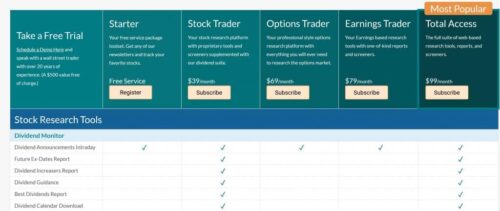 Market Chameleon Review: How Much Does Market Chameleon Cost?
Market Chameleon pricing and the features available vary based on which of the five pricing tiers you choose to sign up for.
This provides new and experienced options traders with quite a bit of flexibility that most paid services do not offer.
Keep reading our review to find out more about the pricing of each tier as well as what options tools are included with each one.
Market Chameleon Free Starter Subscription
The Starter Plan gives free access to a few tools in the form of stock and options information and articles.
There are also pre-set screens a trader can use for market research or trade ideas.
It's a simple service, but it allows users to explore the platform and learn how the system works.
If nothing else, traders can come up with some trading ideas and create simple watch lists.
But if you want more features, like the Earnings Options Strategy Screener, you'll need to dip your toes in the paid tiers.
Stock Trader Subscription
It probably comes as no surprise that the Stock Trader Plan focuses on all things stock market.
In addition to the screeners and long list of stock features, the Stock Trader Plan also has a few options breakdowns at a glance.
At $39 a month, this is the lowest you can spend on a paid plan on the platform.
Options Trader Subscription
Strangely enough, the Options Trader Plan contains the stock screener and other stock research tools except dividend reporting.
Though, the Options Trader Plan includes every options feature that the platform has in its repertoire, and its pricing reflects that.
At $69 per month, you are getting quite a bit of access to this market research tool.
Earnings Trader Subscription
The Earnings Trader Plan has most of the options tools from the Stock Trader Plan but omits some of the stock reports that the previous tier includes.
The Earnings Trader Plan provides the Earnings Options Strategy Screener, Earnings Stock Patterns Screener, and earnings report pattern tools for data collections and analysis.
A bit higher up the cost ladder, pricing for this tier is $79 per month.
Total Access Subscription
If you need more than Earnings Trader and the Market Chameleon free plan, you should definitely give the Total Access Plan a look.
The Total Access Plan is in no way a misnomer and does provide unfettered access to every one of the products on the Market Chameleon site.
Obtaining all these services in the Total Access Plan will cost you $99 per month.
>> Ready to get started with Market Chameleon? Click here to become a member NOW! <<
Market Chameleon Review: Is Market Chameleon Legit?
Market Chameleon is a solid research platform for anyone looking for new options trading opportunities.
This information platform goes above and beyond with free access to basic services and even customized watch lists to narrow down a search.
A platform just for research, none of your trading data or money ever passes through the site.
Market Chameleon Review: Pros and Cons
The platform provides many incredible options tools right at your fingertips, but there are some downsides to consider.
Market Chameleon Pros
A vast multitude of available tools for beginner and experienced options traders
Easy to create watch lists and generate new trading ideas with market Chameleon tools
Excellent earnings report pattern tools, including Earnings Calendar and Earnings Options Strategy Screener
Powerful screeners with many customizable features
Some tools offered for free
Free 7-day trial
Five different plans to choose from
Market Chameleon Cons
Website is a bit archaic
No mobile app
The best features are behind a paid subscription
>> The pros outweigh the cons so what are you waiting for? Click here to sign up for a Market Chameleon account TODAY! <<
Market Chameleon Review: Is Market Chameleon Right for Me?
Market Chameleon speaks the loudest to stock traders who focus on opportunities around earnings releases.
The site doesn't offer much direction, so it's more geared toward traders who are already at least somewhat experienced in options.
However, it does come with a number of helpful resources for anybody interested in learning more about stocks and options.
There's also a bit of a learning curve to finding your way around the site, and doing that without any pre-existing knowledge may prove too difficult.
Once you get used to the platform, though, this isn't really a big deal.
Market Chameleon Reviews by Subscribers
I have traded for decades, but until now, there has been no data at this level with analysis of that data at a price that an individual investor could afford. Marketchameleon .com is a true game-changer for the individual investor in stocks or options or both. For any active trader, this is a must-have subscription. I have NO link to these wonderful nerds other than being a subscriber!

– C R, on Google

I started with the free trial and had some profitable trades come out of it, so I signed up. There is so much information, and they do want you to succeed if you watch some of the videos or take time and advantage of the research. I have only touched the tip of the iceberg. I recommend the service/site if you are serious about trading and learning.

– M F, on Google
Final Review: Is Market Chameleon Worth It?
Unless you're a brand-new trader, Market Chameleon has a slew of awesome tools that could improve your options trading.
Whether your focus is stocks, options, or on the earnings season, the site has so much information to plug into and digest.
You can also try the free 7-day trial to see which features you can't live without and then select the plan that works best for you.
Most traders benefit from all the perks of the All-Access Tier, but don't be afraid to start a little lower if you need to.
Since each subscription is monthly, you can jump up or down at any time.
We recommend at least trying out the free version for anyone looking to bolster their options trading strategies with a treasure trove of rich data.
>> Ready to use Market Chameleon to better research your trades and investments? Click here to sign up NOW! <<