Nomi Prins' 2023 predictions paint an unsettling picture of a growing divide between the real-world economy and the market economy. If she's right, it could spell disaster for investment portfolios and retirement savings in the not-so-distant future. Read along for the full scoop.
What's Nomi Prins' Prediction for 2023?
In her latest presentation, Nomi Prins predicts that the global economy could soon suffer a cataclysmic market event, which may cause large-scale economic turmoil.
She believes the writing is on the wall, and unprepared portfolios could experience a financial tailspin.
So is Nomi talking about inflation?
The Federal Reserve has shoehorned the economy into an unstoppable bout of inflation. They can't stop printing money and have no way to raise rates high enough to put inflation to bed.
Still, Nomi forecasts that this might be the least of our worries.

Surprisingly, Nomi doesn't claim we're headed for a stock market crash, which many experts believe is on the horizon. She warns we might be on the cusp of what she calls "The Great Distortion".
But what is Nomi Prins' "Great Distortion" warning? Follow along to find out.
>> Sign up today and see the team's latest Analysis <<
What Is the "Great Distortion"?
Nomi Prins' "Great Distortion" could soon see a massive $150 trillion transfer of wealth as the real-world economy and the market economy become completely disconnected.
A crisis of this magnitude could change financial systems down to their core level. Nomi also believes that the energy sector, transportation, and financial systems could all be affected by this shift.
Nomi is warning her readers that "The Great Distortion" has the potential to be worse than Nixon dropping the gold standard, the 2008 bailouts, or even the 2020 pandemic.
She says that billionaires are already moving tons of money because they see what's coming.
Nomi's not the only one sounding the alarm about a sputtering economy. In fact, the International Monetary Fund and the World Bank have dramatically reduced their global economic growth forecast for the next two years.
All may come to a head when the Federal Reserve finally stops flooding the country with freshly printed bills. Many people could be left in the dust when "America's Great Distortion" comes to pass.
Fortunately, while Nomi's prognosis may be grim, there is a silver lining.
Nomi Prins' Distortion Report's latest offer provides stock picks that could help folks in the know come out better on the other side. She also says that this could be an opportunity to build real wealth.
Who Is Nomi Prins?
Nomi Prins is an established financial expert known for penning the Rogue Economics Distortion Report and 25 Cent Trader newsletters.
She's also a speaker and journalist who shares her insights on Wall Street and beyond, appearing on many major news channels.
As an author, Nomi has several best-selling books that expose the state of the financial system.
Some of Prins' most popular works include:
Collusion: How Central Bankers Rigged the World

All the Presidents' Bankers: The Hidden Alliances that Drive American Power

It Takes a Pillage: An Epic Tale of Power, Deceit, and Untold Trillions
She also has another upcoming book, Permanent Distortion: How Financial Markets Abandoned the Real Economy Forever. You might want to keep an eye on this one if you're looking for more Nomi Prins projections about market distortions.
Her financial career started shortly after graduating from college with a PhD in International Strategic Studies, a Master's in Statistics, and a Bachelor's in Mathematics.
After seven years as an analyst at Chase Manhattan Bank, Prins spent time at Bear Stearns and was a managing director at Goldman Sachs before exiting Wall Street.
Nomi used her time on Wall Street to write her books and start the Rogue Economics Distortion Report newsletter, which she continues to do today.
>> Join Distortion Report TODAY and save 75% <<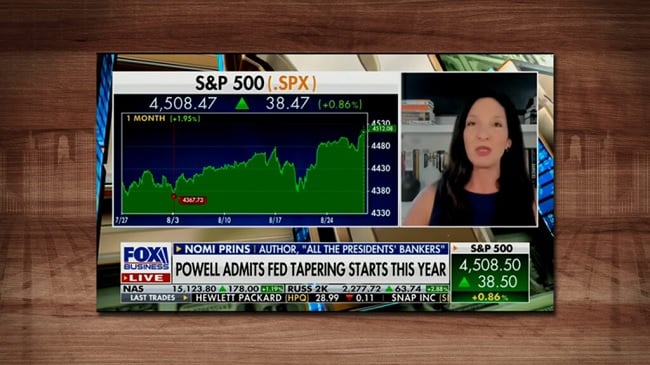 Is Nomi Prins Legit?
Nomi Prins is a legit analyst and investor with a deep knowledge of the financial system. She has nearly two decades of experience on Wall Street, alongside a journalistic eye for detail that keeps her apprised of the financial world.
This former Wall Street insider uses her expertise to predict global economic reactions to unfolding events and their effect on the stock market.
In short, Nomi Prins understands the ins and outs of the financial world better than most.
Anyone interested in The Distortion Report can have confidence in the sound analysis Nomi Prins brings to the table.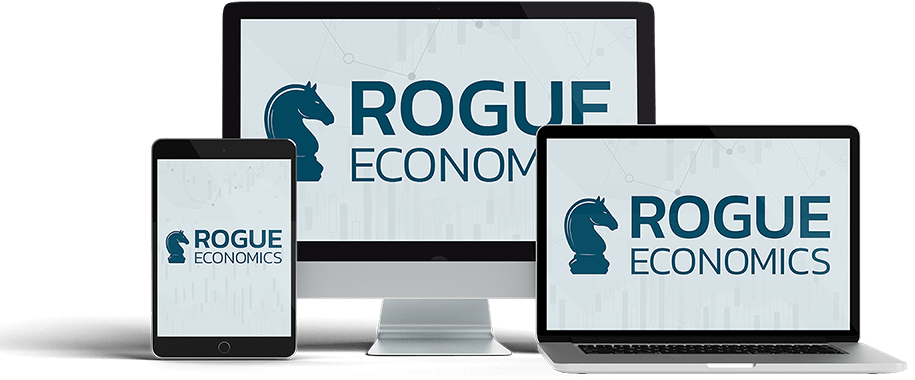 What Is Rogue Economics?
Rogue Economics is the driving force behind Nomi's Distortion Report newsletter and several other popular financial services. Through these publications, the company sets forth a goal of helping individuals achieve personal freedom through financial independence.
Alongside Prins are several other expert analysts specializing in areas such as technology, cryptocurrency, and commodities.
The team looks deep into the financial system, pointing out dangers and opportunities that others don't see.
Distortion Report is just one publication Rogue Economics offers. Other notable services include the elite portfolio tracker Rogue Portfolio.
Between its accomplished crew, stellar writings, and satisfaction guarantees, it's clear that Rogue Economics backs up what it puts down.

What Is Nomi Prins' Distortion Report?
Distortion Report is a monthly newsletter curated by Nomi Prins and produced by Rogue Economics. You'll find a model portfolio, stock recommendations, and tons of insights.
The publication is the latest of Prins' writing exploits, where she shares her investment recommendations. Within its digital pages, you'll find strategies that could capitalize on variances between markets and the economy.
Distortion Report could offer ways for subscribers to profit during this flow of money instead of losing out. Among other tips, Nomi Prins shares stock picks to grab and those to let go during the shift.
>> Already sold on the Distortion Report? Sign up Today! <<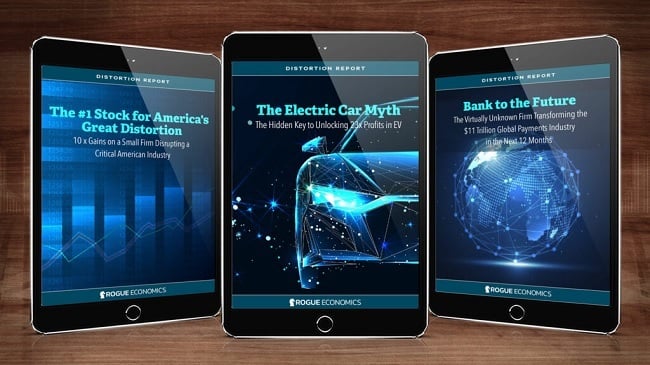 What's Included with Distortion Report?
Picking up a subscription to the Distortion Report right now includes more than just a newsletter. Here's a list of everything you'll receive:
Nomi Prins Stock Picks and Research
The Distortion Report newsletter is your direct line to the team's latest research. It hits email inboxes once a month with the latest information, findings, and actionable items.
You'll also find stock recommendations that Nomi anticipates could flourish during the "Great Distortion" event.
Nomi explains the reasoning behind every pick and provides supplemental analysis so members can follow along with her market forecasts.
A membership nets a total of 12 issues over the course of a year. If that's not enough, signing up unlocks all the other bonus materials that could help you make the most of the "Great Distortion."
As part of her monthly newsletter, Nomi Prins also maintains a model portfolio with her top stock recommendations. She doesn't skimp on the details, providing the ticker, price action, projections, and more.
Every new stock pick finds a place on the model portfolio where you can see what you might have missed out on before signing up.
The moment you sign up for the newsletter, you'll have unlimited access to the entire lineup.
>> Take a look inside Nomi Prins' model portfolio <<
Updates and Alerts from Nomi Prins
The stock market is a living, breathing organism in a constant state of flux. Tickers can change in a day, let alone a month.
Fortunately, Nomi Prins and her research and editorial team track the stocks they recommend carefully, so you don't get left behind.
Any time something changes among those picks, you'll receive an update with suggestions for accommodating the change.
When the time comes to buy, sell, or modify a position, Nomi and team will send you a trade alert. This way, you don't have to monitor the market second by second.
The #1 Stock for America's Great Distortion: 10x Gains on a Small Firm Disrupting a Critical American Industry
The #1 Stock for America's Great Distortion is an exclusive report about a small company Nomi claims could see the most growth from the "Great Distortion."
In fact, the team believes this company might just be in the perfect place to take over a critical American industry.
She's mum about the name of this company but implies it's a new energy stock that nearly every major institution on Wall Street now owns. Over the last year, Wall Street has gobbled up nearly 60 million shares of this particular stock.
The Electric Car Myth: The Hidden Key to Unlocking 23x Profits in EV
The Electric Car Myth: The Hidden Key to Unlocking 23x Profits in EV is an exclusive bonus report that provides research about an up-and-comer in the EV space.
EVs have been all the rage of late, with Wall Street shouting from the rooftops about the electric vehicle industry. Similarly, the Biden administration hopes to expedite EV development to reduce carbon emissions and slow global warming.
Electric car companies like Tesla and other stocks touching this sector have seen massive gains as a result. Congress plans to shell out billions to develop America's infrastructure to meet the coming need.
The big names in electric vehicle manufacturing and infrastructure look good at a glance but often have overinflated valuations.
In this report, Nomi Prins shares an overlooked electric vehicle charging company that could see benefit from the influx of demand for EVs. Better yet, those jumping on board now could still have the opportunity to benefit from it.
Bank to the Future: The Virtually Unknown Firm Transforming the $11 Trillion Financial Industry in the Next 12 Months
In addition to an unheard-of transfer of wealth, the "Great Distortion" may also deliver a knockout punch to the banking industry as we know it.
Out-of-control inflation along with market changes might see the Federal Reserve assume control of the country's institutions.
What may not seem like a big deal at first glance could result in central banks taking ownership of all banks. Nomi is predicting that the shift could lead to a digital currency rollout followed by a complete redesign of America's financial infrastructure.
Bank to the Future reveals a company caught right in the middle of this new infrastructure and the legacy banking world.
The firm's cutting-edge technology has the potential to shape the first government-accepted stablecoin network and hopes to have everything in place before the end of this year.
Its shares might be primed to soar if this company becomes a global payment powerhouse for the new financial system.
>> Find out what's inside Prins' bonus reports <<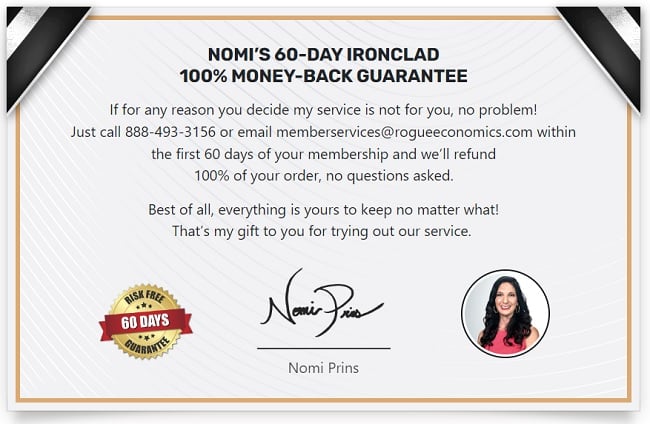 Money-Back Guarantee
The Distortion Report refund policy offers a 60-day money-back guarantee to test out the service before you commit. If you're not satisfied within those 60 days, you can call or email to get a complete refund on the cost of your subscription.
Best of all, you can keep anything you've already received before canceling. This includes any newsletters and all the bonus materials we mentioned.
If you were on the fence about trying out the Distortion Report, this risk-free trial should set your mind at ease.
Is the Distortion Report Legit?
Distortion Report is a legit newsletter. Prins pens solid insights and draws from a deep well of knowledge.
"The Great Distortion" is just one of the topics she's covered in the Distortion Report to date. No matter the topic, you'll find a plethora of stock recommendations and market analysis.
As part of an exclusive Distortion Report offer, Prins and Rogue Economics also include several bonus reports. These reports hammer home the benefits or pitfalls of particular stocks, giving you a firm foundation to follow Prins' strategy.
Pros and Cons of Prins' Distortion Report
Nomi Prins' Distortion Report is an exciting service with a lot to offer, but it's not perfect. Check out the pros and cons we found during our review.
Pros
Insights and recommendations come from the hand of expert analyst Nomi Prins and her team

From respected published Rogue Economics

12 issues of the

Distortion Report

newsletter

To the minute updates and alerts about significant changes in stock recommendations

Unlimited access to Prins' model portfolio

#1 "New Energy" special report

Bonus reports revealing lucrative FinTech and electric vehicle stocks

60-day money-back guarantee

Affordably priced package, currently available at a discount
Cons
No way to chat with other members

Recommendations don't include options, futures, or shorts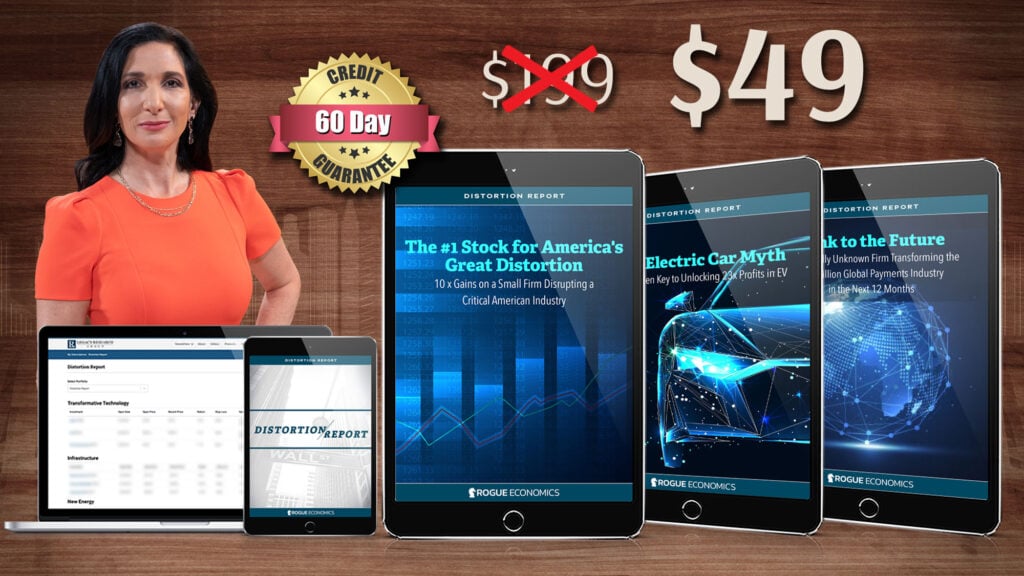 How Much Does Nomi's Distortion Report Cost?
A one-year membership to the Distortion Report newsletter normally sells for $199. But because Nomi believes so strongly in what's coming, she's offering a significant discount to get this information in people's hands.
Twelve months of the newsletter along with the three bonus reports are currently on sale for just $49. That's a small price, considering everything covered in this review.
As an added incentive, you can cancel any time within those first 60 days for a no questions asked full refund.
At just $49 for a year's worth of newsletters, bonus materials, and lightning-fast updates, you'd be hard-pressed to find a better deal to access Nomi's insights. Members also get a unique viewpoint into the upcoming money transfer that most others aren't talking about.
Although we think the newsletter itself is worth the $199 sticker price, it doesn't hurt to see the service with bonus materials discounted by 75%.
Final Verdict
Nomi believes a change could be coming to America's financial sector. And if she's right, being on the wrong side of this shift might come at a substantial cost.
Prins has a solid track record from her time on Wall Street and through her credible writings. She backs up her know-how with careful stock analysis and detailed follow-through. Monthly recommendations from the Distortion Report look to have those answers and then some.
With a $49 price tag and a money-back guarantee, there's ample reason to sign up for the Distortion Report today.
>> Sign up to Distortion Report HERE and save 75% <<