Jeffrey Clark's latest presentation unveiled his new options trading strategy. But is it really worth your time and money? I'm putting the One Stock Retirement Blueprint and Jeff Clark Trader under the microscope to find out.
What Is the One Stock Retirement Blueprint?
Jeff Clark's One Stock Retirement Blueprint is a strategy based on options trading a single ticker — an ETF.
This allows him to become an expert in the price patterns of one security, rather than splitting his focus across industries and sectors.
Even better, his strategy doesn't require dropping a lot of capital to get started. 
According to Jeff, it takes members as little as "$100 for the shot to multiply their investment 2-times, 3-times, even 4-times over."
But why did he pick this single stock to trade?
In his presentation, he says that he considers his special ticker to be "the world's most predictable stock."
And when trading options, "predictability" is the name of the game.
His namesake newsletter Jeff Clark Trader taps into this ticker and strategy.
Before we check out the package, let's take a closer look at the strategy and the identity of Jeff's one stock.
>> Sound like a good fit? Sign up today and save 90% <<

One Stock Retirement Blueprint Strategy
The One Stock Retirement Blueprint strategy involves short-term options plays based on a single ticker. Some positions might be held for as little as eight days.
His stock can move in either direction, and he could still find the chance to profit from it.
This is useful because company shares don't tend to shoot up or sink in a straight line.
Sure, there are trends in general directions — even sideways.
But with options, Jeff can find opportunities to capitalize on price movements that happen along the way.
And by becoming an expert in one ticker, he could better anticipate events that might affect his recommendations.
The strategy even has the potential to succeed in down markets.
His recommendations typically follow three beats depending on which direction he believes the stock is heading:
Buy Call Options

provide an opportunity to profit as a stock climbs higher

Buy Put Options

provide an opportunity to profit

 

as a stock moves lower 

Sell Uncovered Put Options

provide an opportunity to profit as a stock moves sideways or higher
This is a simple system that Jeff says has proved very effective over the years.
So what is his number-one stock, anyway?
>> Join today and see the strategy in action <<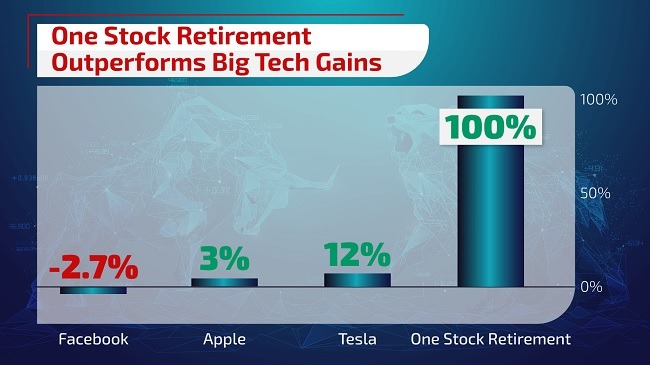 What Is Jeff Clark's One Stock?
In his presentation, Jeff Clark reveals that the ticker symbol for his one stock is VanEck Gold Miners ETF (GDX).
This ETF tracks a group of gold stocks that he says have explosive growth potential.
I appreciate that Jeff actually shares the stock. Usually, these presentations keep this info pretty close to the chest.
He offers some more context, so I'll let him take the floor:
"Whether the market's up, sideways, or on the decline – you can leverage the power of GDX for the opportunity to extract massive profits…

For example, when mainstream media was spouting market uncertainty, causing traders to put their money on the sidelines…

I didn't need to listen to any of it, instead I recommended a trade on GDX…"
Another reason he specifically targets this ETF is that it closely follows the price of gold.
So he can pull from centuries of historical data to spot the reemergence of a trend.
Historical analysis isn't a surefire recipe for success in the stock market. But for him, all data is good data.
And I think that's a fair assessment.
Now that you know more about Jeff's strategy, let's take a look at his background.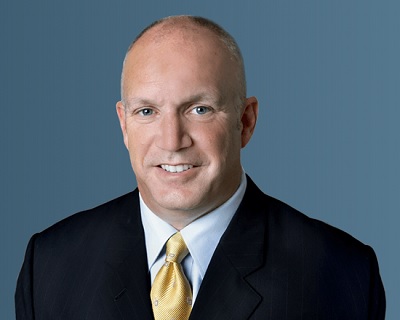 Who Is Jeff Clark?
Jeff Clark is an options trader with a long history in the world of finance. He's also the lead of Jeff Clark Trader.
Before launching his namesake service, he edited two popular newsletters over at Stansberry Research, The Short Report and Pro Trader.
His history on the stock market goes much farther back than this, however.
Jeff led an independent San Francisco-based brokerage house and private money management firm.
He also helped create curricula for an international Masters of Business Administration (MBA) program. This is on top of founding an investor education firm.
Today, he helms a range of top-tier investment newsletters, where he teaches the same tricks he picked up during his decades of trading.
One of his most popular service's is Jeff Clark Trader.
It's an options-centered newsletter that dishes out recommendations and insights.
I'll cover all the details in the next section.
>> Discover Jeff's latest recommendation <<
What Comes with the Service?
Jeff Clark Trader is packed with some exceptional features, including investment ideas, educational materials, and more.
Follow along for the full scoop.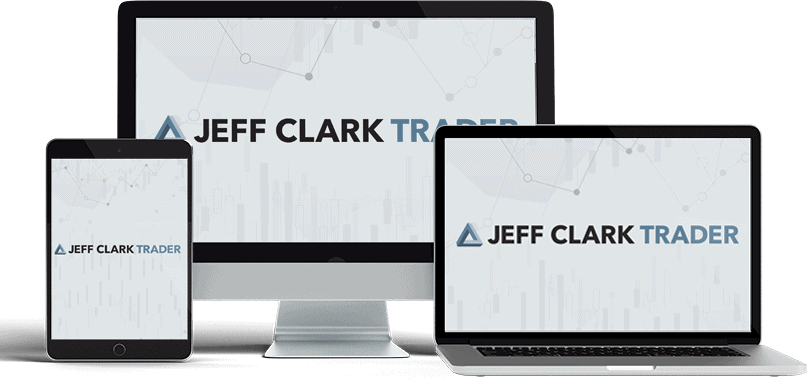 Annual Subscription to Jeff Clark Trader Newsletter
The newsletter is your #1 source for the latest research by Jeff and the team.
Each issue offers one recommendation/investment idea and supporting research.
The writing is crisp, and the team does a really good job breaking down the position.
Options are tricky, especially for fresh faces on the stock market. So it really helps that the newsletter is easy-to-follow and understand.
The same can't be said about some alternatives I've reviewed in the past. Some competing services get bogged down with jargon, and it really weighs down the value of the analysis.
In addition to the newsletter, Jeff Clark Trader also includes live trade alerts.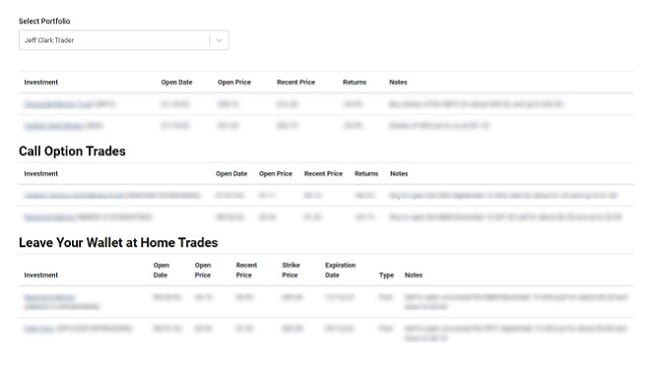 Model Portfolio
Memberships also include access to the Jeff Clark Trader model portfolio.
It tracks the team's current open positions.
At a glance, you can stay up to date with the latest recommendations, including the open date, open price, recent price, strike price, and expiration date.
Another great feature is that you can click on the company name, and it sends you to the newsletter issue it was recommended in.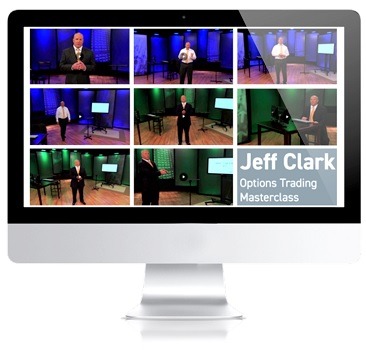 The "One Stock" Retirement Masterclass
Under the latest deal, new members can dive into Jeff's Options Masterclass.
This video series offers a primer that explores everything options.
It starts with some more basic ideas and strategies, like buying/selling calls and puts.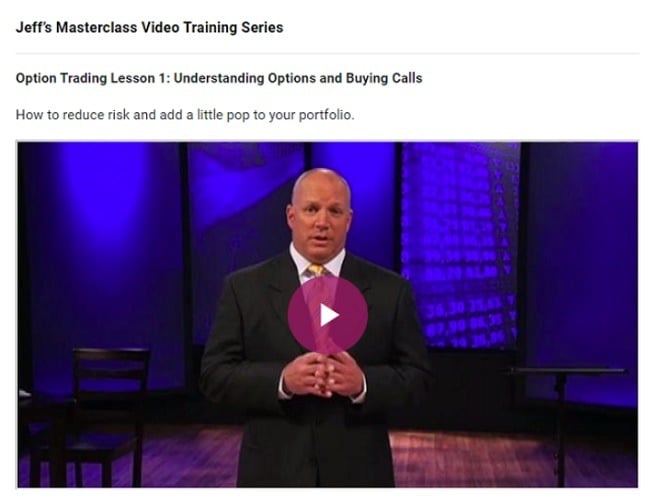 As the video series goes on, it dives into some of the deeper complexities of trading.
Throughout the videos, Jeff peppers in some life experiences, such as hard lessons he learned firsthand as a trader.
This includes overextending himself early in his career, which almost zeroed out his portfolio.
I appreciate the honesty, as well as the introspection. It also offers insights into why Jeff favors a more cautious approach to investing today.
>> Access these features and more for 90% off <<
New Member Bonuses
The latest deal comes with additional features, including extensive educational resources.
Keep reading for a look at each bonus.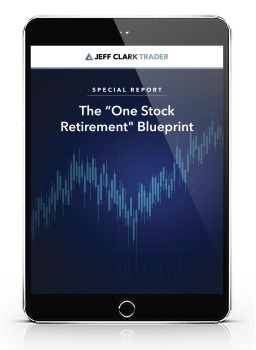 Jeff Clark's One-Stock Retirement Blueprint
This report is the centerpiece of the latest research package.
It offers a complete breakdown of Jeff's strategy and how to wield it outside the newsletter's recommendations.
The report is a worthwhile read for all members (it's important to understand the underlying strategy).
However, it's especially useful for someone looking to spot their own opportunities on the stock market.
Pairing this resource with Jeff's Options Masterclass could give you the tools you need to hit the ground running in the world of options.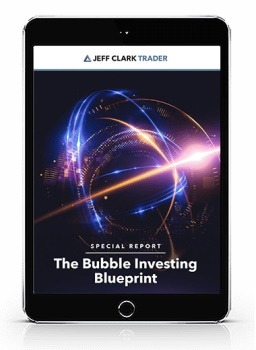 The Bubble Investing Blueprint
The team lay out steps that could help members read the pulse of the market like Jeff Clark.
Unlike the Masterclass, this is a much more comprehensive look into how strategies function in different market conditions. 
Some tips include learning how to predict a stock's movement, spotting early warning signs, and how to react accordingly.
It's a solid addition to the lineup and a great read to get up to speed with the team's approach to investing.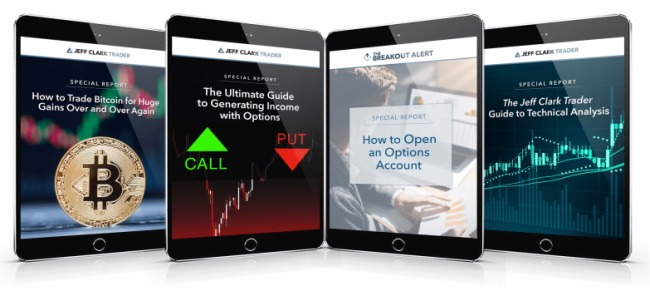 Digital Library
A Jeff Clark Trader subscription also includes access to the team's research archives.
Something that I appreciate about the reports is that many lean more toward the educational end.
This gives them a lot of lasting value compared to old trade ideas that outlived their investment thesis months or even years back.
A few notable mentions are:
How to Trade Bitcoin for Huge Gains Over and Over Again

The Ultimate Guide to Generating INCOME with Options

How to Open an Options Account

Guide to Technical Analysis
Clark places a heavy emphasis on teaching members the same skills it took him decades to master.
And this is a valuable resource definitely worth checking out.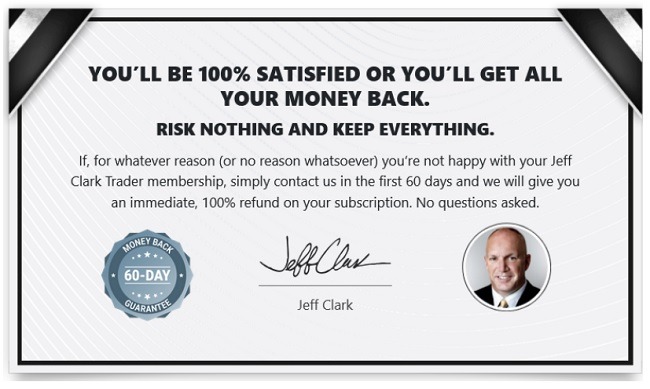 60-Day Money-Back Guarantee 
Under the latest deal, new members receive a 60-day money-back guarantee.
This means you have about two months to test-drive the service. If you feel it isn't a good match, you can opt for a full refund on the cost of your subscription.
Many similar services offer a one-month guarantee, so Jeff and the team are doubling the industry standard.
Plus, unlike alternatives with a longer investment horizon, the newsletter could give you an opportunity to see one of Jeff's recommendations to its conclusion.
Sixty days also gives you ample time to run through the bonus reports and education resources.
Jeff can still teach you a thing or two, even if the service isn't for you.
>> Join under Jeff's guarantee <<
One Stock Retirement Plan Review: Pros and Cons
Jeff Clark Trader is a solid service, but it could stand to improve in a few places.
Pros
Excellent price with 90% discount

60-day money-back guarantee

Extensive trading education resources

Beginner-friendly
Cons
No community forums

Strict focus on options
Is the Service Right for Me?
Jeff Clark's One Stock Retirement package is best-suited for people in the market for short-term options recommendations.
As mentioned, some positions could be held for as little as eight days.
Unlike buy-and-hold strategies, this really isn't a set-it-and-forget-it approach.
But that's also a big part of the appeal.
Members could see a position mature much quicker than alternative newsletters with investment horizons of a year or so.
How Much Does the Service Cost?
Usually, Jeff Clark Trader runs for $199 for an annual subscription.
That's not a bad deal and in line with many similar services.
But with the One Stock Retirement Blueprint strategy package, members can join now for the introductory rate of $19 for the whole year.
That's a whopping 90% discount!
The research reports and the library alone make this a great value. But top it all off with the monthly newsletter, and it's a serious bargain.
Something to keep in mind is that this is an introductory rate.
When the subscription renews, it will cost $129, which is a 37% discount.
It might not be as eye-popping as 90%, but it's still a solid price.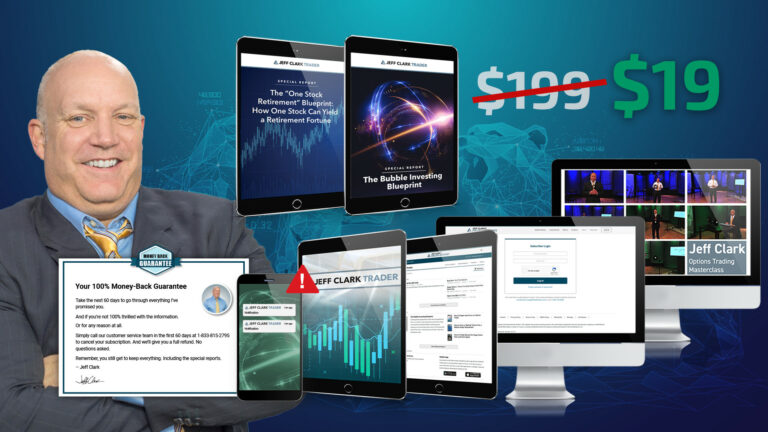 One Stock Retirement Plan Blueprint: Final Verdict
The One Stock Retirement Blueprint package is a great deal.
For about 5 cents a day, members can tap into insights from a seasoned options investor. Plus, the bundle is loaded with excellent resources and research reports.
The bonus reports alone justify the price of admission.
It's also backed by a pretty fantastic 60-day refund policy, which is double the time many alternatives offer.
All in all, Jeff Clark Trader and the latest deal are a winning combo.
This package is definitely worth a close look if you're in the market for solid analysis from an options trading pro.
>> That's it for my review. Claim your 90% discount <<