Dr. David Eifrig's latest research package pinpoints a burgeoning opportunity in the healthcare space. But does it really live up to the hype? Tune into my Retirement Millionaire review for the full story.
What Is Retirement Millionaire?
Retirement Millionaire is a monthly research service led by Dr. David Eifrig Jr. and published by Stansberry Research.
Subscriptions include stock picks, market commentary, bonus reports, and more.
As the name suggests, the central focus of this newsletter is retirement.
It also dials in conservative investment opportunities for a chance to steadily grow portfolios over time.
And the typical holding period is at least two years or longer.
Doc also offers loads of helpful tips about retirement, including how to live a millionaire lifestyle at a hefty discount, as well as money management.
It's a unique angle that many services touch on, but don't really commit to.
I'll dive deeper into the intricacies as we go, so stick around. Let's kick things off with a look into the service's lead.
>> Sound like a good fit? Sign up for 75% off HERE <<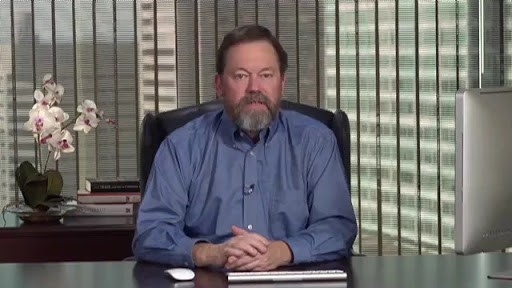 Who Is Dr. David Eifrig?
David Eifrig is an excellent analyst with a keen eye for retirement investments.
He graduated from Northwestern University's prestigious Kellogg School of Management in 1986 with a double-major MBA in finance and international policy.
Shortly after, Doc began his investing career trading derivatives at Goldman Sachs, where he eventually earned a VP title.
He spent more than a decade on Wall Street with Goldman, Chase Manhattan, and other firms.
In 1995, Doc decided to broaden his horizons. So he left Wall Street to attend medical school and pursue his dream of becoming a medical doctor.
Doc joined the University of North Carolina at Chapel Hill School of Medicine in 1997 and graduated with honors to earn a medical doctorate degree in 2001.
In 2002, the newly minted Dr. David Eifrig joined the highly esteemed Duke University medical school as an ophthalmology fellow and remained there until 2004.
Around this time, Doc helped start a small biotech startup called Mirus. Roche later acquired the company for $125 million in 2008.
Soon after the Mirus deal, the trading bug bit Doc again. But he didn't want to return to Wall Street.
Instead, he wanted to help everyday people take control of their wealth and health.
Doc quickly determined that the best way to share his investment strategies was with Stansberry Research.
>> See David's latest recommendation <<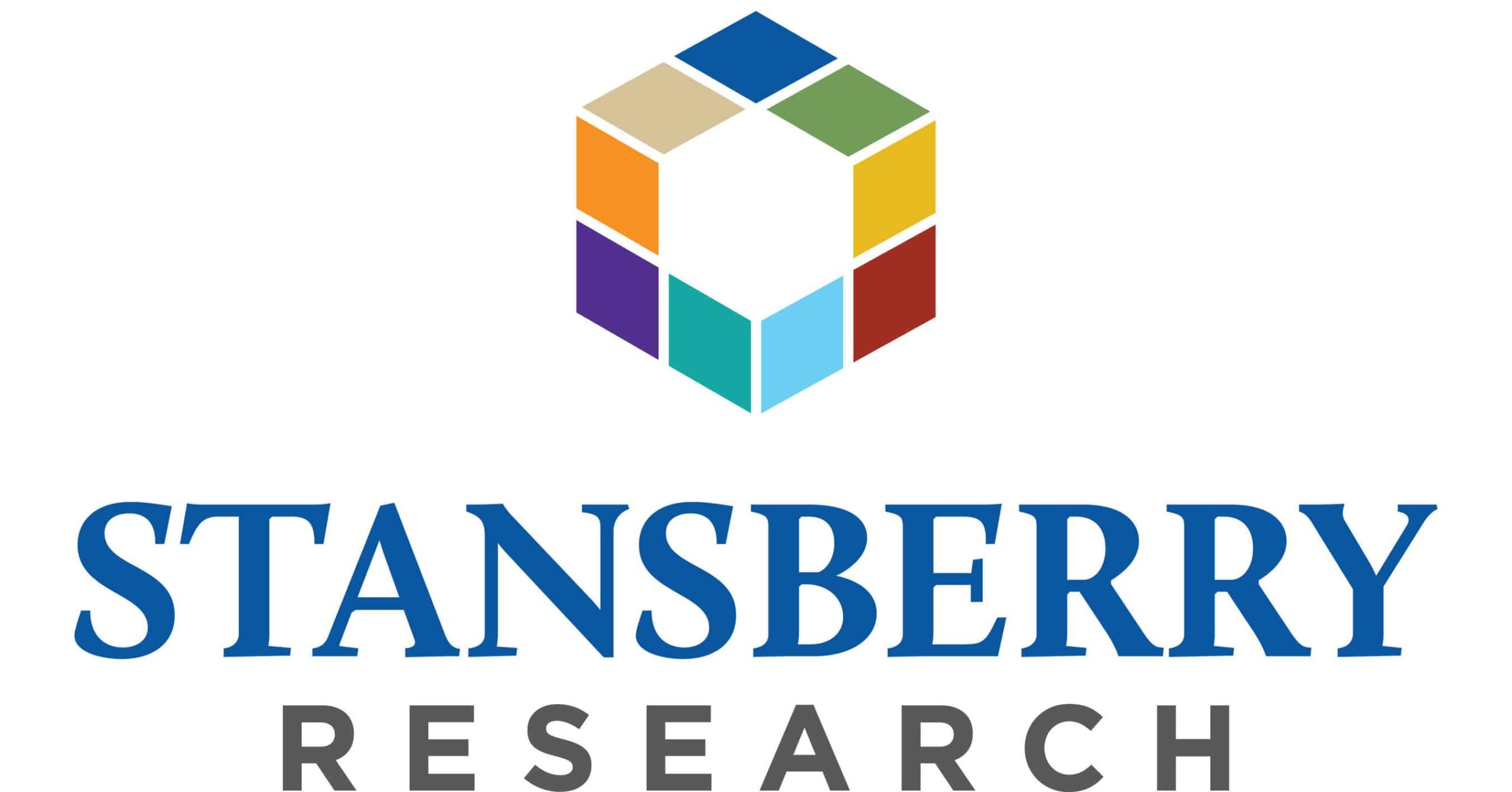 What Is Stansberry Research?
Stansberry Research is one of the leading names in the retail research industry, and they're the publisher behind Doc's Retirement Millionaire.
Porter Stansberry founded the company in 1999, and it exploded in popularity over the next two-plus decades.
Its comparatively affordable research newsletters were a hit with everyday folks, and the company had several specialized research services under its brand before long.
Today, Stansberry Research is one of the most prolific publishers in the investment research industry.
The company publishes several popular monthly investment services besides Retirement Millionaire, including:
Commodity Supercycles

Stansberry Gold & Silver Investor

Stansberry Innovations Report
That's an impressive catalog.
But it's not surprising considering that Stansberry has been in the industry for decades.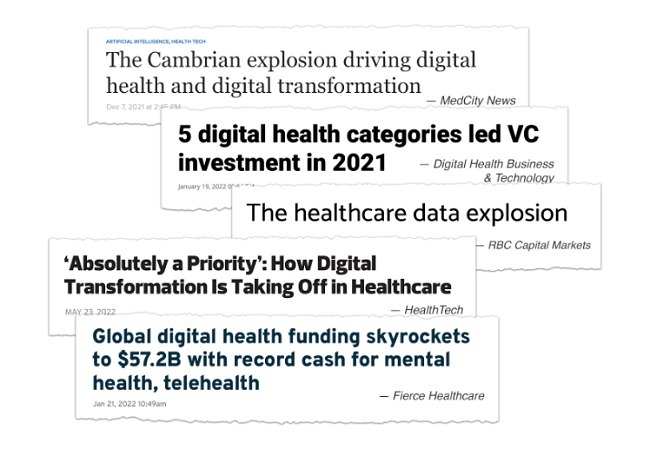 What Is the Shock to Retirement?
Shock to Retirement is the name of the team's latest presentation based on a budding technology taking root in the healthcare space.
David and the team believe that folks owning an early stake in these companies might be set to see big gains in the future.
Based on these stocks' growth potential, they could be a strong basis for any retirement portfolio.
There are a few reasons why the team thinks this is the case.
For one, they see healthcare as a resilient industry. In the past, it has shown the potential to outshine other sectors during a market downturn.
Secondly, the companies on David's radar are delving into tech that he says could kickstart a new era of healthcare that he dubs "Medicine 2.0"
Everything you need to know about the opportunity is found within the Shock to Retirement research package.
>> Get ahead of the Shock to Retirement <<
What Comes with the Service?
The latest bundle offers a wealth of investment analysis and bonus features.
Keep reading for a look into some of David's retirement secrets.
One Year of the Retirement Millionaire Newsletter
The monthly newsletter is where members receive the bulk of their research.
Each issue contains one trade idea, supporting research, as well as the ticker symbol.
The targeted investment horizon is in the ballpark of 2 years. So these recommendations are intended to be held for the long haul.
This strategy could be a good fit for folks who prefer steady positions over fast-paced trades.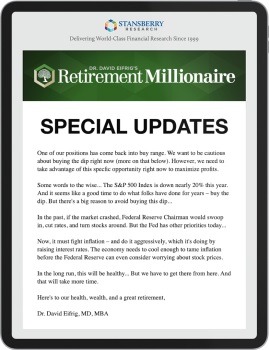 Trade Alerts
The team immediately notifies members of market moves that could affect the portfolio.
This includes both buy and sell alerts.
Each alert is backed with reasoning for the recommended action, so it's easy to follow their methodology.
It's a handy feature that lets members go about their day knowing the team is keeping a close eye on the markets.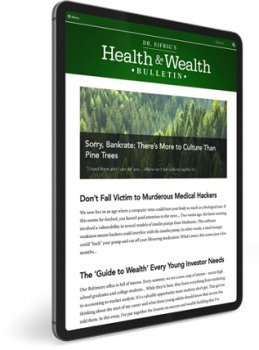 Health & Wealth Bulletin
This daily newsletter provides a blend of market commentary and health and wellness tips.
The steady stream of insights could keep members occupied between monthly issues of Retirement Millionaire.
Health & Wealth Bulletin doesn't offer trade ideas, but this newsletter does spotlight general opportunities worth keeping an eye on.
It also has contributors, so you can get a well-rounded mix of expert analysis.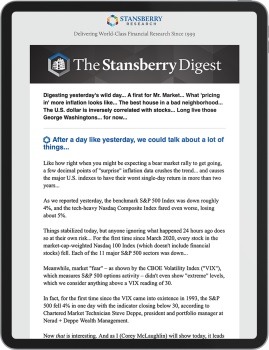 The Stansberry Digest
Similar to the Health & Wealth Bulletin, this daily newsletter offers general market insights.
Each issue is available every weekday after the market closes.
Between The Stansberry Digest and the other resources, members could have their hands full with a steady flow of expert research.
>> Access all of these features and more <<
New Member Bonuses
The new package offers a ton of additional insights. Some are bonus stock picks, while others are health and wellness tips.
Read on to see what you get.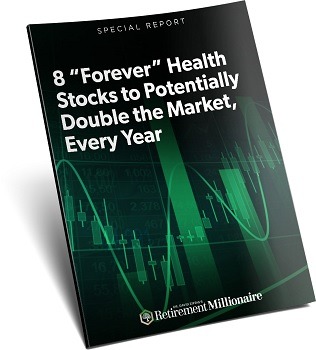 8 "Forever" Health Stocks to Potentially Double the Market, Every Year
This bonus report reveals eight stocks that David and the team believe could be held on to "forever."
Because they are in the healthcare sector, these picks could be especially durable over the long run.
Healthcare is a vital industry and demand continues to climb.
Even better, the team anticipates that the stocks could appreciate at least 15% each year and might double down the road.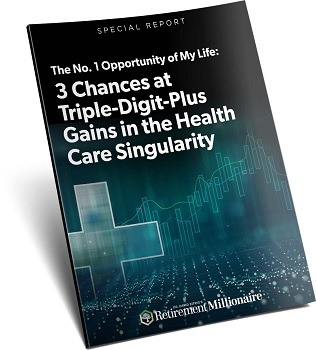 The No. 1 Opportunity of My Life: 3 Chances at Triple-Digit-Plus Gains in the Health Care Singularity
These three companies are David's favorite stocks for the Shock to Retirement prediction.
He believes that they could be some of the "biggest winners" in health care.
Given how bullish the team is on these stocks, it's surprising that they all have such low valuations.
Depending on how well David's investment thesis plays out, they could have plenty of room to grow.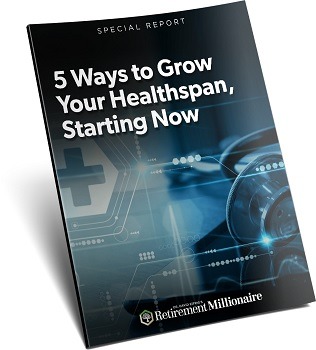 5 Ways to Grow Your Healthspan, Starting Now
David shares his top five health tips to improve healthspans.
If you're not familiar, healthspan refers to the period in life where people feel "healthy."
Essentially, these insights are geared toward helping people stretch out their better years.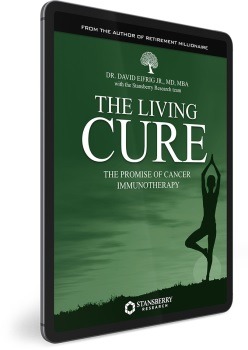 The Living Cure
David's book details all of his research into immunotherapy, a burgeoning cancer treatment.
He's been following developments in this industry for years and sees it as a transformative medicine that could reshape healthcare.
The book details everything members may want to know, including how immunotherapy works, its benefits, and how to access this treatment.
This isn't exactly investment research, but Doc also provides health and wellness insights as part of his overall service.
Keep in mind that this resource is not a substitute for medical advice, nor does it offer any.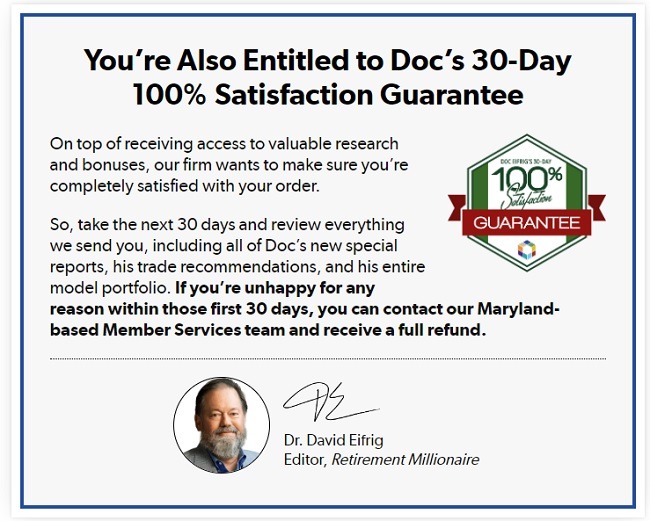 100% Satisfaction Guarantee
Retirement Millionaire offers a 30-day 100% satisfaction guarantee with every new subscription.
This means new members have about a month to take the service for a spin.
If you ultimately decide it's not a good match, you can request a refund on the cost of the subscription.
The newsletter's typical holding period is around two years, so this might not be enough time to see a recommendation to its conclusion.
Still, it offers a comfortable window to dive into the team's analysis and bonus reports.
Also, David's a solid analyst, so you could learn some valuable lessons — even if you don't stick with the service.
>> Join under David's guarantee <<
Pros and Cons
I found a lot to like in my Retirement Millionaire review, but the service does have a few downsides.
Pros
Excellent price and 75% discount

Extensive bonus materials

Learn to live a millionaire lifestyle on less

New stock recommendations every month
Cons
May be too conservative for aggressive trading

No short recommendations
Is Dr. David Eifrig Legit?
David Eifrig is legit.
He's been running Retirement Millionaire for 13 years, so people must be getting some value out of Doc's unique insights.
As an actual doctor, David also shares some solid tips for maintaining health.
In terms of a resume, you can't ask for better in a research guru.
Since its launch, nearly 100,000 members have read Doc's Retirement Millionaire newsletter, and the service is still running strong to this day.
Retirement Millionaire Reviews
David Eifrig's Retirement Millionaire has earned a 4.2/5 rating on Stock Gumshoe.
This is out of 288 reviews, which is a pretty solid sample size.
Here's a look at the rating.
Something to keep in mind is that I cannot verify which ratings are from real members.
Stock Gumshoe is a third-party rating site.
That said, I think it's a good sign that it appears the general sentiment toward this service is positive.
>> See why so many trust the team <<
How Much Does the Service Cost?
Typically, an annual Retirement Millionaire subscription costs $199.
However, the team is sweetening the deal and providing new members with an introductory offer of $49 for the first year.
This stacks up to about a 75% discount.
It's important to note that this is an introductory offer. When the subscription renews, the next year costs the original rate of $199.
While it would be ideal to have the reduced rate carry over, $49 for the first year is a solid deal.
The whole package is also backed by a fair 30-day refund window.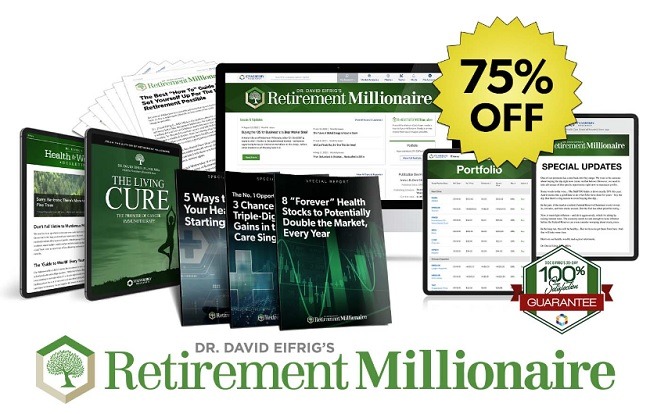 Is the Service Right for Me?
Retirement Millionaire is a great option for a wide segment of the public, but it's a particularly good fit for these groups.
As the name suggests, this service might be a fantastic fit for anyone with a retirement account.
Even better, it offers insights about much more than building a retirement portfolio.
David essentially offers a blueprint for steps that could improve general wealth and health.
It also focuses on opportunities for steady growth over time. David's not recklessly swinging for the fences with every recommendation.
You can follow his research with the confidence that he heavily scrutinizes each trade recommendation.
The newsletter also takes a very strategic, value-focused approach to the market, so it's an excellent choice for people who are just starting to learn about trading.
Is Retirement Millionaire Worth It?
Retirement Millionaire is an excellent research service that provides a wealth of insights into how to make the most out of your retirement savings.
At $49 for your first year, you're paying just over $4 per month for professional-grade research from a proven winner in Dr. David Eifrig.
That's a minuscule upfront cost when considering the benefits that a Retirement Millionaire subscription could hold for a retirement account.
Think of it as a small investment that could pay off big in the future.
For this low price, you get 12 recommendations throughout your membership, complete access to up to 25 additional stock picks through the model portfolio, and a treasure trove of high-grade research reports.
Plus, it's all backed by a 30-day money-back guarantee.
I highly recommend giving Retirement Millionaire a close look if you're in the market for quality research from a respected expert.
>> That's it for my review. Sign up for 75% off TODAY <<