Dr. David Eifrig claims to have uncovered the perfect formula for consistent gains in your retirement portfolio. Is he onto something, or are his claims unfounded? In this Retirement Trader review, I break down the service and let you know if it's worth a checking out.
What is Retirement Trader?
Retirement Trader is a research service published by Stansberry Research. Financial expert Dr. David Eifrig Jr. leads it.
The retirement-focused platform seeks to boost the gains you'd normally just set aside for your golden years. Best of all, it's about as low risk as you can go with investments.
What I love about Retirement Trader is how easy it is to use. There's no annoying jargon or complex methodologies to stand between you and the opportunity for profit.
All you need is a willingness to learn from one of the masters himself.
>> Already sold? Get started with Retirement Trader now! <<
We'll look at the service in detail in a moment. First, what does David Eifrig bring to the table?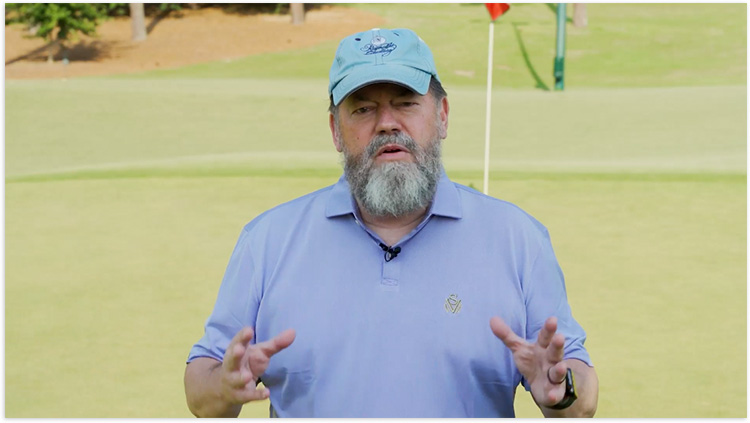 Who is Dr. David Eifrig Jr?
David Eifrig Jr. has been the lead editor of Retirement Trader for the last 13 years. He's been incredibly successful as a trader, which is no surprise given his many career accomplishments.
The guru earned an MBA from Northwestern University's Kellogg School of Management. He walked away on the Dean's list with degrees in finance and international policy.
That hard work landed him a job at Goldman Sachs and other major institutions over the next ten years as a senior vice president.
After becoming fed up with Wall Street, Eifrig decided to try his hand at medical school. He earned his medical degree from UNC Chapel Hill and became a board-eligible ophthalmologist.
If that wasn't enough, he sold his biotech startup for $125 million in 2008.
All these pursuits eventually led Eifrig to Stansberry's door, where he remains to this day.
>> Get David's latest research here! <<
What is Stansberry Research?
Stansberry Research proudly publishes Retirement Trader along with two dozen other research services. The range of available content allows the publisher to provide a range of market strategies and opinions from its diverse staff.
Above all, the team stands by delivering only research and advice they'd want their own families to read and follow.
This philosophy has served Stansberry well. Since launch, they've garnered millions of subscribers from all corners of the globe.
A Real Money Demo of Retirement Trader
Financial guru David Eifrig has uncovered what he believes is the best way to beat the ups and downs of the stock market.
His secret? A rather unfamiliar options strategy.
I've never been a big fan of options and have been bitten by them in the past. Eifrig made his approach sound so easy-to-follow though, I couldn't help but take a look.
He even enlisted some unconventional help to show how the process works. Let's take a closer look at his strategy now.
Stansberry's Most Successful Options Strategy
As I mentioned, Eifrig's money-making method involves options. More specifically, selling put options.
Options are typically a speculative person's game, I get it. That's great for some, but most of us prefer a more low-risk, steady stream of income.
Well, Eifrig says we can have our options and the steady income too.
In fact, David has logged a 94% win rate since implementing this approach back in 2010. This isn't something new he's trying out for the first time.
It's become the most successful options strategy at Stansberry Research as a result.
The process is easy, and we'll talk about it in a moment. Knowing which options to sell though is a whole other story.
That's where Retirement Trader comes in. David Eifrig uses his platform to share precisely which put options to pursue and when.
>> Get David Eifrig's unique game plan here <<
No Financial Experience Required
Options scare a lot of people. Eifrig went out of his way to prove how simple his system is by employing the assistance of PGA pro Kevin Kisner.
Kevin's no slouch when it comes to money matters, but he's run from options ever since a lousy investment left him burned.
On camera, Eifrig walked Kevin through the steps needed to sell a put and pocket the cash. It took less than a minute for the trade to add $3,479 to his bank account.
It would sound too good to be true to me also if I hadn't seen the video. If you decide to invest, it only takes a brokerage account and a few clicks of the mouse to get started.
You don't even need any options experience, just the knowledge of which puts to sell.
Read on to discover how the whole platform works.
Retirement Trader Review: How Does It Work?
When you sell a put option, you're basically betting against someone's speculation that the stock is going down. That means you win if the stock goes up or even stays the same. The advantage is firmly in your court.
Should the stock indeed trend downward, you're going to end up buying some shares. The good news here is that Stansberry Research only recommends put options for companies they see with long-term potential.
You'll still win if the stock grows over time. That makes it kind of hard to lose.
A typical holding period for a put option is a month or two, but that doesn't mean you have to keep it that long. You can also profit by closing out the trade early should the stock rise.
David Eifrig's options strategy works no matter the market condition. That's part of the reason why he has a 94% success rate.
However, this strategy can pay out even more during times of big market volatility. Speculators come out in droves to bet money against the direction stocks are moving. Eifrig says we're entering into one of these "special windows" right now.
The only way to know the best puts to sell is by picking up a subscription to Retirement Trader. Join me as we explore the service.
>> Get started now to save BIG! <<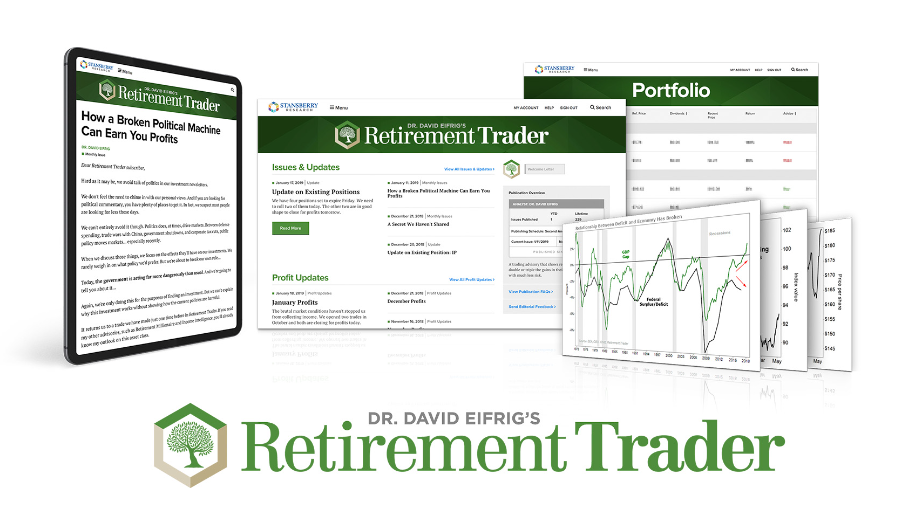 What's Included with Retirement Trader?
Here's everything you get when you become a member of Retirement Trader:
One-Year Subscription to Retirement Trader
A subscription to Retirement Trader comes with an entire year of the service. Inside are all the tools you need to potentially walk away with hundreds to thousands of dollars on each recommendation.
After all, this is the source of the strategy that's boasted a 94% success rate since 2010.
This is what you'll have access to:
Twice-Monthly Recommendations
Twice a month, you'll receive an email from David Eifrig with his latest briefing. The newsletter features his newest put option recommendations you can implement right away.
Eifrig provides the company's ticker, the date of the put, and the targeted share price. He explains why he's feeling the particular put and how much money you'll take right off the top.
I appreciate Eifrig's reports because they're so easy to read. He's serious about making sure everyone can follow his system.
>> Join now to see David's latest pick <<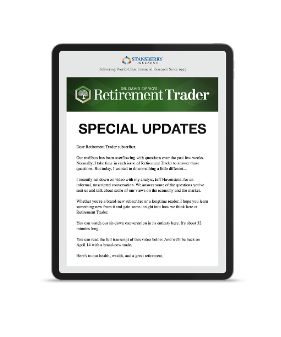 Special Updates
Markets sometimes move differently than we want them to. Eifrig sends out special updates whenever something changes that may affect one of your puts.
He may give a recommendation to sell a put early and lock in a gain or grab a hot opportunity that can't wait until the next report.
You're not thrown to the wolves here and forced to fend for yourself. David's in this with you, and these updates are a huge help.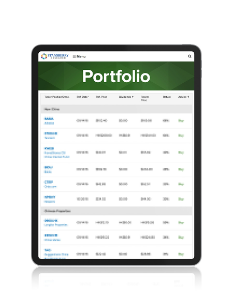 Model Portfolio
The model portfolio follows all of Eifrig's open puts for you to peruse at a glance. You'll see to-the-minute share prices and how stocks measure up to the recommended option.
It's a great way to track how your investments are doing without having to look up each one individually.
If you've missed a briefing, you can turn here to find the complete list of options Eifrig's recommending. From there, it's up to you whether to jump in or not.
>> Discover Dr. Eifrig's latest recommendations here <<
Bonus Extras:
Here's what else you get when you join.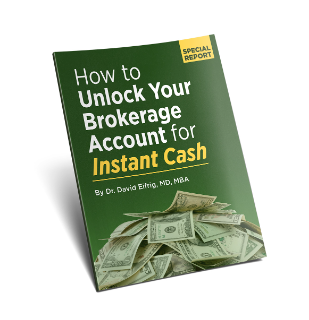 SPECIAL REPORT: How to Unlock Your Brokerage Account for Instant Cash
This super easy-to-read special report takes around 15 minutes to get through. It's in plain English for even the most option-illiterate to understand.
Most importantly, it contains everything you need to know about how put selling works.
Eifrig shares how to make the trade available with your current brokerage account and all his tips for getting the biggest payouts.
He also explains a "twist" he's uncovered over the years to nearly always close your puts out for a profit.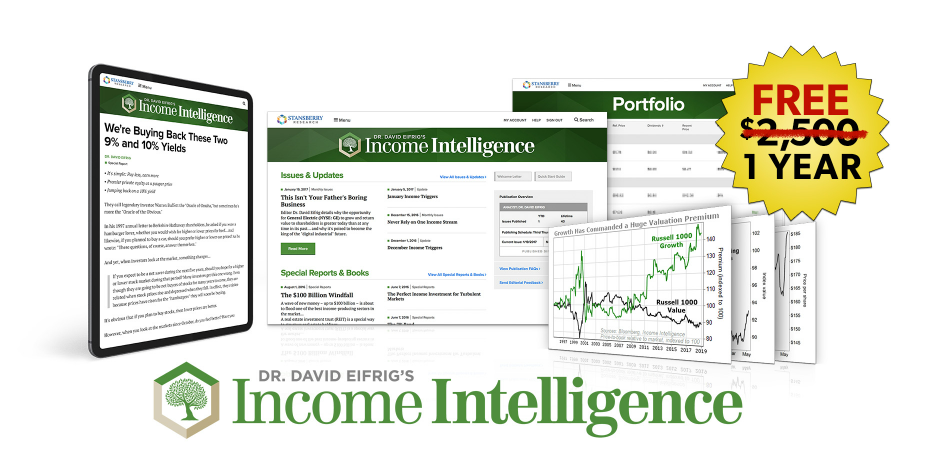 FREE BONUS: One-Year of Income Intelligence
Eifrig must be feeling generous because he's throwing in a year of his Income Intelligence service free of charge. It normally comes with a $2,500 price tag.
In Income Intelligence, Eifrig hunts for extremely low-risk stocks with the potential for payouts. His goal is double-digit yields from securities you can buy once and leave for a good long while.
David Eifrig teases that many recommendations from here could also be great put options to fuel your Retirement Trader strategy.
>> Unlock your bonus report now <<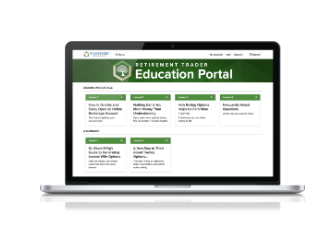 Doc Eifrig's Education Portal
Retirement Trader members are free to check out the archive at any time. Here you'll find all of Doc's special reports and past issues with tips and tricks that might still apply today.
There's more than a decade's worth of information crammed into this digital vault. You'll be able to browse all his public briefings, video updates, and Q&A sessions. It's a literal treasure trove of knowledge.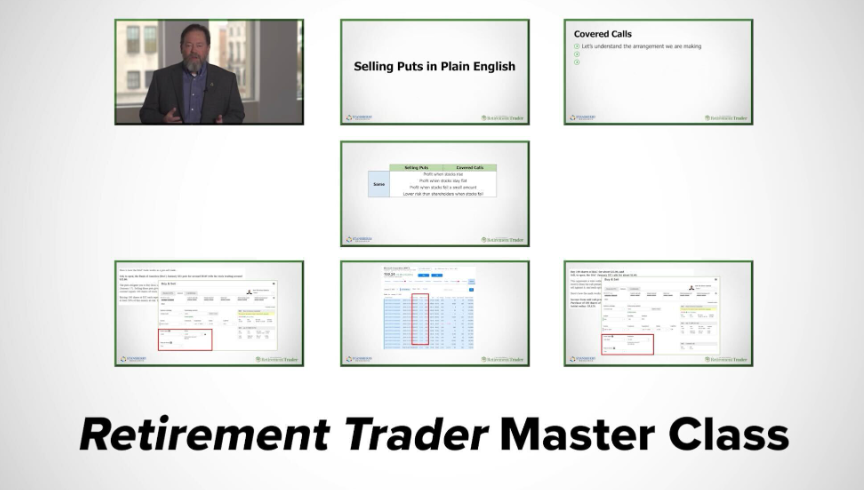 Options Trading Master Class
If video's more your cup of tea, Eifrig created an online options trading master class designed to show anyone how to make money with his strategy. It's a seven-video course with short, easy-to-watch lessons.
By the time you're finished, nothing should stand in your way of putting options to good use. You'll learn how to set up and configure your account and get trading.
Eifrig conducts a live demo in one of the videos you can follow along with so you don't miss a step. He also reveals how to close almost every position for a profit.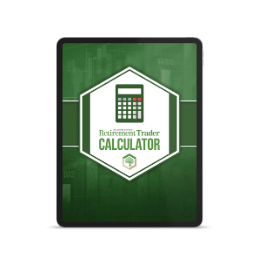 Retirement Trader Calculator
The retirement trader calculator is a nifty online feature to help you get the most out of your trades. All you have to do is input the trade in question, and the calculator immediately lets you know how much you can plan to collect.
It also tells you the trade's time span, overall risk level, potential annualized gain, and a ton more information.
You can use it on Eifrig's recommendations for peace of mind about your outcome and that payout.
>> Join now to try the Retirement Calculator <<
Welcome Gift ($2,499 Value)
New members receive a welcome gift just for joining the service. It's pretty hush-hush, but it does contain all Eifrig's secrets for having the retirement you've always dreamed of.
To find out what else is inside, you'll have to subscribe. I will tell you others have paid $2,499 for it, and it's yours for free if you sign up now.

Doc Eifrig's 100% Satisfaction Guarantee
David Eifrig and Stansberry Research don't offer a cash refund for Retirement Trader, and the reason is simple. They don't want folks to buy in, grab all this information, and then cancel.
That wouldn't be a very effective business strategy.
Don't worry; you're still covered if for some reason you don't like what you see here. You can call the Stansberry customer service team any time within your first 90 days and receive credit in the amount of your purchase price.
That credit can go toward any of the 24 products the publisher offers either now or down the line.
>> Sign up risk-free under Dr. Eifrig's guarantee <<
Pros and Cons of David Eifrig's Retirement Trader
Here are the best and the worst aspects of David Eifrig's Retirement Trader.
Pros
One year of put options recommendations

Unrestricted access to the model portfolio and content archive

Free year of

Income Intelligence

Options trading master class

$2,499 value secret gift

Currently heavily discounted
Cons
No community chat or forum

Options may not appeal to everyone
David Eifrig's Track Record
David's results really speak for themselves. A 94% success rate in investing certainly isn't typical where I'm from.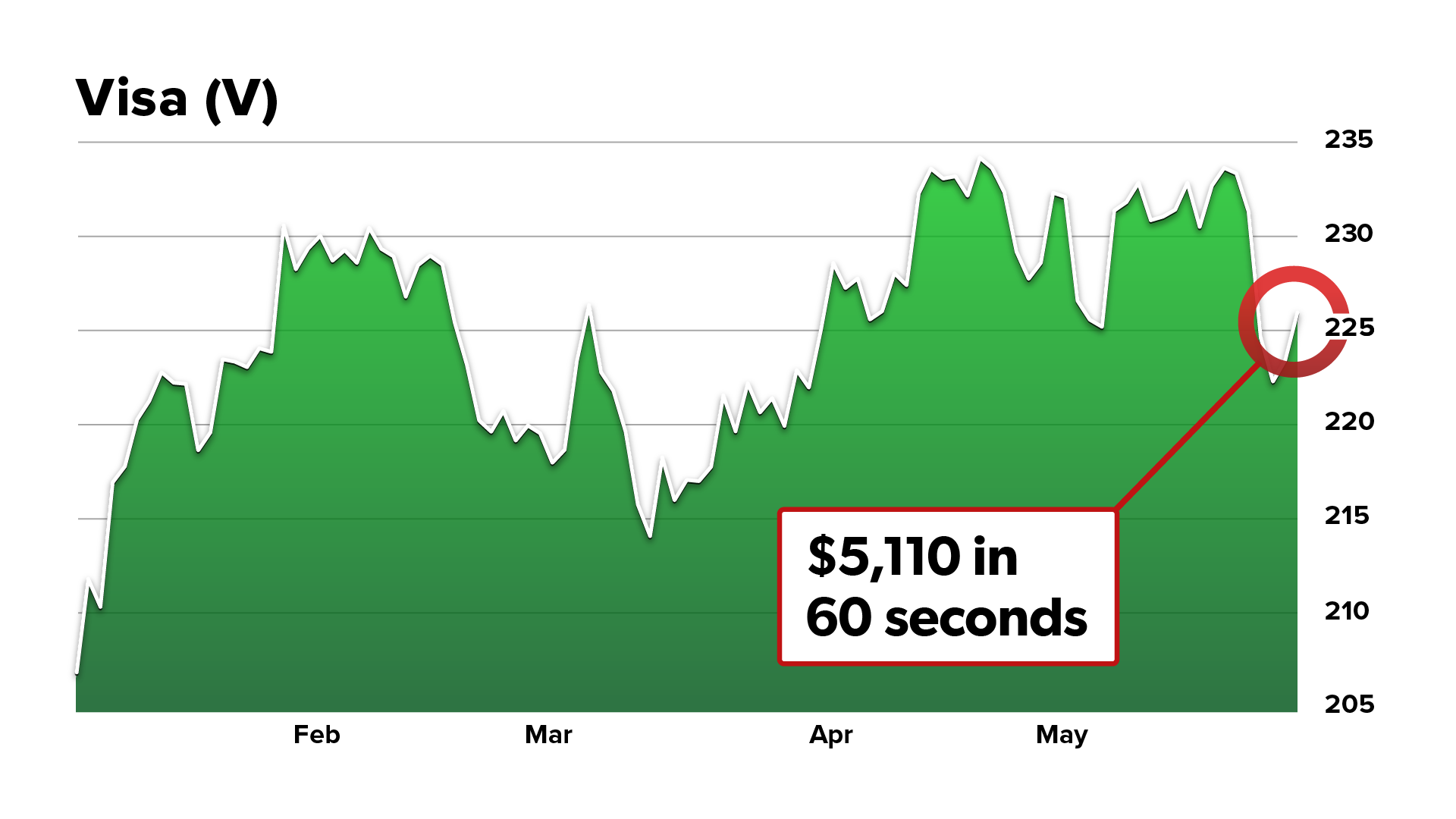 Take Visa for example. Eifrig showed how you could have earned $5,110 in 60 seconds in the midst of a rocky time for the stock. That's much better than the $787 you would have earned through dividends all of last year.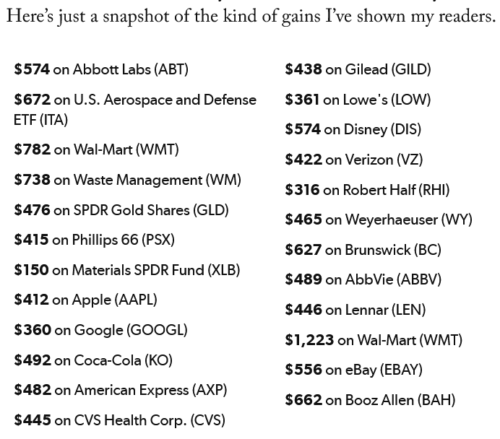 Visa is just one of many big wins for Eifrig. The chart above shows a mere snapshot of gains he showed readers recently.
What's even more amazing is that he's been doing this very same thing for the last 13 years.
>> Join now to get David's latest recommendations <<
Retirement Trader Reviews by Real Users
Don't just take my word for how impressive Eifrig's service is. Check out what real members have to say about Retirement Trader: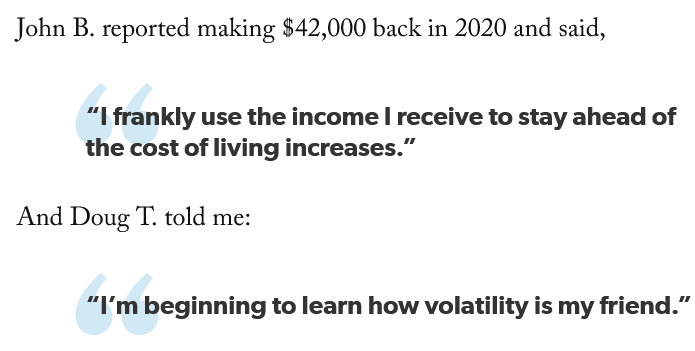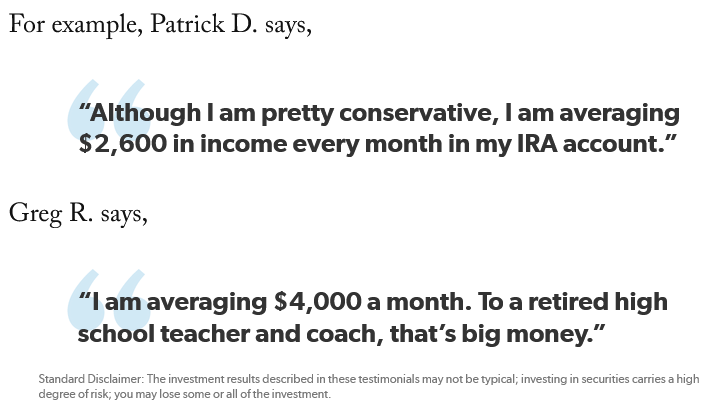 As you can see, these members were all satisfied with their service and brought in some big gains to boot. It seems like Retirement Trader is legit.
>> Sign up now to join these satisfied members <<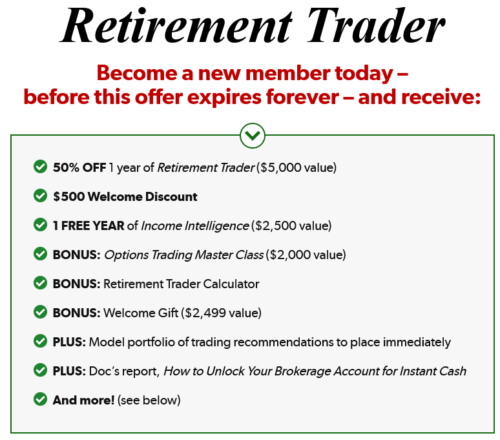 How Much is It?
One year of Retirement Trader alone normally goes for $5,000. Right now, you can join for just $2,000. That's 60% off the cover price.
You end up paying just $5.50 a day for all the content above. Seems pretty reasonable with the amount of profit potential this service offers.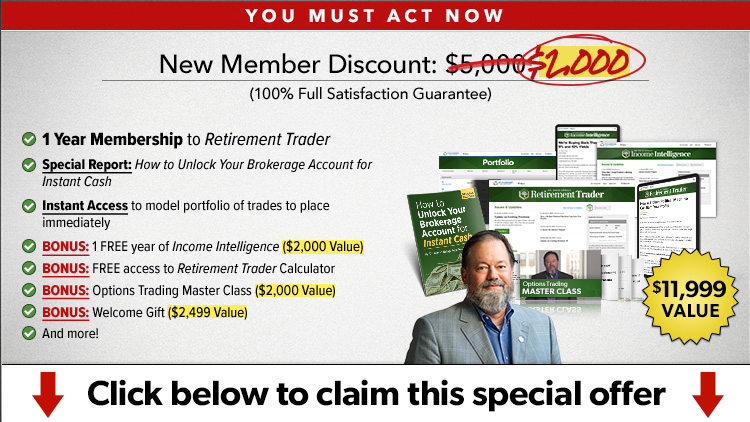 Is Retirement Trader Worth It?
After a thorough analysis, I can safely say Retirement Trader is worth it.
You're getting Doc Eifrig's entire put options strategy and all the tools you need to have his level of success for just $2,000. It's possible to make that back with a single trade.
Don't forget that this bundle includes a year of Income Intelligence, the options trading master class, and a mystery gift valued at over $2,000 each.
Thanks to the model portfolio and bonus reports, you can start investing right away – even if you don't know anything about options.
There's also the 100% satisfaction guarantee should you decide to opt-out. You can put that money into a different Stansberry Research that's more your style.
I've always known there's money in options, but the speculative nature just never worked for me. It's a breath of fresh air to find a more conservative strategy and still reap the benefits options can bring.
If you're looking for consistent gains no matter the market condition, Retirement Trader is definitely worth a look. Sign up now before this deal disappears.