Bob Carlson warns of the government's new play that will wreak havoc on your retirement savings. Fortunately, he claims to have found a solution. My Retirement Watch review will tell you if this deal is worth your time.
Retirement Watch Review: Overview
Bob Carlson's Retirement Watch is a research service dedicated to helping folks build the retirement savings they need for the future.
Bob Carlson founded the service and is still the main contributor, with Eagle Financial Publications handling the publishing and logistics.
Carlson saw the shift in the rules of retirement and had to step in to help. He felt Americans were getting lost in the shuffle, thanks to longer lifespans and fewer employer pensions.
It certainly doesn't help that retirement finances change all the time. Markets shift from good to bad overnight, and we have more investment options than we know what to do with.
Retirement Watch tackles the big questions about retiring so we can prepare adequately for a life without work.
Its monthly newsletter talks about retirement planning, social security, investing in retirement through traditional and Roth IRAs, and so much more.
>> Secure your retirement with Retirement Watch <<
Bob currently has a deal he doesn't think you'll want to pass up. We'll get to that in a minute, but first let's learn a bit more about the man.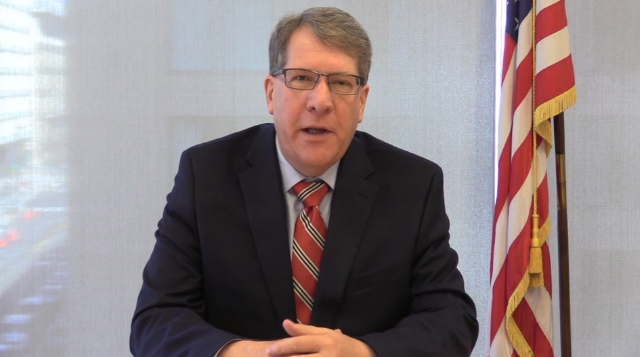 Who is Bob Carlson?
Bob Carlson is a retirement guru with over 30 years of experience in the field.
He first pursued a career in law, receiving both his law degree and a master's in accounting from the University of Virginia. He even passed his CPA on the first try.
It became clear early on to Bob that he wasn't meant for the courtroom. Instead, he felt led to help folks on the path to retirement.
Carlson decided to launch his own retirement advocacy newsletter called Retirement Watch with the help of his wife. He's faithfully written an issue every month since 1991.
Is Bob Carlson Legit?
The guru's credentials for finance and retirement are off the charts. Bob's a senior contributor on Forbes and has penned three books on finance and investment.
He still serves as Chairman of the Board of Trustees at Fairfax County's employee retirement system. Its portfolio has over $3 billion in assets under management.
If that wasn't enough, Carlson served on the Board of Trustees at the Virginia Retirement System for six years. There he managed a piddly $42 billion pension fund.
Bob also founded the Center for Retirement Security in 1989 to educate folks on retirement accounts, Roth IRAs, and the like.
If he doesn't know his stuff, I don't know who does.
>> Safeguard your retirement with Carlson's solution <<
What is Eagle Financial Publications?
Eagle Financial Publications is the catalyst for getting Retirement Watch to its adoring fans. It does way more than serve just Bob Carlson, though.
It's the publishing home to 12 of America's investment experts, carrying a combined total of more than 135 years of experience. A few other top names include Dr. Mark Skousen, Bryan Perry, Jon Johnson, and Jim Woods.
Together, this team of gurus works to provide wealth-building strategies to the masses.
The full roster allows Eagle Financial to cater to folks seeking investment strategies of all types. Whether you're into long-term strategies, short-term moves, or something in between, chances are you'll find it here.
The publisher boasts more than 230,000 subscribers among its newsletters and trading services.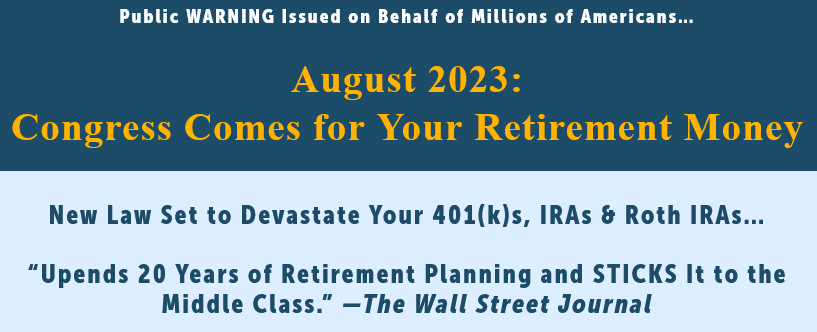 What is Retirement Doomsday?
Bob Carlson is sounding the alarm about a potentially devastating new law that could be an enormous threat to your retirement portfolio in his latest presentation for Retirement Watch.
This new law that's currently making its way through the legislative branch could have catastrophic consequences for millions of American investors.
Here's what you need to know: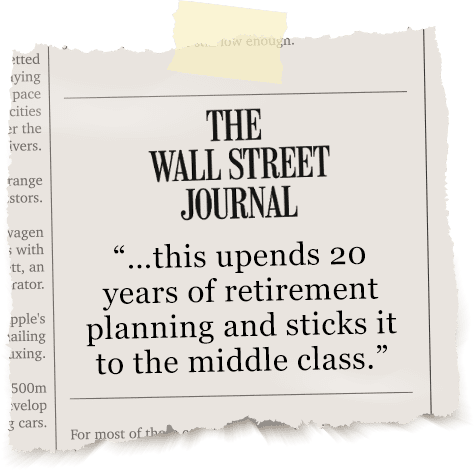 "Uncle Sam is After Your Retirement Money"
According to Carlson, this new law bubbling behind the scenes is worse than anything he's ever seen before.
If it comes to pass, the law will levy the biggest tax to hit your retirement accounts in the last 100 years. It's changing the rules of retirement in the worst way possible.
Uncle Sam is after your retirement money, and the government's passing it off like it's a good thing. The law won't just affect you; they're looting the funds you're hoping to pass on as well.
What's worse, Congress is fast-tracking the thing. It's already cleared the House by a nearly unanimous vote and is on the path to reaching the top.
You should be scared about what's coming down the pipe. The good news is we don't have to sit idly by and take it.
Bob Carlson has a plan for saving our savings, and it couldn't come a moment too soon.
>> Act now against retirement threat. Join Retirement Watch now! <<
Bob Carlson's The New American Retirement Plan
It's still possible to protect yourself and your loved ones from the government's new mandate. You'll need to act quickly, though. The law should come into effect in just a few months.
Bob Carlson wants you to have all the facts on this new law before it hits. He's been working hard on a special report he calls The New American Retirement Plan to address all our concerns.
This isn't just another book you'll find on the shelves of a bookstore. It may very well be the best way to defend against the government's new bill.
In fact, Carlson's put together a four-part plan for being ready for retirement, new law or not. It's highly specific, personal, and Bob uses these tips in his own retirement plan.
Everything's easy to read and put to paper so you can shield your assets. You'll just need the book to do so.
The only way to access it is by joining Retirement Watch. Follow us as we take a look at this special deal in detail.
>> Protect your retirement with Carlson's Plan <<
Retirement Watch Newsletter Review: What's Included in Bob's Deal?
Here's what you get when you join Carlson's Retirement Watch under the latest deal:
12 Monthly Issues of Retirement Watch
A subscription comes with 12 issues of Retirement Watch newsletter over the course of a year. Each one's chock-full of tips and tricks for you to manage your retirement savings.
All the info's unbiased and designed to help you settle into your golden years without worry or guesswork.
Retirement Watch Hotlines
Retirement planning isn't as predictable as we'd like, and Bob Carlson recognizes this. He'll send out a Retirement Watch hotline every time something happens that could affect your retirement.
These issues provide the info you need to stay apprised of the situation and get your retirement plans back on track.
LIVE Conference Calls
Once a quarter, you're invited to join a live conference call with Bob Carlson himself. You'll get to ask all your retirement questions and he'll take the time to answer them.
Bob will also update you on pressing matters that may affect your retirement plans. He'll also share the latest on his five model portfolios.
"Watch Lists" Library
Carlson has a special library of "watch lists" on his members-only website. These "watch lists" feature crucial information about factoring into your wealth and life.
You'll find topics on the housing situation, estate planning, health news, annuities, cash strategies, and more. Bob updates the collection regularly, so check in often.
>> Explore Bob Carlson's retirement deal now <<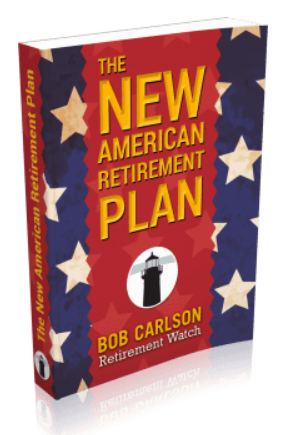 The New American Retirement Plan
Bob believes he has the solution to the government's secret law, and he's tucked it into the pages of his New American Retirement Plan.
This isn't some flimsy manual. It's 192 pages of answers to questions and actionable strategies to save your retirement earnings.
Inside, he covers how to save your IRAs and 401(k)s from the government's clutches and changes you should make to your estate no matter how much money you have.
With your current finances secure, Carlson explains ways to add money to your retirement account and create tax-free income streams.
Few people are even talking about this right now. Acting through these recommendations now could be a game-changer when the law goes into effect.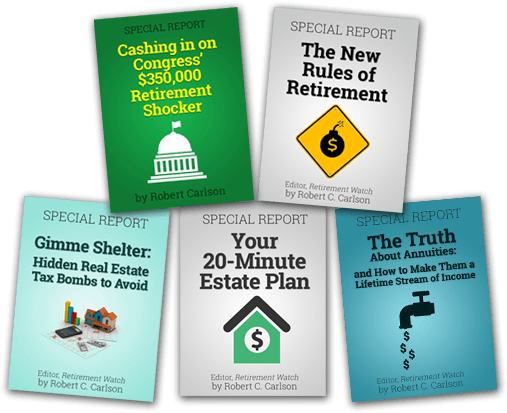 The Ultimate Retirement Library
Bob Carlson includes access to his complete library of strategies for mastering your retirement planning. This five-volume set's designed to keep you one step ahead of all the shakeups threatening your nest egg.
Here's a teaser of what you'll find in each one:
>> Join now for instant access to Bob's Utlimate Retirement Library <<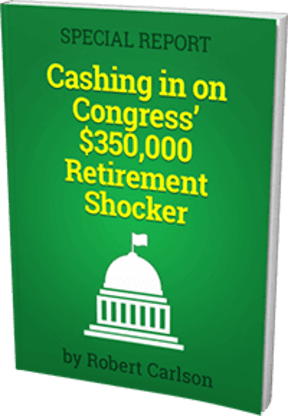 Cashing In on Congress' $350,000 Retirement Shocker
Volume one shares the lowdown on two big changes coming out of Congress. Combined, they could net you an additional $350,000 in your retirement savings.
The report goes into detail on how each change will work and how they'll affect your golden years.
Not to worry, Carlson offers up a handful of strategies you can use to not only benefit from these changes but maximize your shot at the biggest rewards.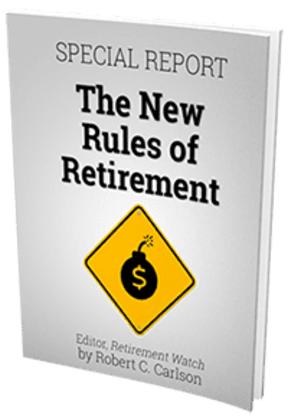 The New Rules of Retirement
Retirement planning is never constant. The New Rules of Retirement points out the two biggest and most overlooked challenges you'll face along the way.
The first is a so-called "time bomb" that starts ticking the moment you retire. The second is how to protect the income flowing into your retirement accounts long-term.
Knowing these threats even exist is the first step in battling against them. Carlson may also float a few tips your way on how to protect yourself from losing funds.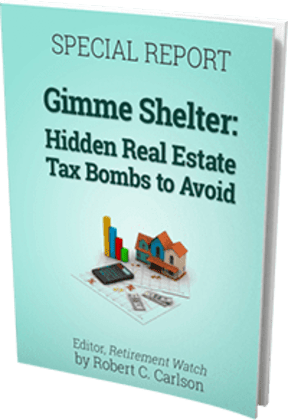 Gimme Shelter: Hidden Real Estate Tax Bombs to Avoid
Your home may very well be your most valuable asset. If used correctly, it can be a huge boon in your golden years.
However, poor management of the financial side of your home can lead you down a bumpy path. Taxes and penalties could eat away at your retirement savings, leaving you with much less than you'd like.
Gimme Shelter is your ticket to navigating these hidden tax bombs and protecting what's yours.
>> Join now to avoid the "real estate tax bomb"! <<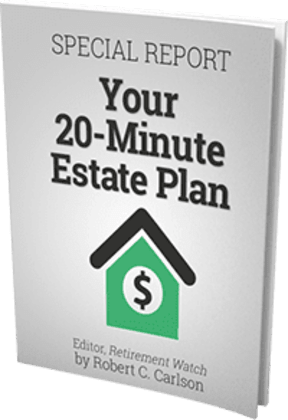 Your 20-Minute Estate Plan: Building a Lasting Legacy
We can't take our money with us when we die. However, your loved ones may have to deal with lots of red tape and needless taxes when trying to claim an inherited IRA.
The good news is they don't have to. Your 20-Minute Estate Plan reveals the best ways to set up your IRA. It's comprehensive but all laid out in an easy-to-understand format that'll help you pass along your legacy with minimal loss.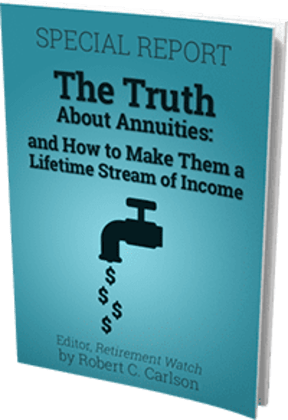 The Truth About Annuities
There are a lot of annuities out there, but they're not all created equal. Picking the wrong ones could actually leave you in worse shape.
The Truth About Annuities goes into detail about all the different types of annuities available. Being educated will help you pick the right ones for your retirement scenario and get the most out of your investment.
>> Get Bob's Ultimate Retirement Library when you join now <<
Retirement Watch Review: Bonus Reports
Carlson's bundle also comes with the following special reports:
How to Insure Your Way to a Rock-Solid Retirement

How to Inflation-Proof Your Nest Egg with ETFs

IRA Investment Guide: A Roadmap for Avoiding the Tax Traps and Penalties

Keep Your Nest Egg Safe from the IRS Money Grab
I rarely see a package with more than a few special reports. It's impressive that Bob's including a total of nine in this deal. These aren't cheap e-books, either. Each report's worth somewhere between 50 and 180 bucks, greatly increasing the value of this bundle.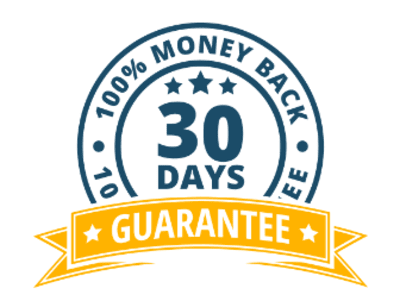 Money-Back Guarantee
Bob believes in his service so much that he's letting you put it through its paces for 30 days. Check out the watch lists, read your first issue of the Retirement Watch monthly newsletter, and start making your way through the bonus reports.
If anything doesn't tickle your fancy, reach out to Carlson's team. They'll provide a full refund of your purchase price, no questions asked.
You'll even get to keep all the materials you've collected until that point as thanks for trying the service out.
>> Try Retirement Watch Risk-Free for 30 Days <<
Retirement Watch Review: Pros and Cons
Retirement Watch has a lot going for it, but it's not perfect. Check out the top pros and cons of the service.
Pros
12 issues of

Retirement Watch

monthly newsletter

Live quarterly conference calls

"Watch lists" informational library

Exclusive access to

The New American Retirement Plan

Nine unique special reports

30-day money-back guarantee

Currently 35% off retail price
Cons
Heavy focus on retirement security

No community chat or forum
How Much Is It?
Bob's Retirement Watch bundle has three pricing tiers for you to choose from.
His Platinum Subscription is currently marked down to $87 from its standard price of $249. That's 65% off the cover price and comes out to just shy of 24 cents per day.
In this plan you get all the materials listed in this review – the Retirement Watch newsletter, perks, and all nine bonus reports. All that content's listed at a $897.75 value.
The Diamond Elite Subscription costs $149 and includes everything you receive in Platinum. What makes this tier enticing is that Carlson throws in his newest special report, The New Rules of Estate Planning, valued at $200.
If you don't care for all the bonus materials, you can opt for the Gold Subscription for $49.95. It includes a year of Retirement Watch and a copy of the New American Retirement Plan.
>> Get 65% off when you join now!<<
Retirement Watch Review: Is This Newsletter Worth It?
Retirement Watch is undoubtedly worth the $87 admission fee. You're looking at nearly ten times the value in content. It would be a steal at its normal $249, but you won't hear me complaining about the discount.
Speaking of content, members get 12 issues of Retirement Watch magazine, model portfolio access, and crucial updates any time news (like the new law) could affect your retirement savings.
Let's not forget the NINE bonus reports Carlson throws in for good measure. Any one of those free documents could have a huge positive impact on your retirement savings.
It all culminates with Carlson's New American Retirement Plan, designed to stop the government's new law from wrecking your current and future finances.
There's also the 30-day money-back guarantee so you can try out the service with minimal risk.
Carlson has dedicated over 30 years of his life to this specific purpose. He's on a mission to prepare anyone thinking about retirement for what's to come.
I think it's safe to say he wouldn't still be in this line of business if he didn't know a thing or two.
If you're not keen on sitting around and watching the government destroy your retirement plan, you can't go wrong with Retirement Watch. Sign up now to take advantage of this deal before it disappears forever.
>> Protect your nest egg with Retirement Watch. Claim your 65% discount here! <<