Rockwell Trading reviews are red hot, and I want to see if Markus Heitkoetter's insights are really worth the money. Check out my Rockwell Trading review to find out everything you need to know about its catalog of lauded trading services.

What Is Rockwell Trading?
Rockwell trading is a stock, options, and swing trading service that provides investment research software and educational resources.
The company was founded by Markus Heitkoetter way back in 2005. He set out to help folks who want to take the guesswork out of trading stocks. Looking at the stellar customer reviews for this service, it looks like he succeeded.
Rockwell Trading stands out among the crowd because it offers a deep dive into a range of trading styles. Where some competitors provide cursory overviews, Rockwell Trading's strategies tackle their investment niches in exhaustive detail.
Also, I've seen quite a few trading services that offer educational resources and coaching, but few provide legit trading software.
Rockwell Trading has a powerful screener, aptly named "PowerX Optimizer", that pinpoints real opportunities on the stock market. It's an impressive bit of software that I'm going to break down in detail as we go.
Before I really get into it, let's switch gears for a moment and look at the service's mind.
Who is Markus Heitkoetter, and why should you trust his investing insights?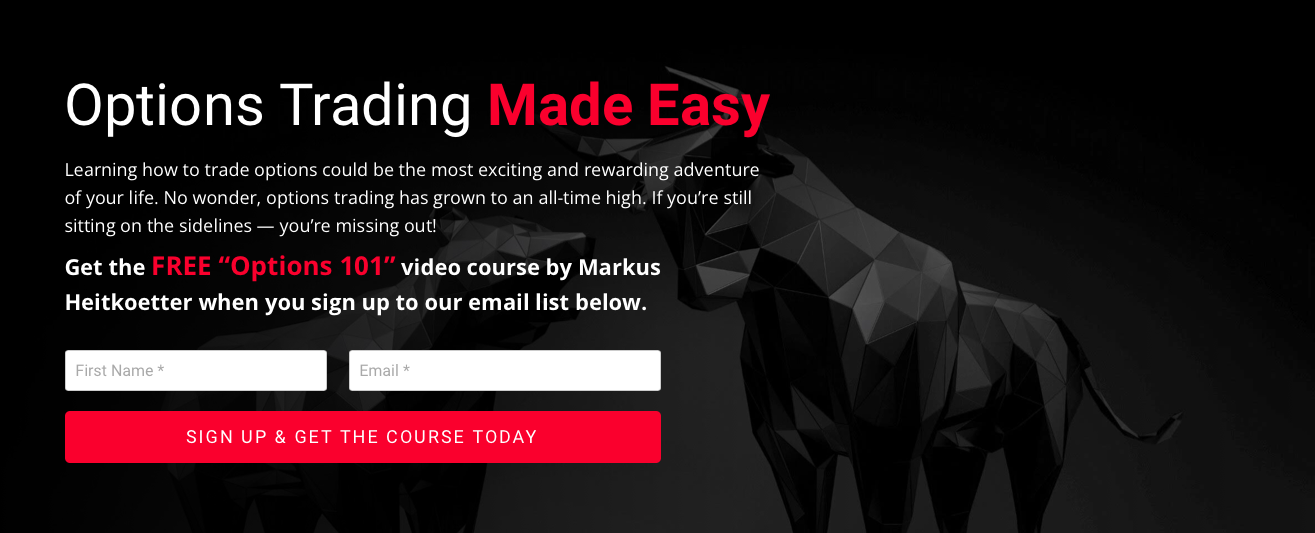 Who Is Markus Heitkoetter?
Markus Heitkoetter is an excellent trade guru, who really understands the market in and out. Better yet, he's an exceptional teacher.
Heitkoetter has taught more than 360,000 traders across the world.
He teaches the nuances of swing trading, how to spot trends through charts, understand wheel trades, plus other trading practices.
His team includes Mark Hodge, a former financial advisor with over 20 years of experience in trading and investing. Debbie Morris, meanwhile, is the educational platform's CEO.
Heitkoetter's approach to trading is patient yet aggressive, and he leverages strategies that work in various scenarios and industries.
Something I appreciate about Markus is that he goes out of his way to distill his insights in a very easy-to-digest format.
His strategies can be complex at times, but he doesn't bombard folks with a bunch of opaque trading jargon.
I've also checked out a bunch of his videos online, and he comes off as a really down-to-earth guy who's genuinely interested in helping others build their skills.
>> Already sold on Rockwell Trading? Sign up NOW! <<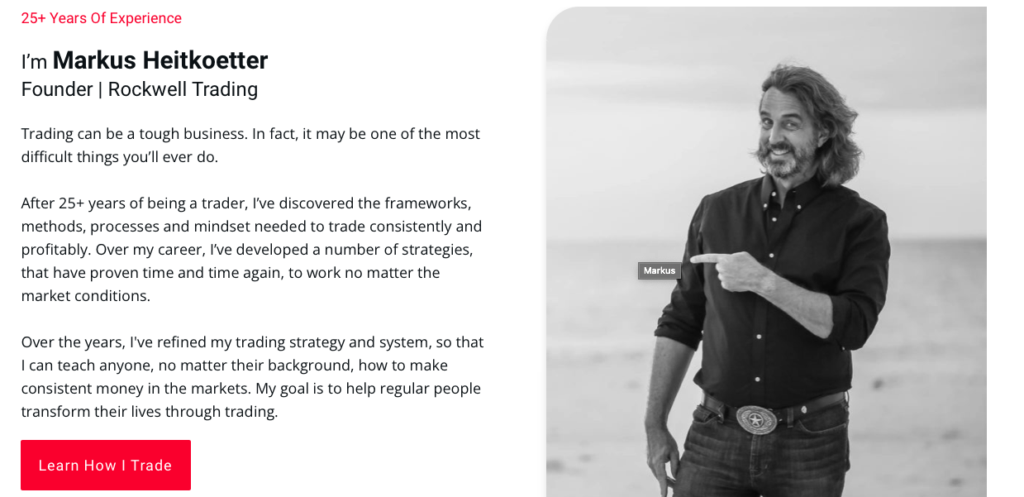 How Does Rockwell Trading Work?
Rockwell Trading provides an educational platform that covers stocks, swing, and options trading. It also offers a powerful tool for investment research, PowerX Optimizer (PXO).
Some of its services include:
Trading software

Mentoring and coaching

Courses and educational ebooks

Stock, options, and swing trading strategies

And much more
Rockwell Trading services help you set up a systematic approach to getting consistent results with each trade. Plus, the educational material includes practical examples.
One of the team's most popular systems is the Rockwell Wheel Strategy. We'll give a brief overview so you can get a sense of the strategies on offer.
>> Get started mastering options trading TODAY! Sign up NOW! <<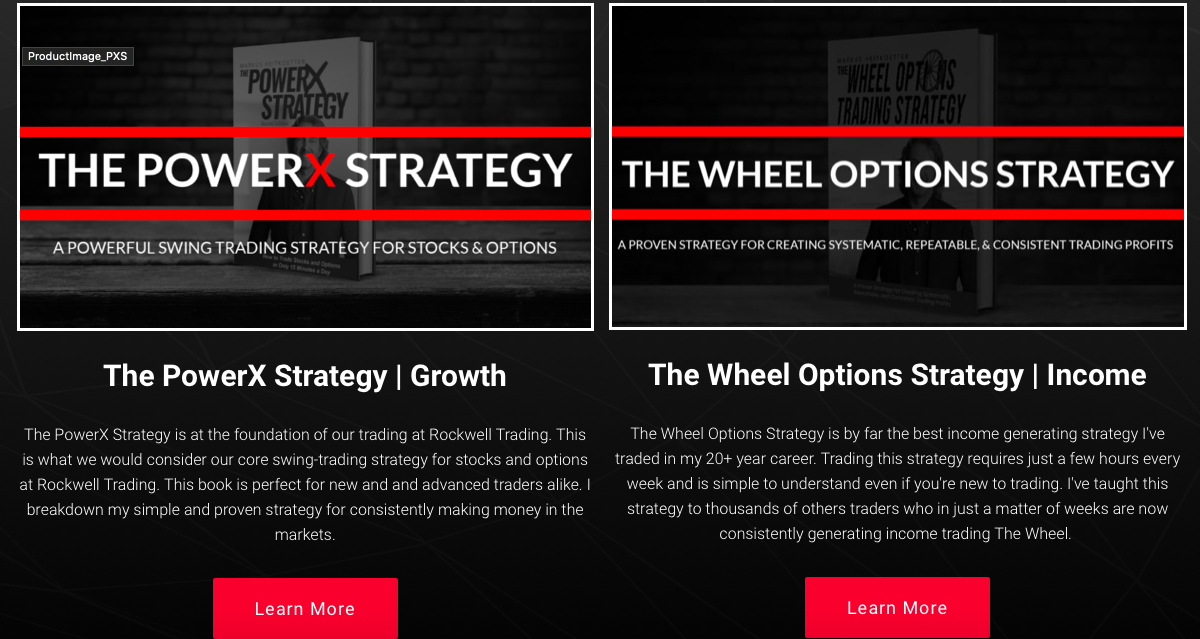 What Is Rockwell's Wheel Options Trading Strategy?
The Rockwell Wheel Trading Strategy is an options trading system that helps folks improve their overall performance.
The strategy involves buying cash-secured puts on margin. When options expire or close at a profit without being assigned, then all the premiums are fully profitable. However, your account holds the stocks in question if the puts are assigned.
The aim is to avoid being assigned so you can continue executing trades or "spinning the wheel," as Heitkoetter calls it.
While the process repeats, traders will collect premiums, lowering the overall cost basis of stocks until profits are made.
This is a general idea, but Rockwell Trading's system is much more nuanced.
The wheel options trading strategy isn't a guaranteed moneymaker, but it has a lot of potential if used properly.
>> Ready to become a master options trader? Click here to join! <<
Rockwell Trading Services and Products
PowerX Optimizer

Theta Kings

The Rockwell Freedom Mastermind (coaching)

Trading ebooks
PowerX Optimizer
The PowerX Optimizer (PXO) is one of the service's top offerings. The software includes a proprietary stock scanner that consistently generates price charts comparing stock movements.
It's a complete trading package that offers courses to boot, including one that teaches how to trade options.
Here are some of Rockwell Trading's courses:
Wheel Options Strategy Master Class

PowerX Master Class

PowerX Debit Spreads Workshop

And more
Additionally, the stock scanner offers recommendations spanning various entry points, position sizes, and target buy openings. The PXO also suggests the most realistic profit targets you can achieve with different trades.
You can scan over 12,000 stocks and exchange-traded funds (ETFs), with instant results.
Entries, stops, and exits are all provided to take the guesswork out of the trading equation.
The PowerX Optimizer software offers useful data and information to improve trading capabilities.
>> Access the PowerX Optimizer and scan over 12,000 stocks! Just click HERE! <<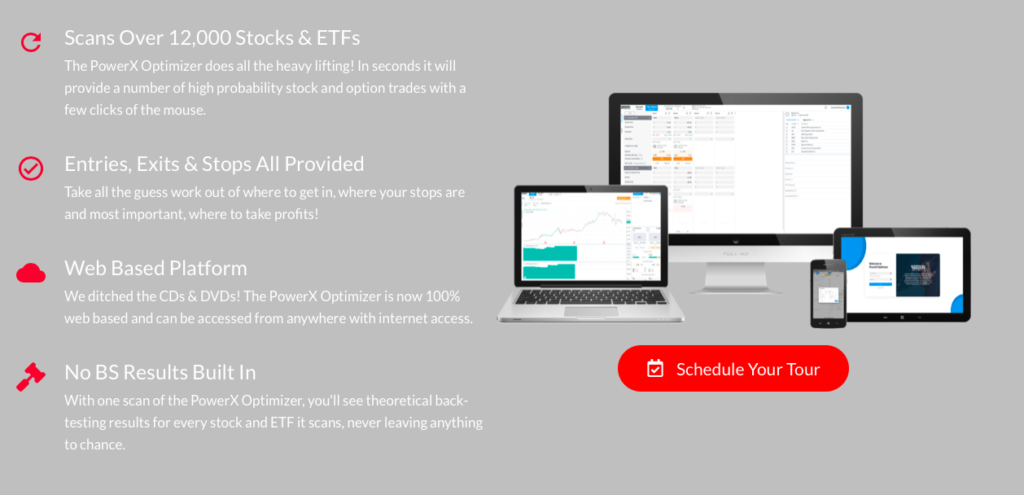 Here are some other bits of info about the PowerX Optimizer trading software:
Web-Based Platform

– Rockwell Trading uses state-of-the-art technology for its trading platform, allowing users to focus on trading signals and indicators without distraction. It's important to note that this is not a trading platform where you execute trades. This is a comprehensive suite of analysis tools and resources.

Live News Feed

–

Another key feature of PowerX Optimizer is the live news feed which includes access to leading business news entities like NBC, Fox, ABC News, Yahoo! Finance, and CBS. Rather than performing Google searches to see what the top news entities are saying about the market, each news outlet is integrated within the platform.
All in all, I think the PowerX Optimizer is a great piece of software. It's one of the few I've seen that have such robust features for options. The options wheel calculator is definitely a highlight of the service.
PowerX was also designed with simplicity in mind. So it could be a solid option for a brand-new trader who is learning the ropes.
Theta Kings
Theta Kings is a training program that teaches you how to leverage "theta" in your options and swing trading strategies.
Theta refers to declining option values due to the passage of time, also called the time decay of an option. The option loses money as it nears maturity, and everything is held constant.
Theta Kings is exclusive to Rockwell users, with the course focused on leveraging theta metrics to identify winning options trades.
The Theta Kings course is an on-demand training seminar you can take anywhere from any location. Plus, there are two live trade recordings where all the lessons learned are applied practically.
You can monitor your swing trading strategy over several days or weeks. And you can identify the best edges to exploit with the Stacking the Deck strategy.
The course takes up to three days to complete and teaches you the nuances of using time frames advantageously during options trading. Also, you can successfully exploit Theta to seek swing trades with the highest possible premiums.
>> Does Theta Kings sound like a good fit? Get access HERE! <<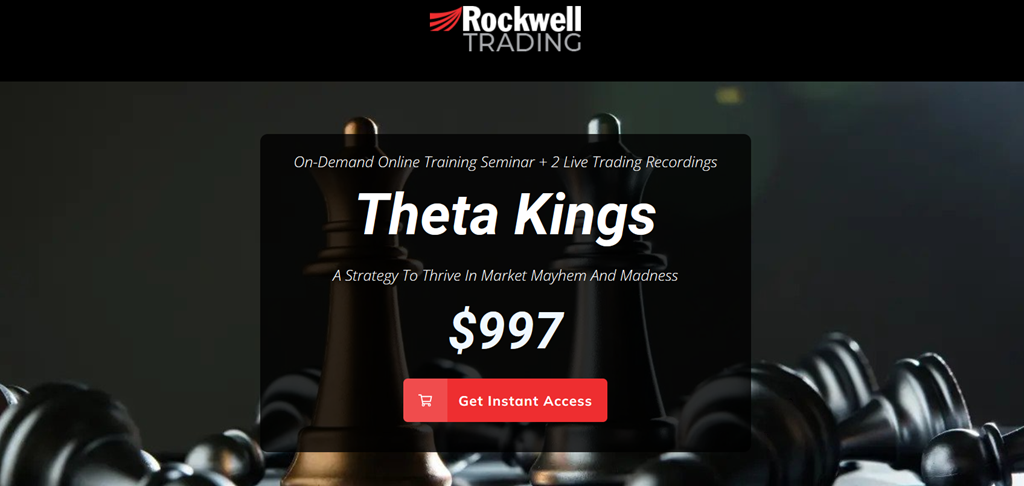 The Rockwell Freedom Mastermind (Coaching)
Rockwell Freedom Mastermind offers one-on-one coaching from Heitkoetter to help traders learn from his trading expertise.
Through the Mastermind program, you can access Heitkoetter's insights weekly, as well as his lead training coach. The Mastermind coaching programs are broken up into two plans, The Diamond Plan and The Platinum Plan.
Diamond Plan – 12-month membership that includes:
108 group coaching calls

36 group strategy calls

9 4-day virtual group online trading

3 4-day in-person live trading

12 personal 1×1 Calls

Trading log and trading log review

Access to all Rockwell courses during enrollment
Platinum Plan – 6-month membership that includes:
54 Group coaching calls

18 group strategy calls

6 4-day virtual group online trading

Trading log

Access to all Rockwell courses during enrollment
The Platinum Plan offers a lot, but you get more bang for your buck by opting for Diamond.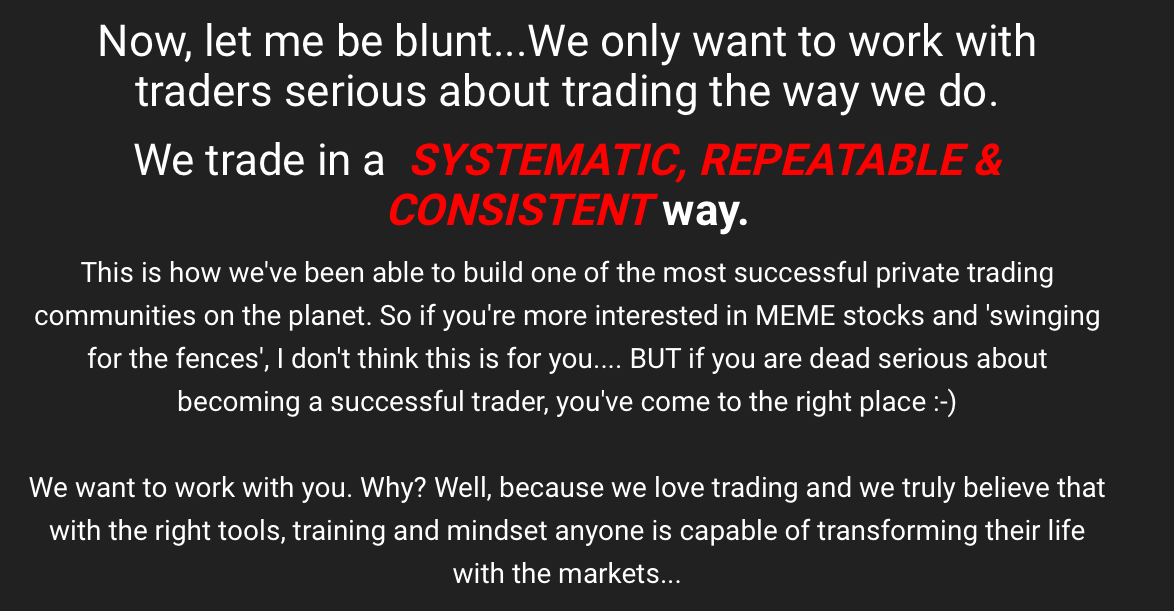 >> Start trading options like a pro TODAY! Click here to sign up! <<
Trading ebooks
Rockwell Trading provides trading ebooks that give a comprehensive look at day and options trading.
The Complete Guide to Day Trading ebook is particularly helpful for beginners and offers the best day trading tips to avoid rookie mistakes. It is available in PDF format and completely free.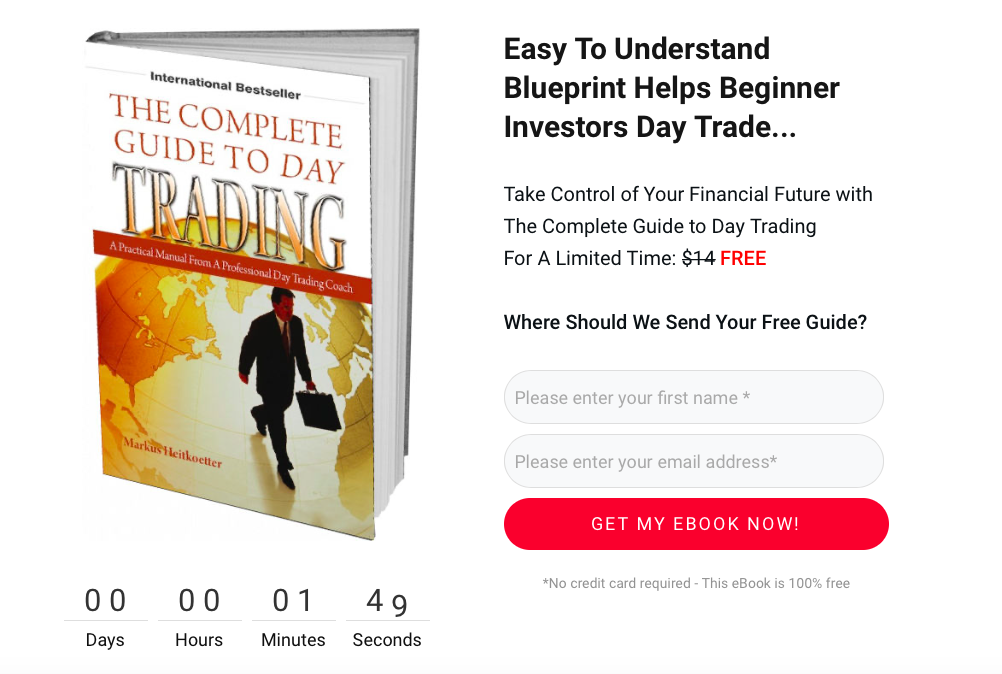 Then, there is the Wheel Options Strategy Book, another free resource that offers more insight into the above-mentioned wheel strategy and how to maximize it to attain profits.
Last but not least, The PowerX Strategy ebook teaches how to trade stocks and options in as little as 15 minutes. It also gives you detailed insight from Heitkoetter about the industry. This is a hardcover book that is available on Amazon.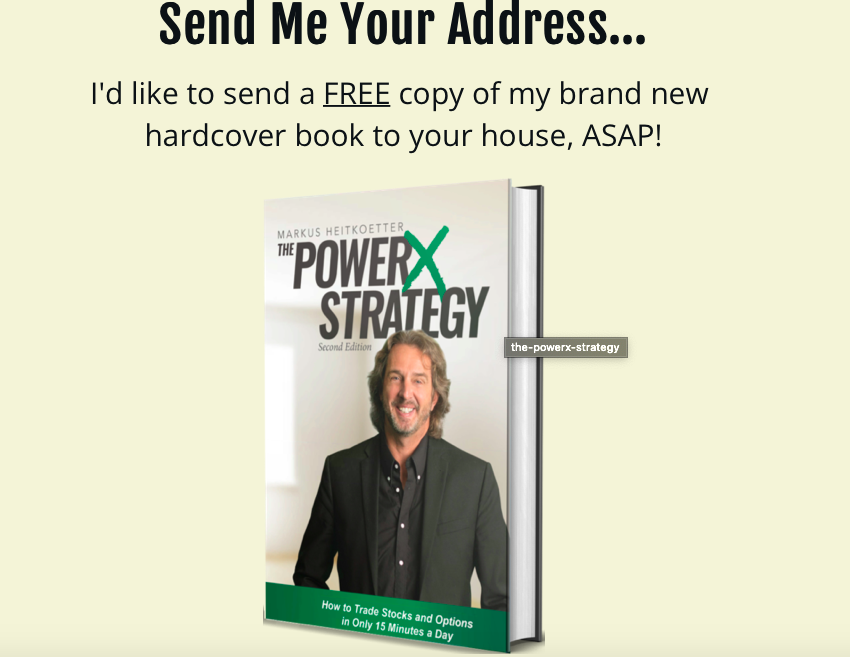 >> Click HERE to get your FREE e-books! <<
Is Rockwell Trading Legit?
Rockwell Trading is a legit company that provides genuine insights into the world of investing.
Rockwell Trading is a limited liability company (LLC) that's accredited by the Better Business Bureau (BBB). The BBB gives it an A+ rating.
The Rockwell team is highly regarded in the trading industry and is featured on many of the business news entities that it displays in its live feed.
Many of the platform's customers have given it five stars for the quality of its educational content.
Furthermore, Rockwell Trading has twice won Commitment to Excellence awards for its work.

>> Sold on Rockwell Trading? Sign up NOW! <<
Rockwell Trading Pros and Cons
Rockwell Trading is an excellent service, but it has a few rough edges.
Let's take a look at the pros and cons of this educational platform.
Pros
High-level technical analysis tools and strategies (PXO and wheel trades)

PowerX Optimizer is a top-tier stock scanner

Access the Rockwell platform anywhere online

Learn how to make profitable trades in a down market

Direct mentoring from Heitkoetter and lead trading coaches

Strategies can be applied to forex, E-mini futures, and commodities
Cons
Some products are on the pricey side

Options have a steeper learning curve
Rockwell Trading Reviews
Rockwell Trading has locked in an impressive 4.7/5 score on Trustpilot, and I can say that it's well-earned.
This is out of 150 reviews, which is a significant sample size that can give you an idea of what others think about the service.
Here's what folks are saying: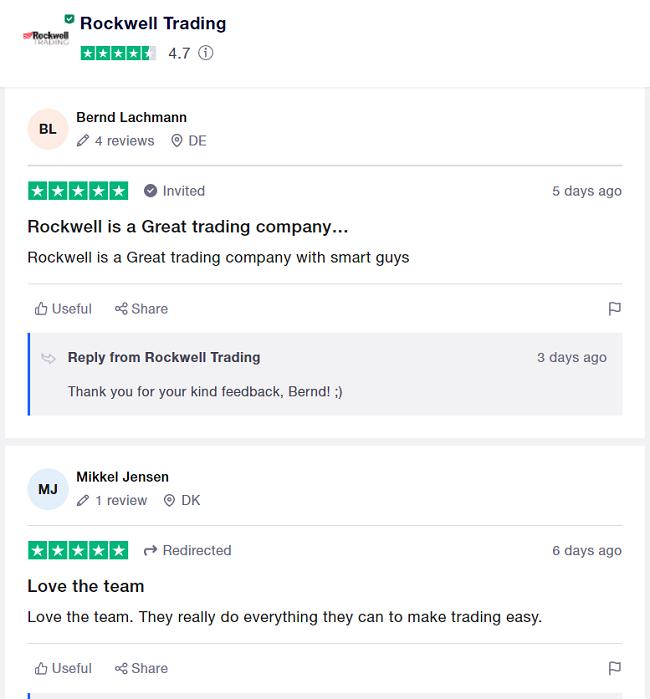 I'll also give the team extra points for being an active presence on the Trustpilot platform. It's nice when companies reach out to member feedback.
>> Ready to join these happy customers? Sign up NOW! <<
Is Rockwell Trading Right for Me?
If you're looking for comprehensive investment insights, Rockwell Trading is an excellent option.
One of the main draws here is that the company provides a range of services that include trading software, mentoring, and courses. Its offerings are a good fit for self-directed traders or folks who need some one-on-one guidance.
If you want a more hands-off approach to investing, PowerX Optimizer does all the heavy lifting for you. The software analyses investment opportunities and provides you with entry and exit points.
How Much Does Rockwell Trading Cost?
As a premium service, Rockwell Trading's products come with a higher price tag. Considering all you get, they're still a tremendous value.
The pricing for its services are as follows:
PowerX Optimizer (lifetime updates)

– $1,997

Theta Kings Trading (lifetime access to recordings)

– $997

Platinum Plan (6-months)

– $12,000

Diamond Plan (12-months)

– $30,000
Each service is packed with excellent features that could take your trading to the next level. Combine these with Rockwell Trading's free educational resources, and you'll have everything you need to hit the ground running.
>> Click here to get started TODAY! <<
Refund Policy
If you're unhappy with the PowerX Optimizer and want to cancel, you have a 30-day money-back guarantee, no questions asked.
For online training and digital programs, no refunds are granted if you've already completed the services. However, Rockwell Trading will give you a credit towards an equal or lesser program if you're not satisfied.
Meanwhile, subscriptions are auto-billed monthly, every three months, and annually. Any subscription cancellations should be sent, via email, to support@rockwelltrading.com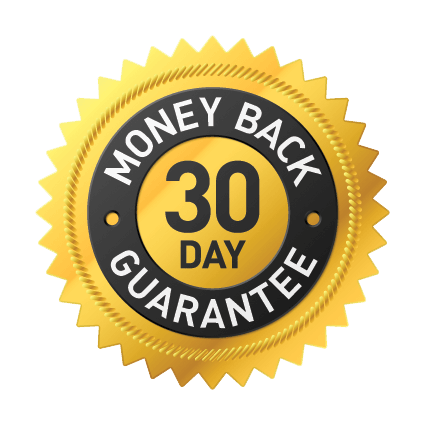 Is Rockwell Trading Worth It?
Rockwell Trading offers stellar services that are well worth the money. While they may seem expensive at first glance, premium insights come with premium price tags.
For many folks, PowerX Optimizer will be the go-to service. You can scan tens of thousands of stocks and ETFs and access its analysis from any remote location.
This doesn't even take into consideration all the bonus features this software is packaged with.
For one-on-one coaching, you can't go wrong with Theta Kings or the Mastermind service.
All in all, we're very impressed with Rockwell Trading and recommend giving it a close look.
>> That's it for our Rockwell Trading Review! Click HERE to sign up! <<