Mike Larson has released a new research package for Safe Money Report. But is it worth your time? Check out my Weiss Ratings Safe Money Report review for the full story.
What Is Weiss Ratings' Safe Money Report?
Safe Money Report is an investment newsletter published by Weiss Ratings featuring editor Mike Larson.
Some of the member perks include monthly trade ideas and special bonus reports. There's a lot going on under the hood, so we'll put a pin in the features for now.
As the name suggests, the team exercises a more conservative investment strategy or a "safer" investment profile. They target stocks, ETFs, and select commodities, such as physical bullion.
The special sauce of this service is its advanced rating system, Weiss Ratings.
The rating system evaluates stocks and ETFs based on key indicators. Depending on how a security fares, it's issued a grade from A to E, with plus or minus grades.
Even better, members receive direct access to this proprietary system.
Before I dig into the full suite, let's put the lead editor and publisher under the microscope.
>> Sound like a good fit? Sign up for 91% off HERE <<
Who Is Mike Larson?
Mike Larson is a great stock analyst who specializes in conservative investments. He's also known for his emphasis on dividend stocks and income plays.
Mike targets investments that provide the opportunity to outperform the markets in the long haul.
Some services helmed by Mike include Heat Maps, Weekend Windfalls, and of course, Safe Money Report.
He joined Weiss Ratings in 2001. So, he has been working with the publisher's proprietary rating system for over two decades.
Before that he was an analyst for Bloomberg and Bankrate.com.
His insights have been featured on CNN, CNBC, Fox Business, and BNN Bloomberg.
In short, Mike has solid credentials.
Who Is Nilus Mattive?
Nilus Mattive is an experienced investment analyst and coeditor of Safe Money Report alongside Mike Larson.
Nilus has built up an enviable 15-year track record of winning income at the helm of various newsletters and trading services, including Weiss Ratings' Income Superstars and Superstar Trader.
His analysis has appeared on Buisnessweek, Dow Jones' MarketWatch, and Fox News.
He's also been featured on shows like "Traders Nation," Invest Express," Wall Street Shuffle" and "Money Matters."
With Mike and Nilus leading the way, Weiss Ratings' Safe Money Report is in good hands.
>> Get the team's latest recommendation <<

What Is Weiss Ratings?
Weiss Ratings is an investment research publisher with a strong catalog of newsletters under its umbrella.
The company was founded by Dr. Martin Weiss in 1971, which gives it 51 years of credibility.
Weiss Research, Inc. also has an A+ rating on the Better Business Bureau's website and a 4.18/5 rating.
Here's a quick look:
Some investments the team targets involve stocks, crypto, commodities, ETFs, etc. These services provide a signature blend of expert analysis with safety ratings (more on that later).
I've previously reviewed Weiss Crypto Investor and can say that this publisher offers quality analysis.
Weiss Ratings' Collapse of 2022
The latest package from Safe Money Report provides members with a blueprint to navigate what Martin Weiss refers to as the Collapse of 2022.
The presentation is very comprehensive, so I'll hit all the beats you need to know to put the recent research in context.
As you might have guessed, Martin believes the economy has seen a steady collapse over the course of 2022, which will only continue to get worse.
Stocks and bonds have lost market value to the tune of $15 trillion.
Unlike the Great Debt Crisis of 2008 or the COVID-19 Collapse of 2020, he says that the US government does not plan on greasing the wheels again by dumping freshly minted dollars into the markets.
Couple this with rising interest rates, and the economy might come to a screeching halt.
In Martin's own words, "The party is over."
With a potential market collapse looming on the horizon, Mike Larson has identified opportunities to help make it out better on the other side.
>> Get ahead of the collapse <<
Safe Money Report Features
The latest Safe Money Report package from the team is loaded with features.
Read along for a breakdown of each one.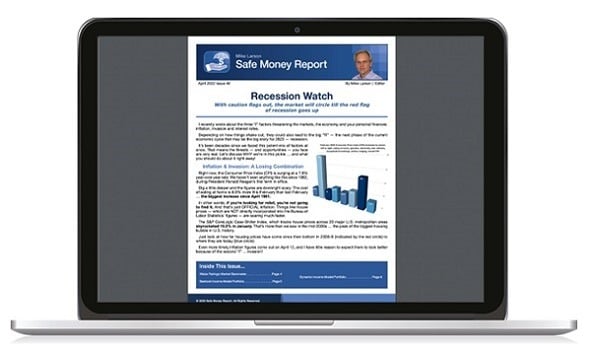 Annual Subscription to Safe Money Report Newsletter
Each issue of the monthly newsletter dials in on one trade idea vetted by Mike Larson and members of the Weiss Ratings' team.
These trade ideas can either be stocks, commodities, or ETFs. There's no deliberate rotation.
I appreciate that the newsletter doesn't follow a strict pattern for its recommendations. It lets you know the team focuses on finding real opportunities and not trying to meet an arbitrary quota.
Members also receive "Buy" and "Sell" alerts as well as market commentary.
Lastly, the newsletter provides a print edition, which is a nice touch in an endless sea of email-based research services.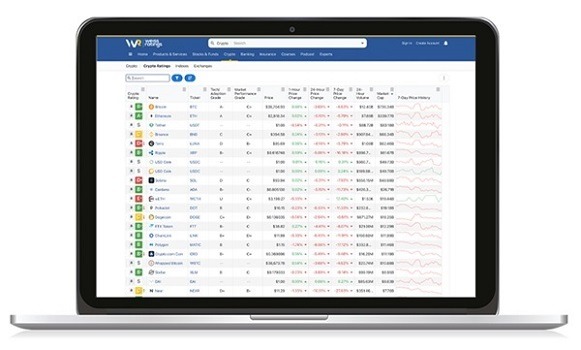 Premium Access to 56,000 Weiss Ratings
A Safe Money Report subscription grants unlimited access to the Weiss Ratings database. It's a valuable addition for anyone looking to do some self-directed investing.
Here are some of the investments you can track:
10,000 common stocks

2,400 ETFs

26,000 mutual funds, and

1,600 cryptocurrencies
The ratings grade investments and financial institutions, like a report card. The grades range from A to E. The system does not typically issue F ratings (except for certain industries).
If a security receives a U grade, it means the stock does not have the necessary info to produce an accurate rating.
Keep in mind that, although the system can spot securities with potential, there are no guarantees.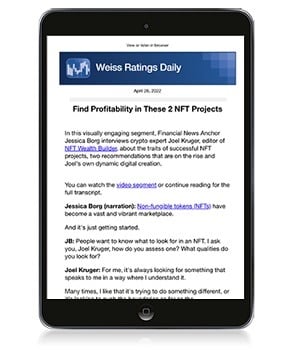 Weiss Ratings Daily e-Letter
The daily email newsletter provides daily analysis and commentary.
One month can be a lifetime in the stock market, which is why the team supplies supplementary trade recommendations.
They alert members of huge shakeups on the horizon, including potential black swan events.
This feature also includes other handy resources, such as video interviews, webinars, and much more.
It's a great resource for folks who want to stay on top of the latest market-making news day to day.
>> Access these benefits and more <<
Bonus Reports
The current Safe Money Report package also offers five premium bonus reports.
Many of these resources give members a bird's-eye view of the same strategies that have propelled Mike Larson's success over the decades.
The Weiss Ratings Endangered List
This bonus report alerts members of stock, mutual funds, and ETFs with the worst Weiss Ratings scores.
Succeeding in the stock market takes much more than discovering good investments. It's also about dodging dicey plays.
The team's proprietary rating system cannot guarantee that all these securities are going to roll downhill. That said, it has the potential to provide a firm warning system.
Mike Larson is especially picky when screening stocks, so it's helpful to know when he believes he's spotted a serious dud.
Instant Income Revealed
Through this report, Mike reveals an investing approach he says has the potential to produce roughly a $1,000 payout every Friday.
He and the team are tight-lipped about this strategy. But they do share that it has had up to a 98% success rate.
If you want to know more, Instant Income Revealed is included for free under the latest deal.
The Weiss Guide to Prudent Gold & Silver Investing
Readers can learn everything they need to know about investing in gold and silver, with a distinct focus on physical bullion.
Some of the most important lessons include where to buy bullion. This is crucial because premiums can vary from dealer to dealer.
As the team puts it, people who find the right dealer with lower markups "can effectively get some extra 'free' gold and silver."
I've reviewed plenty of bullion dealers, and you might be surprised at how wildly premiums can fluctuate from shop to shop.
Crash Profits: How to Protect Your Portfolio in Down Markets
This research report offers a deep dive into strategies that can help turn a profit, even during a stock market crash.
Many experts lean into simple put options during a down market. Essentially, savvy folks are rewarded if a stock's price falls.
However, Mike offers a fresh spin on this time-tested approach, ETFs with put options.
He also teaches readers how to hedge against losses in stocks, real estate and other assets.
The World's Leading Resource Companies
The team makes the case for their top five investments to tap into during inflationary periods.
They go as far as saying that these five are the "best in the world."
This claim might sound a little bombastic. However, given Mike's track record and careful approach, it's definitely worth tuning into these insights.
100% Satisfaction Guarantee
Under the latest deal, Safe Money Report members can access a 365-day money-back guarantee.
This means you have a year to test out the service. If you feel that it isn't a good fit for any reason, the publisher will provide a full cash refund on the price of your subscription.
The industry standard for refunds falls somewhere in the ballpark of 30 days. So, the team is going above and beyond with their refund policy.
This 365-day window could give ample time to see the quality of analysis of this offer.
That said, the team does target long-term investments, so this still might not be enough time to see a position all the way through if everything goes well.
Even if you do ultimately decide that the service isn't right for you, there's plenty to learn from Mike.
>> Sign up under the team's guarantee <<
Is Weiss Ratings Safe Money Report Legit?
Weiss Ratings' Safe Money Report is a legit newsletter.
Mike Larson is a talented analyst who knows his way around the markets. He's worked closely with Martin Weiss and is one of the publisher's brightest minds.
The safety-oriented Weiss Ratings mesh well with his more cautious approach.
In short, he's the real deal and a good match for the publisher.
Safe Money Report Pros and Cons
Safe Money Report has plenty of ups, but there are some downs to keep in mind.
Pros
91% discount on current bundle

Conservative investment strategies

Unlimited access to a sophisticated rating system

Several premium bonus reports

Print edition available

365-day money-back guarantee
Cons
Conservative focus might not be a good fit for everyone

No community forum
How Much Does Safe Money Report Cost?
The team values the current Safe Money Report bundle at $782 per year. However, Weiss Ratings offers new members an introductory rate of just $68 for an annual subscription.
This shapes out to a roughly 91% discount. Not too shabby.
The price range lines up with many promotional deals from competitors.
But many newsletters don't offer (or have) a proprietary rating system. So, I'll give Safe Money Report extra points here.
The bundle is packed to the brim with features that many newsletters charge a premium to access.
New members are also locked into a reduced rate once the subscription renews after the first year.
Safe Money Report Review: Final Verdict
Safe Money Report is a great service that's worth the sticker price. It provides a lot of value, including stock picks vetted by a team of experts, the Weiss Ratings system, and bonus reports.
The cautious approach could be an excellent fit for folks interested in a more conservative lineup of trade ideas. Many portfolios are underwater right now, and not everyone wants to swing for the fences.
Also, if you're a fan of self-directed investing, there's a lot to like about the Weiss Ratings.
They tap into a range of investment types, including stocks, ETFs, mutual funds crypto, and more.
Plus, the Safe Money Report team backs the entire package with an impressive 365-day refund policy.
All in all, this is a fantastic deal that merits a closer look — especially with the 91% discount.
>> That's it for my review. Sign up for 91% off TODAY <<