Screener.co strives to simplify the stock selection process through handy formulas and useful tools. Does it live up to its reputation? Read on to find out.

Screener.co: Introduction and Background
Screener.co is a stock screener launched in 2011 out of the greater Boston area. The platform is committed to bringing Wall Street quality data to individuals looking to build solid investment portfolios.
Among other features, it's known for a large selection of stocks and comprehensive data on the companies behind them. Even with so much information, the stock screener remains surprisingly easy to use.
Unlike other screeners, Screener.co avoids a cookie-cutter approach to stock picks and instead hands the tools to you. Through simple English conditional formulas, you get to build the criteria and ultimately drive the results you want to see.
Who is Behind Screener.co?
Lenny Grover is the founder and CEO of Screener.co. He graduated magna cum laude from Cornell University with a computer science degree and puts his skills to use maintaining his stock screener platform.
Before starting the platform, he spent a year and a half with the Corporate Executive Board and three years as a junior venture capital investment professional.
In addition to his work on Screener.co, Grover is a blogger on Seeking Alpha. He's also published articles on TheStreet and TechCrunch and is the author of Risk/Upside Analysis: A Framework for Making Profitable Investment Decisions.
Stock Screening Features
Despite a simple approach, Screener.co is jam-packed with helpful features. Take a gander at what the stock screener has to offer.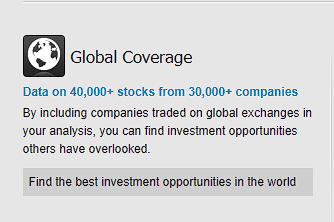 Global Coverage
Screener.co taps into global markets so you can include exotic picks in your portfolio. We're talking securities from European exchanges, Asian exchanges, and parts of the world similar screeners dare not go.
At last count, the screener contains data on over 40,000 stocks from more than 30,000 companies. When stock picking, you can find investment opportunities others don't have access to.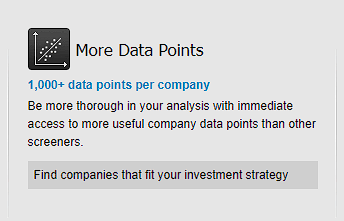 More Data Points
Regarding financial metrics, Screener.co collects and displays more than 1,000 data points per company listed. You can be more thorough in your research from a single source instead of scouring the internet for information.
This way, you can use the stock screener to find companies that align with your investment strategy. Trade smarter, knowing you have a firm foundation to stand on.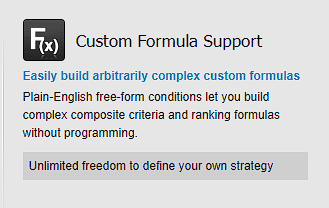 Support for Custom Formulas
If the information Screener.co gives you isn't your cup of tea, you can easily build your own complex formulas. You can use built-in conditional formulas to pull together the data you want to see.
Once you set up formulas and your criteria, Screener.co crunches the equations and shares the results. You get to rank your own formulas and have nearly unlimited options to build a strategy that works for you.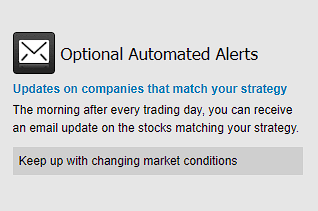 Automated Web Alerts
After teaching Screener.co your strategy, let it do all the hard work for you. The stock screener can email you a list of stocks matching your current game plan every morning following a trading day.
This way, you can keep up with ever-changing market conditions without spending hours poring through the latest reports. If you're not a fan of email updates, you can disable this feature in your account settings.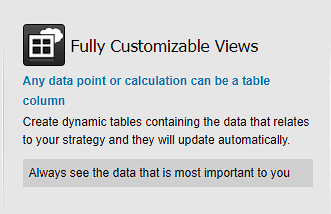 Custom Views
Do you like raw data points, or do you prefer viewing stats in the form of a table or column? With Screener.co, you can have it both ways.
With a few clicks, you can turn any data point or calculation into a table or column. As your investing style changes, your table/views will automatically update with new criteria. You're always in charge of seeing the data most important to you.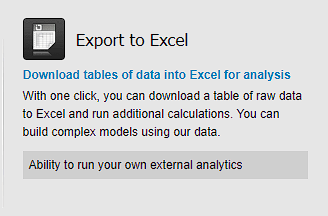 Data Exports
Don't lose track of the data you've worked so hard to put together. You can download it to an Excel sheet for additional analysis with a single click. Excel unlocks opportunities for building new and complex models using Screener.co numbers.
>>Don't miss out on the latest market trends. Sign up for Screener.co now!<<

Pre-Set Screeners
Screener.co lets you take advantage of a bunch of included screens and strategies for various investment objectives. If you have yet to discover your own strategy, these pre-set screeners may point you in the right direction.
You don't have to stick to predefined screeners if you don't want to. Build your own custom scans and share your screens with the Screener.co community. Feel free to grab screens you like from other members and use them as your own.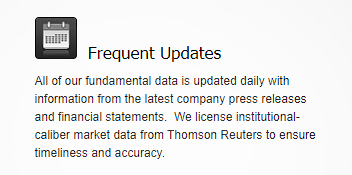 Frequent Updates
Stock screeners are only as good as the data they collect. Screener.co updates its fundamental data daily from the latest financial statements and press releases.
The platform stays away from questionable data sources when pulling in info. It licenses institutional-caliber market data from Refinitiv to ensure the information you're looking at is the real deal.

Online Community
Signing up for Screener.co unlocks the door to its large community of members. There, you can chat people up on forums and seek out trade ideas from similar-minded individuals.
The stock screener section of the community site contains all the included and shared screens for you to peruse and comment on.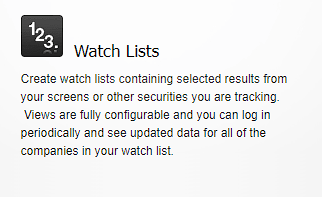 Custom Watchlists
When you screen stocks, you'll likely end up bombarded with long lists of options that meet your search criteria. Add any companies that tickle your fancy to a custom watch list.
Watch list views are fully configurable to hone in on information pertinent to you. Screener.co automatically updates company data while you're away, providing a new snapshot every time you check your lists.
>> Elevate investing using Screener.co's tools – SIGN UP NOW! <<
How Does Screener.Co Compare to Other Stock Screeners?
Screener.co holds its own on the screener circuit thanks to its international scanning capabilities. Only some of the best stock screeners can hold a candle to such volumes of data, focusing only on the US and Canadian markets.
The sheer amount of available information might seem overwhelming, but Screener.co feeds it to you in bite-size chunks. Through custom screens and views, you're in control of what you view and when you see it.
Similar screeners can be more rigid in their approach. Zacks and WallStreetZen just don't have the same flexibility. TradingView's scanner is more on par with what Screener.co delivers.
Screener.co leaves much of the competition in the dust when it comes to its support forum. Having a place to discuss trade ideas is a massive win whether you're experienced in your craft or not.
At $24.95, Screener.co's entry-level price point resonates with the likes of Finviz. However, Finviz, WallStreetZen, and Zacks all have free versions that Screener.co does not.

Is Screener.co a Good Stock Screener?
Screener.co is indeed worthy of being listed as one of the best stock screeners on the market. The analyses pulled from the stock screener could easily make up for the $24.95 you drop at the start of each billing cycle.
Once inside, you're not limited to a handful of screens or data you are not interested in. You select only the particulars you want to see and then get to run with them.
Best of all, you don't have to watch your screen 24/7 for updates. View interesting tickers at a glance with watch lists, and post alerts to be notified when something big happens.
Let's not forget Screener.co's global coverage. Just because you live in the US doesn't mean you can't make money from stocks in other parts of the world.
If you want to improve your stock market game, Screener.co is well worth checking out. If nothing else, a generous 30-day trial gives you free rein to take it out for a spin with no strings attached.
Pros
Over 40,000 stocks from 30,000 companies

Over 1,000 data points per company

Several customization options

Vibrant online community

30-day free trial

Budget-friendly pricing

Pre-set and custom screeners

Frequent, reputable data updates

Automated web alerts

Export data to Excel
Cons
Deals solely in stocks

Only email support for most plans
>> Invest smarter with Screener.co now! <<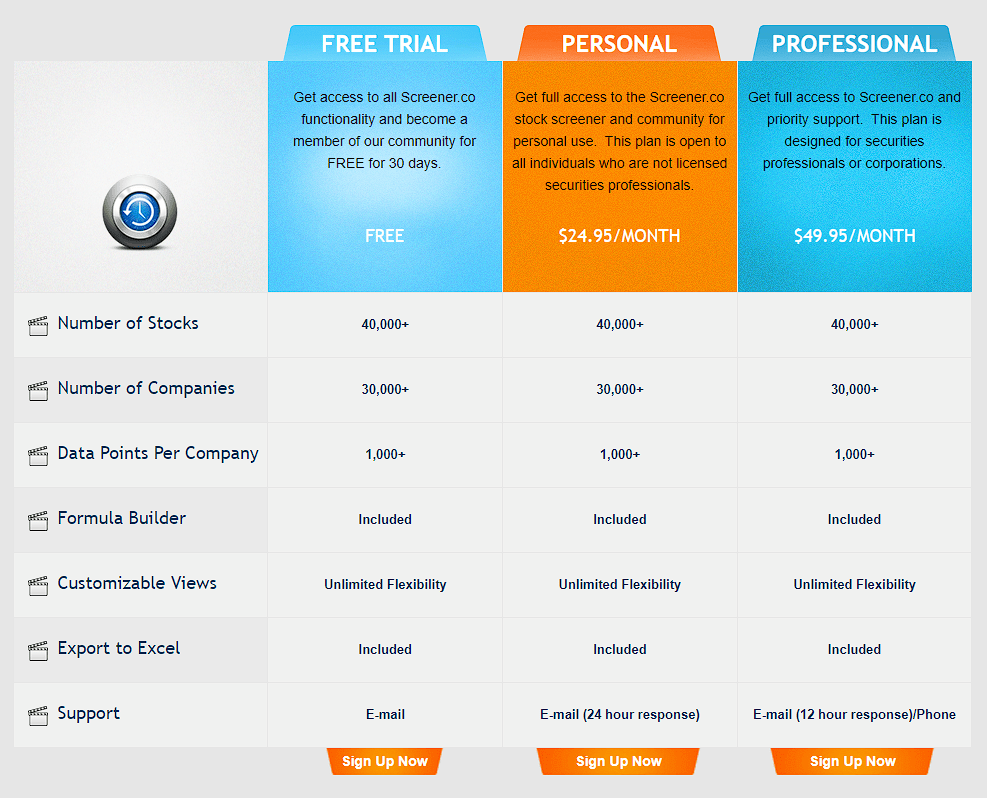 Pricing and Subscription Options
Screener.co offers two membership tiers for you to pick from. Let's look at each one in detail.
Screener.co Personal
Screener.co Personal is best suited for everyday folks looking to invest. Even so, it doesn't hold back on any features the way other screeners might. Best of all, you get everything for just $24.95 per month.
The personal screener gives full access to its database's 40,000+ stocks and 30,000 businesses. You also get the 1,000+ data points on each company to run analysis on.
This plan doesn't hold back on customization, either. It allows unlimited flexibility on views, web alerts, watchlists, and more.
Suppose that wasn't enough, Screener.co Personal includes the formula builder, the ability to export data to Excel, and the online community as well. Support is limited to emails, but the screener promises a 24-hour turnaround time.
Screener.co Professional
Professional is Screener.co's premium version, designed for securities professionals and corporations. It includes every feature the Personal plan has from top to bottom.
This tier stands out for access to phone support and a 12-hour email response time. These bonuses raise the price to $49.95 per month.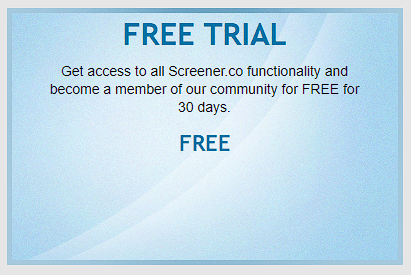 How to Get a Free Trial
Screener.co offers an unlimited 30-day trial for you to gauge the quality of its services. To activate your free trial, you must complete the form and sign up as a Screener.co member.
The process takes mere moments to complete. After which, you'll have to activate your account from the link sent to the email address you used to register.
Activating your account marks the beginning of your 30-day trial. There's no credit card required to begin your journey with Screener.co. Once your trial's up, you must add a credit card to your account to continue.

Is Screener.Co Worth It?
For less than 25 bucks a month, Screener.co can save you untold time and energy looking for stock picks that fit your strategy. Alerts and watch lists keep you in the know without being in front of the screen the entire trading day.
The time you save searching for that perfect stock is only half the victory. Finding even one solid pick each month could earn you back the price of admission and then some.
Screener.co won't tell you who the winners are, leaving you to make assessments from available information. Still, the sheer amount of reputable data instills confidence when investing.
Ultimately, Screener.co is surprisingly easy to use for the number of stocks and data points it has. There's nothing better than selecting a few important search criteria and watching relevant picks chock full of data come out.
I'd recommend Screener.co to anyone looking to maximize stock research with minimal effort. You don't need any technical expertise to operate the stock screener, but having some knowledge of the stock market is always a plus.
It certainly helps to develop a game plan you can build your searches around. If you need help figuring out where to start, included screens and the community can offer a baseline.
The 30-day free trial is long enough to give you firm footing with the software. Start there and see how far Screener.co takes you.
>>Get ahead of the competition, and sign up for Screener.co now!<<