Seeking Alpha is one of the most respected research platforms on the market, but are paid memberships worth the price? Our Seeking Alpha review provides a side-by-side analysis to decide which option is right for you.
What Is Seeking Alpha?
Seeking Alpha is the world's largest investing community, with over 6.5 million active readers.
The platform is known for its stock market research, investor insights, and quantitative analysis on stocks, bonds, commodities, real estate, and more.
The platform has three membership tiers: Basic, Premium, and Pro.
Now, you may be wondering, what makes Seeking Alpha so popular?
Well, there are a few reasons…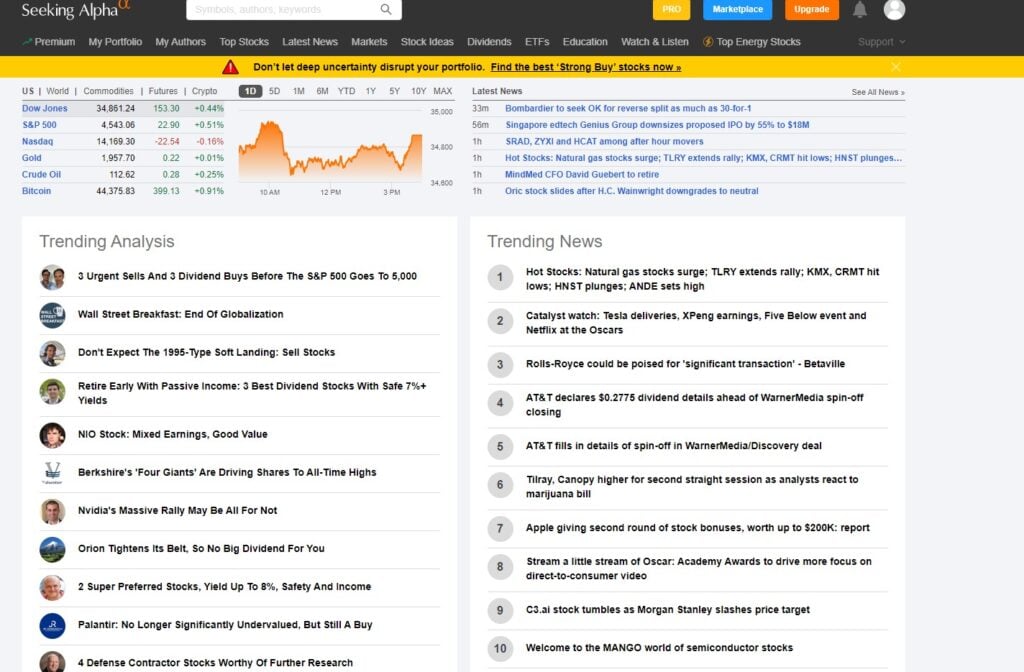 First, the platform provides high-quality research and analysis from a variety of sources.
It essentially aggregates all the third-party data for you — and gathers information from its own expansive team of Seeking Alpha contributors and analysts.
Second, Seeking Alpha is a great way to stay up-to-date on the latest news and developments in the financial world.
The site's news section covers all the major stories, and you can also find detailed analyses of how these stories will impact your investments.
Finally, Seeking Alpha has a very knowledgeable and helpful community.
The forum is full of active users who are happy to share their knowledge and insights. This makes it easy to get opinions on investments and gather reports on what others are up to.
>> Already sold on Seeking Alpha Premium? Click here to save 16% <<
Is Seeking Alpha Free?
Seeking Alpha is free for Basic members.
Functionality is extremely limited with this membership package, but you can still get some monthly newsletters, read and post blog posts, and follow your favorite authors.
A paid plan unlocks more features, which we'll talk about further down in this Seeking Alpha review.
What's Included with Seeking Alpha?
Here's just a taste of the tools you have at your fingertips when you join Seeking Alpha:
Stock Screener

– Find stocks that match your investment criteria when you become a Premium or Pro member.

Wall Street Analyst Ratings

– See whether top Wall Street gurus think you should buy, sell, or hold.

Quant Ratings

– Get an edge over the competition with this quantitative snapshot of an investing idea.

Stock Comparison

– See how a stock stacks up against the competition with this unique tool.

Analysis from Published Seeking Alpha Authors and Ratings

– See in-depth stock reviews from published authors and find out when it may be time to buy or sell.

Earnings Call Transcripts and Audio

– Get transcripts and audio of earnings calls so you can stay up-to-date on a company's performance.

Notable Calls

– Stay updated as Seeking Alpha analysts monitor Wall Street, looking for new investment ideas that may be worth your time.

Portfolio Monitoring

– Sync your portfolio to the Seeking Alpha dashboard, and receive email alerts about your holdings.
>> Get started now for instant access to these cutting-edge features <<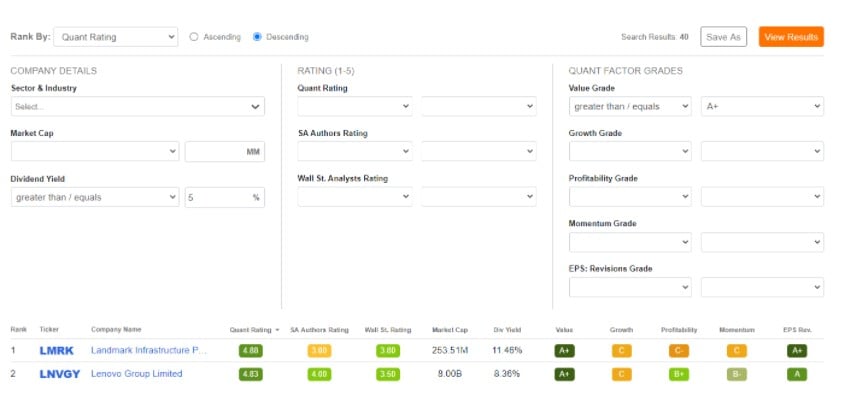 Stock Screener
The stock screener is an incredibly valuable tool only available to Seeking Alpha Premium members.
It lets you filter popular stocks by quant ratings, author ratings, analyst ratings, and more, so you can organize your results according to your priorities.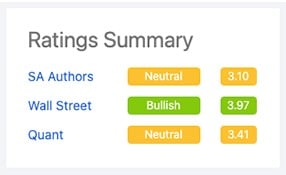 Seeking Alpha quant ratings are produced by a computer algorithm that analyzes over 100 data points related to a stock. They're purely objective and rooted in facts.
On the other hand, Seeking Alpha's author ratings are compiled by analysts and everyday investors.
Many Seeking Alpha authors are extremely qualified, and they spend hours conducting extensive research on each stock they write about.
Each author's rating is based on their opinion, but you can garner some valuable insights from hearing their perspectives.
Finally, Wall Street ratings come from Wall Street analysts and other finance pros.
These ratings come from professional analysts with a full assortment of powerful research and analysis tools at their disposal. Therefore, they might be the most authoritative of the three options.
Each rating methodology has advantages and drawbacks. Together, they comprise a set of diverse viewpoints that give you an excellent perspective on the factors affecting a stock.
Once you understand the differences between each, you can use the stock screener tool to get a complete picture of each stock with just a quick glance.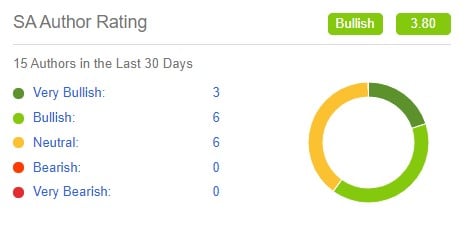 Wall Street Ratings
Wall Street Ratings are one of the few features available to Basic members. To access Quant and Author ratings, you'll have to upgrade to Pro or Premium.
Wall Street ratings are developed using models built by analysts on Wall Street.
These models aim to predict earnings forecasts, target prices, expected performance, and more.
Collectively, analysts take all this information and condense it down into an estimate, so customers can quickly digest their take on a particular stock.
Seeking Alpha collects all of these estimates from third-party sites and aggregates them into a Wall Street rating.
As a member, you can compare this rating to all the others to see if an investing idea is worth pursuing.
>> Access Wall Street Rankings for thousands of stocks with Seeking Alpha <<
Factor Scorecard
Factor investing is an investment strategy that involves picking stocks based on specific characteristics, or "factors."
The idea behind factor investing is that stocks with certain characteristics tend to outperform the stock market as a whole.
There are many factors that can be used when selecting stocks, but the five Seeking Alpha uses are Value, Growth, Profitability, Momentum, and EPS Revisions.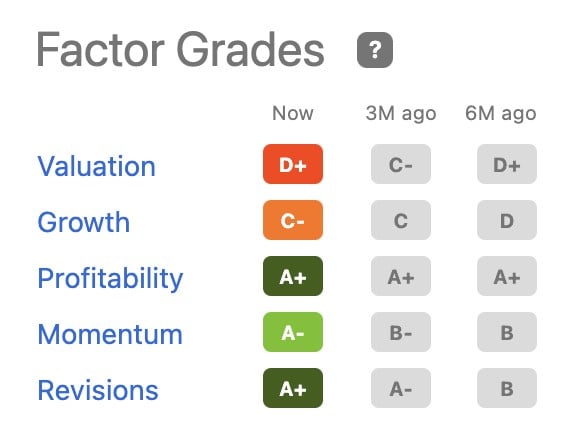 As you can imagine, manually determining these factors can be quite a headache.
So, it's convenient that Seeking Alpha condenses them all into a handy "factor scorecard."
These scorecards are assigned grades of A+ to F — just like the report cards you got in school.
You can use these scorecards to quickly sort through your options.
Then, you click on the "grade" to review the underlying data.
Seeking Alpha has factor scorecards for both stocks and REITs.
The REITs factor scorecard features additional data that only applies to real estate — such as funds from operations (FFO) and adjusted funds from operations (AFFO).
Both of these are used to measure a REIT's overall financial performance.
There's also a dividend stock scorecard that rates how good a company's dividend is compared to its competitors.
Additionally, the dividend stock scorecard also highlights whether those dividends are predicted to stick around for the long haul. This could help you avoid overpaying for high dividends that won't pan out.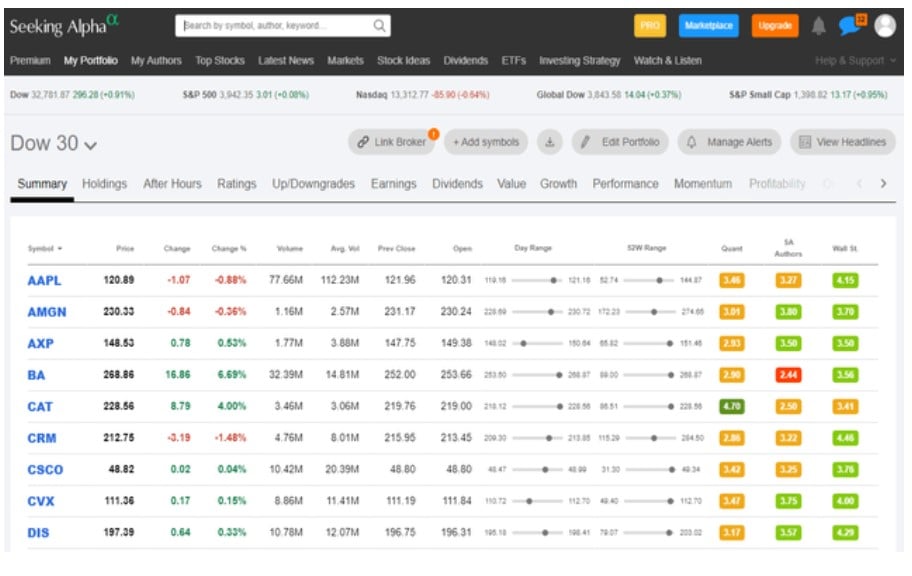 Stock Comparison
When researching investments, many people prefer to compare options side by side.
If that sounds like you, Seeking Alpha has you covered with a handy stock comparison tool that lets you compare up to six stocks at once.
This tool has limited functionality for Basic members, so you won't be able to view a lot of the data it aggregates.
However, Premium and Pro members have access to the feature's full functionality.
You can compare stocks across industries and sectors, or use some of the pre-made comparisons that Seeking Alpha has put together, such as FAANG Stocks or Big Pharma Stocks.
You can also compare things like how much these stocks are worth, how fast they're growing, how profitable they are, potential dividend yields, and more.
And the best part is, you get to see the quant rating, author rating, Wall Street rating, and factor scorecard for every stock — all in one place.
You can also create your own filter that can be exported to a PDF or Excel for further analysis.
>> Get pro-grade research tools with Seeking Alpha Premium <<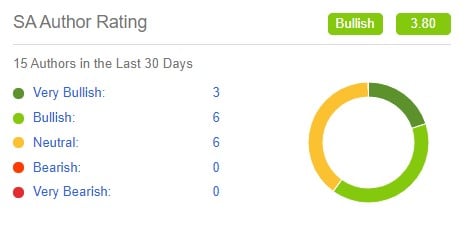 Analysis from Published Authors and Ratings
There are thousands of Seeking Alpha authors who publish data and insights for the site.
These contributors could be active investors, analysts, hedge fund managers, or everyday folks who are passionate about diving into the latest investing ideas.
As a Seeking Alpha member, you get to read all of these publications.
And if you find a contributor you really like, you can "follow" them to receive notifications every time they release new content.
Seeking Alpha contributors also give each stock they're reviewing an "author rating," so you can see their sentiments at a glance.
The authors analyze numerous factors to determine a final rating of either:
Very Bullish

Bullish

Neutral

Bearish

Very Bearish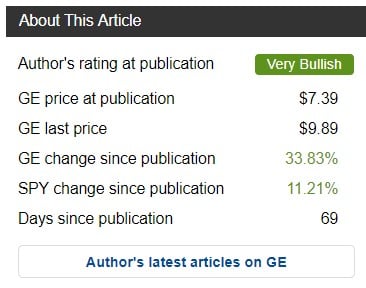 Key Metrics
You can also see all the stats for a particular stock, including its price at the time of publishing, the current stock price, and how much time has passed since it's been published.
For example, in the screenshot above, you can see that the author rated this stock as "Very Bullish."
It was $7.39 at the time of publishing and has since risen to $9.89 since the article was published.
In other words, the author's predictions played out.
These articles also include links to other articles the author has written on a particular stock or ETF, so you can browse more investment insights from authors you like.
>> See why traders everywhere trust Seeking Alpha <<
Earnings Call Transcripts and Audio
A Seeking Alpha Premium subscription also gets you access to past conference call recordings about earnings, forecasts, and more.
Conversely, basic members can only read transcripts of these calls.
If you'd rather listen to earnings calls than read them, you should go with a premium subscription.
Having direct access to earnings calls is a valuable feature. You'll hear updates from top company executives, and you'll also get to listen to them answer questions from top analysts
Pro and Premium members get to listen in on these calls live, so they can act quickly on any new information that comes out.
When you join, you'll be the first to know when a new earnings calendar is released, so you know when to listen to the next call.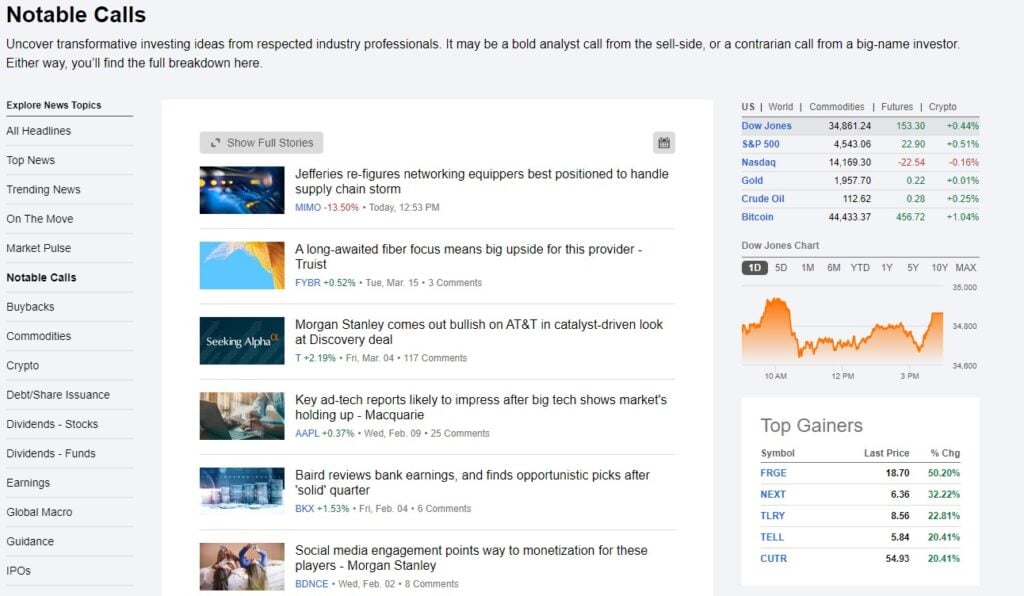 Other Notable Calls
Notable calls is another feature reserved just for Pro and Premium members.
It's a curated list of the very best investment ideas from top Wall Street gurus and hedge fund managers.
These "notable calls" come from Seeking Alpha's world-class analysts, and they're a great way to stay on top of the latest Wall Street trends.
Some common things typically featured in the notable calls section are "state of the market" addresses, recaps of recent purchases by hedge fund managers, and more.
>> Get instant access to great resources like these when you JOIN NOW <<
Portfolio Monitoring
Seeking Alpha's portfolio monitoring capabilities could be its most valuable feature.
This tool gives you the ability to connect and integrate your personal investment portfolio with the Seeking Alpha dashboard.
That way, you can track your holdings right on their platform, and laser in on which investing ideas you want to pursue next.
Once you connect your portfolio to the Seeking Alpha dashboard, you'll begin to get custom tips and alerts about the ticker symbols in your account.
You'll get notified when a new article is published about one of your holdings, and you'll also get breaking news alerts relating to your portfolio.
Seeking Alpha's portfolio integrations can help you stay on top of the latest news affecting your portfolio so you'll never miss a beat in the market.
>> Enjoy these benefits and more with a subscription to Seeking Alpha Premium <<
Seeking Alpha Basic (Free)
Seeking Alpha Basic is totally free, so you won't pay a dime to use this service.
Register for an account, and you'll gain access to these helpful features:
Seeking Alpha Stock Analysis Alerts

– Get email alerts whenever Seeking Alpha publishes news articles on stocks, EFTs, and more.

Real-Time News Updates

– See all the latest and trending news in your Seeking Alpha dashboard.

Investing Newsletters

– Subscribe to 15 different investment newsletters on topics ranging from "Wall Street Breakfast" to "ETF and Portfolio Strategy."

Stock Prices and Charts

– The sidebar of the Seeking Alpha website contains all the key data, stock ratings, and chart information you need to know about a particular investment.

Wall Street Ratings for Every Stock

– See how Wall Street truly feels about a particular stock.
Limited Access to In-Depth News and Quantitative Analysis – Get a taste of what it would be like to be a Seeking Alpha Premium or Pro member.
Seeking Alpha Premium
Seeking Alpha Premium costs $19.99 a month and comes with everything you see in the Basic plan, plus:
Premium Content – Unlock Seeking Alpha's full library of content and enjoy the best in financial news and analysis.
Author Ratings – From "Very Bearish" to "Very Bullish," see an author's opinion of a particular stock at the time of publishing.
Author Performance Ratings – View an author's rating history to see how their track record has held up over time. See who's hot and who's not.
Stock Quant Ratings – Helps you find the best opportunities in the market based on data-driven analyses and a hard-thinking computer algorithm.
Dividend Grades – The proprietary dividend grades feature helps you choose the strongest, safest dividend investments.
>> Click here to save 16% on a Seeking Alpha Premium membership <<
Seeking Alpha Pro
As a Pro member, you unlock all the features of a Seeking Alpha Premium subscription, plus:
Top Ideas – The best ideas from the top minds in investing. Seeking Alpha editors and analysts find the most compelling investment ideas and deliver them to you first.
PRO Content & Newsletters – Get access to bonus Seeking Alpha content, including trading alerts, in-depth webinars, personal interviews, and more.
Short Ideas Portal – Filter through thousands of short-selling ideas from Seeking Alpha's community of contributors — even share your own short ideas with the community!
Stock Ideas Screener/Filter – Filter through thousands of stock ideas by theme, industry, market cap, group, or price range to find the best stocks for your portfolio.
VIP Service – Get matched with a VIP editor who will help you find investing ideas that match your interests — designed just for Pro members.
Refund Policy – Seeking Alpha's Premium and Pro plans have a 14-day free trial period.
Pros and Cons of Seeking Alpha
Seeking Alpha has built a community of over 6.5 million like-minded people — but nothing's perfect.
Here's what you need to know:
Pros
In-Depth Research and Analysis – The site has an extensive team of contributors and analysts, cranking out thousands of publications each month. Seeking Alpha offers stock ratings, screeners, comparison tools, opinion articles, expert commentary, and much more.
Integrated Portfolio Monitoring – Seeking Alpha's portfolio tracker is a game-changer. It can help you stay on top of your portfolio 24/7, so you can go about your day without sweating about what's going on in the market.
Extensive Ratings for Thousands of Stocks – Your Seeking Alpha membership gives you access to Quant ratings, Wall Street ratings, and author ratings for every stock on the site.
Strong Functionality for Free Users – You need at least a premium membership to get the most out of Seeking Alpha, but the free version includes useful features that can help you get more out of the market.
All-In-One Convenience – Seeking Alpha is a one-stop shop for its members. You get access to all the research, data, and opinions you need to make sound investing decisions in one place.
World-Class Investing Community – The Seeking Alpha community provides an excellent investor sentiment gauge that can give you tremendous insights into how the market perceives each stock.
Cons
Learning Curve – Sorting through Seeking Alpha's vast collection of research and analysis features can be overwhelming for beginners at first.
Limited Coverage of Mutual Funds – While Seeking Alpha is a great platform for investment research, its coverage of mutual funds is limited.
How Much Does Seeking Alpha Cost?
Seeking Alpha has three pricing models designed to fit any budget:
Seeking Alpha Basic is free

Seeking Alpha Premium costs $119.99/yr (limited time offer)

$29.99/mo with a monthly subscription

Seeking Alpha Pro costs $2,399/yr

$299.99/mo with a monthly subscription
Seeking Alpha Premium typically costs $249/yr, but there is a fantastic 50% discount that the team is running for a limited time. This is reflected in the $119.99 figure mentioned above.
You can access this discount by clicking on any of the links in this review.
Seeking Alpha Pro vs Premium
Both Pro and Premium members get access to a wide breadth of tools to help you find new investing ideas and monitor your portfolio.
For most, a Seeking Alpha Premium service is the best option. It costs just $119.99 for a full year and gives you access to Seeking Alpha's full range of content, ratings, investing ideas, and more.
However, serious investors who need professional-grade market intelligence and state-of-the-art features should consider Seeking Alpha Pro.
Pro members get exclusive trading alerts and interviews with executives, plus VIP editorial services, and a dedicated hub of Pro trade ideas for $199 a month.
If you are a pro investor who trades for a living, Pro might be the better choice, but Seeking Alpha Premium is generally a more suitable option for everyday investors.
>> Join Seeking Alpha Premium now to save 50% on an annual subscription! <<
Are Seeking Alpha Premium and Pro Worth It?
Seeking Alpha's Premium and Pro services are an excellent value and well worth the price.
Basic members only get access to rudimentary stock analysis, news updates, and Wall Street ratings.
Some beginners may find this is enough, but they're missing out on some of Seeking Alpha's most valuable features, including Seeking Alpha's quant ratings, screeners, and top-tier analysis.
If you're serious about building wealth in the stock market, check out Seeking Alpha's Premium or Pro membership.
Fortunately, our readers can access a 14-day free trial of Seeking Alpha Premium.
If you're still undecided, try the service for two weeks, risk-free, with no commitment, and see for yourself if it's worth the cost of admission.
With over 6.5 million readers and 200,000 active Seeking Alpha subscribers, this rich community of serious investors is a testament to the platform's quality and value.
Get started today with this special free trial offer for Stock Dork readers and see if Seeking Alpha is right for you.
>> That's it for our Seeking Alpha review! Sign up now for a 50% discount on your annual subscription to Seeking Alpha Premium <<