Louis Navellier and David Eifrig are leading a brand-new presentation for Stansberry Research about The Great Unraveling. But should you listen to their warning? Check out my Stansberry's Investment Advisory review to find out.
What Is Stansberry's Investment Advisory?
Stansberry's Investment Advisory is a newsletter service published by Stansberry Research.
It's the publisher's flagship newsletter that was launched way back in 1999.
Some member perks include stock recommendations, special reports, and bonus subscriptions.
There's a new offer running called "The Great Unraveling", which piles on a bunch of additional features.
I'll be going over the full package and the bonuses, so make sure to stick around if that's what you're here for.
Let's take a look at the team's strategy before we get into the meat and potatoes.
>> Sound like a good fit? Sign up and save 75% <<
The Team's Strategy
Stansberry's Investment Advisory recommends stocks and usually sticks to, at least, a one-year holding period.
Though, they might be held for longer.
There could also be occasional recommendations for short positions, but the team mostly goes long for long-term positions.
The newsletter's investment profile leans more on the conservative side of the spectrum.
Additionally, members are recommended to have $1,000 in capital to get started.
This is just a friendly recommendation, however. Members are free to put up how much (or little) they want.

Stansberry Research Review
Stansberry Research is a solid company with a great collection of newsletters under its banner.
It's also a leading investment research firm and an industry pioneer.
This company initially built a reputation as a financial opinion-piece outlet, but it quickly grew into a highly respected research publisher.
It tackles a ton of niches, with varying risk profiles and targets. The Stansberry's Investment Advisory newsletter service might be the most well-rounded of the bunch.
Some niches Stansberry Research covers include crypto, alternative investments, commodities, growth stocks, exchange traded funds, and more.
Here are a few of the company's top offerings:
Extreme Value

(value stocks)

Commodity Supercycles

(commodity plays)

Retirement Millionaire

(retirement investments and guidance)
I've reviewed many Stansberry Research newsletters and can say this company is top notch.
>> Discover the team's latest recommendation <<
"The Great Unraveling" is Stansberry's Investment Advisory's latest presentation and the center of the new package.
It's led by InvestorPlace's Louis Navellier and Stansberry Research's Dr. David Eifrig.
Both presenters helm other popular investment newsletters. So you may have heard of them before the release of this presentation.
Essentially, they believe the Fed has been bumbling around for the better (or worse?) part of three decades, which has left it totally unequipped to rein in inflation.
By Louis and David's summation, a collapse could be on the horizon. And this time, there might not be a bailout.
No Interest in Raising Interest Rates
Louis and David believe interest rates are the heart of The Great Unraveling. But it might not be what you expect — they're not talking about 2022.
They claim that it all started back in the 90s, with the Clinton administration.
The economy was booming, jobs were up, and unemployment was down.
The Fed's response?
Cutting interest rates.
No one likes rising interest rates, but they play a critical role in the economy. There are times when rates need to be increased to maintain the health of the markets.
On the other hand, slashing them at every opportunity sets the stage for unintended consequences.
A pattern emerged of reckless cuts and money printing.
And this is where Louis says it all went downhill.
David chimes in and explains how this pattern began reshaping the financial markets:
"But to put it in the simplest terms possible… when the Fed cuts interest rates, the amount you can make on bonds and other fixed income securities drops.

So investors start to chase higher gains elsewhere"
After bond yields dropped, many dove headfirst into riskier investments.
This helped inflate the now infamous Dot-Com bubble.
Lowered interest rates (around 1%) also made it incredibly cheap for banks to borrow and loan out cash to turn a profit.
In response, banks started rolling out new products, including subprime mortgage loans, which spurred another financial crisis.
Couple these events with unchecked money printing for bailouts, and the Fed helped fine-tune the perfect vehicle for driving inflation to new heights.
Out of Moves
Navellier and David believe that the Covid Crisis was the last straw and that the Fed is now backed into a corner they can't print their way out of.
As a result of endless stimulus and low rates for decades, the money supply is out of control.
It's even estimated that 80% of all dollars in circulation were printed between 2020 and now.
The duo says the Fed looks to continue increasing rates to rein in astronomical inflation.
Again, rate increases in a vacuum are very effective tools. Rapidly ratcheting them up, on the other hand, could cause serious blowback.
At this point, it might be the Fed's only option, however.
And Navellier and Dr. Eifrig say that this could unravel the economy, starting with small businesses.
In response, they've developed a new set of stock market research resources for Stansberry's Investment Advisory.
It's tailor-made to help folks navigate the potential fallout from "The Great Unraveling".
And new members signing up get access to the entire bundle for a sizable discount.
>> Get the team's latest research <<
What Comes with the Service?
As mentioned, the new bundle stacks on even more research and resources.
Follow along for a full breakdown of the package.
Annual Subscription to Stansberry's Investment Advisory
A subscription to the Stansberry's Investment Advisory newsletter gives you access to the team's latest research and many other perks.
It provides a new stock recommendation on the first Friday of every month, along with market commentary.
In total, you'll get roughly 12 new stock picks over the course of your one-year membership.
You'll also get access to a model portfolio, where you'll find all the service's active stock recommendations.
You can quickly see how each pick is performing with little more than a glance.
Trade Alerts and Updates
Members also receive trade alerts informing them when it's time to take action on a recommended trade.
Each alert includes detailed, step-by-step instructions and an explanation of the reasons behind the move.
You'll also receive regular updates on the model portfolio, including detailed analysis of each open position.
Stansberry's Investment Advisory's alerts and portfolio updates keep you informed, so you'll never miss a beat in the market.
Stansberry Digest
To sweeten the deal, the team is throwing in the Stansberry Digest newsletter.
Members receive a daily brief of the latest market-moving news.
Each issue helps you keep a close watch on Wall Street.
Overall, it's a nice intermediary between the monthly newsletter issues.
>> Access these features and more <<
New Member Bonuses
The new package delivers additional resources, including access to Navellier's newsletter, bonus recommendations, and market warnings.
Here's what you get.
One FREE Year of Louis Navellier's Growth Investor
Louis Navellier's Growth Investor targets high-growth and dividend-paying opportunities across a range of sectors.
This is a premium research newsletter with its own set of recommendations and market analysis.
So in addition to Stansberry's Investment Advisory's monthly pick, you'll also receive a steady stream of intel from Navellier and his team.
Basically, you are getting two premium subscriptions for the price of one.
Plus, Growth Investor's dividend picks could provide the foundation for a solid income portfolio.
The Great Unraveling Playbook
This playbook is the centerpiece of the new deal.
It details precisely how the team believes "The Great Unraveling" might unfold.
In addition to a general overview of the event, they offer the scoop on assets that have the potential to help members make it out better on the other side.
If you're joining specifically for research on The Great Unraveling, you might want to hit this resource first.
The Great Unraveling Perfect Portfolio
During their research, the Stansberry's Investment Advisory team discovered a portfolio that has the potential to outperform the S&P 500 and a traditional 60/40 portfolio.
In fact, they say that it has performed around five times better than the S&P in the long term.
The report gives members a rundown on what types of assets to hold.
It also offers a step-by-step guide on where to find them.
The 100% Stock Secret
This resource offers members a primer for picking stocks with solid upside potential.
It also reveals how to build trading fundamentals, like timing and exiting a position.
The team recommends that fresh faces on the stock market check this report out first before placing any trades.
However, folks with more experience still might want to weigh these insights against their own investment strategies.
There's always room to improve in the investing world.
The Two Most Valuable Assets to Own in a Time of Crisis
Dr. David Eifrig has dedicated an entire decade to studying two assets with unique characteristics.
And he says that they could help protect and grow portfolios — even amid an economic downturn.
Given the current market conditions, he wants every Stansberry's Investment Advisory member to be in the know.
These assets shielded folks' money back in WW II, and David believes they could do the same today.
99 Stocks Every American Should Sell Right Now
This report is essentially the polar opposite of the buy recs.
It spotlights 99 stocks that have the potential to drag portfolios down in the long term.
The list is long, and the team says that there's a chance that most folks own at least one or two of the shares featured.
If you're building a fresh portfolio, it could also be a good resource to help you dodge duds before they have the chance to drop.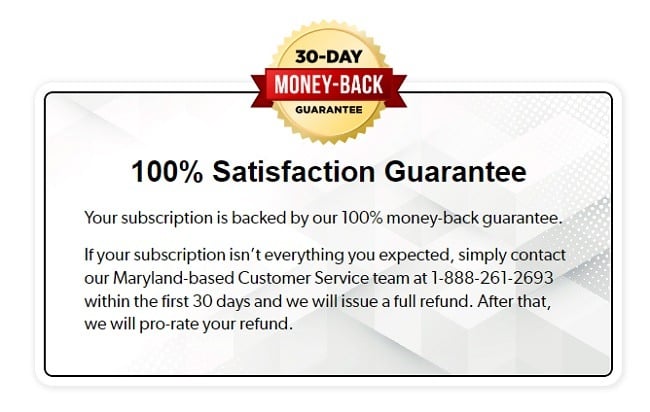 30-Day Money-Back Guarantee
Stansberry's Investment Advisory offers a 30-day money-back guarantee on all new subscriptions.
If you don't feel that the newsletter is a match within that period, contact customer service or cancel via your subscription page to receive a full refund on the subscription cost.
It's not the most extended guarantee in the industry. However, it still gives you more than enough time to decide whether your subscription is worth keeping.
If you still have doubts about Stansberry's Investment Advisory or the Stansberry Research team, the money-back guarantee should provide enough reassurance to get you off the fence.
>> Join under the team's guarantee <<
Is Stansberry Research Legit?
The firm is legit. This is a real US-based research company with a long track record of solid business practices.
It also boasts some very impressive stats.
Stansberry Research has over one million subscribers worldwide, 30 expert editors, and over 90,000 lifetime subscribers.
As mentioned, I'm very familiar with Stansberry Research and its investment newsletters.
Its roster is lined with quality analysts.
Pros and Cons
Stansberry's Investment Advisory is a solid newsletter, but there are a few downsides to consider.
Pros
Stansberry Research's longest-running newsletter service

Great price with 75% discount

Typical holding period of one year

Conservative investing profile
Cons
No chats, message boards, or other social components

Doesn't cover options or futures
Is the Service Right for Me?
Stansberry's Investment Advisory is best-suited for folks looking for conservative long-term plays.
Recommendations also cast a wide net. They don't favor any particular sector.
That said, the more cautious approach could rule out riskier ventures.
The team says that it's also well-suited for beginners and people planning for retirement.
Given the core strategy and long-holding periods, I think this is a fair assessment — especially for new faces on the stock market.
Many find these types of positions easier to manage, as they generally do not require minue-to-minute vigilance or trading at a breakneck pace.
There are occasional short trades, so that group is covered as well.
>> Sound like a match? Sign up HERE <<
How Much Does the Service Cost?
Stansberry's Investment Advisory usually costs $199 for a yearly subscription.
That said, the latest deal offers a substantially lower rate of $49.
This shakes out to a 75% discount — plus you still get all the bonus resources mentioned above.
At that rate, the average cost breaks down to just over $4 a month. In exchange, you'll get stock picks, a treasure trove of bonus reports, and much more.
The latest deal also throws in an annual subscription to Louis Navellier's Growth Investor.
Best of all, the whole package is backed by an airtight 30-day money-back guarantee.
Is Stansberry's Investment Advisory Worth It?
At just $49, Stansberry's Investment Advisory is an excellent service at a fantastic price.
You would be hard-pressed to find a competing research service that offers so much value right out of the gate.
Given the current price point, one successful investment could cover the cost of a subscription for the whole year.
All in all, this is an excellent deal. And this particular package includes tons of high-value content, including an additional portfolio.
So if you're looking for a high-quality, affordable research service, Stansberry's Investment Advisory is a great option.
>> That's it for my review. Click HERE to save 75% <<