Tickeron is a robust, new interactive marketplace that leverages a sophisticated AI to enhance your trading and investment performance. Our Tickeron review breaks down everything you need to know about this AI-powered platform, so you can decide if it's right for you.
Tickeron combines both AI and human intelligence to provide a service to independent traders and self-directed investors.
We are always a fan of platforms that make trading more accessible for the average trader, so we sat down and took a close look at Tickeron's offerings.
Our Tickeron review will tell you if this up-and-coming service is worth checking out.
Tickeron Review: Overview
At its core, Tickeron provides sophisticated AI-powered tools to help independent investors get more out of their trading strategies.
The platform compiles vast quantities of stock market data and formulates it into usable market intelligence with the help of artificial intelligence.
This sophisticated technology makes Tickeron significantly more powerful than most trading tools.
It's lightyears away from the basic stock screeners that most traders regularly use.
However, Tickeron goes a lot further than simple screens: it's a comprehensive all-in-one trading platform with an arsenal of research and analysis tools.
Expert users can save countless hours of research time with Tickeron's cutting-edge tools, but you don't need to be a veteran trader to get a lot out of this service.
With AI-powered reports and a wide range of preset screens, even novice investors can quickly jump into Tickeron and start using trading with confidence.
>> Sign up for Tickeron now <<
Tickeron vs Stock Screeners: What's the Difference?
At first glance, you might think Tickeron is just another entry in a sea of stock screeners, but it's lightyears ahead of the simple screeners most traders use.
Many stock scanners only allow users to access sparse data on trending stocks, and this is where Tickeron sets itself apart.
Also, most basic free offerings typically use day-old data and screening options.
At best, they might have some technical analysis tools, but these are often relatively basic.
Increase Your Odds of Success
In many cases, a free scanner's usefulness is limited to basic fundamental analysis, but Tickeron's scanner provides a much deeper analysis into potential opportunities.
For example, Tickeron's trend prediction engine can forecast potential rallies before they occur.
Tickeron also uses real-time data so you get the most accurate, timely data possible for your trading ideas.
Tickeron's screener goes well beyond the capabilities of a traditional stock scanner.
However, the scanner is only one element of this comprehensive trading platform.
About Tickeron: Is It Legit?
According to a Bloomberg privately-held company report, Tickeron Inc. was founded in 2013 as a financial services firm.
The company lists its address as Reno, NV, in the U.S.
Tickeron only launched its AI-powered trading platform within the last couple of years, but it quickly built a following among self-directed traders.
The company's website includes a vast collection of free trading resources, and the Tickeron team regularly updates the site with new content.
Tickeron also publishes ebooks and other resources that demonstrate their credibility and investing know-how.
Community-Centered Approach
In addition to educational resources and trading tools, the Tickeron website also serves as a massive community for all things investing.
It also hosts a unique marketplace where you can explore other research and advisory services.
Is Tickeron Legit?
We couldn't find any negative press on Tickeron, but the company regularly puts out press releases and seems to be very active in growing its brand.
Tickeron looks like a clean company to us.
It's a legit, U.S.-based financial firm with no record of malfeasance, so you can join Tickeron without worrying about a potential scam.
>> Get Started with Tickeron today <<
Tickeron Review: How Does It Work?
Tickeron gives you access to tons of powerful tools for analysis, portfolio creation, and much more.
It even has a unique third-party marketplace where users can discover new expert services.
You can even access many of Tickeron's features for free, including the stock scanner.
However, you'll have to create an account to take advantage of its full functionality.
Signing up for a basic Tickeron account is free, but you'll need to upgrade to premium to access the most sophisticated tools.
You can also stack on additional services through Tickeron's marketplace, which includes everything from financial advisors to advisory services and more.
We're going to break all this down piece by piece.
First, we'll take a tour of the Tickeron platform and its artificial intelligence-powered technical analysis tools.
Tickeron Review: Features
Artificial Intelligence-powered stock screener
Portfolio organizer with AI investment ideas
Trade alerts
Trader training academy
Community
Interactive marketplace
Trend Prediction and Pattern Search Engine*
AI Robots*
Group Trends*
Stock Scorecards*
Real-Time Patterns*
Active Portfolios Autopilot Trading*
[* Premium Feature]
That's the short version, but we're not stopping there.
Let's dive into these Tickeron features in detail.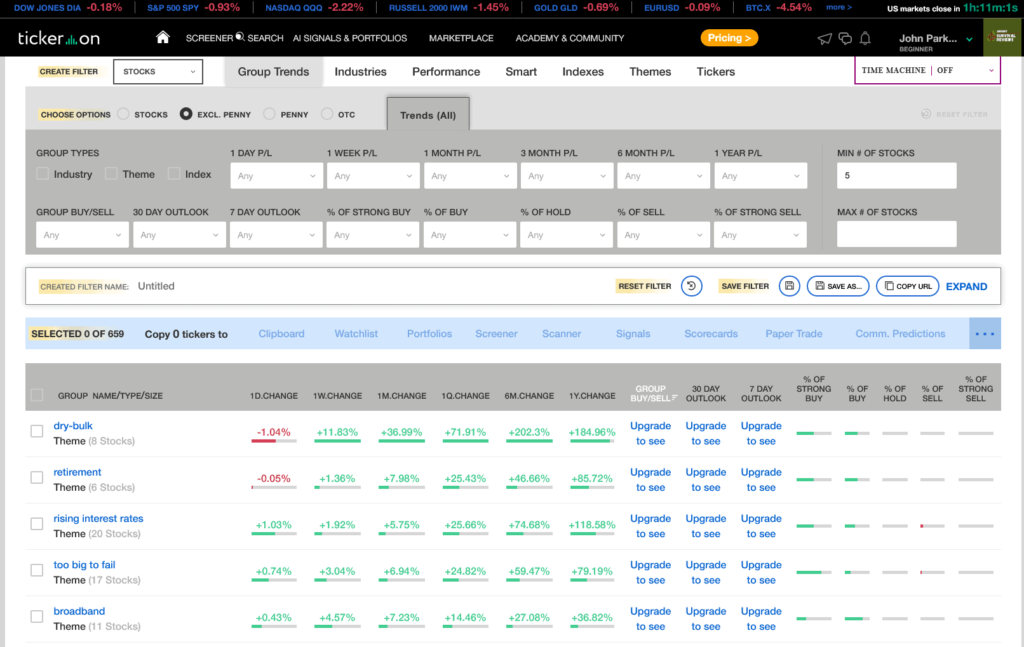 AI-Powered Screener
Tickeron's stock screener is one of its most useful features.
Best of all, it's free to use on the company's website; however, you have to sign up for a free account to unlock its full functionality.
The free stock screener is surprisingly robust.
With features like AI-powered scans and pattern recognition, it's lightyears ahead of your average web-based screener.
If you know a thing or two about stocks, you can customize the screen to find the perfect trade ideas for your preferred trading strategy.
For the less advanced, Tickeron also offers a wide array of preset screens that find stocks based on themes.
You can choose from options like 5G, alternative power, e-commerce, and more.
You can also scan based on price and other fundamental data, so it's easy to evaluate penny stocks and other price-based categories.
The free screener also can conduct performance-based scans, making it an excellent option for any momentum day trader or swing trader.
Tickeron's screener is a surprisingly robust free tool.
You should definitely check it out because there's a good chance it's better than whatever you're using now, and it won't cost you a dime.
>> Take me to the Tickeron stock screener <<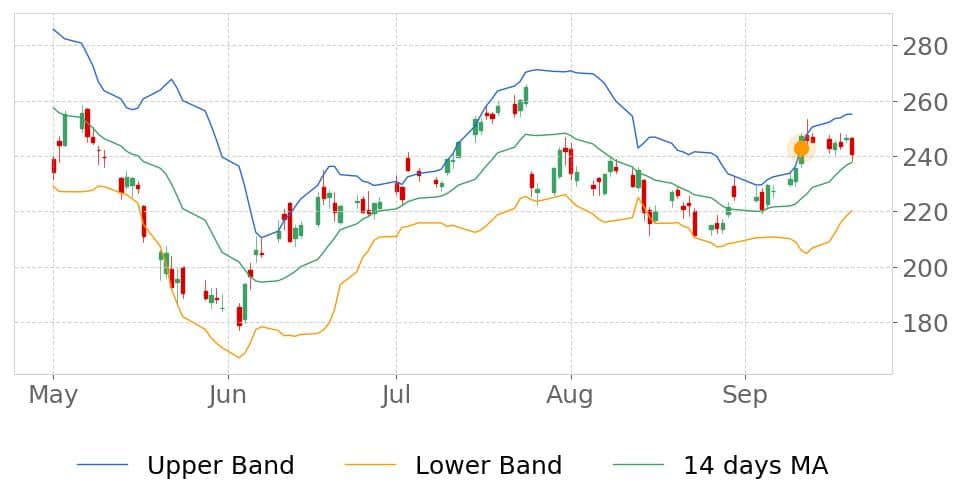 Portfolio Organizer
You can also use the Tickeron screener to set up custom portfolios and watch lists, and this makes it much easier to organize your research and track targeted stocks.
The organizer allows you to save individual stocks into a custom portfolio.
You can create multiple portfolios to track different investing themes, like short opportunities and long-term buys.
You can also use the portfolio organizer to track your holdings inside Tickeron, so you can effortlessly monitor prevailing trends within your existing investments.
You can also use this feature to conduct simulated trades, AKA paper trades, to test your trading strategies without putting real money on the line.
Unfortunately, you have to upgrade to unlock advanced features like backtesting and AI trade ideas, but Tickeron allows free access to the basic organizational functions mentioned above.
Trade Alerts
Once you select your portfolio stocks, you can start using Tickeron's trade alerts.
The alerts are customizable by using various criteria, including price patterns, technical signals, and more.
Alerts can use ticker symbols that allow you to cover your entire portfolio without restriction.
Here's a screenshot of a Tickeron trade alert ticket so you can get a better idea of what's available.
>> Set up your Tickeron trade alert now <<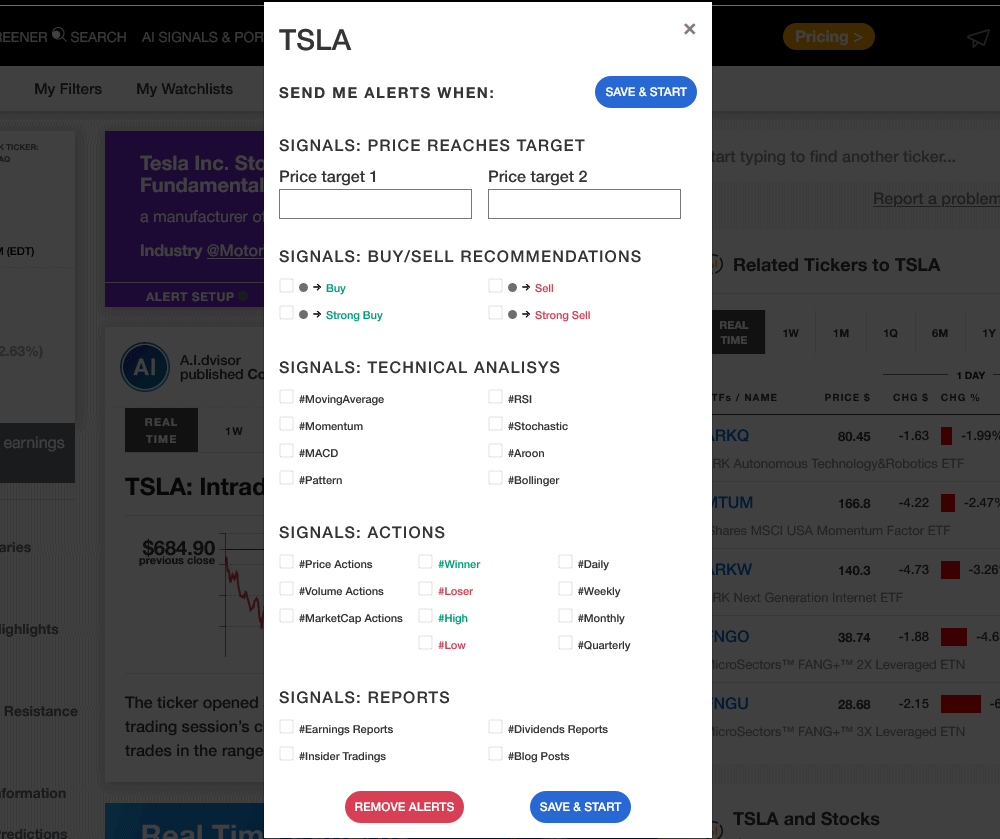 As you can see, you have a wide selection of potential triggers.
These options make it much easier to act quickly when something happens with one of your holdings that needs your attention.
You can also target stocks you're watching with price triggers so you'll know the moment your window of opportunity opens.
Tickeron's trade alerts are significantly more useful than basic price target alerts because they have significantly more trigger options, and they're an excellent addition to the free service.
Training Academy
Tickeron's trading academy includes a vast collection of resources and educational materials for traders of all skill and experience levels.
It also has an extensive library of articles on investing topics such as retirement planning, technical analysis, cryptocurrency, and more.
There is also an entire catalog of video lessons and webcasts designed for training purposes, and the team regularly adds new reports, hosts webinars, and more.
You can learn a lot from the Tickeron website, and best of all, most of the educational resources are free to access.
No matter how long you've been trading, there's always room to improve.
Tickeron's training academy is a valuable addition to the platform.
>> Get instant access to the training academy here <<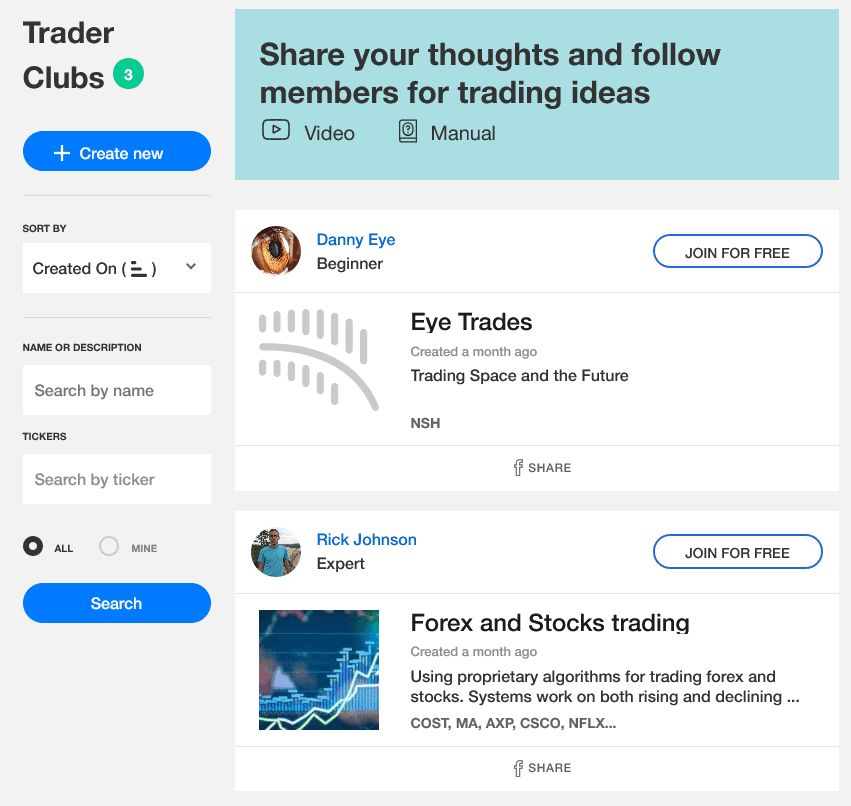 Community
Tickeron's online community tab lets you network with other users through discussion boards, groups, and chats.
It's an excellent place to connect with like-minded traders and share ideas.
Many of Tickeron's trading pros offer their expertise on the community boards too, so traders can learn a lot from reading these highly qualified insights.
This section is an excellent complement to Tickeron's AI component.
It gives you the power to incorporate good ol'-fashioned human intelligence into your trading techniques and complements the platform's high-powered AI capabilities.
The community boards are straightforward and intuitive, and it's easy to navigate the various topics and connect with traders you like.
You can even find cryptocurrency trading groups and join day-trading clubs.
Tickeron's community boards are free to access with an account, so you can explore them before you sign up.
Certain groups charge membership fees, but you get general access just for joining.
Trend Prediction and Pattern Search Engine
Tickeron made a name for itself when it announced it had acquired the Trend Prediction Engine and Pattern Search Engine.
These tools use sophisticated algorithms to comb through market data and price patterns to find developing opportunities and high-potential trades.
Users can also customize the screener settings to fit their investment ideas.
You can adjust the time frames in increments ranging from 5 minutes to a whole day and specify which properties to target.
Charting is an important element of proper technical analysis, but it's also very time-consuming and has a steep learning curve.
Tickeron automatically highlights prevailing trends using the most relevant data and indicators so beginners can analyze their trading ideas with ease.
>> Join Tickeron and access these powerful trading tools now <<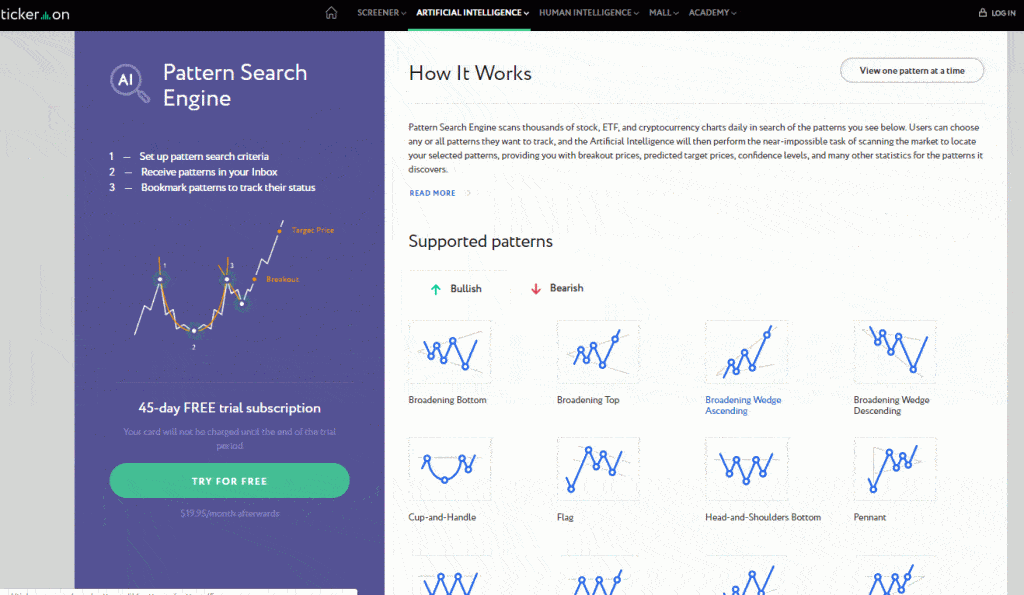 These powerful tools can save veteran investors tons of research time, and they make it easy for beginners to utilize advanced trading techniques.
You can add trend prediction and pattern search to Tickeron's intermediate subscription package for an added cost.
Each adds $30 to your base subscription rate, but they come standard if you spring for the Expert-tier subscription.
Portfolio Optimizer
Another core feature of Tickeron is its AI-driven portfolio optimizer.
It's fully customizable, so you can program it to precisely target stocks based on your goals and risk tolerance.
Once you program your portfolio into the platform, AI trading tools will automatically analyze your positions and show you how to tweak them for optimal performance.
The Tickeron portfolio optimizer considers a wide array of adjustable inputs, such as risk tolerance, investment horizon, and much more.
The best part of this feature is that it offloads the hard work of crunching the numbers and researching by making a machine do the legwork for you.
>> Take your portfolio to the next level with Tickeron <<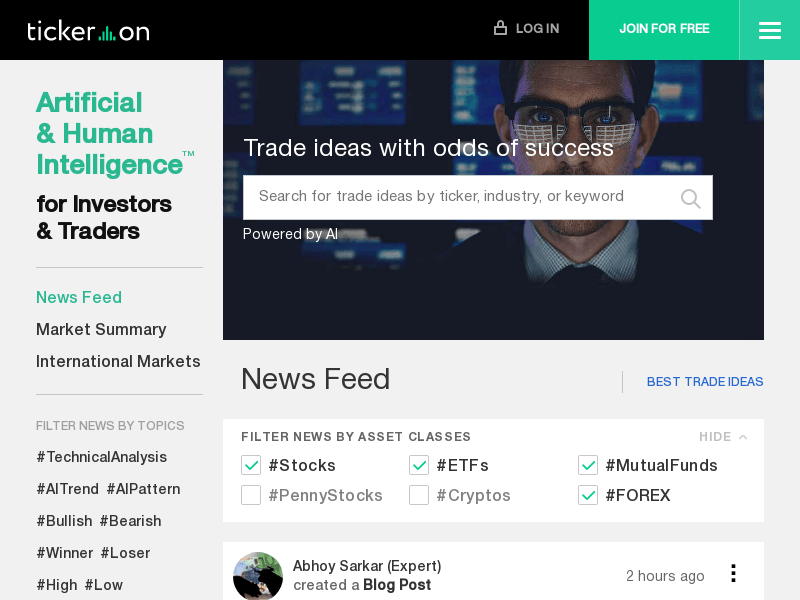 Tickeron UX Review
The first thing you see when you log into your Tickeron account is the home screen.
Your home page functions similar to a social media feed, displaying your latest notifications, important news, and more.
It's the central hub from which you access the app's other features.
From the home page, you navigate the site using the bars at the top.
The platform includes several sections for trading, investing, screening tools, and community.
Each tab has a toolbar that lets you access your portfolio, watchlists, searches, and filters.
The sophisticated AI tools will comb through financial data to find trades and investments that reflect your custom profile settings.
The best part about this setup is getting immediate access to the most relevant information in just a few minutes.
Frankly, it would be impossible for a single person to comb through all the data manually, but Tickeron streamlines the entire process.
Tickeron Review: Cost & Value
Tickeron's fee structure is a bit unique.
It includes four membership tiers and a wide array of a-la-carte options.
Here are the three main tiers:
Beginner Membership: Free
Intermediate Membership: $15/mo
Expert Membership: $250/mo
The beginner membership has no cost.
That's what you get just for creating a Tickeron account, and it includes many of the basic features discussed above.
The next step up is the intermediate membership.
This subscription tier allows you to customize your access to Tickeron's advanced features, but each one you add will increase your monthly cost.
Intermediate memberships allow you to integrate certain elements without springing for the full $250 per month.
The $15 fee is more like a base rate.
Once you pay that, you can pick and choose what else you want.
However, if you want to access the whole shebang, Tickeron's expert membership is probably your best option.
It includes the platform's most advanced features and it averages out to a better overall rate.
What is the Best Tickeron Membership?
Which membership really depends on your budget and how far you want to take these AI trading tools.
You don't want to overpay for tools you're not going to use, so it's best to pick the Tickeron membership that best supports your investment goals and trading style.
Fortunately, you can modify your monthly subscription at any time so you're not boxed in.
This is a refreshing change of pace as many investment platforms lock traders into yearly subscriptions, which makes testing out different tiers a pain.
If you're not sure what you need, start with a beginner membership, explore the platform, and pick up some new trading ideas.
And if you like what you see, go a little further and sign up for intermediate.
Then, you can dig a little deeper and see which Tickeron tools benefit your trading style the most.
This conservative approach is likely best if you're new to trading or on a tight budget and just want a few new trading ideas.
However, experienced traders and professional investors don't need to be as cautious and can jump in headfirst to take full advantage of AI Robots, signals, stocks portfolio wizards, and more.
Advanced Tools for Advanced Traders
If you want to dive right in and put Tickeron to the test, you might as well go with the expert tier.
Expert offers the most robust tools at the best rate and allows you to use Tickeron to its full potential.
However, the intermediate plan offers more flexible pricing options and lower monthly costs.
>> Join Tickeron Intermediate now for as low as $15 per month <<
Tickeron Review: Pros and Cons
Here are the best and worst aspects of Tickeron:
Tickeron Pros
AI-powered stock market research and analysis
Comprehensive stock scanner available for free
A vast library of educational materials
Flexible pricing options
Vibrant online community with networking features
Discover financial management services and more through the active marketplace
You can paper trade on the platform
Advanced portfolio organizer and pre-set templates
Intuitive trade alerts and notifications are included for free
Easy-to-use layout and design
Unsubscribe or downgrade your subscription at any time
Screener supports mutual funds and crypto
Tickeron Cons
The website doesn't mention a satisfaction guarantee
Novices may experience information overload

Is Tickeron Right for Me?
You will get a lot out of Tickeron if you fit into one of these categories:
AI Enthusiasts
Virtually all of Tickeron's systems, aside from the community, are driven by AI pattern prediction technology.
This technology makes terabytes of data analysis simple and compiles all the useful information right on your home screen and other pages.
Knowledge-Hungry Beginners:
Tickeron also has a vast library of educational materials and resources ranging from articles and videos to professional 1-on-1 lessons.
Tickeron both gives you the stock info you need and materials to increase your knowledge base.
Active Traders
Everything on Tickeron is real-time, so all of your searches and filters regularly update their values.
Tickeron's AI-predictive analysis makes real-time day trading accurate and seamless.
Crypto Traders
Tickeron's stock screener also supports crypto, which isn't a common feature among basic stock screeners.
If you're a crypto trader, you can still use many of Tickeron's advanced features because it has an extensive collection of covered cryptos.
Tickeron Review: Final Verdict
There is no substitute for human intelligence, but Tickeron proves that AI has a bright future in the retail investment world.
Tickeron makes it easy for beginner traders to incorporate advanced techniques into their trading regimen with minimal effort.
It's a game-changer for self-directed investors.
Should You Sign Up for Tickeron?
If you're an investor looking for trading software with built-in market intelligence and AI screening capabilities, you can't do much better than Tickeron.
Tickeron's cutting-edge market intel and AI-powered screens are an absolute game-changer.
We highly recommend it for anyone who's in the market for advanced trading tools.
>> Click Here to Start Exploring Tickeron's Game-Changing Trading Tools Now <<