Tickeron is an interactive marketplace powered by sophisticated artificial intelligence to help you make the most out of your trading. But is it worth the money? Our Tickeron review breaks down everything you need to know about this AI-powered platform so you can decide if it's right for you.

What Is Tickeron?
Tickeron is an interactive marketplace powered by sophisticated artificial intelligence to help you make the most of your trading.
The platform compiles stock market data and formulates it into usable market intelligence with the help of AI. It's light-years away from the basic stock screeners that most traders use, and its AI stock trading tools are top-notch.
The Tickeron web app goes further than simple screens: it's a comprehensive all-in-one trading platform with an arsenal of research and analysis tools.
The service boasts AI bots with specialized trading algorithms that help you tackle different niches.
These automated trading bots also cater to trading strategies including, swing trading, active trading, long-term plays, gap trading, volume trading, and more.
Tickeron is great for trading:
Stocks and ETFs

Crypto

Mutual funds

Forex
Expert users can save countless hours of research time with Tickeron, but you don't need to be a veteran trader to get a lot out of this service.
With AI-powered reports and a wide range of preset screens, even novice investors can quickly jump into Tickeron and start trading with confidence.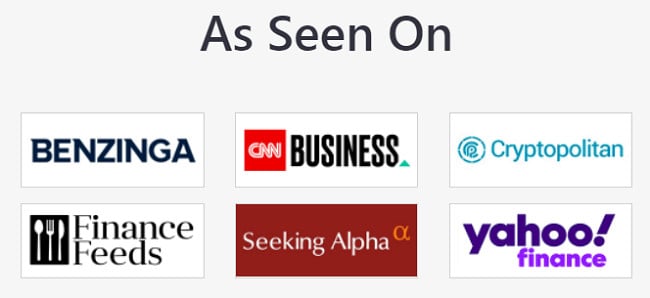 Is Tickeron Legit?
Tickeron is a legit service that provides a range of sophisticated AI-powered investment tools.
Tickeron only launched its AI-powered trading platform within the last couple of years, but it quickly built a following among:
Self-directed traders

Swing traders

Advanced traders

Retail traders
Tickeron boasts various features that can help you gather valuable market insights.
While the features are reliable, what you do with the data you collect is up to you. Using Tickeron's tools does not guarantee success, but it can potentially lead you to more opportunities.
>> Get Started with Tickeron today <<
How to Use Tickeron
By signing up for a Tickeron account, you can access many powerful tools for analysis, portfolio creation, and much more. It even has a unique third-party marketplace where users can discover new expert services.
You can access many of Tickeron's features for free, including the stock scanner. However, you'll have to create an account to take advantage of its full functionality.
Let's take a look at what's on offer with Tickeron.
What's Included with Tickeron?
Tickeron has a slew of solid tools that can support different trading styles. (Features marked with * are premium.)
Artificial Intelligence-powered stock screener

Portfolio organizer with AI investment ideas

Trade alerts

Trader training academy

Community

Interactive marketplace

Trend Prediction and pattern search engine*

AI robots*

Group trends*

Stock scorecards*

Real-time patterns*

Active portfolios autopilot trading*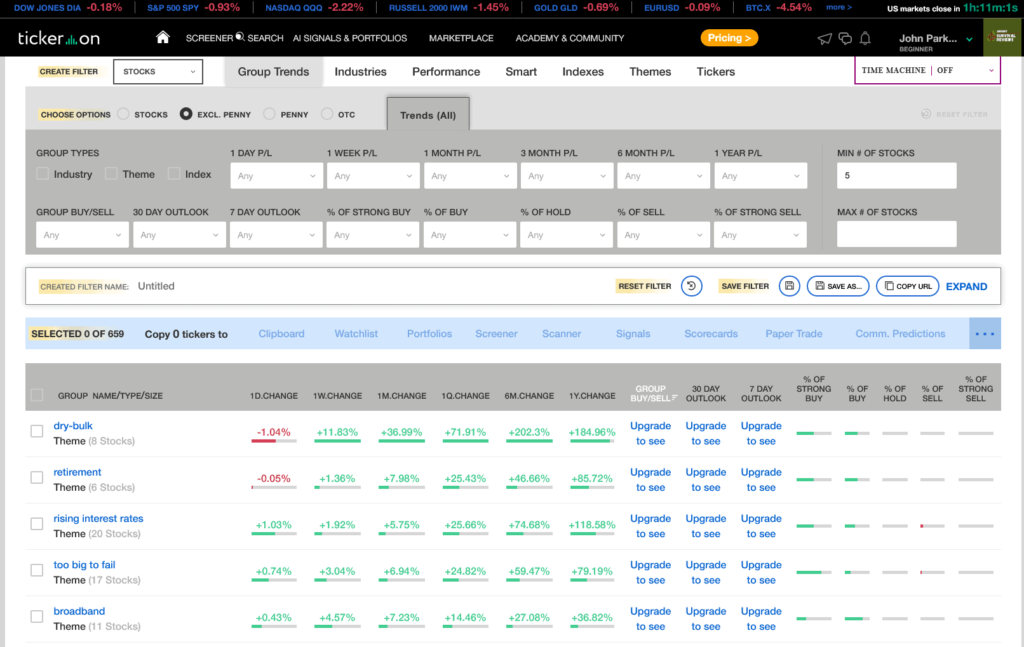 AI-Powered Screener
Tickeron's stock screener is one of its most useful stock trading tools.
Best of all, it's free to use on the company's website; however, you must sign up for a free account to unlock its full functionality.
The free stock screener is surprisingly robust. With features like technical analysis scans and pattern recognition, it's light-years ahead of your average web-based screener.
If you know a thing or two about stocks, you can customize the screen to find the perfect trade ideas for your preferred trading strategy.
For the less experienced, Tickeron also offers a wide array of preset screens that find stocks based on themes. You can choose from options like 5G, alternative power, e-commerce, and more.
You can also scan based on price and other fundamental data, so it's easy to evaluate penny stocks and other price-based categories.
>> Take me to the Tickeron stock screener <<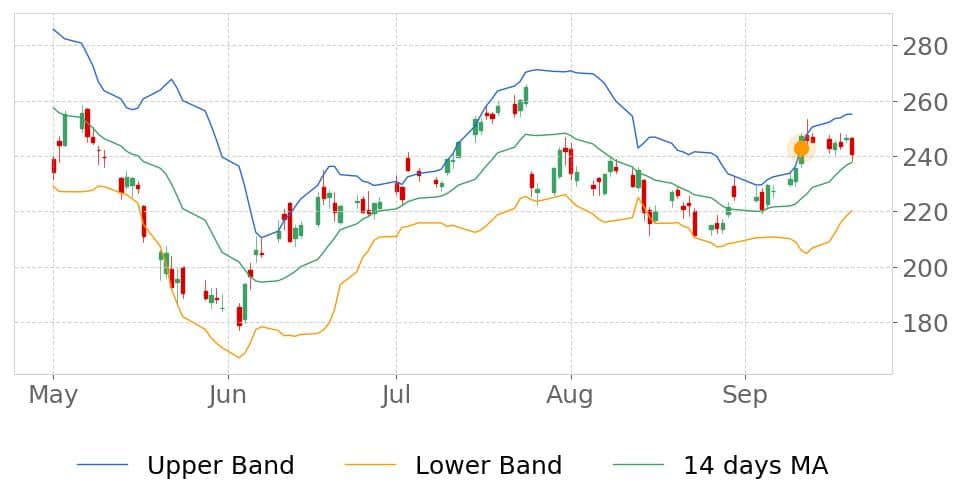 Portfolio Organizer
You can also use the Tickeron screener to set up custom portfolios and watch lists, and this makes it much easier to organize your research and track targeted stocks.
The organizer allows you to save individual stocks into a custom portfolio.
You can also:
Create multiple portfolios to track different investing themes, like short opportunities and long-term buys

Use the portfolio organizer to track your holdings inside Tickeron, so you can effortlessly monitor prevailing trends within your existing investments

Use this feature to conduct simulated trades, AKA paper trades, to test your trading strategies without putting real money on the line

And more
You'll need to unlock advanced features like backtesting and AI trade ideas, but Tickeron allows free access to the basic organizational functions mentioned above.
Trade Alerts
Once you select your portfolio stocks, you can start using Tickeron's trade alerts. The alerts are customizable by using various criteria, including price patterns, technical signals, and more.
Alerts can use ticker symbols that allow you to cover your entire portfolio without restriction.
Here's a screenshot of a Tickeron trade alert ticket so you can get a better idea of what's available.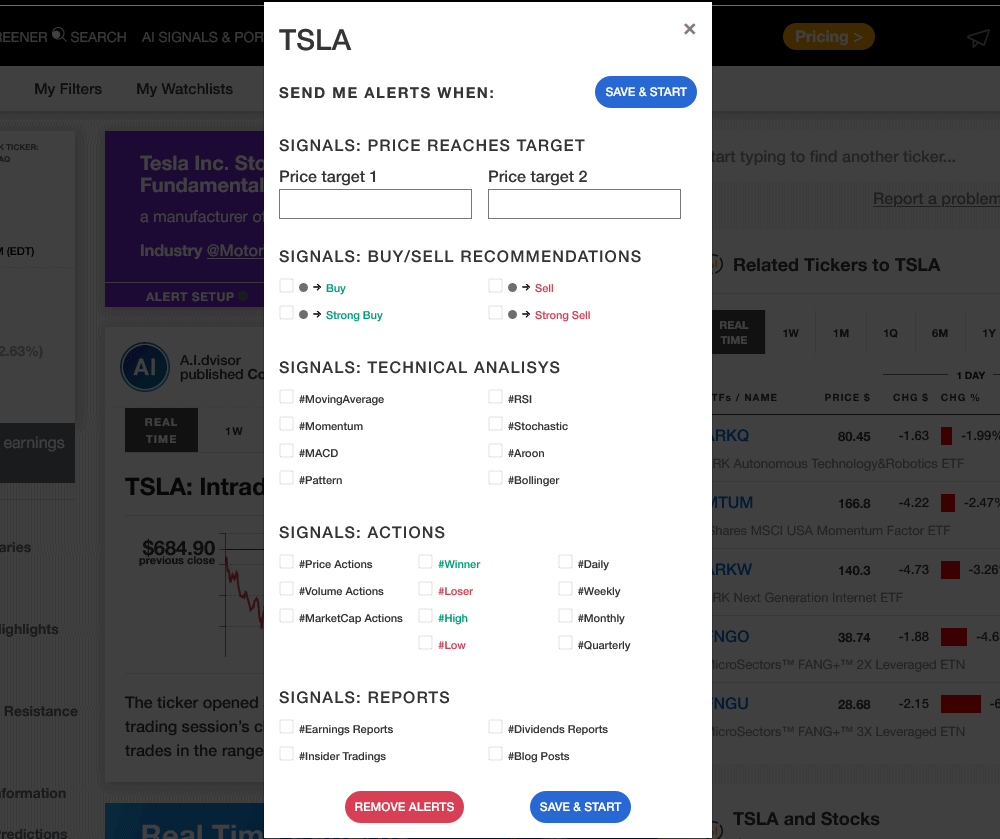 As you can see, you have a wide selection of potential triggers. These options make it much easier to act quickly when something happens to one of your holdings that needs your attention.
You can also target stocks you're watching with price triggers so you'll know the moment your window of opportunity opens.
Tickeron's trade alerts are much more useful than basic price target alerts because they have more trigger options, and they're an excellent addition to the free service.
>> Set up your Tickeron trade alert now <<
Training Academy
Tickeron's trading academy includes a vast collection of resources and educational materials for traders of all skill and experience levels.
It also has an extensive library of blog articles on investing topics such as retirement planning, technical analysis, cryptocurrency, and more.
There is also an entire catalog of video lessons and webcasts designed for training purposes, and the team regularly adds new reports, hosts webinars, etc.
Some of the best features include info on trade set-ups and updated macro market articles.
You can learn a lot from the Tickeron website, and best of all, most of the educational resources are free to access.
No matter how long you've been trading, there's always room for improvement.
>> Get instant access to the training academy here <<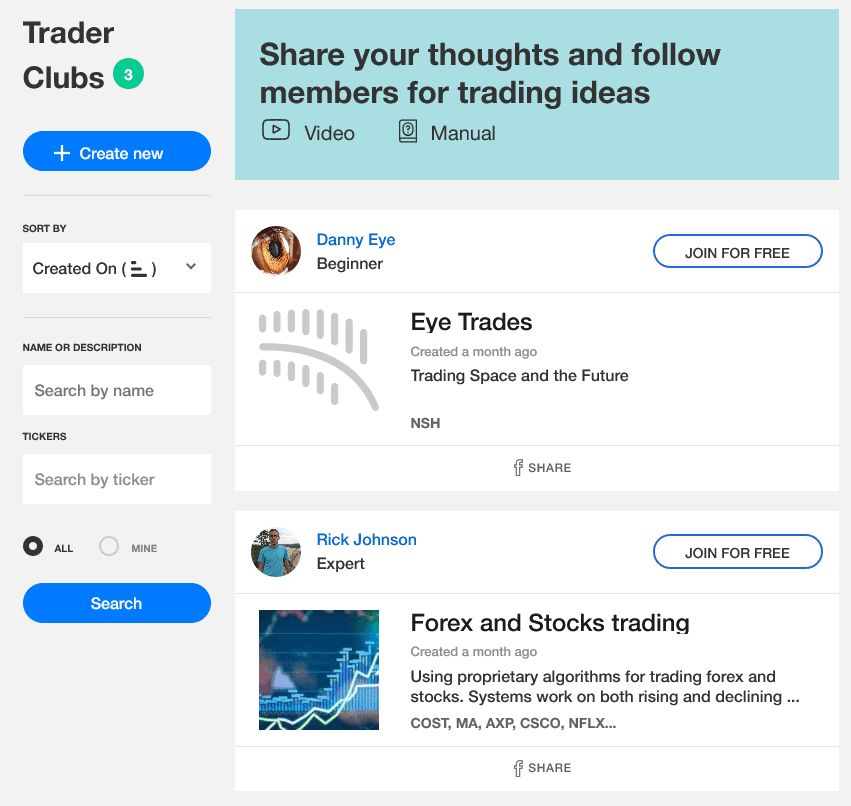 Community
Tickeron's online community tab lets you network with other users through discussion boards, groups, and chats. It's an excellent place to connect with like-minded traders and share ideas.
Many of Tickeron's trading pros offer their expertise on the community boards too, so traders can learn a lot from reading these highly qualified insights.
It gives you the power to incorporate good ol'-fashioned human intelligence into your trading techniques and complements the platform's high-powered AI capabilities.
It's a handy feature to pair with online trading that could help you spot potentially profitable opportunities.
Trend Prediction and Pattern Search Engine
Tickeron made a name for itself when it announced it had acquired the Trend Prediction Engine and Pattern Search Engine.
These tools use algorithms to comb through market data and price patterns to find developing opportunities and high-potential trades. Users can also customize the screener settings to fit their investment ideas.
You can adjust the time frames in increments ranging from 5 minutes to a whole day and specify which properties to target. Charting is an important element of proper technical analysis, but it's also very time-consuming and has a steep learning curve.
Tickeron automatically highlights prevailing trends using the most relevant data and indicators so beginners can analyze their trading ideas with ease.
>> Join Tickeron and access these powerful trading tools now <<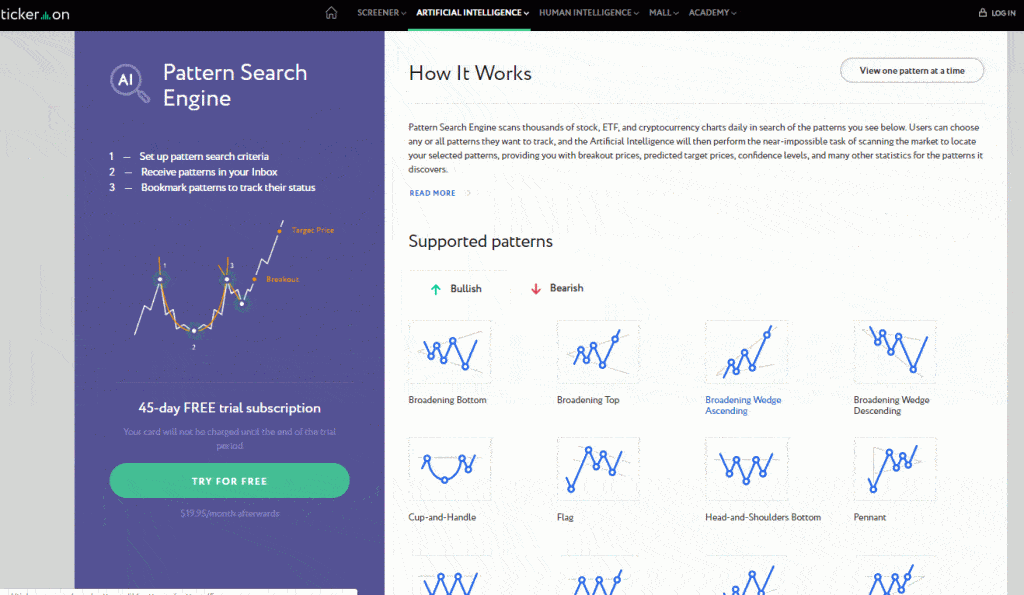 These optimization tools can save veteran investors tons of research time, and they make it easy for beginners to utilize advanced trading techniques. You can add trend prediction and pattern search to Tickeron's intermediate subscription package for an added cost.
Each adds $30 to your base subscription rate, but they come standard if you spring for the Expert-tier subscription.
Portfolio Optimizer
Another core feature of Tickeron is its AI-driven portfolio optimizer. It's fully customizable, so you can program it to precisely target stocks based on your goals and risk tolerance.
Once you program your portfolio into the platform, AI trading tools will automatically analyze your positions and show you how to tweak them for optimal performance. The Tickeron portfolio optimizer considers a wide array of adjustable inputs, such as risk tolerance, investment horizon, and much more.
The best part of this feature is that it offloads the hard work of crunching the numbers and researching by making a machine do the legwork for you.
>> Take your portfolio to the next level with Tickeron <<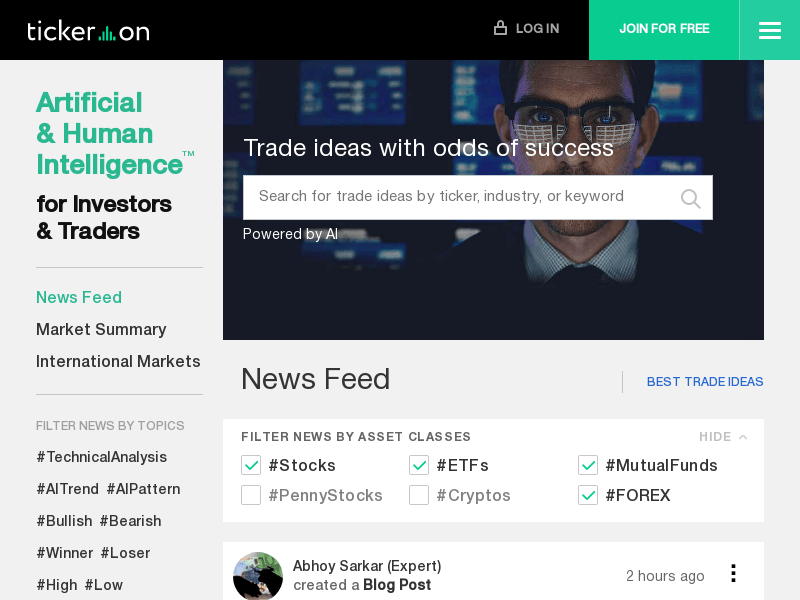 Tickeron AI Robots Review
While all of Tickeron's features are excellent, its AI Robots are possibly the best part of the service.
They're great for outsourcing your market research and can dramatically reduce the time and effort needed to find worthwhile opportunities. The ultimate goal of these bots is to cut down on how many trades you make, as they're more focused on quality over quantity.
If you pay for the premium version, you can get access to every AI robot — and there are a ton. There are robots for swing trading, volume trading, gap trading, and much more.
You can also check each bot's historical trades without signing up, but you'll need to be a member to check out their open positions.
Tickeron Free Trial Period
Most Tickeron subscriptions come with a 14-day trial — except for AI Robots, AI Portfolios, Expert Membership, and Buy/Sell Signals.
So if you pick up any of the services that are covered under the free trial, you can request a full refund within the 14-day period.
This is a fair way to test out if Ai-investment strategies powered by Tickeron are right for you.
How Do I Cancel a Tickeron Subscription?
There are no refunds for canceling monthly or annual accounts outside the trial window.
With monthly plans, you can cancel your Tickeron subscription at any time, and you will not be charged for the following billing cycle.

How Much Does Tickeron Cost?
Tickeron's pricing structure is a bit unique. It includes four membership tiers and a wide array of à la carte options.
Also, there are monthly and annual subscriptions, and annual subscriptions cut the price tag by 40%.
Here are the three main tiers:
Beginner Membership

: Free

Intermediate One Membership:

as low as $25/mo

Intermediate Two Membership:

as low as $60/mo

Expert Membership

: as low as $125/mo
There are four categories: Swing Trader, Day Trader, Investor, and Advisor — and prices vary for each one.
Beginner Membership
The beginner membership is free to use. That's what you get just for creating a Tickeron account, and it includes many of the basic features discussed above.
Intermediate Membership
The next step-up is the intermediate membership. This subscription tier allows you to customize your access to Tickeron's advanced features, but each one you add will increase your monthly cost.
Intermediate memberships allow you to integrate certain elements without springing for the full $250 per month.
Expert Membership
If you want to access the whole shebang, Tickeron's expert membership is probably your best option. It includes the platform's most advanced features, and it averages out to a better overall rate.
What Is the Best Tickeron Membership?
The best membership really depends on your budget and how far you're looking to take these AI trading tools.
You'll want to avoid overpaying for tools you're not going to use, so it's best to pick the Tickeron membership that best supports your investment goals and trading style.
Fortunately, you can modify your monthly subscription at any time so you're not boxed in. This is a refreshing change of pace, as many investment platforms lock traders into yearly subscriptions, which makes testing out different tiers a pain.
If you're not sure what you need, start with a beginner membership, explore the platform, and pick up some new trading ideas. And if you like what you see, go a little further and sign up for intermediate.
Then, you can dig a little deeper and see which Tickeron tools benefit your trading style the most. This conservative approach is likely best if you're new to trading or on a tight budget and just want a few new AI trading ideas.
However, experienced traders and professional investors don't need to be as cautious and can jump in headfirst to take full advantage of AI Robots, buy and sell signals, stocks portfolio wizards, and more.

Tickeron Reviews
Reviews of Tickeron appear to be largely positive. In fact, it's locked in a rock-solid 4.4 out of five rating on the Google Play Store.
Let's see what some reviewers have to say about this AI-powered stock market research platform.
These are some solid testimonials and can give you an idea of what users think about the value that they're getting from the service.
Pros and Cons of Tickeron
Tickeron is an excellent service, but no one is perfect.
Here are the pros and cons of the platform.
Pros
AI-powered stock market research and analysis

Backtest trade rules and pattern recognition tools

Fexible pricing and free membership options

Vibrant online community with networking features

Advanced portfolio organizer and pre-set templates

Intuitive trade alerts and notifications are included for free

Screener supports mutual funds, forex, and crypto
Cons
The website doesn't mention a satisfaction guarantee

Novices may experience information overload
Is Tickeron Worth It?
Tickeron is an excellent service, and it's a great deal considering all you get access to for just $25 a month. While there's no substitute for human intelligence, Tickeron proves that AI has a bright future in the retail investment world. We give the service an A rating.
The platform makes it easy for beginner traders to incorporate advanced techniques into their trading regimen with minimal effort. It's a game-changer for self-directed investors, day traders, and swing traders.
If you're an investor looking for trading software with built-in market intelligence and AI screening capabilities, you can't do much better than Tickeron.
Tickeron's cutting-edge market intel and AI-powered screens are some of the best out there.
We highly recommend it to anyone who's in the market for advanced trading tools.
>> Click Here to Start Exploring Tickeron's Game-Changing Trading Tools Now <<