Take a look at our Timothy Sykes review to find out everything you need to know about this celebrated small-cap trader.
Timothy Sykes is a proven penny stock trader one of the top trading gurus on Profit.ly.
He's earned a reputation over the years for his penitent for making profitable penny stock trades.
While some find Tim Sykes to be a polarizing figure in the world of investing, the success of students is hard to ignore.
But does his subscription stock-picking service live up to the hype?
Read our Timothy Sykes review to see if this trading all-star's service can take your investing to the next level.
Let's start with a little of Tim's backstory.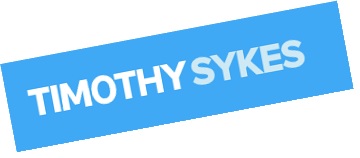 Timothy Sykes Review: Overview
A wildly successful penny stock trader, Sykes started day trading while attending college at Tulane University.
By the time his senior year came around, he was regularly cutting class to trade.
Infamous for Turning His Bar Mitzvah Gift Money into Big Bucks
During his time at Tulane, Timothy Sykes used $12,415 of his Bar Mitzvah gift money and earned over $1.6 million through day trading.
Sykes graduated from Tulane in 2003; shortly after, he launched his own hedge fund, Cilantro Fund Management, with about $1 million from family and friends.
It wasn't long before Tim Sykes started to get noticed.
Just three years after founding the hedge fund, he appeared on the cover of Trader Monthly in 2016.
The publication chose Sykes for their top "30 under 30" list of up-and-coming young traders, and the notoriety catapulted the up-and-coming guru to even greater success.
He has also been featured and made appearances on Larry King, The Steve Harvey Show, Fox News, and The New York Times, and other media outlets.
Timothy Sykes is also a published author and wrote An American Hedge Fund: How I Made $2 Million as a Stock Operator & Created a Hedge Fund.
Timothy Sykes Is a Penny Stocks Trading Pro
Today, Timothy Sykes is a well-known penny stock trader with many ongoing projects.
He uses most of them to help new traders learn how to trade like Wall Street sharks.
Sykes is the first to admit he's not the best at trading penny stocks, but the way Tim teaches his trading system is second to none.
Tim gets an A for modesty as well because the number-five spot on Profitly's trading profits leaderboard is pretty good for a guy who says he's a bad trader.
But what exactly does Sykes do that's so special anyway?
Follow along with our Timothy Sykes Review to find out!
>> Access Tim Sykes' Latest Trades Now <<
Timothy Sykes Review: Trading Track Record
Timothy Sykes is one of the founders and top-ranked gurus on Profit.ly, a social trading platform for traders and gurus that features trade verification software and more.
Profitly stands out as a reputable resource because it won't verify a trade unless you connect it with your broker or send in an image of the order statement from your broker, so this trading total is the real deal.
Two of the site's moderators are Michael Goode and Tim Grittani, two Timothy Sykes' millionaire students.
According to Profitly, Timothy Sykes has amassed more than $6.18 million in profits since joining the platform.
That's good enough for fifth place on Profitly's leaderboard for dollar-value gains.
Not too shabby.
He's also one of the top gurus on the platform, and his trading service has thousands of students.
Here's one of Tim's recent Profitly posts.
As you can see, he's very candid about expressing his successes and failures.

Profitly also lists some of Tim's most recent verified trades, so you can see if his current strategies are winning in the penny stock markets.
Here are some highlights from his profile, including some of his most recent trades and their corresponding gains or losses.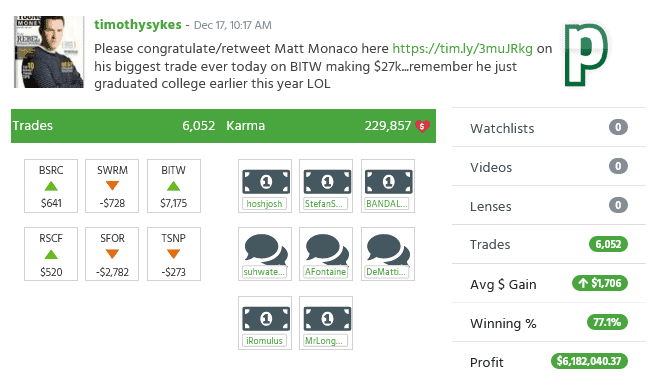 Many gurus are dishonest about their lifetime gains and holdings, but you can take these numbers to the bank.
These figures come directly from Profitly's verified trading platform.
A lot of trading services don't even invest in the stocks they're recommending, so it's reassuring to see Timothy Sykes put his money where his mouth is.
Whatever Timothy Sykes is doing, it's working.
He claims to have more millionaire students than any other trading guru, and with results like this, it's difficult to doubt him.
>> Click here to get started with Tim Sykes Today <<
Timothy Sykes Review: Net Worth
Timothy Sykes commands an impressive net worth of $15 million, a figure that many associate with his prowess in trading.
Interestingly, only approximately $7.5 million of this substantial sum is attributed to his trading activities. The remaining wealth stems from a variety of other lucrative ventures.
Among these is a notable collaboration with Neil Patel, a respected authority in the realm of digital marketing.
Their joint business ventures contribute significantly to Sykes' monthly earnings, which are reported to be in the millions of dollars.
While Sykes' annual revenue from trading alone is estimated to be around a quarter of a million dollars, this constitutes a relatively small fraction of his overall financial portfolio.
A majority of his wealth is actually generated through savvy business decisions and strategic partnerships.
In summary, Timothy Sykes' substantial net worth is not solely a result of his trading expertise.
Rather, it is his entrepreneurial acumen and diverse income streams that truly set him apart. This narrative serves as a compelling testament to the merits of financial diversification.
Is Timothy Sykes Legit?
Timothy Sykes is legit and definitely not a scam.
The guy doesn't even claim to be a good trader, but his results speak for themselves, and there's no disputing that he has made a lot of money trading penny stocks.
He's one of the most modest gurus you can find.
So what you see is what you get with Tim, and the more you read our Timothy Sykes review, the clearer this becomes.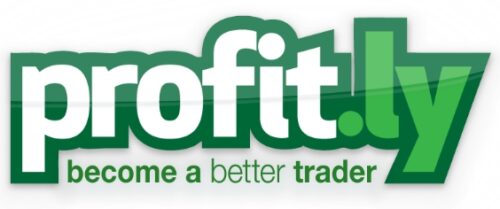 Track Timothy Sykes Trading Journey on Profitly
You can verify every single one of his claims through Profitly, the verified trading platform, so you know he's the real deal.
Tim doesn't just talk a good one, he's got the skills to back up his claims, and he can prove it.
Most gurus don't even trade their own recommendations, so it's refreshing to see a guy who's trading along with his students.
Is Timothy Sykes Legit: Read His Profitly Profile
He's 100% legit, and — if you have any doubts — a quick glance at his Profitly profile with over $5 million in profits should alleviate your concerns.
Tim Sykes Review: Trading Strategy
Timothy Sykes is best known for trading penny stocks, but his preferred trading strategy has a bit of a twist.
When he launched the Cilantro Fund, he classified it as a "short bias" hedge fund.
Meaning, the fund focused on generating profits by betting on specific stocks to go down in value.
This trading maneuver is called short selling, and it's slightly more complicated than traditional buy-and-sell trade.
However, short selling can produce extraordinary gains when utilized correctly.
And this is what sets his penny stock trading education apart from other services.
Timothy Sykes Trading Philosophy
While his views on trading have evolved over the years, Timothy Sykes believes that in the world of investment, it's better to be a trader than an investor.
What he means by this is that traders have an active role in creating wealth, while investors play a more passive role that takes much longer.
This isn't much of a surprise, as a lot of his interviews, educational material, and videos emphasize the importance of being a self-starter.
This investing philosophy is likely what drew him into swing trading penny stocks in the first place.
Learn a New Way to Trade Penny Stocks
Unlike most penny stock trading pros, Timothy Sykes actually prefers day trading his positions, so he primarily focuses on short-term stock trading.
Even more interesting, one of Tim's favorite trading strategies starts with targeting pump-and-dump stocks.
This is a massive departure from most penny stock trading strategies that are meant to identify and then avoid a potential pump and dump.
If you aren't sure what a pump and dump is, keep reading and we'll fill you in on the details.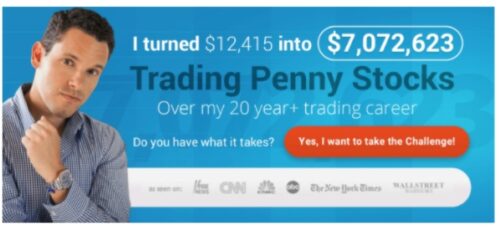 Trading Penny Stocks: What Is a Pump and Dump?
If you're not familiar with the term, it's trader lingo for when a group of big-money investors artificially run up a penny stock's price, then sell all their shares at once.
In the end, the perpetrators walk away with massive gains, while the unknowing investor gets stuck holding the bag.
Pump-and-dumps are usually only a concern when you're trading penny stocks or other micro-cap stocks, and the reason comes down to sheer size.
This is why getting a proper penny stock trading education is crucial for learning to identify these types of scams.
It would take billions of dollars to pull off a pump-and-dump scam in a mid-cap stock and forget about some of the large-cap behemoths.
However, a relatively small group of organized investors can wield significant influence over a microcap penny stock, and all it would take is a few million dollars.
The average investor gets screwed in a pump-and-dump most of the time, but Tim's developed a system for turning the tables on these market mirages.
The Big Short: Shorting Penny Stocks
Pump-and-dump stocks typically skyrocket over a short period and then suddenly collapse into huge losses.
Most of the time, that would result in significant losses for investors, but a well-timed short can put you on the other end of the equation.
More on Tim's Trading Strategy for Penny Stocks
When Timothy Sykes sees a pump-and-dump in progress, he swoops in with a short position right before the bottom falls out.
Sometimes, it can be hard to short sell penny stocks, but Sykes says it's possible if you know where to look.
Shorting pump-and-dumps is just one aspect of Sykes' trading strategy, but it's one of his favorites.
It also produces excellent gains when executed correctly.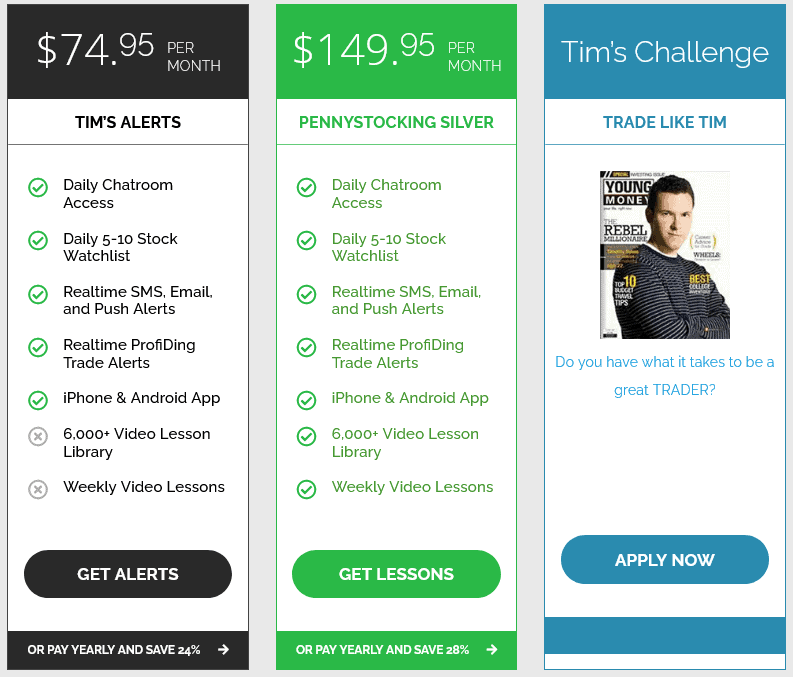 Timothy Sykes Review: Subscription Options
These three items (Tim's Alerts, Pennystocking Silver, Tim's Challenge) represent totally different tiers of service, so we're going to break them down in detail.
Tim's Alerts

: The basic package includes access to Tim's trades and real-time alerts.

The PennyStocking Silver Plan:

Stock picks, alerts, and trader education resources.

Tim Sykes' Millionaire Challenge Program:

Tim's challenge is a premium trader training program — must pass the application process to join.
Our Timothy Sykes review will break down each of these subscriptions.
Tim Alerts Review
This entry-level subscription option gives you access to real-time mobile trade alerts and Tim's latest penny stock picks.
Tim's Alerts offer enough information to help you trade penny stocks more effectively.
Though, it doesn't include access to the extensive video library and trading education resources, like the silver plan.
Each morning at 8 am, subscribers will receive Tim's watchlist of the penny stocks he's keeping his eye on for the day.
Follow-up emails come through during the day within seconds of any trades Tim actually does.
More on Tim's Alerts
These alerts basically offer a play-by-play of Timothy Sykes trading day in more or less real-time, so you can mimic those as you so choose.
If that's not enough, the basic plan also includes access to the Tim Sykes chat room.
It's the perfect place to network with other traders and share trading strategies.
While just following Tim's trades will give you a leg up on the market, it's not the best option for new traders.
If you're a stock-trading novice, you should upgrade to the PennyStocking Silver Plan.
However, if you're an experienced penny stock trader, you can get by just fine if you follow Tim's alerts to save a couple of bucks.
You still get the meat of the service, like trade alerts and watch lists, but you miss out on the video lessons and educational resources.
The included chat room access is also a big plus.
You can still network with Timothy Sykes' vibrant — and rather lively — stock trading community with Tim Alerts.
Most veteran traders will have little use for the video lesson library, though.
Tim's Alerts might be a better fit in this circumstance.
>> Sign up now and turbocharge your gains with Tim Alerts <<
PennyStocking Silver Review
Timothy Sykes offers even more value with the PennyStocking Silver Plan.
It's one of the most popular services from Timothy Sykes.
PennyStocking Silver includes everything that comes with Tim Alerts, plus an impressive selection of trading courses and weekly video lessons.
Because Sykes adds to the video course library every week, there's always something new to learn.
In total, the weekly video lessons library includes more than 6,000 video lessons, and each one can teach you valuable trading secrets to thrive on the penny stock markets.
You also get access to push trade alerts with the silver plan.
The trading education resources make PennyStocking Silver an excellent option for new traders.
The included real-time alerts and trading recommendations give you the information you need to navigate the market, and the trading course shows penny stock traders how to execute on that knowledge.
Also, PennyStocking Silver is the perfect place to start for new traders if you are interested in shorting penny stocks like Tim's millionaire students.
Its video lessons and trading course make it an ideal option for beginners, and you still get trade alerts and access to the trading chat rooms.
Timothy Sykes Millionaire Challenge Review
This Millionaire Challenge goes well beyond the other trading courses.
It's Tim Sykes' premium stock-trading course, and it includes direct access to penny stock guru, so you can learn to make more money trading penny stocks.
You can think of Tim's challenge as the military boot camp of trading courses.
This program provides everything you would expect from a professional-grade educational institution.
You'll get close access to Timothy Sykes, including regular rap sessions with other students, instructors, and assignments — including homework! — and much more.
It's the best way to get acclimated to the trading game in the shortest time possible.
Tim's teaching style is uniquely well-suited to new traders.
He provides clear instructions and explains advanced topics in layman's terms.
The program will teach you how to perform technical analysis, make better trading decisions, introduce you to the best trading platforms, and much more.
Remember, Tim has more millionaire students than anyone else, and the millionaire challenge is a big reason for that distinction.
If you want to join the Tim Sykes Millionaire Challenge, you're going to have to put in some work.
There's a rigorous application process, and Timothy Sykes reviews each applicant personally.
If Sykes doesn't think you're committed to the course, you won't get in; so make sure you bring your A-game if you really want to get into this exclusive program and learn to dominate the financial markets.
>> Start trading your way to financial independence with Tim Sykes <<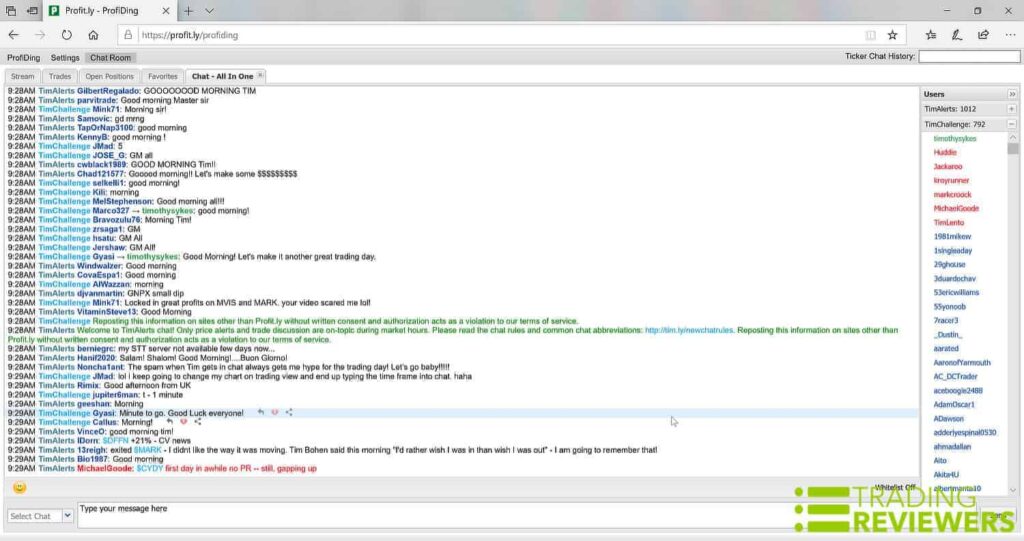 Timothy Sykes Review: Chat Room
The trading chat room is included with all three subscription tiers, but it's worth mentioning in its own category because of the tremendous amount of value it provides.
Tim's chat rooms are the perfect place to network with others in the day trading community to discuss the latest market moves, emerging opportunities, and more.
This day trading community is light-years ahead of the novices you find in trading groups on Facebook, Twitter, and Reddit.
Every trader in the chat room is serious enough about their craft to shell out their hard-earned cash for a Tim Sykes subscription, so they're usually engaged with the community and committed to sharpening their trading skills.
Most traders are very supportive of each other, and you will often get as much help as you need by simply asking for it — no online trading trolls here.
The chat room is the perfect place to air your latest trading decisions, discuss technical analysis, discover hot penny stocks, and more.
It's a high-value addition to the service.
>> Get instant access to Tim's trading chat room here <<
Timothy Sykes' DVD Library
Timothy Sykes' DVD library isn't just an extra perk, it's essential learning. You get to pick from a bunch of DVDs, so go for the topics that interest you the most.
Some of Tim's DVDs can get a little pricey. But Tim sometimes offers discounts that substantially reduce the cost.
You'll appreciate these in-depth dives into Tim's strategies. You even get case studies from his top students to show you how it's done in the real world.
If you're curious about penny stocks, you can't go wrong with PennyStocking. And if you're all about big gains, Spikeability is your jam.
Tim's also teamed up with other trading wizards like Tim Grittani and Michael Goode. So you're not just getting one perspective; you're getting a whole panel of experts.
New to trading? Start with PennyStocking, PennyStocking Part Deux, and How to Make Millions. The last one even comes with a decent discount most of the time.
Regardless of your experience level, you're sure to find something of interest in Tim's DVD library. You'll discover insights that could lead you to game-changing results.
When you invest in resources like these, you're essentially investing in yourself, and you usually get your money's worth with Tim Sykes.
Tim Sykes Review: Service Costs
As you can see, you get a lot of value when you roll with Tim Sykes, but just how much does all this trading content cost?
Tim Alerts
The entry-level package goes for $74–95 per month.
It includes real-time access to Tim's trading decisions, trade alerts, chatroom access, and more.
However, you can't access the trader training library or Tim's weekly training sessions with this option.
At just $74–95 per month, Tim's Alerts is an excellent deal.
However, it might not be the best option for beginners because it lacks the educational component of the other plans.
PennyStocking Silver
The second-tier penny stock plan is one of the most popular options for beginners.
It includes all of the features that come with Tim's Alerts, plus a robust selection of educational resources for traders.
At $149.95 per month, PennyStocking Silver costs about twice as much as an entry-level subscription.
However, it includes access to more than 6,000 training videos, and Tim posts a new class every week.
This service is the ultimate package for any beginner, but it's also an excellent value for any seasoned veteran looking to improve their trading skills.
With PennyStocking Silver, the alerts give you the real-time intel to capitalize on market opportunities, and the video lessons give you the skills you need to put that intel to work.
It's a complete trading arsenal.
Tim's Millionaire Challenge
Tim doesn't even list a price for his exclusive tutoring service.
You have to submit your email and fill out an application to get more information.
Timothy Sykes Review: Pros and Cons
Tim's service has several positive points, but it's not all sunshine and rainbows.
Here are the pros and cons of the service:
Timothy Sykes Pros
Provides excellent insights into the hottest penny stocks

Follow Tim's trades in real-time to learn from his successes and failures — this is especially useful if you want to learn how to use stock charts

PennyStocking Silver includes access to a vast catalog of trading video lessons and courses

Network with like-minded traders through the Tim Sykes chatroom

Stay in the loop from anywhere with mobile apps for Android and iOS

Never miss trade opportunities with mobile alerts via SMS, email, and push notifications

Subscribers get a daily watchlist with the day's top penny stocks to trade

Excellent option for leads on day trader stocks

Reasonably price in comparison to competing products

Tim has a user-friendly teaching style, and most students pick up on techniques quickly

Includes strategies for short plays and penny stocks
>> Click here to access these benefits now <<
Timothy Sykes Cons
Limited focus. Doesn't cover large caps or other popular investments because Tim focuses on mostly penny stocks

Short strategies aren't available on every trading platform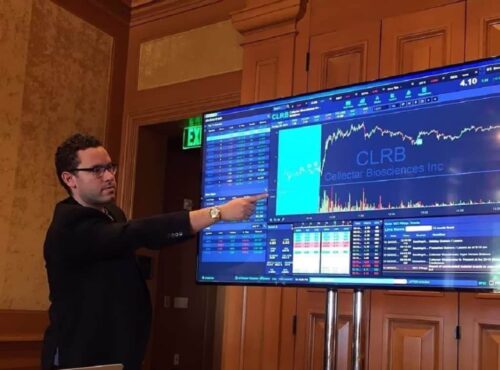 Who Is a Timothy Sykes Subscription For?
Tim's service has an extensive appeal because it's an excellent option for anyone who wants to make money in stocks (Translation: EVERYONE!).
However, it's particularly well suited to these types of individuals:
Penny stock traders

Day traders

Active investors

Swing traders

Stock market beginners

Veteran traders looking for better opportunities

Small-budget investors with less than $5 million in assets

Short-sellers and contrarians

Momentum traders

Retail traders
This list only represents some of the most obvious examples, so don't fret if you don't fit into it.
Tim Sykes' services are an excellent option for almost anyone, so it's worth giving it a shot.
Timothy Sykes Reviews from Subscribers:
Don't just take our word for it— here are some reviews of actual users of Tim Sykes' services.
Boy whatta great day for buying….. with my sucess of HYHY that put me up $300 because of the wonderful TIMalerts! During the afternoon i'd become lazy, watchin a few stocks, mainly giving up until i checked my mail and saw Tims email about TGC, im not big on oil and gas play but ahhh wat the hell. I got in TGC at $1.75 buying 1000 shares.. im holding till the morning, hopefully this gets pumped some more…. THANKS TO TIM ALERTS IM UP $400! THANKS TIM!!!

– Andy
Another Timothy Sykes review reads:
Just one day into TIMalerts, my $350 gains from shorting and covering STXX today paid for an entire year of TIMalerts and like Tim I even screwed up my trade! I started with about 4300 and that is now 9K and that really has happened in about 3 months. Not Tony Ellis or Jeff Moates money, but for a 21 y/o its not bad. I'm even getting a job on top of school to help me get to 25K quicker so we can really profit freely.

– Davey
Timothy Sykes Review: Final Thoughts
Timothy Sykes is the real deal.
He's been making money in the market since he was a college kid, and he's mastered his strategy and penny stock trading over the past two decades.
His simple trading system can help almost anyone make money.
If you're new to trading, this service is a perfect fit, as the video lessons can quickly fill you in on how Tim trades to beat the market.
It provides the training, background, and knowledge you need to take on the market with confidence.
You could be making consistent trading profits in a relatively short time if you commit to following the program.
Tim Is a Trader You Can Trust
In conclusion, Timothy Sykes is a trustworthy guru, and he's helped thousands of people build long-lasting wealth through the stock market.
Odds are he can teach you too, but it's up to you to put in the hours and make it work.
If you want to test yourself, you can always try taking Tim's challenge.
One thing's for sure, with Tim Sykes services, you have all the tools you need to achieve long-term trading success.
That's it for our Tim Sykes review, click here to start trading with Tim now!