Tradervue is a trading journal designed to help improve your investment performance. But does its comprehensive suite of research features deliver the goods? Read our Tradervue review to find out.

Tradervue Review: Overview
Tradervue is a trading journal that lets you view and analyze trades from their preferred trading platforms. It was founded by Greg Reinacker in 2011 out of Denver, Colorado.
Tradervue boasts a range of features that make tracking your trades simple — all while letting you connect with a network of like-minded traders.
It integrates extensive social media elements into its platform, which provides a unique community-centered experience that few of its ilk offer.
Some of its main features include:
Reports

Charting

Trade comparison

Trading community

Trade sharing

And much more
You can use Tradervue to track financial instruments that include stocks, options, futures, and forex. While some of its tools are on the complex side, there are plenty of resources available to teach new users the ropes, including a free webinar.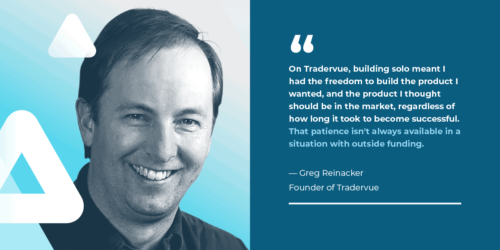 Who Is Tradervue's Founder, Greg Reinacker?
Greg Reinacker has always been a tech-savvy individual.
His background includes time spent doing technical consulting work where he helped develop tools like the weblog and RSS arenas. He founded his first big company, NewsGator, back in 2004, which has since developed into a multinational organization.
Upon exiting NewsGator in 2010, Greg founded Tradervue and built the platform to host over 100,000 users.
Tradervue Review: How Does It Work?
Tradervue functions on par with other journaling software on the market. You can import trades, create charts, filter stocks, and much more.
These are advanced analytics tools that many would consider the industry standard. However, where the platform really stands out is its accessibility and community features.
The site also functions as a social media platform. Tradervue users can share trades with the online community to get feedback on potential investments.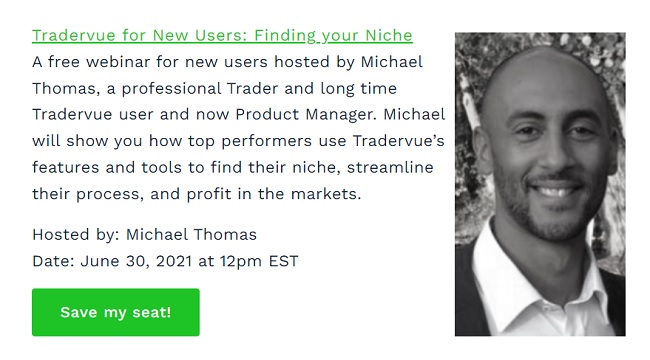 Tradervue Free Webinar
The trading journal platform currently offers a free webinar called "Tradervue for New Users: Finding Your Niche".
It is hosted by Michael Thomas, a long-time Tradervue customer who now works on staff as a project manager.
In the webinar, Michael takes prospective users through Tradervue's features and tools, explaining how experts use them to excel in trading.
Is Tradervue Private?
Tradervue puts privacy first and allows you to choose what trades you want to share with the community. You don't need to share any information or positions you don't want to, and your trades are private by default.
This is great if you want to keep your cards close to your chest while checking out other traders' positions.
How Do You Delete a Tradervue Trade?
If you end up with trades that you no longer want to keep in your journal, you can easily remove them.
On the trade detail page, locate the "Advanced" link on the right side of the screen above the list of executions. Once there, click "Delete Trade" to remove the trade from your journal.
There's no way to undo a deletion of any trades. If you want to put the trade data back into your account, you'll have to import it again.

Does Tradervue Work with TD Ameritrade?
This journaling platform allows you to automatically import trades with TD Ameritrade and many other online brokers — more on that later.
>> Already sold on Tradervue? Click here to get started with the trading journal today! <<
Tradervue Review: What's Included?
Trading journal

Analysis

Sharing community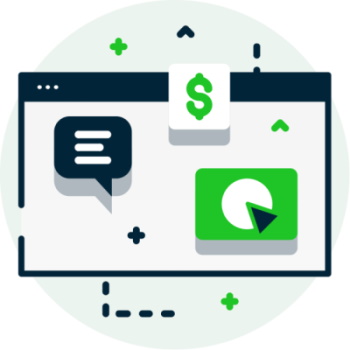 Tradervue Trading Journal
Tradervue's trading journal will be your one-stop shop for importing and tracking your trade performance. There are quite a few features on offer, so we'll break them down into sections.
Keep reading to learn more.
Importing Trades (Broker Integration)
Importing trades with Tradervue is surprisingly simple. You can automatically import trading information directly from a trading platform, broker, or an Excel or text file.
If you have a broker that isn't supported by Tradervue, you can manually import data.
Some supported brokers are:
TD Ameritrade

Robinhood

Webull

REDIPlus

CQG QTrader

And much more
The automated trade import is a fantastic feature that allows you to effortlessly track your trading history. Both new and experienced traders can get a lot out of it.

Trading Tags and Notes
To make tracking your trades even easier, Tradervue allows you to tag your trades. Additionally, tags can be used to pull up data at any time to see how a trade is doing at a glance.
This is an exceptionally useful feature, as investors using multiple trading services can effortlessly jump back and forth between platforms. You can also leave notes on trades to keep track of your thought process.
Filters
Traders can filter trade data by symbol, side, duration, date range, or by any trade notes or tags previously created. The filtered data can then be viewed in either the trading journal or as a report.
The real draw here is that Tradervue's intuitive filters are much more streamlined than most other platforms of its kind.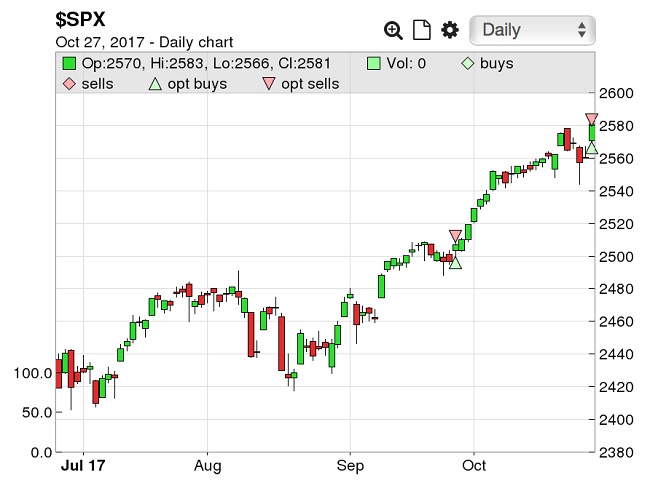 Price Charts
As soon as you enter in a trade, Tradervue will pull up automatic price charts. You can see current data on the stock as well as historical performance.
Traders can also look at the same chart studies that they used during a trading day for further analysis to improve future trade performance.
If you sign up for the Silver or Gold plan, you get access to profit and loss charts as well. These P&L charts are especially helpful to keep tabs on intraday trades.
Multi-Currency Data
A trader can use this feature to calculate statistics and perform analysis in both their native currency and the base currency (USD).
You can also use the platform to calculate P&L data for a range of currencies traded.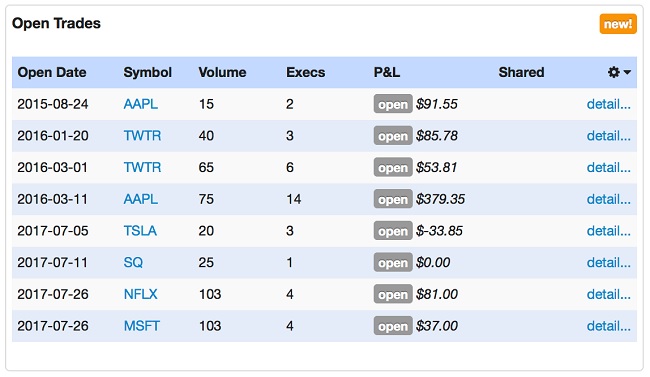 Dashboard
Tradervue's dashboard provides you with a summary of the day, as well as a recap of the prior week's trading performance (last five days).
You can also keep track of activity on your recent shared trades and see trades that have been shared by other users trading the same instruments.
Commission and Fees
This feature of the Tradervue trading journal tracks the commission and fees from the trades you execute.
The data is automatically imported from your linked broker, so you won't need to lift a finger to access it.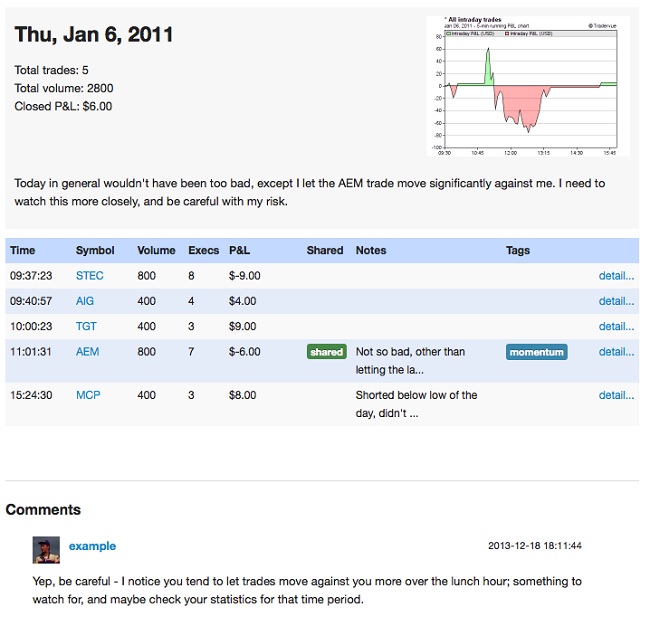 Coaching Mentoring
Tradervue allows you to share your trade data with a coach or mentor so they can better help support your growth into a successful trader.
It's important to note that the platform does not set you up with a coach. Rather, you can use it to communicate with a coach you've selected.
Running P&L Charts
The trading platform allows you to run charts that display a trade's profit and loss over time.
These charts are especially useful for intraday trading, as you can use them to track their running combined profit and loss for the entire trading day.
Analysis Feature
What would a trading journal platform be without the ability to run reports?
These analysis tools will help take your trading strategy up a notch.
It is worth pointing out that many of these report options are only available with Silver and Gold plans.
Overview Reports
With just a click, Tradervue automatically generates a report based on the recent performance of stock data in the trade journal.
This includes daily and cumulative P&L, win %, and volume to search for trends.
Data can be viewed by day, month, or even year.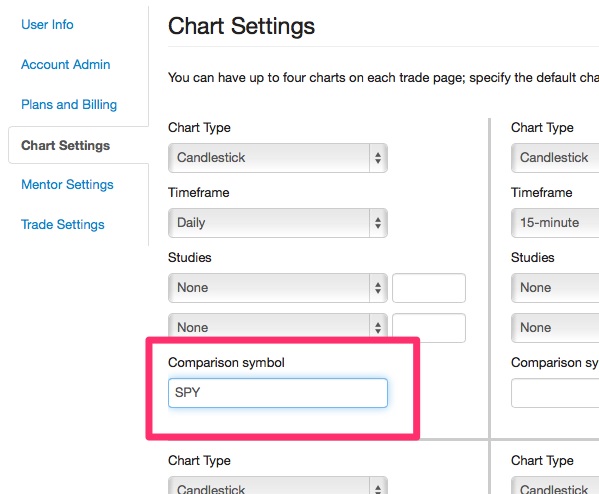 Comparison Reports
A trader can use comparison reports to see data side by side in any way they desire.
You can see how trades are doing this month versus last month, look at winning days against losing days, or simply compare two sets of trades to see how they stack up.
Tick-Based Reports
This report allows users trading futures to check returns in USD or ticks.
You can also use this feature if you're trading multiple instruments at once.
Liquidity Reports
With this feature, Tradervue allows you to analyze trading data based on liquidity.
Liquidity reports can even be broken up by entry and exit points.
Risk Analysis Reports
Risk Analysis lets you see data regarding risk performance on trades.
Reports can be run by dollar value or dollar increment.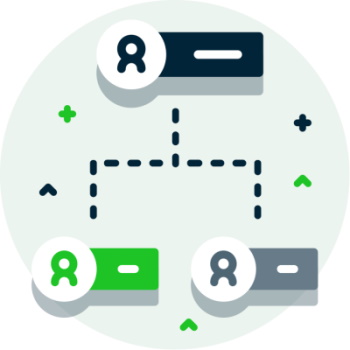 Sharing Community
The sharing community feature is effectively Tradervue's social media platform. This is the place to share trades with the day trading community and get trading tips from others.
You can give and receive feedback from the community about potential trades to help mold you into a more effective trader.
No information appears on the social media platform without your permission.
>> Like all that Tradervue has to offer? Click here to sign up today! <<
Is Tradervue Legit?
Tradervue is a legit trade journaling platform that offers a unique blend of powerful analysis tools as well as social media elements.
It's everything you'd expect from a trade journal and much more.
If you're looking to beef up your trading strategies, Tradervue has a lot to offer.
Tradervue Review: Pros and Cons
Tradervue has some powerful tools at its disposal that can help take your trades to the next level, but there are a few negatives to be aware of.
Here are the pros and cons of the service:
Pros
Powerful journaling software loaded with features

Effortlessly track trading history and P&L

Learn from successful traders through trading community

Free version and trial available

Access to data-rich reports

Unlimited trade entries with Gold and Silver plans
Cons
The free version is rather limited

Lack of customization in charts
Tradervue Reviews by Members
Unfortunately, we couldn't find reviews on Trustpilot or Better Business Bureau.
However, many reviews from other reviewers give Tradervue a 4/5 rating.
We'll keep you updated when we find more reviews. For now, we can say that we're impressed with the service.
Tradervue Review: How Much Does Tradervue Cost?
Tradervue has a Basic Plan with basic features to get traders up and running quickly. The Silver and Gold Tiers offer some advanced reports for analysis as well as tools to help boost your trading performance.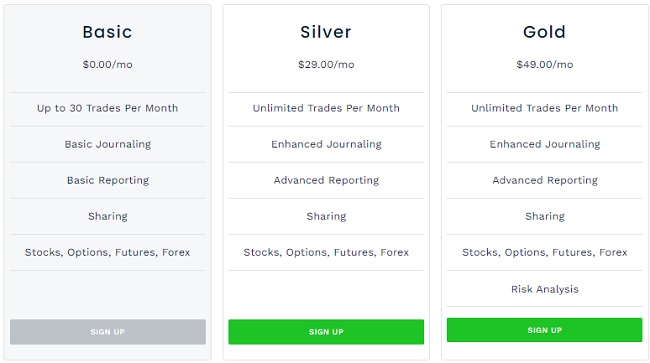 Basic Plan ($0/mo) – Traders can post up to 100 stock trades per month. If the Free Plan isn't enough, paid plans are also available.
Silver Plan ($29/mo) – Features over 100 advanced reports and can be used with stocks, options, futures, and Forex in the enhanced journal.
Gold Plan ($49/mo) – Above all the tools that the Silver Plan offers, the Gold Plan adds risk analysis reports, exit analysis reports, commissions and fee support, and liquidity reports.
How Do I Cancel My Tradervue Account?
Tradervue offers a 7-day free trial for all paid tiers so you can see if the service is right for you. Canceling during that trial incurs no penalty.
If you cancel after the free trial is over, the Tradervue platform will immediately bump your account back down to the free tier and credit your account for the unused portion of the subscription.
This credit can only be used for a future Tradervue subscription and cannot be redeemed for cash.
>> Ready to get started with Tradervue? Click here to sign up for an account NOW! <<
Is Tradervue Right for Me?
Tradervue is a great journaling tool with a free entry point that makes it more accessible to a variety of traders.
It's easy to start up. But once inside, inexperienced users might get a little lost in all the software. However, the free webinar and educational content help clear up some initial confusion.
Tradervue doesn't tell you what to do; it just gives you the means to figure it out on your own. Advanced traders will not be wowed by the free tier, but the features in the Silver and Gold tiers should be enough to keep them happily crunching data.
Everyone may be able to benefit from the social media feature of Tradervue to share thoughts and get ideas from other traders.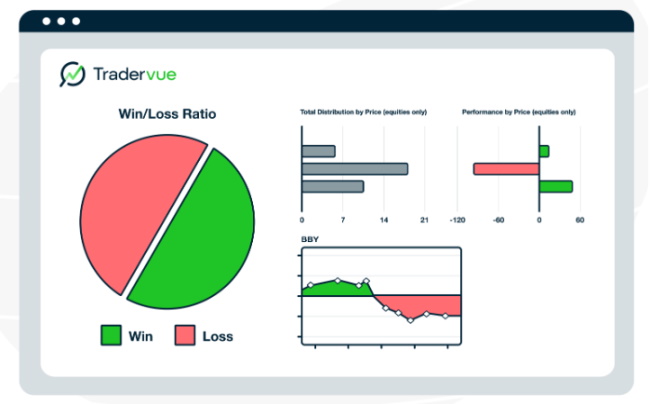 Tradervue Review: Is It Worth It?
Tradervue is an excellent journal with a ton of features that come at a great price. You can build on existing trading methodologies or explore new perspectives with the tools offered.
The sharing community is where this trade journal really shines, as you can learn a lot from interacting with other traders. Also, its journaling software is much more affordable than many of its competitors. Some services cost upwards of $100 a month to journal trades.
So if you're in the market for a blend of affordable pricing, social elements, and industry-standard journaling features, you might want to put Tradervue on your shortlist.
It's definitely a top contender for active traders looking to gather trade insights from a robust investing community.
>> Ready to become a Tradervue member and analyze all your trades in one place? Click here to sign up today! <<