TradeStops is a game-changing suite of investment tools that could take your portfolio to another level. We're giving this TradeSmith service a full inspection in our TradeStops review, so keep reading to find out if it can really help you master the market.
What Is TradeStops?
TradeStops is a portfolio management platform with an arsenal of cutting-edge research tools and analysis resources.
The browser-based platform features a suite of powerful trading tools that can help investors make better decisions and improve trade outcomes.
Members can access a wide array of powerful portfolio management tools through TradeStops, including an intuitive alerts system, portfolio rebalancing tools, basic risk management metrics, and mtruch more.
Users can automatically sync their brokerage account to the TradeStops platform seamlessly and securely to track portfolio performance.
It's a complete portfolio management solution that gives you all the research tools you need to confidently take on the stock market at an affordable price.
We're going to take a deep dive into everything this platform has to offer in our TradeStops review.
But first, who is behind this cutting-edge service?
> Get started with TradeStops here <<
TradeSmith Review
TradeSmith is the company behind the TradeStops trading platform and several other services.
The Baltimore, Maryland-based company began as a simple way to track investment portfolios with trailing stops, but it has since grown to incorporate a wide range of key features like risk management tools, portfolio analysis tools and more.
Its tools can help investors sharpen their wealth creation skills, optimize their investment strategy, and get the most out of the market.
TradeSmith products include:
Ideas by TradeSmith

Crypto by TradeSmith

Trade360

TradeSmith CoPilot

TradeSmith Decoder
Each service focuses on different aspects of the stock market, but they all offer high-quality research tools and analysis at an affordable price.
There are plenty of TradeSmith reviews online that give high praise to this company.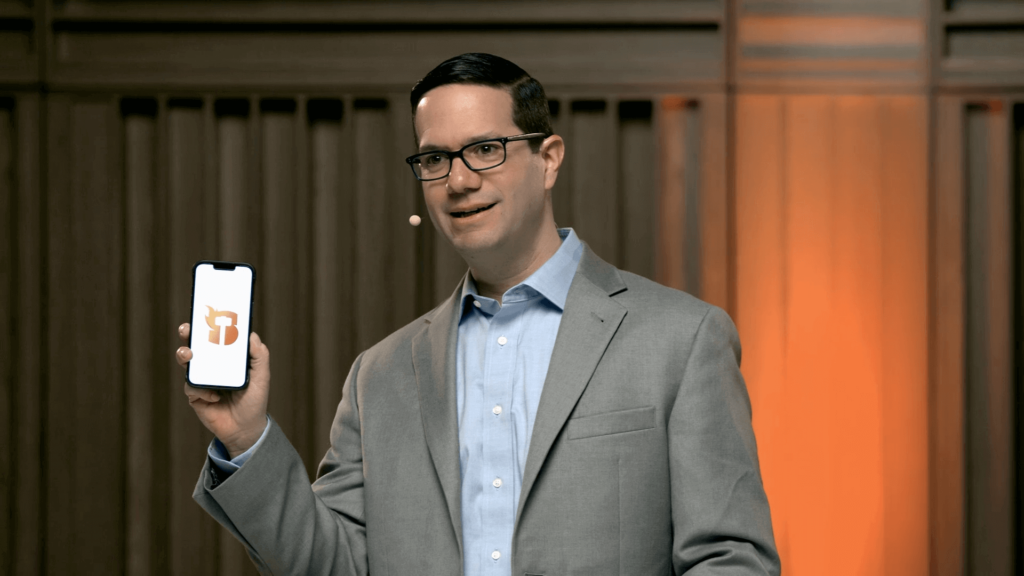 Can TradeStops Solve Investors' #1 Problem?
Let's face it – most of us could be better at knowing when to buy and sell stocks. We tend to get in too late, hold for too long, and toss the good ones way before they've reached their peak.
This is precisely why Keith Kaplan is showing you TradeStops. He spent more than six years perfecting his signature app, and he wants you to have it.
It's already well-past concept phase. Kaplan's extensive backtesting shows the average person would have saved $97,347 just by using the app.
How's that even possible? To understand that, we need to look at how the program works.
>> Sign up for TradeStops now <<

How Does TradeStops Work?
TradeStops isn't some arbitrary system telling you which stocks to buy. It actually connects with your portfolio and gives buy and sell alerts for every stock you own.
At its core, TradeStops is an early warning system for your investments. It uses a complicated series of equations to let you know the standing of your assets in mere moments.
The software is undoubtedly complex, but Kaplan couldn't have made the app any easier. Every stock in your portfolio is represented by a green, red, or yellow health indicator. Buy, sell, or hold.
TradeStops be able to go even further. Additional features help you create a balanced portfolio free from bloat in one or more sectors. This way you're not taking on more risk than you should.
This is great in theory, but does Kaplan's platform actually work? Let's take a look.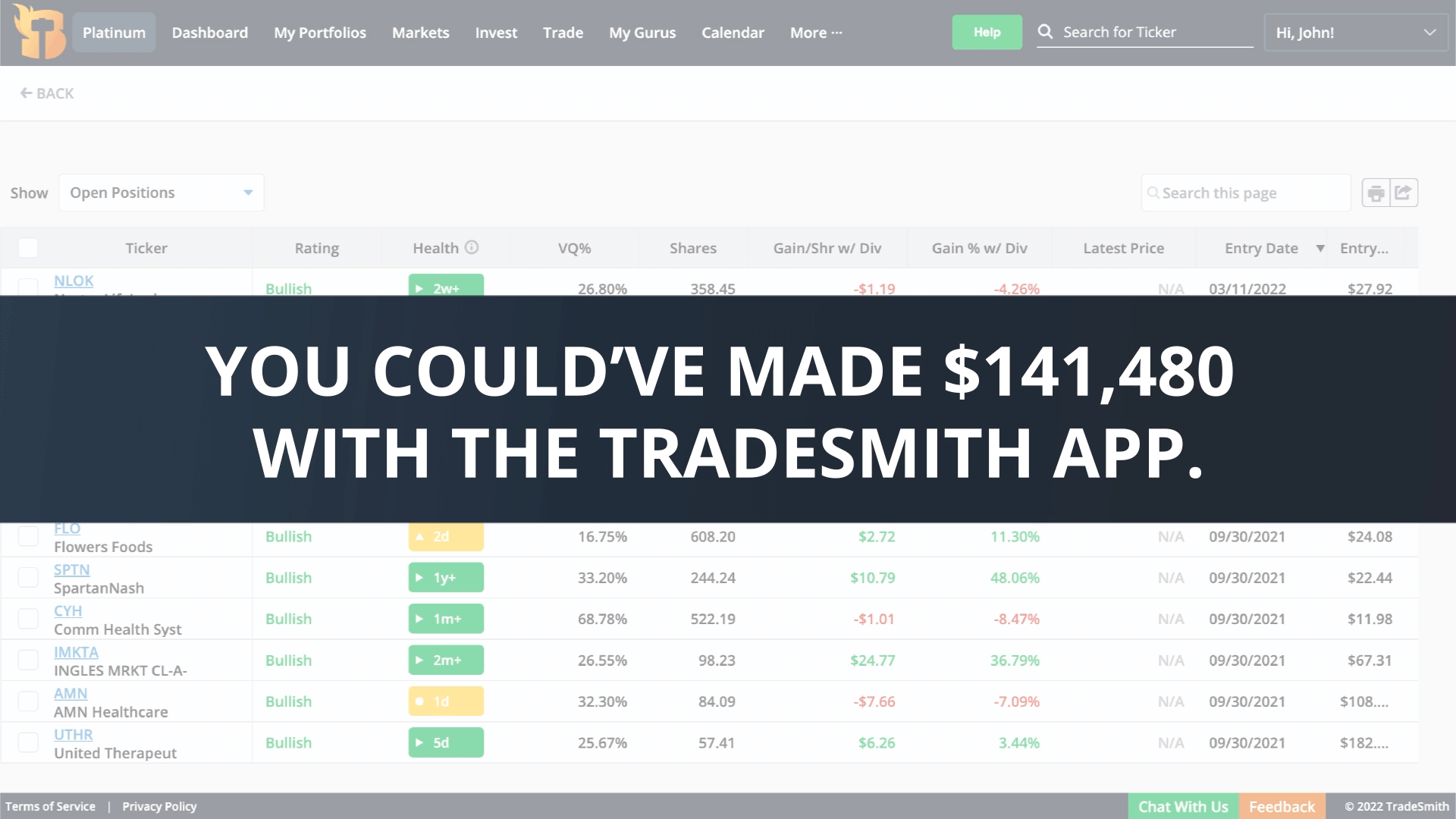 Is The TradeSmith App Legit?
The TradeSmith app featured as part of TradeStops went through rigorous testing before Kaplan felt it was ready for release.
The app flagged retail giant JC Penney in 2017 during a backtest. This was shortly before the company's stock crashed to almost nothing over the next few years. Folks choosing to hold onto shares were met with more and more disappointment as the stock never recovered.
It's been just as successful in identifying huge profits as well. Backtesting data pegged both Novamax and Plug Power as wins in 2020. Each stock ended up with quadruple-digit gains.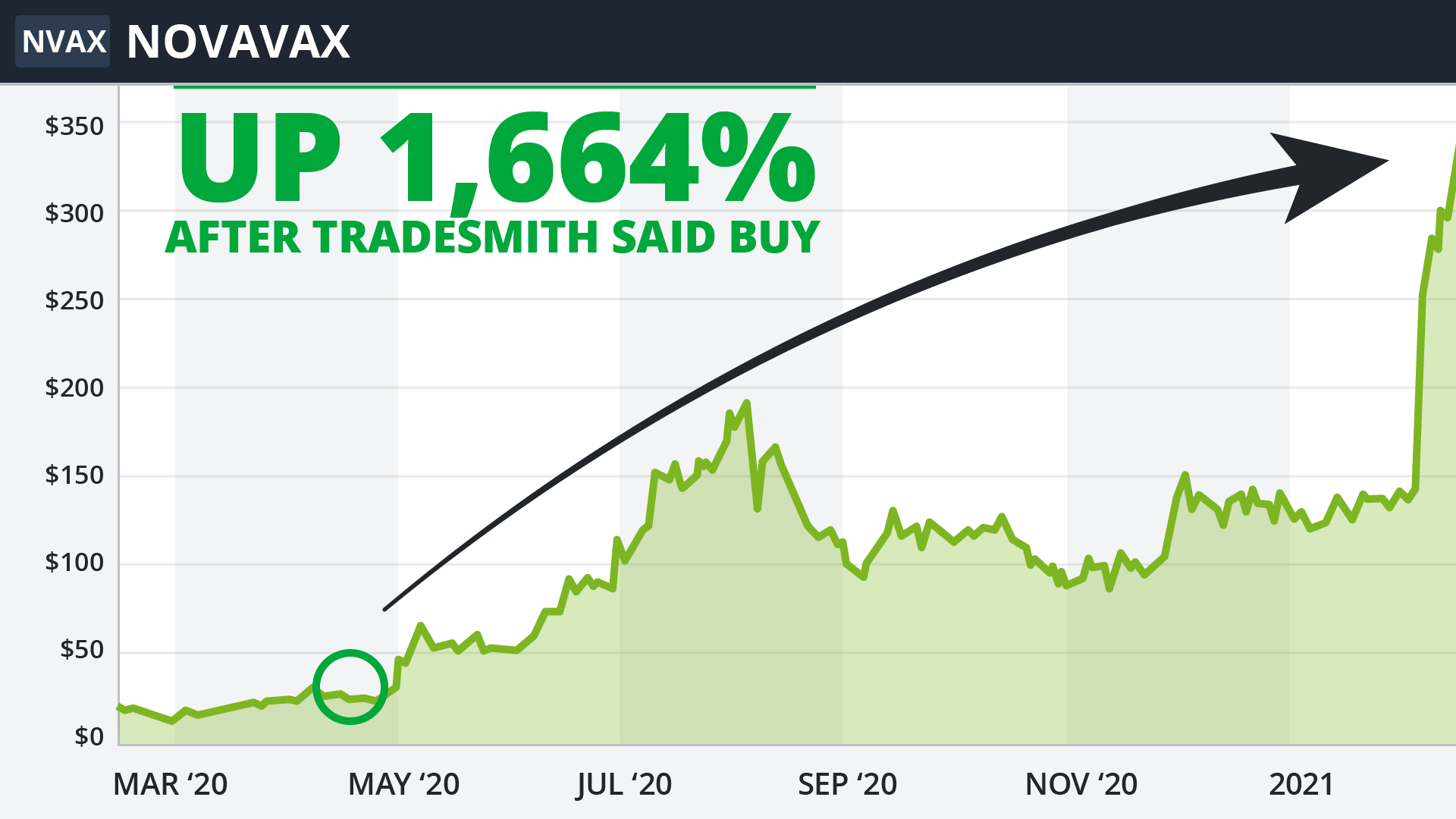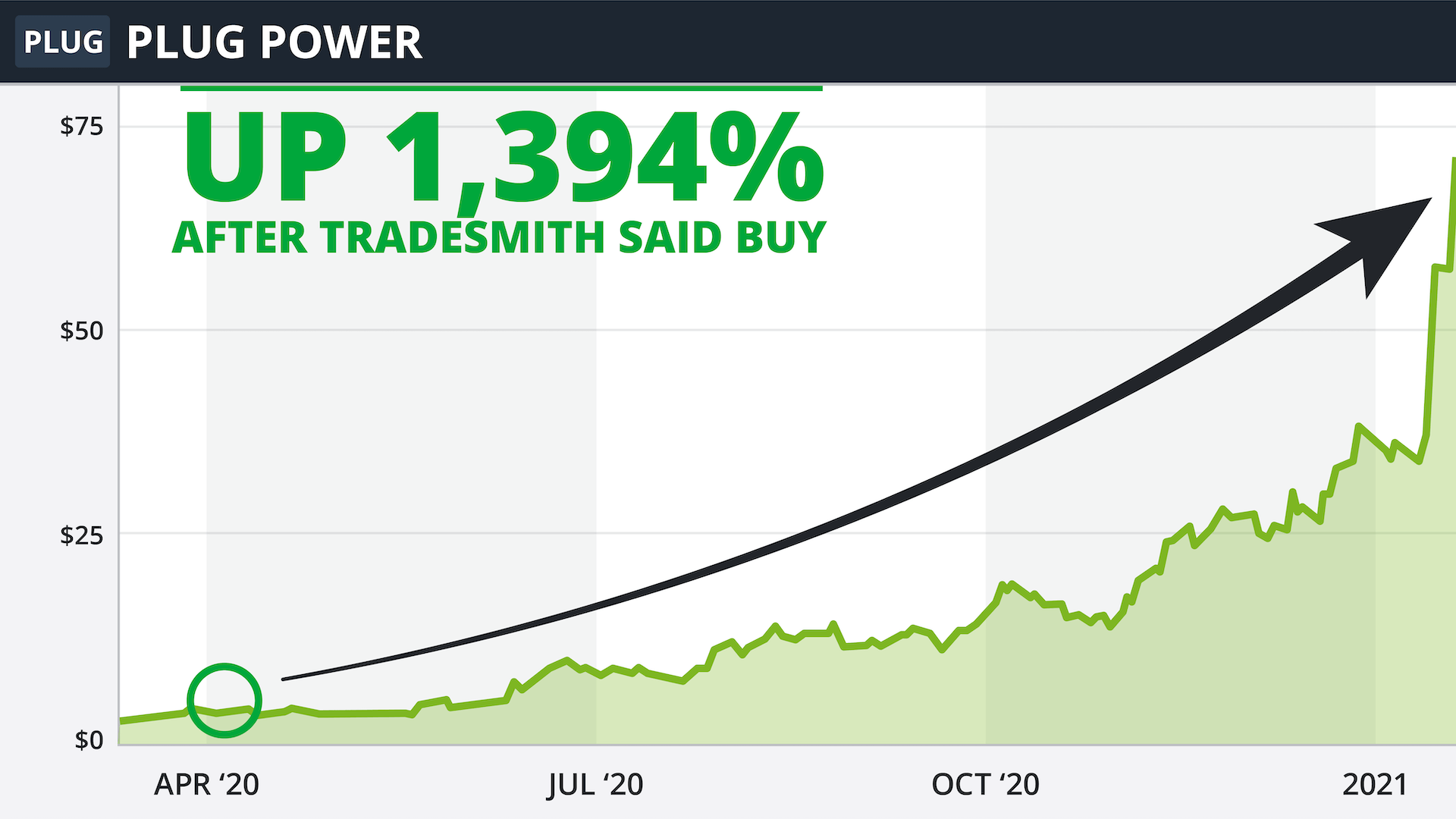 These are just a few highlights of the app's impressive performance so far. Sure, nothing comes with a 100% guarantee with investing, but this software comes close.
Read on as we dive deep into the top TradeStops features that make this package stand out.
>> Join TradeStops to access cutting-edge insights like these <<
TradeSmith's TradeStops Review: Best Features
Next, I'll walk you through the service's most noteworthy features in my TradeStops review.
Risk-Based VQ Ratings
TradeStops utilizes numerous technical indicators, but its proprietary rating system for measuring risk and market volatility is the foundational cornerstone for all other tools it has to offer.
What Is a Stock's VQ?
TradeSmith succinctly states that the "Volatility Quotient (VQ/Risk) indicates how volatile an investment is based on at least one year's historic price action."
It's proven to be a highly effective technical analysis metric since its inception, which is why TradeStops integrates a VQ calculator within its platform in the form of VQ ratings.
TradeStops offers a Volatility Quotient rating on 51,000 stocks.
That's a massive pool of stocks considering the NYSE and Nasdaq exchanges only have 6,000 companies between them.
Portfolio VQ ratings are even available for alternative assets like mutual funds and penny stocks.
TradeStops' VQ ratings have become a major draw for TradeStops since its inception, and it's an excellent tool for anyone looking to actively manage one or more portfolios.
While some of TradeStops competitors may have similar features, none really come close to offering the same volume of stocks.
Each VQ rating is updated automatically every single weekend.
The essential analytics ratings change based on the latest market data for each stock, taking into account recent headlines, price movements, and other potential indicators of high volatility.
The Volatility Quotient is simple and straightforward.
It can help you vet your stock ideas more efficiently and give you a full understanding of the potential market volatility risks before you enter any buy and sell orders.
>> Get VQ ratings on 51,000 stocks when you join TradeStops <<
Health Status Indicators
As we've seen countless times in the past, all that glitters isn't gold, and the market is no exception to this sage investment advice.
A company's current price doesn't reflect the underlying value of its business.
In many cases, it's the underlying value of the company's business that matters.
TradeStops' health status indicators analyze stocks from top to bottom, taking into account all the variables to determine whether the stock is a buy or sell.
The ratings allow users to sort stocks according to their risk tolerance.
You can quickly see which stocks are low risk, medium risk, and higher risk based on the stock state indicator.
Yes, it's really that simple.
The tool uses proprietary algorithms to determine the rating for each stock, and simply rates it as a 'buy' or "sell".
You can quickly determine each ticker's status with the Health Status Indicator.
If the stock is a buy, the Health Status indicator will show green.
Conversely, sell-rated stocks show as red.
TradeStops' health status indicators can lead you to dozens of potentially profitable stocks over your subscription.
It's a valuable addition to TradeStops' core tracking features.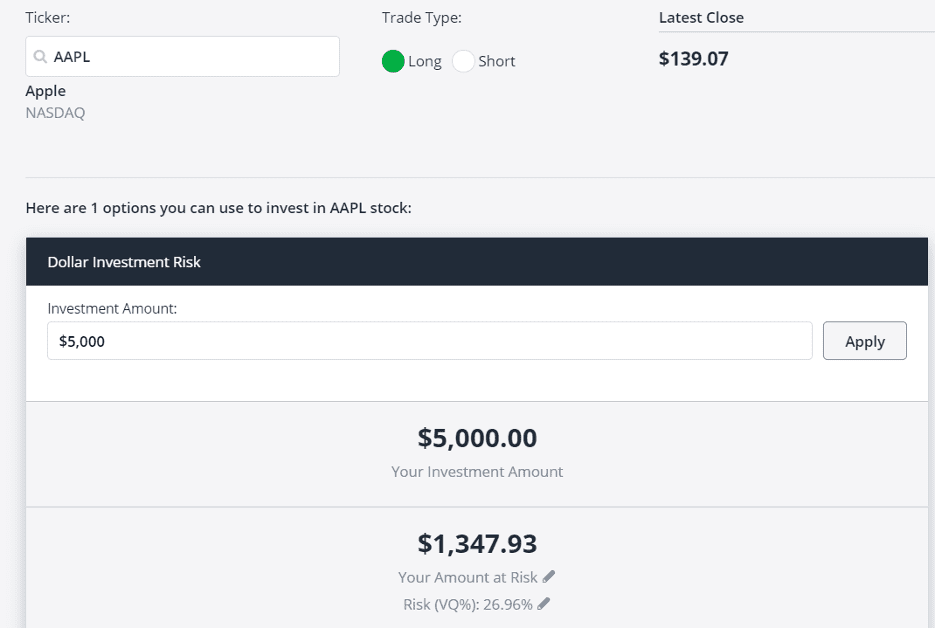 Position Size Calculator
We briefly touched on this feature before, but it deserves a more extensive review.
The Position Size Calculator automatically calculates a percentage value showing how much you should allocate towards a stock based on equal risk against the other stocks in your portfolio.
The calculator uses TradeStops' VQ ratings to determine asset allocation suggestions that will allow you to take equal risk in a new position when compared with other positions in that same portfolio.
You can also use the calculator to determine the ideal asset allocation for a new position based on multiple portfolios, so the potential benefits could be enormous.
Long-term investors will especially appreciate this TradeStops feature.
Over time, this strategic asset allocation tool could make a huge difference.
Asset Allocation and Risk Rebalancer
That old adage to not put all your eggs in one basket speaks volumes in investing. The TradeStops asset allocator pores through your portfolio and identifies sectors where you're looking a little fat.
Next, the risk rebalancer steps in to show you how to smooth your investments out a bit. You'll get recommendations on where to cut loose some risk and spread it out over other areas.
A well-balanced portfolio goes a long way toward avoiding market pitfalls and bringing in big returns.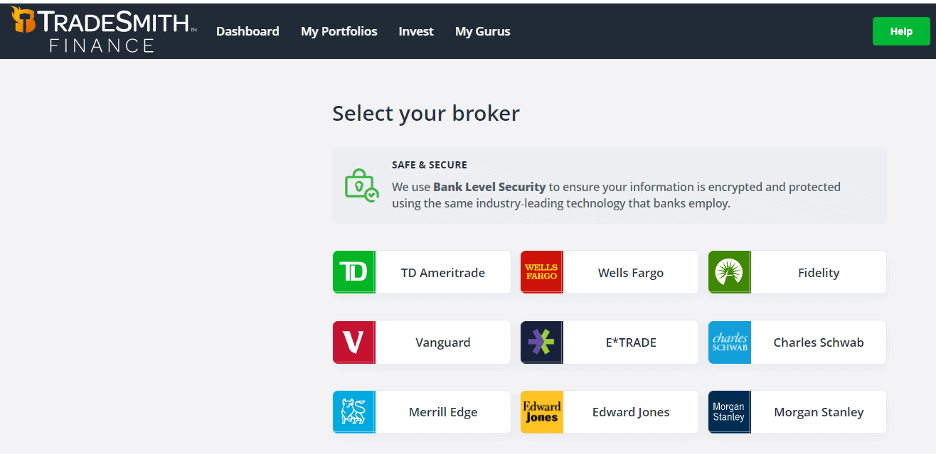 Brokerage Integration
TradeStops makes it easy to manage your portfolio directly through the platform.
The software directly integrates with most brokerage accounts.
Once you connect your portfolio with TradeStops, you can take advantage of even more valuable tools, including the Position Size Calculator, Asset Allocation tool, Risk Rebalancer tool, and more.
Broker integration makes TradeStops a full-featured trading machine with all the fuctionality you need for more intuitive trading and portfolio management.
These tools represent many of TradeStops' core-tracking features, so you should take advantage of broker integration to get the most out of the platform.
However, you can also use a manually imported data set to sync your portfolio if you're not comfortable with directly integrating it.
>> Get started with TradeStops here <<
Newsletter Integration
If you're a member of a research service, odds are you can easily integrate the service with your TradeStops account using the platform's groundbreaking newsletter integration feature.
All you have to do is select the newsletter integration option from the TradeStops menu and select "access my newsletters." From there, you simply log in just like you would through the login page on your research provider's website.
Once you've successfully linked your account, you can monitor the latest research from your newsletter service directly through TradeStops.
You can even access the latest model portfolio, newsletter issues, and more.
If you have multiple newsletter subscriptions, this feature is a godsend.
It organizes all the spread-out research into one centralized location for easier access and more streamlined insights.
When combined with broker integration, newsletter integration makes TradeStops your one-stop solution for all your research needs.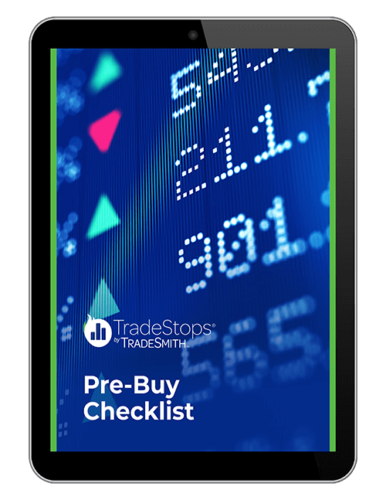 The Pre-Buy Checklist
Good news! You don't have to be some tech wizard or financial mastermind to use TradeStops Premium. The Pre-Buy Checklist has your back.
This cool little guide contains everything you need to get started on your journey with this software package. Best of all, it's written in plain English. There's no tech jargon or heavy investment terms to leave you scratching your head.
It's not a cumbersome guide either. You can be up and running in mere minutes thanks to the tips and tricks you'll find inside.

Premium Alerts
TradeStops' advanced alerts make it easy to build a custom alert program based on extremely specific criteria of your choice.
You can set alerts to notify you whenever it's time to exit or enter a position based on a wide variety of technical and fundamental analysis metrics.
Alerts can also trigger based on price targets and other stock-tracking criteria, so you will always be notified when something needs your attention.
You can even use it to notify you of potential entry signals, so you never miss an emerging opportunity.
TradeStops' premium alerts keep you informed so you can go about your day without worrying about the market.
>> Never miss an opportunity with TradeStops' custom alerts. Join now. <<
TradeSmith Instructional Videos
TradeSmith provides everything you need to succeed with its software, including detailed video tutorials and access to TradeStops experts.
When you join, you get access to a complete collection of video walkthroughs explaining every aspect of the TradeStops platform, so you can get acclimated and start investing quickly.
If you need additional assistance, you can also schedule a one-hour training call with a TradeStops specialist who can show you how to best utilize the platform.
TradeStops is an advanced platform loaded with sophisticated tools, so the TradeSmith team will spend as long as you need to set you up for success.
>> Sign up for TradeStops to access the video tutorials <<
U.S.-Based Customer Support
As we mentioned in the tutorials section, TradeStops' support is top-notch.
If you ever have an issue, you can quickly get in touch with the TradeSmith team of dedicated U.S.-based support representatives.
The customer success team is available via both email and phone.
Email requests can take up to two business days to process, but you can usually get someone on the phone much more quickly.
Money-Back Guarantee
TradeSmith offers an exhaustive satisfaction guarantee on every subscription.
You have 60 days to try the service, and you can receive a refund for any reason if you request it within that time.
Plus, you get to keep the bonus reports as a thanks for trying out the service.
TradeSmith's guarantee is virtually airtight.
Check out the above screenshot of the actual refund policy to see for yourself.
You can't ask for much more than a money-back guarantee.
>> Sign up now and take advantage of the money-back guarantee <<
TradeStops Review: Pros and Cons
We found a lot to like about the service, but TradeStops could improve in some areas.
Pros
Position Size Calculator

and

Health/Risk indicators

use proprietary algorithms

Exclusive

Volatility Quotient

ratings on tens of thousands of stocks

Integrates with most major brokers and research services

Stock Health Indicators

provide cut-and-dry ratings on each stock

Great for multi-portfolio investors

Top-of-the-line portfolio tracking tools

Customized automatic alerts available for countless triggers

Complete video tutorial library

Access to one-on-one training sessions with specialists

Tools help you maximize potential gains

Includes five bonus research reports

Affordably priced under the latest deal

U.S.-based customer support

All-in-one portfolio management solution — especially if you combine TradeStops and Ideas by TradeSmith
Cons
No options coverage

No community chat or forum

No custom charts
>> Join TradeStops to access these benefits now <<
Is TradeStops Right for Me?
TradeStops has a lot to offer, but we think it's a particularly good match for the following types of people:
Active Traders
With proprietary ratings on 51,000 stocks, TradeStops is an excellent resource for active traders.
It's quick-and-simple Health Indicators and other tools instantly provide deep insights into potential trades.
Newsletter Subscribers
If you subscribe to one or multiple research newsletters, TradeStops can help you organize your research into one centralized location.
When combined with broker integration, you have a complete one-stop trading solution with access to research, analysis, stock-tracking tools, and more.
Technical Analysts
TradeStops has a wide selection of technical indicators built into its platform: it even has its own in-house technical metric, VQ.
It's a goldmine of insights for anyone who prefers to take a technical approach to the market.
TradeSmith's TradeStops Review: Track Record
TradeStops' tools have produced some pretty exemplary results in the past.
Here are a few examples of the most notable wins:
TradeStops predicted a big move in TSLA stock before it broke out.
The system also identified a potential opportunity in Chinese EV-maker NIO, and the stock skyrocketed shortly after.
TradeSmith's TradeStops Reviews by Real Members
TradeStops offered a few TradeStops reviews from members during its latest presentation.
Here is what members are saying about the service: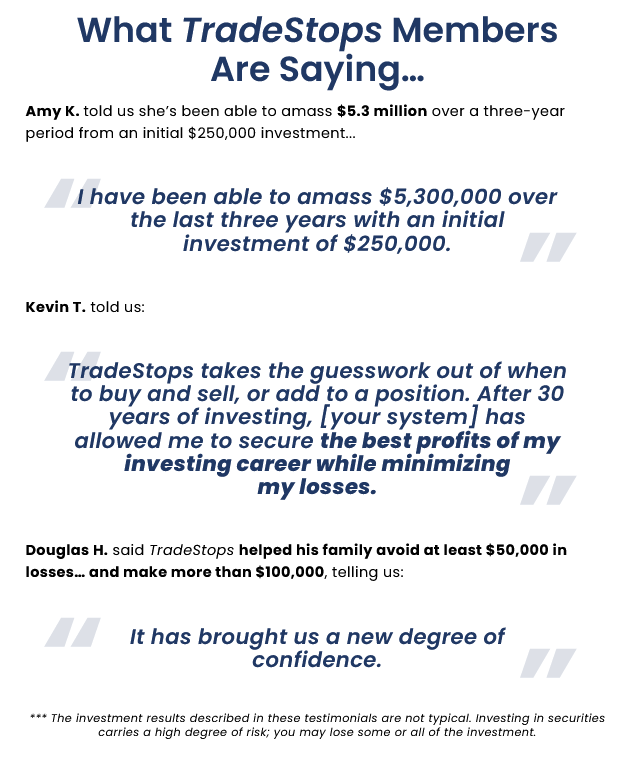 These TradeStops reviews are nothing short of impressive, but take them with a grain of salt. These members' experiences may not be typical, so don't get carried away.
TradeStops tools can be a game-changer, but it's up to you to use them effectively. Always keep in mind that there are no sure things in the stock market, and every move carries inherent risk.
That being said, these reviews demonstrate how TradeStops can help you navigate the market more effectively. With any luck, it can lead you to better results in the market as well.
How Can I Get Access to TradeStops?
TradeStops Premium provides a first-class experience with the TradeStops platform, so it's your best option if you want to get the most out of the platform.
Your subscription gets you access to these features and much more:
Stock health indicator

PVQ analyzer

Customizable buy and sell alerts

Position size calculator

Brokerage and newsletter integrations

Pre-buy checklists

Asset allocation and risk rebalancer

TradeSmith instructional videos

U.S.-based customer service
30-Day Demo for Just $9
If you want to give TradeStops a try, you'll be happy to know TradeSmith is currently offering an awesome demo deal.
For just $9, you can get full access to TradeStops most powerful tools without locking yourself into a year contract.
After your demo expires, you can walk away, or upgrade to a full membership at a huge discount.
How Much Is TradeStops Premium?
If you get started under the demo deal, you can join TradeStops Premium for just $99. If you're really sold, you can even skip the demo.
A one-year TradeStops Premium membership typically retails for $199, so you'll save about 50% off the sticker price.
At that rate, your average monthly cost comes to just above $8. That's an excellent deal for stock market tools of this caliber..
>> Sign up for TradeStops Premium Demo Now <<
Is TradeStops Worth It?
TradeStops can significantly organize and improve your overall trading experience thanks to its broker integration and customized alerts tools.
Plus, its proprietary analysis tools could lead you to game-changing insights and drastically improve your trading outcomes.
The current deal also represents a tremendous value over the service's typical price, and your purchase is still covered with a 60-day money-back guarantee.
With TradeStops in your corner, you'll have all the tools you need for market success.
TradeStops' Stock Health Indicators and Position Size calculator tools can help you pinpoint promising stocks and refine your strategy, so you can navigate the market like a master.
After a thorough TradeStops review, I give this service excellent marks. It's a fantastic option for anyone searching for an all-in-one portfolio management and research solution, and it's one heck of a value.
>> That's It for Our TradeStops Review. Start your demo now for just $9 <<