As a technical analysis tool, TrendSpider offers a wide range of automated technical analysis features, charting software, and knowledge using artificial intelligence methods.
It's a platform built to share comprehensive trade ideas and analysis tools that help professional traders develop an optimized trading strategy while tracking their stocks.
Is it the type of trading software active traders should invest their time and money in?
Read our comprehensive TrendSpider review and decide whether the platform can help you maximize your trading opportunities.
What Is TrendSpider?
TrendSpider is an automated trading platform championed by Dan Ushman and Ruslan Lagutin, who founded the platform in 2016.
They aimed to create automated chart software that seamlessly cut down the time spent on manually crunching charts.
Based in Austin, Texas, TrendSpider has blossomed into a worldwide platform with staff located in India, Ukraine, and Russia, as well as other American bases in Chicago and Denver.
Their team comprises seasoned traders and developers who manage the platform daily.
TrendSpider is a relatively new automated charting platform that offers traders the tools necessary to create better plans and develop consistently improved charts analysis skills to negate potential profit-killing blunders.
According to its website, Trendspider is the first outlet of its kind to offer a fully customized automation engine on a charting platform.
They also provide a wide range of alerts, from automated alerts to dynamic alerts, among others.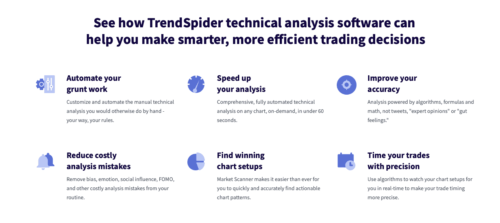 Though TrendSpider has a comprehensive alert system, it doesn't work without daily input from traders.
They pride themselves on offering several customization options for their users.
TrendSpider allows users to track market trends while also adding post and pre-market data to applicable charts with one click.
The automated charting software entity includes various tools that help users explore potential trading and stock opportunities.
How to Use TrendSpider
TrendSpider is used to analyze forex, stocks, and crypto.
What makes the platform so easy-to-use is its reliance on artificial intelligence.
TrendSpider uses a machine-learning algorithm that allows its platform to change and adapt with user inputs.
You're able to use automated and cloud-based tools with their charts, reducing grunt work, minimizing biases and human errors while improving the consistency of your chart analysis.
You can access TrendSpider charts and utilize their analysis software from anywhere with TrendSpider Mobile.
The app allows you to check your charts from remote locations if you're constantly on the go.
Their machine learning algorithm also powers their automated technical analysis.

You won't be drawing trendlines tediously on your own as their smart charts do all the work for you, helping you eliminate the guesswork from your trading.
The platform provides objective automated analysis so you can boost the quality of your trade decisions.
The backtesting tool is particularly helpful as you can test technical analysis events, seeing how they'd perform in past scenarios to determine their current potential.
You can also use moving averages to boost your trading.
These technical indicators represent the average price over a particular time period.
You can use it for bullish and bearish bias, confirmation for other technical patterns, and support/resistance.
In case you need added guidance to use TrendSpider, they regularly make blog posts detailing every aspect of chart and technical analysis as well as ongoing market trends, crypto news, and much more.
Can You Trade from TrendSpider?
Though TrendSpider is a beneficial resource for traders, they insist that their service is not intended to give trading or investing advice.
They don't recommend stocks ETFs to buy or sell.
The platform is tailored to help day traders or traders with any level of experience make better decisions on their own.
The analysis, platform, and market data that TrendSpider provides are "as-is" and without warranty.
In essence, the information TrendSpider provides is meant to help you develop better trade ideas.
Day traders can use this information to decide which stocks they are willing to trade. But, you cannot trade from the platform.
>> Already sold on TrendSpider? Click HERE to sign up for an account today! <<
What's Included with TrendSpider?
TrendSpider's platform includes:
Market Data Feeds
Charting
Automated Analysis
Asset Insights
Market Scanner
Backtesting
Alerts
Market Data Feeds
Trendspider's market data feeds offer users the chance to analyze real-time data included at no additional costs for specific markets.
The feeds also will feature information on U.S. stocks and ETFs, including NASDAQ, AMEX Equities, and the New York Stock Exchange (NYSE), using real-time data from CBoe BSX.
Hundreds of currencies pairs are sourced from over two dozen institutional providers for forex; data from over 150 digital asset exchanges are provided, spanning over 6,500 asset pairs.
The feeds also incorporate thousands of OTC symbols. However, data for OTC and Pinksheets stocks could be delayed by as much as 15 minutes in certain scenarios.
Other delayed elements include CME and ICE future contracts, providing end-of-day data with Intraday Granularity. And there are Cboe indices that are also delayed 15 minutes.
Charting
TrendSpider uses various types of chart analysis: standard charts and manual drawing. They also use a logarithm scale.
You can choose from their extensive library of all major lower and upper technical indicators.
They also use anchored indicators, including the anchored VWAP indicator.
You can automatically select anchor points for different technical indicators using any custom technical criteria.
And, the automated charting software offers Raindrop Charts, — an adjusted chart that's only available within the TrendSpider system.
Automated Analysis
TrendSpider's automated technical analysis includes trendline detection that instantly highlights automated trendlines that are customizable.
The fully automated trendline detection is high-speed and can be found on any chart or timeframe.
Alternatively, there's a breakout detection tool that immediately highlights breakouts on your automated chart by using similar logic to the alert system.
The automated analysis element also contains auto-anchoring capabilities.
Another notable trait of automated technical analysis is its instant candlestick pattern recognition.
Not only does it recognize candlestick patterns, but it also picks up candlestick charts or timeframes for more than 70 patterns.
TrendSpider's automated Fibonacci retracements can be used to determine resistance levels, stop-loss, take profit, and much more.
And, thanks to the Smart Checklists component, you can automatically check various chart parameters on any timeframe.
You can generate easy green or red light checklists at a glance.
Asset Insights
The asset insights feature is accompanied by a newsfeed so users can view the live streams of their partner, Benzinga, on the chart.
Meanwhile, this feature presents corporate earnings data (past and present) on your chart as well as dividends data such as declaration dates, ex-dividend dates, and payout dates.
TrendSpiter provides stock splits where users can review data sets related to split actions on a chart, including effective dates and announcements.
You can even view analyst recommendations and actions data via the Analyst Ratings Data feature.
Add in their insider trading component that features corporate insider information on their shares, plus a seasonality visualization to display how seasonal assets are within seconds, and you get a robust asset insights feature.
Market Scanner
You can search the market for symbols matching your technical criteria by using their market scanner.
You can expand usage by employing multi-timeframe analysis by doing a multi-timeframe scan to create complex scanners that utilize different timeframes.
TrendSpider's multi-factor scan operates the same way.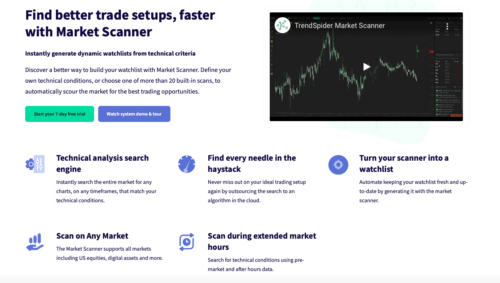 Through intraday scanning, you can create scanners that scan through intraday price data rather than just daily and above.
The maximum results you can get per scan is 200, while the minimum scanner timeframe is around one minute and up for their elite plan and master plan.
For the premium plan, that minimum timeframe bolts to one hour and up.
You can mesh any technical conditions using the market scanner, including the price action, patterns, and indicators.
Backtesting
Backtesting is a crucial component of the charting platforms that TrendSpider provides.
Monthly backtesting is done for the master and elite plan, respectively, where users can test any long-term strategies for daily, weekly, and monthly charts.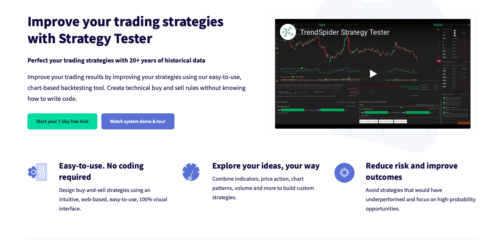 You can alternatively test strategies for multiple timeframes down to one frame by using intraday backtesting.
In contrast, their long-term backtesting feature does the same thing that their monthly backtesting feature offers.
You can also test various technical strategies on charts and multiple timeframes with ease by using the strategy tester.
Alerts
The alerts that TrendSpider uses are plentiful, instantaneous, and cover a lot of ground. You can get a total number of active alerts that are active simultaneously.
This does not include expired or triggered alerts. The maximum alert mark ranges from 25 on the premium plan to 200 on the master plan.
Alerts will expire anywhere from 14 to 90 days, depending on which TrendSpider plan you use.
You can right-click on indicators to create instant price alerts on them.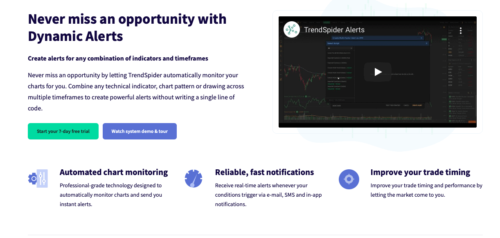 You can also create alerts on manual drawings or create alerts on an automated trendline while using any timeframe.
The automatic Fibonacci alerts create alerts around different levels of automated Fibonacci retracements.
Through sensitivity control, you can control what is framed as a sensitivity buffer zone.
You can control such a zone around an alert to get special notifications on apEliteach.
Using triggers for dynamic price alerts, users can monitor specific events like breaks, bounces, and touches in your alerts.
Multi timeframe alerts let you create alerts that use data from multiple timeframes in a single alert.
You can also create complex alerts using all sorts of indicator combinations.
>> Like all that TrendSpider has to offer? Click HERE to sign up NOW! <<
Is TrendSpider Legit?
TrendSpider is a very legitimate and accurate technical analysis platform that provides detailed and accurate data to its users.
For a trader with a learning curve, it's a helpful platform. And it's garnered positive receptions throughout the trading tool market.
This is a savvy and well-organized chart analysis platform that aims to provide chart software to cater to traders of all kinds.
Its scanning and identification abilities are recommended throughout the trading industry, and they have received favorable ratings from industry insiders and users alike.
It's a best-in-class platform that traders or various experience levels will find useful.
It's a highly reliable platform that is very technical and offers accurate trade signals, emphasizing real-time data.
The platform runs smoothly without any lagging.
How Much Does TrendSpider Cost?
The technical analysis software company has three plans that cater to the needs of traders at different levels, whether they're active traders or conduct trades full-time.
You can take a seven-day free trial to try out TrendSpider's services before opting for their Premium, Elite, or Master plans.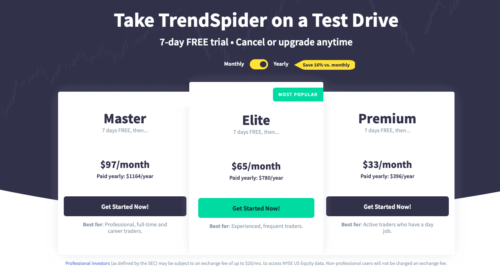 TrendSpider pricing allows you to pay for each plan monthly or save 16% on the price when you opt for a yearly subscription.
Premium
You can start with the premium plan, which costs $33 a month or $396 for the year.
This plan is best for all active traders who have day jobs.
It includes market data feeds, charting features, multi-timeframe analysis, automated analysis, asset insight features, a market scanner, and a wide range of alerts.
You also get a one-on-one training session with a member of the TrendSpider staff, plus email and chat support.
Elite
The elite plan is ideal for experienced traders who regularly conduct trades.
It costs $65 a month or $780 for the year.
This plan includes everything the premium plan offers, plus unlimited monthly backtesting.
It also offers more workspaces and more scans in real-time than the premium plan.
Master
This is the most comprehensive plan for traders that the charting platform has to offer.
For $97 a month or $1164 yearly, the master plan offers full training and more wiggle room for things like:
Alerts (expires in 90 days)
Maximum results per scan (200)
Multiple workspaces (six)
Unlimited training sessions (also included in the elite plan)
The plan is recommended for professional, career, and full-time traders looking for consistent trading opportunities.
How Do I Cancel TrendSpider?
TrendSpider doesn't do refunds when you cancel a subscription.
But you can stop future charges on your account when you're ready to move on.
You can cancel the automatic renewal of your TrendSpider account through their hassle-free online system.
You can also contact customer support via email, live chat, or phone to let them know you're canceling your subscription.
By deactivating your account, you also deactivate future renewals of your TrendSpider account.
When you cancel during your free trial, you can still use TrendSpider until the free trial period ends.
At the end of your trial, your subscription will not start, your account shuts down, and you won't be charged.
Should you cancel during your paid subscription period, you'll continue to have access to TrendSpider until the end of your pre-payment period, preventing future renewals.
If you don't cancel your TrendSpider membership before the automatic renewal kicks in, you will be charged your membership fee for that renewal period.
>> Ready to sign up for a TrendSpider account? Just click HERE! <<
Pros and Cons of TrenSpider
Pros
Technical Analysis Tools – You'd be hard-pressed to find tools as well-rounded and precise as TrendSpider's technical analysis tools are. Plus, there are tons of them.
Alerts – Their alerts are ample and personalized for your needs. You can receive them via SMS, text, or any way you please.
Training – Every training session that TrendSpider offers is free.
Trendline Spotting – When you review TrendSpider, you immediately notice their ability to spot trendlines as well as their price interpretations.
They also provide a highly accurate identification of trendlines.
Machine Learning – The algorithm is what drives the seamlessness of the platform.
Chart Customization – It's easy to customize your bar charts, pie charts, or any other type of chart to match your preferences.
Customer Support – Email, chat, phone, and priority service.
Cons
Single Browser – Despite being customizable, TrendSpider can only be used in one browser at a time.
Lack of Options – There's no desktop platform for TrendSpider.
Is the Service Right for Me?
If you're an active day trader or someone with a wealth of experience with trades, TrendSpider is perfect for you.
Whether you need a trendline, analysis, or dynamic price alerts, the hard work is essentially done for you so you can focus more on the facts and figures to improve your trading expertise.
Day trading and trading opportunities will become easier with the many tools and data that TrendSpider provides.
TrendSpider Reviews by Traders
"I think this is the most innovative technology for traders since live streaming."
– Scott Smith, Professional Trader and Owner of LiveTradePro.com
"I believe TrendSpider Raindrop Charts are the biggest advance in visual charting since Steve Nison brought candlesticks back from Japan."
– Steve Burns, Professional Trader & Founder of New Trader University (NewTraderU)
"I have to say thanks for this system. As a result, I'm getting into trades lower and selling higher."
– Chris, Professional Trader
Is TrendSpider Worth It?
As our TrendSpider review shows, this automated platform is a viable option for anyone looking to simplify the way you view trading.
Whether you're a day trader, do trading with a day job, or are a professional trader who does it as a full-time career, TrendSpider is highly informative and will also help you optimize your investment in stock and crypto.
In short, TrendSpider is well worth the price if you want to spend less time crunching charts and more time improving your automated trading skills.
>> Want to make smarter trades? Click HERE to sign up for TrendSpider and start making better trading decisions NOW! <<