Dr. Steve Sjuggerud made True Wealth one of the most successful research newsletter services ever written, but now Brett Eversole and Matt McCall are carrying the torch with a new presentation for the legendary service. Find out if it's worth your time in my True Wealth review.
What Is True Wealth?
True Wealth is a monthly newsletter that provides members with stock market analysis.
Some of its features include stock picks, bonus reports, market updates, and more.
Brett Eversole is the lead editor, and it's published by Stansberry Research.
His system identifies undervalued and contrarian investments that the mainstream market and Wall Street overlook.
Even better, these trade ideas cover more than stocks, including real estate and ETFs.
>> Already sold? get started now! <<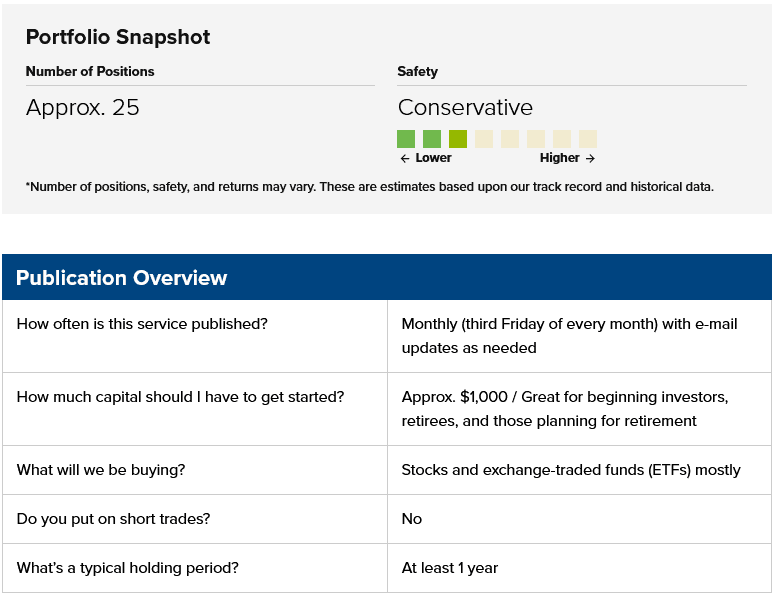 The investment strategy leans more on the conservative end of the spectrum. Additionally, True Wealth stock picks typically have a one-year holding period.
With these facts in mind, I think the newsletter could be well suited for those looking for lower-risk opportunities to steadily grow their capital over the mid-to-long term.
It may also be an excellent option for beginners, who will likely appreciate the focus on investing fundamentals and conscientious risk taking.
The publisher recommends having at least $1,000 in capital to get started, but this is just a loose guideline, though. Subscribers can use True Wealth's research however they see fit.
>> Sound like a good fit? Sign up for 80% off! <<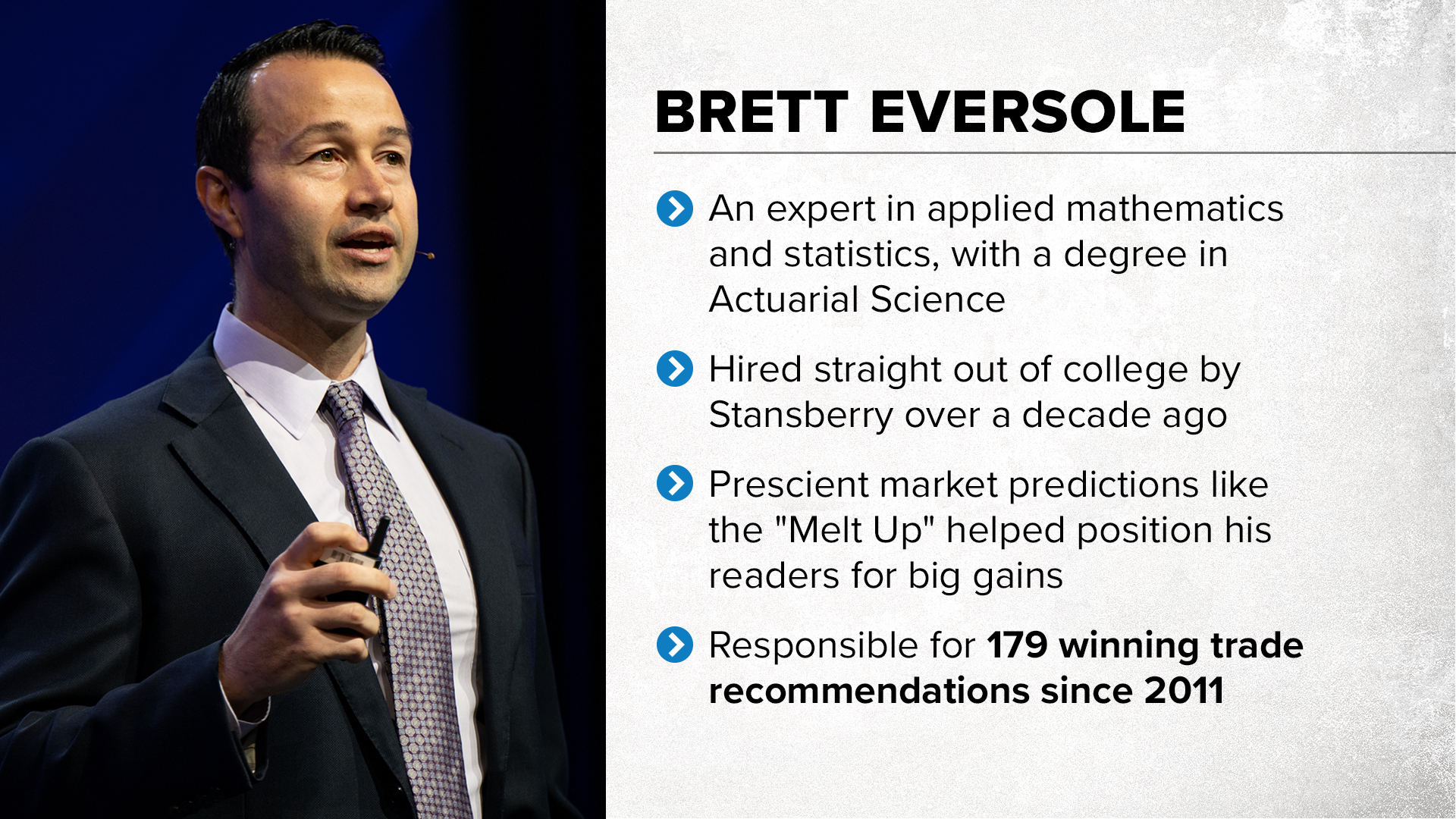 Who Is Brett Eversole?
Brett Eversole has a passion for numbers. The guru is an expert in applied mathematics and statistics, earning a degree in Actuarial Science.
He was plucked right out of college some 13 years ago by a member of Stansberry's top brass at the time for his mathematical aptitude. Eversole's been a part of the firm ever since.
During that time, Brett's team has been responsible for 179 winning trade recommendations. Some of these brought in substantial triple-digit returns.
His market foresight helped him predict a major market move that gave Stansberry readers a shot at profits for nearly a decade.
Eversole was a big proponent of the bull market we're now sitting in all the way back at the beginning of the year.
Today, Brett sits in the lead editor seat for four of Stansberry's big publications. He's built quite the calling thanks to a top-down investment strategy and a contrarian approach to his recommendations.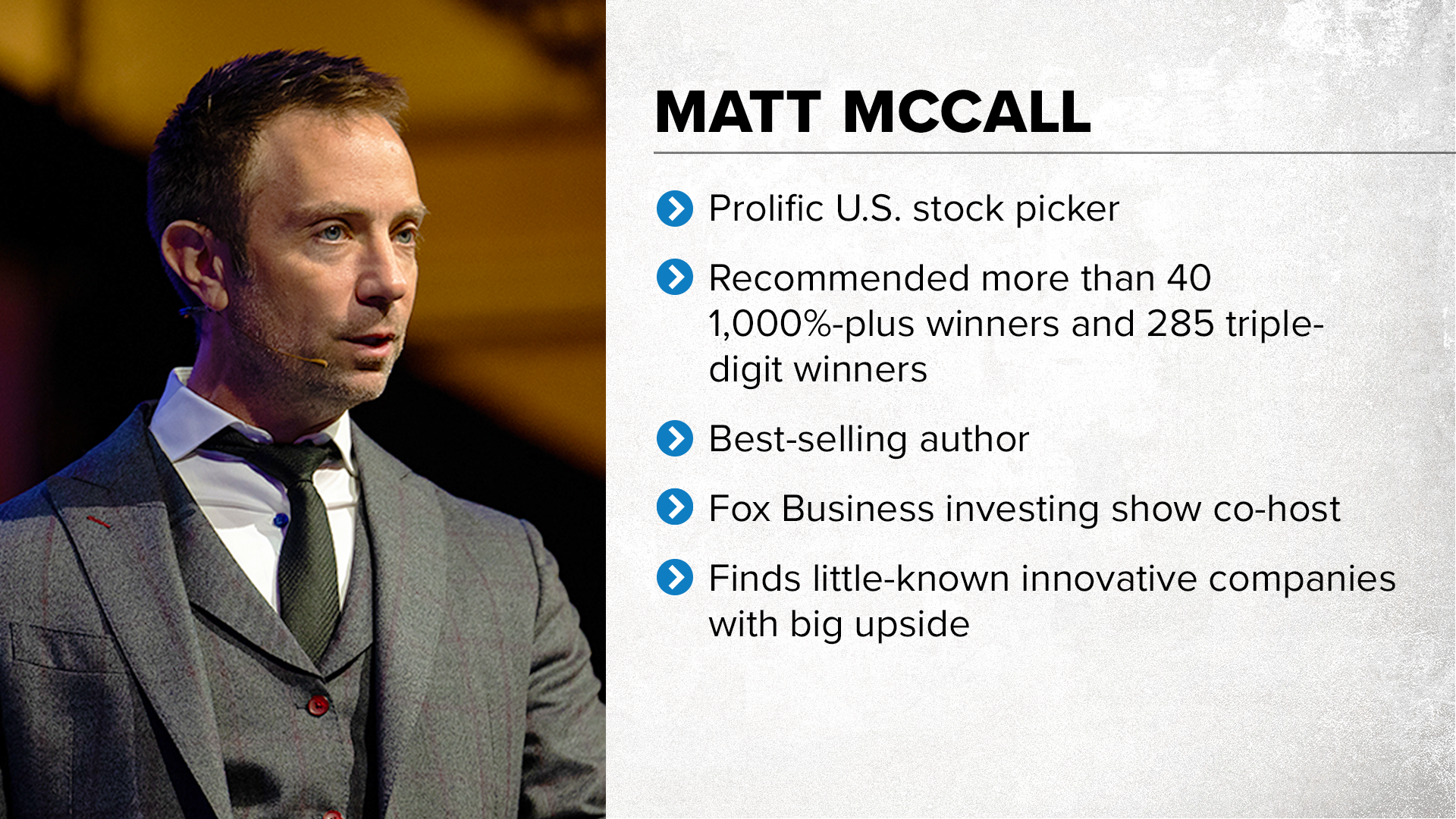 Who is Matt McCall?
Matt McCall has more than 20 years of experience in finance, beginning his career at Charles Schwab as a stockbroker. He then moved into a chief technical analyst role and served as a co-host at Wall Street Radio.
McCall is also an avid entrepreneur. The guru founded Penn Financial Group for registered investment advice and CrowdVest for equity crowdfunding.
That's not all – Matt has authored two investment books and has written for or been featured in Investor's Business Daily, the Wall Street Journal, and more. He's also shared insights during more than 1,000 television appearances.
Now, McCall focuses all his energy on investment research through Stansberry. He serves as lead analyst for The McCall Report and two other publications.
Over the years, McCall's become an expert at finding little-known innovative companies with big upsides. He's chalked up more than 40 1,000%+ winners and hundreds with triple-digit gains.
>> Get the team's latest recommendations <<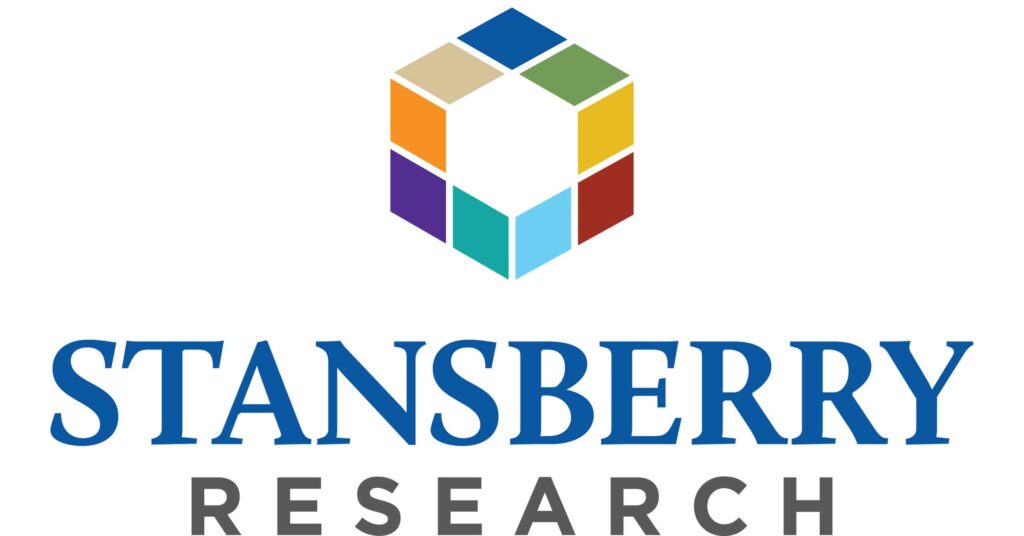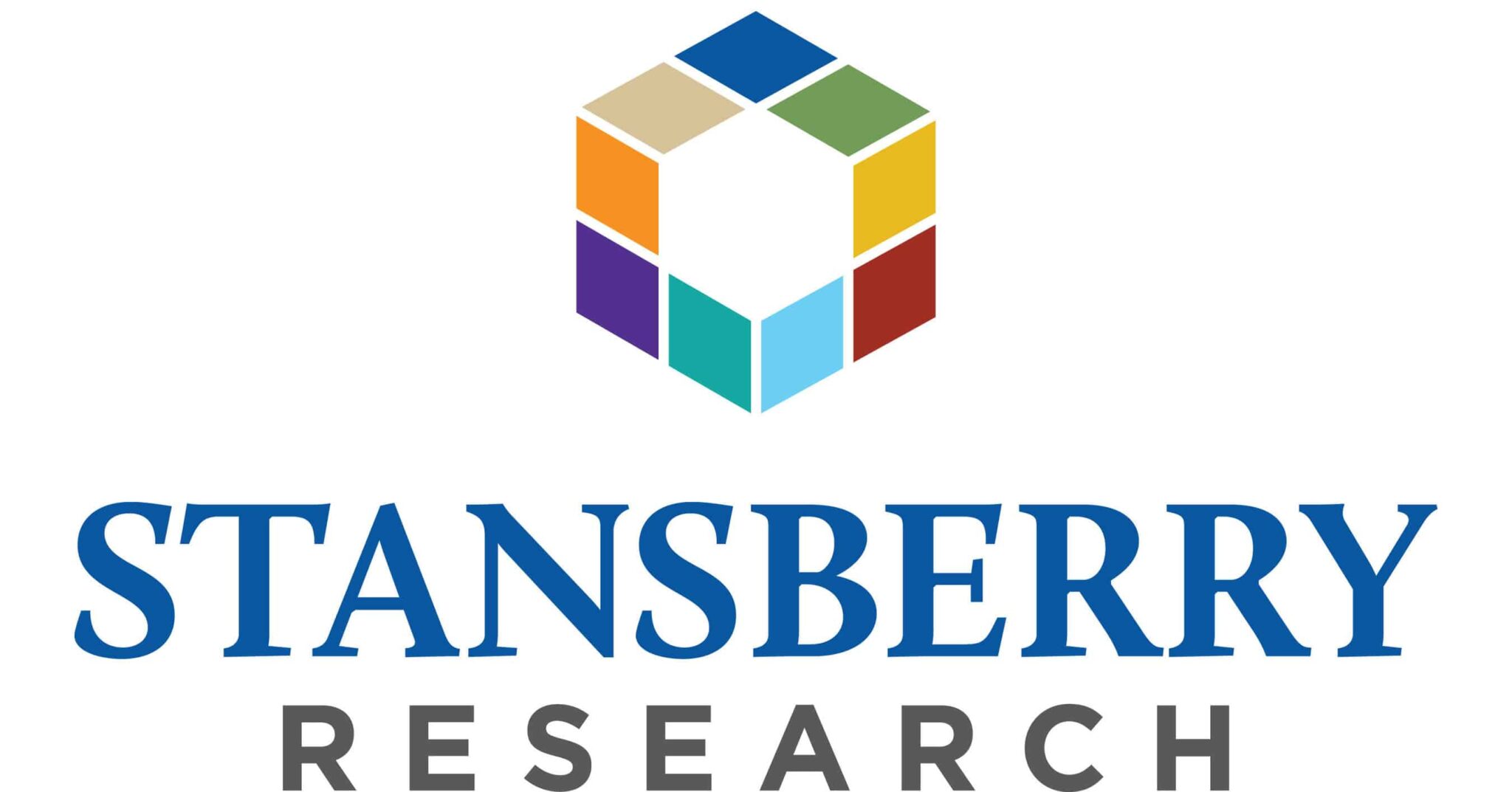 What Is Stansberry Research?
Stansberry Research is a prolific research company based in Baltimore, Maryland.
It publishes a vast collection of specialized research services and newsletters.
The firm was founded back in 1999, and its unique focus on affordable retail research quickly catapulted the company to the top of the heap.
Today, Stansberry is one of the leading voices in the investment research industry, and the Stansberry Research editorial team counts some of the most recognizable names in the business among its ranks.

Bull Market Blindside
This last decade has been great for a handful of tech stocks. However, Brett and Matt see a "changing of the guard" coming.
Folks hopelessly enamored with the most profitable companies of the last ten years are going to be blindsided when that shift occurs.
If you're caught unaware, you could end up losing all those profits you've earned over the last decade and then some.
Don't believe me? Unfortunately, this concept isn't anything new. In fact, it's been happening almost like clockwork for quite some time.
Join me as we investigate how this pattern plays out and how you can benefit from it.
>> Prepare for the next market shift <<
"The Magnificent Seven"
The Magnificent Seven are the biggest stocks that helped shape the last bull market. They've absolutely dominated the market and are really the sole reason the S&P 500's moving upward at all.
You're going to be familiar with these names:
Amazon

Meta

Apple

Microsoft

Google

Tesla

Nvidia
And there's not a single one on this list that doesn't surprise me.
Apple and Nvidia have each seen over 5,000% growth in the last several years. The others are still up in the quadruple numbers for gains.
Each of the other 493 companies in the S&P 500 isn't doing nearly as well. If you didn't have money in one of these big guys, you're probably not seeing the returns you've been hoping for from your portfolio.
It shouldn't surprise you that these are all tech stocks. These companies have been major contributors to all the gadgets and services we take for granted today.
What's Next for Stocks?
Eversole is a firm believer that nothing lasts forever. Due to our ever-changing economic landscape, the magnificent seven's reign at the top of the charts shall come to an end.
Fifty years ago, oil and gas held many of these top spots, along with film and telecom. Those were the hot trends of that era. In 2010, ExxonMobil, GE, IBM, and Walmart were all in the spotlight.
No one's saying these companies are doomed to crash and burn, but they've had their time in the spotlight. It's just our fast-paced world embraces that next new gizmo quickly. Holding onto yesterday's market leaders could be devastating to your money.
Brett and Matt believe the key to success in the stock market right now is to identify and invest in the next class of companies – the ones about to rise to the top.
Could you imagine buying into Amazon, Microsoft, or Apple 10 or 15 years ago? We're talking about the same thing here, but with a new generation.
>> Get the team's latest research and stock insights <<
How to Capitalize on the Next 10-Year Trend
You may already be thinking about what's on the horizon, and you'd probably be right. Brett and Matt see two trends that will likely drive the market for the next decade – artificial intelligence (AI) and biotechnology.
AI's obviously already huge. We're seeing it everywhere, from document writing to automated cars and predictive software. There's so much potential with AI right now it's almost overwhelming.
Brett and Matt predict a sweet spot where biotech and AI meet. That explains why they're singing praises for pharma companies right now. AI, treating human DNA as raw data, could unlock diseases and create cures that we've not been able to fathom.
So, which stocks will be the next magnificent seven? Brett and Matt have some ideas, but you'll have to join Truth Wealth to get that info.
We're in luck – right now, there's a great True Wealth deal for our readers. Let's look at what you'll get:
What Comes with a Subscription?
The "Bull Market Blindside" bundle includes a one-year membership to the service and a wealth of other goodies. Here's what you get when you join.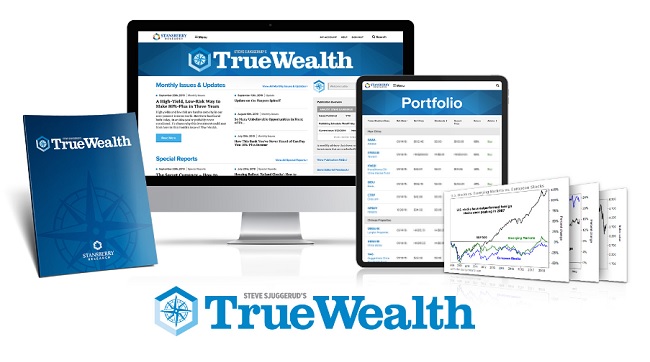 >> Join now to access all features and reports <<
True Wealth Newsletter
True Wealth delivers its flagship monthly stock-picking newsletter on the third Friday of every month, and its monthly issues include stock picks, expert analysis, and much more.
You'll start receiving reports right away when you sign up, and you can access past issues and current recommendations through the archives in the member portal.
The research includes stocks, ETFs, real estate trusts, and alternative investments like gold, which offers a wide variety of picks.
You'll get a new stock recommendation in every monthly issue, so you'll have new trade ideas to explore for the entire length of your subscription.
Each True Wealth pick has notable growth potential, so a one-year subscription could lead you to several promising stocks.
The monthly newsletter is the foundation of the service, and it lives up to expectations with insightful analysis, and top-tier research.
Model Portfolio
The True Wealth portfolio is a recommended portfolio structure that includes a selection of stocks, ETFs, and other investment assets.
It typically aims to have about 25 open positions at any given time. However, this number can vary depending on the mood of the market.
Best of all, you get instant access to this model investment portfolio with your membership, so you'll have tons of picks to review from the door.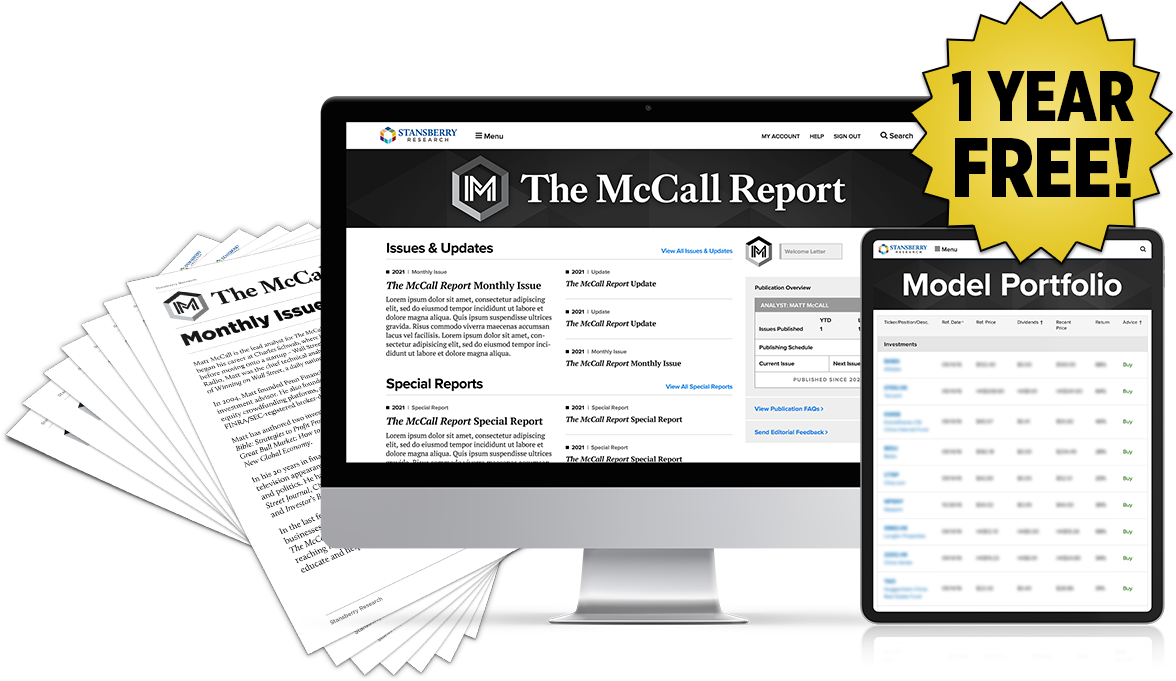 FREE One-Year Subscription to The McCall Report
A True Wealth membership comes with a free one-year subscription to The McCall Report. The two newsletters often work hand-in-hand to locate opportunities with some amazing profit potential.
The McCall Report specifically focuses on emerging industries and breakthrough tech likely not on anyone's radar yet. Stocks from any sector are fair game as long as they're low-profile and could offer big rewards.
Matt draws attention to opportunities with upwards of 1,000% profit potential and makes you aware of them before they get big.
>> Access these benefits and more <<
New Member Bonuses
A True Wealth subscription also includes a selection of special reports covering various topics and strategies.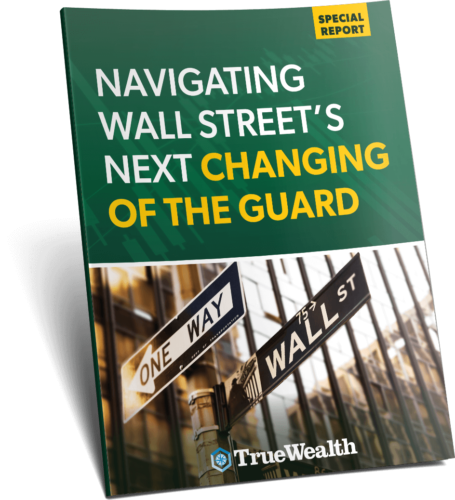 This super easy read takes you through the road map explaining the concept of the "changing of the guard". Brett and Matt reveal historical patterns showing how and why the change happens so you're not left in the dark.
What's more, you'll get all the research Brett and Matt have uncovered so far about the upcoming change. These crucial tips could protect you from a major shakeup and how you can actually profit from it.
It's a must-read if you don't want to get caught holding stocks destined to fade away while others rise to take their place.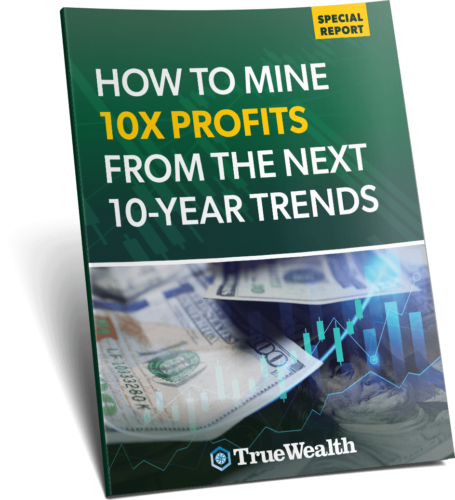 How to Mine 10x Profits from the Next 10-Year Trends
In this special report, Brett points out several trade recommendations capitalizing on the two major upcoming trends.
A few of the picks come from the semiconductor industry, a sector that's integral to the success of AI. He's also throwing in a rising star in the pharmaceutical world and a number of others.
Brett anticipates these stocks could dominate the markets and bring in 10x returns in the next decade or more.
Everything's laid out very clearly in this guide. You'll get the names of these companies, ticker symbols, and Brett's research on why they have so much potential.
>> Get the inside scoop on top-performing biotech and AI stocks <<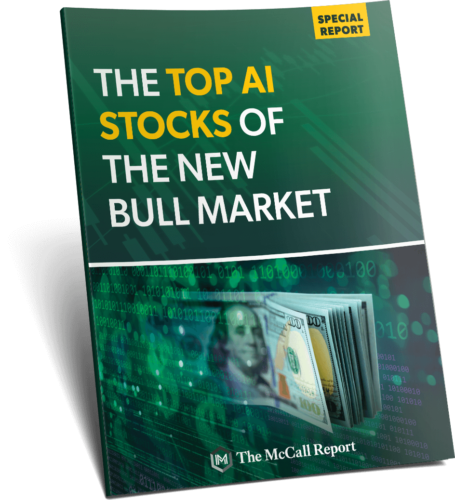 The Top AI Stocks of the New Bull Market
Matt has quite the track record for finding unknown stocks with huge potential that have generated incredible upsides.
That type of insight couldn't be more useful now when a plethora of new AI stocks are vying for top spots in the emerging industry.
The Top AI Stocks of the New Bull Market contains a list of lesser-known, low-priced AI companies Matt believes could be successful in this new world. He's estimating quadruple-digit profit potential similar to NVIDIA or Tesla.
You're getting the chance to buy in at the ground floor before these companies take off.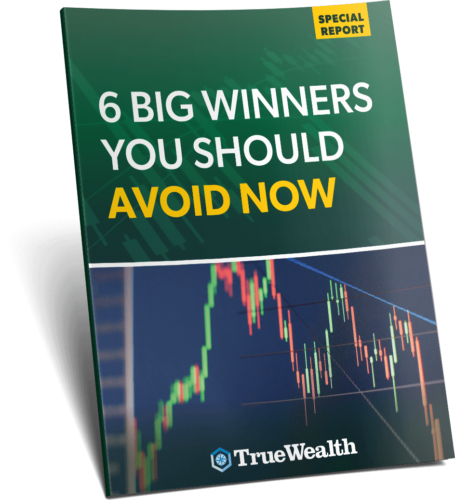 6 Big Winners You Should Avoid NOW
Holding onto the wrong stocks during a "changing of the guard" could be disastrous to your portfolio, even if you have some big winners in there as well.
This special report highlights the names of six past winners who have moved out of their 15 minutes of fame and should be jettisoned as soon as possible.
We're talking companies you're likely very familiar with and could have in your portfolio right now. The last thing you want is to hold these too long and suffer the consequences of doing so.
>> Grab the report to know which stocks to drop now! <<
Unrestricted Access to Matt and Brett's Research Archives
A membership also includes complimentary access to a vast library of educational videos and other investing resources.
The archives contain the service's complete collection of in-depth research reports and other special content.
It's yours to explore free when you join the service.
As you might expect, some of the reports are dated, but you can still learn a lot about effective investing strategies by reading them.
You'll also get access to two more research libraries research from lead gurus Brett Eversole and Matt McCall.
You heard me right. You can access either guru's complete research library with this deal.
Altogether, this represents an enormous cache of professional-grade stock market research. Reading analysis from these experts will expand your trading knowledge and sharpen your skills.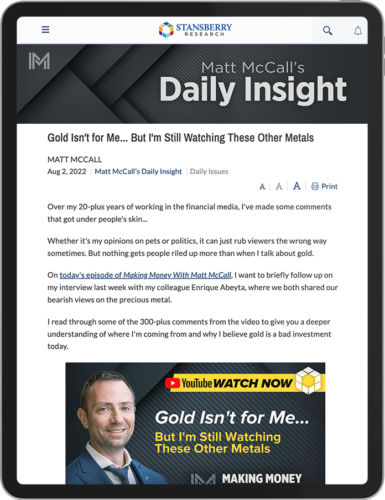 Matt McCall's Daily Insight
Every afternoon the markets are open, Matt McCall sends out his daily insights. In this brief update, you'll hear his thoughts on what's happening with the markets for that given day.
He also sprinkles in a daily analysis of the biggest trends taking shape on Wall Street and beyond.
I appreciate how he breaks everything down into bite-sized chunks I can quickly read through and pull nuggets from. It only takes a few minutes to digest the information so I can get right back to my investments.
>> Get the daily scoop on market trends <<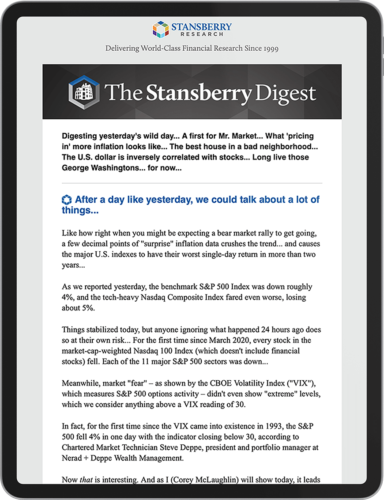 The Stansberry Digest
Subscribers also get access to the Stansberry Digest. This newsletter is a daily market wrap-up sent right to your inbox after the market closes.
You'll get to read about important news and opportunities Stansberry's finest are following each day. These gurus share their latest thoughts, insights, and recommendations you can put into practice in your own portfolio if you so choose.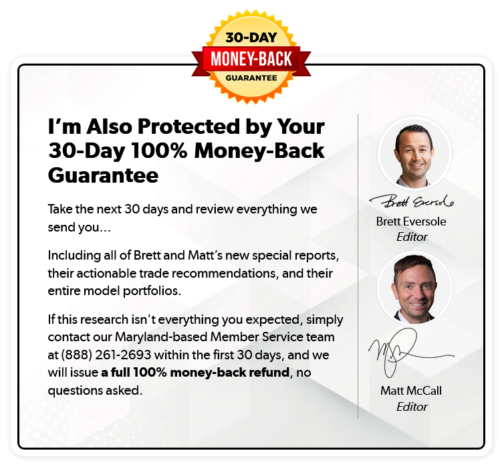 100% Satisfaction Guarantee
The True Wealth team stands by its research with an impressive refund policy.
They cover your purchase with a 30-day satisfaction guarantee.
If you're not 100% thrilled with the newsletters and research reports when you review them, you can return them for a full refund.
It's that simple; no fine print, no catch.
>> Join under Brett and Matt's guarantee <<
Pros and Cons
There's a lot to like about True Wealth, but there are some areas that could be improved.
Pros
Great price with 80% discount on the current bundle

30-day money-back guarantee

Conservative investment strategy

Diverse stock picks and asset classes
Cons
No community forum or chat

Doesn't recommend options or shorts
True Wealth Reviews by Members
True Wealth has locked in an impressive 4/5 rating on Stock Gumshoe.
This is out of 630+ votes, which is a fairly robust sample size.
Here's a quick peek at the rating: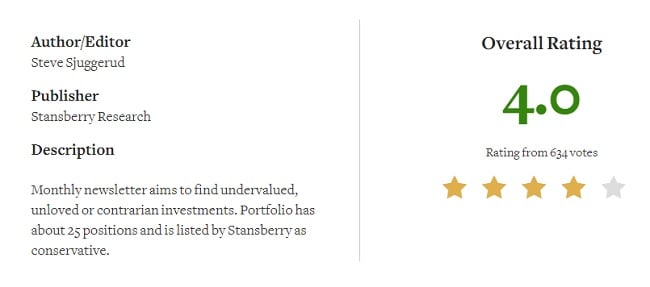 Something to keep in mind is that Stock Gumshoe is a third-party rating site. So I can't verify the veracity of its findings (good or bad).
Still, it's a good sign that the service has been so well-received online.
>> See why so many trust True Wealth <<
How Much Does the Service Cost?
True Wealth's latest package costs $300 for an annual subscription.
That's a solid price, but the team is currently offering an 80% discount with the "Bull Market Blindside" deal.
For a limited time, you can get started with a one-year subscription for just $49. It's an incredible value given all the bonus materials included with the package.
Best of all, your subscription comes with a 30-day money-back guarantee, so you'll have plenty of time to review the service.
You'll also get the full suite of True Wealth benefits with this deal, so you're not taking any shorts by claiming the discount. You get everything covered in this review at a fraction of the full price.
Is the Service Right for Me?
True Wealth is best suited for folks in the market for conservative, contrarian investment ideas with a long-term horizon.
McCall and Eversole play the long game. They don't chase hype stocks, and they take a balanced risk-reward approach to the market.
Given current market conditions, their cautious approach could prove to be a wise strategy.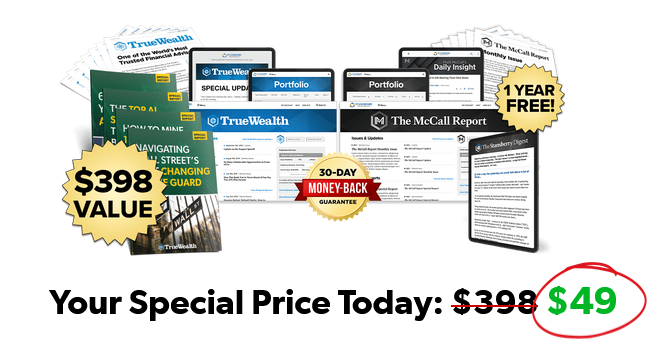 Is True Wealth Worth It?
True Wealth is a great service that is easily worth the price. This is especially true when factoring in the massive 80% discount on the first year.
Brett Eversole and Matt McCall approach the market intelligently, focusing on companies with solid fundamentals and promising growth potential.
Many research services target quick come-ups on risky stocks. However, True Wealth takes a much more strategic approach to the market.
The bonus subscription to The McCall Report also adds a ton of value to this particular bundle. Typically, this service costs $49 on its own, so getting it for free is a great bonus.
You'll also get tons of bonus resources featuring insightful research and analysis that could help you capitalize on massive stock market opportunities in the coming years.
At a price of just $49, it's difficult to top True Wealth's "Bull Market Blindside" and the money-back guarantee should dispel any doubts you have about the quality of these insights.
Now could be a great time to sign up for this top-tier research service. After a thorough True Wealth review, I am a big fan of this service, so I recommend you check it out.
>> That's it for my review. Click HERE to claim your 80% discount!<<