Wealth Megatrends Review: The Best Inflation Defense?
The United States is at a major economic turning point, and unprepared investors could lose big. Luckily, there are ways to come out on the other side better than ever before. This Wealth Megatrends review explains the materials that will show you how.
Sean Brodrick Wealth Megatrends Overview
Wealth Megatrends is an investment research service and monthly newsletter from Sean Brodrick, who works under the Weiss Ratings umbrella. It guides readers to the hottest opportunities coming out of the market.
Sean Brodrick's focuses his investment strategy around protecting and growing your wealth. He's particularly attuned to large-scale macro trends and how they can impact investments.
The service can help you navigate the market with detailed research and analysis of the latest market-moving news. You'll also get regular trade recommendations and tons of additional bonus research.
Right now, the deal is even sweeter with Sean Brodrick's Stealth Attack. He's throwing in a ton of bonus research and a generous discount to boot.
We'll break down the deal piece-by-piece, but first, who is Sean Brodrick? Is this guru the real deal?
>> Sold on Wealth Megatrends? Click here to join now. <<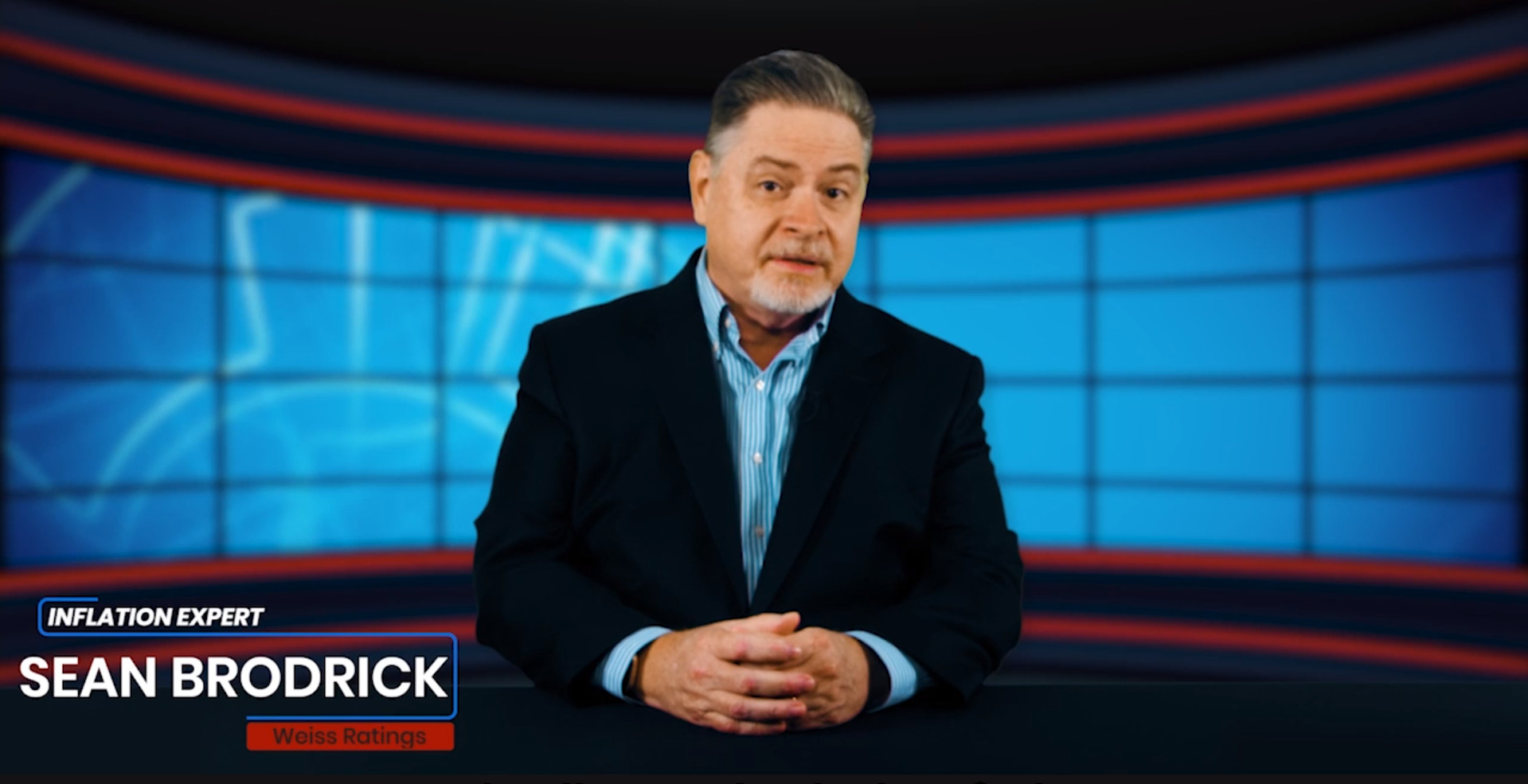 Who is Sean Brodrick?
Sean Brodrick has been working in and around the investing space for years, building an impressive track record of success along the way.
Over that time, Sean Brodrick earned a reputation as an expert in geopolitical investment opportunities and market cycles.
Wealth Megatrends is Sean's flagship service, but it's not the only trading service he serves as an editor. Some of his other services include Gold & Silver Trader, and Supercycle Investor.
According to his online bio, Brodrick prefers a 'boots-on-the-ground' approach to investing. His most notable investments include small-cap value stocks, the natural resource sector, precious metals, and other areas.
Under Sean Brodrick's guidance, Wealth Megatrends looks for under-the-radar trading opportunities in undiscovered stocks with enormous potential.
What is Weiss Ratings?
Weiss Ratings is a publisher with more than 50 years of experience. It'd led by long-term veteran Dr. Martin Weiss.
One of Weiss's many claims to fame is a list of more than 53,000 ratings on stocks, cryptos, banks, and so much more.
In addition to these indicators, Weiss Ratings has a large research service. Wealth Megatrends is just one of more than two dozen products and services currently on offer.
Without further ado, let's dive into the latest opportunity from Weiss Ratings and Wealth Megatrends.
The $2 Trillion China Exodus
Sean Brodrick warns of a huge shift happening in the global economy. His evidence? He says factories all over China have gone dark.
All those "Made in China" tags are disappearing. We're looking at a massive, $2 trillion exodus from the country.
That money's not going to some third-world nation. It's not going anywhere in the European Union or Australia either.
If Brodrick's right, every cent is on its way back to the good 'ol US of A.
>> Join now to access Sean's latest China research <<
The Return of the American Factory
This new American industrial boom is a breath of fresh air for our economy. It's not by accident this is happening, either.
Love him or hate him, former President Trump's the one to impose tariffs and export controls that really hurt China's game. Biden kept everything in place, especially after seeing the mess of empty store shelves during the COVID pandemic.
This started a trickle of reinvestment in America that's quickly becoming a deluge. Several big-name companies like Apple and LEGO are building new roots on US soil.
Why now though, of all times?
Brodrick hints that security plays a significant role. Companies are tired of dealing with the Chinese government and the laws they're imposing.
Believe it or not, cost is an even bigger factor. China's climbed out of third-world status and is demanding better wages as a result. Once you add in transport fees, China's not so great of a deal anymore.
What's tipping the scales are growing tensions surrounding Taiwan. A Chinese invasion could effectively end trade relations overnight. Just think of what happened with Russia.
All signs point to new business in America. The only question now is how to benefit from it.
How to Capitalize on the Reindustrialization of America
The timing couldn't be more perfect for the switch back to American manufacturing. We're witnessing the rise of another megatrend that's going to work hand-in-hand with new factories from coast to coast.
Any guesses? We're of course talking about artificial intelligence (A.I.).
Using A.I. could revolutionize how we lay out and build the American factory. Picture streamlined operations where software and robots do most of the work. Talk about a smooth, lean operation.
Artificial intelligence can also put together optimal shipping routes for a more profitable business model.
China's still stuck doing everything the hard way. Our American-designed factories blow the old system out of the water.
Brodrick's found three companies helping shape the future of AI-run factories. He's counting on them to usher in a new era of manufacturing while putting some major coin in his pocket.
You can get the names and tickers of these companies, too. You just need to get your hands on this Wealth Megatrends bundle.
>> Join now to get Sean Brodrick's #1 stock pick <<
What's Included in a Wealth Megatrends Membership?
You'll get instant access to Broderick's extensive research on the American manufacturing renaissance when you sign up for his monthly research newsletter, Wealth Megatrends.
Next in our Wealth Megatrends review, I'll break this deal down piece by piece, so you know exactly what you get when you sign up.
>> Get instant access to Wealth Megatrends now <<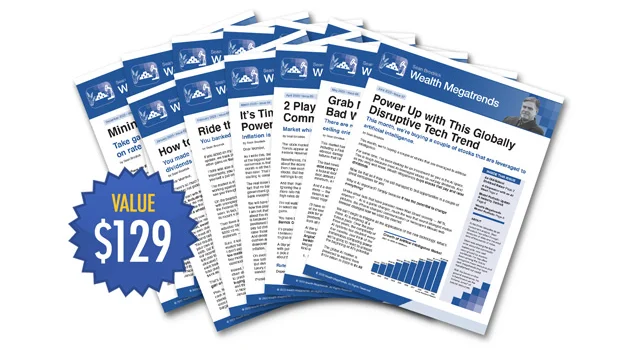 12 Monthly Issues of the Wealth Megatrends Newsletter
The monthly Wealth Megatrends newsletter is the centerpiece of this bundle
Each month, you'll get a new research report and trade recommendation from Sean Brodrick and his research team.
The reports also come crammed to the gills with analysis of the latest market-moving news and events.
The monthly newsletter serves as an excellent source for the latest stock market news, and it includes a thorough summary of all the latest happenings from Sean and his team.
It's an excellent way to stay informed about the latest investing trends, and the trade recommendations provide an ideal blueprint for turning your newfound knowledge into actual returns.
Plus, you'll get a big discount with this limited-time deal.
Model Portfolio
Members also get access to a model portfolio that lists every active Wealth Megatrends recommendation, along with any 'Flash Alerts' for the positions.
It's the perfect way to get a bird's eye view of Sean Brodrick's trading strategy in action. You can even go back and see picks from before you signed up, so you'll have tons of stock picks to explore as soon as you join.
Some model portfolio stocks are already posting sharp gains, but many more have yet to hit their stride.
You're sure to find plenty of actionable opportunities when you get a chance to give the model portfolio a close look.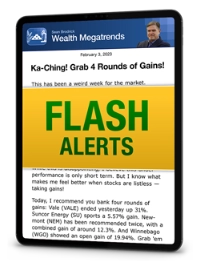 Portfolio Updates and Flash Alerts
Wealth Megatrends sends out a special alert anytime they update their position on one of their recommendations.
Anytime there's a change to the market that calls for your attention, you'll receive a Flash Alert in your inbox explaining everything you need to know.
You'll also receive special VIP Invitations when Sean Brodrick sees a significant opportunity developing, so you have a chance to get in before the fray when something big is happening in the market.
>> Access these exclusive features now <<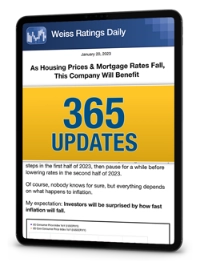 Weiss Ratings Daily E-Letter
Each morning you'll get an email blast with the latest news and insights from the stock market. The content's made fresh every day by one of the gurus on the Weiss Ratings team.
Expect to find tips on emerging trends and technologies shaping up to be good investments. You may also find ways to protect yourself from economic curveballs.
No matter what, you'll get the full scoop so you can act appropriately. All info's independent and carefully checked to help you win.
Premium Access to 53,000 Weiss Ratings
Weiss Ratings has painstakingly put together over 53,000 ratings, all for your perusal.
Use the system as you see fit to check the safety and ability of your preferred financial institution. These very ratings predicted almost perfectly the failures of the Great Financial Crisis.
You can do the same for more than 3,600 insurance companies out there.
Next, look to stock reports for tips on which investments to buy, sell, or hold. Do the same with digital assets so you invest in nothing but the best.
Best of all, you can create unlimited watchlists and get alerted any time something needs your attention.
Members-Only Online Briefings
Sean Brodrick doesn't want you to miss the important details. Whenever something huge comes down the pipe, you'll get an invite to a confidential online briefing.
Once on the video chat, you'll get the rub on what's happening and how you can prepare for it. You'll also get a heads-up on what's coming in the next quarter.
Brodrick leaves time at the end to answer whatever questions you or other members have.
>> Join now for instant access to your Wealth Megatrends membership perks <<
The Reindustrialization of America Bonus Reports
This bundle also includes several in-depth research reports featuring promising stock picks and much more. Here's what you get when you sign up now:
AI and the Return of the American Factory: How to Profit from Two Merging Megatrends
AI and the Return of the American Factory eloquently spells out the name of the three companies Sean Brodrick feels are the driving force behind America's new manufacturing boom.
The report explains in detail the shift we're seeing and precisely why these companies are taking center stage. Before you're through, you'll know how to invest in each one and tips for maximum profit potential.
This is a must-read if you at all hope to be one of the folks getting into these colliding megatrends at the ground level.
3 More Red-Hot Stocks for the Reindustrialization of America
Three other companies are vying for the spotlight amid the push for American reshoring.
Sean says they're in the perfect position to grow even if nothing happens with China. If China does make a move on Taiwan, these stocks could explode while the competition crumbles.
I find this special report particularly interesting because the stocks within are so different.
One's an EV stock with an ingenious solution to the charging problem. The second is an apparel maker known for construction gear.
Sean's last pick is a REIT that owns land and warehouses. Everything you need to know about each one's right inside.
>> Join Wealth Megatrends and get instant access to these reports <<
The Key "Picks & Shovels" Stocks for the Rebirth of U.S. Industry
Brodrick's stuffed one more trifecta of stock picks for you in this special report. These companies fit perfectly into the American manufacturing mold.
The first is a maintenance and repair firm slated to benefit from new constructions all over the country. Next, we've got a back-end services company manufacturing sites can't live without.
Finally, Sean's got eyes on a firm that could be a major player in the lithium sector.
You'll get full explanations on why these could be winners and all the info you need to invest if you snag a copy for yourself.
>> Get instant access to "Picks & Shovels" when you JOIN NOW! <<
100% Money-Back Guarantee
Wealth Megatrends has a spectacular refund policy. Most trading services only offer a limited money-back guarantee with a 30 or 60-day limit.
However, Sean Brodrick's guarantee blows the competition out of the water. Wealth Megatrends has an iron-clad refund policy that covers the entire length of your subscription term.
That means you have a full year to evaluate the service, and you can request a refund at any time if you're unsatisfied.
Quite honestly, this writer has never seen such an air-tight policy. You get tons of valuable stock recommendations and analysis with Wealth Megatrends as soon as you sign up.
Best of all, the guarantee covers you for the entire year.
If you decide on the 364th day that you hate the service and want your money back, you will get it. That's how seriously this team takes the refund policy.
This generous research policy should leave any remaining doubts. Wealth Megatrends must be very confident in its service to offer such a comprehensive guarantee.
>> Join now to take advantage of Wealth Megatrend's 100% Money-Back Guarantee! <<
Pros and Cons of Wealth Megatrends
Here are the pros and cons of Wealth Megatrends' Bigger Lie bundle:
Pros
Contrarian strategies you won't find anywhere else.

Detailed game plan for overcoming global uncertainty.

Extremely affordable at just $9 for a basic membership.

The Bigger Lie

includes three bonus research reports.

Industry-leading money-back guarantee covers you for the entire course of your subscription.

Enjoy instant model portfolio access when you sign up.

Keeps members informed with monthly newsletters, flash alerts, and 'Wealth Wave.'

Provides a birds-eye take on global events and how they impact your portfolio.
Cons
New traders may have some difficulty digesting the information

A little too laser-focused on inflation
Wealth Megatrends Reviews by Members
We like Wealth Megatrends, but don't take our word for it.
Many members rate their experience with Wealth Megatrends very highly.
Here are some of the most notable examples we found online: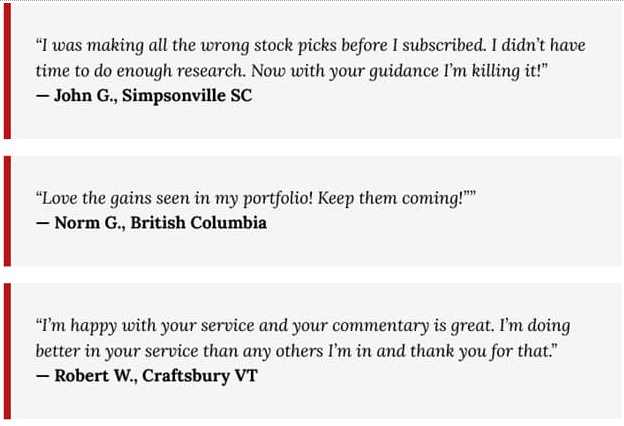 Here are a few more: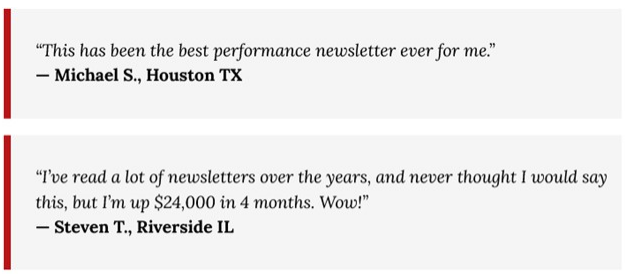 These Wealth Megatrends reviews came from a previous presentation, so take them with a grain a salt. However, it's the only verified reviews we could find.
As you can see, many people have found success with this service, and there's no reason you can't either.
>> Sign up for Wealth Megatrends now and join these satisfied members! <<
How Much is Wealth Megatrends?
Wealth Megatrends subscribers pay just $49 yearly for access to all the materials covered above. That boils down to just over $4 a month.
This same content would cost $654 if you decided to buy everything on its own. Any one of those bonus materials is worth more than what you're paying on its own.
You also get the guaranteed lowest rate when it comes time to renew. Keep going with a great price or opt out at any time.
>> Get Started Now for Just $49 <<
Is Wealth Megatrends Worth It?
After an extensive Wealth Megatrends review, I give this service high marks. Sean Brodrick is legit, and Weiss Ratings has a long track record of accurate forecasting.
The industrialization of American bundle is especially promising because this trend could be a tremendous opportunity, especially for early movers.
You get tons of value for your dollar here, including several bonus reports, a steep discount, an industry-leading money-back guarantee, and dozens of promising stock picks.
At just $49, it's hard to beat a deal like this. It's a small price to pay for research that could lead you to dozens of potentially explosive ground-floor opportunities.
I give Wealth Megatrends an A+. This is a solid service with an experienced guru, and the current deal is absolutely jam-packed with value. I recommend you check it out if you're looking for stock market research.
>> That's it for our Wealth Megatrends review. Sign up now for as low as $49 <<