Our current economy is leaving many investment portfolios a bit worse for wear. Martin Weiss's latest service looks to offer consistent gains no matter what's happening behind the scenes. In this Weiss Weekend Windfalls review, I give the service a thorough scrubbing to see if it's worth your time.
What is Weiss Weekend Windfalls?
Weekend Windfalls is a new research platform from the minds at Weiss Ratings. It's carefully watched over by gurus Martin Weiss and Mike Larson.
At its core, the service scours the markets for select investments that could put an extra $1,000 as instant cash in your pocket just in time for the weekend.
Do the math – that's the potential for an extra $50,000 in yearly income. Investing more could lead to even higher gains.
Weekend Windfalls may be new, but that doesn't mean it's untested. Over five years of testing resulted in 442 trades with a 97% profit rate.
If that's not consistency, I don't know what is. In the investment game, there's not much better than steady cash flow.
I'll get more into what makes the service so successful in a moment. First, let's look at the brains that made it all happen.
>> Discover Dr. Martin's latest recommendations <<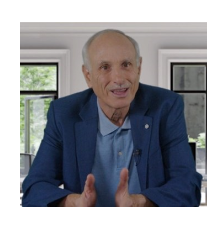 Who Is Dr. Martin Weiss?
Dr. Martin Weiss is the mastermind behind the Weiss Ratings system. He founded the company back in 1971 and now has over 50 years of experience identifying the best stocks on the market.
His love of finance and economics began with his father and remains a passion in his life. Weiss received a doctoral degree in cultural anthropology from Columbia University in 1984 and still uses it to closely monitor stock market happenings.
Today, his software ranks among the best for rating stocks, mutual funds, financial institutions, and cryptocurrencies.
Who is Mike Larson?
Mike Larson graduated from the halls of Boston University and quickly went to work in the financial world. He has spent time at both Bloomberg News and Bankrate.com, helping folks get the most out of their investments.
When an opportunity at Weiss Ratings opened up in 2001, Larson jumped in and hasn't looked back. He now uses his skills to help an even greater audience make sense of the markets and grab those high returns.
An advocate for a conservative approach to the markets, Mike's all about strategies that consistently outperform time and again.
This makes Larson the perfect candidate to run the Weekend Windfalls service. More on that in a minute.

>> Get Mike Larson's expert insights here <<
Is Editor Mike Larson Legit?
Weekend Windfalls isn't Larson's first rodeo. The guru has a hand in two other Weiss Ratings services, Safe Money Report and Heat Maps.
These publications have led to some big wins for subscribers.
Mike appears frequently on CNN, CNBC, Bloomberg TV, and Fox Business News. You can also find his insights in The Chicago Tribune, The Washington Post, Reuters, and more.
What is Weiss Ratings?
Weiss Ratings releases new Weekend Windfalls issues every Friday.
The publisher has been in business for over 50 years and features an array of newsletters covering a range of investment strategies. My most recent count put the total at 16.
It's also well-known for over 52,000 ratings refreshed daily and designed to lead folks to the best investment opportunities available.
Is Weiss Ratings Trustworthy?
Weiss Ratings' 50+ year track record speaks for itself. No service can survive that long by creating poor-quality content or leading people astray.
Weekend Windfalls alone has a 97% success rate with its stock picks. Its other publications adhere to similar standards of excellence.
The ratings system is one of the best out there, adding a cherry on top of an already excellent research platform.
>> Get the inside scoop on Weiss Weekend Windfalls strategies <<

America's Great Income Emergency
I don't think many people will argue that Americans are struggling right now. It's harder than ever to make ends meet. Martin Weiss warns that events behind the scenes are the cause.
He pins our troubles on the Federal Reserve and their flooding the economy with newly printed dollar bills. They injected billions into our economy during the fall of the Lehman Brothers back in 2008 and haven't looked back.
I've heard this all before, but what Weiss said next was new to me.
We're screwed if we just sit here and take it. If the Fed tightens the coffers, it kills our stocks and bonds. Conversely, adding more money kicks up inflation and ruins our income.
Don't give up on me yet, though. Martin believes he has the perfect solution.
>> Discover Weiss's solution to America's income crisis <<
What Is the Weekend Windfall Anomaly?
His secret involves snagging "instant income" with about a 97% success rate. Depending on your investment, returns could be anywhere from a couple hundred to more than a thousand. Why can't all my trades look like that?
Better yet, you can make this system part of your normal routine and collect that consistent income nearly every Friday.
Weiss coins these trades "weekend windfalls" as a nod to folks who use their new earnings for fun weekend experiences. Beats mowing the lawn.
How does it all work? The answer is options.
If you're like me, you immediately cringed a bit. Options are tricky beasts and buyers flounder up to 82% of the time according to the Chicago Mercantile Exchange.
That's precisely why weekend windfalls sells options instead of buying them. Suddenly, options look a lot more appealing.
Let's see what makes Martin's weekend windfalls strategy stand out.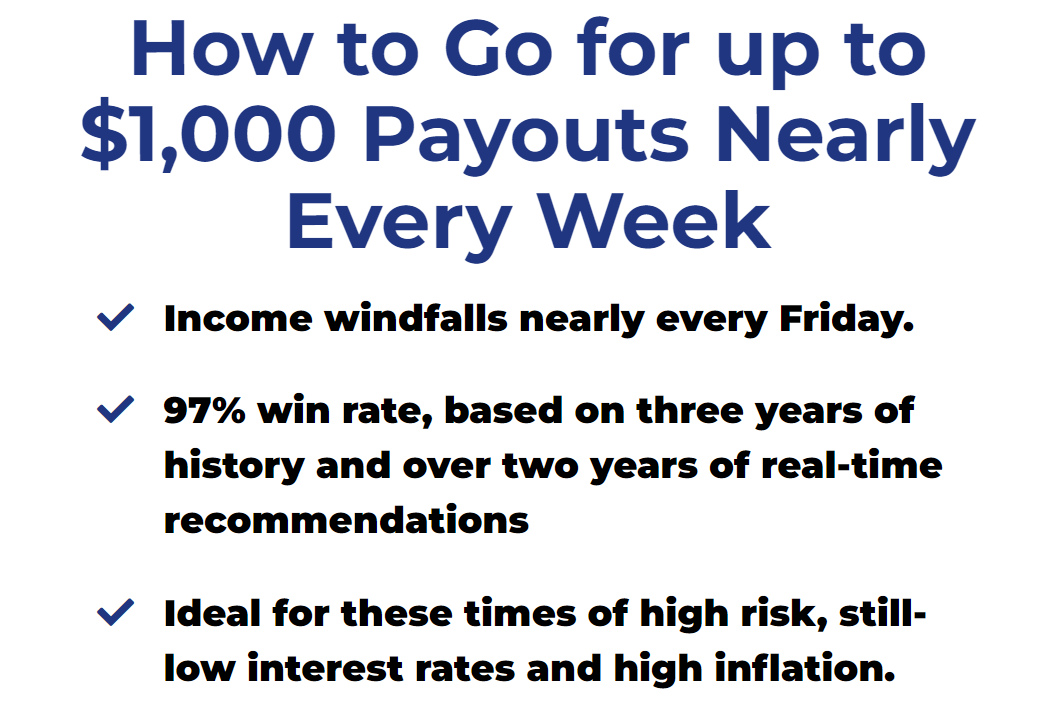 The Weekend Windfalls Advantage
There are three huge advantages to Weiss's weekend windfall system. Each of them plays a role in making the service so appealing.
First, you don't have to deal with all the speculation that so often comes hand-in-hand with options trading. As a seller, you get to play the side of the house with the odds firmly stacked in your favor.
You're no longer looking at an 18% success rate. Options sellers get the four-to-one ratio working for them instead.
Second, Weiss likens selling puts to offering some special, high-in-demand product. People can't buy those items fast enough.
This means the cost of put options is consistently higher than equivalent calls. The price bump leads folks to pay more for options than they should.
If you're a buyer, that's bad news. Believe me, I've been there. As a seller, you may collect extra money. That's not a bad thing at all.
Third, you get the full force of the Weiss Stock Ratings system behind each move you make. It helps you find the highest-quality stocks out there for maximum gains.
It doesn't hurt that the Weiss Ratings team is known for an incredible track record for their recommendations.
After all, you win any time the stock goes up. With the right picks, you can even make money if it moves sideways or goes down moderately.
You'll need Weiss Ratings' Weekend Windfalls service to capitalize on all this. Join me as we look at everything the service offers.
>> Explore the advantages with the odds stacked in your favor <<
What's Included with Weiss Ratings' Weekend Windfalls Service?
Here's what you get when you join now:
52 Weeks of Weekend Windfalls
You can't call a service Weiss Ratings' Weekend Windfalls without new content every seven days. The entire system is designed to have a new opportunity for you with nice profit potential.
Benefit week one, then repeat the process in week two. Check out how it all works.
Weekly Windfall Opportunities
Weiss Ratings scans the markets each week using its proprietary software. Any time a weekend windfall pops up, the team drops it into a weekly report that comes out every Friday.
You're getting more than just a name. The report reveals the research behind the pick and the details of why it's worth a closer look.
Just keep in mind you'll need a brokerage account with clearance for selling put options in order to take advantage of this service.
Model Portfolio
Each current weekend windfall is located inside the Weiss Ratings model portfolio. You can jump in at any time to see available opportunities.
The Weiss Ratings crew monitors these options until they're about to expire, and you can follow along. Since you're collecting that premium upfront by selling, it's a great tool to see whether you're going to get to keep it all or just a portion.
Even if an option doesn't pay off, you'll still end up with one of the best securities on the stock market.
Weiss Research & Analysis
Weiss and his team have invested more than $3.2 million in research costs to make their system work. That boils down to nearly two billion data points and years of application to amass a 97% successful system.
They didn't stop once they had a proof of concept in place. Weiss Ratings researches more than 11,000 tickers each week to find the very best on the stock market.
New recommendations come with a detailed explanation of why the option looks like a winner and a careful analysis of how you might profit.
>> Explore the full spectrum of benefits here <<
Weekend Windfall Flash Alerts
It's unrealistic to think opportunities will always line up with the release of a new weekly report. To compensate, you'll get a weekend windfall flash alert any time a hot opportunity shows up on other days of the week.
Stick to the weekly plan or use these flash updates as you will to add to your pool of profit chances. Weiss believes these additional recommendations could add $10,000 to $20,000 to your yearly income.
BONUS: Weekend Windfalls Masterclass
Trading weekend windfalls isn't rocket science, but the process can still be daunting. Mike Larson leads a Weekend Windfalls Masterclass to take you from novice to master in short order.
Eight unique modules cover everything from what options are to how you can reduce risk when trading. You'll also get the inside scoop on how Weiss Ratings works for picking the best stocks.

The Weekend Windfalls Masterclass normally costs $599 for the amount of information you get inside. It's currently free as a special bonus gift when you subscribe to this bundle.
>> Get exclusive access to all features and bonuses <<
What is the Refund Policy?
Weiss doesn't offer cash refunds for his service at this time. Due to the product's high cost, it simply wouldn't be fair to other paying members.
Let's be real – you get so much value upfront, cash refunds could make Weiss Ratings a target for bad-faith actors. I can't blame Weiss for not wanting to be taken advantage of.
If you do need to cancel for whatever reason, you'll get a credit for the unused balance of your subscription. You can then put that toward any Weiss Ratings product you want down the line.
Pros and Cons of Weekend Windfalls
Check out the top pros and cons of Weiss' Weekend Windfalls:
Pros
52 weeks of weekend windfall opportunities

Access to the proprietary Weiss Ratings system

Lightning-fast flash alerts

Weekend Windfalls

masterclass

Complete model portfolio with current opportunities

Heavily discounted price
Cons
No chatroom or community forum

Options may be off-putting to some
>> Sign up now and save 62% <<
Weekend Windfalls Reviews by Users
I mentioned earlier that Weekend Windfalls went through years of testing before Weiss felt it was ready for public use. Some of that testing was done by real beta testers who had never seen the service before.
These users came from all walks of life and various levels of investment knowledge for a thorough case study. Here's what some of them had to say:

Rachel's relatively new to trading and was able to pull in $489 in less than 30 seconds using the Weekend Windfall system.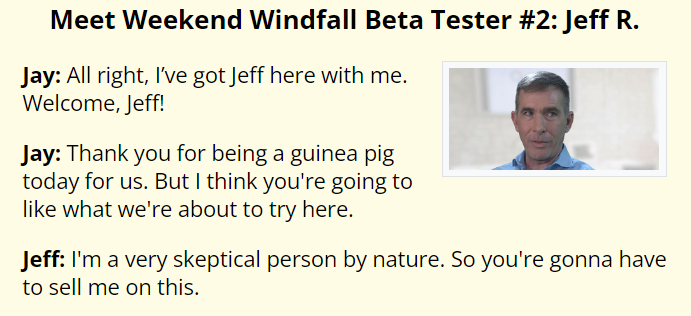 Jeff is super skeptical about options but is comfortable trading stocks and ETFs online. His mood turned even more dour when told he could make a successful options trade in less than 30 seconds.
Working through the system, Jeff pocketed $1,105 in a matter of moments.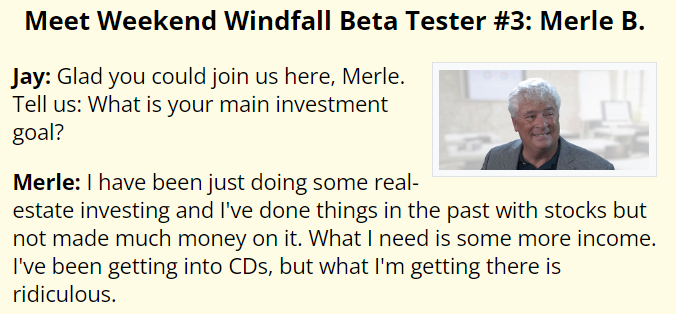 Finally, Merle stepped up to the plate. He's making some money on dividends but gave up on buying puts and calls thanks to an abysmal success rate.
Merle quickly realized the benefit of selling puts instead of buying them. "Somebody's making money, and it wasn't me".
He scored $1,950 on his trade, nearly doubling the $1,000 initial investment.
>> Join and share these members' positive experiences <<
How Much is a Charter Membership?
Weiss normally offers his Weekend Windfalls service for $5,000. If you sign up today, the cost drops to $1,900.
That's an incredible 62% off the cover price. You can get everything in this bundle for no more than $5 per day.
Don't forget that Weiss throws in the Weekend Windfalls Masterclass by Mike Larson as a free bonus. That's another $599 you're saving if you become a member right now.

Is Weiss Ratings' Weekend Windfalls Legit?
After a thorough review, I can safely say Weiss Ratings' Weekend Windfalls is legit. The entire service is backed by years of research and cold hard data pointing to high levels of success.
It's such a smart move to flip options on its head. Selling instead of buying affords some great advantages. You also get access to the 52,000-strong rating system.
A membership contains a year of the best options opportunities you can sink your teeth into. You'll get at least one new recommendation a week that could lead to extra money just in time for the weekend.
The $5,000 retail price isn't a bad deal. With the potential to bring in $1,000 a week, the service could pay for itself in about a month.
It's a bit crazy to think you can have a year of Weekend Windfalls for $1,900 right now.
If you're looking for a consistent, steady stream of income to add to your investment strategy, Weekend Windfalls is definitely worth a look. Subscribe now before this deal's gone forever.
>> That's it for my review. Claim your 62% discount here! <<