Many Alpha Investor reviews have been touting Charles Mizrahi's knowledge and investing acumen as top of the market, and we wanted to see what the hype was all about. Read our Alpha Investor review for the full breakdown of this value-focused newsletter service.

What Is Alpha Investor?
Alpha Investor is a value investing newsletter that offers weekly updates, trade alerts, monthly briefings, and access to a model portfolio. It's led by Charles Mizrahi and published by Banyan Hill Publishing.
As the name suggests, Alpha Investor sets its sights on returns that exceed market benchmarks. The newsletter's focus is to help you identify great companies trading below their true value so you can potentially capitalize on them.
Mizrahi's approach will likely appeal to anyone looking for stock recommendations based on a value investing strategy.
Many stock-picking services tend to lean toward growth investing, which puts Alpha Investor in a unique position. And we appreciate that it tackles a popular niche that seems to go underserved in this industry.
There's more under the hood, but Alpha Investor is your one-stop shop for Charles Mizrahi's latest insights and market predictions.
Before we dig into the details, let's look at the service's lead. Who is Charles Mizrahi, and can you trust him?
>> Already sold? Sign up for Alpha Investor today <<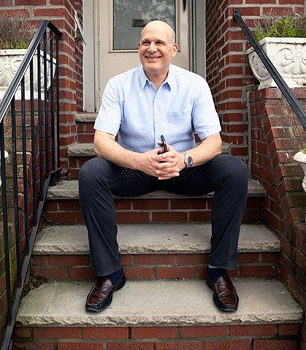 Who Is Charles Mizrahi?
Charles Mizrahi is a seasoned stock picker who has seen success as a hedge fund manager and professional trader.
Not long after working for others, he decided to go off on his own and start his firm at the age of 23.
Charles grew his business, expanding his client base to large financial firms. This includes some of the most prominent investment banks in America.
Despite his successful career as a trader (including earning the title of Barron's No. 1 trader in the country), Charles eventually decided to hang up his suit after 40 years. He turned his focus toward helping everyday folks navigate the market.
Charles' dedication to Main Street led him to write his highly acclaimed book Getting Started with Value Investing (Wiley). This is also the reason he launched Alpha Investor and 8-Figure Fortunes trading services.
Is Charles Mizrahi Legit?
Charles Mizrahi is a well-respected investment writer who knows the ins and outs of value investing.
He's a Wall Street veteran with an impressive track record and has a keen eye for undervalued stock picks.
Alpha Investor subscribers can rest assured knowing they're in good hands with Charles.
>> Get Charles Mizarhi's latest stock picks <<
What Is Banyan Hill Publishing?
Banyan Hill Publishing is a leading publisher of trade ideas and wealth-building tips. It has provided investment insights for readers since 1998.
As someone busy with life, you don't want to worry about the credibility of the publications you're reading. That's why we really like Banyan Hill Publishing.
With over 700,000 daily readers, it's clear that Banyan is doing something right to reach so many subscribers.
This publisher often presents views that break away from conventional stock market wisdom. At first glance, these ideas may seem eccentric, but they're exactly what pushes Banyan Hill Publishing ahead of its competition.
Regardless of which newsletter you choose, you'll be signing up for periodic updates from experts who devote their time and energy to penning exceptional wealth-building strategies.
Aside from Alpha Investor, Banyan Hill Publishing offers several other financial newsletters.
Banyan Hill Publishing's offerings include:
The Bauman Letter

Strategic Fortunes

Market Leaders

Trade Kings

10X Project

Fast Lane Profits

Rapid Profit Trader
Each newsletter provides a different investment approach to accommodate readers with varying interests.
What's Included with Alpha Investor?
Alpha Investor

newsletter

Charles Mizrahi's model portfolio

Weekly updates

The Alpha Investing Manual

The Forever Battery: How to Profit as EV Sales Grow 1,500% Over the Next 4 Years

A New Era of Energy Storage: The Hottest Breakthrough of the 21st Century

Dedicated customer care team

Alpha Investor Newsletter
Charles Mizrahi's Alpha Investor newsletter is the vehicle for how you will receive your monthly briefings.
Mizrahi provides a comprehensive analysis of companies he believes could grow exponentially within the next few years. All of his thoughts are distilled down in his newsletter, where he covers a different topic each month.
Throughout the years, he has developed a unique approach to stock-picking: the Alpha-3 approach.
Here's what it looks like:
Step 1 – Alpha Market

: If a company is within an industry that has the potential to grow over 100% in the next few years, then it is considered to be in an Alpha Industry.

Step 2 – Alpha Management

: Companies with a great leadership team and CEO with a solid track record of increasing revenue, earnings, and share price over time have Alpha M2anagement.

Step 3 – Alpha Money

: Charles studies each company's income statements, balance sheets, and cash flow statements to determine whether they are fundamentally sound.
Comprehensive strategies like this make Mizrahi's analysis always worth your time.
>> Join the Alpha Investor newsletter today <<
Charles Mizrahi's Model Portfolio
Alpha Investor subscribers also gain access to Charles' model portfolio along with the newsletter.
This will keep you in the loop with all of Charles Mizrahi's current stock recommendations.
If you're eager to implement Mizrahi's insights, the model portfolio is a great place to start. You'll have at least one new stock recommendation every month so you can continually add to your own portfolio.
Weekly Updates
In addition to the Alpha Investor newsletter, you also receive weekly updates.
For those that don't have the time to worry about the markets, this is a great feature. Charles provides updates on how each position is doing and big news affecting the economy.
This is especially useful for people who want a more hands-on approach and aren't content passively investing their money.
Take note of these weekly updates if you want to invest alongside Charles but also learn from him. They're a great way to keep tabs on what's happening in the value investing space and stock market.
The Alpha Investing Manual
You'll also gain access to Charles' Alpha Investor Report Trading Manual as a subscriber to Alpha Investor.
This manual shows how Charles places trades, thinks about investments and reveals the mechanics behind the trading process.
For some people, knowing how the analysis is completed is just as important as receiving stock pick recommendations. The Alpha Investing Manual is a perfect tool for learning about the inner workings of Charles' investing strategy.
The Forever Battery: How to Profit as EV Sales Grow 1,500% Over the Next 4 Years
As an Alpha Investor subscriber, you also receive new research reports revealing companies that could potentially disrupt entire markets.
One such market is the battery industry, which could be on the verge of a breakthrough.
This report examines what Charles calls "The Forever Battery," a next-gen battery revolution technology that could power all EVs in the future.
Batteries are one of the most significant considerations when building an electric vehicle and Charles claims that "The Forever Battery" offers capabilities that seriously outstrip the competition.
Charles believes that in time, this company could become a household name like Microsoft or Intel. He's giving you everything you need for the chance to get in on the action.
A New Era of Energy Storage: The Hottest Breakthrough of the 21st Century
As mentioned in the previous section, the energy and battery industry is a vast sector poised to experience explosive growth in the next few years.
Charles is taking advantage of this potential trend and discovered yet another company that could ride the tailwinds of the growth in the energy industry.
For those that care about the climate impacts of progression in society, this product could be a winner for both your conscience and your bank account.
Charles believes that this company's tech could help transition more power generation from coal and oil to renewable energy sources.
>> Dive into Charle's bonus reports <<
Dedicated Customer Support
If you're ever confused about anything, Alpha Investor has a team of customer service experts ready to assist you.
They can answer any questions regarding "Alpha Investor" or any of the services that come with your membership.
Banyan Hill Publishing's customer service center phone number is 866-584-4096, and their email is alphainvestor@banyanhill.com.
Money-Back Guarantee
Charles Mizrahi offers a 12-month 100% Money-Back Guarantee on every Alpha Investor subscription.
In our experience, most services offer a 30-day refund period — if any. So Alpha Investor is leading the pack with this industry standard.
You can try out the service for an entire year with access to every feature. If you decide that you're not satisfied, you can cancel your subscription and get your money back.
Charles believes in his investing advice, and his cancellation policy is a testament to the quality service he provides.
Is Alpha Investor Legit?
Alpha Investor is a legit newsletter service that provides subscribers with accessible stock recommendations and insights into the world of value investing.
It's led by seasoned Wall Street veteran Charles Mizrahi and boasts impressive results.
All in all, Alpha Investor has the makings of an excellent source of value investing wisdom.
Charles Mizrahi started his career on the trading floor of the New York Stock Exchange at the young age of 20 years old.
Alpha Investor Pros and Cons
Alpha Investor is an excellent service that provides relevant stock recommendations and extensive insights into the stock market. However, there are some areas where the service could improve.
Here are some pros and cons we found during our Alpha Investor review:
Pros
Investment ideas from a Wall Street vet

Excellent price and discount

Industry-leading refund policy

Weekly updates

Dedicated customer support
Cons
>> Access all of these benefits today <<
Alpha Investor Reviews
Alpha Investor has earned high marks across the web, and it's locked in an impressive 4.1 out of 5 rating on Stock Gumshoe. This is out of 64 votes, which we think is a fair sample size.
Here's a snapshot of the rating at Stock Gumshoe:
One caveat with this rating is that there are no written reviews to accompany it.
While it would be ideal to see the full scope of what people are saying about the service, the 4.1 rating could be a clear indication that the general sentiment about the service is positive.
How Much Does Alpha Investor Cost?
A one-year subscription to Alpha Investor costs $199 on the Banyan Hill website.
However, Charles is offering a significant discount to remove any barriers for everyday folks to join.
He wants to help as many people from all walks of life achieve financial prosperity so he's offering the entire package for only $49.
At that rate, your average cost comes to just over $4 a month, and you receive everything in this review, including the two bonus reports and the one-year money-back guarantee.
Is Alpha Investor Worth It?
Alpha Investor is a high-quality newsletter led by a Wall Street veteran, and it's offered at a great price. After an in-depth review, we can confidently say that Alpha Investor is worth it.
Charles' Alpha-3 investing strategy is tried and true and could help to identify bargain stocks that have the potential to take off in the next few years.
Mizrahi's impressive professional career precedes him, and he has a solid trade record of penning excellent investment ideas.
Alpha Investor is a solid value, but the Alpha Investor Report Bonuses and 75% discount make it an even better deal. Add on the one-year money-back guarantee, and you've got a lot of value for just $49.
If you're looking for a way to make your money work for you and grow your savings, keep Alpha Investor on your radar.
>> That's it for our Alpha Investor review. Click HERE to sign up today <<