Benzinga is a one-stop shop for aggregating financial news and market data. But can you get all you need with the free version, or should you upgrade to Pro? Read our Benzinga Pro Review to find out.

Benzinga Pro Review: Overview
Benzinga Pro is a browser-based platform that organizes pressing news stories from across financial markets so you can stay on top of the latest happenings.
It's also packed with a ton of useful features, like a stock screener, alert system, watch lists, and more.
You can access Benzinga Pro from any internet-connected device thanks to its browser-based format.
The Benzinga Pro news platform is designed from top to bottom with traders in mind and has more insights than its basic live news feed.
Who Started Benzinga?
Jason Raznick is Benzinga's original founder.
Raznick launched Benzinga in 2010 as a data technology startup out of Detroit, Michigan.
>> Try Benzinga Pro free. for 14 Days. No CC Required <<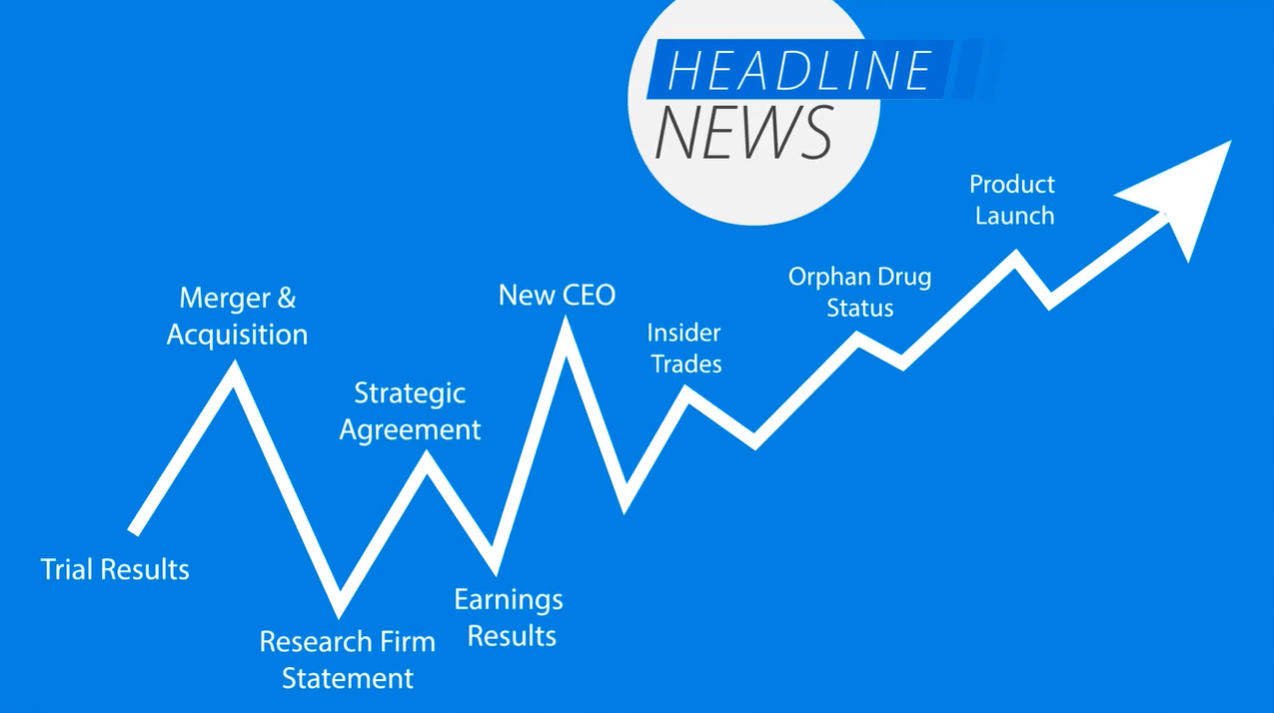 How Does Benzinga Pro Work?
Benzinga Pro uses its proprietary software to aggregate important news sources, fundamental data, and much more.
The premium services are offered through a monthly subscription.
Its real-time market news feed is fast, accurate, and customizable.
You can set your news feed according to your preference, and Benzinga will automatically deliver the news based on your settings.
As a result, you can zero in on the most relevant news without having to wade through endless oceans of distracting noise first.
In short, Benzinga Pro's news feed delivers this pertinent information directly to your doorstep so you can react decisively when the market throws you a curveball.
Does Benzinga Pro Have an App?
Yes, Benzinga Pro has an app that is fully functional on mobile.
This is a plus, as operating a browser-based service can be tedious on phones.
Does Benzinga Have Level 2 Data?
Benzinga does have level 2 data available for viewing on its platform.
This is good news for anyone looking to explore every nook and cranny of the markets to get a sense of trends and sentiments.
>> Already sold on Benzinga Pro? Click here to become a member now! <<
Benzinga Pro Review: Features
Trading news feeds, including news articles

Nasdaq stock quotes

Benzinga calendar to track past and future events

Watchlist with custom real-time alerts

Pre-market and momentum movers

Benzinga signals

Benzinga Pro stock screener and scanner

Squawk Box audio alerts

News deck chat room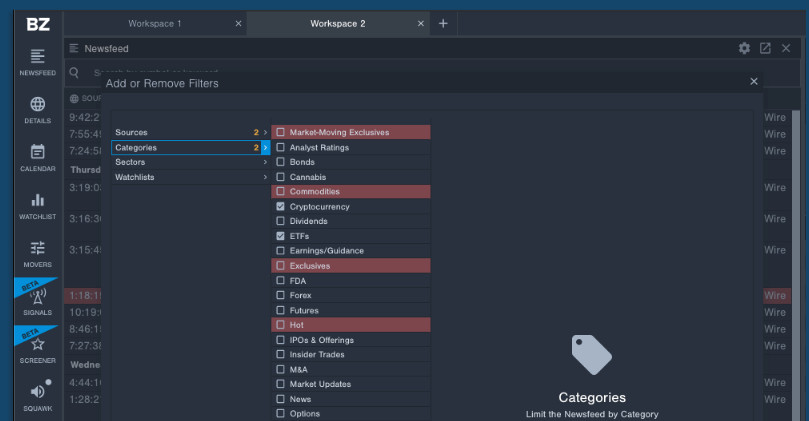 Trading News Feeds
Access to Benzinga Pro's real-time newsfeed is included with every membership.
This means you won't need to rapidly fire Google searches to stay up to date with the market.
The standard news feed keeps you informed with real-time news from trusted stock market sources.
You can do a broad search or customize the news feeds to filter down to the information you want.
Also, you can filter financial news by source, category, watch list, and more.
The Benzinga Pro news feed is a great resource for finding new trading ideas.
It's especially useful for identifying fast-moving day trading opportunities across the market.
As a premium financial news platform, Benzinga Pro puts significant effort into its news feeds.
They're highly customizable, easy to navigate, and jam-packed with valuable news from respected industry sources.
Benzinga Pro's real-time news feeds could significantly improve your stock trading outcomes by keeping you informed with the freshest market intelligence available.
Delivering real-time news and market intelligence is Benzinga Pro's bread and butter, so it's no surprise that the platform scores big points in this category.
>> Access Benzinga Pro's powerful trading tools for a 14-day free trial <<
Nasdaq Basic Quotes
Benzinga Pro gives you access to stock price data from Nasdaq as a benefit of your subscription.
This helpful feature allows you to search through detailed financial data on exchange-listed stocks.
Your access to the Nasdaq data varies depending on your membership level.
The Basic package only includes delayed quotes, but Essential members get the most up-to-date financial data with real-time Nasdaq quotes.
You can pull up security snapshots for every major stock thanks to the integrated Nasdaq trading data.
These detailed quotes provide instant company details, such as the stock price, market cap, analyst upgrades, downgrades in analyst ratings, and more.
Benzinga Pro's built-in market news streams are great, but they work even better with Nasdaq quotes.
Combined, these two features give you everything you need to quickly take in and react to the latest financial news.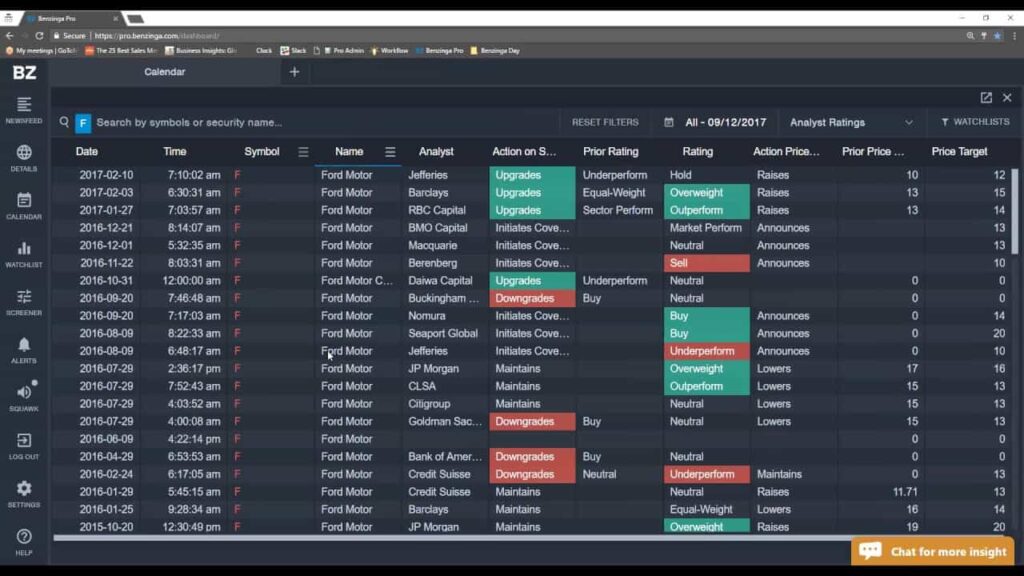 Corporate Calendar
Benzinga Pro's Corporate Calendar tracks the most important market-moving events, so you are always prepared for what's around the corner.
It also includes an integrated economic calendar, which provides insights into monthly jobs reports and other macroeconomic news that can be used to improve trading outcomes.
Here are just some of the news items you can track with the calendar:
IPOs

Earnings

Analyst ratings

Conference calls

Dividends

Retail sales
Most traders don't have any problems finding this kind of information on their own, but Benzinga's built-in calendar makes keeping up with the day's events much more streamlined and convenient.
The calendar adds another notch in Benzinga Pro's belt and gives the platform an even stronger case as a one-stop shop for market research.
Watch List Review
Benzinga Pro's watch lists are a common feature for trading platforms.
Even the most basic, no-cost platforms typically offer users this capability.
However, Benzinga's watch lists have enhanced functionality compared to the run-of-the-mill options.
They allow users to combine their stock selections with advanced notifications and alerts.
Users can set up these triggers based on:
Stock price movements

Trading volume

Market cap

And more
The watch lists make it easy to track your portfolio's stocks from within the Benzinga Pro platform.
If you want even more info, you can click on the ticker symbol for a closer look at the stock.
>> Optimize your trading routine with Benzinga Pro today <<
Momentum Movers
Benzinga Pro also tracks fast-moving stocks under its Momentum Movers watch list.
This handy report shows you exactly which stocks are making big moves.
The Momentum Movers lineup is particularly valuable for day trading applications.
You can quickly see which stocks are active during the trading session and pre-market.
This isn't anything like the top-movers lists you see on free websites: it's a complete directory of all the day's active stocks, and users can search and filter the stocks to find movers that capture their interest.
Available filters include time period, sector, market cap, and much more.
This feature is exceptionally useful and could quickly become an integral part of your day trading strategy.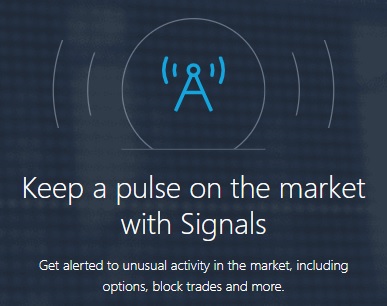 Benzinga Signals
Market news alerts are just a small part of the Benzinga Pro platform.
Membership also includes access to a host of powerful trading tools, including Benzinga signals.
Signal alerts let you track notable events from across the market.
It includes metrics that measure large price and volume changes in stocks.
You can use this tool to track price spikes, block trades, stock splits, sentiment indicators, and more.
Short-term and swing traders should find this tool particularly useful.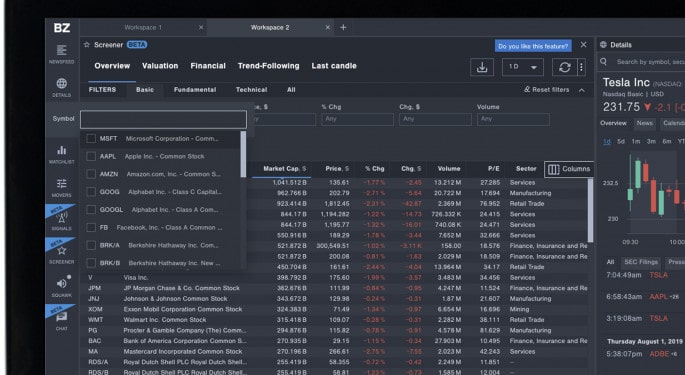 Stock Screener and Scanner
Benzinga Pro also comes equipped with a stock screener and scanner tool that lets you pair down its massive database to get a list of specific stocks.
The screener allows you to filter company statistics using a wide array of adjustable criteria.
It's not as capable as a specialized, stand-alone stock screener, but it has decent functionality, and it's a convenient addition to the platform.
With these handy tools, you can easily search for stocks using filters such as:
Price and market cap

Trading volume and relative volume

Float

short interest

shares outstanding

And more
Even better, you can dial in the refresh depending on how current you need the data to be.
If you don't want real-time scans, you can choose refresh rates of 10 seconds, 30 seconds, 1 minute, or no refresh rate to create a static list.
This is an incredibly useful tool for finding stocks that match your investment criteria quickly and easily.

Squawk Box
Benzinga Pro's Squawk Box is an audio alerts service that brings you the most important stock market news in a brief, digestible report.
You'll need an Essential membership to access the Squawk Box, but it's a feature you'll probably find yourself using regularly.
The Squawk Box report will keep you informed about stock splits, news releases, earnings reports, and a wide variety of breaking market news.
Benzinga does an excellent job of striking a balance between detail and digestibility.
This audio news feature is always informative and delivers information quickly and efficiently.
Many day traders and other busy adults appreciate being able to listen to the news while they go about their morning routine, so Squawk Box has become a big hit.
News Desk Chat Feature
As an additional perk, Essential members can access a live chat room where they can communicate directly with Benzinga Pro's news team.
The chat feature gives you a direct line to the news desk, and the Benzinga team is more than happy to engage with subscribers.
They can help you wrap your head around the news, and you can pick their brains about the fine points of the day's stories.
Having the ability to discuss the news with qualified professionals is an absolute game-changer.
If you've ever read a news story and walked away scratching your head, you'll appreciate having a support team like this at your disposal.
>> Like what Benzinga Pro has to offer? Great! Sign up by clicking here now! <<
Is Benzinga Pro Legit?
Benzinga Pro is a legit source of breaking news and market data.
It offers a wide range of services and tools to keep you in the loop during your trading day.
The platform has garnered a rock-steady reputation online, and plenty of people praise the platform for its insights.
We'll touch on the reviews shortly, but for now, we can say that we think Benzinga is great.
Benzinga Pro Review: Pros and Cons
Benzinga Pro has a ton of powerful research tools and benefits, but it doesn't have everything.
Here's the rundown of the pros and cons of this platform.
Pros
Powerful, customizable real-time news feed

Clean interface

Signals for block trades, stock splits, SEC filings, opening gap, analyst ratings, and more

Advanced news feed

Customizable watch list with alerts

Chat directly with the news desk

14-Day free trial with no credit card

Sentiment indicators and other advanced metrics
Cons
No refunds on monthly subscriptions

Additional costs for options data

Running Pro and trading software at the same time can be taxing on old CPUs

Doesn't cover FOREX or crypto
Is Benzinga Pro Right for Me?
Benzinga Pro is a great option for just about anyone who wants to trade stocks.
It's especially useful if you need an easy-to-use, self-directed news platform with the latest market information available.
Keep reading to find out which traders can benefit the most from using this platform.
Day Traders
Benzinga Pro has a ton of features that can facilitate your day-trading endeavors.
The news service keeps you informed about the latest market moves.
The momentum movers and Squawk Box audio reports help you find suitable trader targets faster so you can capture more gains.
It's a perfect fit for any hard-working day trader.
Penny Stock Traders
If you trade penny stocks, you know how hard it can be to find timely news for the tiny companies you're following.
Benzinga Pro's news service tracks even the smallest stocks so you'll have the most accurate information possible when you make a trade.
Active Traders
Frequent traders have countless challenges to tackle, and Benzinga Pro has built-in solutions that will help them get through their trade routine quickly and efficiently.
The news feed gets you the right information when you need it, so you don't have to dig through countless websites trying to find the truth.
>> Click here to get started with your 14-Day Free Trial now <<
Benzinga Pro Reviews by Members
Trustpilot has plenty of great Benzinga Pro reviews on offer.
Check out what subscribers of the service have to say.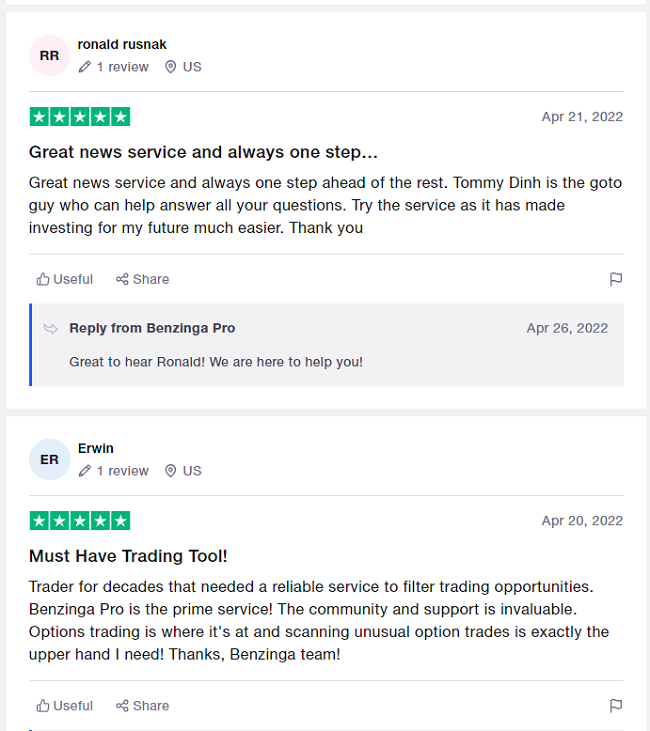 As you can see, many users are satisfied with their Benzinga Pro subscriptions.
The service has a lot of value to offer, and it can make your trading life a lot easier.
Benzinga Pro Cost Review
Benzinga pro pricing includes multiple tiers that come with varying benefits and features.
The entry-level subscription is called the Basic Plan, and it gives you access to Benzinga's standard tools.
You'll need to upgrade to the Essential Package to access the platform's full features.
There is also a more extensive program designed to teach options trading; but this product is in its own category, so will save that for another day.
Let's take a closer look at what you get for Free, Basic, and Essential.
Benzinga Free
The free version of Benzinga is a bare-bones version of the software.
It comes with a slew of fantastic features, but it is nowhere near the experience you would get by upgrading to any of the premium plans, including Basic.
Still, if you want to test drive the service without the free trial, this could be a good option.
With the Free version of Benzinga Pro, you get:
Nasdaq basic (15-minute delayed quotes)

BZ wire newsfeed only (this means no search or filters)

Watch list

Momentum movers (current session only)

Stock stats tool

Charting
As you would expect, the free version is enough to give you an idea of the service, but it's not enough to build a solid trading routine around.
Something is better than nothing, though, and some Benzinga alternatives do not offer this much.
You might be better off signing up for the 14-day free trial if you're trying to decide whether you should upgrade to Benzinga Pro.
Benzinga Pro Basic
Benzinga Pro Basic is the standard service.
This subscription costs $27/mo, and there is no discount for picking up an annual subscription.
It still offers a range of powerful data collection tools, but it's fairly stripped down compared to Essential.
With Basic, you get access to:
Everything that comes with the free version

NASDAQ basic delayed quotes

Watchlist alerts

Stock stats tool

Momentum movers

Newsfeed (this includes Benzinga headlines and articles, as well as SEC filings, press releases, and partner content)
It's a solid tool, but the 15-minute delay on quotes could be a dealbreaker for active traders.
But if you are swing trading or leaning into long positions, it shouldn't be too much of a hindrance.
When we first reviewed this Basic plan, it came with a $99 price tag; now, it offers the same tools but at a much more affordable price.
Benzinga Pro Basic was worth it back then, and it's certainly worth it now.
Benzinga Pro Essentials
Benzinga Pro Essentials is the most popular subscription — and for good reason.
It is an absolute powerhouse that is packed with tons of features you can't find in Basic.
Traders looking for mountains of actionable market insights might want to put this service on their shortlist.
With Benzinga Pro Essentials, you get:
Everything that comes with Basic

Nasdaq basic (real-time quotes)

Advanced newsfeed

Signals

Real-time scanner

Squawk box

Calendar
So while this subscription to Benzinga Pro costs more than Basic, it comes with so many add-ons that it's hard to pass up.
There's also a substantial 34% discount if you pick up an annual subscription instead of going monthly.
The annual subscription drops the price down to $117 a month (from $170).
Benzinga Pro's Refund Policy
Benzinga gives traders instant benefits that could lead them to big gains in the market if they're wielded correctly.
As a result, the company has a tight refund policy.
However, it's not 100% restrictive.
The company offers a 14-day free trial for new purchases, so you have an opportunity to vet the service before you commit to a purchase.
Unfortunately, you're on your own after that.
It's not the most extensive refund policy, but it's understandable given the nature of the business.
The 14-day trial gives you plenty of time to figure out if you like the product or not.
How Do I Test Benzinga Pro for Free?
Benzinga Pro offers a free trial for new subscribers.
Best of all, you don't even need a credit card to start the trial.
You can quickly sign up with nothing more than your name, email address, and phone number.
It's a refreshingly straightforward process compared to many other "free" trials that make you input billing and contact information.
How Long Is Benzinga Pro's Free Trial?
This is a 14-day trial that lets you take the platform for a test run before you make a purchase.
It's 100% free, and there's no credit card required.
Benzinga Pro vs Benzinga Free
Even the Basis subscription is leagues beyond what you would get with Benzinga's free version.
At $27 a month, you get a lot of bang for your buck, and add-ons like a full news feed and premium Benzinga articles go a long way.
Then, there is the Essentials Pro plan.
The sheer number of features and customizable options tower over any of the former tiers.
So when it comes to Benzinga Pro vs Benzinga, there's no contest: the premium subscriptions offer too much to ignore.
Is Benzinga Pro Worth It?
Yes, Benzinga Pro is definitely worth the price of admission, especially for day traders and active investors.
If you're a self-directed investor or day trader, you need trading tools to help you keep up with well-funded Wall Street adversaries, and Benzinga Pro is an affordable option that checks many of the most important boxes.
Plus, Benzinga's Pro platform is significantly cheaper than Bloomberg Terminal and other competing products, and it doesn't sacrifice functionality to achieve the lower rate.
With built-in stock quotes, watch lists, signal trackers, a breaking news feed, and much more, Benzinga Pro has a full trading arsenal that's worthy of any self-respecting investor.
It's affordable, powerful, and comes with a 14-day free trial, so what's not to like?
>> Start Your Free 14-Day Trial of Benzinga Pro today! Click here to sign up! <<