WiserAdvisor believes it has a quick and easy method for pairing busy professionals with top-tier financial advisors. Does it really work as intended? This WiserAdvisor review has the answer.
What is WiserAdvisor?
Founded in 1998, WiserAdvisor helps people in need of financial advice link up with qualified financial advisors around the country. These advisors offer their knowledge and insights to your specific needs.
The company is based out of its headquarters in Fairfax, Virginia.
To date, the site has helped more than 100,000 folks find a financial advisor. Not just any advisor can join, however. Each must pass WiserAdvisor's three-step qualification process before being added to their ranks.
Finding a financial advisor through WiserAdvisor has the potential to save you time, energy, and maybe even some money compared to other methods. The premise here is that WiserAdvisor's matching service can introduce you to the best advisor for your situation the first time.
>> Learn more about WiserAdvisor <<

What is WiserAdvisor's Matching Service?
You're not just thrown into the ring with some random advisor. On the contrary, WiserAdvisor uses a unique and unbiased matching service to sift through its long list of financial advisors to identify the best ones for you.
This free service takes down your information, providing a personalized match of 2-3 vetted advisors for you to compare. From there, you get to interview each one before making a selection.
How Does the Matching Process Work?
WiserAdvisor's matching process is essentially threefold. Check out how each step of the process works to connect you with the perfect advisor.
Advisor Screening Process
Thanks to WiserAdvisor's screening process, you can be confident that you're not going to match with some schlub. Dating apps could take a few lessons from this.
Advisors can come from large Fortune 500 companies or small independent financial firms. In either case, WiserAdvisor ensures each has enough experience in one or more pertinent financial areas.
All financial advisors are registered with FINRA/SEC and hold clean records. Finally, each advisor must be transparent with their contact information, background, credentials, fee structure, and the firm they're a part of.
This information remains accessible on the WiserAdvisor website as part of their advisor directory. You can look it up at any time, even before submitting a request.
Matching Process
To find the right advisor for you, WiserAdvisor asks no fewer than ten questions about your current physical and financial standing. It's nothing difficult or overly invasive, but it helps in finding matches.
You'll start by sharing your location so WiserAdvisor can find advisors near you. The following questions inquire about your retirement goals, home and business ownership, and how much your household makes in a year.
By the time you load in your contact information, WiserAdvisor should have a pretty good idea of whom to set you up with. All your information remains completely confidential while you're matched with an advisor. 
Advisor Selection Process
At the end of the journey, you'll get a list of two to three financial advisors. WiserAdvisor emails you the low down on each one, including name, location, and credentials.
Using WiserAdvisor's database, you can dig up more information about each of your candidates. Tapping into the rest of the internet may reveal testimonies or other vital information that can help you make a decision.
These advisors typically reach out to set up a free consultation. You can grill them about their experience with issues like yours and why you should hire them.
WiserAdvisor advises interviewing each one and not simply selecting the first one you talk to. You're under no obligation to actually choose one of these people to be your advisor if the fit doesn't feel right.
>> Sign up for WiserAdvisor now <<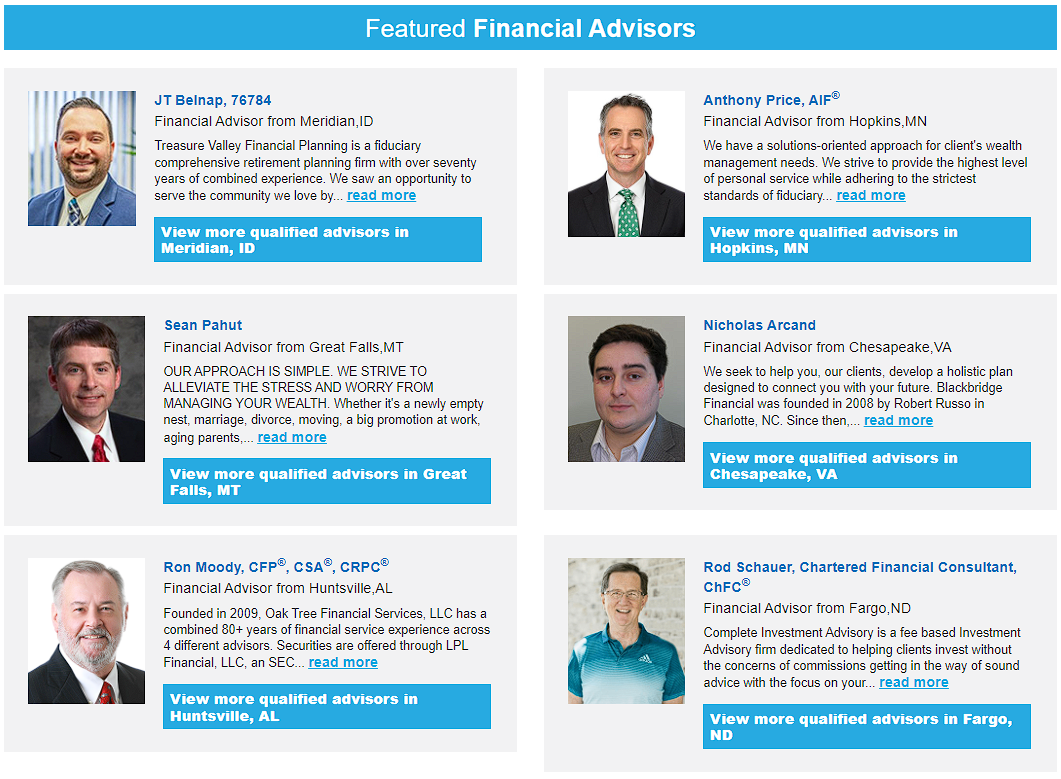 What Kind of Advisors are on WiserAdvisor?
WiserAdvisor is host to several types of advisors you can use to work through whatever monetary questions you may have.
Most commonly, advisors can help with your financial planning. WiserAdvisor divvies advisors by state, so you have an idea of who you might be matched with and what their qualifications are.
In my home state of Michigan, the top candidates each have more than 20 years of experience in their respective fields.
Some advisors specialize in retirement services. These gurus look at your current finances to determine how much you'll need to save and when you'll be able to leave that job once and for all.
There's also a whole section dedicated to investing goals and building a portfolio to reach them.
Other areas where advisors can step in to help involve things like estate planning, education planning, and rolling over your 401k. In theory, the possibilities are endless.
Scanning through advisors from different states, here are just some of the designations you might be paired with:
Certified Financial Planner (CFP)

Accredited Investment Fiduciary (AIF)

Chartered Financial Consultant (ChFC)

Retirement Management Advisor (RMA)

Certified Public Accountant (CPA)

Accredited Tax Advisor (ATA)
>> Connect with a WiserAdvisor expert now <<
Who is Wiser Advisor Best For?
WiserAdvisor can be a great choice for anyone needing a financial advisor. It can work surprisingly well for busy folks like you and me without the time to manage all our financial prospects on our own.
Advisors have to meet those criteria to even be considered for a listing on the site. That way, you know full well he or she will have several years of experience and a clean track record.
From start to finish, the process takes only a bit of your time. Once you complete your questionnaire, a handful of advisors will contact you to offer their services. You can interview each one and ultimately choose who to go with.
Don't like any of the advisors sent your way? You're not obligated to strike up a deal with any of them.
Best of all, this matchmaking segment doesn't cost you so much as a penny. You only pay the advisor directly if you agree to the terms presented by one of the ones you're paired with.
Wiser Advisor Customer Support Review
WiserAdvisor has transparent business hours listed on its website. There are also several ways you can reach out for help.
The telephone number takes you to a very robotic-sounding list of prompts, with the first being customer support. I tried it myself and was happy with the amount of time it took to reach someone.
It wouldn't hurt for the WiserAdvisor team to clean up its automated voice. I'd dock it a few points for professionalism, but maybe I'm just being picky.
Alternatively, you can tag the little blue guy with a headset on the site to open up a chat window. It starts off by asking if you are a financial advisor or in need of one.
From there, it walks you through the same series of questions you can find anywhere else on the site. There's no way to talk to a live agent or step outside this very specific script.
WiserAdvisor offers an email address and web form you can fill out if all else fails. Here, you can drop some feedback, ask to be contacted, or share suggestions of your own.
>> Get matched with top advisors now <<
WiserAdvisor Review: Is It Legit?
WiserAdvisor is undoubtedly a legit service. Two and a half decades of experience and over 100,000 happy individuals speak volumes about its success.
On top of that, every single advisor has been vetted by WiserAdvisor before ever appearing on the site. They screen advisors based on years in the field and their SEC/FINRA registration and records.
WiserAdvisor also makes sure advisors adhere to certain compensation criteria.
There's not much information listed about WiserAdvisor on the Better Business Bureau website, but it is on there. While not accredited, the BBB did give WiserAdvisor an A+ rating. 
Don't just take our word for it. Customers rate WiserAdvisor a 4.3 out of 5 stars on popular review site TrustPilot. There are nearly 300 reviews going back a few years with mostly positive feedback about response times and overall service.
Pros and Cons
Our pros and cons section looks at where WiserAdvisor shines and areas it could improve.
Pros
Free matching process

No obligation to hire an advisor

Get matched with up to three advisors per request

Several advisor designations available

Advisors must meet specific criteria to join the site

Comprehensive blog full of information

Directory with top advisors in each state
Cons
Not available in a few states

Matching process may appear a bit generic

How Much Does WiserAdvisor Charge?
Believe it or not, WiserAdvisor doesn't charge anything to help you find the perfect financial analyst. It's entirely free to submit a request and be contacted by up to three advisors to help you work through your issue.
WiserAdvisor earns its keep by charging a small fee to the advisors it adds to its roster. The site doesn't currently ask consumers for any money.
After your potential advisors reach out, you'll have some time to interview each one at no cost to you. It's up to you to ensure the advisors sent your way understand your needs and appear to have your best interests in mind.
This $0 price tag extends to WiserAdvisor's huge blog database, which you can read at your leisure. The insights there alone can help identify the best advisor for your needs and what expectations you should have along the way.
Only after you finally select an advisor to work with will fees come into play. Advisors have to follow either a fee-only or fee-based schedule, which will be made clear to you before you sign on the dotted line.
Note that these fees come direct to you from the advisors. WiserAdvisor doesn't offer any financial services themselves. This means they have no conflict of interest regarding the advisors they recommend.
>> Find the right financial advisor <<
Is WiserAdvisor Worth It?
WiserAdvisor functions as an intermediary between clients and advisors, making matches that serve the interests of both parties. It has the tendency to fix you up with someone local in record time who has the answers you need.
The site's unbiased and independent approach to financial advisors should only increase the likelihood of finding someone good to work with.
I love how, from start to finish, you're completely in control of your destiny with WiserAdvisor. You never have to settle on an advisor that WiserAdvisor recommends, even after your interviews are done.
Other than a bit of time, you're not out anything for giving WiserAdvisor a try. Best case, you'll find an excellent financial advisor with minimal effort that sets you on the path to achieving your goals.